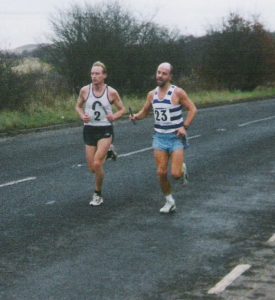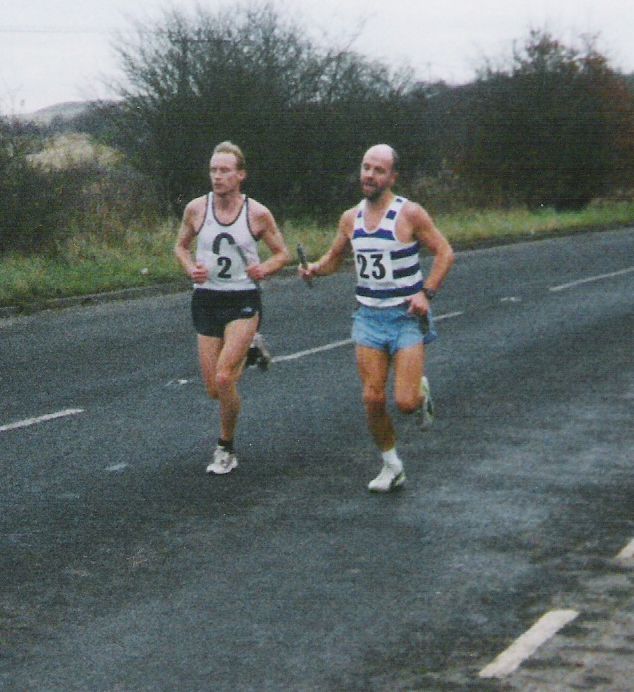 A start has been made on a new series of pages about the men who made Scottish distance running the amazing scene that it was between 1945 and 1990. Called a 'Who's Who of Scottish Distance Running' it will deal exclusively with male endurance runners between the years in question. The first page, dealing with the letter A is here and is not com prehensive. Work on all pages will go on probably throughout the year: if there is anyone who should have been included and is not, email me; if there is more information on any of the entries, email me. It's a mammoth task but a worthwhile one. If you can help, please do!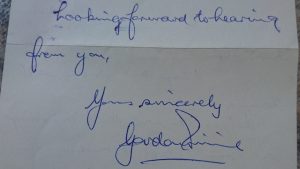 The signature above is of one of Britain's best ever long distance runners – Gordon Pirie – who after his own career at the very top was over, turned to coaching and he had some very good athletes working with him. One of them was the Aberdeen runner, Steve Taylor, and Steve has allowed Colin Youngson to publish some of the letters from his correspondence with Gordon on the website. Well worth reading for the practical advice contained in them, which is still good today, they can be reached via Steve's own profile or from this link.
One of the really sad losses in 2017 was the death of Graham Everett at the age of 83. Apart from being a thoroughly decent and kind man, he was site on Scottish running in the 80's and beyond, also on Facebook. I have also been given some assistance in paying for them (it costs about £700 to keep them going) over the years by Colin Youngson, Des Yuill, John Buster McCall and two who don't want their names mentioned: they were joined this year by a contribution from Alan Sprang. Thanks folks.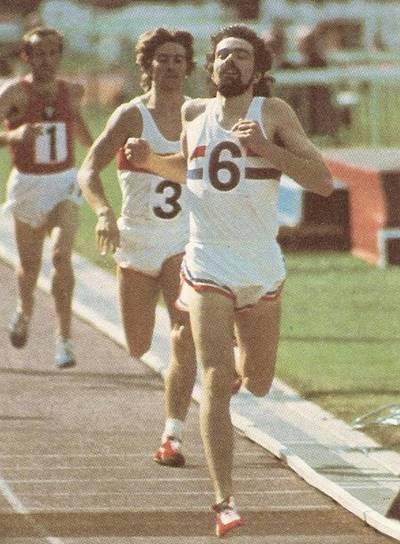 CS Lewis coined the phrase "the snobbery of chronology" to describe the pernicious habit of assuming and stating that what happened in society today is superior to what has happened in the past. It is, I think, particularly relevant to athletics where those competing in a particular generation assume that because they run slightly faster or throw slightly further or jump slightly higher than past generations then they are better athletes. Twice over the festive season, and a couple of times before, I have heard athletes being interviewed (a 5000m runner, a 1500m runner, a road runner and a hammer thrower) say that "we are not like previous Scottish teams: we don't just go to compete against the best or for the tracksuit, we go looking for medals." What complete arrogance and error. Are these athletes better than Donald Macgregor (7th in Olympic marathon), Frank Clement (4th in Olympic 1500m final), Ian Stewart (3rd Olympic final), or Tom McKean, Liz McColgan, Yvonne Murray, or any of the many Scots athletes of the past? How dare these people (none of whom, have won anything yet) say that they have just gone for the tracksuit. Have they even seen Frank's Montreal 1500 final or Don's last lap in Munich or any of Liz's great races? We speak truly of the snobbery of chronology!
The University track and field athletics pages continue – get the latest from the front page of anent.. Have a good one, and all good wishes for a successful 2018. But first: who's the Scottish runner with Sydney Wooderson? There are some additions to Hugh Barrow's Gems page. Have a look!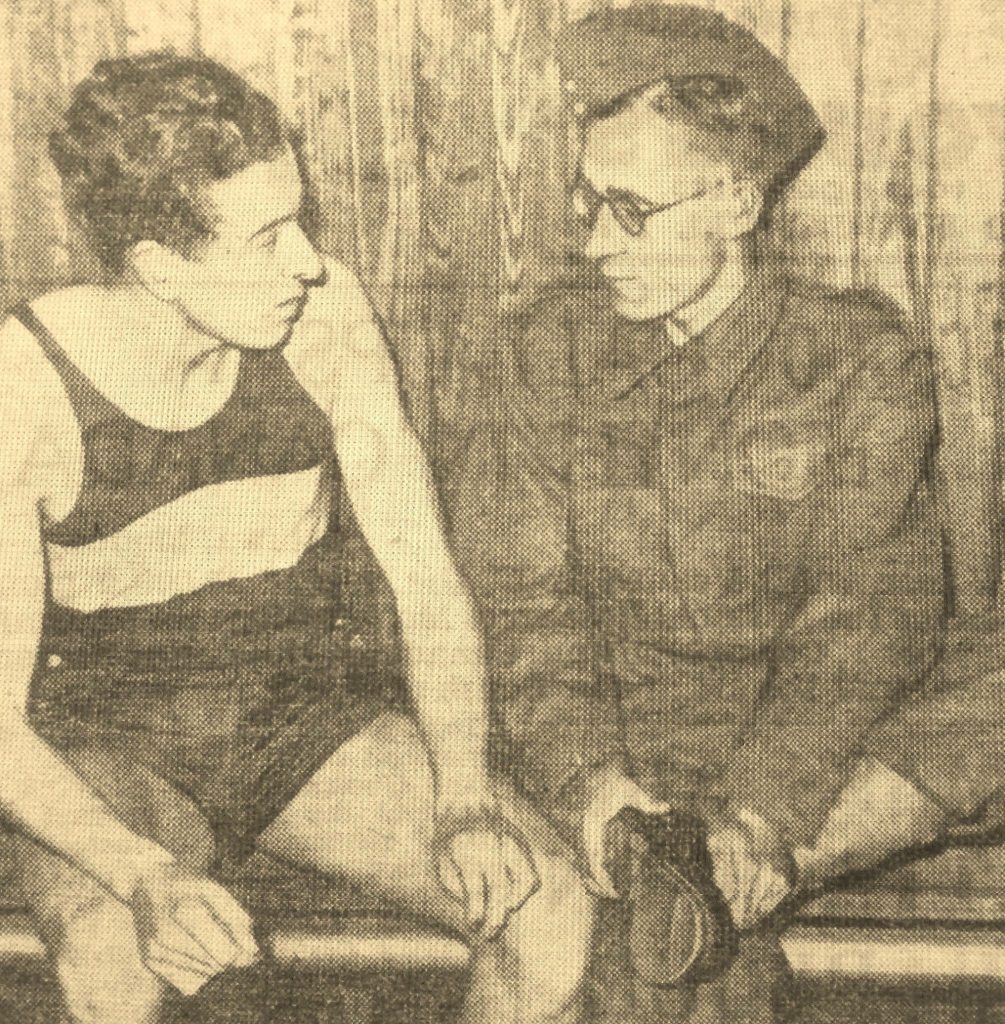 University athletics have added a lot to the Scottish scene over the years. Our latest look at their short but dynamic season can be found here I have started the 1970 – 1971 period with 1970 and the contribution of the Universities to the Commonwealth Games in Edinburgh – runners like Bryan-Jones and Dave Logue in the steeplechase, David Wilson in the 110 hurdles and hammer, Dingwall in the 1500m, etc. from the front page of anentscottishrunning.com
Inverclyde was a key element in athletics education for over half a century and hosted conference and events . Click on the name to go there and read about Inverclyde.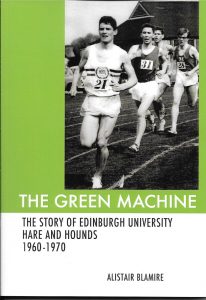 Now available is Alistair Blamire's book about the Edinburgh University Hare & Hounds team of the 1960's. The team was pretty well invincible on the road and over the country with members running in the Commonwealth Games for several countries, winning Scottish team and individual titles and starring on the road, over the country and as track athletes. Colin Youngson has written a review of the book with information about how to get your copy here .
It's well worth the effort to obtain your copy: in addition to information about the team and the individual members, there are interesting sections on the background, and in a postscript the author's views on the present state of Scottish endurance running, on how it got here and what the future holds. A student of athletics, Alistair's views are of interest to anyone interested in endurance athletics.
Jimmy Irvine's profile is now up on site: see it here . We also have a profile of Bert Irving of Bellahouston Harriers: see it here.
Finally, every now and again the technology gets too clever for its own good and a link to a page doesn't work: if you get one, let me know so that I can fix it!
On all these pages, the link bar is at the bottom.
[ Aspects ] [All In The Family ] [ A Hardy Race ] [ Edinburgh – Glasgow ] [ E-G in Pictures] [ More Races and People ] [ SMC ] [ Sports Meetings ] [ The Chasers ] [ The Milers ] [ The Fast Pack ] [ The Classics ] [ The JOGLE ] [ The Universities ] [ The Veterans ] [ The Ultra Marathons ] [ 1978 International Cross-Country ] [ Venues ] [ Treasure Chest ] [ Running Shorts ] [ Track Inter Clubs ] [ In the beginning ] [ Women's Cross-Country ] [ Graham's Programmes ]