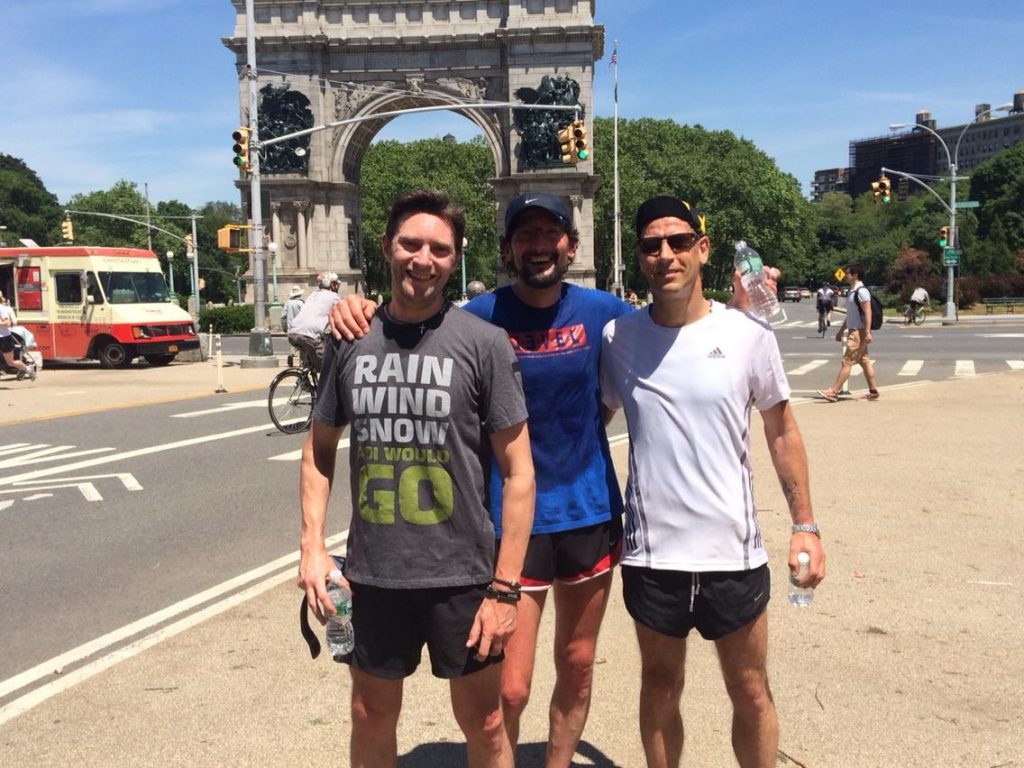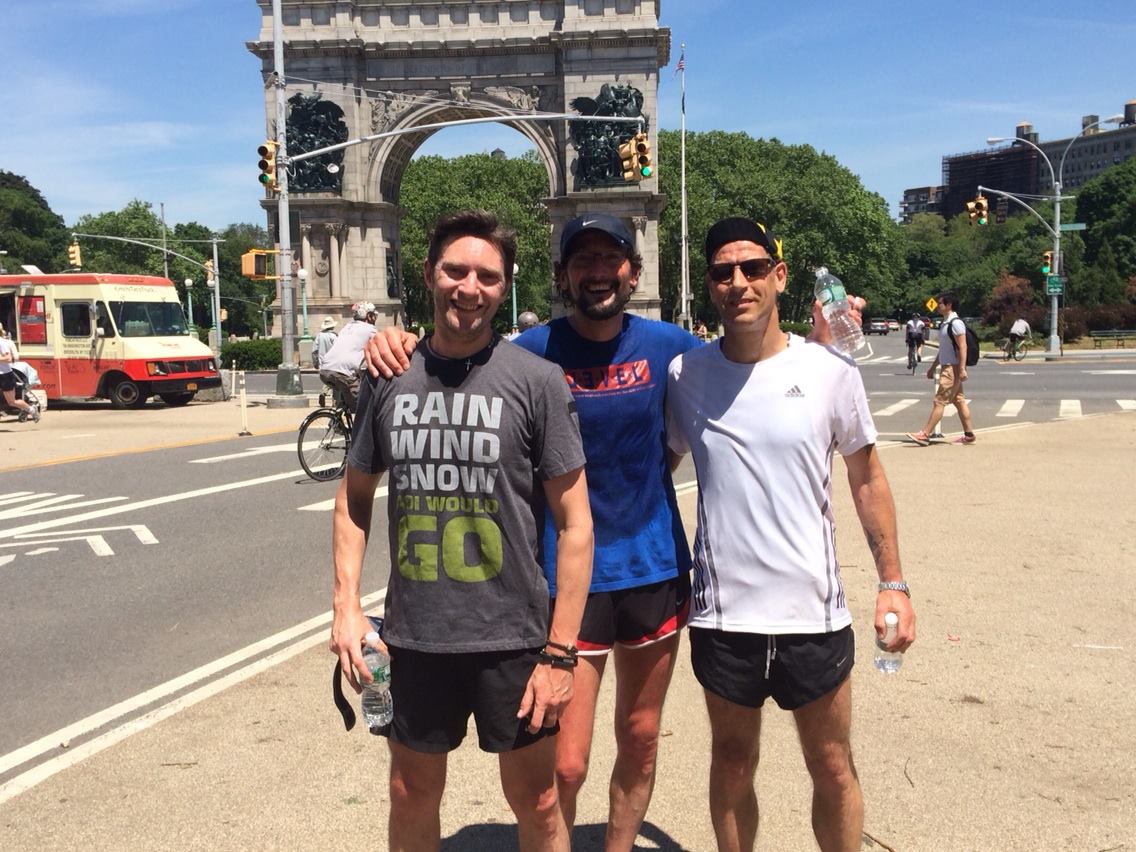 Graham Macindoe, ex-ESH currently New York AC, is a very well known professional photographer who spent a lot of time in the 1980's taking excellent photographs of Scottish runners and races, many of which appeared in Athletics Weekly, Scotland's Runner and many other magazines. His own Facebook page (Scottish Running In The 1980s ) is well known to us all. He has helped us put together a profile of his career as a runner (see it here ) and as a photographer ( here ) and we also have some pages of selected photographs. You should really read about his career as a photographer in Edinburgh and New York to get an idea of just how good he is.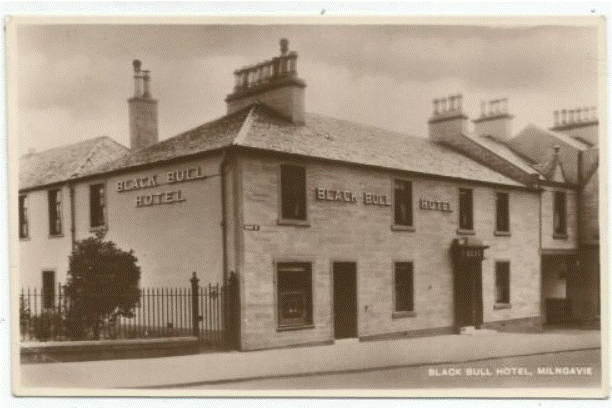 The photograph above is of the Black Bull in Milngavie – venue for the first Clydesdale Harriers cross-country run in October 1885. Edinburgh Harriers had already had their first from the Harp in Corstorphine. The link between pubs, inns and hotels and harrier clubs is an interesting one. Hamish Telfer has contributed a list of the various hostelries involved in the early days of the sport. Click on the link to see how many some clubs used!
We have another page of some of the gems that Hugh Barrow has found last year – as usual they vary from very good, clear photographs like the one above to interesting and valuable historical documents from Scottish athletics history. Culled from many sources, see this collection here .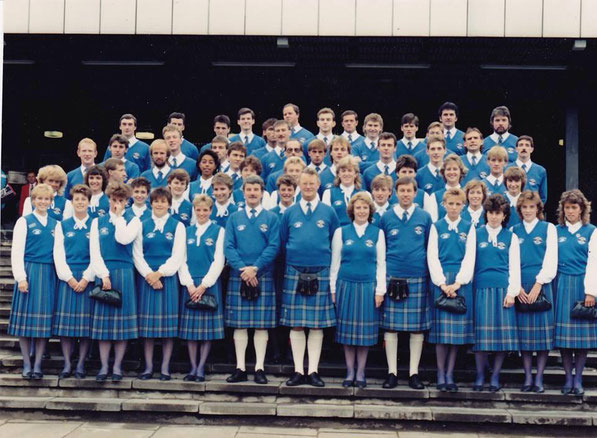 Alex Jackson has started a page of Commonwealth Games Memories. He has his own, Colin Youngson has added to an earlier short post with his, I have added a bit and we are looking for more. No need for lots of research, what are your own memories that helped make the Games a bit special? See what we have already here .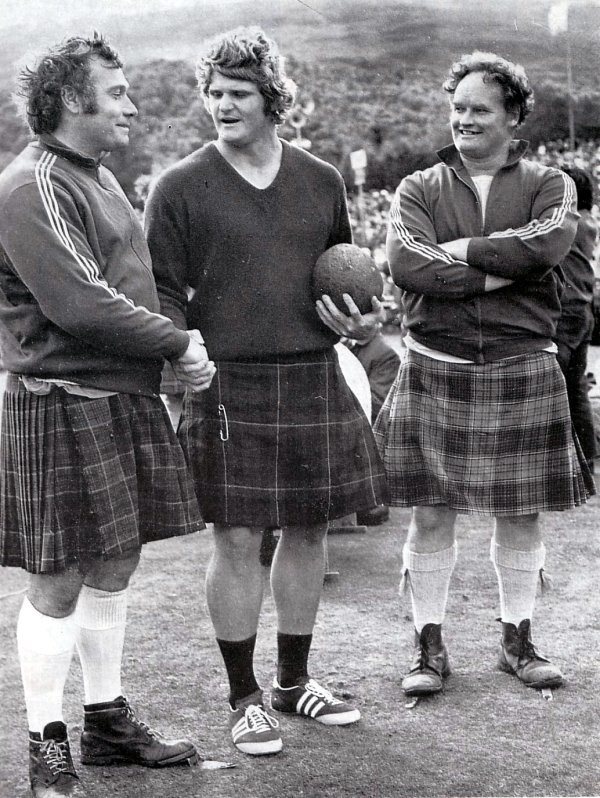 Arthur Rowe, Brian Oldfield, Bill Anderson
We have, for now, finished the look at the Braemar Gathering through the ages and it can be accessed through the 'Professionals' page. Taking a couple of meetings from the decades from the mid-nineteenth century through to 1970, it traces the development and changes from the Games being an adjunct to the Royal Gathering in Braemar over a week in September. One of the great rivalries was the one between Bill Anderson and Arthur Rowe in the 1960's which drew crowds to meetings wherever they were held. Two real top drawer athletes, their careers have been briefly sketched on a separate page here The entire series of pages can be accessed at this link .
On all these pages below, the link bar is at the bottom.
[Marathon Stars] [Career marathons ] [ Elite Endurance] [ The Chasers ] [ The Milers ] [ The Veterans ] [ Men's Who's Who ] [ Women's A-Z ][ Women's Cross-Country ] [ The Professionals] [ The Peds ] [ The Veterans ] [All In The Family ] [The Hills] [ 21st Century Stars
[ The Coaches ] [Coaching in Scotland ] [ Officials ] [ The Great Club Men ]
[ The Fast Pack ] [ ScottishMarathonClub ] [ British Milers Club ] [ The Universities ] [The YMCA Movement ] [ The Importance of Clubs ] [Club Insignia – Just the Badges]
[ The Classics ] [ Marathons ] [ Marathon Miscellany ] [ 1978 International Cross-Country ] [ The Ultra Marathons ]
[ Some Memorable Nationals ] [ International Cross Country in Scotland ] [ Edinburgh – Glasgow Relay ] [ E-G in Pictures] [ The JOGLE ]
[Venues ] [ Pavilions ] [ The Baths ] [ Hotels, Pubs & Inns ]
[ The Games ] [ Jim in Jamaica ] [ Mike in Mexico ] [Joe in Vancouver ] [ 1970 In Edinburgh ] [1986 in Edinburgh ]
[ Rangers Sports ] [Edinburgh Highland Games ] [ Bute Highland Games ] [ Strathallan Gathering ] [ Dirrans Sports ] [ Singers Sports ] [ Campsie Highland Games ] [ Track Inter Clubs ] [Inter Clubs at the Games ] [ Maley & Struth: Sports Promoters ] [ Braemar Through The Ages ]
[ The Press ] [ Doug Gillon ] [Sandy Sutherland ] [ Bill Melville ] [ George Sutherland ] [ Ggroe ]
[Graham Macindoe ] [ Willie McGregor ]
[ Books ] [ A Hardy Race ] [ Running Shorts ] [Powderhall & Pedestrianism ] [Running Literature ] [ Running Books ]
[1970 Games Programmes (completed) [ Some Programmes ] [ Graham's Programmes ]
[ Hugh's Gems ] [ Certificates and Badges ] [ Some Video Links ] [ Experiences ] Aspect s ] [ In the beginning ]