A short story from a conversation on the way up to the event. I said that there had been a bit in The Herald about a union of Bellahouston and Shettleston Harriers, "Aye, there was, " said the Bella runner, " so long as it was called Shettleston Harriers. Nae chance!"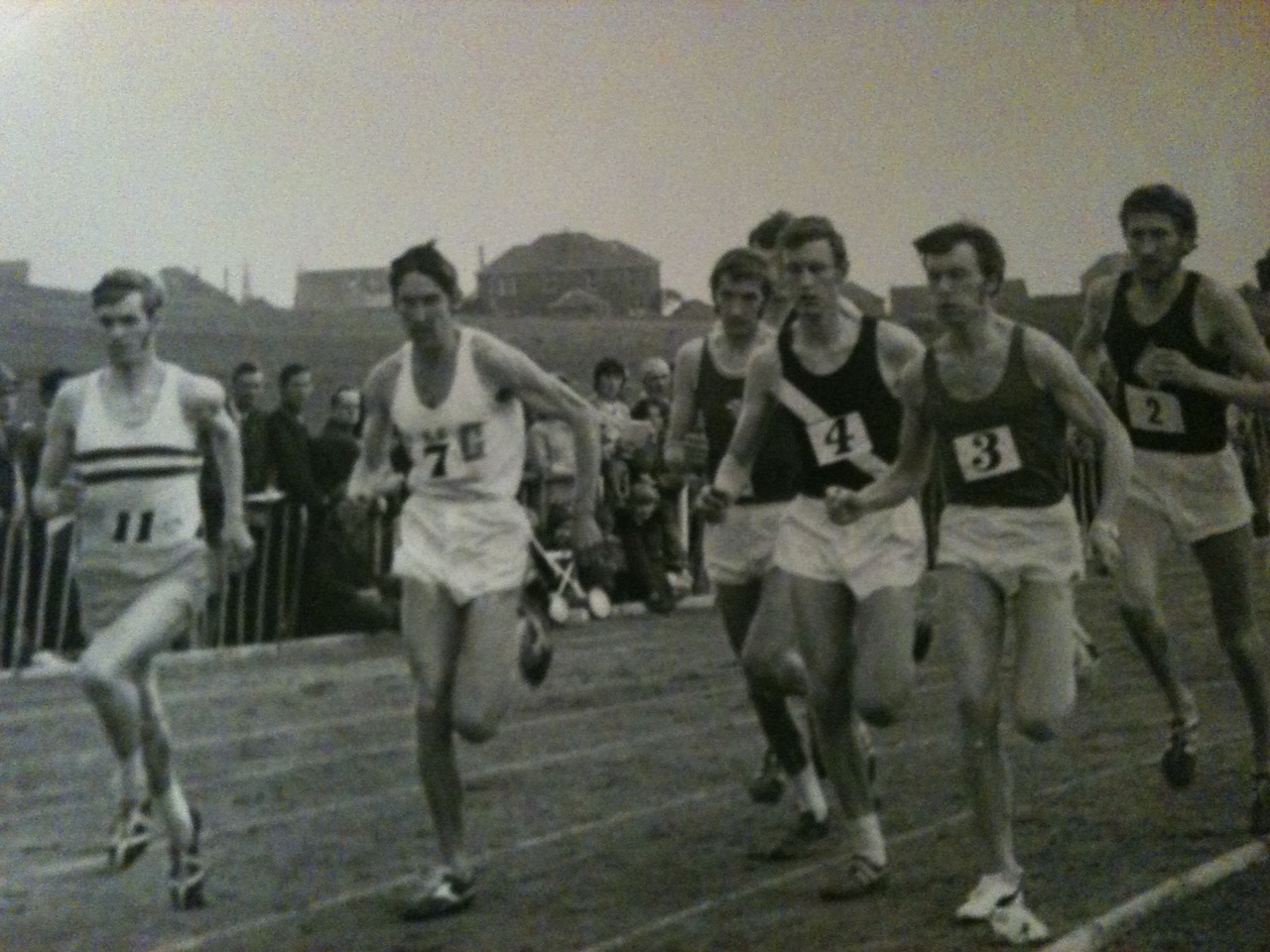 The picture above is of one of the many invitation events hosted by the now defunct Airdrie Highland Games – look at the quality there – all household names. Joe Small has done a short history of the Games and you can read it here. Following the tale at the top of the page there is another story of mergers on the way to a meeting: , I fell into step with a runner from Greenock. There had been rumours of a merger of Wellpark and Glenpark at the time and I put it into the conversation. "Talks went fine until it came to the name of the new club. (Here he named a famous member of one club) suggested that we take the first name from your club (Greenock), the second name of our club (Glenpark) and the third from your club (Harriers). That didn't go down too well." There was a lot of talk of mergers at that time !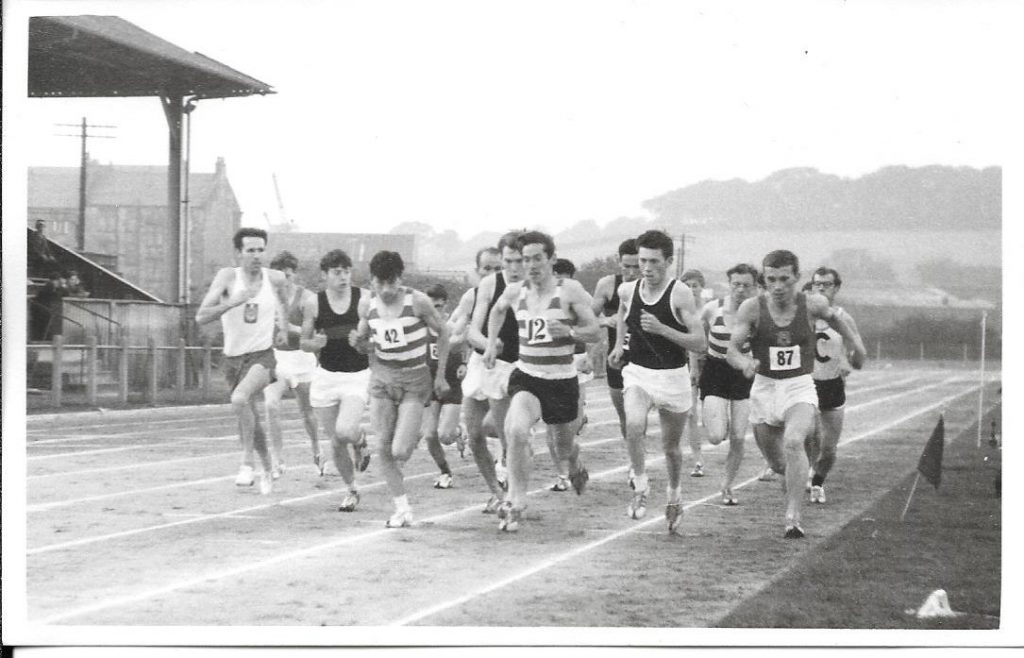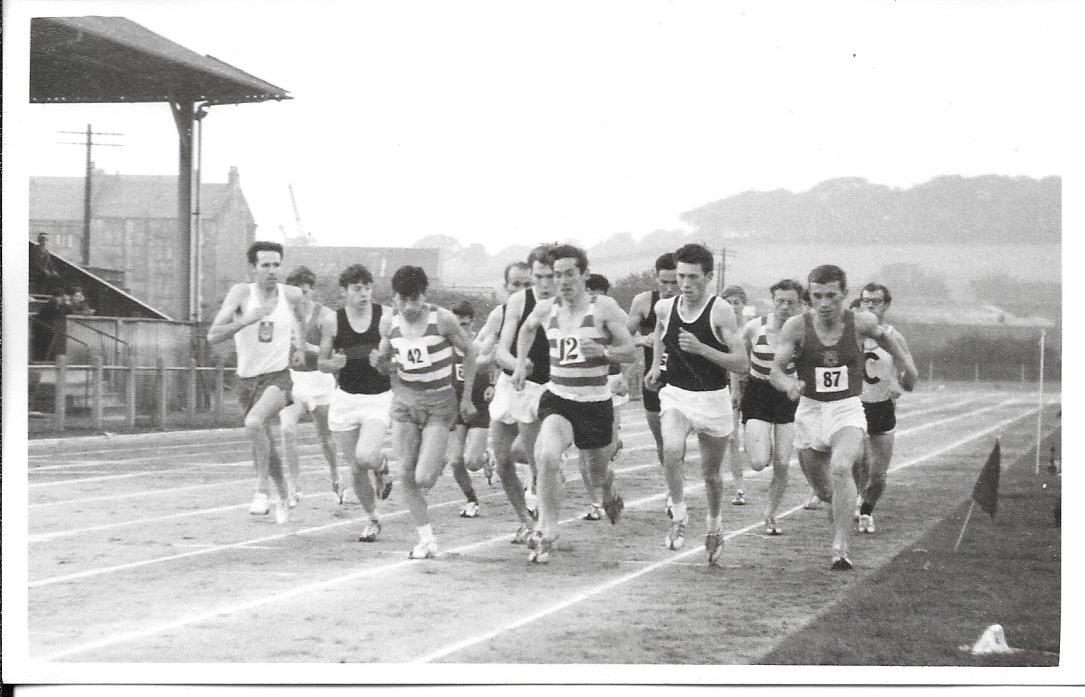 Jim Brennan of Maryhill, 87 above, has just answered the questionnaire about his career in the 1960's. It's worth a read and you can get to the page by clicking on his name above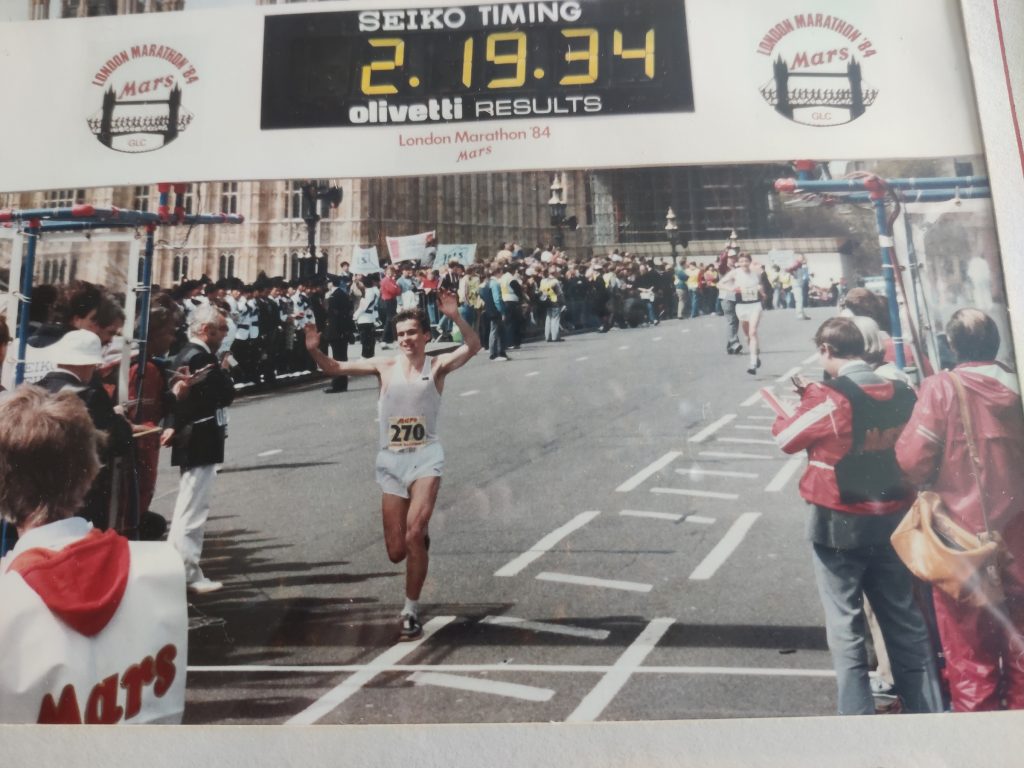 Colin Youngson and Mick McGeoch have done some wonderful work, involving many hours of research, in detailing the complete marathon racing careers of some of our very best ever marathon men. They have now added Andy Daly, Simon Pride, Andy Robertson and Terry Mitchell to their collection which includes Hutton, Dingwall, Graham, Macgregor, Youngson, Robertson, Clark. and others. Just click here and have a good old browse!
Sticking with the marathon we now have a page of assorted facts and stories about the marathon in a Marathon Miscellany.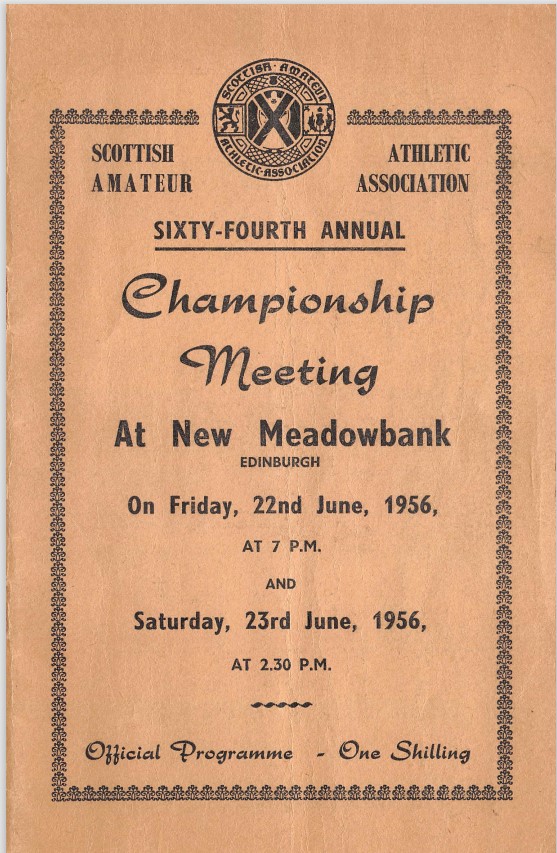 We have started a Marathon Miscellany page which just has some facts about the race and the people who run in it. There is a fair bit there already but more will be added as time goes on – just click on the name above and have a look. You will note from the cover picture above that we now have the programme for the 1956 SAAA Championships on site. Just received from Chris Holloway in Tipton – makes interesting reading too. There are also many more programmes at this link .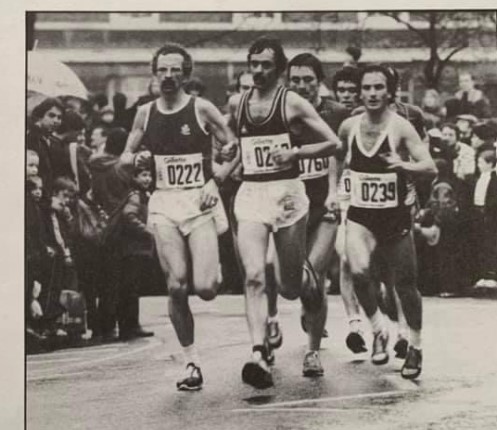 Thanks to a lot of hard work by Colin Youngson and Mick McGeoch, we now have more marathon lists of the careers of runners such as Lindsay Robertson, Alastair Macfarlane (0222 above) added to the original career marathons of Alastair Wood, Don Macgregor, John Graham and several others. It is very interesting to see the progression of the marathon running career of each of the top men, to note how many (or how few) they ran in a year and so on. You can read about them here .
Scotland has produced many very good marathon runners over the years and the Hawkins brothers may well surpass many of them but their careers have a long way to go before then. In chronological order, Alastair Wood, Jim Alder, Fergus Murray, Donald Macgregor, Sandy Keith, Colin Youngson, Jim Dingwall, Alastair Macfarlane, Dave Clark, Graham Laing, Des Austin, John Graham, Allister Hutton, Fraser Clyne, Peter Fleming and Lindsay Robertson are men who would grace any nation's roll of marathon racers. The Welsh International marathon runner (and statistician) Mick McGeoch (with some help from Colin) has produced, after a lot of work, entire career lists of races at marathon and ultra marathon distances for them. Do you want to know how many marathons John Graham ran in his career? How many races these guys did per year when at their best? What was Don's marathon pattern in the years leading to the Olympics where he did so well? Just follow THIS LINK to find out.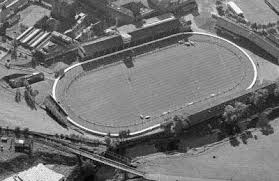 We now have the entire Powderhall and Pedestrianism up on the site. If you are at all interested in the history of the sport – particularly this famous venue with its tales of Bill Struth, A McCrae, Willie McFarlane, Fred Lumley and all the rest, go to the link below. There are of course other books that yoiu can read at this time of year on site. Look for
A Hardy Race by Clyne and Youngson
Running Shorts by Colin Youngson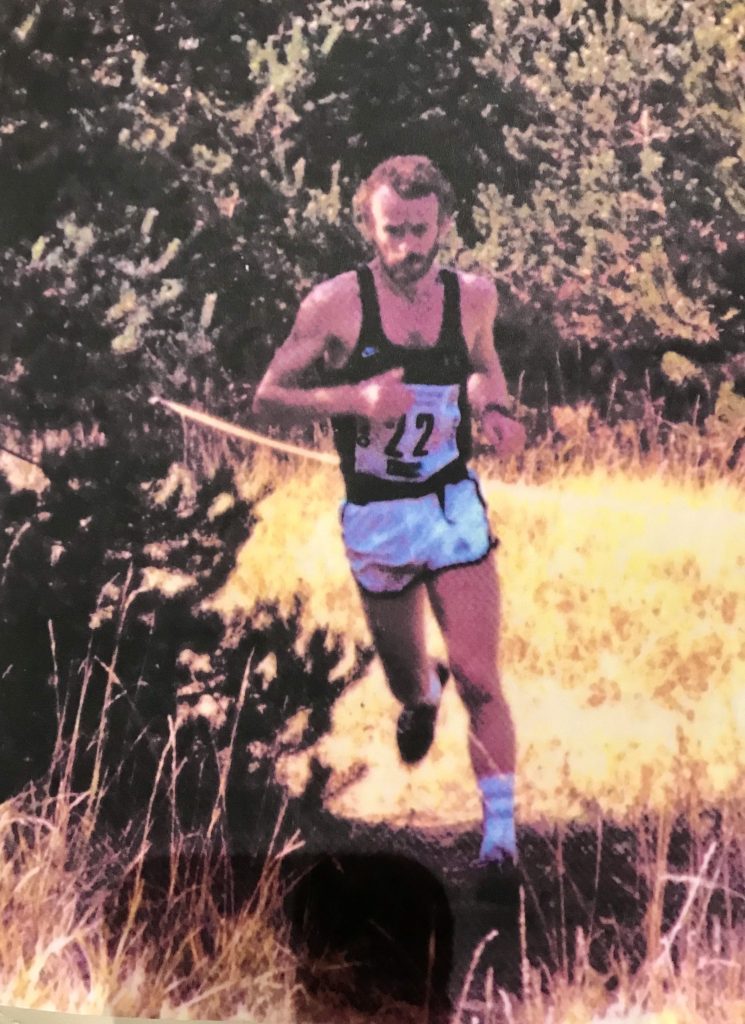 The profile of international hill runner Denis Bell is now up on site. Denis went on to become a very good administrator and team manager. Read about him by simply clicking on his name.
Spot the athlete! We have started another collection of photographs from Hugh Barrow: only a start but some beauties. Just click on his name.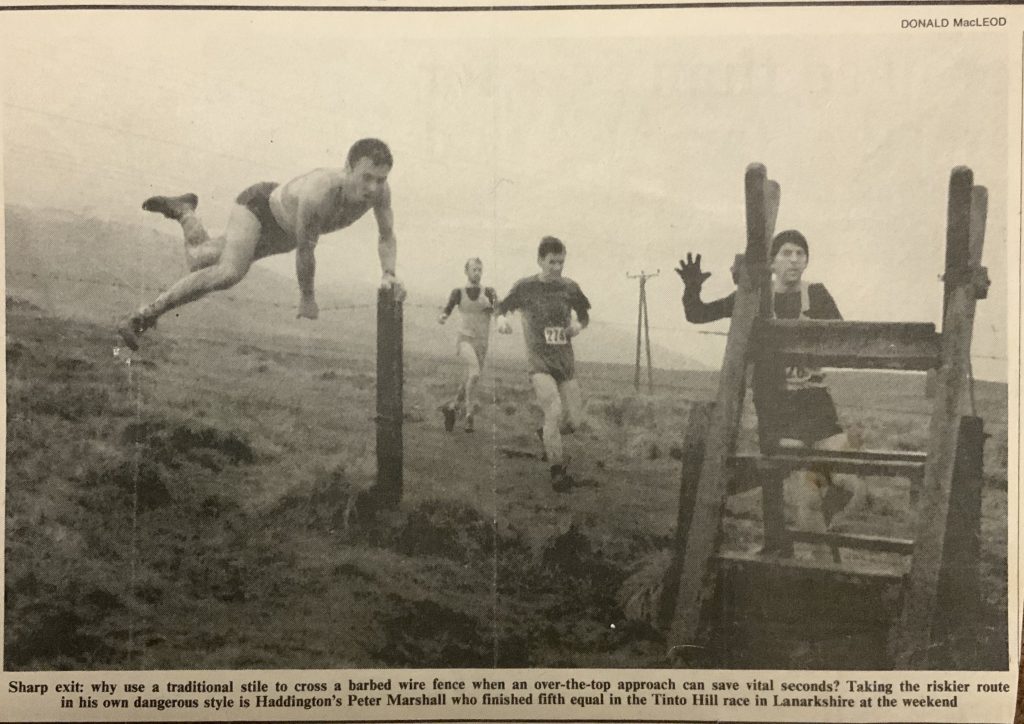 On all these pages, the link bar is at the bottom.
[ Aspects ] [All In The Family ] [ A Hardy Race ] [ Edinburgh – Glasgow ] [ E-G in Pictures] [ SMC ] [ Sports Meetings ] [ The Chasers ] [ The Milers ] [ British Milers Club ] [ The Fast Pack ] [ The Classics ] [ The JOGLE ] [ The Universities ] [The YMCA Movement ] [ The Veterans ] [ The Professionals ] [The Hills} [ The Peds ] [ The Ultra Marathons ] [ 1978 International Cross-Country ] [ Venues ] [ Running Shorts ] [ Track Inter Clubs ] [ In the beginning ] [ Women's Cross-Country ] [ Hugh's Gems ] [ Graham's Programmes ] [ Inverclyde ] [ Who's Who ] [ Experiences ] [Career marathons ] [Marathon Miscellany ]