*** Cyril O'Boyle died on Tuesday night in Letterkenny Hospital. He was 91. The Donegal Daily has a head line – "Sadness at Death of Donegal Great". Donegal Sport is today mourning the death …" Although a member of Clydesdale Harriers from 1957, he had previously run for Victoria Park and he is seen here on the left of the back row with Syd Ellis and Johnny Stirling and Ian Binnie is in front. ***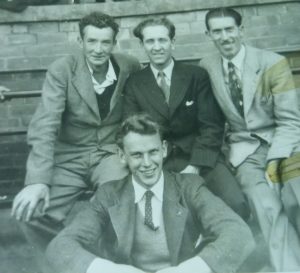 We have started enlarging and adding to the coverage of the 1986 Commonwealth Games. While we are doing so, we draw attention to the coverage by 'Scotland's Runner' which was really good. You can refresh your memory, or if you don't remember the event 31 years ago, learn about it at this link. If you would rather have the team managers reports by John Brown and Hilda Everett, they are also available.
Well known official Molly Wilmoth was a well known runner before that with SWAAA titles and nternational appearances to her credit. Her profile has been redone and is available here
One of Molly's contemporaries, rivals and friends, Aileen Drummond, was one of the country's finest athletes in the 1950's – and she went on competing right through to the late 80's. The profile is accessible here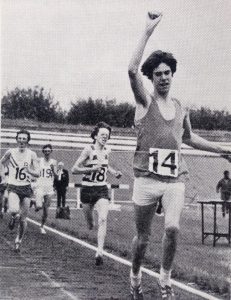 Lawrie Reilly, finishng second above was a fine runner who represented Victoria Parkl AAC before moving to the North of England and joining Liverpook Pembroke and then Sale Harriers. He represented Scotland in the world cross-country championships seven times – once as a junior and six times as a senior. The profile could do with more info on his career in England but it does give a good idea of his talent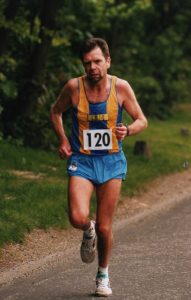 Cameron Spence
Cameron Spence is the latest addition to the Elite Endurance page: you can access it on Monday by clicking on his name..
Remember the Spence family from Greenock. The five brothers are well known – there are many who say that Lawrie (a sub 4 miler and a 2:16 marathon runner) is Scotland's best ever. Read about them using this link
On all these pages, the link bar is at the bottom.
[ Aspects ] [All In The Family ] [ A Hardy Race ] [ Edinburgh – Glasgow ] [ More Races and People ] [ SMC ] [ Sports Meetings ] [ The Chasers ] [ The Milers ] [ The Fast Pack ] [ The Classics ] [ The JOGLE ] [ The Universities ] [ The Veterans ] [ The Ultra Marathons ] [ 1978 International Cross-Country ] [ Venues ] [ Treasure Chest ] [ Running Shorts ] [ Track Inter Clubs ] [ In the beginning ] [ Women's Cross-Country ]