We now have programmes for the entire Commonwealth Games on site: 17th July. 18th July 21st July 22nd July 23rd July 24th July and 25th July (the last day) There were no games at all on 19th July (Sunday) or 20th July (athletics rest day). Many thanks to Alistair Lawson for donating the programmes.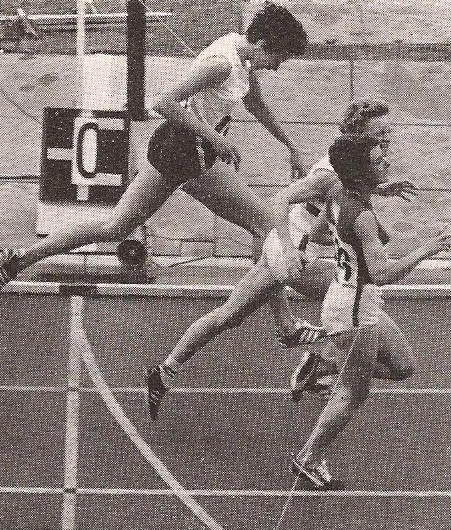 Alistair Lawson has passed on his collection of programmes from the 1970 Commonwealth Games in Edinburgh with ALL the results marked in and neatly enough written for them to be easily read. The first day was 17th July and that programme is here – heats and second round of men's 100 metres, first round of the women's 100m, men's high jump. 110m hurdles are all there. We also have the programme for the second day – 18th July – here: that was the day that Lachie won the men's 10000m, and the third day here. More programmes this weekend. Thanks Alistair. We will have a separate page with links to all the programmes contained within the 1970 Games page when we have them all up.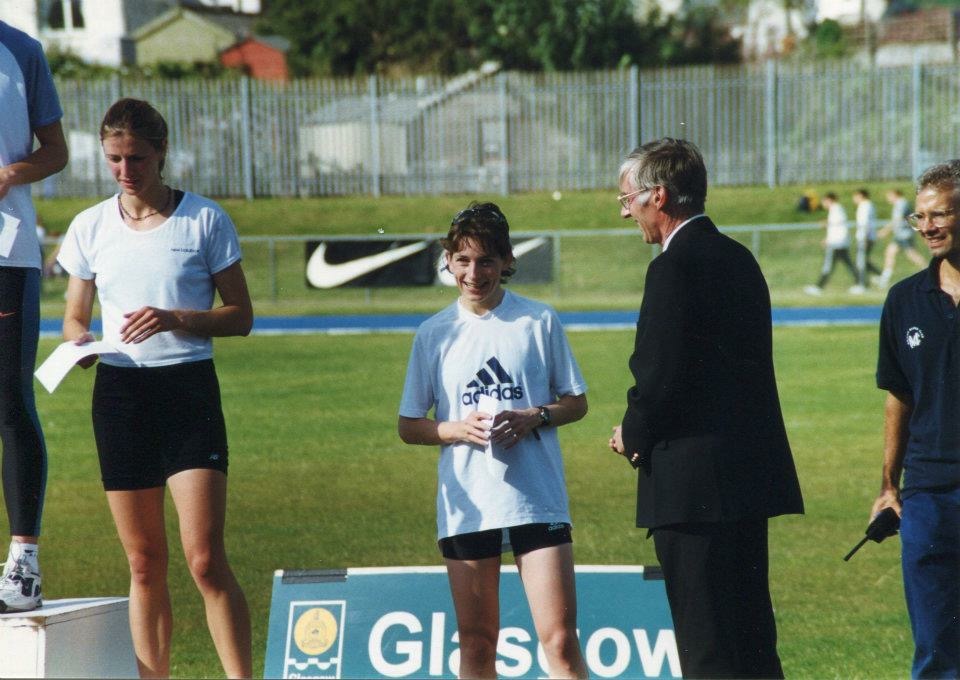 The first of the BMC pages is now up: the BMC in Scotland and it is here . Picture above is of Hugh Barrow making a presentation to Hayley Haining at the first BMC Grand Prix Meeting at Scotstoun in 1999
The British Milers Club pages are coming back to the website: at or before the end of the week. A very important factor in the development of British and Scottish middle distance running it has as its first ever member Hugh Barrow (SAAA champion and record holder), and most recently Sarah Calvert (Scottish U20 800m champion) as member number 8000. In between there were such members as Graham Williamson, Tom McKean, John Robson, Karen Hutcheson, Yvonne Murray and many many more.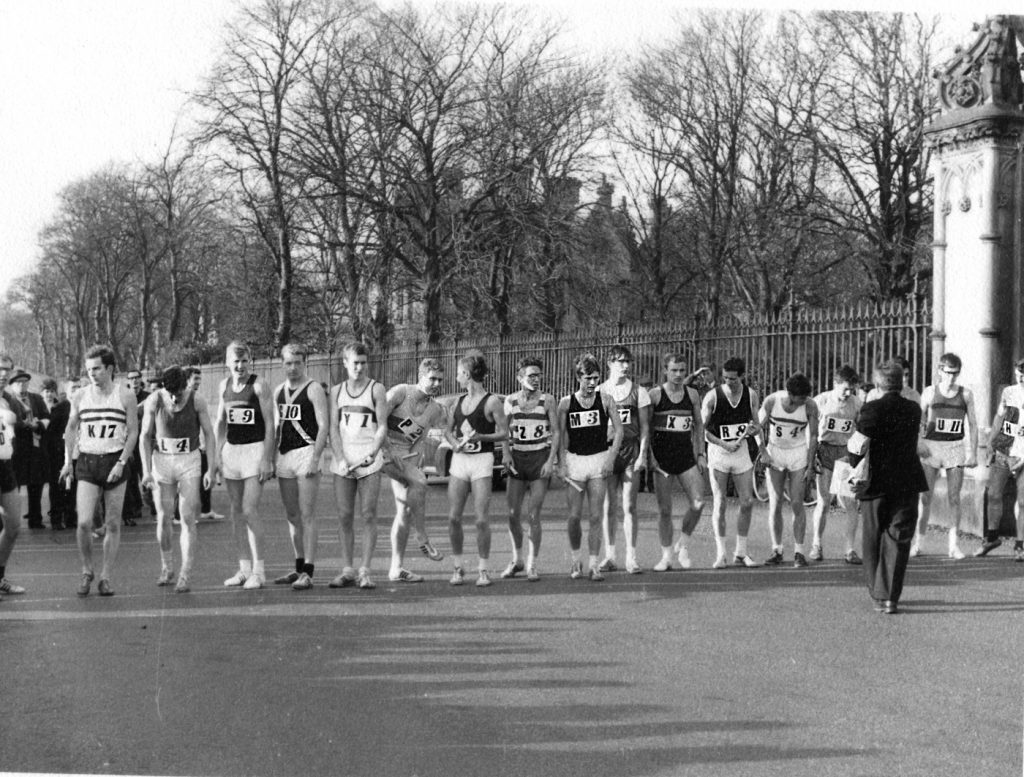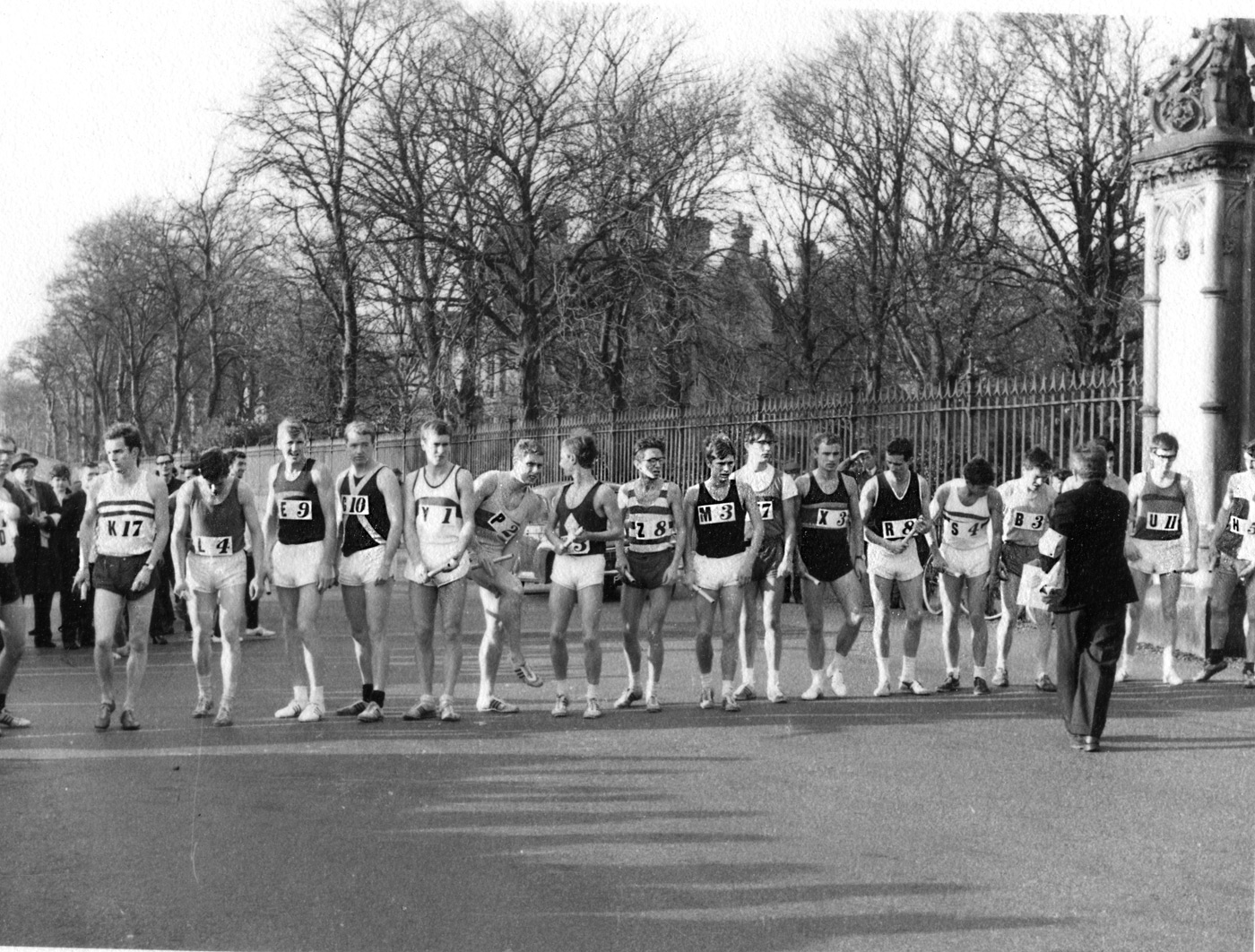 The line up at the start of the 1967 E-G: Brian McAusland's left knee on the left, then Dick Hodelet (ESH), C McAuley (Aberdeen University) , Bobby Mills (DAAC), Iain Kerr (Bellahouston), J Raeburn (Teviotdale)…. and among the others is Norman Morrison of Shettleston.
Graeme Orr's photos from 1967 1968 were on anent but have now been added to the Universities page along with Bobby Mills' photos. For now, see the Westerlands pictures at this link , and nationals from Hamilton here and the relay pictures, the ones from the Perth North Inch relay of 1967, and the Edinburgh to Glasgow are here. The start is pictured above with Craig Douglas and Hugh Barrow on the inside and Henry Summerhill on the infield.
Finally, every now and again the technology gets too clever for its own good and a link to a page doesn't work: if you get one, let me know so that I can fix it!
On all these pages, the link bar is at the bottom.
[ Aspects ] [All In The Family ] [ A Hardy Race ] [ Edinburgh – Glasgow ] [ E-G in Pictures] [ More Races and People ] [ SMC ] [ Sports Meetings ] [ The Chasers ] [ The Milers ] [ The Fast Pack ] [ The Classics ] [ The JOGLE ] [ The Universities ] [ The Veterans ] [ The Ultra Marathons ] [ 1978 International Cross-Country ] [ Venues ] [ Treasure Chest ] [ Running Shorts ] [ Track Inter Clubs ] [ In the beginning ] [ Women's Cross-Country ] [ Graham's Programmes ] [ Inverclyde ] [ Who's Who ]