Just heard of the death on Saturday, 16th June, of Donald Ritchie (below right) who was one of Scotland's best ever distance runners, one of the world's best ever ultra marathon runners and a much respected and admired man. All our sympathies go to his family and friends, all of whom must be devastated by the news.
The funeral will be on Tuesday, 26th June at 1:30 pm. The venue will be St Gerardine's Church, Str Gerardine's Road, Lossiemouth, IV31 6JY.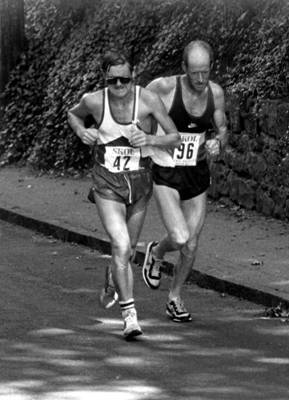 We have a profile of Donald here with links to several other pages including the road runners club interview, his autobiography 'The Stubborn Scotsman' and several photographs. He's in a more relaxed mood below with friend and fellow Aberdonian Colin Youngson.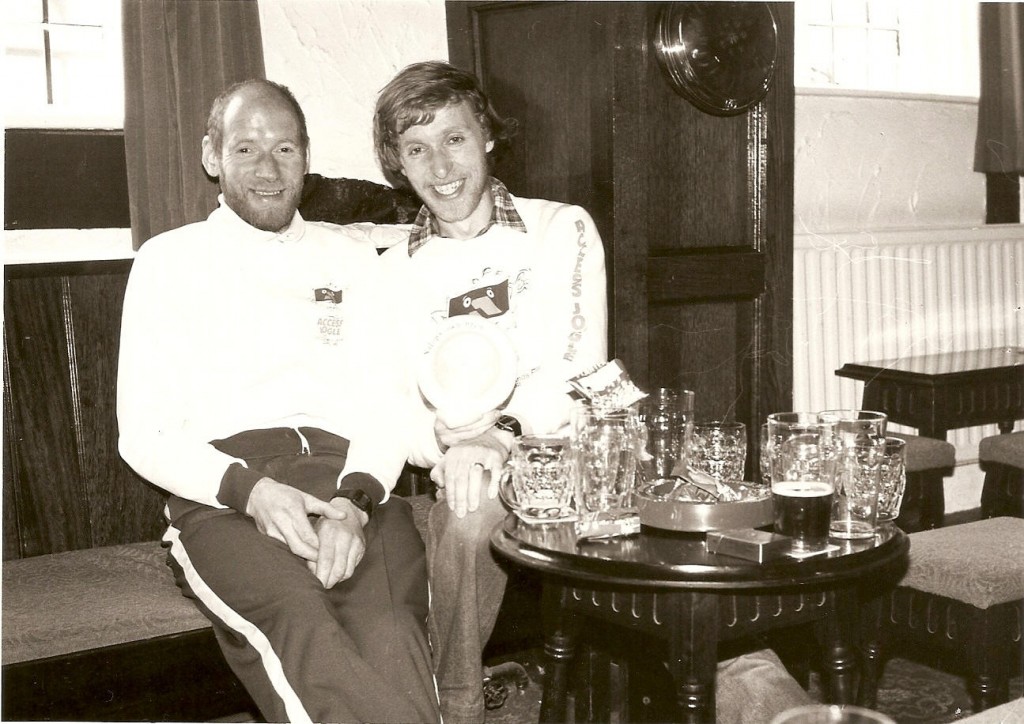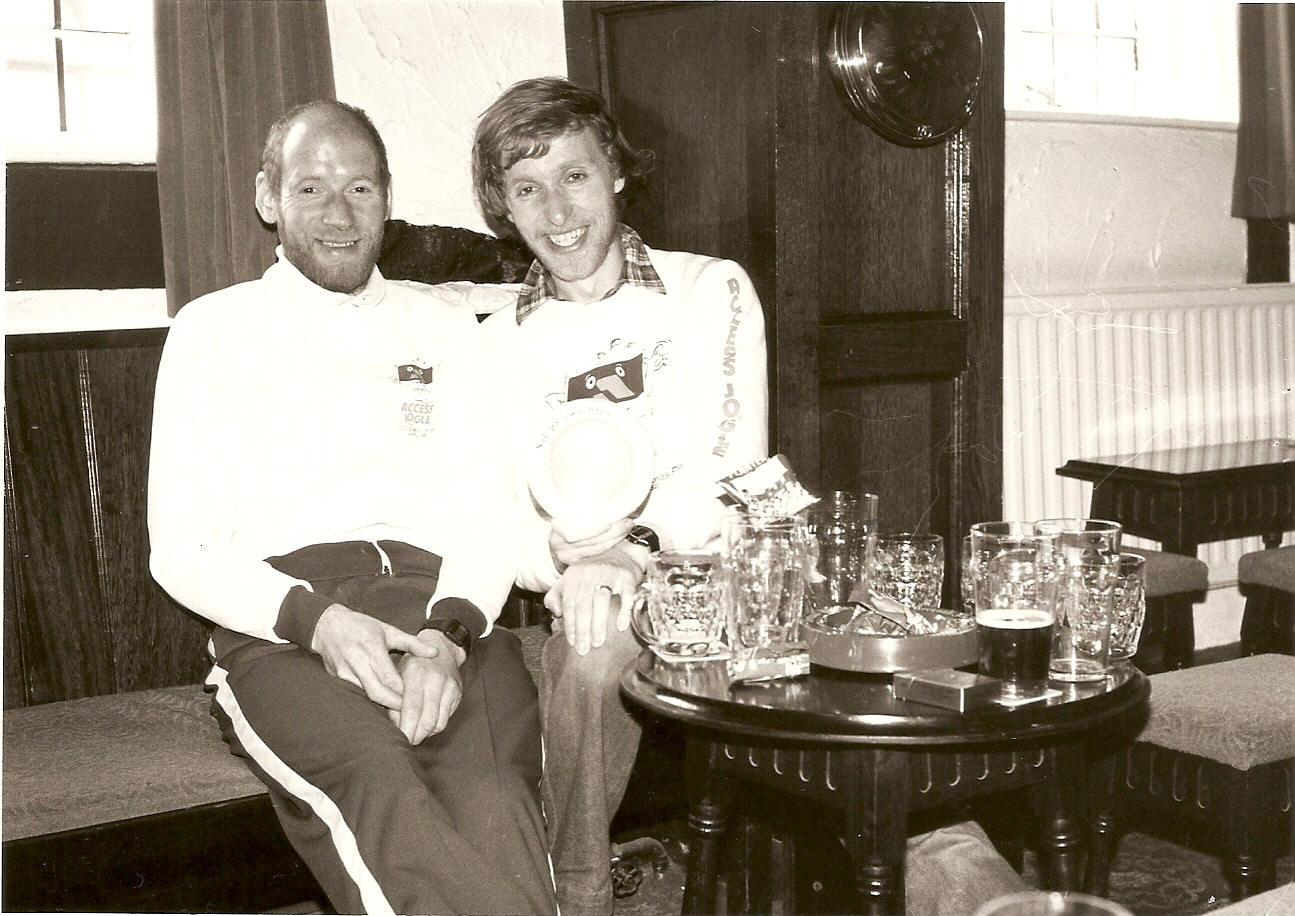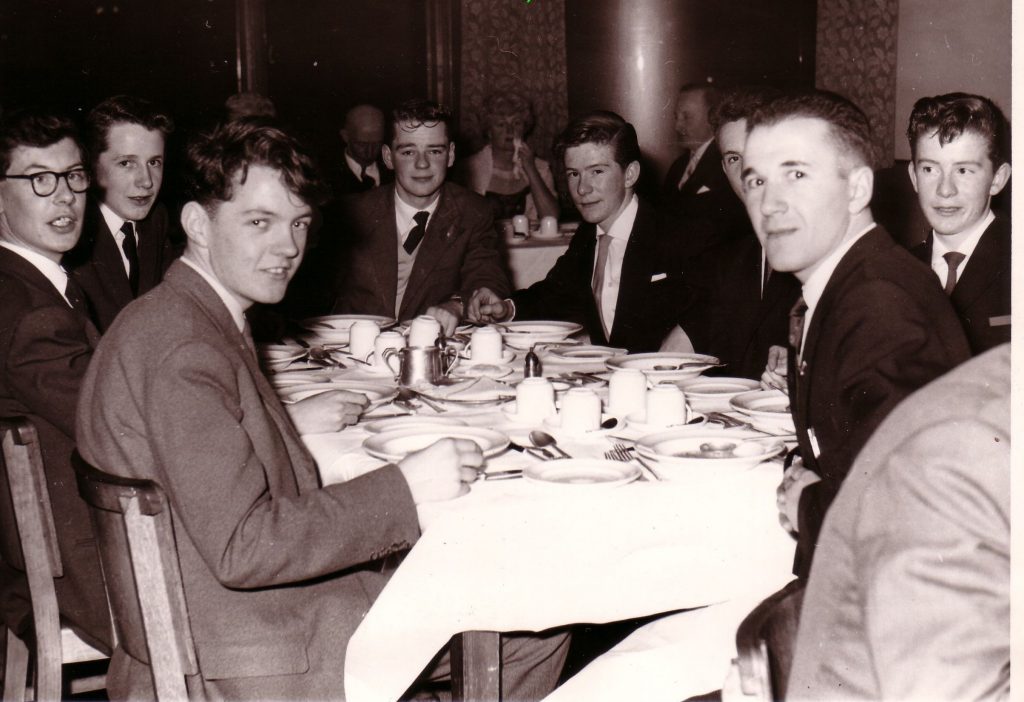 Some weel kent faces here – two Shields brothers for a start – second from the left is Buster McCall who emigrated to Canada after graduating from Glasgow University and Strathclyde. He became an orthopaedic surgeon but kept up his active lifestyle and actuattlt worked as a medic with four Canadian Winter Olympic teams. Read about him here
The British Milers Club has just celebrated its 8000th member: she is Sarah Calvert, daughter of Ewan and Gail. Scotland still has member number one in Hugh Barrow and now we have this great milestone for the wonderful club. First and 8000th!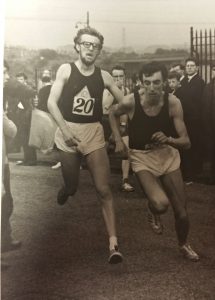 Ian Young to Eddie Knox in the Lanarkshire Relays, 1966
We now have Ian Young's profile up on site at this link Ian was a very good athlete who was a member of the very good Springburn team with Eddie Knox, Duncan Middleton and Harry Gorman as well as being an important part of the great Edinburgh University squad.
Sorry to hear of the death of Dick Quax through cancer at the age of 70. Excellent article from Hugh Barrow with several video clips is at
http://i.stuff.co.nz/nz-newspapers/central-north-island/sport/sport-region-6459/104258283/New-Zealand-running-great-Dick-Quax-dies-aged-70-after-long-battle-with-cancer
There is a website dedicated to statues of sportsmen which contains quite a few runners. They are all British, and all the sites are within these islands! It is worth a look and this link takes you to a particular work of art which will be well known to many of you.
We have started putting up the results on the Scottish Medley Relay (800, 200, 200, 400) on www.anentscottishrunning.com. It is a most enjoyable and popular event but apparently there is a dearth of information about it. Several periods have been covered so far with the most modern being the 1969-70 period when it was held at Glasgow Highland Games.
Quite a field in the photograph above. Count the stars! The first 15 in this 10K at Crown Point were all inside 30 minutes – including Stephen Begen of Springburn Harriers and Scotland – he's between Bobby Quinn and Lawrie Spence in the photograph above. Read his profile here
Another 'Running Short' story from Colin Youngson. It's a fictional look back at a lifetime in the sport which is humorous, sensitive and evocative. Read it here
Now that the Magnum is now more and the national championships have moved away from the Beach Park, a review of its time as a top venue for cross-country, rivalling the great Hamilton Racecourse trails, we have a review of the venue here
The Who's Who of Distance Running between 1945 and 1990 is now complete: except that we are still finding new names to add to it. Many veterans have now been added and we are in the process of adding some hill runners. The work has been done by myself, Colin Youngson and Joe Small and they need to be thanked for their efforts. Find it here
Finally, every now and again the technology gets too clever for its own good and a link to a page doesn't work: if you get one, let me know so that I can fix it!
On all these pages, the link bar is at the bottom.
[ Aspects ] [All In The Family ] [ A Hardy Race ] [ Edinburgh – Glasgow ] [ E-G in Pictures] [ More Races and People ] [ SMC ] [ Sports Meetings ] [ The Chasers ] [ The Milers ] [ The Fast Pack ] [ The Classics ] [ The JOGLE ] [ The Universities ] [ The Veterans ] [ The Ultra Marathons ] [ 1978 International Cross-Country ] [ Venues ] [ Treasure Chest ] [ Running Shorts ] [ Track Inter Clubs ] [ In the beginning ] [ Women's Cross-Country ] [ Graham's Programmes ] [ Inverclyde ] [ Who's Who ]