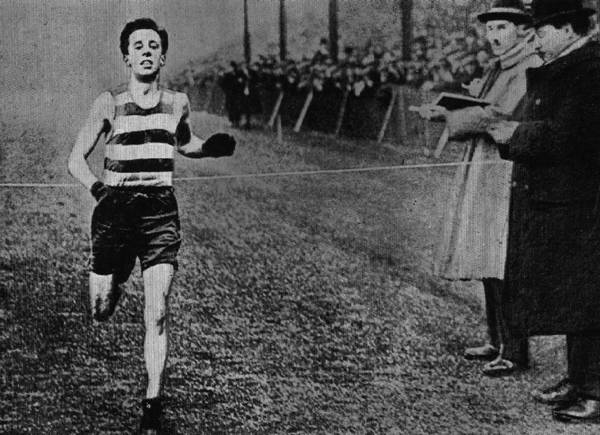 Alistair Douglas of Victoria Park AAC was related to George McCrae who was a postman from Banknock who was one of the best distance runners of his time – he was running at the time of the First World War and the 1920's and he held the title of World Professional 10 Mile champion. His career is covered in the latest extract from 'Powderhall & Pedestrians' which concludes Part Three of this wonderful historical book. Although about Powderhall, the content ranges far beyond the historic stadium and covers all the major developments during its lifetime.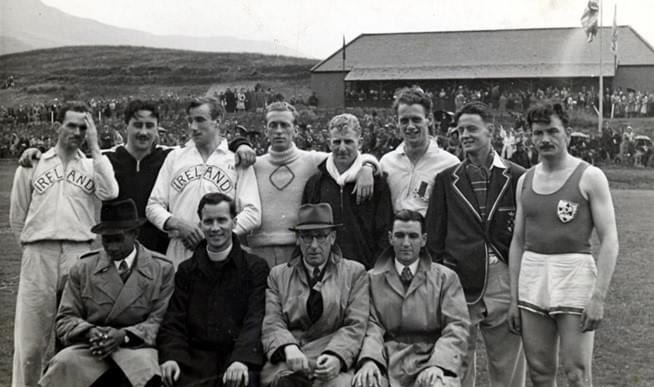 We have started another page of Hugh Barrow's photographs – page six of Hugh's Gems – which is a collection of cuttings and photographs that deal with middle distance running and sports meetings and sportsmen of not and interest. This time we have pictures of Christine Price and Adrian Callan, the one shown above, cuttings dealing with sport over 100 years ago, and how one school is dealing with the pandemic. 10 pictures this time. Find them by clicking on the link.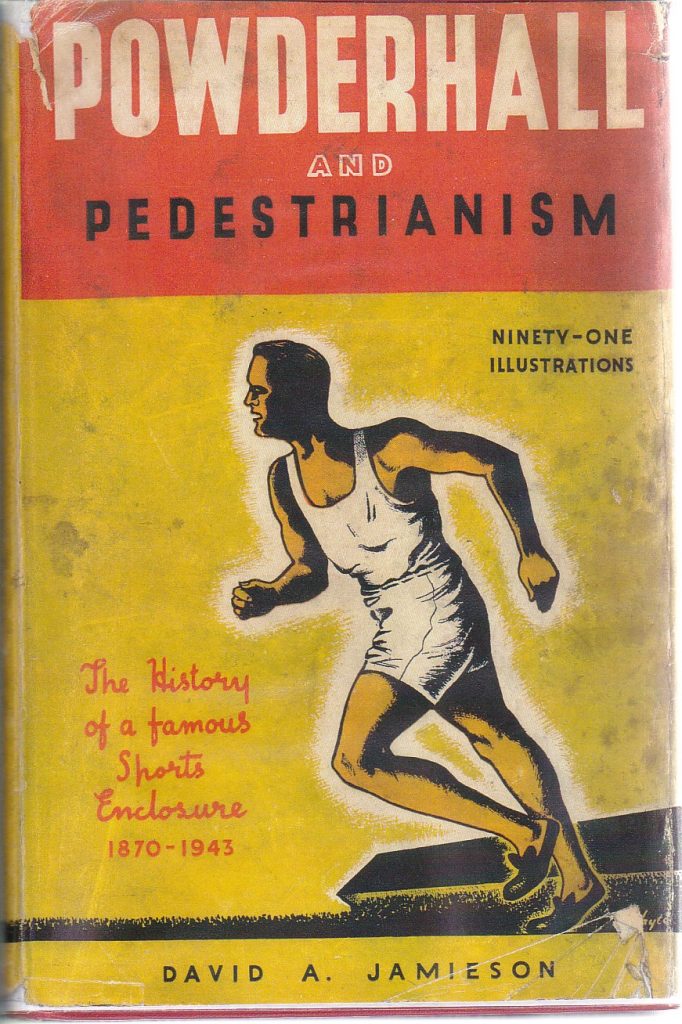 There is another part of the Powderhall and Pedestrians added to the site and it covers the period from 1890 to 1896. Lots of interesting stories which will be appreciated by historians, students of professional athletics and those with an interest in one of the finest old stadiums in the country. How about this wee story:
T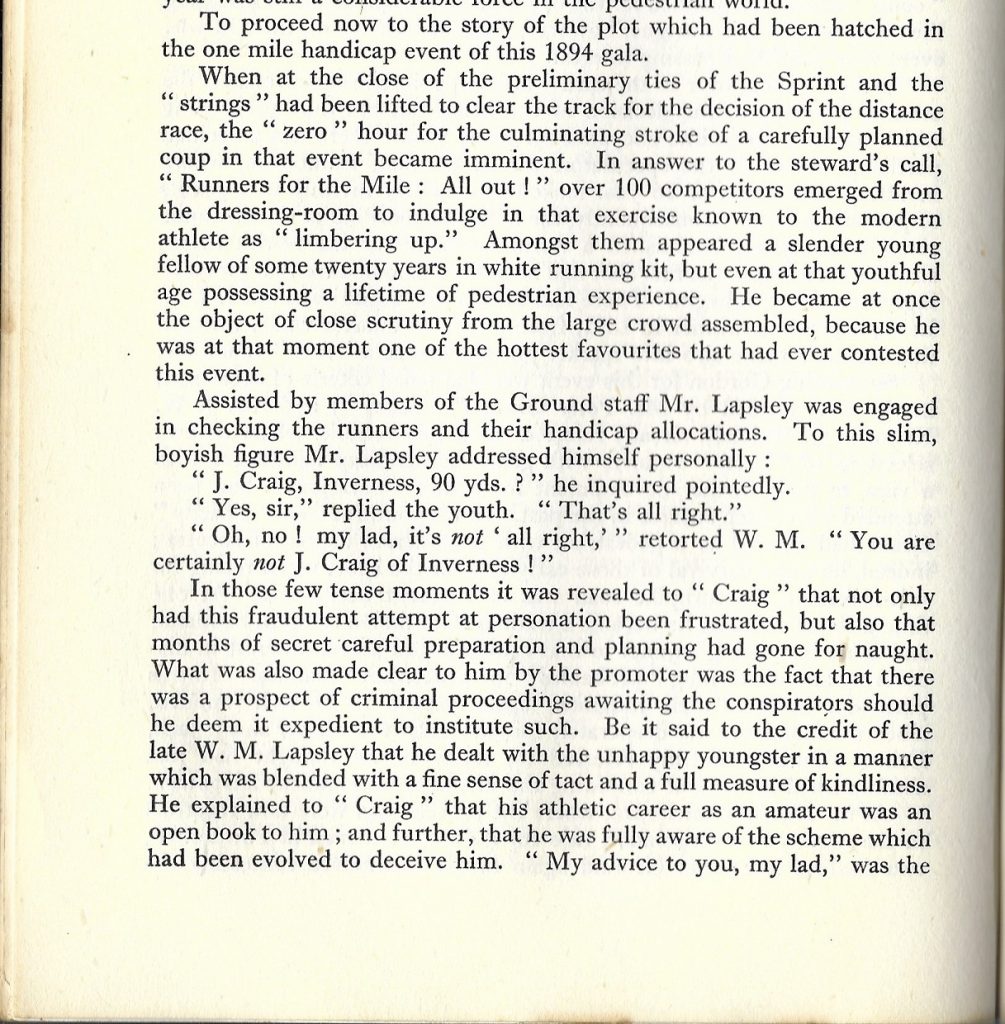 You'll have to go to the extract published here to find out how the official dealt with the 'school' and not at the expense of the 'lad'. And who was the lad?
Bellahouston Park has been a venue for cross-country running for over half a century and many top quality races have been held there as well as club, county and open races. The first ever Scottish Cross-Country Relay Championship was held there in 1974, the Midland Relays for men and for women have also been held there and of course district and national championships have graced the park too. The biggest meeting however was almost certainly the World Championships held there in 1978 on a wet and muddy afternoon when nobody went home dry, and few did not have patches of mud on their clothes. See the picture of winner John Treacy above! The Men's and women's championships had been held there separately that year. To read a short account of cross-country (and a road race) in Bellahouston Park, just click on the link at the start of the paragraph, or go via the Venues link below.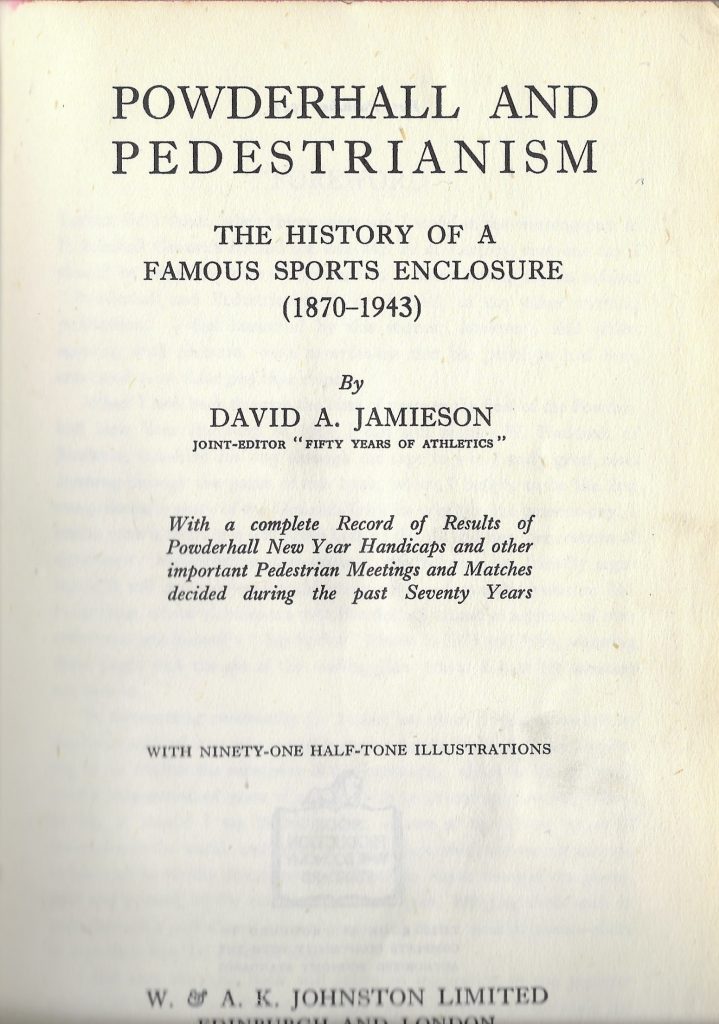 'Powderhall & Professionalism' is one of the most important books to be produced on professional athletics. Published in 1943 it is still regarded as a very important document. We are fortunate t have been given a copy and it will be reproduced over the coming weeks. The first two parts are available here for now, but it will always be available from The Professionals pages.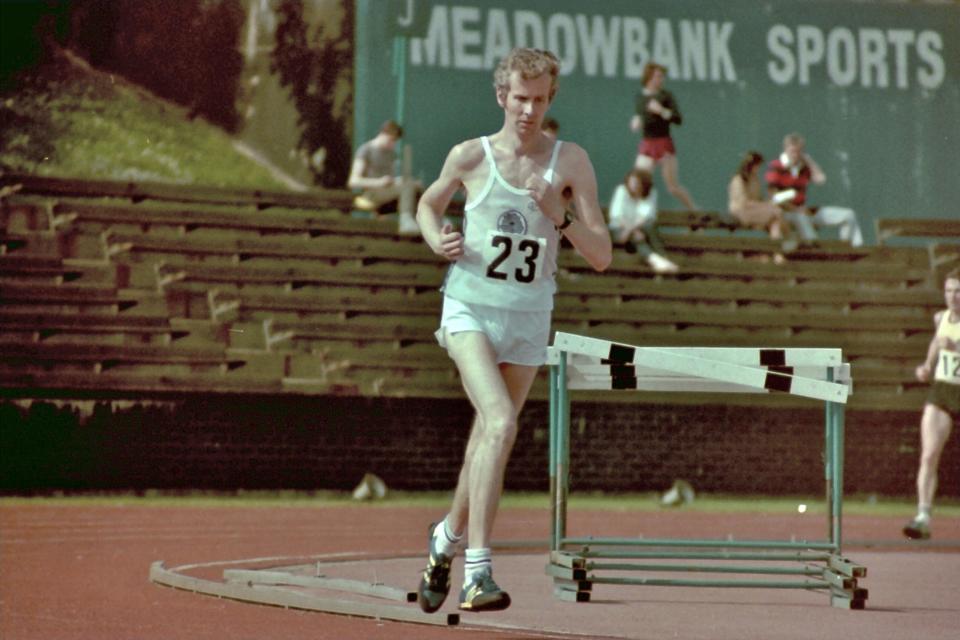 Big Peter McGregor of Victoria Park is a very well known figure in the distance running and coaching communities and it came as a shock that he, like Lachie before him, is to have a leg amputated at the knee. We were all taken aback at the news – see the comments at Graham MacIndoe's Facebook page on Scottish running in the 1980s – for such a well liked figure. Read about his career at this link.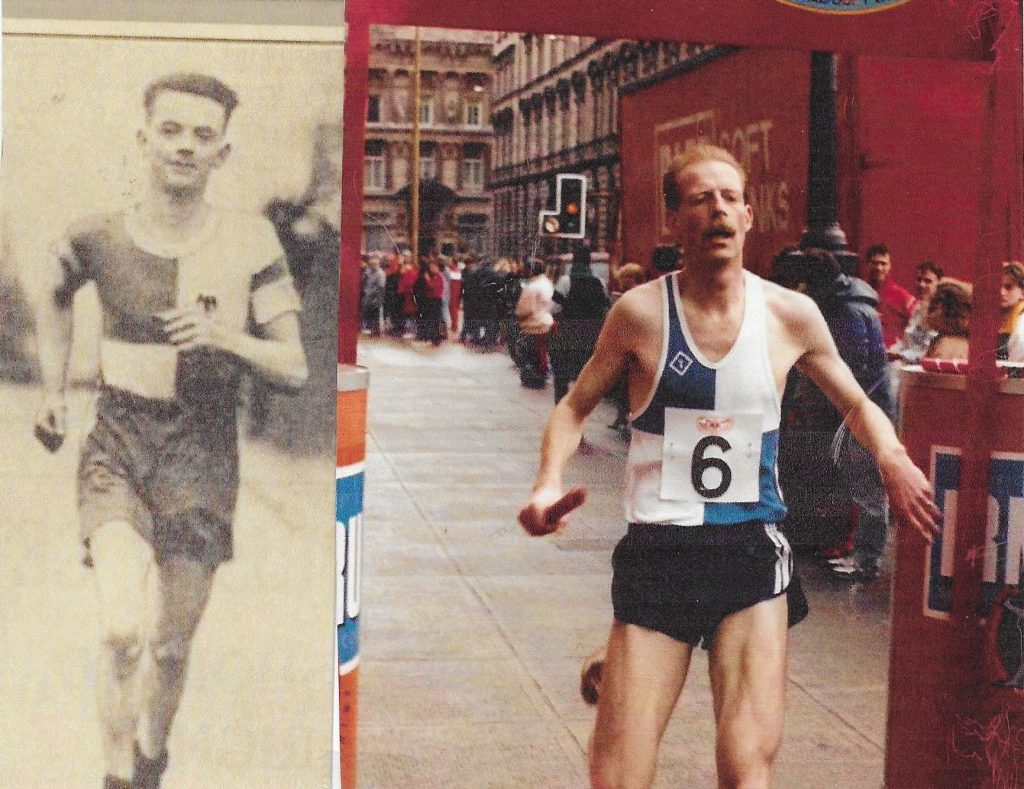 The Haskett family has contributed a lot to Scottish athletics for almost a century now, pictured above are Chick Haskett who was a member of Dundee Hawkhill Harriers in the 1920's and his son Charlie who is still a loyal member of the club. Four brothers in the 30's and 40's, two internationalist siblings in Charlie and Chris, plus another generation represented by Mark and Gordy. And that's not counting Chick's wife Chris, his sister in law Nettie and his brother in law Alex! You can read all about them at this link .
On all these pages, the link bar is at the bottom.
[ Aspects ] [All In The Family ] [ A Hardy Race ] [ Edinburgh – Glasgow ] [ E-G in Pictures] [ SMC ] [ Sports Meetings ] [ The Chasers ] [ The Milers ] [ The Fast Pack ] [ The Classics ] [ The JOGLE ] [ The Universities ] [The YMCA Movement ] [ The Veterans ] [ The Professionals ] [ The Peds ] [ The Ultra Marathons ] [ 1978 International Cross-Country ] [ Venues ] [ Running Shorts ] [ Track Inter Clubs ] [ In the beginning ] [ Women's Cross-Country ] [ Hugh's Gems ] [ Graham's Programmes ] [ Inverclyde ] [ Who's Who ] [ Experiences ]