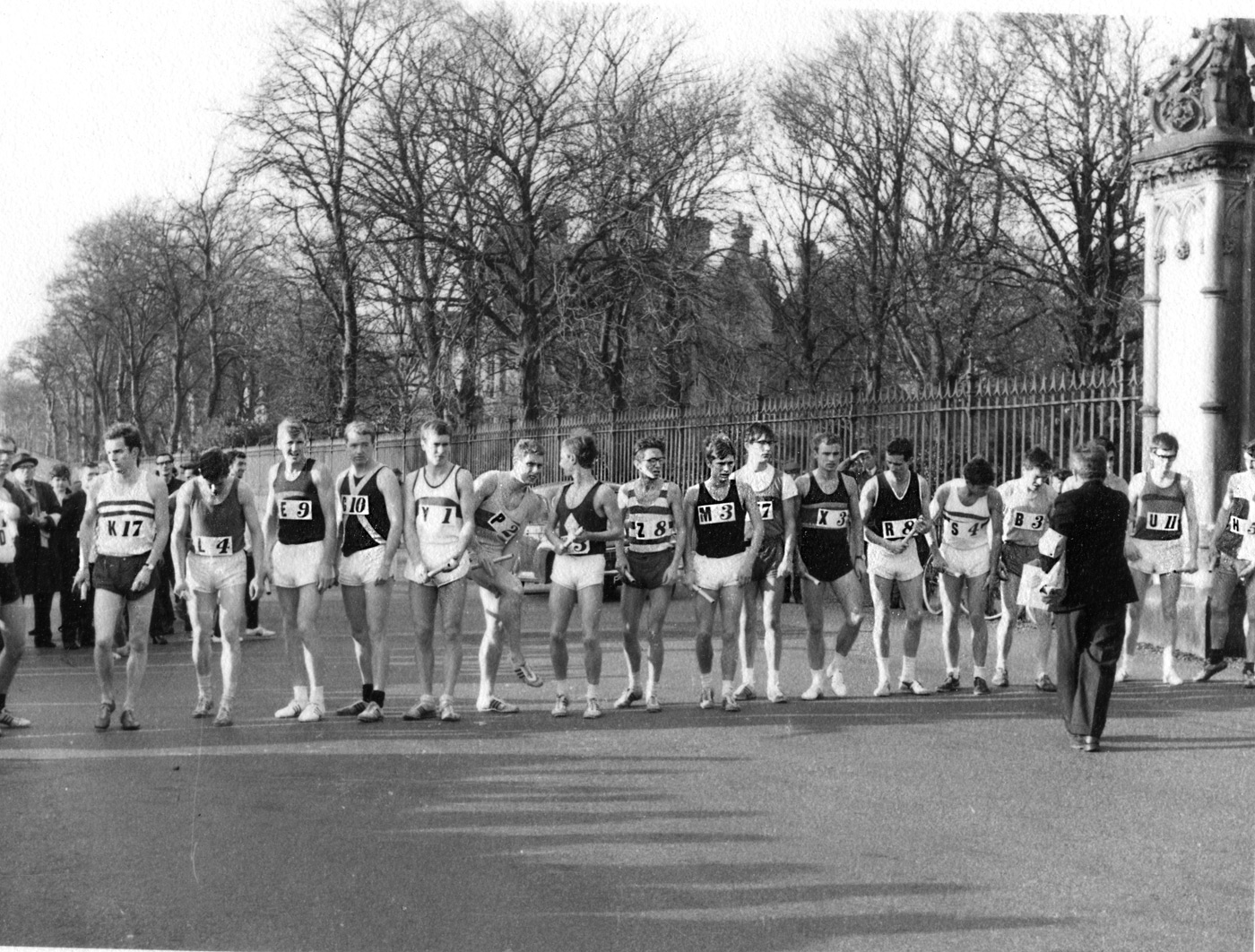 The line up at the start of the 1967 E-G: Brian McAusland's left knee on the left, then Dick Hodelet (ESH), C McAuley (Aberdeen University) , Bobby Mills (DAAC), Iain Kerr (Bellahouston), J Raeburn (Teviotdale)…. and among the others is Norman Morrison of Shettleston.
Graeme Orr's photos from 1967 1968 were on anent but have now been added to the Universities page along with Bobby Mills' photos. For now, see the Westerlands pictures at this link , and nationals from Hamilton here and the relay pictures, the ones from the Perth North Inch relay of 1967, and the Edinburgh to Glasgow are here. The start is pictured above with Craig Douglas and Hugh Barrow on the inside and Henry Summerhill on the infield.
We now have a new profile: Top runner turned coach Steven Doig : it can be reached here
Bobby Mills's photographs have been provoking many a comment. See them here . here , and here .
The British Milers Club has just celebrated its 8000th member: she is Sarah Calvert, daughter of Ewan and Gail. Scotland still has member number one in Hugh Barrow and now we have this great milestone for the wonderful club. First and 8000th!
There is a website dedicated to statues of sportsmen which contains quite a few runners. They are all British, and all the sites are within these islands! It is worth a look and this link takes you to a particular work of art which will be well known to many of you.
We have started putting up the results on the Scottish Medley Relay (800, 200, 200, 400) on www.anentscottishrunning.com. It is a most enjoyable and popular event but apparently there is a dearth of information about it. Several periods have been covered so far with the most modern being the 1969-70 period when it was held at Glasgow Highland Games.
Finally, every now and again the technology gets too clever for its own good and a link to a page doesn't work: if you get one, let me know so that I can fix it!
On all these pages, the link bar is at the bottom.
[ Aspects ] [All In The Family ] [ A Hardy Race ] [ Edinburgh – Glasgow ] [ E-G in Pictures] [ More Races and People ] [ SMC ] [ Sports Meetings ] [ The Chasers ] [ The Milers ] [ The Fast Pack ] [ The Classics ] [ The JOGLE ] [ The Universities ] [ The Veterans ] [ The Ultra Marathons ] [ 1978 International Cross-Country ] [ Venues ] [ Treasure Chest ] [ Running Shorts ] [ Track Inter Clubs ] [ In the beginning ] [ Women's Cross-Country ] [ Graham's Programmes ] [ Inverclyde ] [ Who's Who ]