Two things to mention: we were very sorry to hear of Lachie Stewart's lower left leg being amputated and can only wish him well: he's been a superb advert for the sport as well as a good man and fine athlete. Cards of support can be sent via Glen.; there are more of Graeme Orr's photos of the 1967 E-G Relay here and the threat to Scotstoun as an athletics venue can be read at this link. .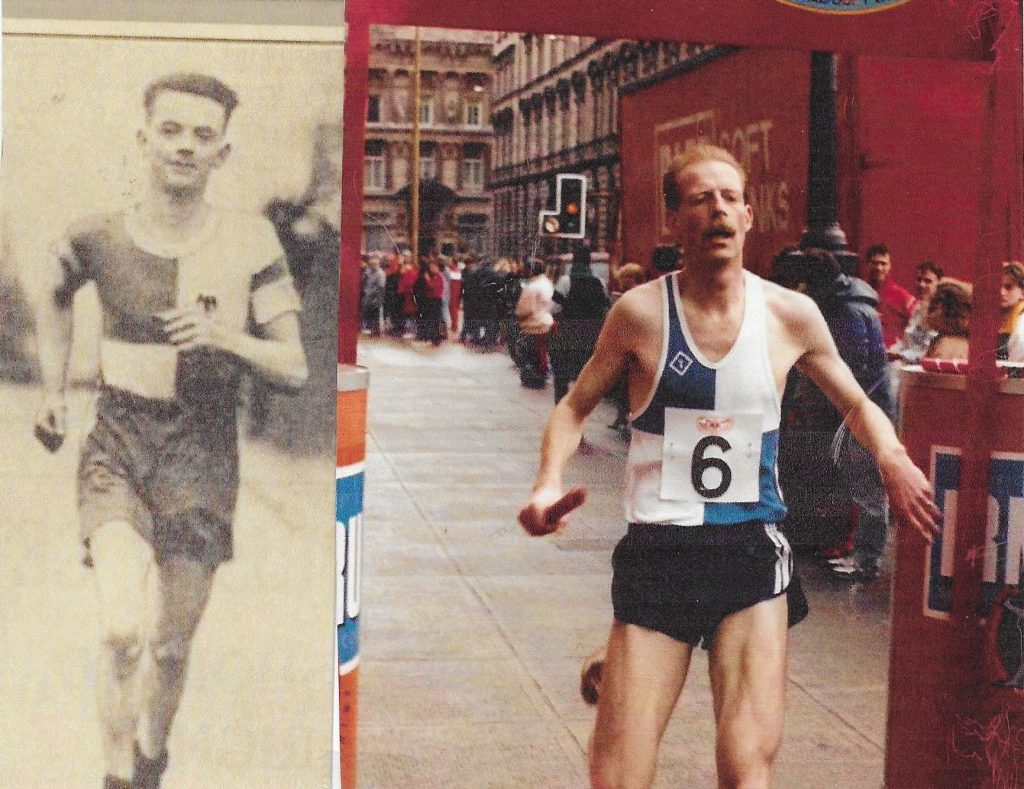 The Haskett family has contributed a lot to Scottish athletics for almost a century now, pictured above are Chick Haskett who was a member of Dundee Hawkhill Harriers in the 1920's and his son Charlie who is still a loyal member of the club. Four brothers in the 30's and 40's, two internationalist siblings in Charlie and Chris, plus another generation represented by Mark and Gordy. And that's not counting Chick's wife Chris, his sister in law Nettie and his brother in law Alex! You can read all about them at this link .
The photograph below is of Neil Gunstone – another member of another DHH family with long established links to the club. Indeed Palm Gunstone's father ran in the same medley relay team with Chick Haskett. Read about them at this link.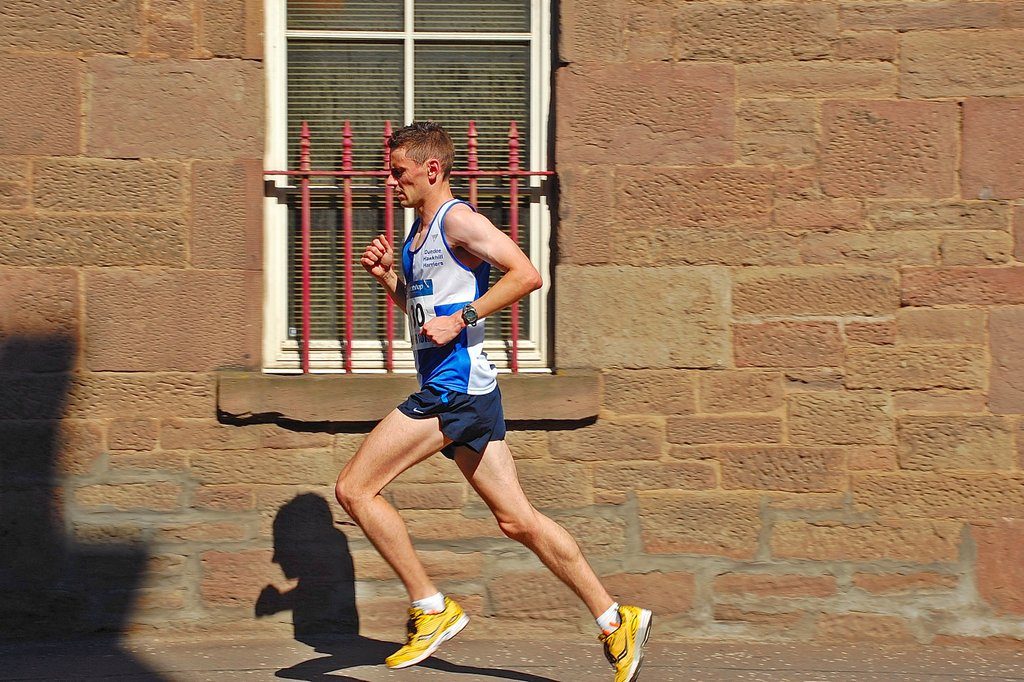 Neil Gunstone, was a very good runner on the track on the road and over the country before moving to London. Read his profile here.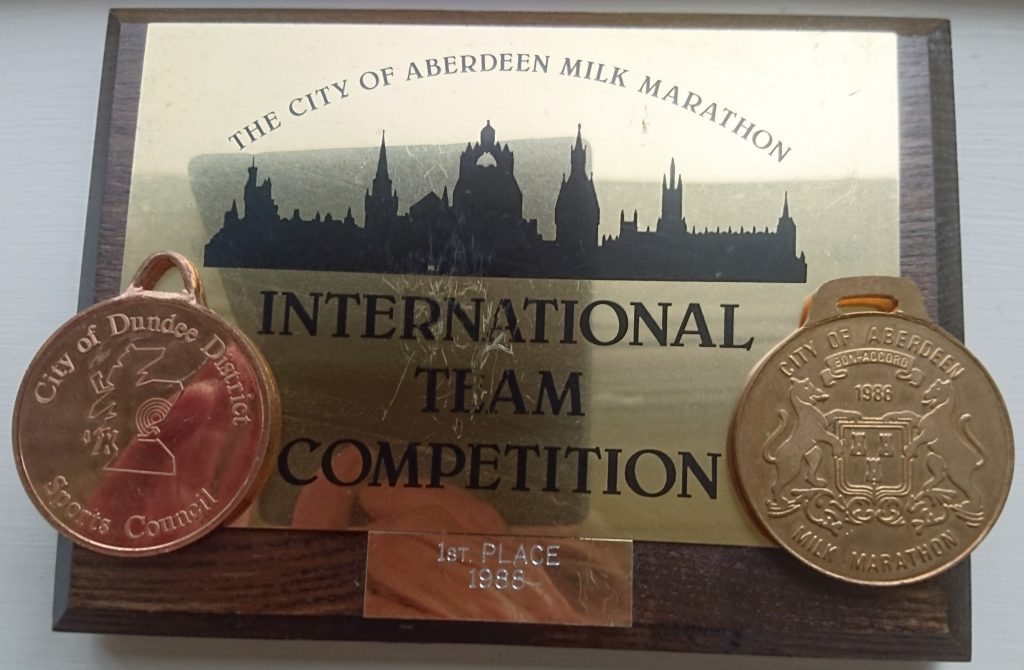 Brendan Foster once said that athletics has its own ranking system – gold, silver and bronze! That may well be the case for a single race on a single afternoon but they tell you more than that. We have a page of one man's collection of medals won in the heat of national and international competition and they are very informative. Made of gold, silver, bronze, crystal, wood and more besides, they tell a tale of Scottish athletics as it will never be again – races that are gone (no prizes for guessing E-G), SAAA marathons that start from the SAAA Championships, SAAA Marathons that are stand alone ages and not shoved into mass participation events. Have a look at Colin Youngson's career trophies (so far) and educate yourself on what endurance running was like from the 1960's to the present.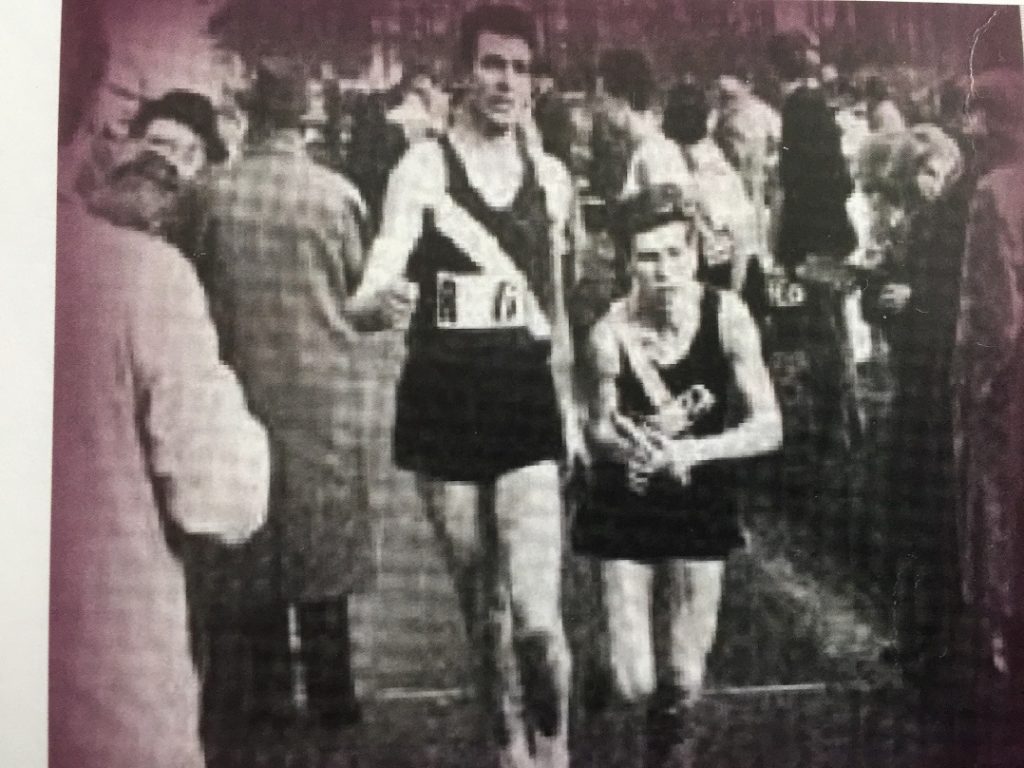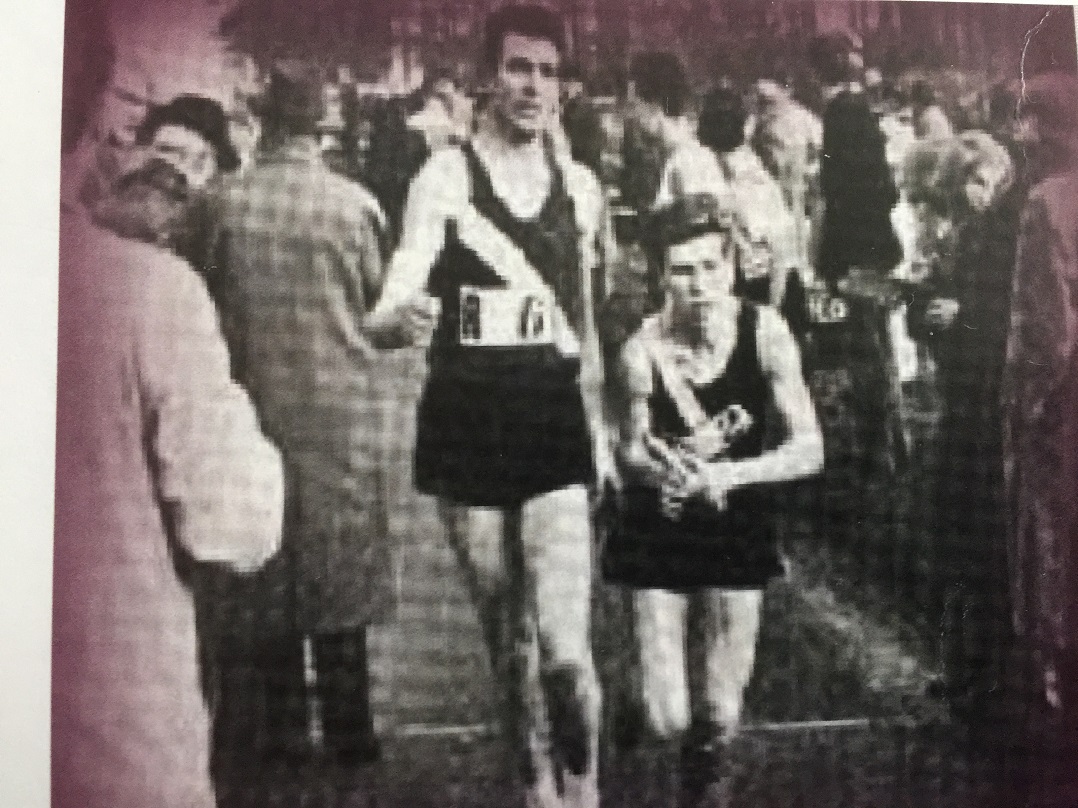 The photograph shows Jim Grant handing the baton to Tommy Callaghan of Monkland Harriers – Tom has written for us already and he now tells us of the transition from several good clubs (including Monkland Harriers) to one superb club (Clyde Valley AC), its successes and reasons for its ultimate early demise. It is an interesting tale of athletics success and disappointment and well worth reading – especially if you remember the club that Clyde Valley was.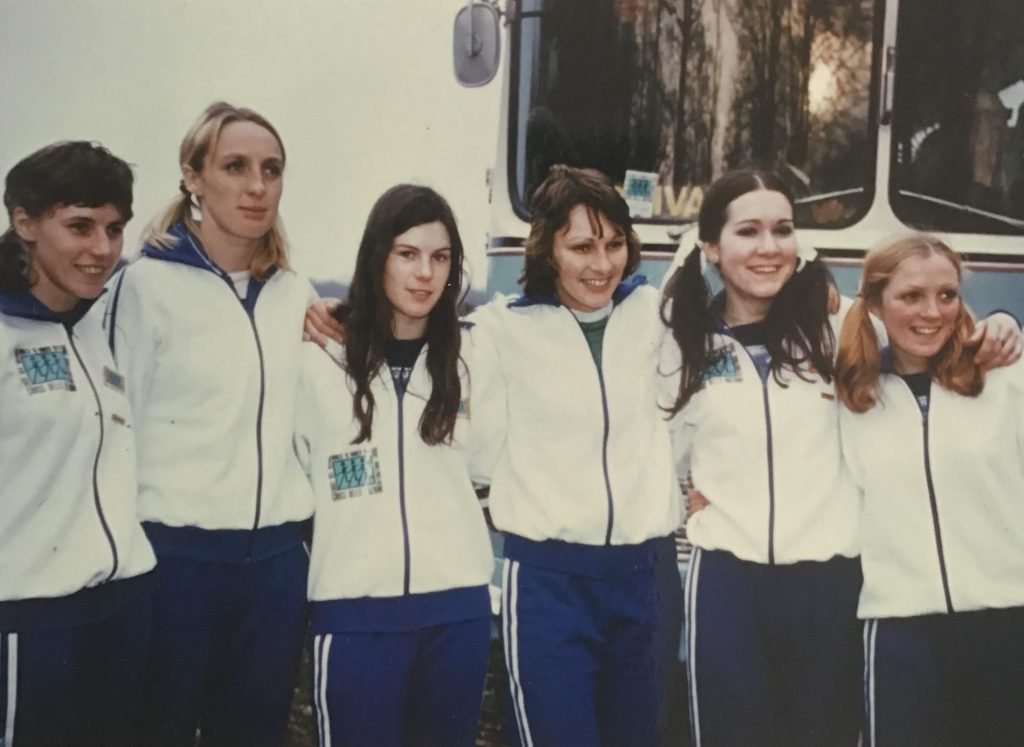 Above is the Scottish women's cross-country team which competed in Monza in 1974. Palm Gunstone is on the extreme left and Captain Moira O'Boyle is second right. Palm's parents were involved in athletics in the 1920's and 30's before becoming respected officials, Doug's Mum was Eleanor, a well known official all over Great Britain, his sister Penny was a Scottish international on road, track and country and his brother John a very good University runner. Finally Doug and Palm's son Neil is a very good athlete, and top class cross-country runner, and Kim has taken part in all sorts of endurance related sports events just because she enjoys them. Read about this remarkable family here They each have an individual page with links at the foot of the linked page.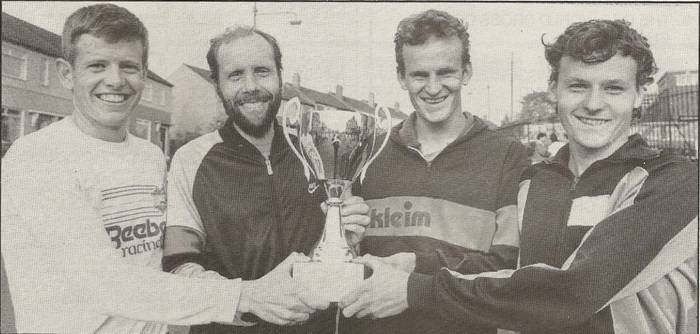 A page of club team photographs from the 1930's through to 2017. The Mc Andrew winning Spango Valley team above should be familiar: see the rest here .
The Rangers Sports were lacking anything about the War Years: that has been put right: we now have the 1940 – 45 period up at this link.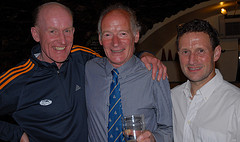 Adrian Stott, Donald Ritchie and Willie Sichel
We have two new articles up this Monday and they have a similar theme of real endurance running. Alex Wilson has an article on the early history of the Edinburgh to North Berwick race and Colin Youngson writes of the various ultra distance races held in Scotland. The three names above appear often in the course of the articles. Visit the pages by clicking on the links.
From time to time there is a picture that seems to attract a lot of attention and this is one of them. I have had queries and comments from Canada, Belgium and Japan as well as Scotland, England and Ireland. So to save me having to repeat the saga again – here's the picture followed by the script from the back.
Shettleston Harriers were founded in 1904 and they have had a history of almost unceasing success on the track and over the country. The names of their runners come easily to mind – Graham Everett, Eddie Bannon, Norman Morrison, Lachie Stewart, Dick Wedlock, etc, etc. We have added Ben Bickerton's club history booklet to the 'In the Beginning' section of The Fast Pack page. You can get it here .
On all these pages, the link bar is at the bottom.
[ Aspects ] [All In The Family ] [ A Hardy Race ] [ Edinburgh – Glasgow ] [ E-G in Pictures] [ SMC ] [ Sports Meetings ] [ The Chasers ] [ The Milers ] [ The Fast Pack ] [ The Classics ] [ The JOGLE ] [ The Universities ] [The YMCA Movement ] [ The Veterans ] [ The Professionals ] [ The Peds ] [ The Ultra Marathons ] [ 1978 International Cross-Country ] [ Venues ] [ Running Shorts ] [ Track Inter Clubs ] [ In the beginning ] [ Women's Cross-Country ] [ Graham's Programmes ] [ Inverclyde ] [ Who's Who ] [ Experiences ]