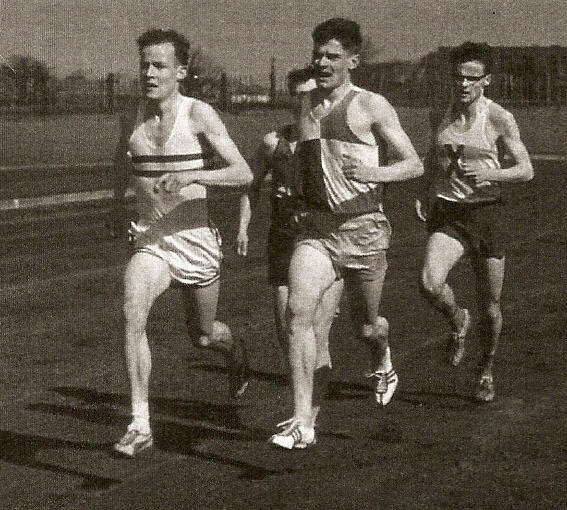 Steve Taylor, left, racing Fergus Murray
Just heard that Steve Taylor of Aberdeen AAC died at the age of 81 on 29th July. He was a very good runner indeed – underestimated by many in Scottish athletics. For now, his profile, written by his good friend Colin Youngson – is to be found at this link. We now have a tribute to him by his friend and team mate, Fraser Clyne, at this link.
Below: Steve on club duty: taking the baton from Denis Whiting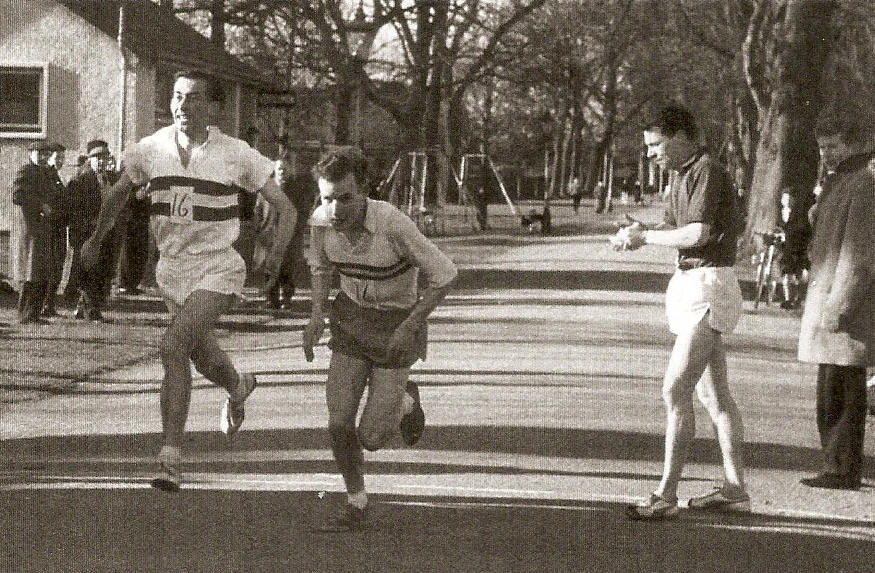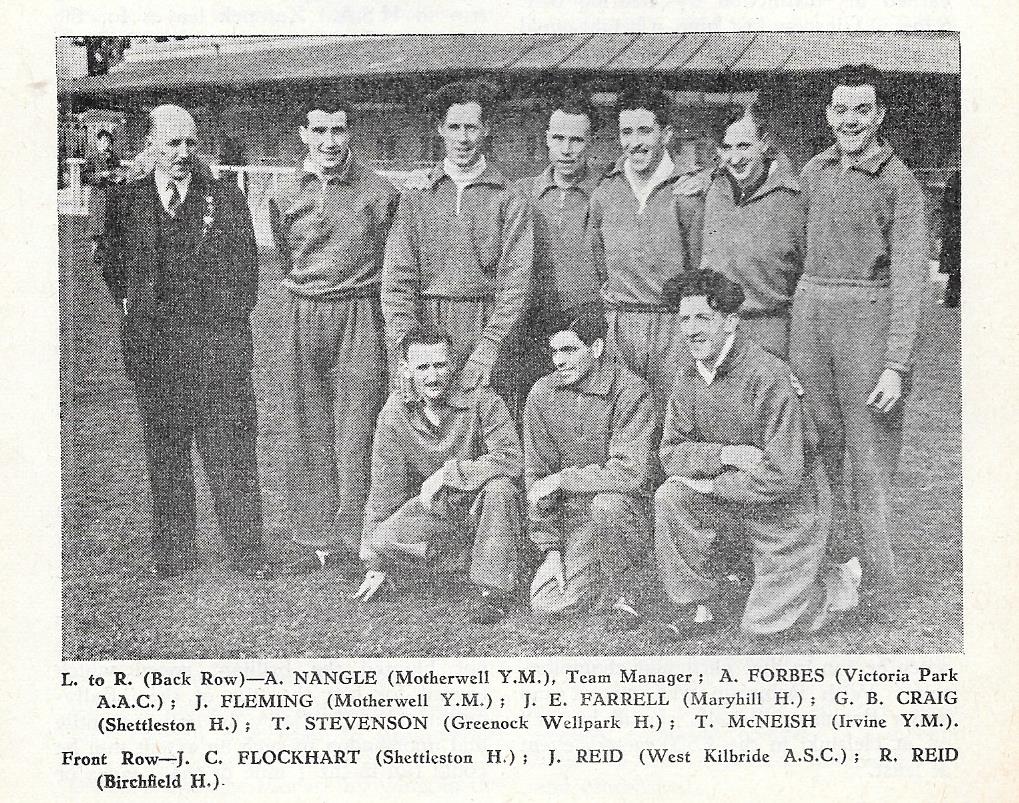 As part of the series of articles on YMCA clubs, we now have a two parter on Irvine YMCA which was a very good club that existed from 1924 to 1972. One of their top athletes, Tom McNeish, is in the above picture of the Scottish team of 1949. Read about it here and here.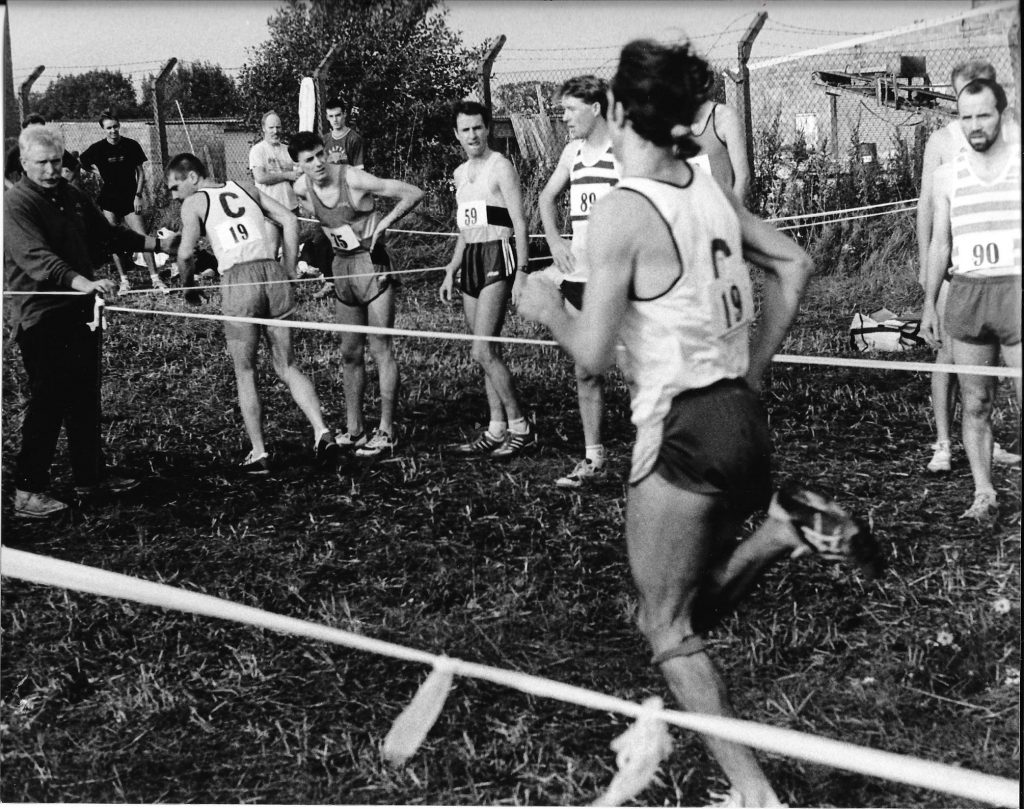 In response to an email I have started putting up some photographs of runners I ran/trained with and athletes that I have coached. The first 'grown up' international runner I coached was Robert McWatt, number 21 above, You can see some of the pictures now for the 1950's, 60's, 70's and 80's from the page at this link . So Far the 90's have two pages with more to come – go here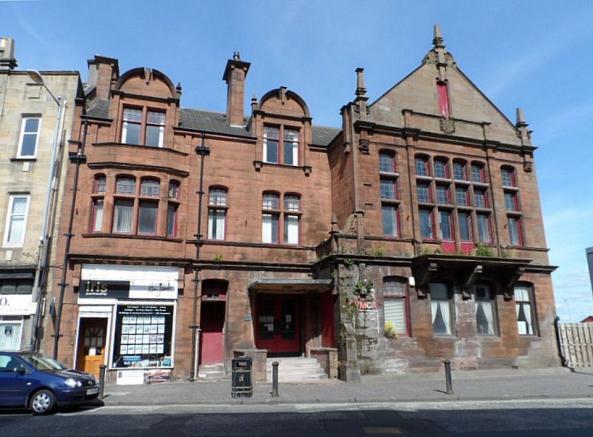 Many a champion has run through these unfamiliar doors: it's the Brandon Street Headquarters of the Motherwell YMCA club that nurtured the Brown brothers, Ian McCafferty, Willie Marshall, Davie Simpson and all the rest. We have started a page on the YMCA movement and some of the clubs it produced. Got to this link
Colin Youngson has sent on a short history of Maryhill Harriers which was written by Gordon Porteous with assistance from Robert Stevenson and we have it on site at this link. It complements the story to be found in the 'Fast Pack' section and there is a link to it. There is also Colin Shields' history of Greenock Glenpark Harriers as presented at their Centenary Dinner in 1992 which is now on site here.
Scotstoun as an athletics venue pre-dated the formation of Victoria Park AAC in 1930 – Clydesdale Harriers held their annual 7 miles cross-country individual and team race there for many years at the end of the 19th and start of the 20th century. They even put on a 100 yards race to entertain the crowds while the cross country men were out in the country surrounding the show grounds. The programme and report on the 1906 event can be seen here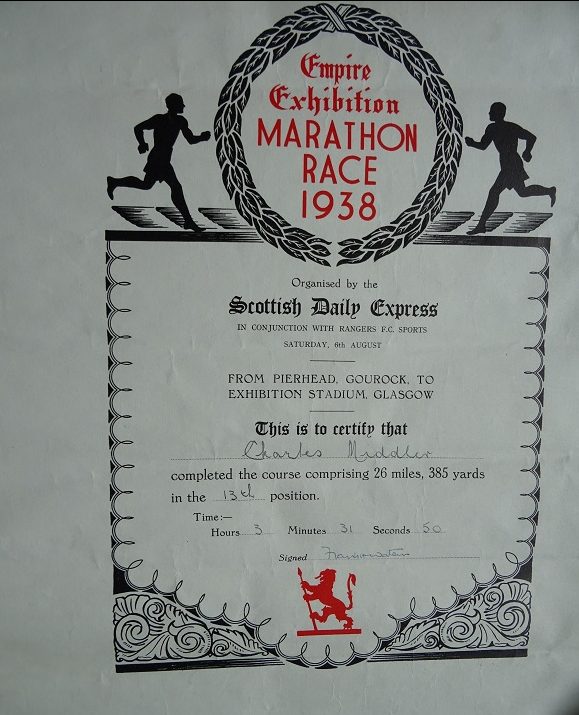 Several new additons to the Race Certificates page: the 'new' ones date from the 1930's – look and then compare them with Colin Youngson's from the 1970's.

There is a flourishing professional side to Scottish running with many talented athletes – Michael Glen, Ricky Dunbar, etc, all running on the circuit. Men who would have graced any meeting and been a credit to the sport at any time. It is maybe appropriate to look at this aspect of athletics, an aspect which has been largely ignored. The introductory page is here The Olympian above is pictured at Jedburgh. And a well known former professional who went on to win the SAAA marathon is pictured below (in yellow) at Pitlochry.
On all these pages, the link bar is at the bottom.
[ Aspects ] [All In The Family ] [ A Hardy Race ] [ Edinburgh – Glasgow ] [ E-G in Pictures] [ SMC ] [ Sports Meetings ] [ The Chasers ] [ The Milers ] [ The Fast Pack ] [ The Classics ] [ The JOGLE ] [ The Universities ] [ The Veterans ] [ The Professionals ] [ The Peds ] [ The Ultra Marathons ] [ 1978 International Cross-Country ] [ Venues ] [ Treasure Chest ] [ Running Shorts ] [ Track Inter Clubs ] [ In the beginning ] [ Women's Cross-Country ] [ Graham's Programmes ] [ Inverclyde ] [ Who's Who ]