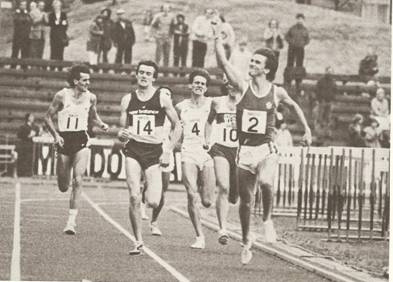 Graham Williamson is one of the all-time great Scottish milers – and distance runners generally – and we have just had the bad news that he is suffering from cancer: For some time Graham has been fighting an aggressive cancer. Graham wanted nothing written about it. But his sons are now running for a cancer charity. It is on social media (https://www.justgiving.com/page/24hcancer) and therefor in the public domain. I have been asked to help circulate the word. Please help them: if the news is bad for us, it is much worse for them. They want our help, we should give it to them. If you want to reflect on Graham as an athlete, it has been profiled at Graham Williamson .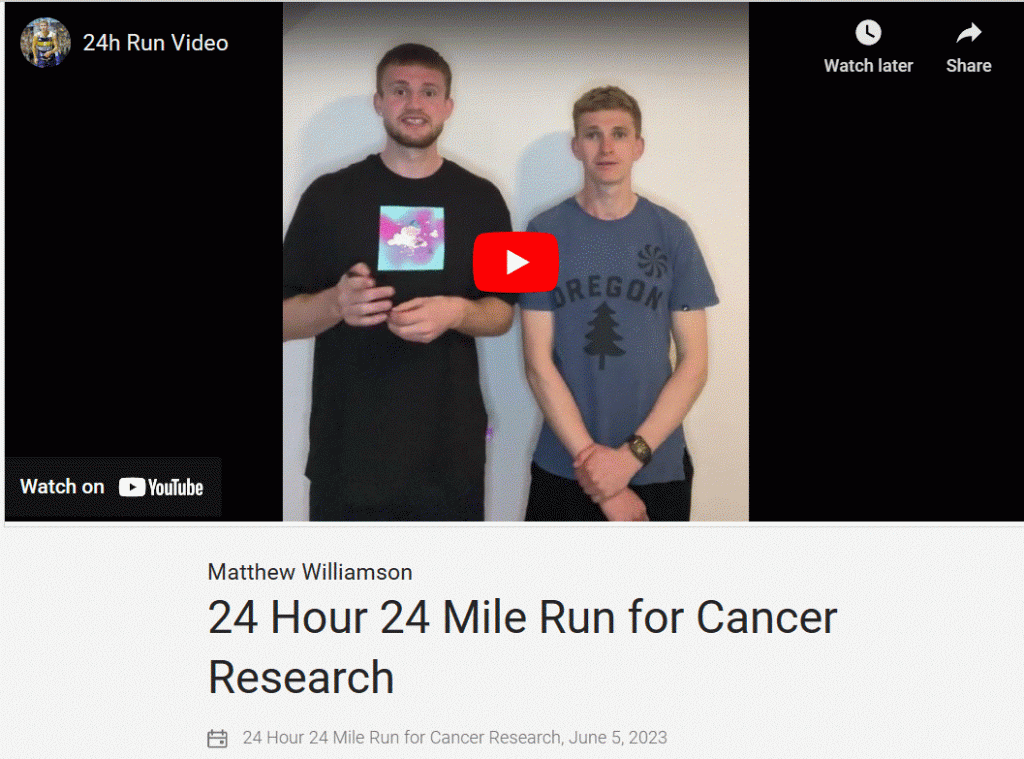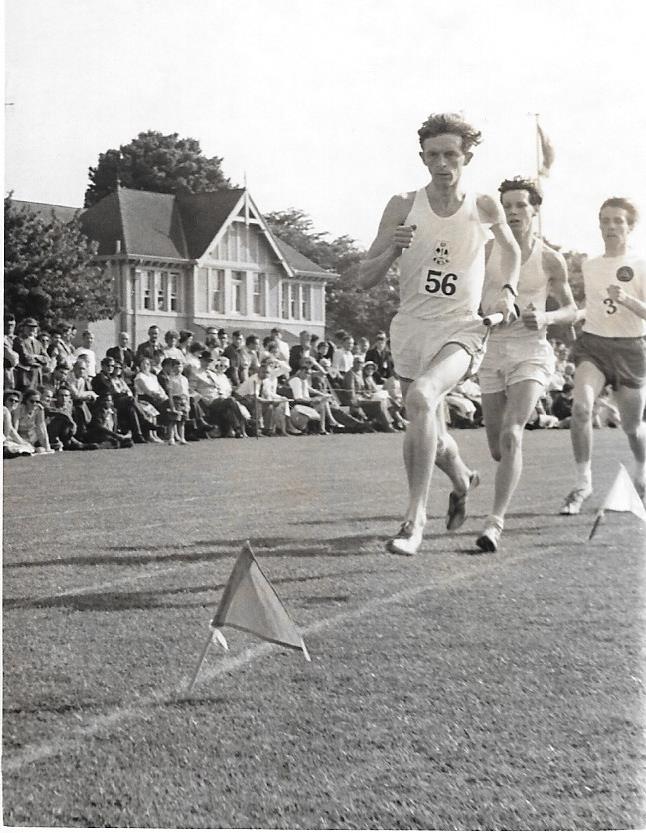 Stan Horn, Garscube Harriers and Glasgow University leading the field at St Andrews.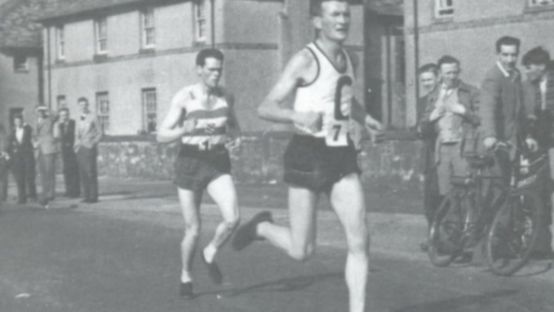 Cyril O'Boyle leading Alex McDougall in the Balloch-Clydebank 12 miles road race in the mid-50's.
Cyril won this one but Alex went on to win four in a row, get a third in the Clydebank to Helensburgh and run in the 1958 Empire Games. Reports and results covering the first half of the 1960's: ie 1960 to 1966 can be seen by clicking on the link.. We have also added four years results to the Renfrewshire AAA 1970's page thanks to some research by Colin Youngson. Why the scribes were reluctant to cover these events, essential to the development of the sport, as time passed, is a mystery.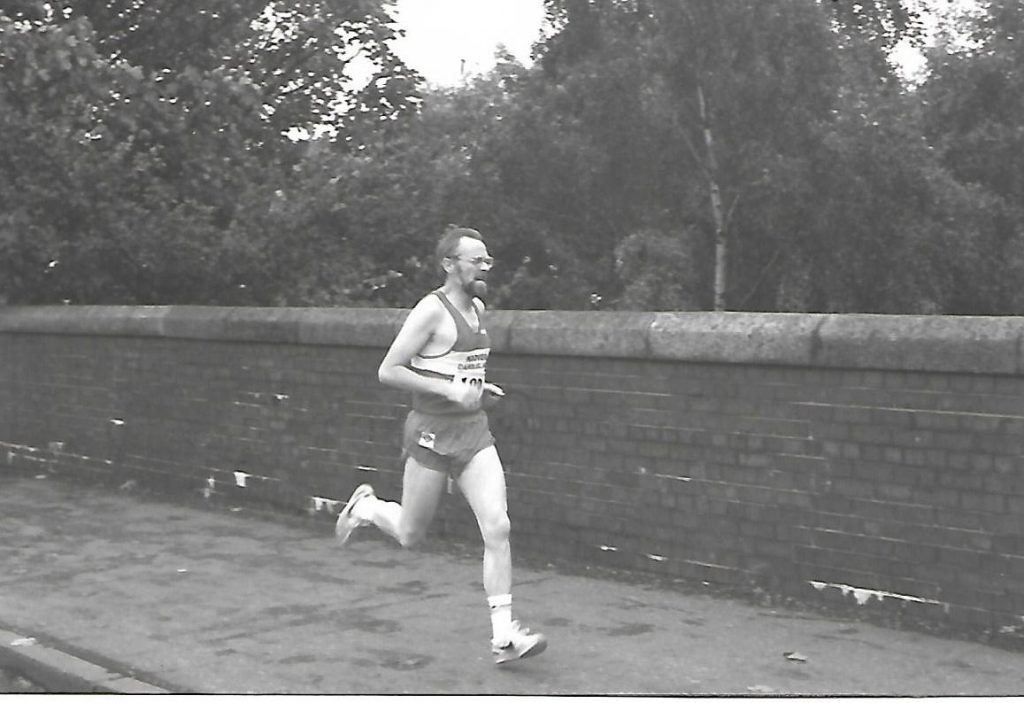 We have now added the pictures that we have of runners in the McAndrew Relay plus a few more to add to the coverage of the race. You can see them by clicking on the link here . The photograph below is of the start in 1950.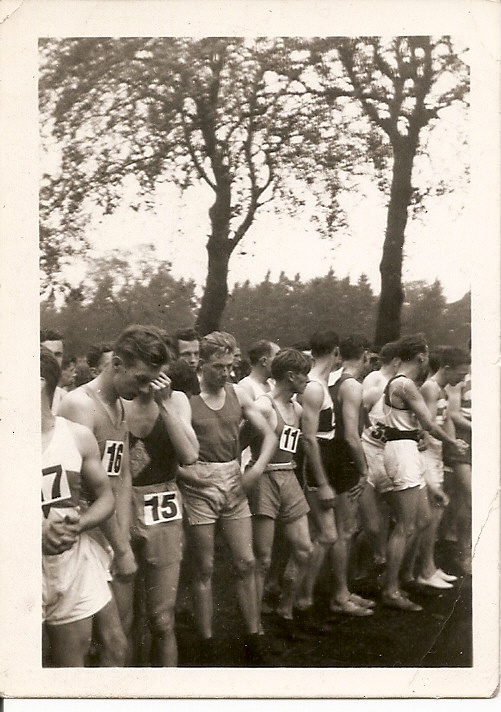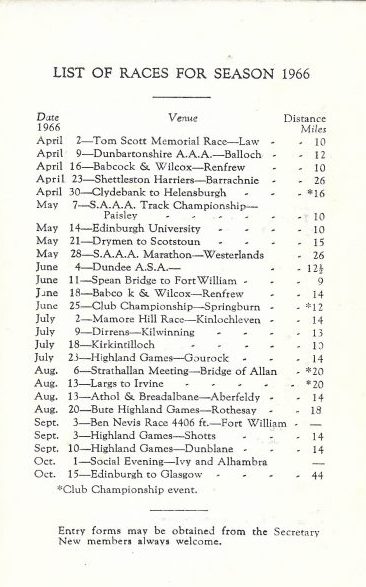 Scottish Marathon Club Fixtures for 1967/68 above. The SMC had an annual championship in which the runners had to run in three races out of four – a 12 miler (Springburn usually), a 16 (Clydebank to Helensburgh), a 20 (usually Strathallan) and the SAAA marathon Championship which was the only compulsory one of the four. There is no comprehensive list of these champions but Colin Youngson has compiled the list of first, second and third placers for the period 1955-79 and includes complete results sheets for two of the 24 years. Click on the link here to see these results – you can see them nowhere else. Thanks, Colin.
We now have the Annual Handbook for the Dunbartonshire AAA for 1948/49 on site containing constitution, clubs in membership, committee, patrons and championship results. Just click on the link. It is also linked to a page with the constitution of the Ayrshire HCA. Compare them here .
On all these pages below, the link bar is at the bottom.
[Marathon Stars] [Career marathons ] [ Elite Endurance] [ The Chasers ] [ The Milers ] [ The Veterans ] [ Men's Who's Who ] [ Women's A-Z ][ Women's Cross-Country ] [ The Professionals] [ The Peds ] [ The Veterans ] [All In The Family ] [The Hills] [ 21st Century Stars
[ The Coaches ] [Coaching in Scotland ] [ Officials ] [ The Great Club Men ]
[ The Fast Pack ] [ ScottishMarathonClub ] [ British Milers Club ] [ The Universities ] [The YMCA Movement ] [ The Importance of Clubs ] [Club Insignia – Just the Badges]
[County Associations ] [ Two County Constitutions ] [Ayrshire Harrier Clubs Association] [ Lanarkshire Amateur Athletic Association] [ Renfrewshire Amateur Athletic Association ]
[ The Classics ] [ Marathons ] [ Marathon Miscellany ] [ 1978 International Cross-Country ] [ The Ultra Marathons ]
[ Some Memorable Nationals ] [ International Cross Country in Scotland ] [ Edinburgh – Glasgow Relay ] [ E-G in Pictures] [ The JOGLE ]
[Venues ] [ Pavilions ] [ The Baths ] [ Hotels, Pubs & Inns ]
[ The Games ] [ Jim in Jamaica ] [ Mike in Mexico ] [Joe in Vancouver ] [ 1970 In Edinburgh ] [1986 in Edinburgh ]
[ Rangers Sports ] [Edinburgh Highland Games ] [ Bute Highland Games ] [ Strathallan Gathering ] [ Dirrans Sports ] [ Singers Sports ] [ Campsie Highland Games ] [ Track Inter Clubs ] [Inter Clubs at the Games ] [ Maley & Struth: Sports Promoters ] [ Braemar Through The Ages ]
[ The Press ] [ Doug Gillon ] [Sandy Sutherland ] [ Bill Melville ] [ George Sutherland ] [ Ggroe ]
[ The Photographers ] [ Ben Bickerton ] [ George Barber ] [ JJ Miller ] [Graham Macindoe ] [ Willie McGregor ]
[ Books ] [ A Hardy Race ] [ Running Shorts ] [Powderhall & Pedestrianism ] [Running Literature ] [ Running Books ]
[1970 Games Programmes (completed) [ Some More Programmes ] [ Graham's Programmes ]
[ Hugh's Gems ] [ Certificates and Badges ] [ Some Video Links ] [ Experiences ] Aspects ] [ In the beginning ]