The page containing links to the various sports meetings through the ages (Rangers Sports, Celtic Sports, Greenock Glenpark, Celtic) as well as information on the medley relays and the Wyoming Cup, is at this link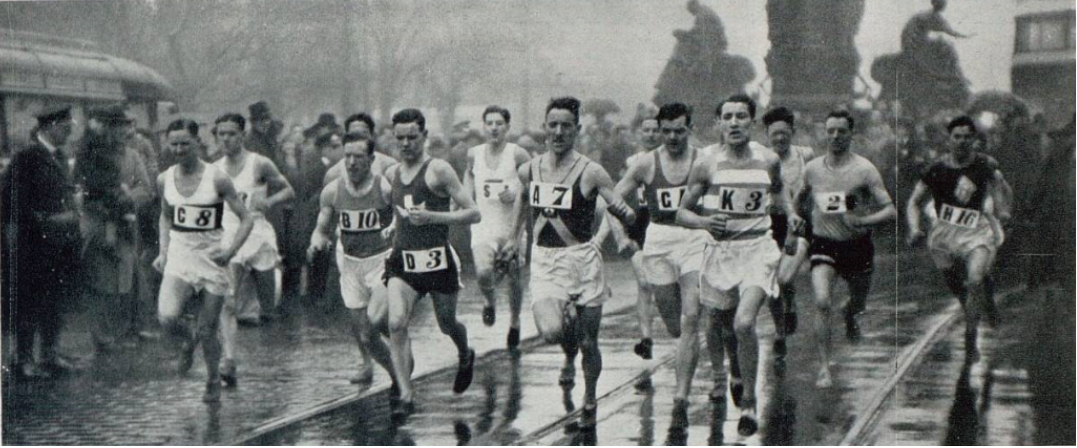 Edinburgh to Glasgow Relay Start: 1937
There is a website dedicated to statues of sportsmen which contains quite a few runners. They are all British, and all the sites are within these islands! It is worth a look and this link takes you to a particular work of art which will be well known to many of you.
We have started putting up the results on the Scottish Medley Relay (800, 200, 200, 400) on www.anentscottishrunning.com. It is a most enjoyable and popular event but apparently there is a dearth of information about it. Several periods have been covered so far with the most modern being the 1969-70 period when it was held at Glasgow Highland Games.
Quite a field in the photograph above. Count the stars! The first 15 in this 10K at Crown Point were all inside 30 minutes – including Stephen Begen of Springburn Harriers and Scotland – he's between Bobby Quinn and Lawrie Spence in the photograph above. Read his profile here
Another 'Running Short' story from Colin Youngson. It's a fictional look back at a lifetime in the sport which is humorous, sensitive and evocative. Read it here
Now that the Magnum is now more and the national championships have moved away from the Beach Park, a review of its time as a top venue for cross-country, rivalling the great Hamilton Racecourse trails, we have a review of the venue here
The Who's Who of Distance Running between 1945 and 1990 is now complete: except that we are still finding new names to add to it. Many veterans have now been added and we are in the process of adding some hill runners. The work has been done by myself, Colin Youngson and Joe Small and they need to be thanked for their efforts. Find it here
Finally, every now and again the technology gets too clever for its own good and a link to a page doesn't work: if you get one, let me know so that I can fix it!
On all these pages, the link bar is at the bottom.
[ Aspects ] [All In The Family ] [ A Hardy Race ] [ Edinburgh – Glasgow ] [ E-G in Pictures] [ More Races and People ] [ SMC ] [ Sports Meetings ] [ The Chasers ] [ The Milers ] [ The Fast Pack ] [ The Classics ] [ The JOGLE ] [ The Universities ] [ The Veterans ] [ The Ultra Marathons ] [ 1978 International Cross-Country ] [ Venues ] [ Treasure Chest ] [ Running Shorts ] [ Track Inter Clubs ] [ In the beginning ] [ Women's Cross-Country ] [ Graham's Programmes ] [ Inverclyde ] [ Who's Who ]