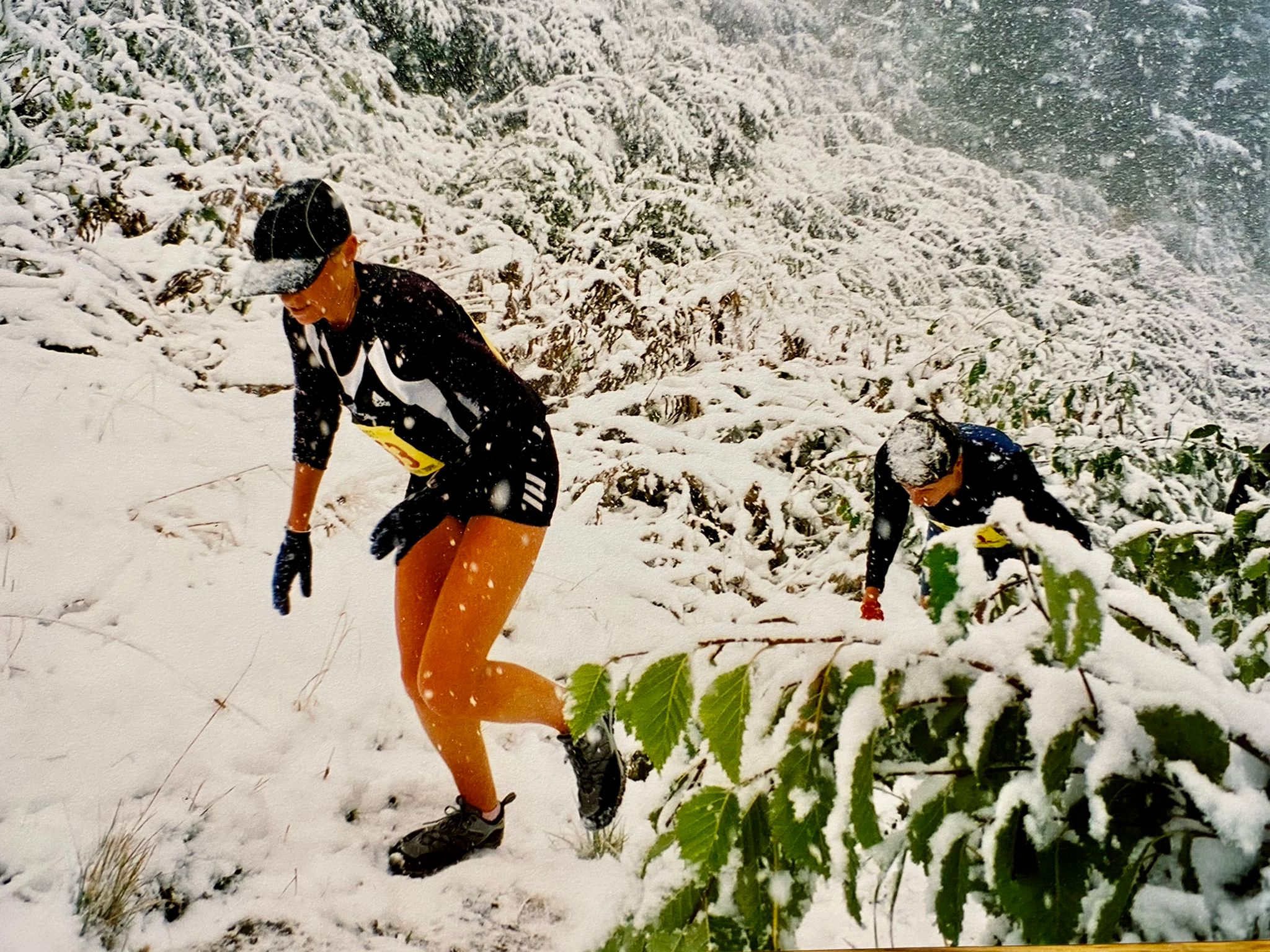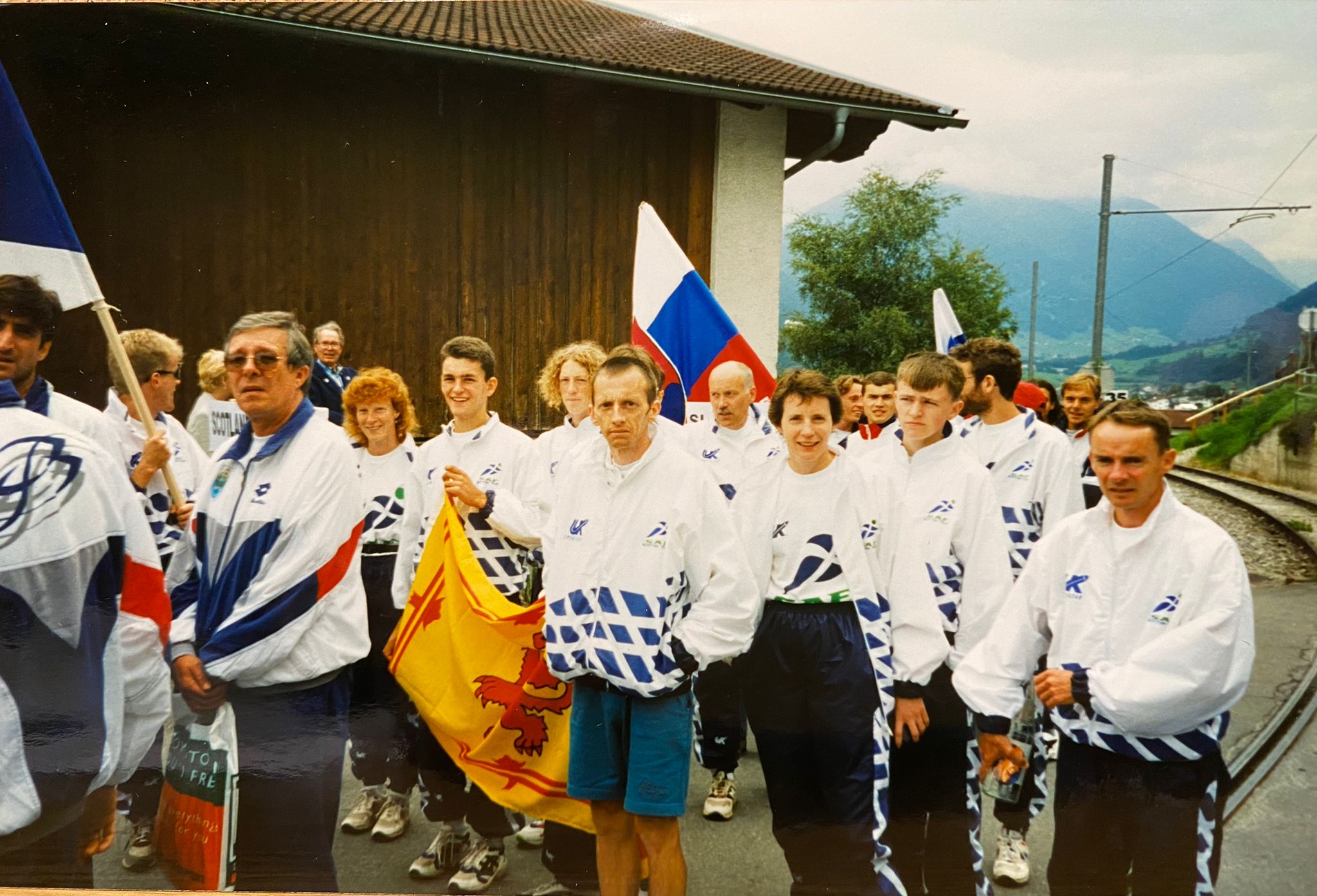 We have three pages of photographs of Angela Mudge's career on the site – they have been up since Denis Bell wrote his excellent profile – and we have now enlarged them to full size with photographs of races, of teams and of presentations. You can see them at the links. Denis's profile has links to the various parts of her career on the linked page.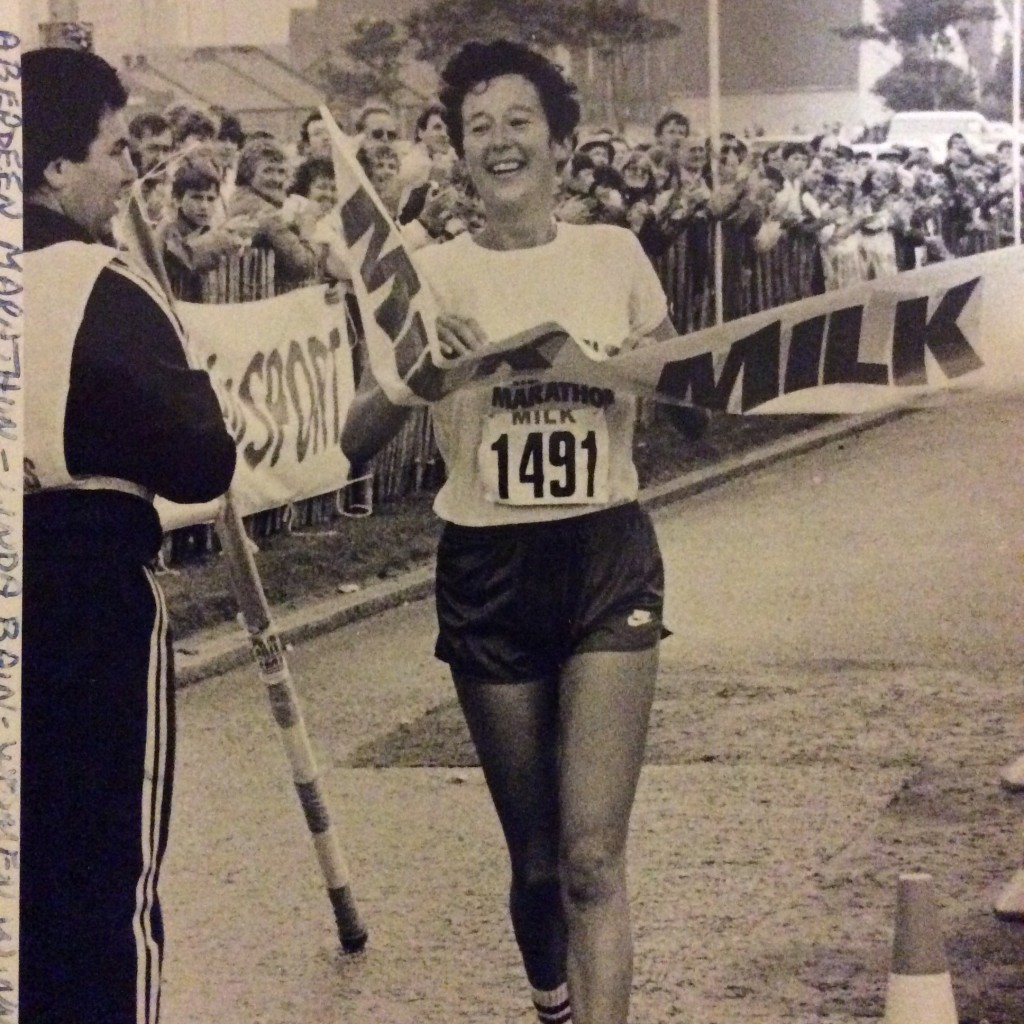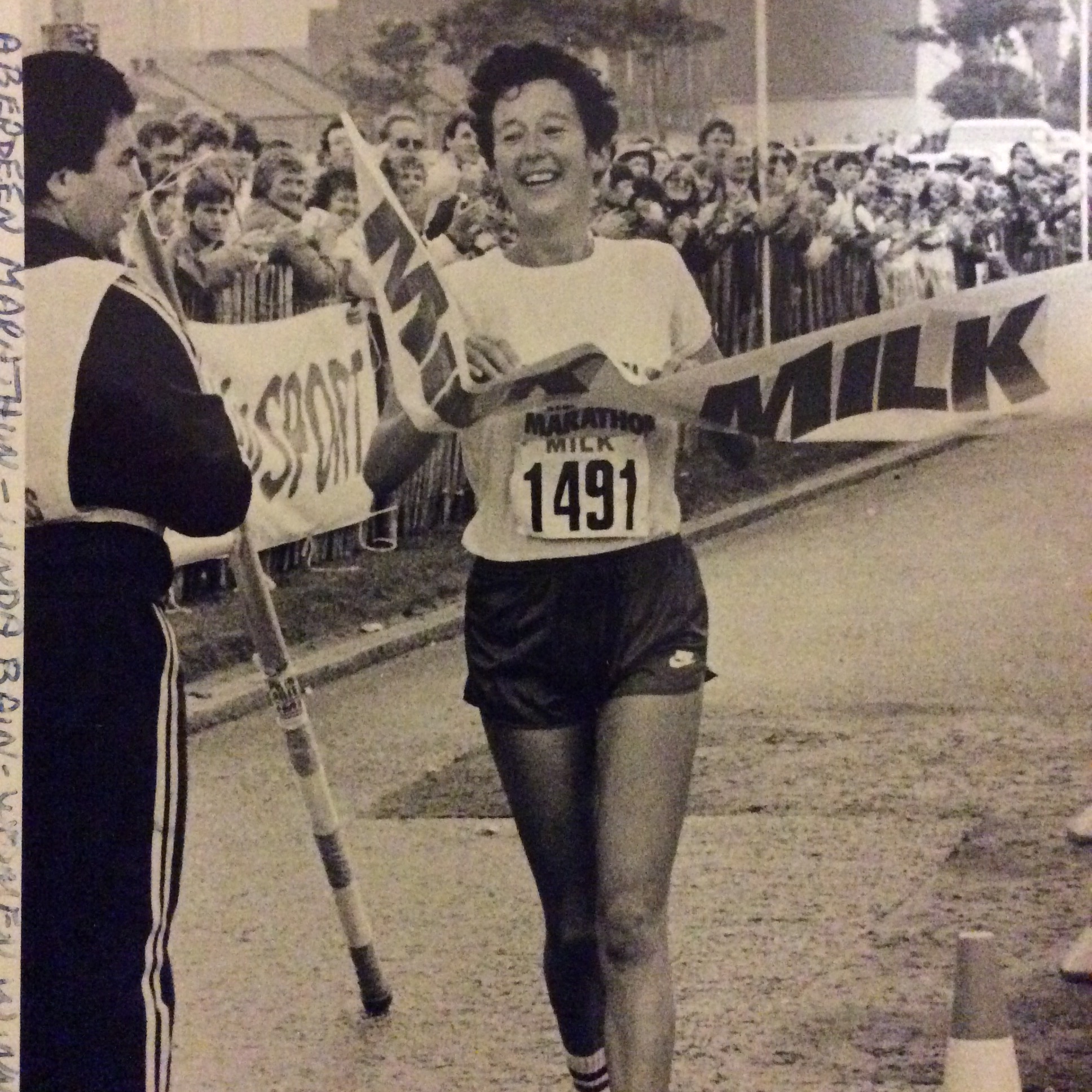 Lynda Bain, Aberdeen winner of the first Scottish women's marathon championship.
Colin Youngson has updated the list of Scottish Marathon Champions from their beginnings right up to the present. He gives the first three in each year together with their club and time. You will find it here .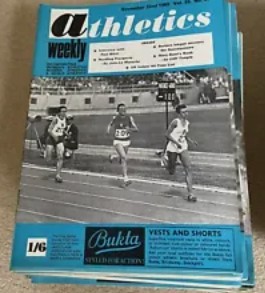 We have brought all the influencers that we have covered over recent weeks on a new page called Gurus and Runners. Van Aaken, Lydiard, Osler, Moore, Shorter plus three AW questionnaires of Lachie Stewart, Mike Tagg and Bill Adcocks. Just a small sampling of what was happening in the 60's, 0's and 80's to encourage and help endurance runners. Clicking on the link above will take you there..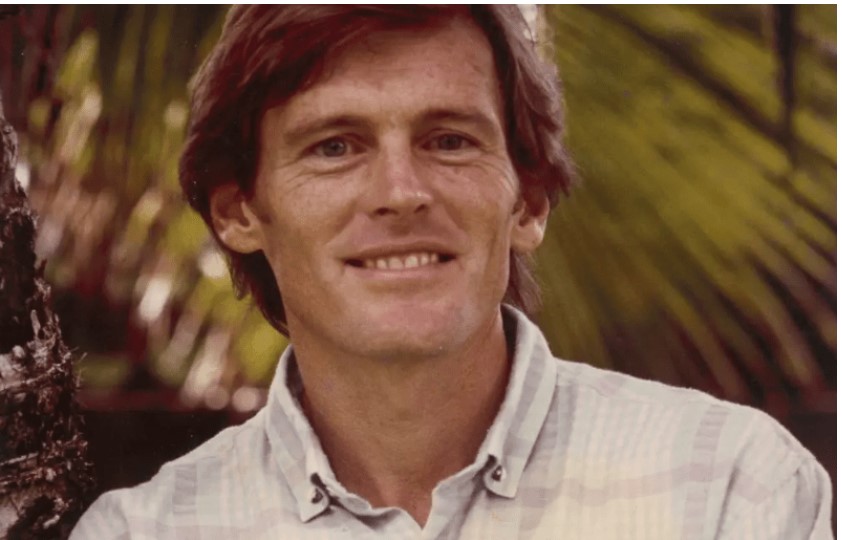 Kenny Moore, above, was an excellent distance runner who specialised in the marathon. He is the last of the 'influencers' of the 60's, 70's and 80's that we will cover. Van Aaken was a physiologist and coach, Lydiard was an ex-runner and coach, Tom Osler a theorist and ultra runner, Frank Shorter and Kenny Moore were good examples of the top men that we all wanted to hear about, maybe emulate, maybe just take something from their thoughts and training. Next we will have some Athletics Weekly interviews with some of the 'best of British' runner. Meanwhile, read about Kenny Moore (two Olympic runs in the marathon, two very good runs in Fukuoka as well as many more, by clicking on his name above.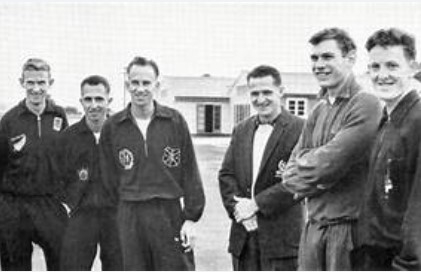 Why the picture of a bunch of New Zealanders? Because we now have a brief note on Arthur Lydiard who influenced not only Scots but runners all over the world as part of our new section on the people who influenced or distance athletes. The runners at the time of the running boom were inundated with information from dozens of magazine, many of which had sprung up almost overnight, books by all those with anything to do the the sport. And don't forget the video tapes or tele programmes. Arthur was the real deal – read about him by clicking on his name.
On all these pages below, the link bar is at the bottom.
[Marathon Stars] [Career marathons ] [ Elite Endurance] [ The Chasers ] [ The Milers ] [ The Veterans ] [ Men's Who's Who ] [ Women's A-Z ][ Women's Cross-Country ] [ The Professionals] [ The Peds ] [ The Veterans ] [All In The Family ] [The Hills] [ 21st Century Stars
[ The Coaches ] [Coaching in Scotland ] [ Officials ] [ The Great Club Men ]
[ The Fast Pack ] [ ScottishMarathonClub ] [ British Milers Club ] [ The Universities ] [The YMCA Movement ] [ The Importance of Clubs ] [Club Insignia – Just the Badges] [ Some membership cards ]
[County Associations ] [ Two County Constitutions ] [Ayrshire Harrier Clubs Association] [ Dunbartonshire Amateur Athletic Association ] [ Lanarkshire Amateur Athletic Association] [ Renfrewshire Amateur Athletic Association ]
[ The Classics ] [ Marathons ] [ Marathon Miscellany ] [ 1978 International Cross-Country ] [ The Ultra Marathons ]
[ Some Memorable Nationals ] [ International Cross Country in Scotland ] [ Edinburgh – Glasgow Relay ] [ E-G in Pictures] [ The JOGLE ]
[Venues ] [ Pavilions ] [ The Baths ] [ Hotels, Pubs & Inns ]
[ The Games ] [ Jim in Jamaica ] [ Mike in Mexico ] [Joe in Vancouver ] [ 1970 In Edinburgh ] [1986 in Edinburgh ]
[ Rangers Sports ] [Edinburgh Highland Games ] [ Bute Highland Games ] [ Strathallan Gathering ] [ Dirrans Sports ] [ Singers Sports ] [ Campsie Highland Games ] [ Track Inter Clubs ] [Inter Clubs at the Games ] [ Maley & Struth: Sports Promoters ] [ Braemar Through The Ages ]
[ The Press ] [ Doug Gillon ] [Sandy Sutherland ] [ Bill Melville ] [ George Sutherland ] [ Ggroe ]
[ The Photographers ] [ Ben Bickerton ] [ George Barber ] [ JJ Miller ] [Graham Macindoe ] [ Willie McGregor ]
[ Books ] [ A Hardy Race ] [ Running Shorts ] [Powderhall & Pedestrianism ] [Running Literature ] [ Running Books ] [ 1960's and 70's Influences ]
[1970 Games Programmes (completed] [1978 World Cross-Country Programme ] [Some More Programmes ] [ Graham's Programmes ]
[ Hugh's Gems ] [ Certificates and Badges ] [ Some Video Links ] [ Experiences ] Aspects ] [ In the beginning ]