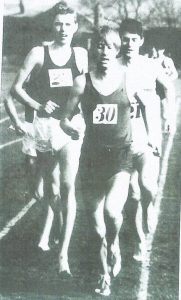 University athletics have added a lot to the Scottish scene over the years. Our latest look at their short but dynamic season can be found here
Inverclyde was a key element in athletics education for over half a century and hosted conference and events such as the one illustrated here. Click on the name to go there and read about Inverclyde.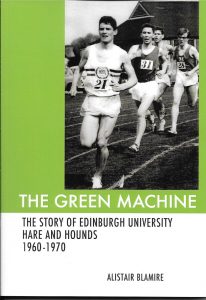 Now available is Alistair Blamire's book about the Edinburgh University Hare & Hounds team of the 1960's. The team was pretty well invincible on the road and over the country with members running in the Commonwealth Games for several countries, winning Scottish team and individual titles and starring on the road, over the country and as track athletes. Colin Youngson has written a review of the book with information about how to get your copy here .
It's well worth the effort to obtain your copy: in addition to information about the team and the individual members, there are interesting sections on the background, and in a postscript the author's views on the present state of Scottish endurance running, on how it got here and what the future holds. A student of athletics, Alistair's views are of interest to anyone interested in endurance athletics.
Jimmy Irvine's profile is now up on site: see it here . We also have a profile of Bert Irving of Bellahouston Harriers: see it here.
Finally, every now and again the technology gets too clever for its own good and a link to a page doesn't work: if you get one, let me know so that I can fix it!
On all these pages, the link bar is at the bottom.
[ Aspects ] [All In The Family ] [ A Hardy Race ] [ Edinburgh – Glasgow ] [ E-G in Pictures] [ More Races and People ] [ SMC ] [ Sports Meetings ] [ The Chasers ] [ The Milers ] [ The Fast Pack ] [ The Classics ] [ The JOGLE ] [ The Universities ] [ The Veterans ] [ The Ultra Marathons ] [ 1978 International Cross-Country ] [ Venues ] [ Treasure Chest ] [ Running Shorts ] [ Track Inter Clubs ] [ In the beginning ] [ Women's Cross-Country ] [ Graham's Programmes ]