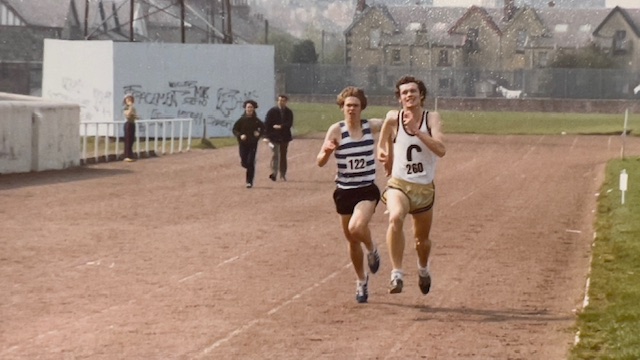 Pictured above are two very good athletes, good friends too, from the late 70's and 80's – Robert McWatt of Clydesdale Harriers and Alistair Douglas of Victoria Park battling out the finish of the DAAA 1500m championship. Robert was a junior internationalist on the country and a member of the SAAA Endurance squad on the track who emigrated to Canada where he again showed his ability on all surfaces. Read about Robert by clicking on the link.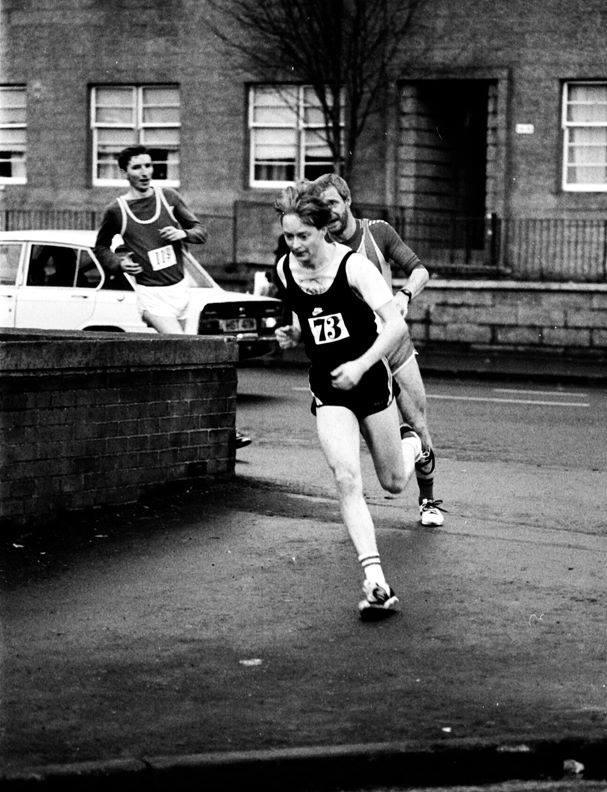 Joe Small of Monkland Harriers and Clyde Valley AC (running third in Graham MacIndoe's picture above) was typical of many good runners in the country in the 70's and 80's. We all know of his clubmates, guys like Ronnie McDonald, Jim Brown, Brian McSloy, John Graham, Ian Gilmour, etc but they would never have won as many medals without runners like Joe and Eddie Devlin to back them up. We have a profile of Joe now up on site and it is at this link.
The Clydesdale Harriers Youths & Ballot Team race altered to a race for younger athletes including Senior and Junior Boys events. It also moved from the road to the country but basically it had served its purpose of providing much needed competition for the Under 17 age group. The series closes with the 1970 and 1971 races at this link .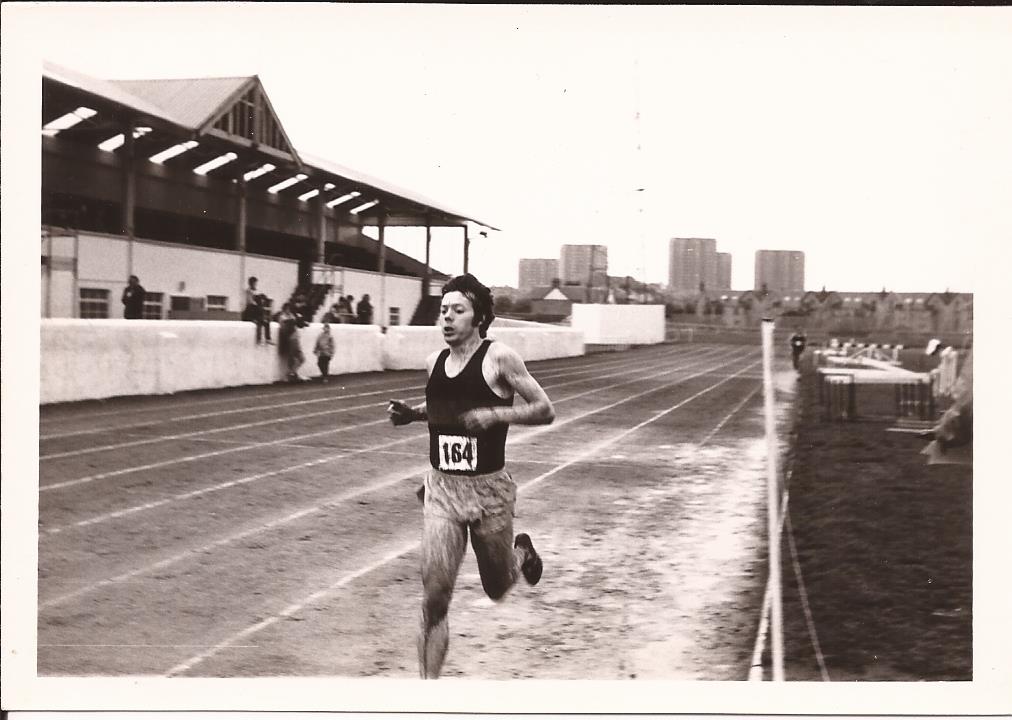 As a companion page to those on the Dunbartonshire AAA, we now have a page of photographs of some of the athletes who have competed in the County Championships and events. Not all pictures are of the county events but all illustrated are of the county clubs up to the 1970's. There are over 20 of them. Get them here .
The second part of the coverage of the Clydesdale Harriers Youth & Ballot Team race is now on site and covers the period from 1955 to 1964 with a table of the winners from the race's inception to 1964. Linaker, McCafferty, Ryan, are all in there as Under 17's. Click on the link above.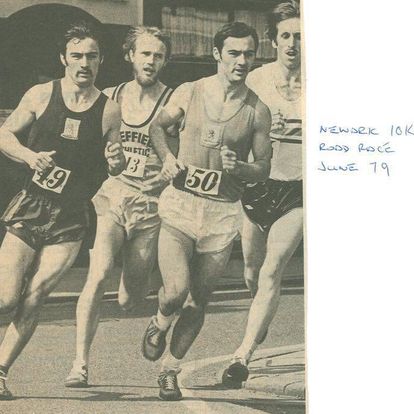 You will recognise Steve and Gordon Rimmer in the picture above. We already have Gordon's profile in the Steeplechasers page and now Colin Youngson has written Steve's profile and you can read it here.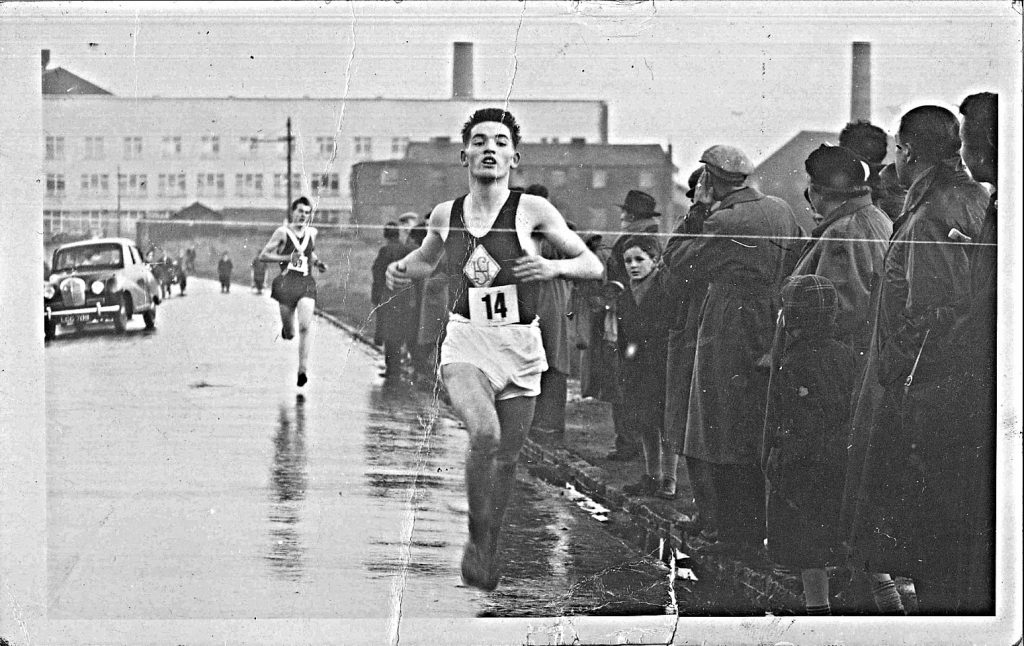 Eddie Sinclair of Springburn is pictured winning the Clydesdale Harriers Youth Ballot race in 1954. A very popular race which began in 1946 and was won by many of the very best runners we have had from Eddie Sinclair above and including Ian McCafferty and Mike Ryan with others such as Harry Fenion Alex Breckenridge and Alex McDougall also featuring. The first ten years are covered here .
On all these pages below, the link bar is at the bottom.
[Marathon Stars] [Career marathons ] [ Elite Endurance] [ The Chasers ] [ The Milers ] [ The Veterans ] [ Men's Who's Who ] [ Women's A-Z ][ Women's Cross-Country ] [ The Professionals] [ The Peds ] [ The Veterans ] [All In The Family ] [The Hills] [ 21st Century Stars
[ The Coaches ] [Coaching in Scotland ] [ Officials ] [ The Great Club Men ]
[ The Fast Pack ] [ ScottishMarathonClub ] [ British Milers Club ] [ The Universities ] [The YMCA Movement ] [ The Importance of Clubs ] [Club Insignia – Just the Badges] [ Some membership cards ]
[County Associations ] [ Two County Constitutions ] [Ayrshire Harrier Clubs Association] [ Dunbartonshire Amateur Athletic Association ] [ Lanarkshire Amateur Athletic Association] [ Renfrewshire Amateur Athletic Association ]
[ The Classics ] [ Marathons ] [ Marathon Miscellany ] [ 1978 International Cross-Country ] [ The Ultra Marathons ]
[ Some Memorable Nationals ] [ International Cross Country in Scotland ] [ Edinburgh – Glasgow Relay ] [ E-G in Pictures] [ The JOGLE ]
[Venues ] [ Pavilions ] [ The Baths ] [ Hotels, Pubs & Inns ]
[ The Games ] [ Jim in Jamaica ] [ Mike in Mexico ] [Joe in Vancouver ] [ 1970 In Edinburgh ] [1986 in Edinburgh ]
[ Rangers Sports ] [Edinburgh Highland Games ] [ Bute Highland Games ] [ Strathallan Gathering ] [ Dirrans Sports ] [ Singers Sports ] [ Campsie Highland Games ] [ Track Inter Clubs ] [Inter Clubs at the Games ] [ Maley & Struth: Sports Promoters ] [ Braemar Through The Ages ]
[ The Press ] [ Doug Gillon ] [Sandy Sutherland ] [ Bill Melville ] [ George Sutherland ] [ Ggroe ]
[ The Photographers ] [ Ben Bickerton ] [ George Barber ] [ JJ Miller ] [Graham Macindoe ] [ Willie McGregor ]
[ Books ] [ A Hardy Race ] [ Running Shorts ] [Powderhall & Pedestrianism ] [Running Literature ] [ Running Books ] [ 1960's and 70's Influences ]
[1970 Games Programmes (completed] [1978 World Cross-Country Programme ] [Some More Programmes ] [ Graham's Programmes ]
[ Hugh's Gems ] [ Certificates and Badges ] [ Some Video Links ] [ Experiences ] Aspects ] [ In the beginning ]