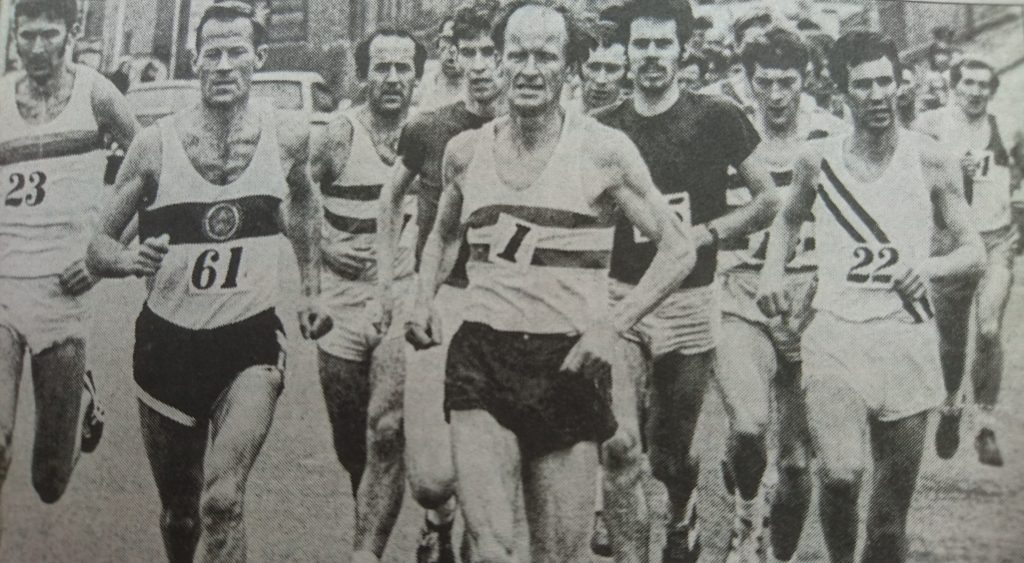 SAAA Championship and Commonwealth Games Marathon Trial, 16th May, 1970: from the left:
Ian Macmillan (EAC), Bill Stoddart (Greenock Wellpark), Sandy Gunn (Caithness), Donald Macgregor's right ear (ESH), Duncan Davidson (Forres), Alastair Wood (AAAC), Jim Wight (EAC), Dave Taylor (EAC), Alastair Johnston (VPAAC), Alex Wight (EAC) and Ronnie Oliver (DHH).
The Scottish marathon running tradition is a proud one with a whole succession of top class men turning out in the event. This page will have profiles of some of the best of them – the aim is to have all of the top twenty marathon men either here or on the Elite Endurance page. Games medallists will also be here as well as Scottish champions. The pictures below are of some of the Scots who took part in the London Marathon of 1985 and are from Graham MacIndoe's excellent collection. See more of them here This page will, like the others, be built up over the coming weeks. The ultimate trophy for Scottish Marathon running was the Donald McNab Robertson Trophy. The money to purchase the trophy was largely raised by subscription with donors from almost all Scottish clubs and individual athletes whether marathon runners or not, after Donald's untimely death. Colin Youngson has written the history of this trophy with all the winners and you can read about it at this link. Well, well worth a look if you are interested in Marathon running.
The Pioneers: the 30's and 40's
[ John Emmet Farrell ] [ Gordon Porteous ] [ Donald McNab Robertson ] [Jock Semple ] [ Dunky Wright ]
After The War: the 40's and 50's
[Jock Duffy ] [Harry Fenion] [Hugo Fox ] [Harry Howard] [ Joe McGhee] [Norman Nelson ] [Charlie Robertson] [ Jack Paterson]
The Tough Guys: the 60's
[ Jim Alder ] [ Alex Breckenridge ] [ Gordon Eadie ] [ Ian Harris ] [ John Kerr ] [ Mike Ryan ] [Alastair Wood ]
The Last Amateurs
[ Paul Bannon] [ Evan Cameron] [Andy Daly] [Doug Gunstone] [Sandy Keith ] [Graham Laing] [ Graham Getty] [ Alastair Macfarlane ] [Donald Macgregor] [ Ian Macintosh ] [Pat Maclagan ] [Fergus Murray ] [George Reynolds ] [Andy Robertson ] [ Lindsay Robertson ] [Lawrie Spence ] [ Bill Stoddart ] [ J and A Wight ] [ Peter Wilson ] [Colin Youngson ]
The Semi-Professionals
[ Dave Clark] [ Fraser Clyne ] [Jim Dingwall ] [ Peter Fleming ] [ John Graham ] [ Allister Hutton ]
Into The New Millennium
[ Jamie Reid ]
The Marathon and Beyond
[ Dave Francis ] [ Rab Heron ] [ Al Howie ] [Simon Pride ] [ Alan Reid ] [ Don Ritchie ] [ Willie Sichel ] [ Joasia Zakrzewski ]
All who have run in Marathon Internationals between 1977 and 1990
Winners of the Donald McNab Robertson Trophy
[Link ]
Scottish Ultra Distance Races . Adrian's Top Ten

Scots, London Marathon, 1985: Allister Hutton, Lindsey Robertson, Jim Dingwall, Andy Daly, Don Ritchie, Fraser Clyne, Jack Adair