One of the most outstanding and least recognised endurance running feats in Scottish athletics was Edinburgh Athletic Club's successful breaking of the world record for the 24 hour, 10 man x 1 Mile Relay. The programme for the event which contained pen portraits of the athletes said that Douglas Gunstone (born 10/7/1950) was 24 years old at the time and a married Chartered Accountant. Both Doug and his wife Palm were Scottish International Cross Country runners. Doug also represented his country on track and road. He admitted to training approximately 85 to 95 miles per week. (There is more detail on this feat, including a link to a scientific study of the event, in the Marathon Stars section of this website in 'The Wight Brothers')
In fact Doug had enjoyed a fine running career from an early age. His family had long been associated with Dundee Hawkhill Harriers which was established in 1889. His mother Eleanor has held almost every post in the SWCCU and SWAAA (notably as treasurer for many years) and has often been on international duty, his younger sister Penny won the Under 15 Cross Country Championship in 1973, went on to run for Scotland and compete for Britain in the triathlon and his brother John was also a talented athlete. Dundee and district seems to have a tendency to produce athletic families, witness the Hasketts (Christine, brother Charlie and now his son Mark) and of course the McColgans!
Despite being an athlete of talent as became evident a year later, he did not appear in any ranking lists for Youth or Junior age groups in 1967 or 1968 so we take up the tale in 1969 as described by Colin Youngson in the following account.
***
In 1969 as a first year Junior, Doug finished twentieth in the Scottish Junior Cross Country Championship. He then went on to London University and that summer, on the famous Motspur Park track, produced promising times for 1500 metres (4:01.5), 3000 metres (8:36.8), 5000 metres (15:13) and 10000 metres (31:45.4). The latter two made ranked him second in the Scottish Junior rankings and he was twentieth in the Senior 10000m rankings for the year . Considerable progress was made in 1970. Doug was sixth in the Scottish Junior Cross Country and represented his country in the ICCU Junior International where he finished twenty fifth and was a team counter. On the track he ran 3000m in 8:23, 5000m in 14:16 and 10000m in 30:37.6 (at Durham), He made his debut for DHH in the Edinburgh to Glasgow Relay and was third fastest on the fearsome stage two despite being only just 20 years old! His time was only eight seconds behind the fastest – Dick Wedlock who had run in the Commonwealth Games 10000 metres that year. On the track, his times peaked early while he was studying in London and then at Cambridge. 'Blues' were achieved at both universities. His 3000m best in 1971 was 8:21.4 and in 1972 he ran 3:58.8 for 1500m, 14:06.8 for 5000m (sixth in the Scottish Championships) and 29:25.6 for 10000m. He also competed for Highgate Harriers at this time. In addition he was a close second to Andy Holden in the British Universities Championship 10000m in 1971.
Undoubtedly his best distance was 10000m and he won Scottish bronze in 1973 and 1974 before winning gold in 1975. Further medals came in this event came in 1977 (silver, just behind Jim Dingwall), and 1978 (bronze). Even in 1979 he ran a fast 30:15 for fourth place. An odd statistic was in 1977 when he finished second in both 5000m and 10000m in the WEST District Championships. The Scottish Ten Miles Track Championship also suited Doug very well. He won it twice, in 1973 (49:09.6) and again in 1975 (48:55.4) after a long battle with Colin Youngson (49:00.8), another former champion. The picture below is of the finish of this race and shows the dire weather in which these times were recorded. (Incidentally he had run a remarkable time of 47:47 for 10 miles on the road in the Tom Scott race when he was fourth in 1975) Sadly the track event was discontinued after that despite the fact that Martin Craven had easily broken 50 minutes too. Undoubtedly 1975 was one of his best ever years.
By 1974 Doug Gunstone had changed clubs to Edinburgh AC. Dundee Hawkhill finished last in the E-G in 1972 and was not invited the next year despite fine runs by Doug on Stage Two. In 1972 he was third fastest – only 67 seconds behind the legendary record run by Ian Stewart. His subsequent Edinburgh to Glasgow performances were consistently impressive. Team silver medals were won in 1974 (fastest on Stage Five), 1975 in the record time race won by Edinburgh Southern Harriers (only 21 seconds off the fastest on the long Stage Six), 1976, 1977 (fastest on Stage Four), and 1979. He also turned out for Springburn Harriers (whom he joined in 1980) in 1980 and 1981 and for Fife AC in 1983, 1985 and 1989. The Springburn connection turned out to be very successful and a good club team with Alistair McFarlane and a young Graham Crawford in particular picked up many an award. This came about after he had been living in Lenzie since 1975 and there is more about Doug along with his thoughts on coaching and other matters on the Lenzie Lopers section of this website. Alistair had met Doug for the first time when he was at the AAA's marathon at Stoke in 1975 and only then found out that he was not only moving to Lenzie but to the very road that Alistair lived in. It was natural that he would start training with Alistair, Doug and Brian on his arrival. Alistair recalls that, unlike some others who came along, Doug never pushed it hard in training; it was just getting the work done. He remarked to me more than once that one of the benefits of living in Lenzie at that time was that whatever you wanted – a fast six, a steady ten or twelve or a session of reps, there was someone who was looking for the same thing. When he arrived in Glasgow he joined the Marathon Club committee and soon became Treasurer continuing to attend meetings after moving North to live in Broughty Ferry. This came about when after a series of jobs in and around Glasgow, he was employed by Timex in Dundee where he had started in athletics.
On the country, Doug's best position in the Scottish Senior National was eighth, which he achieved in 1972 and 1974. In the earlier year he also finished eighty ninth in the notorious Arctic blizzard at Sutton Coldfield in the English National. (His best position in this gruelling nine mile event was sixty fourth in 1976). A major highlight was his selection for Scotland in the 1974 IAAF World Cross Country Championship. He managed an honourable seventy ninth, a team counter in front of young Allister Hutton and Lawrie Spence and that older hero, Jim Alder. Doug was an ever present in winning EAC teams in the Scottish National in 1974, 1975, 1976 and 1978. He also won team bronze in 1977 and silver in 1979. Up to then he was never lower than eighteenth position. In addition he won medals in the Scottish Cross Country Relay Championships from 1974 to 1978: three silvers and two bronze. Truly a man to rely on! At the last count he had run in 42 (forty two) consecutive Scottish National Cross Country Championships.
His marathon running career started in 1976. Even before then he had raced many of the traditional Scottish road races over odd distances. At one time in the mid 70's, Willie Day and Colin Youngson agreed that there were only three guys likely to win one of those – Doug was the other one! Surely, they reasoned, a brief discussion and consideration of the fixture list could lead to them sharing out the races to avoid these tiresome tarmac battles! A sign of good form was when Doug won the hilly Edinburgh University 10 in 49:57. In the AAA and Olympic trial marathon at Rotherham on a very hot day over a tough course, Doug finished a very good fourteenth (third Scot) in 2:21:44. Seven weeks later and on another roasting hot day, he was only a minute behind Donald Macgregor to win silver in the Scottish Championship (2:25:23).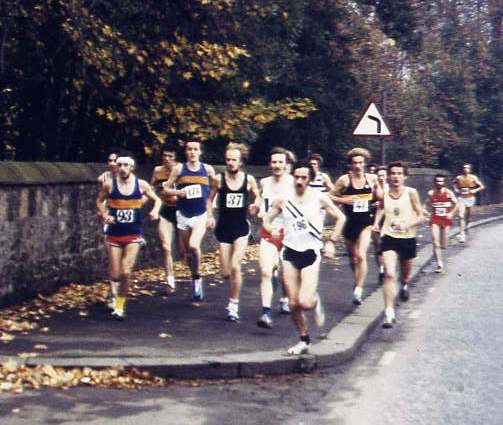 GU Road Race 1978: Doug leads Nat Muir, Jim Brown, Jim Golder, John McGarva and Bill McKim up Cleveden Road well into the race.
In 1977 Doug had arguably his best marathon when finishing fifth in the AAA event at Rugby (2:19:07). Subsequently he was invited to run another marathon at Tullamore, Eire. Sandbach was the venue for the AAA Marathon and Commonwealth Games trial in 1978. (Once again good form had been shown when Doug had run 48:57 for fourth place in the Tom Scott Ten Miles Road Race). In the selection race, once again Doug finished third Scot (2:19:51). The big occasion always brought the best out of him but he never really found a race with pleasantly cool conditions.
By 1980 Doug seemed to be slowing down a little. Perhaps he had been so successful early on that his training became slightly less dedicated. Still he finished fifth in the SAAA Marathon in 1980 and fourth in the same event in 1981 as well as running 2:24:42 in the London Marathon in 1981.
Colin was right in that Doug's career started to taper a bit from about 1980 but he kept on running and enjoying his running. By 2010 he had run in 42 consecutive National Cross Country Championships (and this does not include Schools or Universities events) – a fantastic record – but never seemed to resent or be disappointed that he was operating at a lower competitive level then before. The run in 2010 was particularly noteworthy in that it was less than a year after a serious operation. Between qualifying as a veteran in 1993 and 2010 he missed only five championship races as he moved through the age groups from M40 to the top end of M55.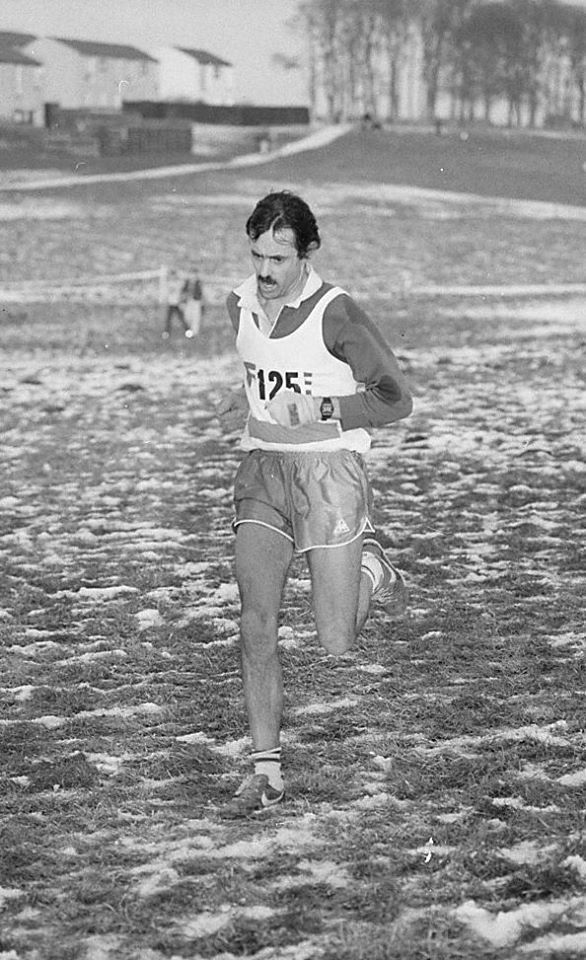 Of course as well as running in the cross country championships, Doug was running in other road and cross country events. There are those – sadly in the majority – who stop running and racing when there best days are over, who have to use Emmet Farrell's phrase "shed their silk" as runners. That is not Doug's style: he loves running and all that goes with it. For instance in summer 2000 he turned out in April in the St Andrews 5K, in May in the Blebocraigs 5 miles, the Auld Toon 10K and the Kinnoull Hill Race, in June in the Hill o'Tarvit Race, the Black Rock 5 at Kinghorn and the Ship Inn Sandy Slither at Elie, in July it was the Balgonie 10K and the Newburgh 5, in August he ran in the Mill Lum Race and the Strathmiglo Straddle. The Mill Lum race was his first race as an over 50 veteran and the Fife AC website reports this as follows: "Broughty Ferry member Doug Gunstone celebrated thirty three years in the sport contesting his first race as an Over 50 veteran. The former Scottish Internationalist placed well up the field in 28th taking the Over 50's award." At the start of the cross country season he turned out in the East District Cross Country Relays, then in the East District League at Livingston and the National Relays in October, then in November the Allan Scally Relays in Glasgow and in the Gauldry Gallop before ending the competitive year in December with the East District League match at Alloa, the Lita Allan race at Kirkcaldy and the Boxing Day Harriers v Cyclists race in Dundee. That is about one year's racing with the year selected about halfway between his last run in the E-G and the present. These of course are only the local races.
His most recent marathons were in 2008 and 2009 when he ran in London for the AICR Cancer Charity and finished in 3:37:00 and 3:54.42.. This represents a much longer running career than almost all of his contemporaries from the 70's and 80's. Certainly I can't think of a longer one.
In retrospect, Doug Gunstone was a talented, consistent and successful runner with a considerable range. Above all he was quiet, friendly, popular, respected and immensely modest. Doug still holds two Dundee Hawkhill Harriers Junior age group records: the 3000 metres and 5000 metres with the times set in 1969 – and his son Neil also holds two DHH Junior age group records – his are for the 2000 metres steeplechase (6:51.1) and 3000 metres steeplechase (10:12.43). There will be Gunstones on the Scottish running scene for some time to come.