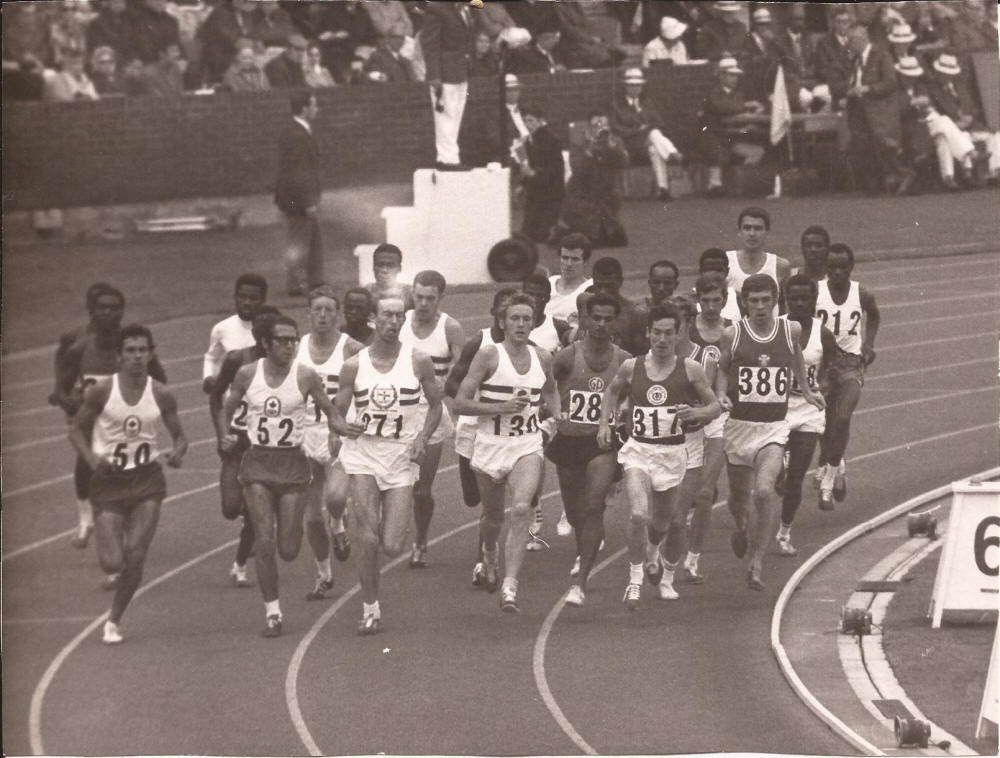 The picture above is of the start of the 10,000m at the 1970 Commonwealth Games at Meadowbank which was won by Lachie Stewart (317). The record of Scots in the Commonwealth Games and in the Olympic Games has been excellent with medals being won at Commonwealth Games endurance events since the very first one in Hamilton, Ontario, and good performances being turned in at the Olympics right up to Donald Macgregor in the 1972 Olympic marathon.
For most of us however the Commonwealth Games of 1970 was the first chance we had to see a major Games – and for it to be held in Britain, in Scotland no less, was a dream come true. The athletes performed up to and beyond expectations with gold being won right from the start right through to the final day with that epic 5000m. We had seen Ian McCafferty emerge from the tunnel for the 1500m final earlier in the week looking kind of enervated, listless and really not ready to race but when he came out into the arena for the 5000m, he was looking a different animal altogether. Moving about smartly, alert and confident looking he had me saying to my friends sitting beside me, "If he runs well today, I won't be responsible for my actions!" It had been a team selection which satisfied most people with all who should have been selected in the team and the atmosphere throughout was electric. A contrast with the '86 shambles. There are however more pages here about the 1986 meeting than about the 1970 one. A great deal of info has been provided by the Commonwealth Games Archive at Stirling University and I'm really grateful for the assistance provided by University Archivist Karl Magee and Ian Macintosh.
The two Edinburgh Games will be looked at on this page with attention also turned to individual runs by such as Jim Alder in Jamaica, Mike Ryan in Mexico, Donald in Munich, Joe McGhee in Vancouver.
[The first British Empire Games, 1930 ]
[ Auckland, 1950 ] [ Vancouver 1954 ] [ Cardiff 1958 ] [ Perth 1962 ] [ Jamaica, 1966 ] [ Edinburgh, 1970 ] [ 1974 Christchurch] [Edinburgh, 1986 ]
[ Vancouver, 54 ] [ Jim in Jamaica ] [ Mike in Mexico ] [The Complete Edinburgh '70 Programmes ]