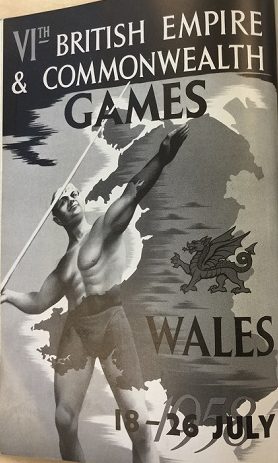 1958 Programme cover
The sixth Games, now designated the British Empire & Commonwealth Games, was held in Cardiff, Wales, between 18 – 26 July, 1958. It was the smallest country to have held the Games and, apart from London in 1934, the first British city to have the honour of hosting them. It was a very good meeting indeed and the official report on the Games said:
"Never in these lands of Britain had there been a gathering of athlete ability of better class or proven accomplishment to surpass that now assembled." The thing is that it was no mere pompous, wing-baggery by a local politician. It was just the truth. Look at some of the athletes – Milka Singh, Herb Elliott, Murray Halberg, Dave Power, Gert Potgieter, Marlene Willard, Betty Cuthbert, Val Sloper and Mary Bignal. The list is by no means complete – there were stars everywhere you looked. Away from athletics Dick McTaggart won the trophy for the most stylish boxer as well as his gold medal, but he had competition for the country's top man since Ian Black was doing great things in the swimming pool and Peter Heatly's diving was always a source of pride. Phil Caira won gold in weightlifting and two silvers were brought home by the wrestlers. Scotland had a big team – after the small numbers in 1950 and 1954, it was good to see the efforts of so many Scottish athletes rewarded, even though not a single medal was brought home by any athlete. The SAAA and SWAAA Championships had been held in June and the team chosen on 23rd June. Extracts from the programme and the results of the two meetings can be found at this link .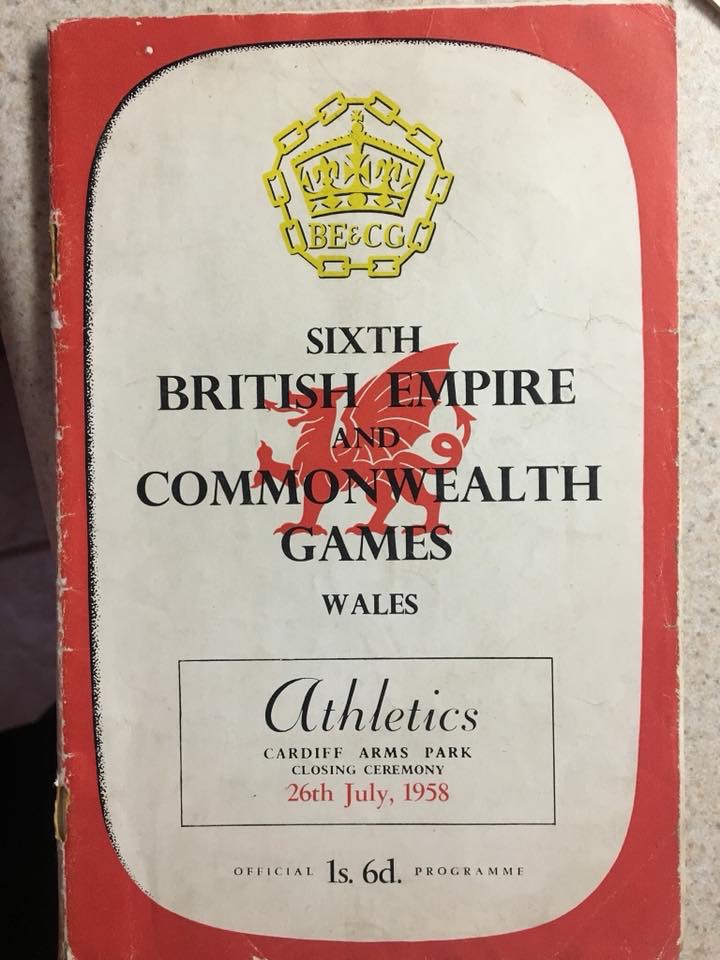 The meeting started with the Queens Baton Relay baton being delivered by Ken Jones with the message from Mayor of Vancouver to Price Phillip. This was in itself a first – the relay had never been held before at any Empire Games. The Scottish athletics team totalled 41 including Coach Tony Chapman plus RAB Foreman and Miss I Mustard.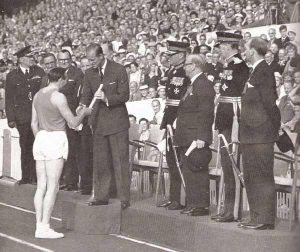 Ken Jones hands the baton to Prince Philip
The performances were pretty well all that could be expected against the like of Elliott and Lincoln from Australia and all the rest of the top world athletes of the day. In order of events we find:
100 yards men: G Carragher 10.0 sec 2nd/ht 2; JG Edgar 10.5 5th/Ht 8; AB Cockburn 10.2 5th/Ht 9, A Dunbar 10.0 1st/ Ht 11
Second round: Carragher 10.2 6th/Ht4, Dunbar 10.0 5th/6
100 yards women: Moira Campbell 11.3 5th/SF2; Doris Tyndall 11.4 5th/3; Mary Symon 11.5 3rd Ht 2; Louise Stevenson 11.5 5th/1
220 yards men: R Cockburn 22.5 5th/Quarter Final4;
220 yards women: D Tyndall 25.2 3rd/2; M Campbell 25.4 3rd/4; L Stevenson 26.0 3rd/1
440 yards men: JV McIsaac 48.9 6th; JV Paterson 48.6 6th/QF 3; RH Thomson 48.8 4th/QF 1 (Winner Singh 46.6)
440 yards Hurdles men: A Hannah 53.9 4th/SF 1
880 yards (first two from round 1) : D McDonald 1:54.6 4th/1; JV Paterson 1:54.4 4th/2; G Everett 1:55.1 3rd/3; L Locke 1:55.0 2nd /4
Final: Locke 1:54.7 7th. (won by Elliott in 1:49.3)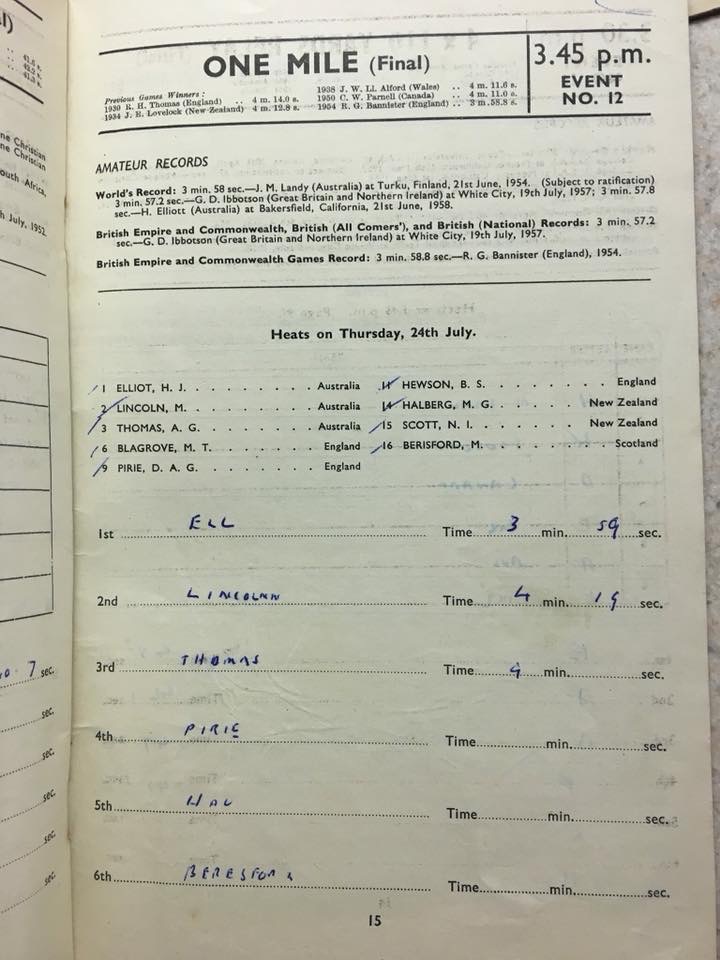 Mile: (First 3 from round 1) G Everett 4:10.8 4th/1; M Beresford 4:04.6 2nd/2; A Gordon 4:10.7 4th/3
Final: Beresford 4:07.8 6th (Won by Elliott in 3:59.0)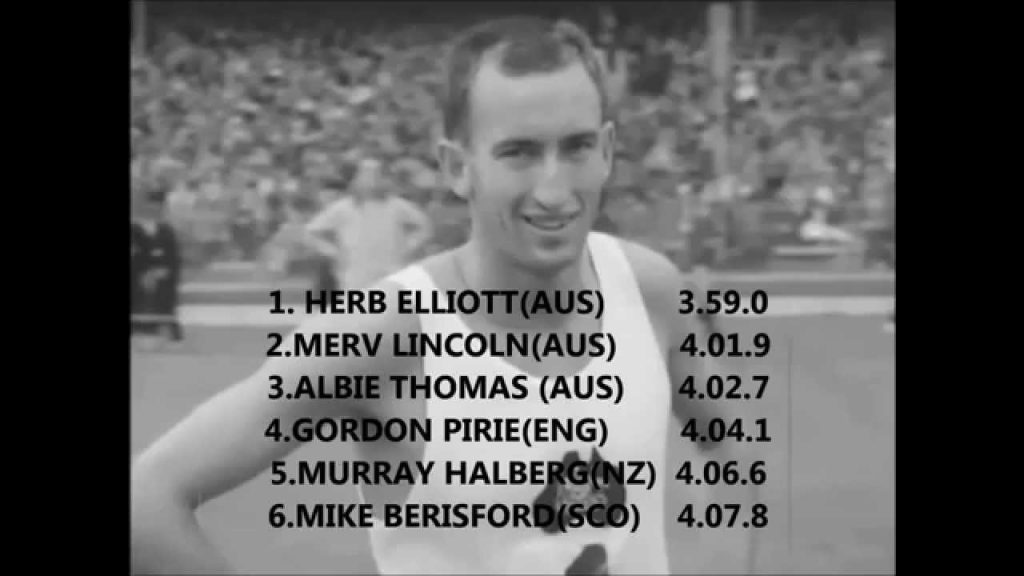 Three Miles: Ian Binnie 14th No time given; Joe Connolly 16th ntg. Alistair Wood Did not run.
The quality in this reace was quite outstanding – in order of finishing we have Murray Halberg, Albie Thomas, Neville Scott, Gordon Pirie. Ron Clarke, John Merriman, Dave Power, plus Ibbotson at tenth, Bullivant at eleven, and Maiyoro at twelve. 21 finishers)
Six Miles: Joe Connolly seventh 30:20.4. Alastair Wood did not finish.
(This was a very good run by Connolly – Barry Magee, Stan Eldon, Hugh Foord and Ray Puckett were all behind him at the finish. The race was won by Dave Power from John Merriman and Arere Anentia. 13 finishers.)
Marathon: Alex McDougall 7th 2:29:57. Harry Fenion and Hugo Fox failed to finish.
Splits for the Scottish runners :
McDougall Fenion Fox
Five Miles 26:57 26:59 (13th) 28:33 (20th)
Ten Miles 54:00 (5th) 57:09 (14th) 58:57 (17th)
Fifteen 1:20:51 (9th) 1:24:58 (15th) –
Twenty 1:50:30 (7th) –
Twenty Five 2:21:15 (7th
26+ 2:29:57
4 x 110 yards relay women Scotland 5th (Tyndall, Isabel Bond, Symon and Campbell) 48.5 sec
4 x 440 yards men: Scotland 4th/Ht 1 (McDonald, Paterson, McIsaac, Thomson) 3:17.4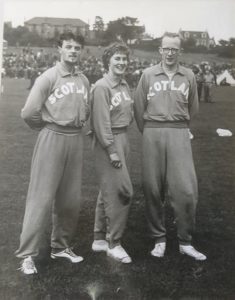 Shot Putt men: MR Lindsay 6th 50′ 7″
Discus Men: MR Lindsay 4th 161′ 0″
Discus Women: Diana Will 8th 125′ 4″; Rosemary Payne 10th 114′ 8″; Antonia Ireland 11th 108′ 8″
Hammer: Ewan Douglas 9th 164′ 9″; Robert Scott 115y 149′ 10″; AR Valentine No Mark
High Jump men: 7th Crawford Fairbrother 6′ 6″ (NB Cosmos Julien [VPAAC] competing for Mauritius was 27th with 5′ 10″]
High Jump women: Louise Stevenson 10th 4′ 10″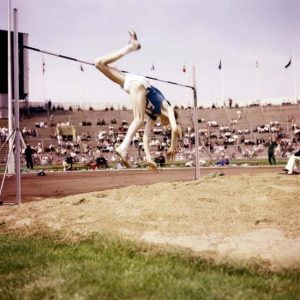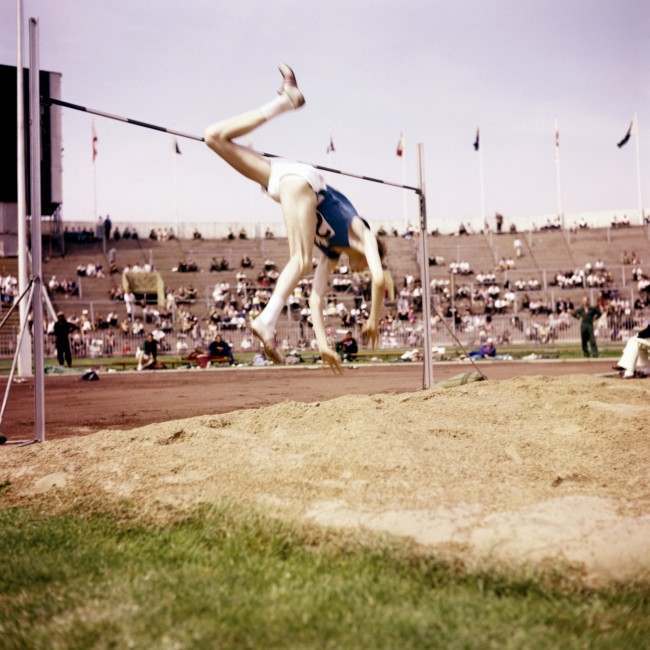 Crawford Fairbrother in action in Cardiff
The Games were a huge success. The Scottish team did well but against the very best of world athletes – even the Americans had no one like Herb Elliott or Dave Power in the marathon for instance – the athletes won no medals at all. The next Games would mean heading halfway round the world again – iy was to Perth in Western Australia that the team would travel.
A footnote: Security is such a big feature of any event organisation, that it might be instructive to read the Security section of the Games Report for 1958:
"Traffic control, security and entry to the Village were efficiently carried out by RAF police personnel under the command of Flight Lt. AB Morgan, RAF. They also supervised the Car Parks, checked persons entering the competitors' dining halls and Women's section, looked after the flags in Flag Court, and with the RAF band paraded at each team's flag breaking and Welcoming Committee.
To quote figures, the RAF Police checked over 10,000 vehicles entering the main gates, refused permission to over 3000 persons endeavouring to enter the Village on one pretext or another, checked 204 drivers for unauthorised parking in the Village, and were outwitted and lost three flags from the Flag Court."