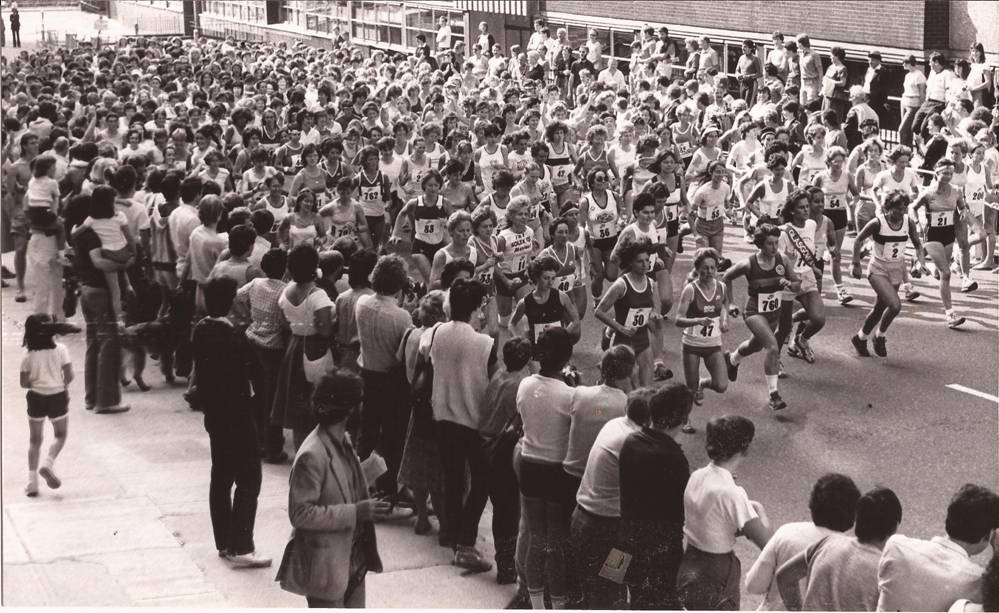 One of the real glories of Scottish endurance athletics over the years has been the fact that all athletes of whatever standard could warm up at the same time at the same venue, toe the same starting line together, top runners, club runners and others stand side by side and mingle on the starting line, then race over the same course. They would hold their post mortems or post-race analyses or make their excuses together afterwards. There would often have been no races without the range of participants. We have already acknowledged this for the men's race participants on the Who's Who pages and this page deals with women runners over the period from the 1930's to the end of the 20th century with a slight overlap.
The numbers involved are hinted at by the two photographs on this page – one from the 10K-OK races in Glasgow above, and the more recent one from the start of the Scottish National relays. A word about the photographs: most of the black and whites were taken by Graham MacIndoe, others were contributed by Kenny Phillips and John Scott, and there are others shown too: we'd like to thank them all.
As in the sport itself, there is no selection of entries by ability although, for those profiled elsewhere, there are links to the appropriate page. The part played by the broad range of runners in developing the sport is acknowledged by the broad swathe of athletes included. The men's Who's Who was published in January 2018 and we are still adding names to it and adding information to the names too. This women's A-Z is similar in that it will probably never be a complete record and we will continue adding names and wee details for some time to come.
Affleck – Curtis Dean – Gunstone Haining – Lyon MacCallum – McQueen Mahady – Murray
Neville – Owen Pahnke – Quinn Radka – Rutter Salvona – Sym Tait – Vettraino