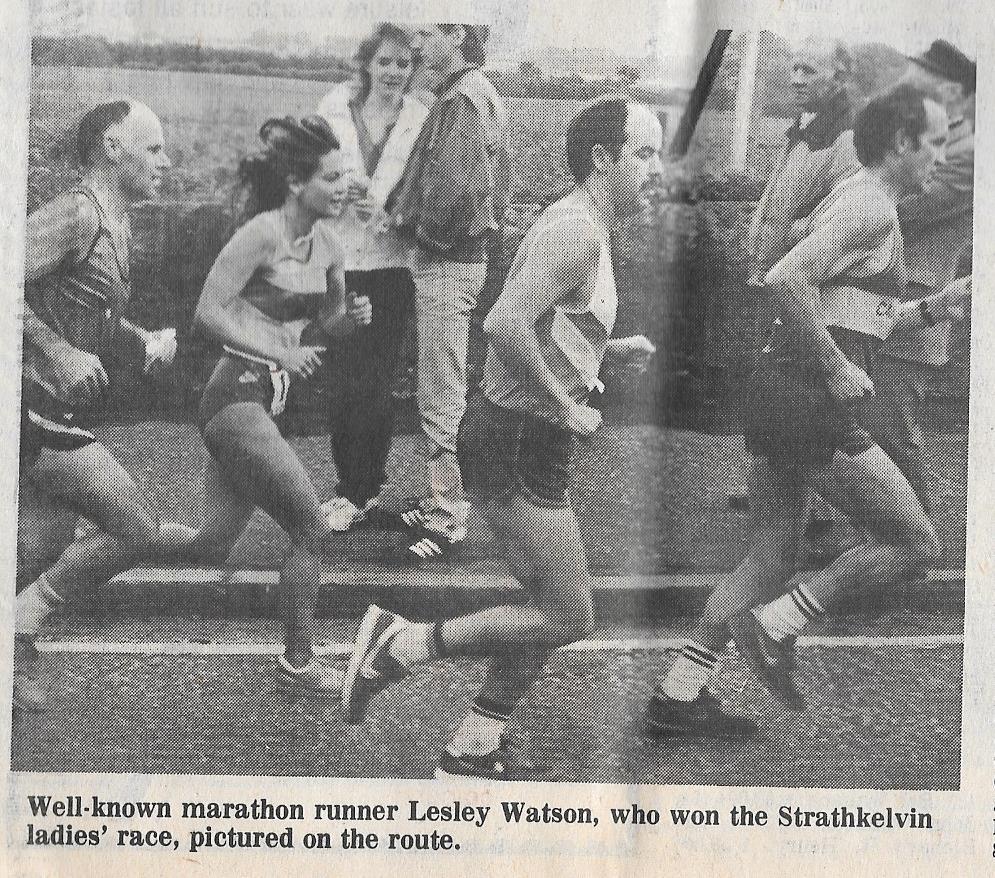 Margaret Wadler (Athenians) was a very good miler in the years after the War with her best running being in the early 1950's when she was winner of the SWAAA Mile in 1952. Running for the Edinburgh based Athenians AC, HM Wadler was second in the Scottish Cross Country championship in 1954 and third in 1953. She was also a member of the first women's international cross-country team in 1954.
Gail Walker (Cumbernauld, 22 October 1971) Best known on the track as a 1500m runner, she was also a useful 800m/3000m athlete. Gail was also a good cross-country runner. Married to sub-1:50 800m runner Ewan Calvert she is the mother of Sarah and Iona Calvert who are two of the country's very best young half milers.
Jane Walker (Strathkelvin, City of Glasgow) came into running as a senior athlete during the 'running boom' and proved to be a good road and cross-country athlete.
Sharon Walker (Firhill School, Edinburgh Southern, 13th May 1964) Sharon was a good 800/1500m runner with Edinburgh Southern Harriers who was ranked in every year from 1977 – 1981. Her highest placing was eighth in 1981 for running 1000m in 3:00.2.
Cathie WALSH (Maryhill Harriers) was a good cross-country runner for the Maryhill team of the late 1940's and with the good teams of the 1950's.
Jennifer Ward (Pitreavie, City of Glasgow, 22 March 1978) was ranked 29 times between 1992 and 2004, mainly in 800m (13 times) and 1500m (11 times but also in 400m, and 3000m Her competitive record is outstanding – at GB level, she was third in the 800m in 2000, in the SWAAA Championships, she won the 800 in 2000 and 2003, was second in 1997 and 1999, and third in 2002. Indoors she won the SWAAA championship in 2004 and was second in 1999.
Emma Waterhouse (Raven from 2009) was born on 23/02/1983 and ran for Central AC. She was second in the 2011 GB 3000m Steeplechase; and won the Scottish title in 2010 (as well as silver in 2009 and bronze in 2008). Emma also secured a silver medal in the 2010 Scottish 5000m. Personal Bests: 5000m 16.40.39; 3000m Steeplechase 10.5.92. In the Scottish Senior National XC, she contributed to team medals for Central AC: bronze in 2005 and 2010 (when she won individual silver); gold in 2009. Central (with Emma) won the Scottish XC Relay in 2008 and 2009. In 2010, Emma Raven ran a cross-country International for Scotland and finished first Scot v England and Wales. She won the Scottish 5k Road title in 2011.
Jane Waterhouse (Central AC, Vet 65) Colin Youngson says in his profile: Jane is one of the most successful Scottish Masters cross-country runners, female or male, EVER. I base this assessment on her incredible record in the Scottish Masters CC: Jane has won thirteen individual titles, all by clear margins. She started off in 1997 with the W40 championship; won three W45 gold medals between 1999 and 2001; added three more at W50 (2003-5) plus another in 2007; then secured four W55 titles in 2008 and 2010-12; and started her W60 campaign with gold in 2013. She did not compete in 1998, 2006 and 2009, and suffered her only defeat in fourteen races when she could 'only' obtain bronze in 2002. In addition Jane has been a stalwart team leader for Scotland in the annual 5 Nations CC Masters International. I do not have all her results, but note that in 2007 she was 7th W50, but improved to 5th W55 in 2008 (behind the winner, England's Susan Cooper). Read more about her in her full profile.
Leslie Watson (Maryhill LAC, London Olympiads, Highgate, 4 February, 1945) was a good cross-country runner. In the SWAAA Championships she was first in the mile in 1966, second in 1965 and third in 1964 and 67. Over the country she was second in the SWCCY Championships in 1965, first in 1966, '67 and '68. She then turned to marathon running and became a very prolific runner and prize winner over that distance. Read about her here.
Jean Webster (Athenians AC) was possibly the best cross-country runner in the Athenians club (formerly Edinburgh Southern Harriers) and (after a silver medal in 1952) won the Scottish title in 1953, leading Athenians to team victory. On the track, she won the SWAAA 880 yards in 1953, from Aileen Drummond and Betty Moffat. In 1954, these three ran for Scotland v England in a track 3×880 yards relay under the floodlights at Ibrox.
Priscilla Welch, English (Dunrossness, Shetland AAC22 November, 44) Read her full profile here. Priscilla i really well known as a marathon runner with a best of 2:32:31. She won the British 10,000m in 1984 and the Scottish marathon in 1982.
Christine WHALLEY (Livingston) was a good runner on all surfaces but was arguably at her best on the Hills – she won the 1987 Scottish Hill Running Championship from Christine Menhennetand and Kathy Butler. Christine ran on the hills for many years and away from the hills she ran regularly for her club and was a member of the Livi team that was second in the Scottish Road Relays in 1989.
Anne White vet (Garscube Harriers) Read her complete profile here. The mother of Katie, Anne is a very good veteran athlete and member of the Scottish International cross-country team.
Katie White vet (Garscube Harriers, 6 January, 1981) Read her full profile here. Katie is the daughter of Anne and is a good marathon runner in her own right with a marathon pb of 2:40:35 which ranked her second in Scotland in 2018 – she was also ranked second the previous year although the time was two minutes slower.
Melissa Whyte (born 1965?) ran for Inverness Harriers and enjoyed a very successful 'late-blooming' career, after earlier keeping fit for years. In 2008, she ran the fastest time at the North District Cross-Country Relays and Inverness Harriers won the title. In 2009, Melissa won individual gold in the North District Cross-Country Championships, leading Inverness to the title. In addition, she won several road races in Highland and Moray. In 2010, 2011 and 2012, she won with ease the W45 Scottish Masters Cross-Country title. Her 2012 performance was extraordinary, since she finished first in front of W35 and W40 competitors and became the oldest person ever to win the SWCC Vets Cup. The British and Irish Masters International XC is a most prestigious annual event. Melissa Whyte was third overall in 2010 but won the W45 category; in 2011 she was fourth overall but W45 champion again. She won a silver medal in the Senior Scottish Half Marathon Championships in 2011 and also won the Masters division. In the Scottish Senior National XC Championships, Melissa was 8th in 2010 and 7th in 2011. Consequently, aged 45, in March 2011, she ran for Scotland in the Home Countries XC International at Antrim, Northern Ireland. Melissa Whyte finished 16th (third Scottish counter) and Scotland beat Ulster, Ireland and Wales.
Laura M Wight (Adam) (Stevenage, U of Nebraska, 28 February, 1965) Laura is a very talented track runner who was ranked in a range of events between 1983 and 1992 with a superb competition record. This is from the Scotats.net website:
Commonwealth Games '94 3000 (8th); . GB Championships: 2nd AAA 10000 '93, 2nd AAA 3000 '94, 3rd UK 3000 '89, '92; Scottish Championships: 1st 1500'94, 1st 3000'89, 3rd 1500'89, 3rd 3000 '85, '86. Her pbs are 2:07.7 (800), 4:17.66 (1500), 9:02.47 (3000), 16:05.6 (5000) and 34:00.12 (10,000m).
Joan Will (Morgan Academy, Dundee Hawkhill Harriers) was a member of a very good Hawkhill cross-country team with Christine Haskett and Palm Lindsay which won many trophies and medals. A very good track runner over 800, 1500 and 3000 m she was second in the SWAAA 1500m championship in 1971.
Catriona Williams (Dundee Hawkhill) was a middle and long distance track runner for the club who was ranked in the 3000m in 1989 with a time of 10:28.4.
Molly Wilmoth – see under Molly Ferguson
Aileen Wilson (Dundee Hawkhill, 20 January 1953) was mainly a road runner ranked between 1985 and 1992who had a pb for the marathon of 2:56:35 which placed her fifth in Scotland in 1991, also in the top ten the folloowing year when she was seventh fastest Scot.
Deborah Wilson (Edinburgh Southern) was an 800 metres runner from 1972 to 1974 with a personal best of 2:20.1.
Julie Wilson (Inverness, 28 June 1967) ran distances from 400m hurdles to 3000m and 3000 steeplechase. Ranked 10 times between 1988 and 1994 she left the competitive arena until 2001 when she ran a good 3000m and then in 2016 she ran a fast enough 2000m steeplechase to be rated number 4 in Scotland. her only medal in the national championships was for third in the indoor 3000m in 1988.
Lyn Wilson ( Carnethy 14.06.71) Lyn was a good hill and country runner who also ran well enough on the track to be nationally ranked in 2004 over 3000m with a time of 10:08.02 which made her 13th quickest in the country. Over the country she finished regularly in the top ten and was right in among the top runners in the country as part of a class Carnethy Team which included Angela Mudge and Tracey Brindley. Internationally, between 2004 and 2008,she ran for Scotland once on the road and once on cross country. She ran for Scotland in the World Mountain Running Championships and for Great Britain in the European event. In the 2002 Snowdon Mountain International, Scotland (Tracey Brindley, Lyn Wilson and Jill Tate) won Team Gold.
Margaret Wilson (Maryhill LAC) When Maryhill Harriers Ladies became Maryhill Ladies AC under John Anderson's rule they continued to produce good endurance runners like Leslie Watson and Mary Speedman. One of these was Margaret Wilson who was a good cross-country athlete and also ran 1500m on the track, ranked with a time of 5:49.3 in 1971. She was also a good team member over the country.
Heather Wisley (Fraserburgh, 25 April 1952) ran for Fraserburgh between the late 80's and early 90's and was nationally ranked over 1500m (1990) and 3000m (1989, 1990 and 1991). She won East District 3000m titles in 1989 and 1990. A good cross-country runner, Heather won the Scottish Women's Cross-Country Union over-35 Veterans championship in 1987/88.
Alison Wright NZ/Sco (Edinburgh Southern, 1 December 1949) Although a New Zealander who ran for that country in the 1978 Commonwealth Games in 1978 at 800m and 1500m, she raced for Edinburgh Southern Harriers between 1980 and 1982 and appearing in the Scottish ranking lists no less than ten time at distances of 800/1500/Mile/and 3000m Her lifetime competitive record was as follows – (for New Zealand) Commonwealth Games '78 800 (sf), 1500 (6th). In the GB Championships: 3rd 3000 '78. Scottish championships: 1st 1500 '81. (These figures from Scotstats.net)
Rosemary (Stirling) Wright – See under Rosemary Stirling
Melissa Wyllie (Hermitage School, Glasgow, Dumbarton AC, 17 May 1966) competing between 1981 and 1989 she had best times of 2:11.2 (800), 4:31.2 (1500) and 10:00.3 (3000m.) Melissa reappeared in the ranking lists in 2015 when she ran 39:19.1 for 10,000m. She was also a good cross-country and road runner for Glasgow AC at a time when Carol Sharp, Eileen Cochrane and other good athletes were representing the club. eg in the Scottish road relay championships in 1989, she was fastest in her team and third quickest overall. Glasgow won the relay title that year and also 1984. In 1983, Melissa Wylie had won the Scottish under-17 XC title and led her team to gold medals. Glasgow AC also finished first in the Senior National cross-country in 1988. As a Masters athlete, Melissa Wylie won bronze in the 2014 Scottish 10k road; and became W45 cross-country champion in 2015. She ran for Scotland in the 2014 British and Irish Masters XC, finishing fourth W45.
Elizabeth Young ran for Irvine YMCA and Irvine AC. Aged only 16, over a one and a half miles course at Pollokshields, she won the 1951 Senior National Cross-Country title in 1951 (in a sprint finish from Maureen McNab of Bellahouston Harriers). This was the first Post-War Scottish Women's XC Championship. Elizabeth won a silver medal in the 1951 Scottish Athletics 880 yards. In 1952, she finished third in the National Cross-Country.
Rubina 'Ruby' YOUNG (1956-, Glasgow Univ, Shettleston) was a very good, very talented runner indeed who came from nowhere it seemed, sparkled very brightly. and then stopped. A Scottish international cross-country runner in 1979, she was second in the SWAAA track 3000m in 1976 and had track personal bests of 800 – 2:17.3, 1500m – 4:37.4 and 3000m – 10:19.0.