QUESTIONNAIRE
NAME Katie White
CLUBs Garscube Harriers
DATE OF BIRTH 6th January 1981
OCCUPATION Medical writer
HOW DID YOU GET INVOLVED IN THE SPORT?
I never really intended to get involved in running. I hadn't really done any running before, but I ran the Buchlyvie 10K in 2011 just to get involved in the village event. I was surprised by how much I enjoyed it and so I started doing a few runs as I preferred to be outside rather than in the gym. A couple of months later I ran the 10K at the Milngavie highland games and surprised myself, and everyone else, by winning it. The race was organised by Garscube Harriers and while chatting to some of the members after the race they suggested I went along to a training session. The following week I decided to give it a go and before I knew it running became a big part of my life.
HAS ANY INDIVIDUAL OR GROUP HAD A MARKED INFLUENCE ON YOUR ATTITUDE OR INDIVIDUAL PERFORMANCE?
As I have more or less been a member of Garscube Harriers since I started running, the club has had a huge impact on my running. When I joined I had no idea about anything to do with running from what to wear, how to train and what races were available. The advice and support from everyone at the club has been invaluable to me. It's also been great having my mum, Ann, getting involved in running. It's something we can enjoy doing together and having someone who understands the highs and lows of training and racing and why I want to take my running kit whenever we go away anywhere is a big help.
WHAT EXACTLY DO YOU GET OUT OF THE SPORT?
I get so much from running in addition to it being a good way to keep fit and healthy. Having a desk job I look forward to the end of the day when I can get out for a run and have a break from everything else. The constant challenge it provides with new targets to work towards keeps me motivated to continue running. I also love having the freedom of just being able to put on my trainers and go and explore somewhere new wherever I am.
I have also made a lot of friends through running and enjoy training and racing with like-minded people. I think the running community is great with everyone being so encouraging and supportive. It's good to be part of that and to be able to share everyone's achievements, whatever they are.
WHAT DO YOU CONSIDER TO BE YOUR BEST EVER PERFORMANCE OR PERFORMANCES?
Probably getting a PB and finishing in 6th place of the mass start in the London marathon last year.
YOUR WORST?
A cross country race in the Manchester league a couple of years ago. The only reason I didn't drop out was that I knew I would at least score some points for the team. For a few months I nearly gave up running completely as it was making me feel so unwell. Luckily, I discovered that it was just because I was anaemic and when I sorted that out I had a huge improvement in my running.
WHAT UNFULFILLED AMBITIONS DO YOU HAVE?
My main ambition is just to keep avoiding injuries and enjoying running. I would like to try and improve my marathon time and I enjoyed doing a bit of fell running last year, so maybe a few more fell races.
OTHER LEISURE ACTIVITIES?
Running takes up most of my spare time and having recently moved to a house that needs a lot of work, DIY and gardening are going to be keeping me busy for a while.
WHAT DOES RUNNING BRING YOU THAT YOU WOULD NOT HAVE WANTED TO MISS?
All the people I have met and places I have visited through running.
CAN YOU GIVE SOME DETAILS OF YOUR TRAINING?
I run almost every day, even if it is just a few easy miles. Generally, I do an interval session, tempo run and long run every week. My mileage varies between about 50 and 85 miles a week. I go to the club training sessions when I can, but the majority of my running is on my own. I also go to the gym most mornings for strength and conditioning.
MEMORIES OF DERRY: BRITISH AND IRISH MASTERS INTERNATIONAL CROSS COUNTRY, 2017
After struggling (due to illness) through the race in Tollcross the previous year, my aim for the race this year was to finish as a counter for the team. Conditions on the day were good, and after checking out the course during the warm up we were ready to go. As I tend to start slowly and gradually improve my position throughout the race, I was a bit concerned that I had started too fast as early on I found myself just behind the leading group. But I was feeling good and as the group gradually broke up I was able to make up a few places and by the start of the last lap there were three of us left challenging for first place. The support all around the course was great and really helped push me on to finish in second place overall in a close race. I was delighted to have far exceeded my expectations and win my W35 age group. I then had a nervous wait hoping that mum would finish well in her age group too.
It was a great weekend, a well organised event, with good support and cameraderie between all the runners. I enjoyed being part of the SVHC team and will hopefully get another opportunity in Swansea next year.
Katie White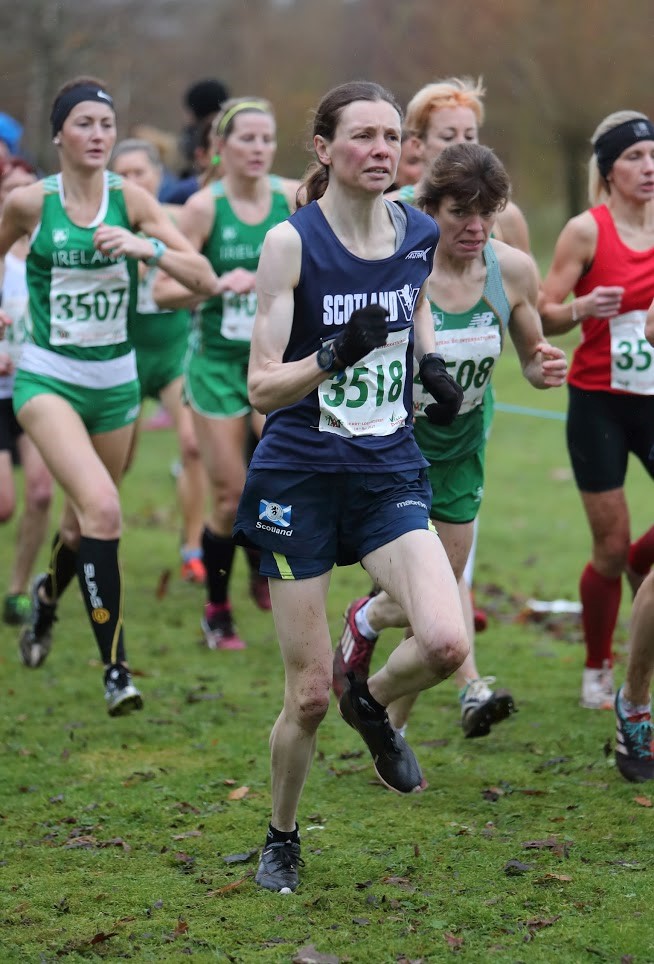 Katie racing hard in Derry 2017
A HOT HALF MARATHON IN MALAGA: WORLD MASTERS CHAMPIONSHIPS 2018
We knew it was going to be very hard. We had trained in the heatwave during the summer and had found it difficult to maintain pace during speed sessions: we are just not used to that sort of weather in Scotland. The Beast from the East was more our thing. At least the race was early in the morning.
We were not sure of the route so we arrived early at the stadium and tried to work out where we would be running and where the water stations would be. We took advantage of the opportunity to have our own electrolyte drinks at two of the water stations. Having warmed up we headed for the start which was arranged in age groups.
Katie's race: Having not run in any of the International Masters events before I didn't really know what to expect from the race so I had no target time in mind. After an over-crowded start and a first loop around the stadium people started to spread out a bit and I settled into a consistent pace on the long out and back section of the course. On the first lap it was nice to find a bit of shade, but unfortunately it didn't last long. I wasn't sure what position I was in until the turn-around point at about 4.5 miles. Then I realised I was the second woman with quite big gaps between the women in first and third place, so I just hoped I would be able to keep a steady pace and maintain my position. I don't normally drink anything during a half marathon but I tried to make good use of all the water stations both for drinks and to throw water over myself to keep cool. Looping around the stadium to start the second lap there was some good support for the GB team, which really helped encourage us on as we set out on the long out and back again. The gaps between me and the other women runners didn't seem to have changed much and I was maintaining a relatively comfortable pace. It was good to finish with a lap of the track and experience the support in the stadium. Other than the hours spent waiting for the results I really enjoyed the event so hopefully it will be my first of many more International Masters events.
Ann's race: I set off at the pace that would give me my target finishing time but after the first few miles I realised that, because of the heat, I would not be able to maintain it for the whole race. There was an athlete in my age group from Finland just ahead of me and I had decided to use her as a pacemaker but I had to let her go and just run at a pace that I thought I could manage for 13.1 miles. We did two laps of the course, round the stadium and out and back along the coast. On the first lap there was some shade from the tall buildings along the way but later we seemed to be in the blazing sun all the time. It seemed a very long way between some of the water stations and it was a relief to pick up my drinks and pour water over my head. There were several moments during the race when I thought I wouldn't be able to finish but I just tried to maintain my pace. Starting the second lap was daunting as I knew exactly what I was up against but there was some good support along the way that kept me going. And then, about three miles from the finish, I spotted the Finnish runner up ahead! I steadily gained on her and then had a dilemma. Should I overtake her now or just tuck in behind and then make a break nearer the finish? I decided to risk it and went past her, expecting her to come back at me any second. But she didn't! Then it seemed a very long run back to the stadium, particularly the last mile where we had to circle the outside of the stadium and then do a lap of the track. I was getting cramp as I circled the track but I was spurred on by the sight of Katie cheering me on from the stands. What a relief to finish and get into the shade of the stadium.
I had no idea where I had come. Indeed it wasn't until very late in the afternoon that the results were revealed and I was delighted to find out that I had won an individual silver medal in the W65 age group and team silver in the W60 age group. Although we had to wait for several very trying hours in the heat for the medal ceremony, it was a great feeling to be on the podium with the Union flag. I was very proud to see Katie get her silver medals as well and we had an excellent paella and a couple of beers to celebrate later that evening.
(In the 2017 London Marathon Katie ran very well to finish in 2.42.37. Since this event was also the Scottish Marathon Championship, she gained a bronze medal. At the 2018 Frankfurt Marathon, Katie raced to a personal best of 2.40.31. In Autumn 2019, she won the Scottish Women's Half Marathon title; and a few weeks later finished First Woman in the Loch Ness Marathon.)