BRITISH AND IRISH MASTERS CROSS COUNTRY INTERNATIONAL, DERRY, NORTHERN IRELAND, 18th NOVEMBER 2017
Perhaps our top male team was the M65 outfit, which finished second. However, the English proved impossible to beat, although their winning margin was only three points, due to an excellent silver medal for Tony Martin, and strong backing from Frank Hurley (4th) and Andy McLinden (6th).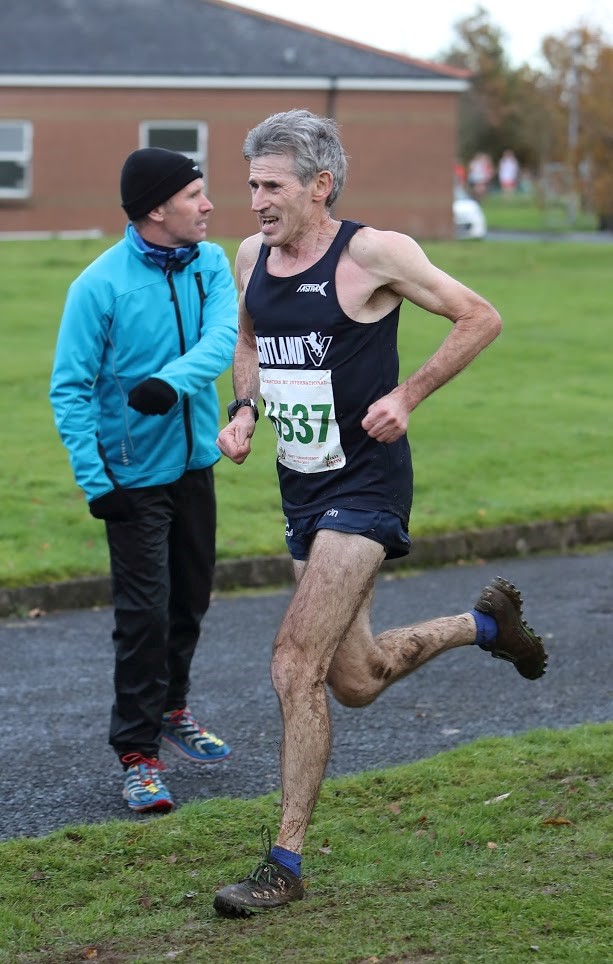 Tony racing hard in Derry 2017
SCOTTISH MASTERS CROSS COUNTRY CHAMPIONSHIPS AT KILMARNOCK ON 3rd FEBRUARY 2018
Tony Martin of Falkland Trail Runners won the M65 race ahead of Frank Hurley of Cambuslang and Andy McLinden of Hamilton Harriers.
BRITISH CROSS-COUNTRY CHAMPIONSHIPS AT FORRES ON 17TH MARCH 2018
Despite the icy wind blowing across Grant Park, it turned out to be a great day for the organisers Forres Harriers and for many Scottish Masters runners. The course wound round bumpy grass, up forest trails and a long, steep, horrible hill, and then along leafy litter (but very little mud), before plunging back down to the park and towards the finish; or into the final lap for non-pensioner men.
Tony Martin (Falkland Trail Runners), who has kindly sent in an action-packed report, thoroughly deserved his clear M65 victory against very good opposition; Cambuslang's Frank Hurley sprinted to silver just in front of that durable campaigner Stan Owen from Salford.
BMAF Masters Cross Country 2018: The Battle for M65 Victory
The Beast from the East Part 2 had started its shenanigans again on Sat morning. Looking out of the window at 6:30 a.m., I could see a small blizzard was blowing in, not a good omen for the 3-hour trip up to Forres for the British Masters XC champs (6K). However, the weather gods relented and we enjoyed an incident-free trip past snow-covered mountains, highlighted with spring sunshine against a blue sky. We arrived in Forres with around 40 minutes to spare before the start of the race – quick number pickup, changed and a jog over to the start – it didn't give us much time to look at the course – apart from the loop around the park.
Met up with a few running friends and rivals, notably my Scottish team mate Frank Hurley and, from way back when I first started running, Salford runner Stan Owen. Stan doesn't travel to races just to take part. The fact that it was a British Championship gave us a chance to race against runners from London, Gloucester, Liverpool and other areas from England. Those making the journey hadn't come all that way just to look at the scenery.
Considering the amount of rain and snow we had over the past weeks, the course was dry underfoot. The route took us around the park over a couple of bumps and up a small hill, cut off to the right and back round the park again. Instead of cutting off right on the small hill, this time we continued up the big hill, up some more, climbed a bit more, but after that it was back down onto the flat and into the finish.
At the start the wind was in our faces. The sun was out but couldn't compete against the chilly wind. As we lined up, I looked around – Stan was way over to my left. I was as close to the barrier as I could get, on account that the course took a right turn. Frank hovered behind me. I didn't want to lead out from the start, but from where Stan was it meant he had quite a way to run to get to the corner. I had no choice, as the gun went, but to go into the lead at a steady pace. Stan caught me and immediately went to the front. "Here we go," I thought, "He's going to force it now." The pace was comfortable and I sat on Stan's shoulder until we hit a small bump. Then I pushed up, overtook Stan and hit the hill. As we turned right and headed down to the 2nd loop, Stan came flying past me, putting in a burst onto the flat. Decision time. Do I let him gain a few yards and try to pick him up (if I could) later on? Or go with the pace and hang on? Go with the pace, it's a championship race. I got my head down and chased him. Stan slowed down, so I went past, lungs bursting. "Oh, blinking heck!" (substitute your own swear words in here!): he's now going to sit in with Frank and leave me hanging out at the front. Momentum carried me on, and I gradually pulled away from the pack. I'm assuming that's what happened, as I wasn't looking back, too scared about what I might see! I decided that when we hit the hill, to push really hard. if anyone came past me, fair play to them, they deserved it. The hill was a relentless hard climb, which levelled out to a bend then kicked you in the teeth with another incline – we only did it once but the youngsters had to run it twice. I had a chance to look down on the path as we twisted our way up. I couldn't see Frank or Stan below me, so I assumed they were sitting behind, waiting to give me a good kicking. Over the top, and we headed down towards the park again, leaping over a small embankment which caused a few casualties as we landed among the Spring daffodils poking up nervously.
Summoning up my last reserves of energy, I dug in hard around the winding route to the finish, trying to make it difficult for anyone sneaking up behind me to overtake. I crossed the line in 1st place 22:44, 6th overall, happy to note that Frank had passed Stan on the small embankment to secure 2nd place with Stan 3rd.
It may not seem like this to the observer from the side-lines, but the racing in the Vets is just as fierce as you would find in Senior races – only maybe a bit slower. Most of us hail from an era (before the running boom) when road and XC was predominately about racing and not a mass-participation sport. That's why I enjoy competing in Masters races – you get a good honest race like they used to be! Coupled with a friendly competitive spirit and a chance to catch up with Old friends (literally!). You couldn't wish for more.
Tony Martin