A TALE OF TWO ATHLETES
Sammy Walker – Played Rugby from school age up to 27 years old got swept up in the running boom of the mid 80'S (same as Davie Cavers who remarkably played prop). Joined my home town club of Teviotdale Harriers in 1983. Got blown away in my first East District league race, total shock to the system. My abiding memory was there was a false start and Allister Hutton had run half a mile before they could stop him! Decided needed take this running thing seriously. Finished 19th in the East Districts of 1984 and 33rd in the Scottish of that year. Was so chuffed and thought this was as good would ever get ….then my friend Colin Hume returned from college in the States.
I thought I had been training hard but with Colin went to a different level. Was running at a pace I had never been near. The results were startling – 6th in the East Districts of 1985 and 17th in the Scottish of that year (which was the year that "Humegate" occurred when Colin made the Scottish World Cross Country team at Eddie Stewart's expense.
Around this time, it all started to come together for Teviotdale. Brian Emmerson was there already and had been ploughing a lonely furrow. Now there was me, Davie Cavers had joined, Rob Hall from Jedburgh, Andy Fair was taking it seriously. Keith Logan came from the local cycling club and I was in Ian Elliot's ear every day at work about coming back to us from ESH. There were legendary 15 mile runs on a Sunday morning which set off at 5.40 pace.
Best achievements of Sammy Walker. The win in the National relays at Inverness was an amazing buzz. We were just three Hawick guys plus one from Jedburgh. All mates had left Hawick at 6.00 a.m. To win was just insane. Two fastest legs at the E to G are right up there. Winning the Flockhart Trophy. Top ten finish in the Scottish at Dundee. My proudest moment isn't even in the record books. I finished 5th in the Paris to Versailles road race, beating Steve Binns (who I became good friends with). I went there with Brian Emmerson on one of those "running tours " or joggers' tours as I found out it was. As a result I had number 10756 so, when the guy with this number approaches the finish line in 5th they think…cheat and stop me crossing the line. Managed a 29.49 10k, 1hr 06 Half Marathon, 2.22 Marathon (in the last Glasgow).
So got to 38 and Sammy fell out of love with running. Had done no too bad and "Never going to run over 40 ..I mean that Vet stuff, it's a bit of a joke isn't it??"
Alastair Walker – 22 years on and two stone heavier than his namesake "Sammy". Son Greg joins Teviotdale. Alastair goes to watch a few of the league races and catches the bug. Starts to go out a couple nights a week. Feels great. Flying. Be as good as that Sammy ever was ..maybe even better. Enters the Hawick 1OK (two-lap course ), blows up after a lap and drops out feigning injury. Get Serious Time!
So Alastair gets serious and ups the miles. Buys a Garmin and discovers all Sammy's training runs are two miles shorter than listed in the training diaries. This is Strava time and Run Britain rankings. So much information on people and times. Goals to aim for. Runs an acceptable 1OK at Jedburgh. Struggles at league race at Broxburn and enters the Scottish Vets at Dundee. Finishes a distant fourth in the V60 behind Eddie Stewart who must have been stored in ice for last 30 years because looked exactly same. Now going get Really Serious.
The result? Fastest 5k and 10k in Britain for 2017 for V60 and 2nd in the British and Irish Masters V60. One of the best weekends ever – the race, the people, the reception when received medal .."I mean that Masters stuff, it's what everyone should aspire to, right?"
Sammy and Alastair doing the same training. Alastair a bit slower. One long run, 2 speed sessions. Other days steady running. Around 50 miles a week.
TWO TOUGH RACES: Malaga, Spain. World Masters Championships 2018
Linda and I travelled with two of our friends on 06 Sep and stayed for a week in Torremolinos. The change in temperature from home was dramatic and I hoped itwould ease a bit for the 10k. Had three mornings of dodging early strollers and joggers along the front before the first of two big days arrived.
10k Road Race 09 September
The early start of the race (9.00 am) meant a 7.00 am taxi ride to the start at the main athletics stadium in Malaga. Even that early as light was breaking there were athletes from all over world milling around and the throng just grew and grew as start time approached. Had quick word with Justin Carter from Cambuslang in the warm-up area and outside while jogging, and ran into Paul Forbes and later Paul Thompson's lovely lady Jan. Back into the stadium and it was time for the start on the track. There I spoke to Paul Mingay, my nemesis from the Run Britain rankings who I had never met and had spent two years hating!! Turned out he was a really nice guy. The start was just a free-for-all. All ages pushing in. The gun went and we were off to a slow start till we got clear of stadium. The course was out and back and very flat. Thankfully, although it was still hot there was cloud cover. I felt that I was going well and my mile splits were as I had hoped. Didn't see many V60 numbers en route. My wife and friends had been briefed to look out for V60 runners. Finished very tired in 35.56 and hadn't a clue about my position I'd finished. I got to the reunion area for my wife to say I'd won and my friends confirming this. After a long wait for the official results, I was indeed World Champion. Then it all got quite surreal, with strangers lauding me, flags, national anthems and a gold medal. All very emotional. A truly unforgettable day.
5000m Track 12 September
This was held at the Carranque Stadium, one of three where events were held. Because of the numbers entered there were 3 seeded heats with the gold medal going to come from third heat which I was in. I wished John Thomson luck as he was about to compete and started my warm-up. It was much hotter than the day of the 10k. Then it was off to the call room and the start of the race. I noted that the Spaniard who won gold in the cross-country and the New Zealander who got bronze were both on the start line. My plan was to sit in but the pace was so slow I took it on from 800 metres. The Spaniard sat in and passed me with 300 metres to go and the New Zealander, who I wasn't conscious of being there, passed with 50 metres left. Could I have run differently? I don't know. Bronze this time. I wished Fiona Matheson all the best as she was about to compete and headed off on my warm down. My World Champs were over.
Footnote: Paul Mingay, who I beat in the 10k, won the half marathon V60 on the following Sunday and the 1500 metres was won in 4.51. (I'd done 4.52 at Grangemouth). If only, ha ha. Roll on Toronto!
By Alastair Walker
In November 2018, Alastair was a clear winner of the M60 age group in the British and Irish Masters International Cross Country in Swansea, finishing a great year in style. He ended up British, British and Irish, and World Champion!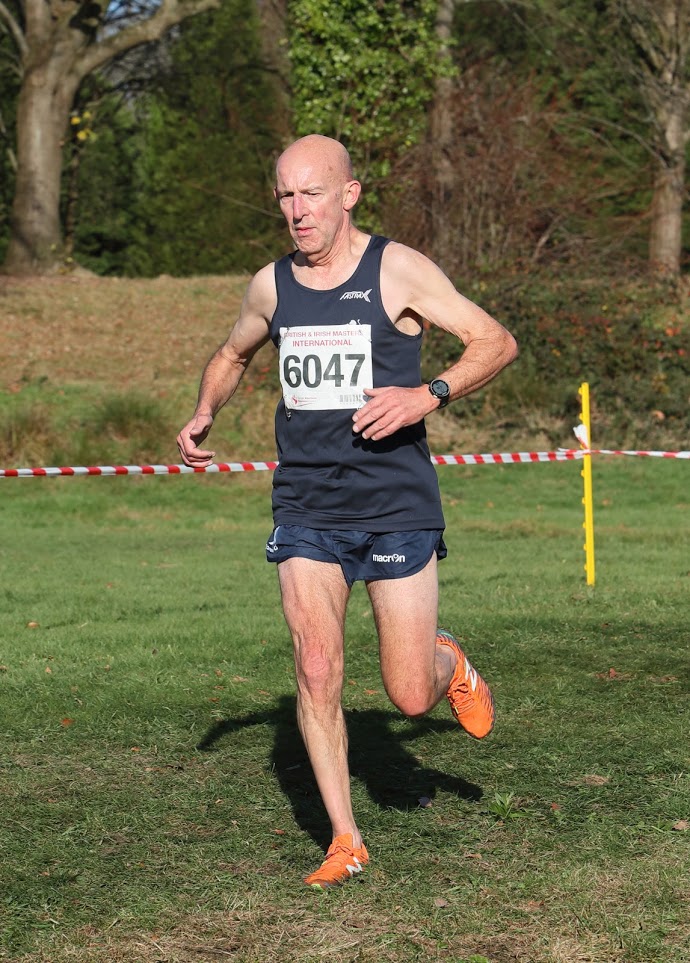 Alastair well clear in Swansea 2018
ALASTAIR WALKER'S SUPERB 2019 HIGHLIGHTS
At Hogmanay, Teviotdale Harrier Alastair (Sammy) Walker, the 2018 World Masters M60 10k Champion, and surely now one of the all-time greatest SVHC runners, posted the following on Facebook:
"Goodbye 2019 it's been a blast!
Masters V60 Golds in:
European 10k Road
European 5000m track
British and Irish International Cross Country
British Cross Country
British 10k Road
British 5k Road
British 5000m track
Scottish Cross Country
Scottish Short Course Cross Country
Scottish 5k Road
Scottish 10,000m track (New record)
Scottish 1500m (Championship record)
BMAF Male distance runner of year
Scottish Masters Athlete of year
and tomorrow we go again in 2020!"
He started the 2020 racing year with the Scottish 3000m Indoor Championship on 3rd January, finishing 1st V60 in 9.51.36, only 8 secs slower than Andy Brown's 1994 Scottish age-group World Record.
Alastair contributed the following article:
2019 – That was quite a year!
From hills not half a mile from my house in February for the Masters Cross Country to the glitz of the Hilton in Glasgow 2019 was a year to remember.
Pick a stand-out occasion in the year says our esteemed editor and write about it for the newsletter. There have been so many in 2019. Scottish Athletics Masters Athlete of Year, BMAF Distance Athlete of Year, a Scottish V60 best for 10,000 metres at Carluke (who decided to build a track on top of a hill?) British and Scottish V60 titles on track, road and country. Aintree glory. Did he say he wanted one memory or twenty? One it is, then.
European Masters Athletics Championships at Jesolo, Italy
Time away and financial constraints meant that I targeted the 5000 metres on the track and the 10k road race, which were taking place on the 13th and 15th September 2019 respectively. In both I reckoned my main rivals would be the Swede Torre Axellson and the Dutchman Jaap Stijjart based on the times both had declared (does anyone ever put their correct times down?) So, with both these names entrenched on my mind and on my hate list ha ha, I arrived in Jesolo on 11th September. After a couple of days registering and chilling (wrong word in that heat) with Colin Welsh and John Thomson, fellow Scots and friends, the day of the 5000 arrived.
The 5000 was being held at the track at Eraclea, which was six miles from Jesolo. Boarding the free shuttle bus, I immediately recognised "The Swede" (thank you Google images) and, after avoiding eye contact all journey, we arrived at the track around 4 pm for a 6.30 race. Found some shade before starting what little warm-up that was required. As ever, warmed up in my Scottish Masters tee shirt.
Finally race time. Had decided to sit in for few laps but the pace was so pedestrian that I took it on from lap 2. As if to script, I drew my two rivals away from the rest and by lap 4 we had drawn well clear of the field. Feeling fairly comfortable I made my move on lap 8 and 'felt' my two rivals fall behind. After holding it together for the final few laps, gold was mine in 17.08 with Axellson 23secs adrift and Stijjart a further 7 secs back
Amazing buzz! Flags up poles, National Anthem and loads of friendly chats with my new best friends Torre and Jaap plus their wives and kids. Raucous bus journey back to Jesolo with Ireland's Brian Lynch, who had won the V65, then out on the town with Colin and John for pizza and copious pints of Moretti.
The next day I headed into Venice for a day's sight-seeing with Colin and John. Beautiful place but so busy. Then back to Jesolo to get ready for the next day's 10k road race.
Sunday arrived, another scorching hot day and 10k time. Got taxi to the start in central Jesolo and thought myself lucky that I hadn't decided to do the half marathon, which was two laps of the 10k course. As usual, I was there way too early and mingled with the mass of other athletes from all over Europe till was finally race time. All ages were present at the start in a mad free for all. Had a quick chat with Claire Elms (going for her umpteenth medal of the championships) and had a look around for Torre Axellson who again was going to be my main rival in the V60. Surprisingly, he was nowhere to be seen. Gun went off and we were away. Shouts of encouragement from Colin and John standing with suitcases on their way to Airport. I settled into a 35 min pace which I knew, barring a big turn up, would win me gold. Course was flat but heat made it tough. Shout of congratulations from Archie Jenkins half mile from home and that was it. Another victory. Time was 35.28 and runner up was indeed my Swedish friend, invisible at the start, who was a minute behind.
Medal presentation was in a packed town square. After sitting through an endless array of national anthems there I was again on the podium. Very happy days.
So 2020 has dawned and, as I write this, I have had a stinker at Johnstone (Scottish Masters XC) and battled through the mud at Falkirk (Scottish National XC) …………… Oh for those summer days of 2019!
2021 started much better!
6th June: Scottish Athletics reported: word is reaching us of a superb Masters 10k road run by Alastair Walker of Teviotdale Harriers. We understand that Alastair clocked 36.59 at the Carlisle Tri Club event and that just beat the previous British M65 record – set back in February 1993 – by fellow Scot Willie Marshall.
9th of June. World M65 record 5km for Alastair Walker at Carlisle, in the Castle 5 event. Gun time 17.11; chip time 17.09. World M65 record. Previously held by Canadian great Ed Whitlock (17.23).
At the end of 2022, Alastair listed an amazing amount of superb M65 achievements: World Masters 5k Champion; World Masters 10k road Champion; British Masters 10k road Champion; British and Irish Masters xc Champion; Scottish Masters xc Champion; World Masters record 3000 m indoors; World Masters record 5000m; World Masters best 5k road; World Masters best 10k road; World Masters best 10 miles road.
He commented dryly " If Carlsberg did running years, this would probably be it".