A TALE OF TWO ATHLETES
Sammy Walker – Played Rugby from school age up to 27 years old got swept up in the running boom of the mid 80'S (same as Davie Cavers who remarkably played prop). Joined my home town club of Teviotdale Harriers in 1983. Got blown away in my first East District league race, total shock to the system. My abiding memory was there was a false start and Allister Hutton had run half a mile before they could stop him! Decided needed take this running thing seriously. Finished 19th in the East Districts of 1984 and 33rd in the Scottish of that year. Was so chuffed and thought this was as good would ever get ….then my friend Colin Hume returned from college in the States.
I thought I had been training hard but with Colin went to a different level. Was running at a pace I had never been near. The results were startling – 6th in the East Districts of 1985 and 17th in the Scottish of that year (which was the year that "Humegate" occurred when Colin made the Scottish World Cross Country team at Eddie Stewart's expense.
Around this time, it all started to come together for Teviotdale. Brian Emmerson was there already and had been ploughing a lonely furrow. Now there was me, Davie Cavers had joined, Rob Hall from Jedburgh, Andy Fair was taking it seriously. Keith Logan came from the local cycling club and I was in Ian Elliot's ear every day at work about coming back to us from ESH. There were legendary 15 mile runs on a Sunday morning which set off at 5.40 pace.
Best achievements of Sammy Walker. The win in the National relays at Inverness was an amazing buzz. We were just three Hawick guys plus one from Jedburgh. All mates had left Hawick at 6.00 a.m. To win was just insane. Two fastest legs at the E to G are right up there. Winning the Flockhart Trophy. Top ten finish in the Scottish at Dundee. My proudest moment isn't even in the record books. I finished 5th in the Paris to Versailles road race, beating Steve Binns (who I became good friends with). I went there with Brian Emmerson on one of those "running tours " or joggers' tours as I found out it was. As a result I had number 10756 so, when the guy with this number approaches the finish line in 5th they think…cheat and stop me crossing the line. Managed a 29.49 10k, 1hr 06 Half Marathon, 2.22 Marathon (in the last Glasgow).
So got to 38 and Sammy fell out of love with running. Had done no too bad and "Never going to run over 40 ..I mean that Vet stuff, it's a bit of a joke isn't it??"
Alastair Walker – 22 years on and two stone heavier than his namesake "Sammy". Son Greg joins Teviotdale. Alastair goes to watch a few of the league races and catches the bug. Starts to go out a couple nights a week. Feels great. Flying. Be as good as that Sammy ever was ..maybe even better. Enters the Hawick 1OK (two-lap course ), blows up after a lap and drops out feigning injury. Get Serious Time!
So Alastair gets serious and ups the miles. Buys a Garmin and discovers all Sammy's training runs are two miles shorter than listed in the training diaries. This is Strava time and Run Britain rankings. So much information on people and times. Goals to aim for. Runs an acceptable 1OK at Jedburgh. Struggles at league race at Broxburn and enters the Scottish Vets at Dundee. Finishes a distant fourth in the V60 behind Eddie Stewart who must have been stored in ice for last 30 years because looked exactly same. Now going get Really Serious.
The result? Fastest 5k and 10k in Britain for 2017 for V60 and 2nd in the British and Irish Masters V60. One of the best weekends ever – the race, the people, the reception when received medal .."I mean that Masters stuff, it's what everyone should aspire to, right?"
Sammy and Alastair doing the same training. Alastair a bit slower. One long run, 2 speed sessions. Other days steady running. Around 50 miles a week.
TWO TOUGH RACES: Malaga, Spain. World Masters Championships 2018
Linda and I travelled with two of our friends on 06 Sep and stayed for a week in Torremolinos. The change in temperature from home was dramatic and I hoped itwould ease a bit for the 10k. Had three mornings of dodging early strollers and joggers along the front before the first of two big days arrived.
10k Road Race 09 September
The early start of the race (9.00 am) meant a 7.00 am taxi ride to the start at the main athletics stadium in Malaga. Even that early as light was breaking there were athletes from all over world milling around and the throng just grew and grew as start time approached. Had quick word with Justin Carter from Cambuslang in the warm-up area and outside while jogging, and ran into Paul Forbes and later Paul Thompson's lovely lady Jan. Back into the stadium and it was time for the start on the track. There I spoke to Paul Mingay, my nemesis from the Run Britain rankings who I had never met and had spent two years hating!! Turned out he was a really nice guy. The start was just a free-for-all. All ages pushing in. The gun went and we were off to a slow start till we got clear of stadium. The course was out and back and very flat. Thankfully, although it was still hot there was cloud cover. I felt that I was going well and my mile splits were as I had hoped. Didn't see many V60 numbers en route. My wife and friends had been briefed to look out for V60 runners. Finished very tired in 35.56 and hadn't a clue about my position I'd finished. I got to the reunion area for my wife to say I'd won and my friends confirming this. After a long wait for the official results, I was indeed World Champion. Then it all got quite surreal, with strangers lauding me, flags, national anthems and a gold medal. All very emotional. A truly unforgettable day.
5000m Track 12 September
This was held at the Carranque Stadium, one of three where events were held. Because of the numbers entered there were 3 seeded heats with the gold medal going to come from third heat which I was in. I wished John Thomson luck as he was about to compete and started my warm-up. It was much hotter than the day of the 10k. Then it was off to the call room and the start of the race. I noted that the Spaniard who won gold in the cross-country and the New Zealander who got bronze were both on the start line. My plan was to sit in but the pace was so slow I took it on from 800 metres. The Spaniard sat in and passed me with 300 metres to go and the New Zealander, who I wasn't conscious of being there, passed with 50 metres left. Could I have run differently? I don't know. Bronze this time. I wished Fiona Matheson all the best as she was about to compete and headed off on my warm down. My World Champs were over.
Footnote: Paul Mingay, who I beat in the 10k, won the half marathon V60 on the following Sunday and the 1500 metres was won in 4.51. (I'd done 4.52 at Grangemouth). If only, ha ha. Roll on Toronto!
By Alastair Walker
In November 2018, Alastair was a clear winner of the M60 age group in the British and Irish Masters International Cross Country in Swansea, finishing a great year in style. He ended up British, British and Irish, and World Champion!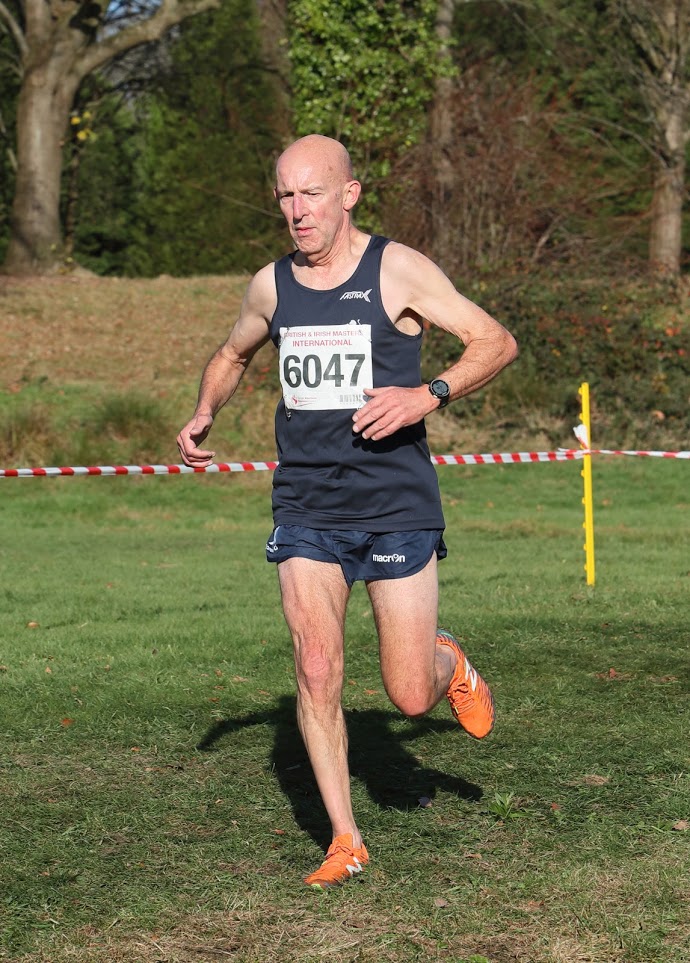 Alastair well clear in Swansea 2018