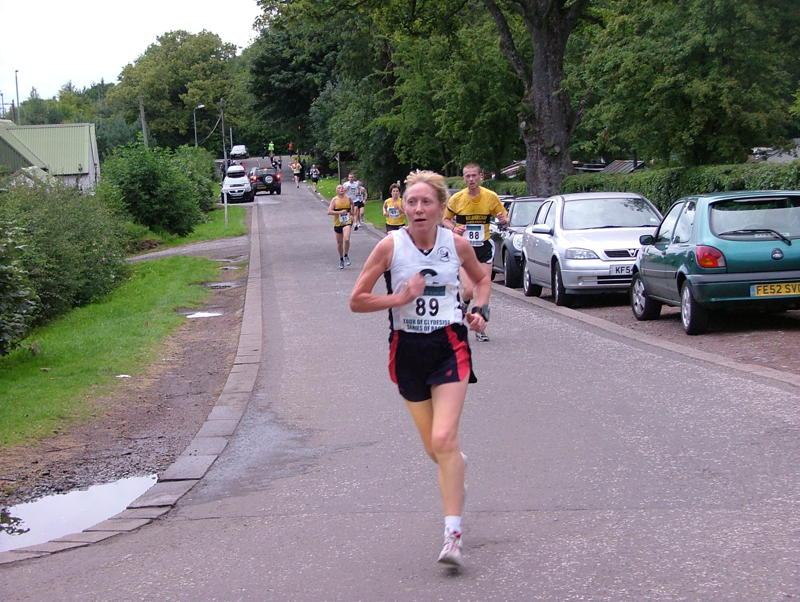 Pamela McCrossan has concentrated on road and country: she finished first W55 in the 2018 Scottish XC championships; and has run for Scottish Masters several times in the British and Irish XC.
NAME Pamela McCrossan
CLUBs Clydesdale Harriers and SVHC
DATE OF BIRTH 10/6/1961
OCCUPATION Theatre Charge Nurse
Pamela on the podium after the Monklands Half Marathon
HOW DID YOU GET INVOLVED IN THE SPORT?
Cliff Brown is a neighbour of mine. He was a runner and a member of Clydesdale. He encouraged me to do a Ladies 10k race one year (about 20 years ago) and he helped me train for it. He then persuaded me to join Clydesdale Harriers and I have been running and racing ever since.
HAS ANY INDIVIDUAL OR GROUP HAD A MARKED INFLUENCE ON YOUR ATTITUDE OR INDIVIDUAL PERFORMANCE?
Clydesdale Harriers have had a huge influence on my running and helped me improve over the years. I have received so much help, support and encouragement from everyone there and I have made many good friends. Now I am very proud to be an Honorary Member of the club and current Ladies' Captain.
WHAT EXACTLY DO YOU GET OUT OF THE SPORT?
So many things! It keeps me fit and healthy and I get to enjoy the pre and post-race banter and chat with other runners. I often get to meet new people when I race or do parkruns and I get a great sense of achievement after a good race or a hard training session. I also get to spend time with like-minded people and fellow runners who are always so friendly
WHAT DO YOU CONSIDER TO BE YOUR BEST EVER PERFORMANCE OR PERFORMANCES?
That's a difficult question as I have done so many races over the years. However I was totally surprised and delighted to finish as first lady in the Aberfeldy Marathon in 2012 at my first attempt at the distance. I have also been lucky enough to be part of a medal winning team on the 5 occasions I have represented Scotland at the Masters International British and Irish Cross-Country events.
YOUR WORST?
A Dunbartonshire cross country race many years ago when I went over on my ankle and had to be carried off the course by John Hanratty! I then had to go to the Western Infirmary as a fractured ankle was suspected (it was actually ligament damage) and I had to take time off work. The only race yet where I have been a DNF.
WHAT UNFULFILLED AMBITIONS DO YOU HAVE?
None really. At my age I consider myself very fortunate just to be able to run and still compete in races.
OTHER LEISURE ACTIVITIES?
I go to classes in the gym, go to the theatre and cinema and I like to go on holiday as often as possible! First thing I pack is the running gear!
WHAT DOES RUNNING BRING YOU THAT YOU WOULD NOT HAVE WANTED TO MISS?
Running has brought me the opportunity to represent Scotland and the chance to spend many wonderful running holidays in the Canary Islands with friends from Clydesdale and other clubs. I have also enjoyed many weekends travelling away for races and special social occasions with friends I have met through running. These are just a few things I would not have wanted to miss.
CAN YOU GIVE SOME DETAILS OF YOUR TRAINING?
I try to run 4 or 5 times a week and do different types of sessions. There may be a speed session, a steady run, a hill session, a long run and maybe a parkrun too. I also like to do some classes in the gym for cross training.
Scottish CC Champs: