Various online sources miss out a very important part of Priscilla's athletic progress: when she was living in Shetland and often racing in Scotland between 1981 and 1983.
Wikipedia sums up her running career as follows: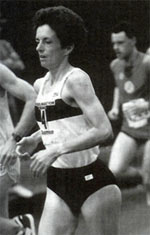 "Priscilla June Welch (born 22 November 1944).
Priscilla Welch was a very good marathon runner indeed – one of the best in Britain – whose career has been deservedly covered in detail. But various online sources miss out a very important part of Priscilla's athletic progress: when she was living in Shetland and often racing in Scotland between 1981 and 1983.
Online reference site Wikipedia sums up her running career as follows:
She twice broke the British marathon record, with 2:28:54 when finishing sixth at the 1984 Los Angeles Olympics; and 2:26:51 when finishing second at the 1987 London Marathon. The latter time stood as the W40 World Masters record for over 20 years. She also won the 1987 New York City Marathon in 2:30:17..
Born in Bedford, England, she had a most unlikely career in international athletics, having smoked a pack of cigarettes a day until she began running competitively at age 35. An officer in the British Army, Welch met her future husband Dave while serving in Norway. She quit smoking and, under his tutelage, ran in the 1981 London Marathon at age 36, finishing in 2.59.00.
Welch won the 1981 Glasgow Marathon (2.55.15) and 1982 (2.46.58), before twice improving her best in 1983 with 2.39.29 for 10th in London and 2.36.32 when winning the Enschede Marathon in Holland."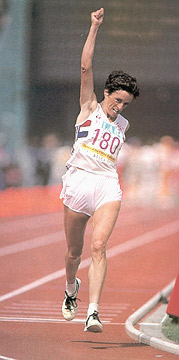 Further research revealed an online interview Priscilla Welch did years later for her English club Ranelagh Harriers; and a fine 1987 article by the well-respected athletics writer Mel Watman; reveals significant details about the Scottish Connection!
Mel Watman wrote: "When Priscilla met Dave in Norway, she was a petty officer in the Wrens, serving as a NATO communications clerk; and he was stationed with the Royal Signals. Dave was a keen runner and Priscilla found a new interest. She took part in her first marathon in Stockholm in August 1979, finishing ninth in 3.26. She was two minutes slower a couple of months later, but a year's solid training paid off for the late-starting newcomer, when she edged under 3 hours in the 1981 London.
In July 1981, Dave was posted to the Shetlands for two years, but the harsh conditions encountered in that most northerly outpost of the UK failed to deter the increasingly enthusiastic Priscilla. Indeed, the adversity was a blessing in disguise, as it toughened her up for the challenges ahead. During the winter, while logging up 85 miles per week, she had to wear a miner's helmet with a lamp, just to see where she was going.
Undramatically, [she won the Glasgow in 1981 (2.55.15) and 1982 (2.46.58)] it would have needed a vivid imagination to picture her as a future British Marathon record-breaker and Olympic representative.
However, in 1983, she made a major breakthrough by cutting more than 14 minutes off her best time. After placing tenth in London (2.39.29), she was selected for her first international, in which she excelled by finishing fourth in the European Cup Marathon in Laredo, Spain. In very hot weather, she came in less than four minutes behind the winner in 2.42.26.
Later in the summer of 1983, having moved from Shetland to Kingston upon Thames near London, she scored her first international victory, clocking 2.36.32 at Enschede. That 1983 campaign ended with yet another personal best (2.32.31) for third in her New York debut – a performance which, at the time, only the trail-blazing Joyce Smith had ever bettered in British marathon history."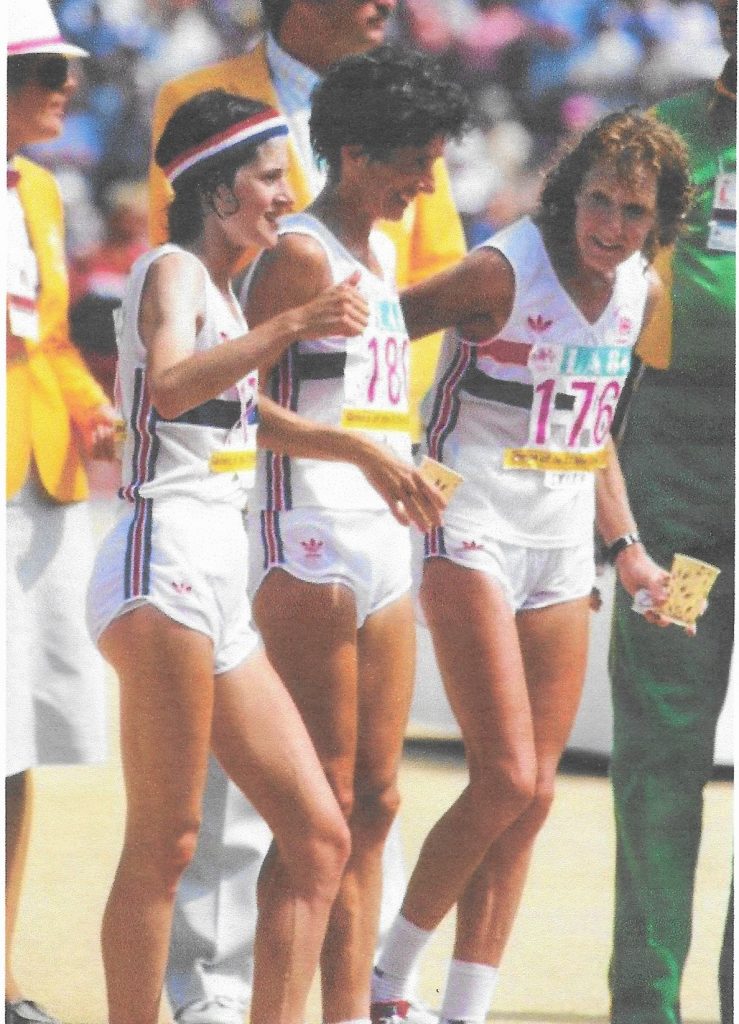 After the 19 84 Olympics Marathon: Sarah Rowell (14th), Priscilla Welch (6th) and Joyce Smith (11t)h
Mel Watman missed out a few relevant Scottish details. Lynda Bain (Aberdeen AAC), twice Scottish Marathon champion, who in 1984 at London set a new Scottish Women's marathon record (2.33.37) and ran for Great Britain, remembered her first attempt at the distance: the Aberdeen Marathon in September 1981, which was run in gale-force winds with driving rain, making conditions almost unbearable. Lynda showed great resilience in coming home third (3.21.12) behind Katie Fitzgibbon (3.07.46) and Priscilla Welch (3.08.55). A month later, Priscilla won the Glasgow Marathon in 2.55.15.
In 1982, Priscilla ran London in 2.53.36, the Bolton Marathon (2nd in 2.56.19); and the Scottish Championships at Aberdeen, where, running for Shetland Harriers, she was third in 2.55.59 (behind Lynda, who was second in 2.53.04.) After all that hard Shetland training and tough racing, Priscilla deserved her improvement, recording 2.46 to win in Glasgow!
In 1983, her London pb (2.39.29) and subsequent good GB race in Laredo, were both based on training in Shetland.
When she moved to the London area in summer 1983, and joined Ranelagh Harriers, this may have 'sharpened' her for that international victory in Enschede (2.36.32) and fine New York Marathon (2.32.31).
The rest has been summarised above by Wikipedia, or mentioned in her Ranelagh interview: training in Lanzarote with the British Olympic Squad; a marvellous second place in London 1984 (2.30.06); altitude training in Boulder, Colorado (later to become home for Priscilla and Dave); that fantastic Olympic sixth place (2.28.54); working on speed for two years [plus six American marathons (including a victory in Columbus) and two Japanese)]; then that superb 1987 London (2.26.51) and a win that year at New York (2.30.17).
Priscilla Welch secured her selection for the Seoul Olympics with that New York performance plus 4th place in the April 1988 Boston (2.30.53) but unfortunately injury prevented her from taking part.
Priscilla continued to run at a high level in the States for four more years before breast cancer in 1992 brought her serious running career to an end. In 2003 Runner's World magazine voted her the best-ever female masters marathoner.
Personal Bests: 16.13 (5k), 26.26 (5m), 32.25 (10k), 53.51 (10m), 73.06 (half marathon, but 71.04 on a slightly short course), 2:26.51 (marathon)
Priscilla's favourite running memories?
"London Marathon 1987 – Seeing the finish clock on Westminster Bridge and saying to myself, "Bloody Hell, this is a good day!" I think the clock read 2.24+. I crossed the line in 2.26.51 – fresh as a daisy. Yee-hah for running with a free brain!!
Olympics 1984 – Crossing the finish Line (with instructions from Dave to behave myself seeing as I was a rookie) I became 16 yrs old and crossed the javelin competition which was live (twice) looking and cheering for Joyce and Sarah. Was well told off by an official, and became 39 again. Saluting the British fans with Joyce and Sarah. Dave meanwhile had started to lose his hair!"
In her online Ranelagh interview, Priscilla Welch comes across as a clever, thoughtful, athlete, who loved distance running and deserved every triumph in an outstanding career. There is little doubt that she laid the foundations for that success in Shetland, Aberdeen and Glasgow!