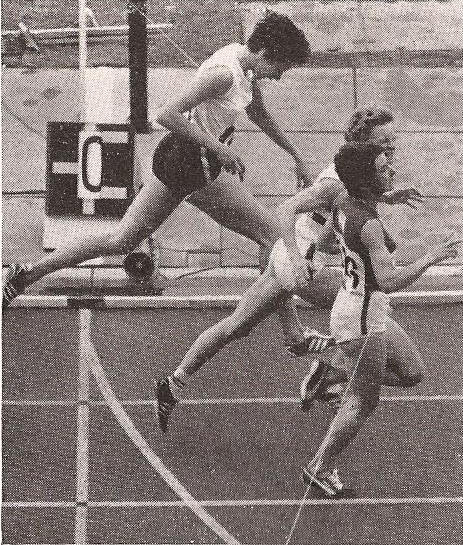 Rosemary Stirling winning the 1970 Commonwealth Games 800 metres
Jackie (or Joyce) Salvona, (Law & District, Livingston and District AC, 14.03.58 ) was an all-round endurance runner with a best for the marathon of 2:58.44 which ranked her sixth in Scotland in 1991. She had been eighteenth in 1986 with 3:08:51. A valuable club member, she also raced over the country with several good runs in the National Championships. Joyce Salvona ran for Scotland in four World Mountain Running Trophy Championships. In 1995 and 1995, she won W35 silver medals in the Scottish Masters XC Championships; Livingston and District AC won team gold in 1995 and silver in 1996.
Michelle Sandison (11/4/1980, Stirling University, Shetland and Springburn Harriers). In the Scottish Athletics Championships, she won: three silver medals and two bronze in the 10,000m: and bronze in the 5000m. As a Senior, Michelle ran one road and one cross-country International. On the road, she competed in a 2004 Ekiden Relay, in Brussels, where Scotland lost to Ireland but beat Belgium and France. On the country: 2018 (Home Countries at Nottingham, Scotland lost to England but beat Wales). Michelle has run both 5000m and 10,000m for Shetland in the bi-annual NatWest Island Games four times, in Lerwick (2005), Sandown (2011), Jersey (2015) and Visby in Sweden (2017). She was West District XC Champion in 2015, 2016 and 2018. It is notable that Michelle's personal bests (for 3000m, 5000m, 10,000m, parkrun and 10k) have all come in 2017 and 2018, after she moved into the W35 age-group. In 2016 (Glasgow), 2017 (Derry) and 2018 (Swansea), she took part in the prestigious British and Irish Masters International, running very well for Scottish Masters: obtaining W35 individual bronze and team gold in Glasgow; finishing fourth individual in Derry (team silver but in front of England); and winning the W35 title in Swansea (team bronze). Michelle Sandison also secured W35 bronze (and GB team silver) in the 2018 World Masters cross-country in Malaga.
Marianne Savage, Central Region AC, was another endurance runner from the 1980's with a marathon best of 3:12:13.
Elaine M. Scally (Our Lady & St Francis Sch, Shettleston, Edinburgh, 26 January 65) came from a very good family of distance runners starting with Allan Scally, and including her Father Bill, uncle Frank and brother Brian. She herself was a Scottish internationalist on the hills, over the country and on the track. With best times on the track of 2:19.9 (800m), 4:37.7 (1500m), 9:56.72, (3000) and 17:51.59 (5000m) she was well equipped for cross-country and road running. Her running in the national road relays was notable. Read her full profile. Ranked for many events such as high jump, javelin and pentathlon, after marrying John Mackay in 1984 she returned to competition and specialised in distance events winning Scottish international honours on the road, track and as a hill runner..
Kirsten Scobie (Shettleston, Leeds City 13 November 67) was a very good athlete with best times on the track of 2:11.8 (800m), 4:21.8 (1500m), 4:58.5 (Mile), 9:29.72 (3000m) and competitively on the track, Kirsten was second in the indoor 3000m Scottish championship in 1995 and third in the national 1500m championship in 1993. Also a good cross-country runner, Kirsten also ran internationally for Scotland on the track over 1500m and 3000m, as well as over the country, Kirsten is the daughter of Brian Scobie and married to Robert Cameron.
Lorraine Scobie (Earlston HS, Edinburgh Southern Harriers ) was a member of the good Edinburgh Southern Harriers track & field team that performed so well in the 1970's and 80's with a best time for the 3000m of 10:48.2, run in 1982.
Jo-Ann Scott (Darlington, 29.06.63) was a good runner from south of the border with best times of 4:34.6 (1500m), 9:39.21 (3000m), 17:07.9 (5000m) and 36:45.24 (10,000m). She also ran cross-country and was eighth in the National in 1992.
Elspeth Scott (Westerlands) has been running on the country at all the regular events up to the national, and the road as well as on the hills. Twentieth in the Scottish hill running championships in 1990, 21st in 1991, she was 2nd 1993, 3rd in 1995, 12th in 1996, 4th in 1998, 4th in 1999 and 2nd in 200/01. These were not the only years she was eunning of course but they give a fair indication of her ability. Elspeth was a good, able runner she is well known and well respected.
Susan Scott (26/9/1977 , Glasgow AC, City of Glasgow and VP City of Glasgow) was the first Scottish woman to record a time under 2 minutes for 800m; raced for GB in the Olympic Games, World Championships and European Indoors; and for Scotland at the 2002 and 2006 Commonwealth Games (finishing fourth in both finals). Susan won British titles: the AAA 800m (2002 and 2005); and the Indoor 1500m (2009). She won the Scottish 800m title five times between 1998 and 2005; 1500m in 2004 and Indoor 1500m in 2006. In the 1997 Scottish National XC, Susan finished third under-20 and led Glasgow AC to the team title. Susan Scott raced cross-country for Scotland three times as a Junior (including a 1998 Celtic Nations match at Belfast, when she was second under-23 to finish and Scotland won, beating Wales). Susan also represented Scotland at cross-country three times as a Senior and was a team scorer on each occasion. Do read her complete profile.
Susan Scott (Dundee Hawkhill, Pitreavie 10.09.82) was a useful 800m runner for Hawkhill with a best time of 2:17.68 recorded in 2000.
Jill Shannon (Kilbarchan AAC and Lagan Valley, 23.4.82) came from Northern Ireland. Personal bests: 5000m 16.43.64; 10,000m 35.19.07. Jill won the Scottish 10k Road Championships in 2005. In the Scottish Senior National XC, she finished fourth in 2004 and Kilbarchan secured team bronze medals. In the Scottish XC Relay, the team won silver in 2003; and silver again in the 2004 Scottish Road Relay
Carol Sharp (Shettleston, City of Glasgow) was a very good athlete indeed – on the track she excelled over 800m with 3 firsts, 3 seconds and 2 thirds plus one victory in the indoor 800m at Scottish championships, and also ran in the Commonwealth Games of 1982. She was also ranked at various times over 400m, 1500m, 1 Mile and 3000m. In the winter she proved to be a very good cross-country runner. Read the profile of this talented athlete at Carol Sharp – SCOTTISH DISTANCE RUNNING HISTORY
Jean Sharp (Central Region AC) was an endurance runner in the 1980's whose best time for the marathon was 3:13:30 for the distance in 1986 which ranked her 22nd in Scotland.
Wendy Sharp (Queen Anne HS, Pitreavie; 16th June, 1962) was a very good distance runner who had a long career in the sport, being ranked at national level over a period of 12 years although she carried on well after that. Best times of 4:55.02 for 1500 metres and 10:28.01 for the 3000 metres, both returned in the 1970's. ●mother of Gemma Nico
Louisa Shaw ( Arbroath & District, 25.10.75) competed during the 1990's at 1500m and 3000m on the track with best times of 4:48.36 for 1500m and 10:30.55 for 3000m. .
Carolyn Sheehan ( Aberdeen AAC 14.07.70) ran for the club in 1984 over 800m and 1500m with best performances of 2:14.32 and 4:43.5. Carolyn (Aberdeen Grammar School) won Scottish Schools 800m titles in 1984 and 1986; and also won the 1986 Scottish under-17 800m Championship. Carolyn Sheehan won the Scottish National under-17 cross-country title in 1987. In the Scottish XC Relays, Aberdeen won under-17 silver in 1986. In 1988, she was in an AAAC team which won bronze medals in the Senior National. In 1985 and 1986, Carolyn raced two Junior cross-country Internationals for Scotland and finished first Scot in both of them.
Judith Shepherd (Bearsden Academy, Western LAC, Glasgow AC, Clemson University (USA) 19.03.59) was a very good middle distance runner indeed who was ranked every year from 1974 to 1985 inclusive. She was number one in Scotland for 3000m twice, number two twice for 3000m and 1500m once and number three for 3000m three times and number three for 5000m once. and a total of 17 appearances in the top ten. In the SWAAA championships, Judith won the 3000m in 1977, '78 and '79, was second in 1984 and third in 1981 and also finished second in the 1500m championships in 1977. She ran for Scotland on the track winning the 3000m in her first two senior internationals against against Norway in 1977. and Greece in 1978. and there were other wins and good performances in the following years over both 1500m and 3000m
As an international 3000m athlete she was also a very good cross-country runner who won the SWCCU title in 1978 and 1979. She also ran for Scotland in the world cross country championships in 1977 at the age of 17. There would have been more but for the fact that she was snapped up by Clemson University in America and did most of her running there for some of her best years. Read her full profile here .
Kathryn Shepherd (Harlaw Academy, Aberdeen Univ, Edinburgh Southern, Aberdeen, Gausdal IL [Nor]24.09.57) was ranked among the best in the country over her distances of 1500 and 3000m for almost every year between 1974 and 1991. Competitively she won the SWAAA 3000m in 1983 after being third in 1982. Her best times were 2:16.6 for 800m, 4:30.39 for 1500m and 9:16.37 for 3000m. She married in 1980 becoming Mrs Mearns and it was as Kathy Mearns that she ran the three world cross-country championships – 1982, '83 and '84. These came after a good career in cross-country and in the years in question she had been fourth in 1982, second in 1983 and fourth in 1984 when she was representing Gausland – a Norwegian club. In 1996, Aberdeen AAC finished first team in the Scottish Masters XC Championship – Kathryn was fifth. In 2003, Kathryn won the W45 title and AAAC secured team silver.
Susan Sim, (Victoria Park AAC) was a member of Victoria Park in the 1970's who specialised in the 3000m with a best time of 11:25.4.
Maggie Sinclair ( Glasgow AC, City of Glasgow 2.04.54) was ranked three times for the marathon in the 1990's: 3:08:30 in 1990 for sixth best in the country, 3:08:29 for 14th in 1991 and her personal best of 3:00:06 for fifth in Scotland in 1994.
Sharon Sinclair (Irvine AC, 5.09.64) ran well in the late 1980's, particularly over 3000m on the track where she ran 10:02.58 in 1987 and 9:47.8 in 1988.
Karen Skelton, (Cumbernauld HS, Shettleston Harriers) was a good all round distance runner for Glasgow in the early 1980's with a best time for 3000m on the track of 10:15.22 in 1982 which ranked her eleventh in Scotland for the distance.
Katie Skorupska (Fife AC, Edinburgh Southern Harriers, Oxford University, 3.11.78) was a very good young endurance runner covering events ranging from 800m to 10000m to a very high standard indeed. From 1996 to 2002 she turned in performances at a consistently high level with best times of 2:13.9 (800m), 4:25.70 (1500m), 9:24.26 (3000m), 10:06.16 (2 miles), 15:55.64 (5000m) and 34:40.0 (10,000m). Nationally she was ranked 23 times over all the above events in a short period of less than 7 years: second 3 times, third 4 times and a total of 13 top ten rankings and she won the SWAAA 5000m in 1998. All before her 24th birthday. Surprisingly for one so at home with longer distances, she did not run too often over the country although when she did, she performed well.
Marjorie Small (Clydesdale Harriers) came to the sport late but enjoyed running on the road and over the country but found that hill running was her forte and where she met with most success. Seventh in the Fell Runner of the Year competition in 1989, she was eighth in 1990 and fourth in 1991.
Alison Smith (Edinburgh Southern, 11.10.65) ran for Edinburgh Southern Harriers in the 1990s over all middle distances with best times of 1:39.3 (600m), 2:13.96 (800), 4:35.2 (1500m) and 10:22.9 (3000m)
Caroline A. Smith (Edinburgh University, Edinburgh, 23.03.68) had best times of 2:19.1 for 800m and 4:44.3 for 1500 with an indoor 1500m of 4:48.5 indoors.
Dennise Smith, (Helensburgh, Kilbarchan 29.10.82) ran competitively between 1997 and 2005. On the track she had personal best times of 2:17.0 (800m), 4:36.70 (1500m), and 9:53.83 (3000m). She won the 2000 Scottish under-17 XC title. Between 1999 and 2002, Dennise Smith ran eight Junior International cross-country races for Scotland; her team defeated Ireland, Wales and Northern Ireland in two Celtic Nations events. Dennise led the Kilbarchan team to bronze medals in the 2004 Senior National XC, when she finished 20th. In the 2003 Scottish Road Relay, Kilbarchan won silver; and also finished second in the 2004 Scottish Road Relay.
Megan Smith (Edinburgh University, 19.04.74) Megan ran for the University and raced well enough to record a 5000m time of 17:23.89, which was ranked ninth in 1995. She ran for Scotland in three World Mountain Running Trophy Championships.
Wanda Sosinska (Edinburgh Southern 1 October 48) Wanda was a very good athlete indeed over the country, on the road and on the track where she was ranked at distances between 800m and 3000m and the later in the Marathon. Her best times on the track were all between 1970 and 1972 when she ran 2:21.3 for 800m, 4:34.26 for 1500m, 4:57.84 for the mile and 9:37.42 for 3000m. She returned to the sport after a lay off and ran a very good 2:52.16 for the marathon in 1988 at a time when the standards were very high and she was ranked sixth in Scotland. Not just a fast runner, she was a good competitor with a third in the WAAA's championship 3000m in 1972, while back at home in the SWAAA championships she won the 3000m in 1971, was second in 1972 and had a second place in the 1500m in 1972. Wanda also ran well across the country with sixth place in the national in 1972.
Moira Sprang (Bishopbriggs HS, Shettleston, Glasgow University, 02. February .68) Moira was a good runner on all surfaces but best on the track where as a member of the British Milers Club she supported the club and benefited from it. Best times on the track over her specialist distance of 800, was 2:13.0 in 1986 when she was just 18.
Anne M Stafford (Bathgate 1954-) was a good middle distance runner with best track times of 63.1 for 440 yards, 2:26.3 for 800m, and 5:26.2 for the Mile. Also a very good cross-country runner and her club, Bathgate, was going through a 'purple patch' at the time and the girls teams were among the prizes in all age groups from Under 13 up in almost every year with Anne being a member of several medal winning teams. Individually, she was fourth in in the Intermediate age group in 1970.
Margaret Stafford Aberdeen AAC (7.01.55) was not only a good marathon runner but a good competitor. In 1988 she ran 3:10:01 to be third in the Scottish Marathon championship and in 1989 it was 3:06:34 to be second in the championship. One year later Margaret was timed at 3:00:32 to be ranked fifth in Scotland. In the Senior National XC, Aberdeen (including Margaret) secured team bronze in 1988 and 1990. In the Scottish Masters XC, Aberdeen won team silver in 2003.
Elizabeth Steele (Glasgow, 20.01.60) known as Liz, she was a good class runner on all endurance running surfaces – road, country ( a very valuable team member) and track. Her best times were 10:21,4 for the 3000m, and 3:07.21 for the marathon
Karin T. Steere (Exeter, 4.02.63) was a good runner who was third in the SWAAA 900m in 1981, '82 and '83. Karin was a good all round distance runner with ranking times at all distances from 400m to 1500m. These were 56.0 (400m), 1:32.1 (600m), 2:04.47 (800), 2:50.17 (1000m) and 4:30.01 (1500m). Withe a little bit of luck, she could have been a Commonwealth Games runner in 1986.
Tracy Stephen ( Dundee Hawkhill 16.08.81) ran in the 1990's and had a best 1500m time of 4:50.1 in 1996
Janette Stevenson (Falkirk Victoria 5.03.49) "Janette Stevenson has undoubtedly been one of the most successful Scottish veterans ever. In the Scottish Masters Cross Country Championships she won eight individual titles (from W35 to W55) plus two team titles with Falkirk Victoria. Her record in the British and Irish International CC is unparalleled, improving from 4th W35 at Wrexham in 1988 to 3rd W40 in 1989, 2nd W40 in 1992 and then winning four titles: 1st W50 in 2000 and 2001 and 1st W55 in 2005 and 2006." So starts her complete profile which can be accessed from the link below but it should be noted that her times on road and track stand comparison with women athletes of any age – she is not merely a very good veteran athlete. On the track she has best times of (distance and year of performance in brackets) 4:49.73 (1500m, 1995); 10:05.3 (3000m, 1989); 36:25.03 (10,000, 1990). Competitively, in addition to setting World, European, British and Scottish records as a veteran, Janette (below) won the Scottish 10,000m championship in 1995 at the age of 46. Read the full profile at this link.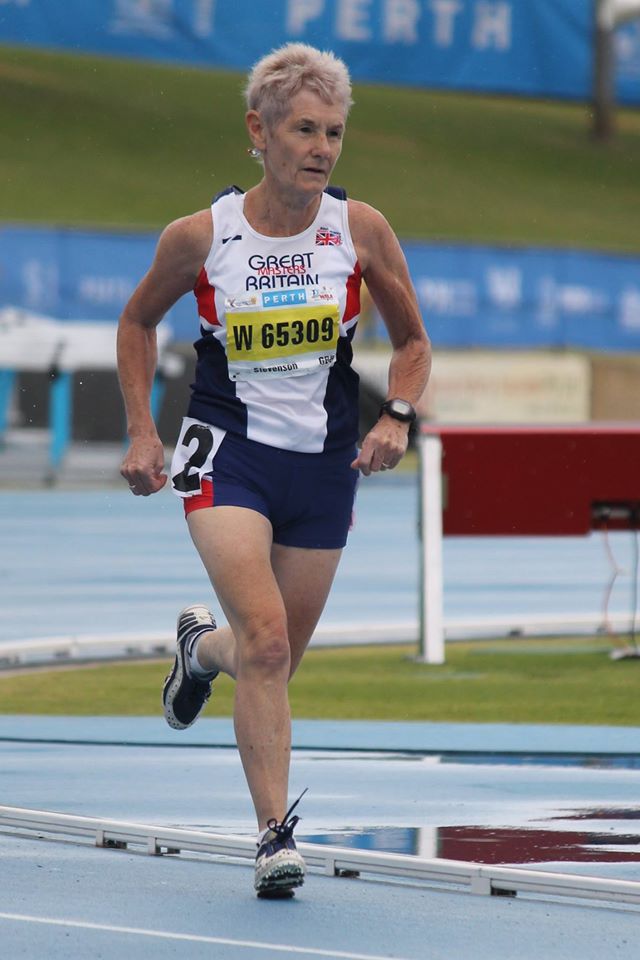 Sara Stevenson (Giffnock North,12 November 82) was a good middle distance runner in the period between 1998 and 2009 with good times over distances between 400m and 1500m. Her best times were 59.12 (400m), 2:09.39 (800m), 4:20.8 (1500m).
Hylda Stewart (Clydesdale Harriers) has been running on the track on the road and over the country since the 1980's at events from 1 Mile to the Marathon. Despite living in the South West of England for several years now (which explains her results in the Dartmoor Vale Half Marathon, Plymouth Half Marathon, Torbay Half Marathon, Frome Half Marathon and several others plus a multitude of Park Runs at Parke, Exeter, Killerton, Barnstaple and many others.
Janet Stewart (Victoria Drive School, Victoria Park AAC, Glasgow, 3 July 67) was a successful athlete running for her school and for Victoria Park AAC in the 1980's whether you measure success by times or by competitive record. Competing between 1982 and 1993 she won two SWAAA Championships (800m indoors and out in 1992), two silvers (second in the 800m indoors and out in 1991) and was third in the 1500m in 1984. Best times? 57.83 (400m), 1:36.5i, (600m), 2:07.95 (800m), 4:33.0 (1500m) and, 10:42.2 (3000m), with indoor times of 59.2 (400m) and 4:45.8 (1500m)
Kirsty Stewart ( Kilmarnock 11 May 74) was a good young athlete in the late 80's/early 90's with a best time for 800m of 2:19.5.
Lorraine M. Stewart ( Edinburgh 17 August 76) Ranked in Scotland five times between 1989 and 1992, Lorraine had best times of 2:15.62 (800m), 4:49.93 (1500m) and 10:39.93 (3000).
Mary Stewart ( Birchfield, Lewisvale Spartans 25 February 56) One of the famous Birmingham Stewarts, like her brother Peter Mary ran for Scotland, and ran well too, before transferring her allegiance to England in 1977. Her track competitive record is impressive, see the following, taken from the www.scotstats.com website:
Olympics '76 1500 (sf); Eur Ind '74 1500 (5th), Eur Ind '75 1500 (6th); '74 Commonwealth 1500 (4th). WAAA's: 1 1500 '75, '79, 2 800 '76, 2 1500 '77. SWAAA: 1 1500 '73, 2 800 '74. after change of allegiance to England: Eur '78 1500 (ht); Eur Ind '77 1500 (1st); Com '78 1500 (1st). Best times up to 1977 were 2:03.5 (800m), 4:06.4 (1500m), 9:07.6i (3000m). As far as rankings go, she was never lower than eighth in the lists and had six first places, one second, and two fourths as well as a sixth.
Over the country, she ran three times for Scotland – 1974, '75 and '76 and was placed 8th, 8th and 9th.
Lynsey E. Still ( Aberdeen 19.03.78) Lynsey was a good middle distance runner for Aberdeen AAC with best times on the track of 2:16.09 (800m), 4:45.62 (1500m), and 69.11 for the 400mH.
Rosemary O. Stirling (Bilston Town, Wolverhampton & Bilston 11.12.47) Rosemary Stirling was one of Scotland's most loved and respected middle distance runners, and was one of the gold medal winners at the 1970 Commonwealth Games. Her competitive record on the track is recorded by the www.scotstats.net website as follows:
Olympics '72 800 (7th), 4×400 (5th); Eur '66 400 (sf); Eur '69 400 (8th), 4×400 (1st); Eur '71 800 (3rd), 4×400 (4th); Eur '74 800 (sf); Eur Ind '67 800 (5th); Eur Ind '69 400 (3rd); Eur Ind '70 800 (ht); Eur Ind '71 800 (3rd); Eur Ind '73 800 (ht); Eur Ind '74 800 (4th); Com '66 440y (4th), 880y (4th), '70 800 (1st); '74 800 (sf), 4×400 (4th). GB WAAA: 2 800 '71, 3 440y '66, '67, 3 800 '73. Scottish WAAA: 1 440y '66, '67, '68, 1 880y '67, 1 800 '70, '71, '73.
Best times: 200m – 25.2 sec; 400m – 53.2 sec; 800m – 2:00.2; 1500m – 4:19.84; 3000m – 9:48.0. Later on she ran the marathon between 1980 and 1985s and had a personal best of 2:43:29. She topped the natoonal rankings no fewer than 18 times.For all those wonderful achievements, she will be most remembered here for her victory in the 19709 Games when on the last day, she won the 800m in the blue vest. You must read the complete profile here .
Susan Stockdale (Edinburgh Southern 16 August 66) was a good long distance runner specialising in 1500m and 3000m on the track in the 90's. She had personal best times of 4:41.5 for 1500m and 10:20.3 for 3000m. Naturally, as a long distance runner, she ran over the country for her club too and was a member of the silver medal winning team in the 1998 national.
Primrose Stoddart, (Shettleston Harriers) ran fo Shettleston Harriers in the late 1970's and early 1980's. On the track she ran 1500m and 3000m with best times of 4:41.0 and 10:17.4 with a swift 1000m in 3:00.59 in in 1981. As a good distance runner she represented the club in many cross-country races including the national championships.
Mildred Storrar was an outstanding athlete who ran for Dundee Hawkhill Harriers in the 1930s. In the Scottish Athletics Championships, she won the 880 yards title in 1934, 1935 and 1936, as well as a silver medal (behind Connie Johnston of Maryhill Harriers) in 1933. In the Scottish Cross-Country Championships, Mildred won the title in 1934, one second in front of Connie; and DHH secured team victory. In 1935, Mildred and Dundee retained their titles. In an International cross-country match v England, Mildred Storrar finished ninth (third Scot behind Connie Johnston and Jean Tait (of Clydesdale Harriers). In 1936, Mildred won the Scottish title for the third time, but only four seconds in front of Jean Tait, who became champion in 1937. However, Mildred Storrar (representing Merchiston Ladies) regained her Scottish cross-country crown in 1938.
Lynda Stott [married name Bain], (Aberdeen, Garioch RR, 20 June, 56)
Between 1981 and 1985, improved dramatically as a marathon runner to set a Scottish National Record (2.33.38) when 7th in the 1985 London Marathon. In May 1983, she won the Motherwell Marathon (2.46.47); and followed that in September by winning the Aberdeen Marathon (and Scottish Women's title) in 2.50.29. Lynda retained her Scottish title by winning Aberdeen again in 1984. Her 2.41.41 took three minutes off Leslie Watson's Scottish Native record. Then she ran for Great Britain in a Czech marathon. Then came 1985: running for Scotland in the World Cross in Lisbon; a Half Marathon best of 73.22; that superb Scottish National marathon record in London; and being part of Aberdeen AAC's winning team in the SWCCU Scottish Road Relay Championships. Even in 1995, after years of injuries, Lynda Bain (Garioch Road Runners) won the Moray Marathon.
Lesley Svaasand (Pitreavie, 12.11.71) was an 800 metres runner who was twice ranked in the national lists: in 1988 she ran 2:13.97 and in 1999 she ran 2:16.08.
Audrey Sym (Ayr Seaforth, Glasgow, Glasgow University, City of Glasgow, 2 August 66) was a good and highly respected athlete who ran for Glasgow clubs for a period of approximately ten years spanning the '80s and 90s. Her best times were 4:46.01 for 1500m, and 9:41.0 for 3000m. Audrey was also a good cross-country runner with several top ten places in the national championships, including individual bronze in 1993. In the 1988 Scottish Championship Half Marathon, she finished second. Audrey ran for Scotland seven times. Four Road Internationals: 1987 Glasgow 10k; 1988 The Hague Half; 1988 Glasgow 10k – 5th/3rd Scot; 1993 Swansea 10k 4th/first Scot, team beat Wales. Two cross-country Internationals: including 1996 when she finished second Scot and the Scottish team beat the English Midlands and Wales. On the track, in 1988, she raced an International 3000m v Greece and Cyprus and finished third.
Below: Stirling Castle 2018