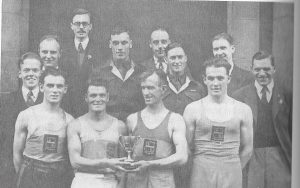 Allan Scally (extreme right) with the winning McAndrew Relay team of 1945. The runners were Barney Cairns, Harry Howard, Willie Connor and Charlie McLellan
The Shettleston Harriers Centenary History says "It is impossible to overestimate the importance of Allan Scally to Shettleston Harriers." The information that follows is from the Shettleston Harriers Centenary History by John Cairney. Allan – who was born in 1904 which was the year that Shettleston Harriers was founded – had two sons who took up the sport, Bill, Frank, and a third son, Allan, who emigrated to America. Allan's son, Sean, competed at High School in America at long jump. Bill had two children, Brian and Elaine, who were very good athletes in their own right, and Elaine had a son and daughter; Allan who was an international shot putter and discus thrower and won the Scottish shot putt title in 2008, and his younger sister, Nicola, who won age group national titles at shot putt. Four generations between them winning honours at club, national and international level. Bill's wife was also involved in the running of the club – if you can't beat them, join them! She herself started running in her 40's and became one of the first female members of the club in its centenary year in 2004.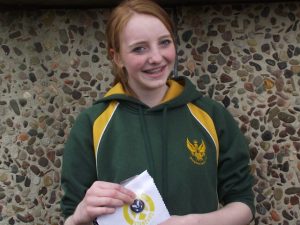 Nicola, the youngest of the dynasty
Allan was born in Camlachie in the East End of Glasgow and his family moved to Broomhouse soon afterwards. At Broomhouse, his father and later Allan and his three brothers all worked in the local pit. He was a good runner, a fact not missed by his workmates, and he was sponsored by them to compete at various sports meetings. His first Powderhall race was in April, 1925, when he won the mile handicap off a mark of 125 yards in 4:32. Running as 'Scally of Broomhouse' he earned enough to donate some of his winnings to provide food for miners' families, especially during the strike of 1926. Part of his training was done on a track on the banks of the Clyde. His major successes include
The Powderhall 10 mile marathon in 1927, '28, '29, '30, '31, '32
World Professional 10 Mile Championship in 1931 and '32
The Red Hose race at Carnwath: the oldest footrace in the country.
Allan also had a second (1933) and third (1934) at Powderhall. It was at his point that he really became focused on coaching. He had been appointed as a coach to the club in January, 1928, while he was still running and racing at the top of his game, but now that his running career was over he could devote his time and energy to the club, to the schools I the locality and to Scotland. He could not become a club member since he had been a professional runner and Shettleston was an amateur club.

Allan Scally with the women from Lewis's in 1947
As a coach he was at least as good as he had been a runner. Among his top distance men were Jim Flockhart, international cross-country champion, and Joe McGhee Empire Marathon champion in 1954. In addition to his coaching at club level, he was an official acting as a starter at several meetings, and a coach with Scottish teams for several years. When he was invited by Tom Millar, Clydesdale Harriers secretary, he was delighted to go and give a lantern show, talk about training and take questions. He also followed up with a letter of appreciation for the reception that he had received. A wonderful and successful coach wit top class athletes working for and with him, he also continued to work in the community.
For instance, the photograph of Allan with the women employed with Lewis's, tells a story. Lewis's store in Argyle Street in Glasgow had an athletics club for its employees. The Lewis's chain throughout Britain had an annual competition between them and the Glasgow store was keen to do well. They asked Allan to help them train for the big match and after he had been training them for two afternoons a week, realised that they were not the most talented. His solution was to ask the management to employ some club members, including some who had just come back from the Forces. The suggestion was taken up. The result was victory at Belle Vue with the Victor Ludorum trophy brought back to Glasgow. Always active in the community, he also trained the St Bridget's church running team and worked with local schools. If we look back at his early days as a pro and his actions in donating hard won prize money to the miners, his whole record in this regard is exemplary. There is an interesting article by Allan in the club magazine which can be found at this link which was passed on to us by John Mackay.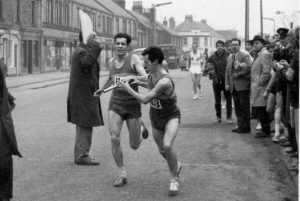 Bill Scally (left) passing the baton in the Edinburgh to Glasgow to Les Menelly
Although he could not himself run for Shettleston Harriers, his two sons could. Bill was the better known and ran in club colours
in the National cross-country championships 15 times between 1959 and 1984, running in gold, silver and bronze winning teams;

in 16 Edinburgh to Glasgow races between 1963 and 1986 winning 3 gold and 2 silver team medals and running fastest (1969) and second fastest (three times) on his stage;

in the District championships winning many gold, silver and bronze team medals.
Over the period in question the club was extremely strong with many international runners turning out for the club. eg in the 1959/60 national team were Alastair Wood, Graham Everett, Joe McGhee and Eddie Bannon; in the 1970/71 team were Dick Wedlock, Lachie Stewart, Norman Morrison and Tommy Patterson. Joe <cGhee talks of his friendship and of what he owed to Allan in a letter sent to Frank Scally in 2002 which you can read at this link. It was not just in Shettleston that the quality was high – the three Edinburgh clubs of Southern, Athletic Club and University were outstanding for most of this period – and it was in this context that Bill ran some of his finest races such as the fastest time on the on the fifth stage of the Edinburgh to Glasgow.
Although he is best known as a road and cross-country runner, Bill was no mean track runner. Although he never won a Scottish medal on that surface, he was nationally ranked twelve times between 1964 and 1984 in six events.
The track events were 3000m steeplechase (best of 9:45.2 in 1972), 3000m (8:44.2 in 1969), 5000m (14:40.8 in 1969), 6 Miles (31:33.2 in 1965) and 10000m (31:11.0 in 1970). Bill was born in 1941 and became a veteran in 1981 and his best two marathons were as a veteran. Having run 2:31:21 and 2:35:08 before his 40th birthday, he then ran seasonal bests of 2:32:59, 2:25:00 and 2:24:05 in 1982, '83 and '84.
Bill had a very good career as a veeran runner too. in 1988 and 1992 he was second in the 25K event at the World Vets championships.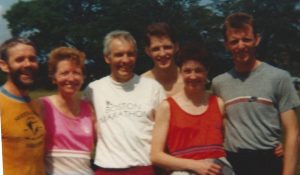 Peter McMahon, Jo and Bill Scally, Brian, Elaine and John MacKay
Bill was an out-and-out one club man. I remember in the 1970's when many Scottish clubs were using 'second claim' runners from other clubs to bulk up their teams for league competition Bill and I were always on the same side. I remember one year in particular when we sat together in the Meadowbank cafeteria before the meeting agreeing to move and second opposition to the notion of English runners being regarded as 'first claim in Scotland.' He was adamant that it should be one man, one club. Everything he did was with the interests of Shettleston Harriers in mind. He ran for the club, he managed club teams, he coached club members and was club president between 1989/90 and 1992/93. Even as team manager for club teams, he was at times seen running an event to complete the team. He was also an excellent administrator whop helped organise national championships, convened open graded meetings and was treasurer, as well as a founder member, of the Glasgow Athletic Association. For his work in the sport he was awrded life membership of Shettleston Harriers and of Scottish athletics. A great club man, a hard runner and the right kind of club man. You can read more about Bill's running at http://www.scottishdistancerunninghistory.scot/shettleston-harriers/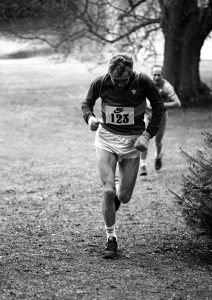 Bill running in the Scottish Veterans Cross-Country Championship in 1985
Bill had an older brother, Frank, who ran for several years but although he did what Bill didn't and won a club (junior) championship, he never ran in the Edinburgh to Glasgow teams. He was nevertheless a good runner who was, perhaps, unfortunate to be running in a club with an abundance of top quality runners such as Eddie Bannon, Clark Wallace, George Craig , Joe McGhee, Hugo Fox and Ben Bickerton. Just missing out on Edinburgh to Glasgow selection, he was nevertheless good enough to run in no fewer than three London to Brighton races. He ran in most races on the Scottish circuit. Frank ran in the National as a Junior in 1952, and in 1953 when, finishing ninth, he was part of the team than was second. Slightly further down the field in 1954, he again won team silver. As a first year senior in 1955, he was not a scoring runner for the winning Shettleston team, but he was in good company – neither was Harry Howard! Frank ran in the National in 1956 and in 1957 he was, for the first time, a counting runner for the club team when he finished 49th, but unfortunately they were fourth and just out of the medals. That was to be his last run in the cross-country championship. In the District championships he was part of the second placed team in 1953/54 as club third scorer ahead of Hugo Fox and Tommy Walters and that was to be his only medal despite running in the event throughout the 50's with his last recorded run there in 1960. It was a similar tale with the relays – with Shettleston usually turning out four teams, and on one memorable occasion there were teams down to Shettleston Harriers H team, Frank ran as often as not in the B team with a couple in the C team. The standard at the top of the club was very high indeed and at a time when Scottish distance running was on a real high with the great Victoria Park road and country team (Forbes, Binnie, et al) and Bellahouston Harriers challenging everything, Frank was unfortunate. At another time he would have had his share of the spoils of victory!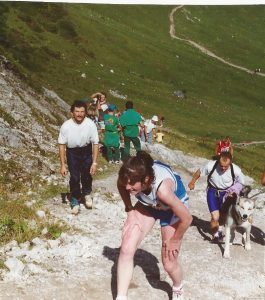 Elaine at European Uphill Championships
The Scottish team finished second
Just as Bill ran for the club, so did his two children – Brian and Elaine. Elaine was a year older than Brian and was a good all round athlete. Before the age of 18 Elaine was ranked in Hurdles, High Jump, Javelin, 400 Hurdles and Pentathlon. After a gap of nine years she returned to athletics and was ranked at 800m, 1500m, 3000m and 5000m at various times. On the country Elaine ran well with the best years maybe being 1993, when she finished seventh of 200 finishers, and 1994 when she was eleventh with Shettleston Harriers Ladies winning the team race. This allowed her to compete in the European club championships events in Portugal. She also won the Scottish half marathon title by over a minute in 1993, won silver over 10 miles in the same year, and silver over 10K in 1994. At that time the club had a very strong hill running section and Elaine also competed for Scotland in European Uphill Running championships, s well as on the road and over the country for Scotland.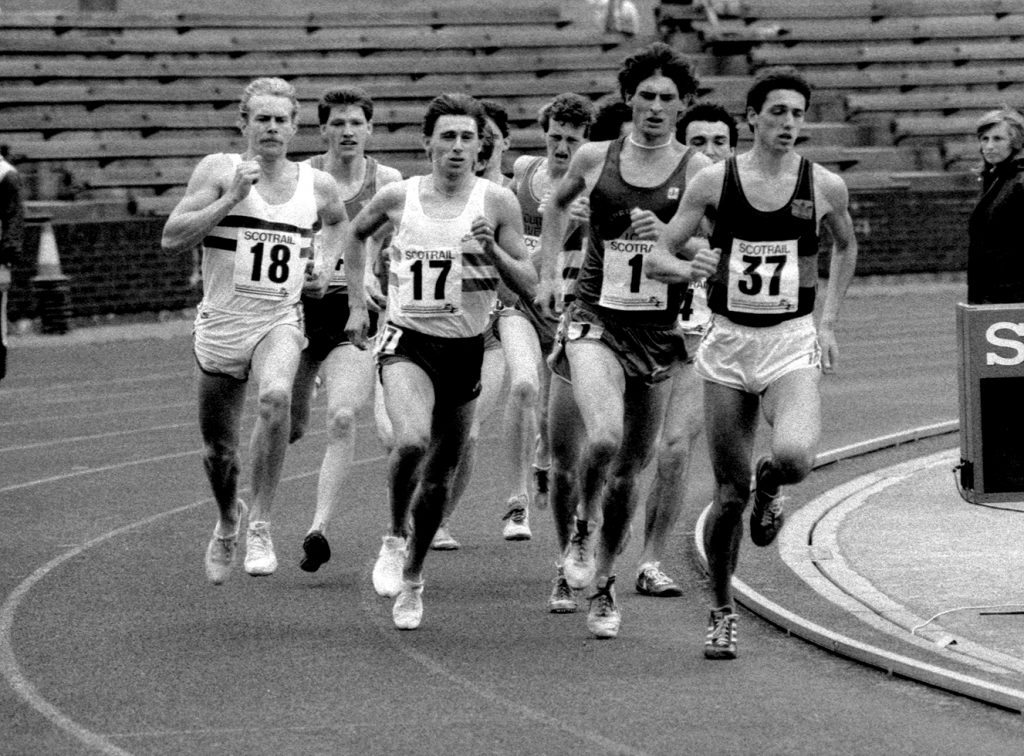 Brian, second from the left, in the SAAA 1500m final, 1985. Other runners include Alistair Currie (37), Adrian Callan (1), and John Robson (17).
Brian was the second family member to win a Senior Scottish national title when he won the marathon in 1998 but he had been known on the Scottish running scene since the early 1980's. His career had two phases. Initially he had successful career as a young athlete from 1980 to 1989 running distances from 800m to 300m on the track, and then after a gap of several years he was ranked at national level in distances between 5000m and the marathon between 1996 and 1999.
As a young athlete at club level, he won every cross-country age group title from the Junior Boys in 1980/81 through to the Junior Men in 1985/86 for a total of six in all. He ran in the National championship in 1980 and in every following title race through to his second year as a Junior Man in 1986 winning gold, silver and bronze team medals and finishing in the top six individuals no fewer than five times. He ran in the Senior race in 1987 and 1989 when he was first scoring runner in the team that finished third.
On the track at this time his best performances were 1:54.4 for 800m in 1988, 3;50.7 for 1500m in both 1984 and '85 then dipping below 3:50 with 3:49.33 in 1989,and 8:21,33 for 3000m in '85 and 8:19.46 indoors in 1989. As a youth he had won the West District 800m and 1500m in 1983 but his biggest championship win was when he won the AAA's indoor 1500m in 1985. His first Scottish championship medal in 1987 when he was second in the indoor 3000m.
When he returned in 1996, he immediately ran a 10000m in 30:36.2 which ranked him sixth in Scotland and then in his marathon debut at Inverclyde was third in the national championship in 2:31:37 for ninth best time in the country at a time when the standard in the event was high. Over the next few years he won and performed well in many distance events, eg he won the Newtonmore 10 miles, he won the Argyll Half Marathon and finished third in the Speyside Way 50K in the excellent time of 3 hours 21 minutes. As a team runner he was part of the sextet that won the Scottish six stage road relay in 1996 and also ran in the team that was second two years later. His best year at the longer distances was 1998 when he won the Scotttish marathon, again held at Inverclyde, in 2:29:32 which ranked him seventh in the country. He also turned in times of 30:58.33 for 10000m and 14:55.9 for 5000m. There was another championship medal the following year when he was third in the Scottish indoor 3000m in 8:38.58.
Currently a very active Over 50 veteran, Power of 10 lists 20 events for 2016 between 800m and 10K, he competed in the World Vets in South Korea this year (2017) and won bronze in the individual 3000m with a time of 9:41.89 and team gold in the cross-country event where he was fifth individual.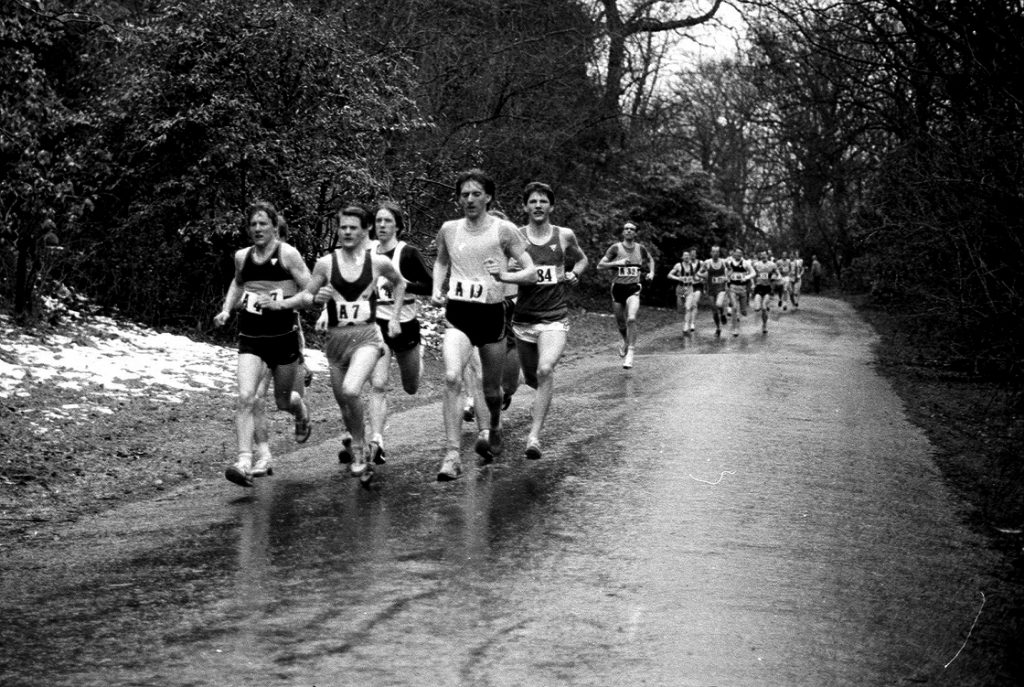 Scottish 6 stage road relays, 1985. Brian (84) fifth from left, in leading group
It was another distinguished career by a member of the Scally dynasty – surely more than just a 'family connection' by now – in the blue and gold colours of Shettleston Harriers. As runners Frank, Bill and Brian had all run for the club and there was a rather unique record here too: Frank ran in the London to Brighton Road Relay in 1952, '53 and '55, Bill had run in it in 1961 and Brian turned out in the AAA 12 stage road relay in 1998.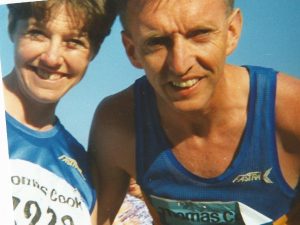 Elaine and John
The dynasty continues. Elaine married international track runner John Mackay from Clydebank and both their son Allan and daughter Nicola are Scottish shot and discus internationalists, and national title winners. Allan and Nicola won titles as noted above, and Nicola competed in the London Olympic Stadium in the UK Schools Games and in the Celtic International. Elaine's husband John (just in front of Brian in the photograph above) went on to win the first stage that afternoon. First Elaine and then Nicola have followed grandfather Allan and father Bill into coaching making it four successive generations involved on that side of the sport.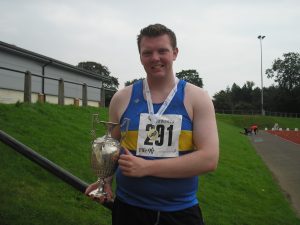 Above is Allan Mackay in 2008 and to finish where we started, we have a photograph of the man who started it all with two of his star athletes, Graham Everett and Joe McGhee.