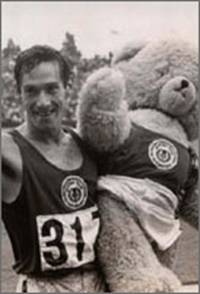 There are not many athletes from any country who are instantly recognisable from just their Christian name but just say the single word 'Lachie' in any athletics company and there are immediately warm smiles all around – everybody knows Lachie Stewart and they all have a favourite story about him. Even in Spain, where they call him 'El Lachie', he is known. He is a quiet, helpful, knowledgeable, friendly man whose ability as an athlete was never in doubt. He was a stand-out on track and over the country. Let's take a look at what he has achieved.
Cross-Country: 10 International Appearances in what are now the World Championships; 2 Scottish Championships at a time when there was real strength in depth, 1 Midland District Championship. Third in Junior International, second in the English National, fourth in the Senior International.
Track: Scottish 10 Miles Champion 4 times (1966, 67, 68, 71); Scottish Three Miles Champion 3 times (1965, 67 and 68); Scottish Six Miles Champion twice (1967, 68); Scottish 5000 metres Champion once (1969); Scottish Three Miles Champion 3 times (1965, 67, 68). Thirteen titles in all between 1966 and 1973.
Track records: He set track records at 2 Miles, 4 Miles, 5 Miles, 6 Miles, 7 Miles, 8 Miles, 9 Miles, 10 Miles, 11 Miles, 12 Miles and One Hour (He was the first Scot to run over 12 miles in the hour) and at 10000 metres. In all there were 19 record breaking runs.
He was awarded the Crabbie Cup three times (1967, 1968, 19700 and the Coronation Cup once (1968). The former is presented to the athlete who in the opinion of the General Committee had the most meritorious performance in the Senior Championships; the latter, presented since 1951, goes to the athlete who in the opinion of the Committee is the outstanding athlete of the year.
AAA's Championships: He won the 3 Miles Championship in 1968 in a time of 13:28.4.
And, most famously of all, he won the 10000 metres at the British Commonwealth Games in 1970 at Edinburgh, defeating many of the brightest stars in the endurance running firmament. What that run did for Scottish Athletics was immeasurable.
Before we go on to look at his career in detail, we should maybe have Lachie's own input in the form of his answers to the questionnaire.
Name: Lachie Stewart (Joseph Laughlin Stewart)
Club: Started with Vale of Leven AAC 1957 – 1968; Shettleston Harriers – 1968/69 – 1980; Spango Valley AAC, Greenock as a veteran: 1980 – app. 1990
Date of Birth: 22/6/43
Occupation: Dental technician. I worked for the entire 44.5 years of my running career as a dental technician.
How Did You Get Into The Sport Initially? Through the local school.
Personal Bests? They are all listed above except for the marathon which I ran in 2:29 as a vet for keep fit purposes.
Has any individual or group had a marked effect on either your attitude to the sport or to your performances? Joining Vale of Leven and not having a coach at the club, I would go down to the club and do some reps with the seniors. 400/200, four or six of them, then I would join the sprinters and do some of their training which I am sure gave me a good sprint finish in many of my races.
What exactly did you get out of the sport? Sport I feel gives you stronger views of life and makes you more determined and there is exhilaration in running fast in races.
Can you describe your general attitude to the sport? I loved athletics as it's an individual sport. Bad run, my fault; good run, all my own effort.
What do you consider your best ever performance? Obviously 1970 Commonwealth Games 10000m and many good international cross-country races.
And your worst? The international cross-country championship in Dublin about 1964. Telling everyone at the evening reception that I was last in my first ever Senior cross-country race till I got results later and discovered that there were ten runners behind me that I could not see when looking down the straight at the end of the race.
What goals did you have that were unachieved? Winning an Olympic gold (as is everybody's goal.)
What has running brought you that you would not have wanted to miss? Meeting people from many different walks of life and, especially abroad, staying with people in the athletic organisation in the different countries and seeing the countries as they really are and not from a tourist point of view. Sport is a common bond to participating sports people.
Can you give some details of your training? During the winter months (October – February/March) mainly just steady running to build up strength and endurance. From January I usually felt I could run faster so introduced some one or two minute faster sections and then dropping back to the same pace I was doing before the efforts (on roads). On grass such as Westerlands where I trained most lunch times, the faster efforts may be a bit faster due to softer ground condition. Also from January onwards interval type training mostly at Westerlands on grass and not on track. They would consist of 8 x 800, 12 x 600, 20 x 300 and occasionally 30 x 200 yard runs with jogging half the distance recovery.
Every month towards the summer months (mid June onwards, I would increase the recovery and decrease the number of efforts. (Peter Coe years later called this 5 tier pace training).
Most of my training was done on my own but I did occasionally have some company which I enjoyed: but I ran on my own was due to the times I trained during the week.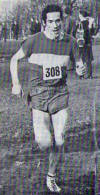 Joseph Laughlin Stewart was born in the Vale of Leven in June 1943 – an area that produced many very talented athletes. In the field of endurance running Alex McDougall was a Scottish Internationalist who competed in the Cardiff Empire Games and ran in the International Cross Country Championships in 1957; Pat Moy was a quite outstanding cross country runner who also represented Scotland in 1956, 1957 and 1958 in the International Cross-Country Championships. Both were members of the Vale of Leven AAC. Lachie obviously had a natural talent but he developed it by dedicated hard work: he also had the right mental attitude – intelligent, practical, thoughtful and realistic – that so many talented athletes lacked. The result was a career that fulfilled his ambitions more completely than any other Scottish distance runner of his generation.
An interesting light on his beginnings in the sport is shed by the centenary history of Shettleston Harriers. I quote directly:
He began running at the age of 14 while at the Vale of even Academy, and competed for his Boys Brigade company in Dumbarton before joining the Vale of Leven Harriers in 1957 and becoming the first ever winner of the SCCU boys cross-country championships at Hamilton. In 1960 he was invited to take part in a coaching scheme for young athletes, but after high blood pressure was diagnosed in a preliminary medical examination, he was hospitalised for three weeks and advised to give up running completely. He ignored the prognosis and continued to pound the roads of 'The Vale', provoking extreme maternal concern. Every time he set off on a training run he would leave with the words of his mother ringing in his ears, 'Don't you run too hard.'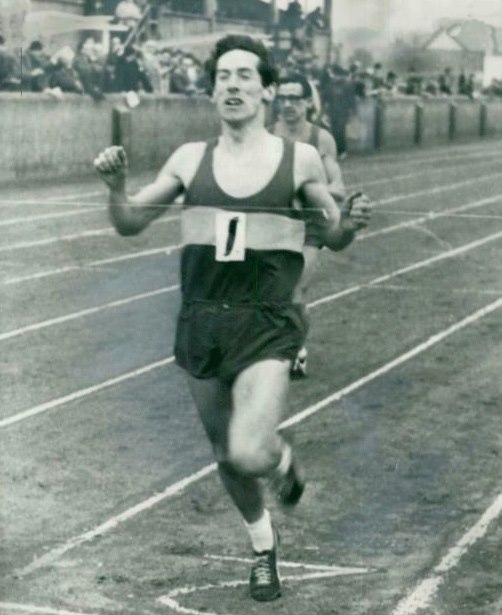 Brought up on the Dalmonach Estate, he was a pupil at the Vale of Leven Academy where he was spotted by his PE teacher and directed to the Vale of Leven club who trained just down the road at Milburn Park track. Although he trained with the club he did a lot of running on his own. The area round the Vale is very hilly and very muddy – in the days on inter-club runs and contests the trails used were to some extent dreaded. Lachie trained in the hills above the golf course and did his hill reps on the steep Auchingarroch Road. There were several good Senior athletes in the club at the time and on road runs he would accompany the men including Alex McDougall. As a Youth and Junior he ran in all the same races as everyone else did – County, District and National Championships, County and District Relays and in the Edinburgh to Glasgow Relay whenever the club were invited to compete, as well as all the classics such as the Nigel Barge Road Race, the McAndrew Relays and even the Beith New Year's Day race. On the track, it was the County, District and National Championships as well as in various open meetings and Highland Games like Gourock and Babcock and Wilcox (in Paisley) – he even travelled as far as Kinlochleven which was an overnighter. All the time he was learning: I remember after one County Track Championships at Westerlands where he had won the Mile and the Three Miles. I had been in the Three and ran with him in the knowledge that he would pull me away from the rest of the field leaving me only with the one problem how to stay in front. It worked but the moment came after we had passed the four laps to go when he actually said to me, "Sorry Brian, but I'm going now!" And he did but after the race when we were sitting on the grass changing our shoes he advised me in the course of the conversation not to use up all my will-power in training. And he developed the theme – the thing is that he was only a Junior and I was a Senior athlete who had been running for years and he was giving me sound advice! He always knew what he was about. As a member of the Vale of Leven AAC (founded 1945) he won the Junior Championship in 1961-62, 1962-63 and 1963-64 and the Senior Championship in 1964-65 and 1965-66. In a booklet released in 1975, the club secretary had this to say: "Starting in 1958, he won the club, county and national senior boys cross-country championship in his first season. This was followed in 1966 with the Midland District Senior Boys Cross-Country Championship and the Junior Championship in 1966-67. As well as 'over the country' Lachie also made his mark on the roads winning a number of road races including the Balloch-Clydebank and the Clydebank-Helensburgh."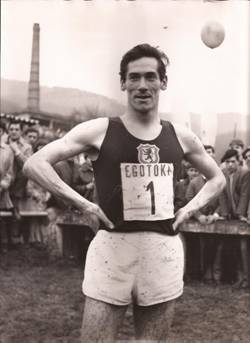 Lachie after winning the Elgoibar Cross-Country Race in Spain
Having started with the Vale, he stayed with them until he moved to Glasgow and joined Shettleston Harriers in 1968. You will note from the statistics above that he had gained 5 Senior Track titles, set many many track records and picked up four Scottish senior cross country vests for the world championships as well as having two appearances in the Junior age group – in 1962 and 1963 when he was third. The first mention of Lachie Stewart in the record books is in 1958 when he won the inaugural National Senior Boys Cross Country Championship at Hamilton. In 1959 in the same age group he finished eight seconds behind George Brownlee of Edinburgh Southern Harrier. In 1961 he was sixth in the Youths age group behind several very good athletes such as Jim Finn (Monkland, later Law and District), George Brownlee, Hugh Barrow, Craig Douglas (Teviotdale, later ESH) and A Leitch from Gateshead. Behind him were Alex Brown (Motherwell, eighth) and Mel Edwards (Aberdeen, ninth) – some years are tougher than others and Mel was to win a memorable Junior Championships just a few years later. In 1962, Jim Finn won again and Lachie joined him in the Scottish team for the International Championships and was tenth finisher and first Scot home: AIC Heron was eleventh and Jim Finn sixteenth. In 1963 he won the Midland District Junior title after finishing a close-up third behind Andy Brown and John Linaker. Fourth in the National behind Fergus Murray, Mike Ryan and Alex Brown. In the Junior International, held that year at San Sebastian, Lachie was third and led the Scottish team to third place medals. Ranking lists tell us that in summer 1963 he was ranked twentieth in the Three Miles with 14:36.0 which was good enough to win the West District title from Hamish McHattie of St Modan's and Billy Murray from Greenock Glenpark; seventh in the Six Miles with 30:01; and 10:11.2 in the steeplechase which placed him third in the West District event.
The District Championships in 1963-64 were a home fixture for Lachie, being held at the Strathleven Estate in the Renton and he finished third behind Ian McCafferty and Alex Brown. The Scottish National Junior Cross Country Championships at Hamilton in 1964 was one of the finest races I have ever seen with Mel Edwards just getting the better of Ian McCafferty with Lachie third. Lachie then won a Two Mile Invitation Race at Ibrox from McCafferty with both being timed at 9:02. In his first year in the Senior International, Lachie was sixty ninth and out of the counting runners in the International at Leopardstown in Ireland. It was the only time that he was a non-scorer in an international cross-country race.
In the District Championships in season 1964-65 he was third behind McCafferty and Andy Brown. The National was again at Hamilton and Fergus Murray won by over 20 seconds from Jim Alder with Lachie eleven seconds back in third place. In the international at Ostend, Lachie was fifty eighth and the team was sixth. Colin Shields in his history of the Scottish Cross Country Union, 'Whatever the Weather' begins his comments on 1965-66: "Lachie Stewart who won the inaugural National Boys Title in 1958, had been busy studying dentistry at evening classes in the intervening years as a Youth and Junior. With studies successfully completed the Vale of Leven athlete had time to train and he blossomed forth, with the resultant hard work producing startling performances in track, road and cross country races. Undefeated since the start of the season, except in the long Morpeth to Newcastle race at New Year, Stewart won the shorter Nigel Barge race in the record time of 22 minutes 05 seconds, a time that would still win the race more than a quarter of a century later. Stewart continued his strong running when winning the District title at the Renton. He led by 80 yards at half distance and doubled his lead by the finish. In the National at Hamilton however he finished second to Fergus Murray after a hard race over heavy, hilly country. Ian McCafferty won the Junior Championship that day and was selected for the Senior team in the International to be held in Rabat, Morocco. McCafferty took the lead and held it until near the end when a stone in his shoe made him stop to remove it and he was second Scot to finish in fourteenth place – two behind Lachie who led the team home."
Summer 1966 was a wonderful season by any standards: many athletes would have happily retired after it! In the ranking lists Lachie appeared in the One Mile (12th, 4:10.0), Two Miles (first, 8:38.8), Three Miles (third, 13:32.6), Six Miles (second, 28:58.2) and steeplechase (second, 8:44.8) He had won the West steeplechase and been second in the SAAA and this was the season when he made real go at the event – with some success but he didn't follow it through after 1966. There was a real rivalry between Lachie and John Linaker and he had set a new Scottish Native record holder at the end of 1965 with 9:07.8. Having started 1966 with a wonderful run at Seedhill in Paisley over 10 miles to set a new native record of 48:44.4, he ran 8:59 for the steeplechase becoming the first man in Scotland to break 9 minutes. At the Scottish. Lachie faced Linaker (who had run 8:50.2 at the English Inter-Counties who was a better hurdler than he was but Lachie was the faster runner. There was nothing in it until Linaker pulled clear – not by much, but enough – and held it to the finish to win in 8:48..8 for a new Scottish all-comers record, while Lachie set a new Native record of 8:49.4. A fortnight later Lachie ran 8:44.8 in the AAA Championships for third place. As a result he was selected for the Empire and Commonwealth Games in Jamaica and for the European Championships in Budapest. He did not do himself justice in either event. In the Commonwealths he was ninth in the steeplechase in 8:57.0 and twelfth in the Three Miles in 13:40.0.
Lachie started 1966-67 winter in second place behind Ian McCafferty in the annual short New Year's Day cross-country race at Beith and a day later was third in the Morpeth to Newcastle 10 miler. He was second again to McCafferty in the Nigel Barge and again in the Midland District Championship at Bellahouston Park. In February, he ran in the International race at Hannut in Belgium where he finished fourth: with Ian McCafferty second and Jim Alder fifteenth the team was second. The New Zealand team for the international ran as guests in the National at Hamilton and Eddie Gray of NZ was first across the line followed by Lachie and then five more New Zealanders. Lachie of course took the Scottish title. One week later he became the first Scot since Jim Flockhart in 1937 to win an individual medal in the English National when he was second to Dick Taylor, just outsprinting Barry Rose of NZ. Unfortunately in the International in Barry, Glamorgan, Lachie himself was outsprinted at the finish for third place by – Barry Rose of NZ. The team was fifth of ten countries. His summer campaigns in 1967 and in 1968 were top class affairs with SAAA Championship wins in the Three Miles, Six Miles and Ten Miles in both years. The race in 1967 where he really showed how good he was came in August at Dunoon in the Cowal Highland Games where he won the One Hour Race. His distance of 12 miles 188 yards was the first time that a Scotsman had run more than 12 miles in an hour. There were also Scottish Records for eleven and twelve miles.
The Nationals in 1968 were the last to be held at Hamilton Race Course. There were no showers or changing accommodation at all at the venue and despite the good courses to be found there, the championships really had to move elsewhere in Scotland. Lachie was favourite to retain his title but he had a terrific battle with Alastair Blamire who had been runner-up in the Junior Championship the previous year. He was ultimately victorious by only one single second. The international championships were held at Tunis and the Scots had justifiably high hopes of a medal placing. There were group training sessions at Cleland Estate at Motherwell and when the International came along the team ran well but were 'only' fourth again. team placings were 10 Ian McCafferty, 18 Lachie Stewart. 19 Andy Brown, 20 Jim Wright, 23 Jim Alder, 47 Gareth Bryan-Jones. Down the field initially the Scots surged through from halfway and gained approximately 6 places per man in the second half of the race. They missed bronze by just 8 points! In summer that year he won the Three Miles at the AAA's Championships in 13:28.4.
Lachie's self-coached spell at the Vale of Leven AAC had seen steady improvement from a novice schoolboys to Scottish and British Champion and Commonwealth and European Games representative. It was all done without an all-weather track and without a brilliant club squad to train with. The table below summarises the annual progress.
| | | | |
| --- | --- | --- | --- |
| Distance | 1966 | 1967 | 1968 |
| One Mile | 4:10.0 | 4:04.6 | 4:05.7 |
| Two Miles | 8:38.2 | 8:38.6 | 8:43.8 |
| Three Miles | 13:22.6 | 13:55.6 | 13:20.0 |
| Six Miles | 28:58.2 | 27:39.2 | 28:05.4 |
| Ten Miles | 48:44.4 | 48:52.0 | 50:50 |
1968-69 was Lachie's first winter as a member of Shettleston Harriers and was to usher in a period when he amassed a host of team honours as well as individual medals, trophies and championships. His run in the Edinburgh – Glasgow Relay in November as part of the winning Shettleston team saw him return the fastest time on the sixth (and longest) stage of the race twenty six seconds ahead of Fergus Murray. Lachie along with Jim Alder and Dick Wedlock ran at Hannut and then defeated Mariano Haro (Spain) in an international race at Elgoibar in Spain before going down with 'flu. The National that year was over five laps of Duddingston Park Golf Course in Edinburgh over hard, frozen and rutted ground topped with slush with steeplechase barriers as obstacles in an attempt to turn a park into a cross country course. Dick Wedlock won by eight seconds from Fergus Murray Murray with Lachie, still suffering from 'flu, in tenth place. The International was held in Clydebank in 1969 over a very hilly course and Ian McCafferty ran a superb race to be third with Lachie second Scot in twentieth and Fergus Murray twenty third.
Colin Shields, writing about the 1969-70 cross country season in Scotland points out that Scotland's distance runners were among the best in Britain and Europe and as such were in demand for many invitation cross country races on the Continent and he points out too that Lachie Stewart was among the most successful and consistent runners on the Continent with numerous wins, especially in Spain where the spectators dubbed him 'El Lachie'. He won two international races in Spain that winter at Madrid and at Juan Muguerza race at Elgoibar as well as being fourth at San Sebastian. At home the National Championships were held at Ayr Racecourse and although he did not run, Lachie was picked for the International where he was twelfth and first Scot home at Vichy. The summer of 1970 witnessed one of Scotland's finest athletics moments – courtesy of Lachie Stewart.
1970 was a year that Scottish Athletics should never forget and a lot of that was down to Lachie. He won the SAAA Championships in 28:33.4 – a time on which David Coleman cast some doubt when commentating on the AAA Championships and Games Trial with "They say that Lachie Stewart has run 28:33.4 in the Scottish Championships …." – and came into the Commonwealth Games with a solid background of strength and speed, the international championships and small team races at Hannut, San Sebastian, Elgoibar and the rest had removed any reservations about his ability to take on the best that other countries could throw at him.
John Keddie reported the actual race as follows: "1970 was this popular athlete's greatest year and one in which he was to produce one of the great moments of Scottish athletics. The occasion was the opening track final of the 9th Commonwealth Games in Edinburgh. It was a rather dull, rainy and windy July afternoon as the athletes lined up for the start of the 10000 metres at ten past four in the afternoon. There were plenty of big names in the line-up: World Record Holder Ron Clarke, defending champion Naftali Temu, , UK record holder Dick Taylor, Canadian Jerome Drayton, Australian steeplechase star Kerry O'Brien and compatriots Temu, Ng'eno and Ndoo. Was it too much to expect that the relatively untested Stewart could triumph in such company? It was Drayton who took up the running immediately with a 66.2 second first lap. The Canadian led for six laps or so after which the lead changed hands several times up to the 7000 metre mark when Ron Clarke made his first move. His break was not decisive even though it did string out the field. Sticking to him were Englishman Taylor and Lachie Stewart. Even a scorching 63.6 nineteenth lap did not drop the two Britons. This was undoubtedly the vital part of the race for Stewart for had the pace not slackened noticeably he may well have been dropped. But the pace did drop slightly over the following five laps and Stewart was still in contention going into the final lap. Needless to say, the excitement of the crowd was reaching fever-pitch; the steady drizzle was forgotten as the runners braced themselves for the last lap effort. The Australian took up the running from Taylor down the back straight but Lachie Stewart followed in his slip-stream, biding his time. He knew he was the man with the sprint finish. And so it was down the home straight he tore past Clarke and broke the tape amidst the resounding cheers of the partisan crowd. And incidentally his time of 28:11.8 was a Games record and Scottish All-Comers', National and Native Records."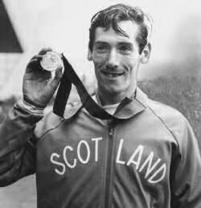 If that's the official story it misses a lot. First of all Lachie was indeed a popular figure in Scottish athletics – as well as all the Championships and invitations he raced at the Highland Games meetings, he ran at Beith and Bellahouston, he supported all club events. Nobody had anything but good to say about Lachie. Second there had never been a Games like this in Scotland – ever! Meadowbank was transformed. There were never big crowds for athletics meetings – the biggest crowd was at the Rangers Sports but they had come to see the 5-a-sides; there were occasionally races at half-time in big football matches and there was Cowal Highland Games which always had a massive crowd. They were the exceptions and Meadowbank with its big stand and the temporary scaffolding seating raised high into the sky all round the track outdid them all. The atmosphere was like nothing any of us had ever felt before. And as the race progressed and Lachie and Dick Wedlock – Scotland's other representative were still there, it built up and built up. Then when it was down to three and we all knew Lachie had the kick (he had said to me once when I congratulated him on a fine finish "In the finishing straight, I'm invincible" I looked for signs that he was kidding but there was no kidding – he believed it). and Clarke had been out-gunned in the finishing straight so often before, we hoped and hoped. Then came the finishing straight and sped past Clarke and in the TV clip that they showed so often afterwards, he has a quick look over his shoulder for the opposition and smiling turns back to the final few yards. Absolutely astounding. We had won the first final! We had beaten the world! Scottish endurance running had real respectability which was confirmed later in the week when Ian Stewart and Ian McCafferty were first and second in the 5000 metres. One of my club-mates was in Portsmouth that afternoon watching the race on television with several Portsmouth team mates and reported that they were more than slightly annoyed that the Scotsman had won after doing none of the work! I'll tell you, if Clarke could have won that way, if Dick Taylor could have won that way, they would certainly have done so!
The picture at the top is of Lachie with the team mascot – a bear in Scottish colours called Dunky Dick – Dunky Wright was the team manager and Frank Dick the team coach. Thereafter he was taken out by a team member to any Scot who won a medal at the Games and this was his first public airing! Incidentally, Lachie convinced that he could have won it from two laps out – he felt the pace dropping, saw the how the other two were looking and says he could have gone then. However that may be, he won the gold and the nation was ecstatic. The Press had a field day: how about this from John Rafferty of 'The Scotsman' the following day? Under the headline "Lachie Stewart, so diffident ….. so great", he wrote: "The Gold Medal hung from a ribbon round Lachie Stewart's neck – ignored by him. His eyes were turned away from it looking up to the big man, Ron Clarke. They were eyes neither filled with achievement nor flashing contempt for the loser but soft with the humility of a nun at prayer, the hero-worship of a young man meeting a film star he has for long adored." So it went on for the best part of two long columns in the broadsheet.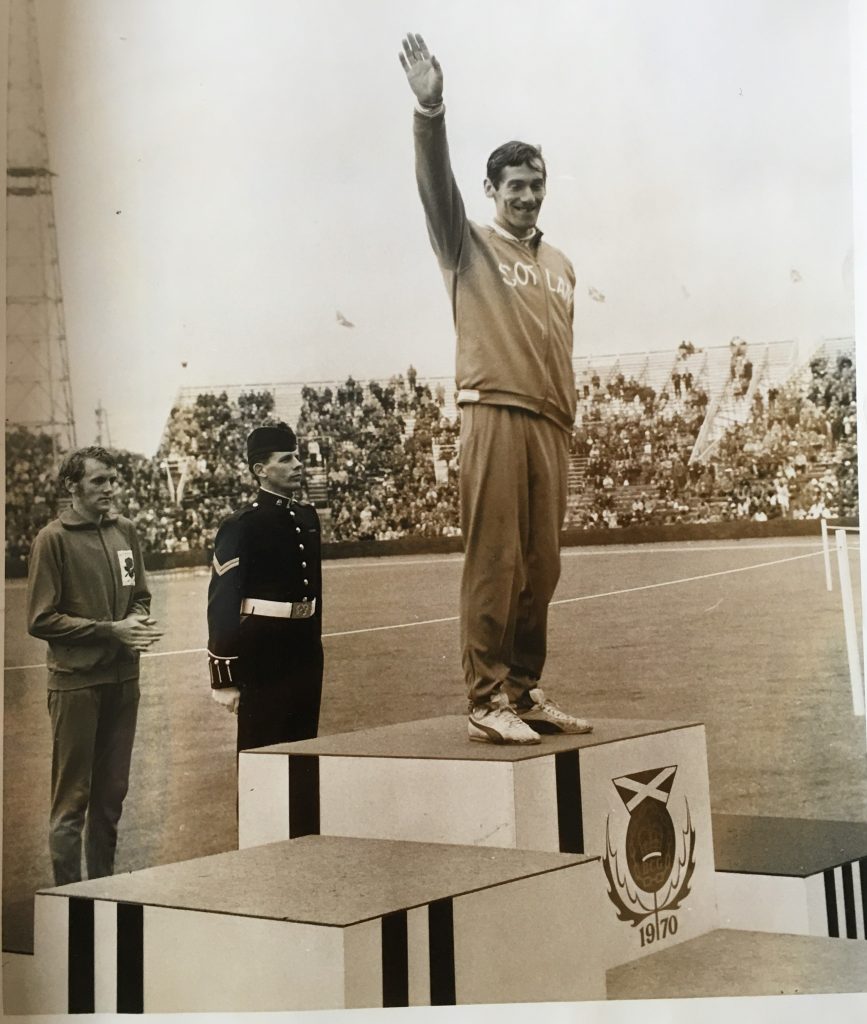 A week or two afterwards he was called up into the GB team for the European Cup match in Portugal and didn't run well – it was an anti-climax but even then David Coleman had a remark to make – "It's unbelievable: he is so unfamiliar with the event that he had to ask me how many laps there were in a 10,000 metres!" How many had Lachie run up to that point?
As a member of a very good Shettleston team he was part of many medal winning teams and over 10 years he amassed a collection of approximately 21 gold, 6 silver and 2 bronze medals from the National Championships, the Edinburgh to Glasgow Relay, the Midland Relay, the Scottish 4 Stage Relay, the McAndrew and the two Lanarkshire relays. That doesn't include his individual medal tally that we will be looking at in the next few paragraphs.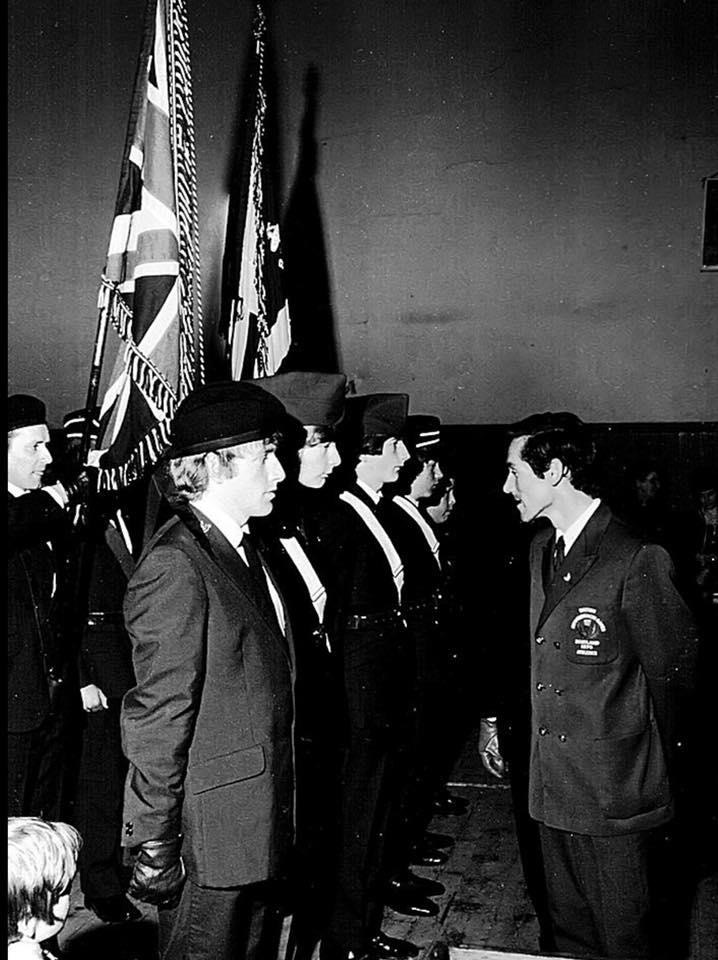 The Games victory led to many honours …
Into the winter of the 1970/71 season and the team (Lachie, Norman Morrison, Bill Scally and Dick Wedlock) started well with a victory in the McAndrew Relay at Scotstoun; he had been a member of the winning team in 1968 and would collect two more winners medals in this well-established road race – in 1971 and 1972. The same quartet won their own Allan Scally Relay – Lachie was to be a member of six winning teams in the "Scally's". In the Edinburgh to Glasgow the victorious Shettleston team had Lachie on the sixth stage: he took over in first, handed over in first and had the third fastest time of the stage behind Jim Alder and Don McGregor. The National in 1971 was held and Shettleston were again victorious with Lachie finishing eighth. The international at San Sebastian was a saga of misfortune including the withdrawal of Ian McCafferty through illness, delays and problems with transport to the meeting and a stomach bug that affected several members of the team. Lachie finished 60th. Prior to that the Shettleston club team had entered the English National Championship at Norwich and became the first Scottish team since Victoria Park 19 years earlier. Lachie was nineteenth finisher. It had been a hard season for him coming immediately after the triumph at Meadowbank with invitations to speak at Dinners, Coaches' Meetings, Schools, giving interviews, making public appearances, etc – he was even involved in making TV Commercials. The demands on his time had been huge and yet he had still managed a very good cross country season despite all of that.
The summer of 1971 had Lachie ranked sixteenth in the 1500 metres with 3:53.3, third in the 3000 metres behind Ian and Peter Stewart with 7:59.0, fifth in the 5000 metres with 13:58.6, second behind Jim Alder in the 10000 metres with 29:00.0 and first in the 10 Miles Track with 47:59.0. The 10 Miles was a Scottish Native Record and won the Championship for the year. The Yearbook for 1972 commented on the 10000 metres that year as follows "Although recording the season's fastest time, Jim Alder was beaten into second place in the Scottish Championships by Lachie Stewart who had a very quiet season compared to his Commonwealth Games exploits and did not manage to break 29 min 00 sec. Suffering from heat exhaustion – the temperature was in the eighties – Lachie finished a dismal eleventh in the AAA Championships at which David Bedford set a European record of 27 min 47.0 sec."
The 1971-72 winter started as last year with a win in the McAndrew Relays and the Allan Scally Relay. The Edinburgh to Glasgow was also won with Lachie having the fastest time on Stage 2 by over half a minute. Early in the New Year, Lachie had two victories in Spain. After a diabolical journey with diversions and an arrival at 4:30 am and very little sleep, he managed to win the Juan Muguerza at Elgoibar and then one week later he won at San Sebastian by inches from Jack Lane of England. Came the National at Currie in Midlothian he was fifth and his club with five men in the first fifteen won the Championship. It was off to the English Championships at Sutton Coldfield. The race has gained a notoriety because of the freak winter storm that appeared at the start of the race and many were forced to drop out – Lachie was one of these who had to drop out requiring medical attention. For the International which was to be in Cambridge, the Scots were favourites to at least win a medal. It was important this year above all others because the format had been widened to include all countries to enter and the event was to become global. With Ian and Lachie Stewart (Commonwealth Games gold medallists), Jim Alder and Ian McCafferty (CG silver medallists), Dick Wedlock (CG 10000 metres runner with sub-29 minutes), Alastair Blamire (GB Steeplechase internationalist) plus Andy McKean, Jim Wright and John Myatt, it was a remarkably strong team. However …………….. Ian Stewart was third but as Colin Shields said in his book, 'the backup failed to materialise' and Jim Alder was next Scot in twentieth, Lachie in twenty seventh, Alastair in thirty sixth, Andy McKean forty fourth and Dick Wedlock in seventy first completed the team. Ian McCafferty was seventy ninth and not even a scoring runner.
In the summer of 1972 the big event in world athletics was the Munich Olympic Games where the seizure of the Israeli team by the members of the Black September movement cast a cloud over the whole Games and indeed changed them for ever. Lachie was there and ran in the 10000 metres where he was second fastest Briton but his 28:31.4 was not good enough for him to progress to the final.
The following winter season started with another first place in the McAndrew Relay with Lachie on the first stage. Came the Edinburgh to Glasgow and after finishing sixteenth on the first stage, Shettleston were in front by the end of the fifth stage after a brilliant run by Dick Wedlock, Lachie ran the long sixth stage with the third fastest time and the club ran out winners again. Norman Morrison, however, was the Shettleston star man in winter 1972-73 and won the Nigel Barge race from a very good field and then won at Arlon in the European clubs championship. Lachie was third. In the Nationals at Coatbridge, Lachie was suffering from the after effects of 'flu and finished second to a strong-running Andy McKean. In the International at Waregem, Belgium, he finished twenty seventh in what was to be his last cross-country international race. Colin Shields remarks on this: "The 1973 Championships was Lachie Stewart's tenth and final appearance in a Scottish vest after a long and distinguished career since his first appearance in 1964. However his athletic successes had been just as great on the track where he was Scotland's most successful post-war long distance runner winning thirteen titles between 1965 and 1973." There are three more paragraphs outlining Lachie's career up to that point and I recommend the book to anyone interested in Lachie's career or indeed any aspect of Scottish cross country running.. Summer 1973 was the year that Lachie won his last Scottish title when he took the 10000 metres in 28:59.2. In summer 1974 he competed in his third Commonwealth Games, this time in New Zealand. He had only run one 5000 metres in preparation on a pre-Games warm-up meeting at Timaru on 19th January where he was timed at 14:24.8. For his feats as an endurance runner, especially for the run in 1970, he was appointed flag-bearer for the opening ceremony: not a good plan for someone about to run the 10000 metres on the first day! He finished tenth in the event in 29:22.6 ahead of several very good athletes such as Bernie Plain of Wales, Kevin Ryan of New Zealand and his compatriot Norman Morrison.
1973 – he ran in the National Championships in 1975 (28th), 1977 (20th) and 1980 (89th); he ran in the Edinburgh to Glasgow in 1976 when he was fastest man on the second stage in the winning team, 1977 to be sixth on the first stage and in 1980 on the third stage.
Despite the fact that this all happened nearer forty than thirty years ago, his performances have stood the test of time. The table below has his best times for the distances, when it was achieved and what the top ranked Scot did in 2009. The exception is the 3000 metres where the time to Lachie's credit is for Two Miles. The steeplechase time stands to USA based Andrew Lemoncello, the next best (first home Scot) is 9:01.
| | | | | |
| --- | --- | --- | --- | --- |
| Event | Time | Date | Ranked | Best 2009 |
| 3000m | 8:33.0y | 21/8/71 | | 8:13 |
| 5000m | 13:46.60 | 3/8/68 | 15th All Time | 14:01.77 |
| 10000m | 28:11.70 | 8/7/70 | 5th All Time | 30:58:43 |
| Steeplechase | 8:44.8 | 9/7/66 | 14th All Time | 8:22.0* |
As his own career was starting to slow down, he began to take an interest in coaching his son, Glen, who showed an aptitude for and an interest in distance running. Always interested in coaching and helping others, Lachie organised Glen's training so well that he set ne British Under 15 records in the 1500 metres and the Mile in 1985 – and they still stand at the end of summer 2010. And unlike many a young prodigy, Glen went on to be a successful athlete at Under 17, Under 20 and Senior age levels and was the first British finisher in the 10000m (29:04.3) at the Manchester Commonwealth Games in 2002. He also ran the 5000 where he was unplaced in 13:49.7. His personal best times as a senior include 3:38.66 (1500), 3:59.56 (Mile), 7:55.15 (3000), 13:37,17 (5000) and 29:40.14 (10000). These are all considerably good times and speak highly of Glen's determination and ability but they are also a testament to Lachie's coaching – good results early on but no danger of burn out. When I resigned at British Milers' Club Secretary for Scotland, Lachie took over and his special interest was organising races for the younger age groups, getting promising you athletes into the British Milers' Club so that the good races were made available to them. In an article in the 'Herald' in July 2010, Doug Gillon has this to say about Lachie's coaching. "Stewart coached his son Glen to British Under 15 Mile and 1500m records in 1985, yet when Lachie sat a coaching examination (which he passed) he was told he should have more speedwork in the programme which he had presented. "It was the one I'd used with Glen," he recalls. Lachie was passed over when a Scottish coaching post was considered. "They said I'd no coaching certificates. They didn't bother checking or they'd have found out that I have two. I once phoned about an advert for a coaching job. I was told that applications closed the next day. I'd no access to a fax, so I just let it go." So did the sport's governing bodies – who should have bitten his hand off . For – whisper it very quietly – the Scottish Native 10000 metres record which he set on 18th July, 1970 – knocking more than 20 seconds from his best, survives to this day. "I wanted to get every kid from school and age-group finals followed up," he says, "It's not usually the winners of these age groups who become Senior Champions but the kids who have to work at it. We are wasting an enormous amount of talent. It's embarrassing that Scottish records from 1970 still survive. I blame the coaches, they focus too much on speed. There's not enough emphasis on speed endurance."
Lachie's comments on his training were also interesting. I asked him whether he was ever at any stage coached and the answer was a clear negative. In his final year as a Dental Student he was awarded the Student of the Year prize and with the Book Token that came with the award he bought two books: one was a book on dental technology and the other one was 'Running' by Franz Stampfl. As he says above, his club had no coach and he joined in the reps done by the Senior athletes. But using Stampfl as a guide he started to increase the number of reps and found that he got better results so he stuck with it. As the track season approached he reduced the length of the recovery and increased the speed. He trained at lunchtime at Westerlands, the grounds of Glasgow University which had a red blaes track but also had a large L shaped area of good grass with a slight downhill slope on the long edge which was about 300 yards in length. He sorted out distances on the grass – the long side was 300 yards, the long side + the straight along the bottom of the L was 400 yards and so on. He used the grass more than the track. There were several athletes training there including some of Scotland's best 800 metre runners (Graeme Grant [Dumbarton], Dick Hodelet [Greenock Glenpark], etc. Lachie sometimes joined in their sessions but after a time was doing them better than they were. He also feels that strength is important and thought that many of Scotland's middle distance runners lacked endurance: some he would back in, say, an 800m with a slow fast lap followed by a burn-up but not in a faster race. Long runs are important but he would include three or four fast stretches coming back to the same pace again. When I put it to him that many endurance runners did hill sessions he said that he didn't do them as such but did do runs with a lot of hills in them. He also said that he never increased the pace up hills in races – "Why expend the extra effort?" – but preferred picking it up once the hill was over. (On a personal note I remember him saying when we were speaking at a particularly hilly 3 miles road relay course the 'there were a lot of graveyards out there'. He was dead right – the number of runners who killed their own chances on any one of four climbs was high!)
Going back to Doug Gillon's comments: an excellent example of another good source of education and inspiration not used by the governing body – and his words about speed endurance are spot on too! So instead of being encouraged to spend time coaching he works away on the fantastically detailed scale models of ships with the same attention to detail that made him such a formidable athlete.
Friend, rival and team-mate Lawrie Spence freely admits to having learned from Lachie and has written the insightful and informative paragraph below.
"Like many Scots I was inspired by Lachie's Commonwealth gold in 1970 at Meadowbank. I still remember going for a long run (which seemed to pass by so quickly as I was filled with enthusiasm and dreams that one day it could be me!) with my Brothers after we had sat and watched the race – and the classic of us all shouting at the TV as well! I was lucky in that a few years later, Lachie had agreed to help me with my breakthrough into international racing. I was doing well but really needed to make the next step up to consolidate at Scottish level and move on to the British level. From getting me a run at Hampden Park at the pre-Scottish Football Cup Final entertainment organised by Dunky Wright (and running in front of massive crowds), races down south and, most of all, allowing me to join him in training sessions and runs, so helping me to improve and be better prepared for these key races.
The one thing I really learned and admired him for was his racing brain. He won many a race which on paper he should not have had a look in and to many the Commonwealth Games is the moot point. In today's paced races, his skill, experience and what I would describe as the old head of Lachie is not being used any more. I appreciate that times do matter but if you race well and smart, the times will come! For example he taught me a valuable lesson as I was beginning to get the better of him in races. It was a race at Scotstoun and after changing I went with him for a warm up. The old bandit put the boot in during the warm up, and not wanting to admit it was maybe too hard for me, and Lachie was doing it and it must be OK, I kept going. When it came to the race I had lost my edge and in the finish he sorted me out and won the race which I should have won. Afterwards I had a go at him and he just put on that look and smile of his saying I hope you learn from this – I did. He was great spending time talking to you especially on long runs when his stories and giving advice made the run go by so quickly. He did not have to spend much time with me but he did, and not only was a great athlete for Scotland but gave back to the sport's future even when he was still competing.
He was a coach even then and proved how good he was in the future when he helped his son Glen to the success he had. As mentioned elsewhere, it is a pity that he was not sought after by the Association to get him into such a role. Maybe we would be in a far better position today if we had. He was a great mentor and role model."
Lachie was inducted into the Scottish Sports Hall of Fame in 2007. He was the best Scottish endurance runner of his generation – and for several more thereafter.