What follows is Joe McGhee's own account of his time in Shettleston Harriers as enclosed in a letter to Frank Scally in 2002.which can be seen by clicking on the link. There is more about Joe's career at this link , and of the Vancouver race here. For now, read what he himself had to say: it illuminates the other two articles and his friendship with Allan Scally.
SHETTLESTON HARRIERS
DISTANCE RUNNING: 1052 – 1962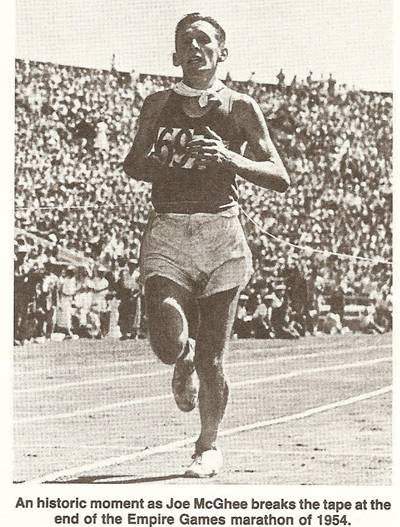 PART ONE
My period of active running with the Club was as a senior from 1952 to 1962. As a youth however with St Modan's AAC and Glasgow University H & H I remember watching and admiring Shettleston stalwarts such as Harry Howard, Charlie McLennan, George Craig, Jimmy Stuart and JC Flockhart in the late fprties. Though I joined Shettleston Harriers in 1952, I was not allowed to compete in team races for my first two years after moving from St Modan's AAC and missed another couple of years through injury. I was extremely fortunate however that these eleven years were the Club's most successful in distance running. Other eras of course had magnificent individual performances – notably Jim Flockhart's five National Crosscountry wins and his international championship victory in the thirties and Nat Muir's eight National Crosscountry Championship wins in the seventyies and eighties. Though our era had its individual National Crosscountry Championship winners too, notably Eddie Bannon (four times), Alistair Wood and Graham Everett, the latter better known perhaps for his magnificent wins in the British and Scottish Mile Championships, the fifties and early sixties saw an unrivalled strength in depth in our team victories. In addition to many wins in Midland and Lanarkshire crosscountry and road relays, our team strength was shown in two major events in the calendar – the National Crosscountry Championship (six wins, a second and three third places) and the Edinburgh to Glasgow Relay (four wins, five runners-up and a third place).
The best National Crosscountry team performance in the history of the Club was in 1959 when we scored our lowest ever pointage, 56 (A Wood 1, G Everett 4, J McGhee 5, G Govan 10, I Donald 15 and C Wallace 21). In my opinion, however, our greatest and most exciting team victory was in the 1959 Edinburgh to Glasgow Relay – not the fastest of our wins but the most memorable fight against adversity. The team found itself sadly depleted by the absence of our three National Crosscountry champions, Eddie Bannon, Graham Everett and Alistair Wood, and top runners like Ian Cloudsley , our 1954 Scottish Youths Crosscountry champion but the reserves rose magnificently to the occasion. On the first leg Clark Wallace ran very well to finish in the leading bunch and I then managed to take the lead with my best-ever six miles to Broxburn to establish a new lap record of 29 minutes 39 seconds. From then on, Hughie Mitchell, George Govan, Henry Summerhill, Hugo Fox, R Wotherspoon and W Gorman all ran magnificently to hang on grimly to win. Other members of our successful teams on the road and over the country during this period were Harry Howard, John Eadie, Ben Bickerton, Tommy Malone, Willie Gallacher, Walter McFarlane, T Kelly, J Turnbull, T Walters, J Burton, J McNeil, J Campbell, J More, A Orr, D Bridges and J Hendry.
So strong were we as a club, both seniors and youths, that we could afford to call our selves "Lanarkshire" and compete effectively against County teams. Two memorable and lavishly hospitable trips were to Fort William in September, 1954, against Lochaber, and at Elgin the following summer against Morayshire. At Fort William in one of my first competitions after the Empire Games marathon the previous month, I won the seven miles race (combining road and six laps of heavy grass track) in 34 minutes 36 seconds against a strong field including Ben Nevis winners Brian Kearney and Eddie Campbell, and Walter McFarlane was runner-up. At the Elgin meeting, I again ran against Eddie Campbell to set a record for the twenty-four miles Elgin to Forres and back.
PART TWO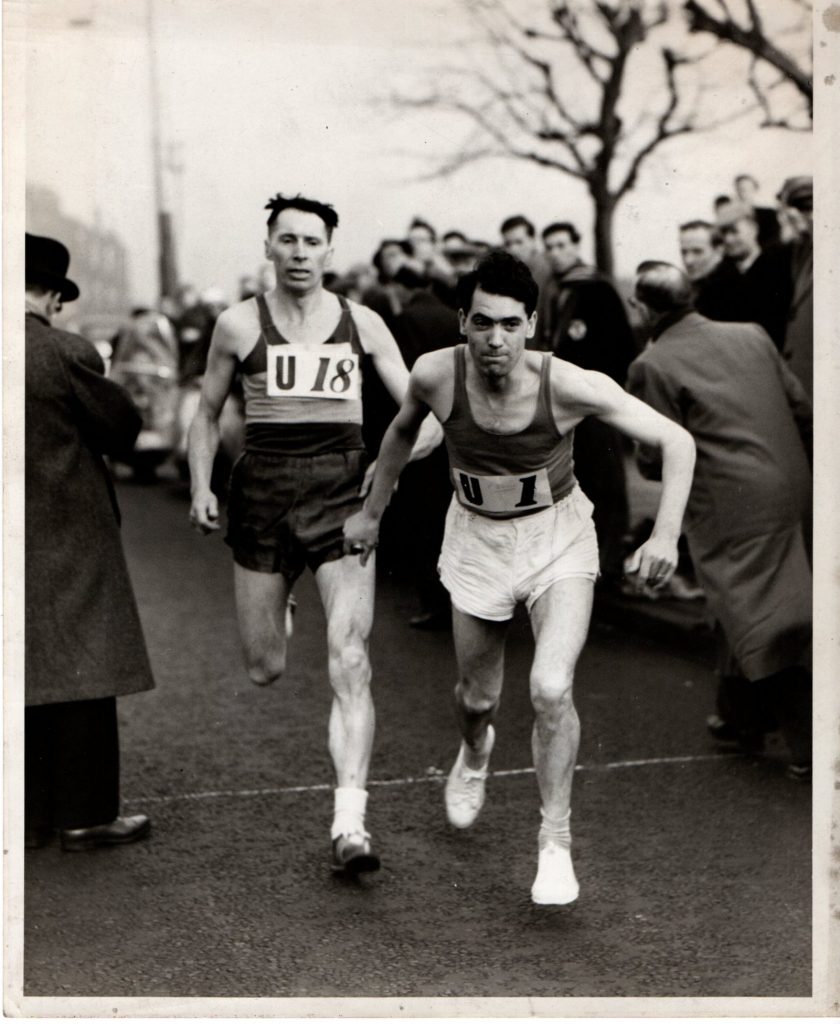 Clark Wallace to Eddie Bannon in the Edinburgh to Glasgow Relay
The outstanding crosscountry personality in this era was undoubtedly Eddie Bannon. His early promise in finishing fourth as a Junior in the Semior International in Paris was to see him develop into one of Scotland's finest-ever crosscountry runners and captain of the national team. He had a natural grace and balance that enabled him to skim over the roughest country. He would lead our fast pack in a training regime that certainly toughened everyone up, involving an informal Fartlek style with unexpected and apparently random bursts that left the rest of us trailing and, by the time we caught him up again, he was ready for another spurt. Eventually I developed an eye for the type opf terrain on which his spurts occurred (usually up hills) and I would hang on blindly until he slackened and then try to continue past him for a few more yards. In crosscountry races however it was a different story and I usually saw his back all the time, only once beating him when I finished third in the 1955 National Championship at Hamilton.
I had the edge over Eddie on the road however my marathon training sharpening me up remarkably over much shorter distances. (for example, my wins in the Nigel Barge five miles road race in 1955 and 1956, on the latter occasion setting a new record of 22 minutes 40 seconds). He was also a fine track runner. However in my one and only track race against him, the six miles at Barrachnie on 17th December, 1955, I managed to beat him in 30 minutes 31 seconds with George Govan in third place.
A comparatively rare crosscountry event was the Inter-District Championship and International Trial organised by Shettleston on 9th January, 1954. It was easily won by the |Midland team with Eddie the leading man home and myself in second place, but the going was extremely heavy with ploughs and two burns to cross and I found that my crosscountry rubber studded shoes were of little help. Allan Scally however advised me to run always in spikes even when short stretches of road had to be negotiated. This advice was to prove invaluable a month later when Shettleston Harriers finished first and second in the RAF Northern Area Championship at Dishforth in Yorkshire, despite the presence of English internationalists in the field. The conditions were so appalling (six inches of snow) that the event was about to be postponed for a second time. Meeting the organisers in the Officers Mess however, I suggested putting a bulldozer round the airfield perimeter track and holding the race over two laps. Frank Scally and I then decided to follow his Dad's advice and wear spikes in the resulting hard-packed snow and ice covered road. Though the going was extremely slippery, I won by about three hundred yards and Frank ran his best ever race to finish second, ahead of Pat Ranger, the RAF champion and English internationalist who was to finish third in the International Crosscountry Championship the following month.
In the medium length road races (13 to 15 miles) the vetrean Harry Howard and I had quite a number of victories at Highland Games all over the country during this period. Though small in stature Harry was exceedingly tough and rugged individual but, being rather prone to injury as he grew older, he believed firmly in the cuative powers of running in the sea on the Ayrshire beaches near his Kilmarnock home. A very strong starter, his finish was rather suspect however and indeed in my own very first road race victory in the Kilsyth 13 miles in the early fifties I caught him at the entrance to the track. My next victory, at Kilmarnock, was due to Harry's help as he appeared on a motor cycly advising me that the leader, the redoubtable Emmet Farrell of Maryhill, was tiring. No one could write Harry off however and in his last few seasons before emigrating to Australia he made a habit of suddenly appearing in the last races of the Highland Games circuit and shocking the somewhat jaded opposition.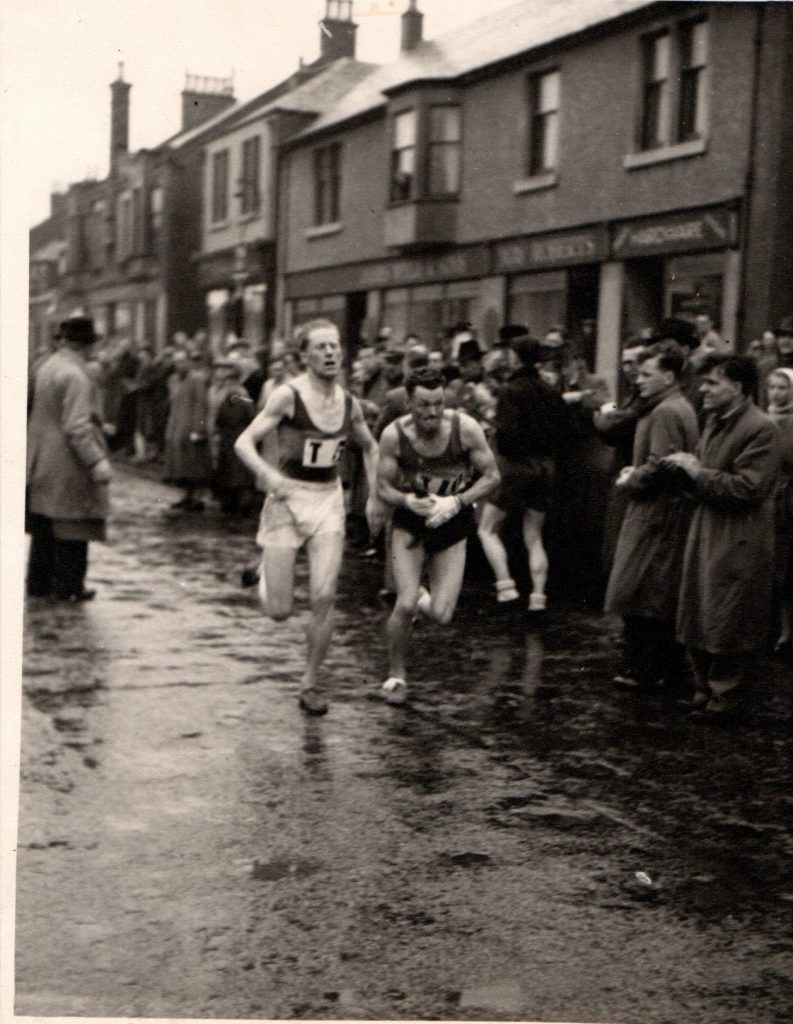 Ben Bickerton to Harry Howard in the Edinburght to Glasgow Relay
My own happiest hunting grounds over these years were at Games in the east in places like Dundee, Aberfeldy, Anstruther and Dunblane with perhaps my most memorable victory being at the Coronation Cup 15 miles at Dundee when I was booed by small boys round the Dens Park track as it was my first win over the local favourite, the then Scottish marathon champion, Charlie Robertson of Dundee Thistle. My best performances (excluding the full marathon) were at longer distances than the Highland Games afforded. For example in an attempt to gain publicity for selection for the Empire Games, I ran the 23.25 miles from North Berwick GPO to the Edinburgh GPO on 8th December, 1953, in 2 hours, 5 minutes and 19 seconds, breaking the record set in 1930 by almost 33 minutes and, in 1955, I won the Scottish Marathon Club's 20 miles championship at Cambuslang in atorrential downpour in 1 hour 45 minutes and 9 seconds.
In the ultra-long road races, the Club had a notable performer in Tommy Malone. As a boy, he approached me after I had appeared in a Sports Panel at Coatbridge Town Hall in late 1954 and I recommended him to contact Allan Scally at Shettleston Harriers at St Bridget's Youth Club, Baillieston. Thin, indeed slight in appearance, he developed rapidly, was third counting man in our winning National Crosscountry teams in 1961 and 1962, and played a vital role in our Edinburgh to Glasgow road relay successes. His greatest achievement however occurred after he emigrated to South Africa when he won the renowned Comrades Marathon, 54.25 miles over the very hilly road from Durban to Pietermaritzburg.
PART THREE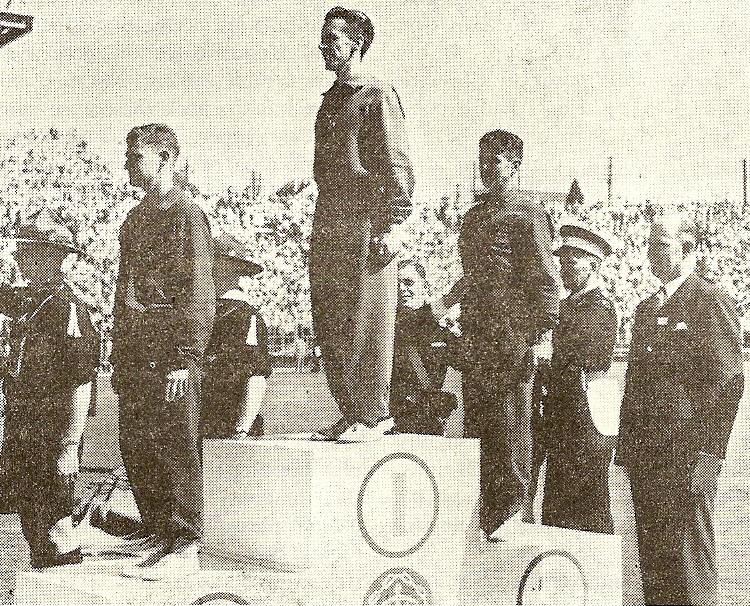 It was at the full marathon distance however that the Club recorded its greatest success, I myself winning three Scottish Marathon Championships in a row, 1954, 1955 and 1956 (a feat that was to stand for almost the next forty years) and Hugo Fox, till then a steady reliable team member, running his best ever race to win the 1958 title. The marathon performance however that is still frequently recalled nearly fifty years later is my victory in the Empire and Commonwealth Games in Vancouiver in 1954, in recognition of which the SAAA awarded me the Coronation Cup as the Scottish Athlete of the Year, Shettleston Harriers gave me a reception, a silver salver and honorary life membership, the Scottish Marathon Club made me their first honorary life member and Falkirk Town Council gave me a civic reception and presentation.
My best time for the marathon however was in 1955 when I broke my own Scottish record by almost ten minutes. My time of 2 hours, 25 minutes and 50 seconds won me the Crabbie Trophy for the Best Performance in the SAAA Championships. This same year too I won all the races to become the Scottish Marathon Club Champion. For four years running at this time (1953, 54, 55 and 56) the SAAA also awarded me the D McNab Robertson Memorial Trophy as the best Scottish runner in the world. The one race however that nearly fifty years later is regularly recalled in the media, is the Vancouver Marathon. The British Empire and Commonwealth Marathon, 1954, has been labelled one of the ten greatest races of all time. The awful collapse of England's world record holder, Jim Peters, is featured again and again. Certainly I have never known a race so packed with extraordinary incidents – from pre-race disputes about the length of the hilly course and the bizarre methods by individual runners to combat the torrid noon-day heat and sustain themselves throughout, to the 'madman' who tried to gatecrash the start.
Unfortunately many myths have grown up round this race and most of them concern my own part in it. Even an authority like Norris McWhirter wrote "Joe McGhee, an RAF officer, having fallen five times, signalled for an ambulance. While sitting in the ditch waiting for it, he heard that Peters and Cox were out of the race, so up got the bold Scot and finished the course to win." The only true items in that statement are that I was a Scot, an RAF officer and that I won the race! The truth was that Peters, the world record holder, was so hot a favourite that the reporters were concentrated in the stadium watching the 'Miracle Mile' between Landy and Bannister. At no time did I 'collapse'. Indeed, I was engaged in a very active race for what I thought was second place, pulling away from the two South Africans, Jackie Mekler and Johan Barnard over the last four miles and never knew that I was first until just outside the stadium. My first reaction at this news was one of complete panic. I risked a glance back and there was no runner in sight. Knowing that I couldn't be beaten, I never felt better in any race and finished very strongly in the sheer pandemonium in the stadium. My time (2 hours 39 minutes and 36 seconds was much slower than my own best time but considering the atrocious conditions, creditable enough and as Emmet Farrell was to write about a different race in 1958, " A championship victory is superior to a record time."
It would take far too long to detail the many incidents of the race. My race-plan however was simple. I had promised my Dad and Allan Scally the Club coach, that I would run my own race and, no matter what happened, complete the course. I was competing after all against the fastest marathon runners in the world, and despite my own Scottish record, I was not reckoned among the top competitors. Nevertheless I had still a little spark of ambition and privately determined to latch onto the leaders until I judged their pace too hot for me. I would then concentrate on finishing. I managed to stay with Peters and Cox until between eight and nine miles when Peters suddenly launched himself into a tremendous spurt up a hill. He chose the psychological moment to kill off the opposition and was indeed aiming at a new world record – which was obviously out of the question in these conditions/ The pace was clearly suicidal for me and I at once dropped back and ran completely alone at a pace a good half minute slower per mile than I was capable of. My tactics were in the final outcome to prove successful.
PART FOUR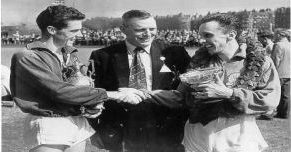 .Allan Scally with Graham Everett (left) and Joe McGhee
I cannot end without some words of appreciation for Allan Scally. To me he epitomised the essential friendliness of Shettleston Harriers. I first met Allan when he accompanied Shettleston Harriers on their annual inter-club runs with St Modan's AAC in Stirling. Then I was the only St Modan's runner able to take out Shettleston's fast pack (on one occasion nearly drowning an irate John Eadie in the Bannock Burn in spate). Later Allan was most helpful and generous with his advice when I used to meet him in his capacity as SAAA starter at Highland Games. Never once however did he try to persuade me to join Shettleston Harriers. I did so entirely on my own initiative, approaching him at Bridge of Allan Games in 1952.
He was a great professional track athlete and successful fell runner, as Scally of Broomhouse' winning the World 10 Miles Championship in 1927, 28, 29, 31 and 32. He was an even more successful and inspiring coach, moulding many young novices to championship winners. Though a professional he was the finest amateur I ever knew. He really loved the sport and unselfishly gave of the fruits of his experience to young an mature athletes alike. His work at Shettleston Harriers and St Bridget's Youth Club, Baillieston, was universally appreciated. Yet ironically because of his early achievements he was never to my knowledge invited to accompany the International Crosscountry team even when, as in Lisbon in 1959, almost half of the Scottish team were Shettleston Harriers and the other runners he knew well.
I valued Allan not only as a coach however but above all as one of my greatest friends, unassuming yet with an impish sense of fun. My Dad and I would go home with him for tea after a Saturday run to be welcomed by Lizzie his wife. I frequently visited them on a Sunday too, and even during the week after meeting him at his work in the Mason's shop below the Central Station.
Other Club members would frequently drop in especially on the Sunday and Lizzie would busy herself providing meals for us all. I was proud to be one of her 'Scallywags' as she used to call us. Allan's untimely death was a great blow to me personally, to all our club members and as evidenced by the packed funeral service to athletes all over the country.