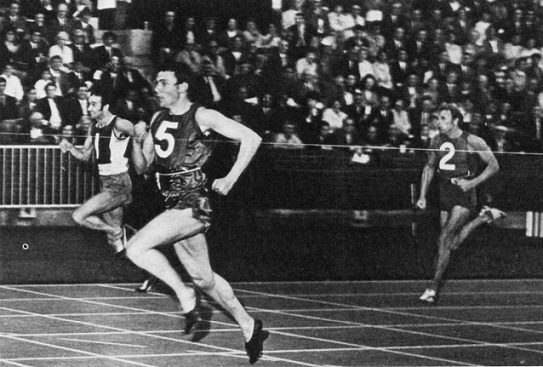 George McNeill setting world 120 yards record at Powderhall
Given the hypnotic effect that footbll has on sportsmen in Scotland, it is no secret and no surprise that many very talented sportsmen who could star as runners, cyclists, swimmers, etc choose to pursue their dreams with the round ball game. But running is a basic fitness exercis capable of infinite variation, capable of being oursued on any terrain, and suitable for almost every sport. It is also a real pleasure to do something that you like, meet other sports people and add variety to your fitness routine. The most famous football/pro athletics connection is probably Bill Struth of the Rangers – over 30 years as a runner on the pro circuit, then trainer at Clyde, Rangers and manager at Rangers for decades after that. He was never a football player though and there have been many who were players and runners.
With a fairly long close season it is also obvious that some of these sportsmen will try their hand at their 'other sport'. For athletes, such as the late John Freebairn, it was clear that they had to run as professionals on the various Games circuits – the Borders, Fife, the Highlands – and many of them performed well. Some of these men, who could have starred as athletes and possibly won international honours are noted here to illustrate this.
George McNeill was arguably the best known of all the footballers who ran as a professional sprinter in many Games meetings in this country and in Australia. He started out as a football player for Hibernian and because of this was never allowed to run subsequently as an amateur and consequently missed out on all the major Games – Olympic, European, Commonewealth – for which his talent would almost certainly have qualified him. He was however only the best of many football players who ran as pros. There is the well known story that Bill Struth put off letting Willie Waddell sign professional forms until after the Rangers Sports so that the winger could run in the club sports: unfortunately there is no record of Waddell racing as a pro thereafter. Some of these players are noted below, and considerable help given by Alastair Macfarlane, Stuart Hogg, Joe Small and Shane Fenton should be acknowledged. Attention should be drawn to some of them first of all.
George McNeill played for Hibernian, Morton and Stirling Albion. He was one of the best sprinters produced by Scotland and, had he been an amateur would have run for Britain. No doubts about that. As a sprinter, he won the New Year Sprint in 1970 off 5 1/2 yards in 11.61 seconds, was second in 1971 off scratch, set the professional world record for the 120 yards sprint, and was world professional sprint champion in 1972 after beating American Tommy Smith in three of four races. After nine attempts to win Australia's prestigious Stawell Gift race, he won it in 1981. A marvellous athlete with a great record.
David Lowe who played for Forfar FC ran in the New Year Sprint finals twice. In 1963 when Ricky Dunbar won for the first time, Lowe won his heat of the 120 yards in 11.7 seconds running from the 5 yards mark and went into the cross ties where he won again in 11.7 seconds to qualify for the Final. He finished third in the Final behind Dunbar and D Campbell from Ballingry in Fife who was off 8 1/2 yards. An excellent run. In 1985 he again qualified for the Final, winning the cross-tie in 11.65 from 5 1/2 yards but was unplaced in the Final which was won by I Dickson of Hawick in 11.63 who was running from 6 1/2 yards.
DJ Bell (Dalston) who played for Carlisle FC was a finalist at the New Year Sprint in 1967 after winning his cross-tie in 11.63 seconds from 8 1/2 yards but was unplaced in the final. He also won the summer professional 440 yards championship.
The biggest footballing names were Roy Aitken and Murdo McLeod of Celtic, and Sandy Jardine and Willie Johnstone of the Rangers. Aitken played 16 times for Scotland U21 team and 41 times for the Senior team, and McLeod played 20 times for the Scottish Senior football team and at club level played for Dumbarton (90), Celtic (281), Borussia Dortmund (103), Hibernian (78), Dumbarton (66) and Partick Thistle (1). From the other side of Glasgow, Sandy Jardine played 4 times for the Scottish U23 team and 38 times for the Senior team. He only played for two teams – Rangers (451) and Hearts (187); and Willie Johnstonplayed for the Scottish U23 team twice and for the Senior team 22 times. As a player he played all over the world, mainly for Rangers (246 in total) and West Bromwich Albion (207) but he also played for Hakoah Sydney, Vancouver Whitecaps (two spells there), Birmingham City, Heart of Midlothian and in South China.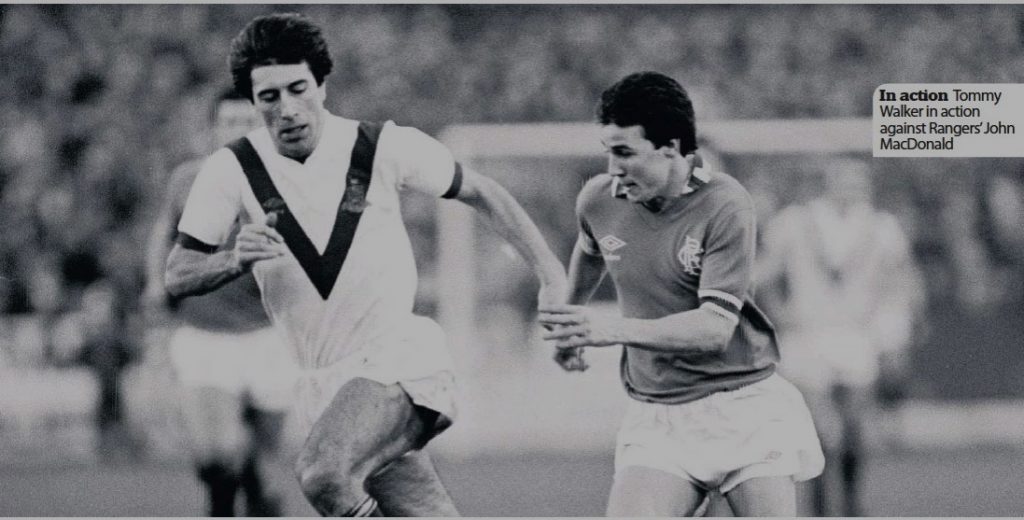 Football Players
Roy Aitken (Celtic FC – see above) won the sprint at Loch Lomond Highland Games at Balloch defeating George McNeill in the process
Bill Beaton (Aston Villa and Dunfermline)
Dabber Bell (Carlisle United FC – see above) New Year Finalist, he also won his Heat in 1968 and Pro 440 yards champion. When the New Year meeting returned to Powderhall in 1965, he won the half mile.
Alan Blair ( East Fife) Played Goalkeeper and had 124 appearances fr the club. He competed on the pro circuit in late 70s and early 80s. He won the 90 metres at Thornton Games in 1980. Reached the final of the New Year Sprint in 1981 won his heat and x tie but was out of first three in the final. He was coached by Stuart Hogg.
Graeme Armstrong (played over 100 games for Stirling Albion , Meadowbank, and Stenhousemuir among others) In July this year (2021) he won the M65 100 metres at the National Masters Championships.
John Freebairn (Partick Thistle) was a great all-round competitor who would have been an international decathlon competitor, indeed Dunky Wright had seen him as a GB athlete had he not become goalkeeper for Partick Thistle. John took part in all events at the various meetings on the pro athletics circuit but specialised in the jumping events, with victories in the sprints, hurdles and throws also to his credit.
Johnny Hunter (Motherwell) was a good enough athlete to be a member of the Bradley School who won his way through the first round of the New Year Sprint in 1961 winning his heat of the 120 yards in 12.71 off 7 1/2 yards but did not progress beyond that. He won his Heat again in 1966 in 12.31 off 7 1/2 yards by four yards, but did not progress from the cross-tie to the Final. He ran well at distances up to the quarter mile eg second at Jedburgh in 1972 off the low mark of 4 yards.
Sandy Jardine, (Rangers FC – see above), member of the team which won the European Cup Winners Cup in 1972, frequently ran at the games
Willie Johnston (Rangers FC – see above) member of the team which won the European Cup Winners Cup in 1972 was, as fitting for a man from Fife, also a frequent entrant at the games
Alan Kennedy (Liverpool)[ He competed at a few games in 1976, finished runner up in the 110 metres final at Lanark Pro Games. Famously scored the winning goals in 2 European Cup finals for Liverpool.
David Lowe (Forfar FC – see above) won the 220 yards at Powderhall. Twice a New Year sprint finalist as noted above.
Steven MacLean was a man of many clubs – Rangers, Sheffield Wednesday, Cardiff City, Plymouth Argyle, Yeovil Town, St Johnston, Hearts with loan spells at various other clubs, and played for the Scottish Under 21 team. He was a very successful striker and you can follow his football career on Wiki at https://en.wikipedia.org/wiki/Steven_MacLean_(footballer)#St_Johnstone He is currently assistant manager at St Johnstone. Born in Edinburgh, He raced and was a familiar figure at most of the Border Games meetings.
Grant Malcolm (Hibs and Raith Rovers)
Peter Marinello (Hibernian) In the Scottish Footballers 75m championship at the Meadowbank Pro Games in 1975 Marinello was second to Kenny Thomson and they both competed in several other games that year.
Willie Mathieson, (Rangers) member of the team which won the European Cup Winners Cup in 1972 ran at the games
Malcolm McDonald (Fulham, Luton Town, Newcastle United and Arsenal and Djurgarden) competed at a few Games in the mid 70s. Won the 100 metres challenge at the Gateshead Pro Games in 1976. Running from 5 metres he beat George McNeil (scr.). I n the Footballers 75m McDonald beat Alan Kennedy by half a metre. As a football player, he was capped 14 times for England scoring 8 goals.
Murdo McLeod (Celtic FC – see above)
George McNeill (Hibernians, Morton and Stirling Albion – see above) .
Jimmy Menzies (Raith Rovers)
Rutherford brothers, Harry and Willie,(East Fife) were tough competitors at distances up to the half mile. They were both coached by Andy Mitchell of Kelty who also coached Bill McLellan of East Wemyss who won the New Year Sorint in1864. Harry won the Eric Cumming 100 yards at New Year in January 1965 in 9.88 off 7 1/2 yards. and both were good runners during the summer. For instance, Willie had a win at Jedburgh in 1967:-
"During the Jedburgh Border Games in 1967, Bill Rutherford of Ballingry raced to his first big win on the sprint track when he won the Jedforest Open Handicap Sprint prize of £150 at Riverside Park. An inside forward with East Fife Football Club, Rutherford flashed through the tape 1½ yards ahead of Stuart Hogg, Kirkcaldy and Derek Anderson, Earlston. The time of 11.20 seconds put the winner in the top bracket as a sound even timer. Sitting off the 8 yards mark, Rutherford came through beautifully to breast the tape a clear winner. It was the kind of win that gives the judges little worry to ponder who really hit the tape first. Up to some 30 yards from the tape, it was the Borders hope Derek Anderson who was challenging top marker Jim Blair of Innerleithen for the lead. Blair, who was off the limit of 16 yards was in receipt of 7 yards from Anderson. Also in the final and running with great power was Stuart Hogg, Kirkcaldy, running from 3½ yards. Hogg, reported to be a training companion of Rutherford, came into the picture at the 100 yards mark. By then, Rutherford was streaking away into the lead. Every stride the runner took was pulling him nearer to his first ever win and a cheque for £150″ Willie won the sprint again in 1968, this time from Archie Affleck An inside forward with East Fife, he was oof to Australia to play football a month later.. Wikipedia takes up the story:
"Rutherford played youth football for Methil before signing with East Fife where he made 27 league appearances, scoring 11 goals. In the late 1960s he moved to Forfar Athletic where he made only five appearances before emigrating to Australia. Arriving in Australia in 1969, Rutherford joined Sydney Hakoah, where he played in several stints until the mid-1970s. He also played in Hong Kong during the Australian off-season. While playing for Hakoah, he represented the state of New South Wales three times. During his time with the club he was noted as a mercurial, unpredictable but undeniably brilliant player, rated by some as Sydney's most valuable forward.. Rutherford was a very fast runner who took up professional running with some success in the 1970s."
Ronnie Sharp (Dunfermline and Doncaster) 880 yards.
George Smith (Partick Thistle) played at outside right and won the Jedburgh sprint. The official account reads: "at the 1961 Jedburgh Border Games. He carried off the £200 and gold medal first prize in the 120 Yards Open Jedforest Sprint Handicap. Smith, an M.A. (Hons) school teacher from Whitburn, had early established himself as favourite with the fastest heat time, beating local runner Billy Moody who took second prize"
Kenny Thomson (Dunfermline – also played with Alloa, St Johnstone and Cowdenbeath) was a very good runner who also represented Scottish Schools as an International long jumper. In the Scottish Footballers 75m championship at the Meadowbank Pro Games in 1975 Kenny Thomson beat Peter Marinello Hibs, They both competed at a few other games that year.
Dave Walker (St Mirren, pictured below) was racing in the 60s and good enough to win two sprints at Jedburgh in 1962 – 27 year old David Walker, an Edinburgh accountant who thrilled the crowd with his great speed as he thrust from the back mark of 4 yards to win the £200 final of The 120 Yards Jedforest Handicap Sprint. Ten minutes later, he did it again to win the British Professional 120 Yards Championship in 11.70 seconds." In 1964 he won his Heat of the New Year Sprint from the low mark of 2 yards and finished fourth in the final behind W McLellan (7 yards), S Hogg (6 yards) and N Pentland (13 1/2). In football, he was a Scottish Cup winner as a goalkeeper with St Mirren in 1959.
J Urquhart (Hearts) won invitation sprint at Jedburgh.
Tommy Walker: (Airdrie, Stirling Albion) Played nearly 300 games for Airdrie in the '70s/'80s, also played for a couple of other clubs. Tommy was a middle and long distance runner, who competed on the road and over the country too. After he retired he ran to a decent standard for Calderglen Harriers, representing them in the Edinburgh to Glasgow relay in the mid '80s. He was probably the only person to have done that and played in a Scottish Cup final. (Celtic v Airdrie 1975.) He competed in the Long Jump in the Civil Service Championships and also ran a 2:32 marathon. It seems a bit of an anomaly although he may have had clearance when he retired from the round ball game – a professional football player running in amateur events at that time, including the vets championships. Read a bit more about him in this article
https://www.pressreader.com/uk/airdrie-coatbridge-advertiser/20200826/282106344020352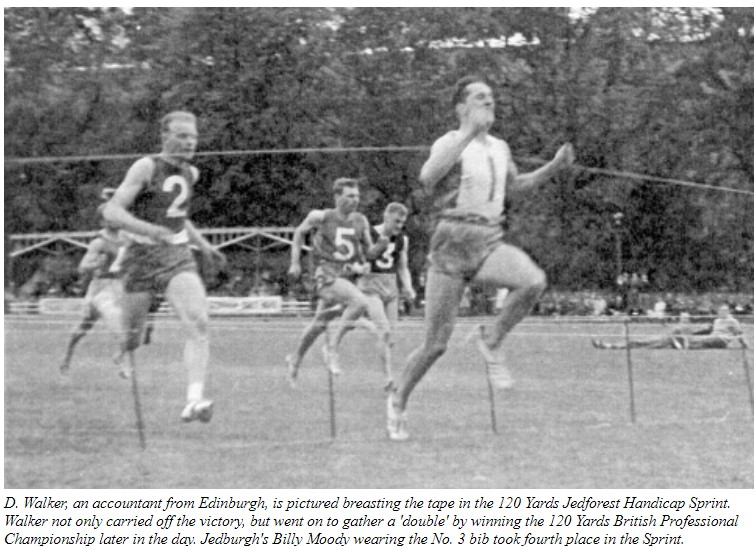 Noted: Kenny Ashwood: only ran as a junior boy back in the Monkland Harriers days, but good enough to finish second to Nat Muir in the Midland District cross country championships, then seventh in the National Cross Country. He then went off to concentrate on football, playing for a number of teams including Airdrie, Falkirk, Dumbarton, Ayr Utd., Queen of the South, East Stirling.
Picture from Jedburgh Border Games website