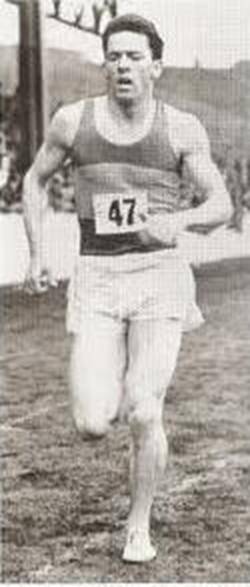 The picture above is of Graham Everett of Shettleston Harriers and Scotland winning the AAA's Mile Championship in 1958 with Murray Halberg of New Zealand in second place at London's White City. It is one of Scottish athletics best known pictures – and rightly so. Graham won the Scottish mile championship no fewer than eight times in all, seven of them consecutively. He set Scottish records at the Mile and Two Miles. He won the Scottish Senior Cross Country Championship in 1960 after an epic battle with Alastair Wood of Aberdeen who was running for Shettleston at the time and represented Scotland in four world cross country championships. The statistics are summarised in the following tables. First, his victories in the SAAA Mile Championship.
| | | | |
| --- | --- | --- | --- |
| Year | Winning Time | Scottish Records | Other |
| 1955 | 4:13.2 | | |
| 1956 | 4:16.1 | Mile: 4:07.5 | *Won Crabbie Cup; won Coronation Cup |
| 1957 | 4:12.8 | Mile: 4:06.6 | |
| 1958 | 4::07.0 | | Won AAA's Championship; won Crabbie Cup |
| 1959 | 4:11.3 | 2 Miles: 8:50.4 | |
| 1960 | 4:03.9 | Mile: 4:03.9 | |
| 1961 | 4:13.2 | 2 Miles: 8:48.6 | |
| 1963 | 4:13.4 | | |
*The Crabbie Cup has been presented since 1944 to the athlete whose performance in the Senior Championships is considered by the General Committee to be the most meritorious. The Coronation Cup is awarded annually to the athlete considered by the General Committee to be the outstanding Scottish athlete of the year. In 1956 Everett shared both trophies with JV Paterson.
As a track athlete Graham Everett wanted to break the four minute mile. The mile was his event and although he was good enough as an 880 yards runner to compete in the 1958 Commonwealth Games his range on the track was narrow stretching from 880 to 2 miles. Born in Glasgow on 20th January 1934 appeared suddenly and dramatically on the scene in 1955 – you will look in vain for him in the Boys, Youths and Junior title winners: his only championships were at Senior level. There were two serious contenders from south of the border to be first Scot under four minutes: Alan Gordon and Mike Berisford. Everett was top dog in Scotland with seven consecutive Mile titles to his name; just missing out in 1962 he regained his crown in 1963. In Mile races north of the border he was seldom seriously challenged. Having won the SAAA title in 1955, he raced against Stanislaw Jungwirth of Czecholsovakia at the Glasgow Police Sports at Ibrox before crowd estimated at 30,000. Jungwirth won in 4:04.5 with Everett setting a new record of 4:07.5. There was a note in the 'Scots Athlete' of June 1956 which read
GRAHAM EVERETT AND THE CZECHS
22 years old Graham Everett lowered the Scottish native record (4:11.2, AD Breckenridge) to 4:07.6 (actual time 4:07.5) when finishing third to the famous Czech S. Jungwirth and England's Ian Boyd whose times were 4:4.5 and 4:4.9 respectively, in a great mile race at Glasgow Police Sports on 9th June. In a most kindly and sporting gesture, greatly appreciated by the Shettleston miler, the Czech athletes and officials presented him with a beautiful plaque. With the plaque was the greeting:- "With best wishes for future success in the future with your running at 1 mile and 1500 metres"
Two weeks later the SAAA Championships were held at New Meadowbank and James L Logan reported in the 'Scots Athlete': "In the much-publicised mile the less fancied men must have been surprised to find themselves in the company of the giants at an advanced stage of the race. With a very fast 'half' to his credit earlier this season, JR Cameron might have been expected to make a very strong challenge but Everett commanded affairs immediately the break was made at the second last bend and, indeed, it was WH Watson who came on in determined fashion to take second place. Happy days when we can sniff at the time of 4:16.1?" 1956 was of course also an Olympic year and John Emmet Farrell in the 'Scots Athlete' pointed out just how unfortunate Graham was in missing selection in a paragraph in the October 1956 issue of the 'Scots Athlete' when he pointed out that In the 1500m the selection is Ken Wood, Brian Hewson and IH Boyd. When we find that in the AAA Mile Boyd and Everett were third and fourth respectively with respective times of 4:9.6 and 4:10.0 respectively, it is clearly seen how near our mile champion was to Olympic honours."
A year later at the same meeting, Derek Ibbotson was timed at 3:58.4 which was a British record and a best for a European. Berisford was second in 4:06.0 with Everett third in 4:06.6. In accordance with the rules in force, Berisford's time was not recognised as a Scottish record because he was not born in Scotland and Everett's time was recorded as the Scottish record. A month later, Alan Gordon ran 4:03.4 behind Ibbotson's world record breaking 3:57.2. This was the fastest ever by a Scot but when they met in the Emsley Carr Mile at the White City in August, Everett was second in a personal best of 4:06.0 to Gordon's 4:06.8. Came the AAA's Mile Championship three weeks later and, the race being won by Brian Hewson in 4:06.7, Everett and Berisford were both timed at 4:07.5. Over the period 1956 – 61, Everett had a better record in the AAA's than Berisford: a first, a third, two fourths and a fifth to Berisford's of a second, a third, two sixths and an eighth but there was not much between them. Derek Ibbotson came up to Glasgow quite frequently and Hugh Barrow (pb 4:01.0) remembers doing rep sessions with Graham and Ibbo at Westerlands track. He reckons that Graham could and should have been the first Scot under four minutes – quite an admission from one who to many others should have had that honour. Hugh remembers Graham as a fierce competitor and typical of that generation of Scottish endurance athletes. At one point, Hugh remembers, he organised a string of betting shops and I remember an article in the 'Daily Record' with a picture of Graham in a bowler hat under the headline of 'The Bookies' Runner'. The shop is now known as Interscot and Graham has no connection. Hugh also tells me that when working in Glasgow Graham used to do reps up Great George Street, just off Byres Road..
In January 1957 James L Logan had a three page article about Graham and his progress in the 'Scots Athlete' he began by saying that not since the days of Alan Paterson has Scotland had such an exciting international prospect as Graham Everett. Given that Logan was a member of Victoria Park AAC who had runners such as Ian Binnie gracing their squad, this was praise indeed. There is a link to the article at the foot of this page but for now, it might be informative to look at the training that Everett was doing at this point. His training is described thus:
Winter: September – November 1955.
Monday: Afternoon – 5 miles cross-country with 100 – 300 yard bursts. Evening – 5 – 6 miles road work with bursts. Tuesday: Afternoon: Same as Monday. Wednesday: Afternoon – 6 – 7 miles cross country with fast spells; Evening – Rest (Cinema or Theatre). Thursday: Afternoon, Evening: Same as Monday. Friday: Afternoon, if no race, on Saturday, 5 miles cross country. Saturday: If no race, cross-country and road, usually anything between 8 – 10 miles. Sunday: 12 miles road and country.
November 1955 – April 1956
Similar to above but track was used on Tuesday and Thursday evenings.
Summer: April – September 1956
Monday: Afternoon – 5 miles running on grass with about 6 – 8 200 yard strides. Evening: 2 miles warm-up, 10 x 440 yards at 60 seconds. Tuesday: Afternoon, Evening, same as Monday.
Wednesday: Afternoon – 5 miles running on grass with fast spells. Thursday: Afternoon -, same as Monday. Evening – 2 miles warm-up 3 x half mile at 2 minutes, 6 x 100 yards sprints. Friday; Rest; Saturday: Race
Sunday: 12 x 200 yards at three quarters speed.
The entire article is well worth looking at but for now, nine sessions a week, rep sessions of 3 x 880 in 2 minutes and 10 x 440 in 60 are very like modern day sessions – eg Steve Cram says that his favourite session was 10 x 400 in 60 with a minute rest!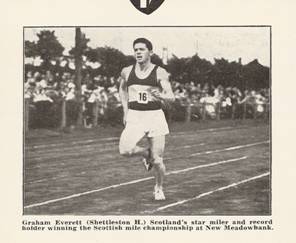 1958 was the big year: Empire and Commonwealth Games year with the event being held in Cardiff. Always looking for races, Everett travelled to England a lot and his first real races of the season resulted in victories at the Sward Trophy Meeting (there were many of these Trophy Meetings in England at the time with competition usually of a high standard), the Northern British Games (4:06.3) and the SAAA Championships (4:07.0) in a championship best. His really big moment came on the 12th of July at the White City Stadium in London where he won the AAA's mile from Murray Halberg. There were Heats on the Friday night and Halberg was the fastest qualifier with 4:06.7 although Everett, Berisford and Gordon all qualified easily. The final on the Saturday suited Graham Everett to a T. Laps of 62.6, 65.7 and 62.6 again set up a fast last lap. Everett took the lead on the back straight and was never caught winning by a full seven or eight yards from Murray Halberg. His last lap took just 55.0 seconds. Berisford was third and Gordon fifth. All three were selected for the Empire Games but things did not go well for Graham. He had also been selected for the 880 yards where he was in the third Heat. Unfortunately he was spiked and finished third in 1:55.0. This may well have had an effect on the Mile where he just failed to qualify for the Final when he was fourth in the first Heat in 4:10.0. This, plus a poor run in the Emsley Carr mile a fortnight later probably cost him a place in the GB team for the European Games. In a late season race at the White City when four runners were under the four minutes, Everett set a personal best of 4:03.5. A month earlier Berisford had set the identical time in a GB v the Commonwealth match. After a quiet 1959 when did set a Scottish Two Miles record, he had what many consider to be his best year – 1960.
1960 was the year in which he really had a go at cracking the four minutes and at qualifying for the Rome Olympics. In the SAAA Championships in July he front-ran a personal best of 4:02.8 which was fractionally outside the Olympic qualifying of 4:02.5! At the British Games in August he he did a personal best of 3:45.7 for the 1500 metres – and at the same meeting Berisford ran in the mile 4:03.3 in the Emsley Carr Mile. By the end of the season Graham had not achieved either of the targets but had only just missed out. He kept competing for another four years at a fairly high level but his best times had all been set by the end of 1960.
*
No mention has yet been made of his cross country or road racing ability but with his ability he shone on all surfaces. A lot of his career can be shown in some amazing statistics. If we look at his record in cross country championships we get this list:
Club: Junior Champion 1955; Senior Champion 1956, 1957, 1958, 1959, 1960 (at a time when Shettleston was a very strong cross country club)
County: 1956, 1957, 1960, 1961
District: 1955: 14th; 1956: 14th; 1957: 3rd; 1958: 2nd; 1959: 1st , 1960: 1st, 1961: 1st; 1962: 4th.
National: 1955: 4th (Junior); 1958 2nd (Senior); 1959: 4th; 1960: 1st; 1961: 2nd; 1963: 29th; 1964: 10th.
In addition there were four appearances in the International Championships – in 1959 when he finished 31st; 1960 22nd, 1961 18th and 1962 71st.
Then there were all the team golds, silver and bronze that he helped his club to win – six golds in the County Relays plus two golds, two silvers and a bronze in the District relays plus two golds from the McAndrew Relay which was a major competition at that time. With its many highlights it would be difficult to do justice to his career in detail. Instead we can look at his victory in the National Cross Country race in 1960 which many insist is the best cross country race they ever saw. In 1958 he was second to Andy Brown (Motherwell YMCA) winning his first senior championship. A year later and he was fourth with Alastair Wood in first place and then in 1960 he won everything including county and district championships before the National. In the Districts at Renton, he won by over a hundred yards from Joe Connolly (Bellahouston Harriers) and Andy Brown. Then came the National. I quote from Colin Shields' "Whatever the Weather": "Shettleston miler Graham Everett won the National Senior title, defeating the holder Alastair Wood. Everett set a fast pace from the start with only Wood being able to stay with him, and at half distance, with the pair well clear of the pursuing field, Wood took up the running. Everett then displayed his track speed, which he had carefully honed in the weeks before the race with victories in the 1000 yards (2:18.2) and 3000 metres (8:49.0) at Shettleston's winter track meeting and drew away to win easily by 30 yards from Wood with Andrew Brown finishing a distant third 500 yards behind." Maybe winning by 30 yards after such a race looked easy to Colin but the reality is that it was a hard man-against-man race all the way with neither tough-minded individual prepared to yield easily. I'm only sorry that it was run after the 'Scots Athlete' had the chance to report on it!
The 1950's and early 60's was a time when the standard of road running in the country was at one of its highest peaks ever. Shettleston with Everett, McGhee and company were almost on a par with the VPAAC team with Binnie, McLaren, Calderwood while Bellahouston (Connolly, Dickson, Fenion) were not far away either. Never ever being slower than fourth on a stage (and that was the very difficult second stage is a very creditable record..
| | | | | | |
| --- | --- | --- | --- | --- | --- |
| Year | Stage | Time | Place on Stage | Took Over | Handed Over |
| 1955 | 7 | 29:31 | 2nd | 1st | 1st |
| 1956 | 6 | 34:25 | 2nd | 3rd | 3rd |
| 1958 | 7 | – | – | 2nd | 2nd |
| 1960 | 5 | 26:38 | Fastest | 1st | 1st |
| 1961 | 6 | 33:39 | 3rd | 1st | 1st |
| 1963 | 2 | 31:02 | 4th | 5th | 4th |
For more fascinating detail of his running in this relay, look at the Edinburgh – Glasgow page on this website and see the story of all the races run at this time. The picture below is of Graham winning the National in 1960 and taken from Colin Shields' book – click on it for a bigger version.
Graham's running career was short – he appeared as a Junior in 1955 and had run his last race before 1965 but he was still putting back into the sport fully 50 years later. A qualified Senior Coach, later Level 4, he started coaching his daughter Andrea who was herself a Scottish International Middle and Long Distance runner, and went on to coach many, many more athletes. It was common to see him on winter evenings at the trackside at Crown Point in Glasgow's East End coaching athletes despite suffering from arthritis. He also assisted with Scottish squads and was a regular for a while at Senior and Development Squad days. He was a great athlete at a time when the standard was high.
After the above profile was written, I spoke to Graham about his career and I'll just put the conversation into a Question and Answer format which is maybe more rigid than the conversation was but which has all the salient features.
What did you get from running? "Enjoyment, a lot of enjoyment. And there was the discipline that had to be followed if you were to succeed. Discipline is always important"
What do you consider was your best race? "The 1960 Cross Country Championship: it was the biggest effort and the most elation ever. Every time we went off the racecourse into the woods we really battered it and in the last lap when we went up into the big button hook together and off the top I just sprinted and opened up a gap. I heard Alastair kind of squeal and I just kept going to the finish." (For those who never ran at Hamilton Racecourse, it consisted of a long straight between typical white fences with a wee loop at one end and a huge loop (the 'buttonhook') at the other. The stand was in the middle of the straight. the heavy going was downhill from the stand to the buttonhook when it climbed and climbed up and round the top before it dropped again and the you had to climb back up to the finish of the lap. For a number of years the trail left the racecourse just coming out of the wee loop and went down towards the Clyde which is where they 'battered it'!) "The following year I had two abscesses two weeks before the race. They were removed but I was just knackered before the race but finished second."
And your worst? " An invitation Mile at the White City where I led into the straight. Herb Elliott and Merv Lincoln and others like that were running. I was about fourth or fifth in the World at that time. In front with 100 yards to go and the last 50 yards were terrible."
Who was your toughest opponent? "Alastair Wood was very tough on the country. Ian Binnie was also very hard."
What was the biggest disappointment? "The 1956 Olympic trials were at the White City in London and I was sure to qualify from the Heat, I knew the others and was confident. Then when I was warming up and just keeping warm, I heard a gun go off. It was my Heat."
Why did you stop running when you did? "Achilles tendons. Both of them. They had been giving him a lot of trouble and he had seen all the top doctors and surgeons and they had all told him there was nothing there. I came off the golf course and told them that I couldn't walk after the ninth hole! I spoke to Jimmy Graham, an orthopaedic surgeon at the Glasgow Western Infirmary. Jimmy suggested I get my GP to refer me on to him but the GP was reluctant to do so. But when I insisted, he did so and the result was a correct diagnosis: I had a bony heel spur that was actually growing in to the Achilles. On both legs. " (The correct diagnosis meant that something could be done to correct it but it was the end of Graham's running career.)
His daughter Andrea is living in America and still running and still winning races as a Masters athlete. Jimmy Graham was also the Scottish Rugby Union team doctor: now retired, he keeps himself fit at the Esporta Sports Centre in Bearsden. Graham died in Glasgow Royal Infirmary on 20th January, 2017.