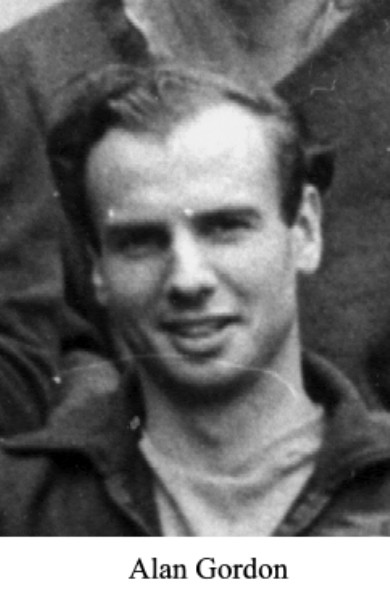 Alan Duncan Gordon has been described by Doug Gillon as  'the Scot whose athletic feats were once airbrushed from history' was born on 21st September, 1932 in Bolsover, Derbyshire and was one of the country's best ever milers.   He appeared in the Scottish ranking lists every year from 195 to 1962.  Alan was one of the runners in Bannister's first ever 4 minute mile in 1954, in 1955 he was sixth in Britain at 1500m (3:48.6) and 11th in the Mile (4:07.9), and in 1956 he ran 3:46.when he finished third in a floodit meeting crossing the line with Chris Chataway, and 4:06.2 for the Mile when setting a new record for the Oxford v Cambridge meeting.   These two performances would be recognised as Scottish records today but at that time, they were not recognised since they were run outside Scotland.   (A report on Helen Cherry's 'record' run at the White City in 1962 going unrecognised said that for record ratification purposes, England was a foreign country.)    In 1959 he appeared in the lists for 1500m, Mile and Two Miles where he was ranked first, first and fourth with times of 3:47.8, 4:06 and 8:52.2.   In 1960 he was third in the Mile rankings with 4:06.4 and in 1961 he was third in the 1500m with 3:53.7 and in fourth in the Mile with 4:12.4.   Finally he was 25th in the Mile in 1962 with 4:21.0.   These figures do not tell even half of the Alan Gordon story – he had been at the top of British miling since the early 1950's and took part in several of the most important races in the history of the sport: for instance when he took part in Derek Ibbotson's world mile record setting race, he had taken part in more sub-four minute miles than anyone else on the planet but never broken the time himself. Along with Graham Everett and Mike Berisford he was one of the favourites to be the first Scot to beat 4 minutes for the mile.
He is perhaps best known for taking part in Roger Bannister's first ever sub-4 mile.    The story of how Bannister was paced first by Brasher and then by Chataway before taking the race on himself with 220 to go and breaking the tape in 3:59.4.   The surge of the crowd forward after the first three were through is also familiar to us all.   Fourth was Alan Gordon, running for Oxford, then an American, George Dole and then Brasher in sixth.   There were several variations of the story of the finish and officially the times of the last three were not taken.   Brasher even said that neither Gordon nor Dole had finished but that was put right.  Doug Gillon's excellent article in the box below  tells the real story.   It is an often told tale and there is a good description in Bruce McAvaney's Melbourne speech which can be found at www.grcc.net.au/documents/interviews/Bruce_McAvaney_04.pdf , while Dole's account of the race from a participants point of view is at http://www.telegraph.co.uk/sport/othersports/athletics/2378077/My-part-in-Bannisters-mile.html
Gordon's next big race was at the Whitsun Bank Holiday Games at White City in May 1955, where he paced Laszlo Tabori, one of the group of Hungarians coached by Mihaly Igloi who were taking the world of middle distance running by storm at the time, to a sub-4 clocking.   After Gordon took the field through in 59.9 and 2:00.8, Brian Hewson went into the lead at the bell, reached in 3:02.0.   Tabori won in 3:59.0, Chataway and Hewson were both timed at 3:59.8 and it was the first time that three men ran under four minutes for the distance in the same race in Britain.  Less than a year after Bannister's mile, it was no longer the fastest in Britain.   There is video which shows this race with excellent shots of Gordon in action at  http://www.youtube.com/watch?v=5UytFl3NtTU           The Glasgow Herald report read: "Three runners, a Hungarian and two Britons, ran the mile in less than four minutes on Saturday at the British Games at the White City, London and so emulated J Landy (Australia) and RG Bannister (Britain) the only men who had performed this feat.   L Tabori, the Hungarian returned 3:59.0 and both CJ Chataway and BR Hewson, second and third respectively, were timed at 3:59.8.   … It was a race that  right from the gun promised a fast time, though the White City track was heavy after the deluge of Friday night.   AD Gordon (Oxford University) led the way at a spanking pace for the first two laps with Hewson, Chataway and Tabori behind him in that order.   The first lap was covered in 60 seconds.   After the second lap, reached in 2:00.8, Hewson took over the pace making task with Chataway on his heels and Tabori a strongly running third.   When the time at the bell was announced as 3:03.2 few among the large crowd felt that a four minute mile was possible but 220 yards from home Tabori made his first breath-taking challenge.   Amid vast excitement the red-vested Hungarian and his two white-vested British rivals sprinted at a killing pace down the back straight.   Then Tabori gave ground and it seemed that the home runners had won the day.   Coming round the last bend Chataway forced himself in front of Hewson for the first time, and then, to the amazement of everyone, Tabori running wide into the home straight, swept past his spent rivals and won by about four yards."
 In 1956 Gordon ran at the Rangers Sports at Ibrox for the AAA team and won the Mile.   The Glasgow Herald commented: "The 1500m was to have been the outstanding event of the programme, which attracted fully 25,000 spectators, but only three of the seven selected runners appeared.   Notable absentees were R Delany (Ireland) and G Everett, the Scottish mile champion and record holder, who after an x-ray examination at a Glasgow hospital was told to rest an injured foot for at least a fortnight.   The race was therefore contested by three Englishmen and in the finishing straight AD Gordon produced a finish that P Driver could not resist."   The "Englishman's" time was 3:52.5.   Gordon raced in Budapest as part of a small British team on 18th August and finished eighth in the 1500m in 3:48.8 in a race won by I Roszavolgyi in 3:44.2.   His best for the season however was an excellent 3:46.4 at the White City Floodlit meeting for fourth place in the same time as Chris Chataway who was placed third.
On Friday, 19 July 1957, at the White City Ibbotson set a new British record of 3:57.2 for the mile in a race in which the first four runners were all under four minutes.  The Glasgow Herald report read:    "A mile record seemed in sight from the start of the race last night in which M Blagrve (London) set a fast pace.   The time for the first lap was 55.3 and for the half-mile 1:55.8.   On the back straight during the third lap Jungwirth, who had been lying second, moved into the lead and was followed by Ibbotson, Lewandowski, Delany and Gordon.   With three-quarters of a mile in 3 minutes, the pace had dropped slightly during the third quarter.   On the last lap Ibbotson decided to make his strike 300 yards from home.   Jungwirth closed up to him and Delany came from the middle of the field to challenge Ibbotson.   But they did not have any real hope of catching him and the race was all but over 20 yards from the finish.   Ibbotson said after the race that he had asked Blagrove to run a fast half-mile and his plan worked perfectly.   If the third lap had not been so slow he might have won the race in 3:55."   The result was after Ibbotson's 3:57.2, Delany 3:58.8, Jungwirth 3:59.1, Ken Wood 3:59.3, Lewandowski (Poland)  4:0.6 and Alan Gordon 4:03.4 which was to be his career best.  The only unfortunate incident of the day was when one of the officials refused to sign the authentication certificate for the record on the grounds that Ibbotson had been paced.   He was however over-ruled!  The following month, on the first Saturday in August he ran in the Mile in the Rangers Sports at Ibrox where he was second to Ken Wood – a race which did not meet with the approval of the athletics savvy Glasgow spectators!   The Glasgow Herald reports:   "K Wood (Sheffield) was the main attraction in the Mile, and he was subjected to slow handclapping for what was considered a slow quarter and half-mile.   Yet he finished in 4:03.9 – the second fastest time recorded for the distance in Scotland.   Wood gained a 15 yard lead at the 300 yard mark and was well inside 57 seconds for the last quarter."   Wood  defeated Gordon again on 5th August at the White City in London, in the Emsley Carr Mile where he was third behind Wood (4:02.0) and Graham Everett (4:06.0) in 4:06.8.   Came the 17th August and Gordon was running in the Edinburgh Highland Games where he was behind Wood yet again: first Wood 4:09.4, second AD Gordon, third MA Berisford.     He finished off the season with a 3:45.4 for 1500 in his debut GB v Poland 4:10.77
In the AAA Championships on 12th July. 1958, the Herald report read: "It gave tremendous satisfaction to the Scottish contingent to see three Scots in the first five to finish in the mile – GE Everett (Shettleston) first in 4:06.4, M Berisford (Sale) third in 4:08.2 and AD Gordon (Achilles) fifth on 4:08.3.   Over the first quarter run in 62.6 GW Goddard (Melton Mowbrey) was closely followed by Gordon with Everett lying third, and Berisford last of the nine starters.   Goddard retained his position at the end of the second lap with M Halberg (New Zealand) in second place and Everett still holding third place.   In the back straight of the final lap Everett moved smoothly into the lead followed by Halberg who has been credited with a mile in 4:01.   Enthusiasm ran high when Everett accelerated down the home straight and won by close on seven yards from the New Zealander and Berisford, coming from the rear with a tremendous burst, finished third. "   In the results places from third were Berisford in 4:08.0, Goddard 4:08.2, Gordon 4:08.3, Morrison (Dartmouth) 4:08.3.   Gordon had qualified for the final by running 4:07.4 in his Heat.   Selected for the Empire Games in Cardiff, he ran below par to be fourth in his Heat in 4:10.7 and failed to qualify for the final.   He had a very good run in the Emsley Carr mile on 2nd August at White City in the race won by Murray Halberg in 4:06.5 from Merv Lincoln (Australia) also in 4:06.5 and Derek Ibbotson in 4:07.7.   Gordon was fourth in 4:09.1 with Graham Everett fifth in 4:14.   There were also times of 5:13.2 for 2000 metres and 8:48.4 for Two Miles that year.
Topping the Scottish rankings in 1959 with 4:06.0 run at the White City on 16th May in a race at the British Games where Everett and Gordon were seventh and eighth. The race was won by Valentin from East Germany in 4:00.8.   The first British finisher was Ibbotson in sixth.   Two days later at the same meeting he ran in the Two Miles where he was recorded at 8:52.2 when finishing eighth and was reported by the Herald as never being within sight of victory.  The time was good enough nevertheless to rank him fourth Scot for the year behind Alastair Wood (8:46.4), Bruce Tulloh (8:50.0) and Graham Everett (8:50.3).    Earlier in the season he had run at the AAA Championships on 11th July where the three Scots in the Mile final were Everett (fourth), Berisford (Sixth) and Gordon (seventh) in a race which started very slowly.    The season ended for Gordon with two races in September: on 3rd September at White City in a Mile won by Herb Elliott in 3:55.4, and then on the eighth in a 1500m he was timed at 3:47.8 to be on of only two Scots ranked that year for the distance, the other being Graham Everett who was one second slower.
There is not much trace of Gordon in summer 1960 – he did not appear in either Scottish or English AAA's championships, nor in the Whitsun meeting nor was he marked as a contender for an Olympic place – although he did record 4:06.4 .for the mile .   He surfaced again in 1961 with a 4:12.5 at Wimbledon on 9th May which ranked him fourth Scot at the end of the year behind Berisford (4:01.4), Everett (4:05.1) and Hugh Barrow (Victoria Park- 4:10.9).    He also ran a 3:53.7 1500m which ranked him third.  The old order was indeed giving way to the new and in the AAA's championships the two Scots Berisford and Everett finished seventh and eighth.   Alan Gordon's only ranking in 1962 was for the mile where he was down in 25th with a time of 4:21.    It had been a vey good career at the top of British athletics with several very fine races.    It was rather galling that the behaviour of the crowd at the end of the Mile in 1954 spoiled the finish for the remaining three runners – no times were taken officially apparently for the fourth, fifth and sixth finishers in an Oxford v AAA's meeting.   Gordon's comments below in the interview with Doug Gillon are revealing.
Alan Duncan Gordon's Scottish records have been recognised, and his role in the most famous race in history is at last secure.  On Thursday he will will be one of the privileged group to join Sir Roger Bannister at a private dinner in Oxford to mark the 50th anniversary of arguably the most iconic sporting moment of the twentieth century, the breaking of the four-minute barrier for the mile. It ranked with the first ascent of Everest in pushing back perceived limits of human endeavour, yet Bannister merely opened the floodgates.  His record lasted just 46 days, and at the 40th anniversary 964 athletes from 60 countries had broken it 4756 times, according to statistician Stan Greenberg.  Now the number is heading for double that. The race is steeped in myth, misinformation, and mystery. And the record possibly should not even have been ratified. Even the world governing body's official history carried incorrect data until corrected some years ago by The Herald. This has led to the 72-year-old Gordon (below), then a little-known Scottish undergraduate in the field on the Iffley Road cinders, being retrospectively credited with the Scottish record for both the mile and 1500 metres. It was reported, not least by pacemaker Chris Brasher who later became a journalist and founder of the London Marathon, that he had finished fourth, and that Gordon had not finished at all. The reverse is more likely. The undisputed facts always were that Bannister had won in 3:59.4, Chris Chataway followed in 4:07.2, with Bill Hulatt third in 4:16. "Chris Brasher not timed, GF Dole (USA), and Alan Gordon did not finish," read the official International Amateur Athletics Federation account which was amended after we spoke with historian Richard Hymans. Even Bannister's newly-updated edition of The First Four Minutes still fails to mention the names of half of the six-strong field that day. Brasher, subsequently Olympic steeplechase champion, paced the first two laps in 1.58.2. He later wrote that Dole and Gordon had failed to finish, prevented by the crowd. "This is a myth. Complete nonsense," said Gordon. "Brasher, who was spent after his pace-making, actually finished last, and I was fourth, just behind Hulatt. The American, Dole, also finished. In fact, my time, 4:18, was the fastest I'd ever run. I had not broken 4:20 before." The IAAF account still does not give Gordon's time, nor Brasher's. "Brasher did well with his pace-making, but just jogged after surrendering the lead, and everyone else overtook him, though that is not how he portrayed it. "I had a very acrimonious correspondence with the Observer newspaper over Brasher's reports. Chataway and I both took him to task over his account of the race, and he admitted he got it wrong. I was surprised that a fellow Achilles man would do this to a chap, and have made such an error. "Eventually I got a hand-written, but unsigned note. It demanded to know why I had gone for him." Some years ago I discovered a contemporary 1954 report quoting Hulatt, detailing his battle up the straight with Gordon. I quoted it to Brasher before his death, and asked whether all six men had completed the race, a crucial question. He said: "I should think they probably did, but it was bedlam when the race finished." So it was, but had Brasher failed to finish, Bannister's record should have been nullified. Brasher admitted to me that he could not move on the track at the end. Did he cross the line? Who knows. "I've got a very good memory," says Gordon. "We were 100 yards behind Roger, and my last view of Brasher that night was of him fighting his way through the crowd, towards the finish. When his articles came out, I wondered what the hell he was playing at." Pace-making was frowned on. Bannister had run the third fastest mile ever, 4:02, in 1953. Brasher had jogged then for two laps, while Bannister completed nearly three, paced by Australian Olympian Don MacMillan. Brasher then took off, to avoid being lapped, shouting encouragement over his shoulder at Bannister. What would otherwise have been a UK record was never ratified. The British Amateur Athletics Board believed the method employed was not, "in the best interests of athletics". Gordon now lives with his wife Liz, who is from Pencaitland, near Edinburgh, in an old house, set in three acres with a swimming pool, on the banks of the Rhone, near Aix les Bains in eastern France. "I ran most days until a few years ago, when my knees gave out. Now I use a couple of poles if I'm walking, but I prefer the bike." Gordon founded a market research company in Geneva in 1970. He rarely returns to the UK. "My father and grandfather were Aberdeen graduates. My father was a doctor and my grandfather was a dominie, teaching classics in Turriff. I've still got a nephew in Scotland, Richard Gordon. He's managing director of the Scotch Malt Whisky Society." Gordon was unfortunate not to break the four-minute barrier. His best 1000m time of 2:22.1 suggests a sub-four mile should have been a formality. "Yes, I should have done it," he said. "Graham Everett [eight-times Scottish mile champion from 1955-63] took me through three laps in 3:00 in the AAA match v Oxford. I just wasn't in form, and felt I'd let him down. I should also have beaten it at the Empire Games in Cardiff (1958), but made a mess of it. I'd to take unpaid leave for that. My company asked me when I was going to stop this running nonsense, and settle down. "I was doing a full day's work, and then taking the Tube to the White City. I remember falling asleep in the changing room before one international. "I'm totally cynical. I watch the sport now and wonder who is not on drugs. " The last time the world best for the mile was broken in Britain was by Derek Ibbotson, in 1957 (3:57.2) at the White City. Gordon finished sixth in 4:03.4. This surpassed the Scottish record of the day. Because it was recorded in the official IAAF history, Scottish statisticians retrospectively ratified it after The Herald brought it to their notice. His 1500m best of 3:45.4 (for Britain in Warsaw) has also now been recognised as a Scottish record. At one time Gordon had competed in more sub four-minute miles than any other athlete. He was also one of the first members of the International Athletes Club which revolted against officials. "They took money as journalists while we didn't get a centime. After that, the shoe company, adidas, gave us two pairs of spikes a year, but my training was always just 40 minutes, in my lunchtime."
Support for his comments about the differing standards of support mentioned above is found in "3:59.4: The Quest For The Four-Minute Mile" by Bob Phillips on page 185 where he says: "Hewson was an elegant stylist who had run a 4:05 mile the previous year…. his everyday title was 22829748 Bombardier Hewson BS as he had extended his National Service in the army to three years.   For those who suffered the mixed blessing of two years' enforced duty in uniform, this might have seemed like a peculiarly masochistic decision for Hewson to have made.   In the circumstances though it was hardly surprising, considering that he was based at Woolwich where the supportive commanding officer allowed him to live at home, less than half an hour's car drive away.   Such patronage of outstanding sportsmen in the armed service and in business was not unusual in the 1950's and is often overlooked when the amenities in Britain are unfavourably compared to those in the USA and Europe.   Hewson's lifestyle, with every opportunity for training and competition, could have been little different to that of Iharos and his fellow-Hungarians."
No further comment is required.