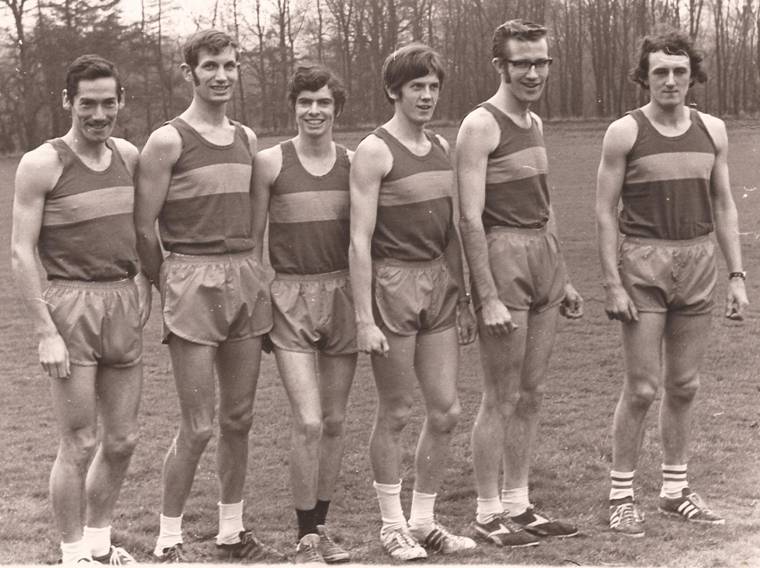 Norman, fourth left with the Shettleston team in 1971
Norman Morrison won the Scottish Junior Championship in 1969 after having been fifth the year before and his last competitive year in Scotland was 1974 and that relatively short span is possibly one of the reasons that his achievements are not remembered as they should be.   He ran in every Edinburgh to Glasgow from 1966 to 1974, nine in all, which is more than many lauded for their achievements.   Let's take a quick look at some of the statistics before starting on the profile itself.   First of all I have taken his performances on the Shettleston Harriers all-time list (as in the official club history – there may be other times to be inserted but it does provide a list of his best performances) and then some of his competitive highlights.
| | | | | |
| --- | --- | --- | --- | --- |
| Event | Time | Date | Venue | Position |
| 800m | 1:51.9 | 13/06/71 | Grangemouth | 5th |
| 880y | 1:55.6 | 19/07/67 | Croydon | 5th |
| 1000m | 2:24.3 | 19/06/71 | Belfast | 1st |
| 1500m | 3:44.5 | 13/05/70 | Motspur Park | 4th |
| Mile | 3:58.7 | 31/05/71 | Leicester | 1st |
| 3000m | 8:04.6 | 29/04/73 | Kirkby | 5th |
| 5000m | 13:47.02 | 18/08/73 | Moscow | 4th |
| 10000m | 28:48.99 | 16/03/73 | Moscow | 6th |
Competition Highlights
Junior National:   1968 5th, 1969 1st
Senior National:   1970  5th, 1971  9th, 1972  18th, 1973  4th
English Junior National:   1968   5th
English Senior National 1971  32nd, 1972  40th
ICCU Junior Championships:   1967  13th, 1968   13th
ICCU Senior Championships:   1970   46th,   1971   25th
IAAF World Cross Country Championships:   1973   13th
IAAF Cross-Country Championships:   1973   13th
Winner of European Clubs Cross-Country Championship in 1972/73
Second in World Student Games 10000m in 1973
Three winning appearances for British teams: in Leipzig, Rouen and London
SAAA Junior Championships:   1967   1 Mile   4:17.7
1970 Commonwealth Games:   1500m   3:47.3
1974 Commonwealth Games:   5000m   14:40.62
14th on all-time rankings for Mile and 10000m and 16th for the 5000m.
These are the headlines and there were many other excellent runs that were possibly even better.   He also qualified for the "Nae Luck" award in 1972 when he broke the record for the McAndrew Relay only to find that Jim Brown broke it by even more later, he broke the record for the Allan Scally Relay trail in November, only to find that Jim Brown broke it by more later in the race, and in the Edinburgh to Glasgow the same year he took seven seconds from the second stage record on the day when Ian Stewart, running for Aberdeen comprehensively dismantled the old figures.  He must have held more records for a shorter time than anybody in the world at that point!   Note too the three thirteenth place finishes in the Junior and Senior world championships.   Given his subsequent career it is clear that the number had no significance for him.
Norman was kind enough to answer the questionnaire and the responses are as follows:
Name:   Norman Morrison
Clubs:   Shettleston Harriers, Croydon Harriers
Date of Birth:   13/3/1949
Occupation:   Teacher
Personal Bests:   400m:   49.9 ( relay),   800:   1:50;   1 Mile   3:58.7;   5000m:   13:40;   10,000m:   28:40
How did you get involved in the sport:   Started doing cross country with Shettleston Harriers
Has any individual or group had a marked effect on either your attitude to the sport or to individual performances?   Alex Naylor, Gordon Pirie.
What exactly did you get out of the sport?   I enjoyed competing and travelling to new places.
Can you describe your general attitude to the sport?   Looking back I may have been a bit amateurish and had lots of injuries which always set ones training back.
What do you consider to be your best ever performance/performances?   Possibly second in the world student games 10000m, although losing by 0.089 of a second still gives me the ocasional nightmare.   Won lots of races with a fast finish but not necessarily in fast times.
What ambitions did you have that remain unfulfilled?   None, may not have been too good at setting goals.   Did not achieve the 5000m and 10000m times I believe I was capable of.   Ran around 13:40 and 28:40 lots of times, and looking back I probably did not push myself hard enough in training, and I missed the influence of a good coach as a senior.
What did you do apart from running to relax?   Spent time with family and friends.
What did running bring you that you would have wanted not to miss?   Travel all over the world.
Athletics highlights:   Representing English Schools in Canada for their centenary;   Representing Scotland in the Commonwealth Games and first in three races running for the UK.   Cross-Country highlights:   Shettleston winning the English Cross-Country Championships and nearly the European title.   Second in San Sebastian, thirteenth in the World Cross-Country Championships three times.
Born on 13th March, 1949, Norman first appeared in the Scottish ranking lists as a Youth (Under 17) in 1965 when he was fourth in the 880 yards in 2:00.5.   According to the official Shettleston Harriers history, in a report on the Land'o Burns Meeting in Ayr,"the most impressive performance of the day was that of 17 year old Norman Morrison whose spirited finish in the Mile almost caught Hugh Barrow of Victoria Park, the former Scottish Junior Half Mile Champion."   In 1966 as a Junior when he was at University in England,  he ranked second in the Mile behind Birchfield's Peter Stewart (and ahead of Ian Stewart) with 4:14.4 for the Mile.  Simon Pearson in "Scottish Athletics, 1967" commented on the 'very fine performance at Ayr by Norman Morrison who was only a month too old for the youths age group.'   The top Youth that year was James Cook of Garscube Harriers with 4:27.7.   He hadn't come from nowhere though.   When asked about his school athletics he said, I lived on the Isle of Arran until I was 16 when my parents moved back to Glasgow.   But not being clever enough to to go to Bute Academy I went to a Boarding School in London, actually Royal Russell School in Croydon, from age nine to sixteen and then on to London University.   While there I ran in the World Student Games where I was second by 0.9 seconds.   While down there I ran for Croydon Harriers and one of my mates was Don Fairclough who went on to win a bronze medal in the 1970 Commonwealth Games.   I also ran for Croydon Schools, Surrey Schools and England Schools winning a few Mile titles.   Two interesting stories from that time.   I represented English Schools in a quad event, English, Welsh, Irish and Scottish Schools,  at Scotstoun (in those days we ran on cinder tracks).   There were three Scots running in the 1500m or Mile.   Running for Wales and finishing second was Alec MacNab who also emigrated to New Zealand and has been a stalwart of athletics here.   He is currently President of Athletics New Zealand.   Then in 1967 for the Canadian Centenary, the Canadians invited an athletics team from Britain and France to compete in three meetings in three cities in three weeks.   It was the English Schools team that went!!!   (I bet the Scots didn't even know about it.)   Fabulous trip and even went to the Expo in Montreal.  
In season 1966 – 67 he ran his first Edinburgh to Glasgow Relay.   Running on the third stage he pulled Shettleston up from eighth to sixth with the third fastest time of the day although the club eventually finished seventh.   He started the new year with seventh in the National cross-country championships at Hamilton, and by the end of the summer, he ranked eighth at 440 yards (51.7), third at 880 yards (1:55.6) and third at the Mile with 4:09.2.   In the course of that summer, he won the SAAA title with 4:17.2 for the Mile.   For this, he shared the FJ Glegg Memorial Trophy which is awarded annually to "the competitor who is adjudged by the General Committee to have accomplished the best performance or performances in the Scottish Junior Championships"with sprinter IW Turnbull.   Simon Pearson remarked in "Scottish Athletics, 1968, "The fast-improving Norman Morrison, along with Anglo Scot Ian Stewart consistently produced times unattainable by many seniors this side of the Border."   Indeed the times quoted above ranked him 22nd senior for the 880y and 12th for the Mile.
Progress continued and in the Edinburgh to Glasgow in November 1967, Norman was third on the first stage in a team which won silver medals behind a quite outstanding Edinburgh University squad and in February 1968 Norman was fifth in the National Cross Country Championship.   This qualified him for selection for his second ICCU Cross-Country International where he finished thirteenth.   The 880 yards in Scotland was of a very high stadard with runners such as Mike McLean, Graeme Grant, Dick Hodelet, Duncan Middleton, Hugh Barrow, Craig Douglas and others all of international standard so it was no small feat for Norman as a first year senior to be eighth ranked (under the banner of London University/Shett H) with 1:53.1 set when winning at Motspur Park in May.   In the Mile he was ranked number five ahead of such as Lachie Stewart, Adrian Weatherhead, Gareth Bryan-Jones and others but behind John McGrow (an Anglo from Longwood), Hugh Barrow, Peter Stewart and Ian McCafferty with his time of 4:04.4 set at Motspur Park at the end of June, again he won the race.   In the Two Miles he was even higher – fourth – with 8:53.2 finishing ninth at White City at the very start of June.   Norman was also ranked in the Three Miles at number twenty four 14:17.1 run when finishing second, again at Motspur Park, this time very early in the season – in April.
Into 1969 and Norman won the junior National cross-country championship after a race-long battle with Alan Beaney of Springburn Harriers, eventually winning by four seconds.   And this was where his results really started to take off.   All Scots eyes in 1969 were on the Commonwealth Games to take place in 1970 and competition in all events was very tight.   Norman was ranked at number twenty five with a time of 1:55.4 set when winning at Lund in Sweden but was not ranked at either 1500m or the Mile.   He was however twelfth in the 300m with 8:21.4 when winning in April at Motspur Park.   He also appeared in the 5000m – twelfth with a time of 14:15.8 set in September when finishing third in Helsingborg in Sweden.
In the Edinburgh to Glasgow in season 1969 – 70, he moved the club up from seventh to sixth on the difficult but prestigious second stage and had the satisfaction of seeing the team finish second.   In the National in February 1970, he finished fifth in a quite outstanding field – have a look at the names of the first fourteen – Alder, Wedlock, Blamire, Mullett, Morrison, Weatherhead, J Wight, Stoddart, Bradley, Logue, McKean, Macgregor, Jones and Fergus Murray!  In his history of the SCCU, Colin Shields says of this period, "In the early Seventies, Scottish distance runners were amongst the best in Britain and Europe, and the Union received many invitations for teams to compete in international cross-country races throughout Europe.   These races allowed our top runners to test themselves against the best runners in Europe and prepare properly for the National and International cross-country events.   The glamour that was once the exclusive property of the track and field stars in the summer, and the resulting trips to compete in foreign countries encouraged the best distance runners to take cross-country running seriously throughout the winter.   Running for Scotland at that time were such Olympic and Commonwealth Games internationals as Lachie Stewart, Ian McCafferty, Jim Alder, Fergus Murray, Dick Wedlock, Don Macgregor and Gareth Bryan-Jones with other fine runners such as Alistair Blamire, Norman Morrison, Bill Mullett, Eddie Knox and Adrian Weatherhead all strong enough to gain selection for Scottish teams competing on the continent."    After his run in the National Norman was selected for the International, to be held at Vichy that year.   Colin reports on the trip as follows: "Public transport strikes disrupted the Scots team travel to the international, necessitating three separate flights and two bus journeys in a tiring journey to France which did much to cause the disappointing Scottish performances in the actual race.   Ian McCafferty did not finish, leaving Lachie Stewart to be the first Scot home in twelfth place – well ahead of Bill Mullett 25, Jim Alder 31 with Adrian Weatherhead 42, Dick Wedlock 45 and Norman Morrison 46 finishing in a bunch to close in the scoring six and give Scotland a total of 201 points for fifth position out of thirteen competing countries."  
Summer 1970 was of course dominated by the Commonwealth Games in Edinburgh where the Scottish team covered itself in glory, notably in the 5000m and 10000m events.   Norman was chosen to run in the 1500m and was in Heat Two of three.   His time of 3:47.3, one place behind Ben Jipcho of Kenya, was only good enough for sixth place and, with four to qualify for the final, he was out of the Games.   For the record, the first five were 1.   Quax (NZ) 3:44.2;   2.   Kirkbride (England)   3:44.9;  3.   Smart (Canada)   3:45.5;   4.   Thomas (Wales)   3:45.6;   5.   Jipcho (Kenya)   3:45.6;   6.   Morrison   3:47.3.
The 1970 – 71 cross country season was described as a triumph for Shettleston Harriers by Colin Shields and Norman played a full part in their successes. They started by winning the McAndrew Relay at Scotstoun with a team of Morrison (13:40), Stewart (13:45), Scally (14:03) and Wedlock (14:02).   In the Laarkshire Relay at Bellshill, the selectors mixed up the teams a bit but the first team of Summerhill, Graham, Morrison and Wedlock won.   In the second running of the Allan Scally relay, the team of Stewart, Wedlock, Morrison and Scally beat Edinburgh Southern by 23 seconds although Lachie's time of 22:40 was eleven seconds slower than that of Southern's Gareth Bryan-Jones.   Morrison, Wedlock, Patterson and Stewart won the Midland Relay Championship and it was on to the Edinburgh to Glasgow.   Continuing the season's pattern,  Shettleston won and Norman was on the fourth stage where he had second fastest time – only one second behind Gareth Bryan-Jones.    On 2nd January 1971 Shettleston won the team race at the Nigel Barge race in Maryhill with Dick Wedlock second, Norman tenth and Tommy Grubb fourteenth.   1971 however was also the year when  Monkland Harriers' Jim Brown, as a first year Junior, surprised all the seniors in the country and he won the Midland District cross-country championship described by Colin Shields as follows:    "The precocious Brown startled his Senior rivals when winning the Midland District title at Stirling University.   While older, heavier rivals sank in the thick, clinging mud, the lightweight Brown skimmed over the surface to win by 60 yards from Norman Morrison who led Shettleston (5 in the first 11 home) to the team title."       In the National in 1971, held in Bellahouston Park, Norman had slipped back to ninth, not at all a bad run, and Shettleston won here as well.   With the team that they had, and after all the successes of the season, Shettleston sent a team down to the English National Championships to be held at Norwich.   After a long journey down and cramped and uncomfortable sleeping accommodation (camp-beds!) the team positions were Alastair Blamire 11th, Lachie Stewart 19th, Dick Wedlock 24th, Norman Morrison 32nd, Henry Summerhill 65th and Tommy Grubb 131st.   Ronnie Morrison is quoted in the club history as saying more than thirty years later, "It took some time for the result to be accurately announced due to the fact that we were unfamiliar with the disc system employed to count the team scores.   Tipton Harriers were announced as the winners with 287 points but after checking I knew I was holding a team packet with a total of 282 points.   There was some disbelief when I eventually located the scores and after detailed scrutiny of the names, the were declared legal by SCCU official Ewan Murray."    The history goes on "The most prestigious trophy, of what had been a momentous season was presented by the mayor of Norwich, after which the team bus headed north for a night of celebration.   "With victories in every senior event we entered, " said Ronnie Morrison, "season 1970 – 71 can be described as a year of gold."   After the National of course, Norman was selected for the International. There was again an unpleasant journey to Spain and then a stomach bug attacked various team members and a team which had looked really good on paper was suddenly rather fragile.  Colin Shields reports "Rain, Hailstones and gales spoiled the international championships at San Sebastian and heavy sticky mud slowed the runners throughout the race.   Commonwealth 5000m gold medallist Ian Stewart, in his first appearance for Scotland, finished ninth  to lead the Scottish team to seventh position in the team contest.   Stewart was followed home by Dick Wedlock 24th and Norman Morrison 25th with Scottish champion Jim Alder, who had been the most consistent Scot throughout the winter finishing 38th, ahead of Alastair Blamire 58th and a despondent Lachie Stewart 60th."
In summer 1971 in the 800m, Norman was seventh with his best of 1:51.9 when finishing fourth at Grangemouth on 13th June.   In the seldom run 1000m, he was second to Graeme Grant with 2:24.3 run in Belfast on 19th June.   In the 1500m/Mile his best time was 3:41.1y when placing fourth at Leicester in May had him third ranked behind Peter Stewart and Adrian Weatherhead.   He also ran  times of 3:44.5y at Meadowbank in June, 3:46.3y at Belfast in May when he was second and 3:47.7y in the Heats at Leicester in May.   The outstanding run of course for the year was his 3:58.7 for the Mile on 31st May when a record breaking number of Scots (three) were led under the four-minute barrier by Peter Stewart, the other being Adrian Weatherhead in 3:58.5.   He was sixth in the 3000m/2 Miles with 8:07.4 set at Helenvale in June when finishing second to Lachie Stewart.   Norman was also eighth in the 5000m recording 14:08.2 at Lisburn in Northern Ireland in June.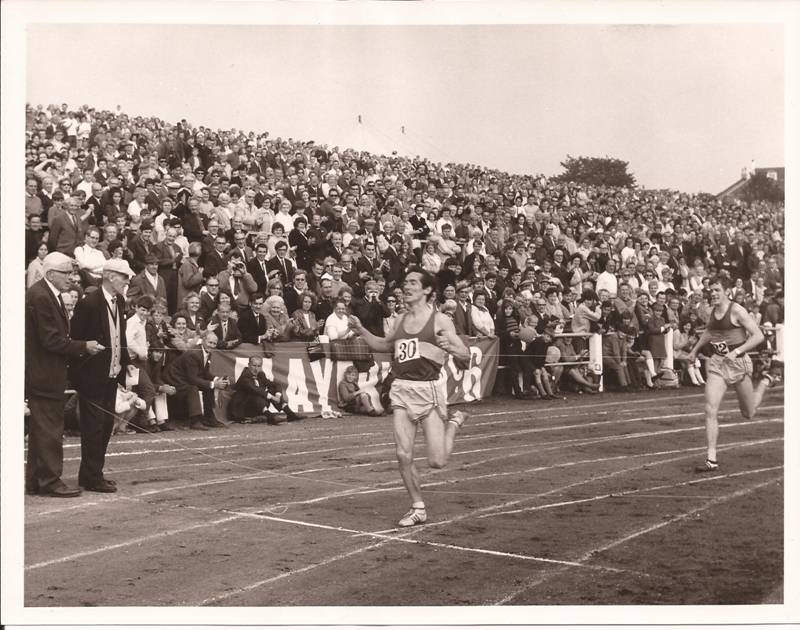 Finishing second to Lachie Stewart at Cowal in August 1971
In the 1971 Edinburgh to Glasgow, Norman ran on the fifth stage where he recorded the third fastest time on the stage in the winning Shettleston team. In an interesting race, Shettleston were trailing Victoria Park on the third stage when Colin Youngson went off the course and the lead passed to Shettleston who increased it as the race went on.  On 16th January, 1972 the Shettleston team, as British Cross-Country Champions, travelled to Arlon for the European clubs championship.   Norman was affected by a 'flu bug and was last club counter in in 26th place behind Wedlock (2nd), Stewart (6th), Bannon (11th) and Summerhill (23rd and the team finished second to Liege.    In the National in 1972, Norman Morrison finished eighteenth in the Shettleston team that won with 99 points to Edinburgh Southern Harriers' 190.
In October 1972 Shettleston Harriers won the McAndrew Relay for the third year in succession and it was reported by Alan Dunbar as follows under the heading "Shettleston's Hat-Trick in Road Race":   Shettleston Harriers had a convincing victory in the McAndrew Relay Race at Scotstoun to record their hat-trick in this event.   Shettleston opened well when four minute miler Norman Morrison knocked a second off Lachie Stewart's seven year old record to give his club a good lead.   A Brilliant run by young Jim Brown brought Monkland Harriers up from thirteenth to second place just 20 yards behind Shettleston.   Brown shattered the course record, taking 17 seconds off Morrison's time."  The remainder of the report recorded Shettleston's comfortable victory but this was not to be the last time that Norman held a course record for hours, or less, that month!    In the Allan Scally Relays in November, Tommy Patterson was fifth on the first stage before Norman set off on the second.   Ron Marshall reports this time: "Norman Morrison quickly put the holders into their accustomed position long before lap two ended.   He also had the satisfaction of beating the course record of 22:09 by three seconds, although Brown was about to yank that time down drastically to 21:52 – 14 seconds faster than Morrison."     Jim Brown was really on fire at this period but Norman was also really flying although Jim's performances put his running into the shade a bit.   Came the Edinburgh to Glasgow and Marshall's report of stage two read:   "The second leg was dramatic in more ways than one.   Norman Morrison took up Shettleston's case so courageously that he forged his was from sixteenth to fifth in what in other circumstances would have been a memorable time, 27:54.   The old record had been 28:32.   Ahead of him however even greater deeds were being done.   Ian Stewart, the Olympic bronze medallist, running for Aberdeen AAC probably had not noticed the race number allotted to him – A1.   By the time he strode dourly up to the changeover point in Broxburn his performance had certainly warranted it for he had outdated the course record by a scathing 78 seconds."   Stewart's run has been described as one of the greatest, if not the greatest, in the entire history of the race, so there was no disgrace finishing behin him but to break the record for a road trail for the third time in the season and get no credit in the books must have been a bit galling.
Scotland had three teams in the 'Findus' International and club race at Parliament Hill in London and they were all good.   The A team had Lachie Stewart, Norman Morrison and Jim Brown, the B Team had Andy McKean, Dick Wedlock and Alastair Blamire and the C Team had Lawrie Spence, Pat Maclagan and Paul Bannon.    What a line-up!   Once the teams were declared, there could be no switching between them and this probably cost Scotland A the race.   Lachie Stewart was fourth, Norman Morrison was tenth and Jim Brown had a day he would want to forget, finishing twenty fifth.   Andy McKean in the B Team was seventh and  Scotland was only beaten by Kenya by four points.    The complete result was:
Kenya;   2.   Scotland;   3.   Tunisia;   4.   England A;   ;   5.   England B;   6.   Belgium;   7.   England C;   8.   Scotland B;   9.   Ireland;   10.   Wales;   11.   Scotland C.   In addition, since Shettleston were allowed to use their runners in the international teams as club counters, they won the club race by a massive 102 points!
The following week and "Norman Morrison (Shettleston) careered away from a field of 56 in the East Kilbride AAC Open Cross-Country Event over six miles to beat Hugh Barrow by no less than 86 seconds or the equivalent of 500 yards."
Norman started 1973 in some style by winning the classic Nigel Barge Road Race.   Colin Shields in his history of the SCCU, "Whatever the Weather", said, "Norman Morrison of Shettleston Harriers, a 1500metres/mile track runner who, like Ian Stewart and Ian McCafferty, used the winter season principally as preparation for his summer track season, had his best ever year.   He won the Nigel Barge Road Race in the record time of 21:51 followed home at regular five second intervals by Paul Bannon, Douglas Gunstone and Dick Wedlock.   He followed this success by becoming the first Scot to win the European clubs championships at Arlon with Lachie Stewart finishing third.   Shettleston showed their great strength when again finishing second just two points behind the holders, Liege AC  and 20 points ahead of English champions Tipton Harriers."   Ron Marshall's account pointed out that one of the Liege runners who contributed to the victory was running without a club vest and had the rules been applied properly, then Shettleston would have won, but the refused to protest.   He had this to say of Norman,    "Norman Morrison, running over 100 miles per week this winter, continued his build-up to the big events of the cross-country season by winning the individual honour. "   The National was held over a snow covered course at Coatbridge and Jim Logan, writing in 'Athletics Weekly' described Norman as 'the pre-race favourite' and his team mate as 'the ever-gritty Lachie Stewart'.   Andy McKean and Adrian Weatherhead (both Edinburgh AC) threw a couple of spanners in the works when they finished one and two with Lachie third and Norman, who at one point slipped back to eighth, fourth.    The international that year was the first organised by the IAAF and was held at Waregem Racecourse outside Ghent with 20 countries taking part.  Colin Shields reported on Norman's part in the team effort which saw the Scots finish eighth thus: "Norman Morrison, despite losing a shoe early in the race, pluckily ran on in the Senior race to finish thirteenth – first Scot and third Briton home."   Two points of interest here were that it was Lachie Stewart's tenth and final race in teh world cross country championship and the whole week end was made for the Scots by Jim Brown winning the Junior race, giving him a set of gold, silver and bronze from his three years in the age group.   The 'Athletics Weekly' review of the cross-country season had Norman in twelfth place (second Scot behind Andy McKean in eleventh) citing the following performances: 10th in the Findus International, 10th in the Inter-Area, 1st in the European clubs championship, 2nd at San Sebastian, 4th Scottish and 13th in the International.
His best race in the summer of 1973 was when he won the Burmah-Castrol two miles race in the British Games at Meadowbank in 8:44.6 with Chris Stewart (Bournemouth) second in 8:44.8 and Allan Rushmer of Tipton Harriers third in 8:50.0.   On to the winter of 1973 – 74 and he had an outstanding run on lap four of the Allan Scally relay where he took over fifty yards behind Albert Smith of Victoria Park ad 250 yards up on Donald Macgregor of Edinburgh Southern Harriers.   He won by approximately 200 yards from ESH with Victoria Park AAC third.   Having been selected for the Commonwealth Games in Christchurch in January, Norman competed in the Nigel Barge race at Maryhill where he had set the record the year before.   There was to be no repeat: Ron MacDonald of Monklands won in a new record followed by Lachie Stewart, Jim Brown and Norman finished a good close-up fourth.    In the Games themselves, he was competing up a distance or two from the 1500m that he had contested in Edinburgh in 1986.  In the 10000m at the start of the Games he was third Scot behind Ian Stewart and Lachie Stewart and eleventh finisher in 30:25.8.   In the 5000m he was ninth in his Heat in 14:40.64.      Norman set two personal bests later in the year when running in the World Student Games in Moscow where he was clocked at 13:47.02 for the 5000m but he surprised many when he took second (beaten by a stride length) in the 10000m where he was replacing world record holder David Bedford of England.   Norman was racing the distance for only the second time in his life but nevertheless recorded 28:40.99 – only 0.2 seconds behind the winner, Dane Korica of Yugoslavia.   This probably encouraged the Scottish selectors to select him for the event in Christchurch the following year.
January 1974 was Christchurch Commonwealth Games time and Norman was again in action.   he had been selected for the 5000m and the 10000m.   The latter was the first of the track finals and his team mates were Ian Stewart and Lachie Stewart and all the Scots were disappointed with their time.   Ian Stewart was sixth in 28:17.2, Lachie Stewart (probably suffering the after effects of being flag-nearer for the Scottish team – not a practice that would be followed today with the two events so close together) a was tenth in 29:22.2 and Norman was fifteenth in 30:25.8.   The 10000m/5000m double is really an impossible burden to lay on the shoulders of any athlete (particularly after doing the same double in Moscow less than five months earlier and Norman had a poor run in the 5000m with 14:40.62 in his Heat of the event.   Even iron-man Ian Stewart, after qualifying for the final could only manage fifth in 13:40.32 against his best of 13:22.85 which, truth to be told, would have placed him third behind Brendan Foster in second and Ben Jipcho in first..
It was in November 1974 that Ron Marshall disclosed to the world at large that Norman was leaving Scotland to settle in New Zealand.   His report on the Glasgow University Road Race  was headlined "SCOTS ATHLETICS TO LOSE MORRISON"and read: "Norman Morrison arrived at the Westerlands Pavilion in Glasgow on Saturday for Glasgow University's Open Road Race.   Like the diligent person he is he was carrying the trophy he won last year all polished up for presentation to the new winner.   Precisely 25 minutes 21 seconds after the field of about 200 launched itself into the driving wind and rain, Morrison sailed over the finishing line at Westerlands nearly half a minute ahead of his nearest challenger, Colin Martin of Dumbarton AAC.   It was one of the season's easiest victories and the trophy returns to the Morrison Mantelpiece, not for a year but, as I learned on Saturday, for a couple of months.   On January 20th Morrison , a 25 year old school teacher and one of our few four minute milers, leaves for Auckland, New Zealand to take up a new teaching post, a move that no doubt puts more money in his pocket and sunshine on his face, but one that leaves Scottish athletics and cross-country poorer for his absence.
On the track he has represented Scotland in the last two Commonwealth Games, in the 1500m and 1000.   Like so many competitors from Britain he was greatly impressed with what he saw in the Christchurch Games, of the people and the country itself.   Auckland, the base of Gordon Pirie the former world record holder, has an even better climate.   Morrison's other track achievement of merit was taking second place in the World Student Games in Moscow last year.   In cross-country, Morrison ran in the International championships in 1970, 1971 and 1973, on the last occasion winning the Walter Lawn Memorial Trophy awarded to the leading Scot in the race.  
Saturday's five mile circuit round the districts of Temple and Kelvindale bore no relation to any of these headier locations, but it did offer to us one of the few remaining chances to watch the style that has made him so easy to distinguish in packed fields, a sort of flowing lean forward, high heel kick behind, his face showing no sign of any strain.   After only a few hundred yards he broke clear and never looked anything like a winner.   David McMeekin tried hard to book the runner-up position but he confessed that the wind and inclines near the end, finished him, pushing him down to sixth place."
On 23rd November Norman gave another display of fine running when he led at the end of the first stage of the first ever Scottish National Four Man Relay Championship only to see the team finish fourth.   On 7th December he was tenth in the International cross-country fixture at Stirling University and a member of the winning team.   At New Year he was part of a Scottish team which went to Madrid – and won – just before contesting the Nigel Barge with Jim Dingwall and finishing only one second down.  And then off to New Zealand for good just two weeks later.
I asked Norman about his athletics in New Zealand after he emigrated.   "I ran a bit of athletics and cross-country enjoying road relays.   I had the pleasure of running with legends like John Davies, Dick Quax, Bill Baillie, Barry Magee, Arthur Lydiard, Gordon Pirie and even young Anne Audain and Allison Roe who both went on to great things.   But a bad knee stopped me doing big mileage and I took up golf instead and more recently bowls.   I have two children who were both involved in sport and are now raising their own families (two grandchildren).  
I have always remembered the trips I had with Shettleston Harriers and Alex Naylor so I have tried to do similar trips with young runners here, first at my school and more recently at National Level.   I taught Mathematics in several Auckland schools and got involved in coaching my school teams and later with administration.   I am currently the Treasurer of the NZSSAA, an organisation that runs Schools Athletics and Cross-Country in New Zealand and have taken teams from New Zealand to the World Schools Cross-Country Championships.   The most recent was to Malta in March 2012.   I have wondered why Scotland doesn't send a team?  
I have word that he is very friendly with that other Scot, Mike Ryan.   Mike was a member of Manurewa Harriers when Norman joined after leaving Tokoroa more than 25 years ago.   He taught in Mt Albert College where Mike's daughter also taught and they met quite frequently at cross-country events.   Mike's sister and her husband were at Norman's house-warming as he  and Norman are members of the same bowling club at Takapuna.   It's a small world, and good that the Scots are, as usual, sticking together!