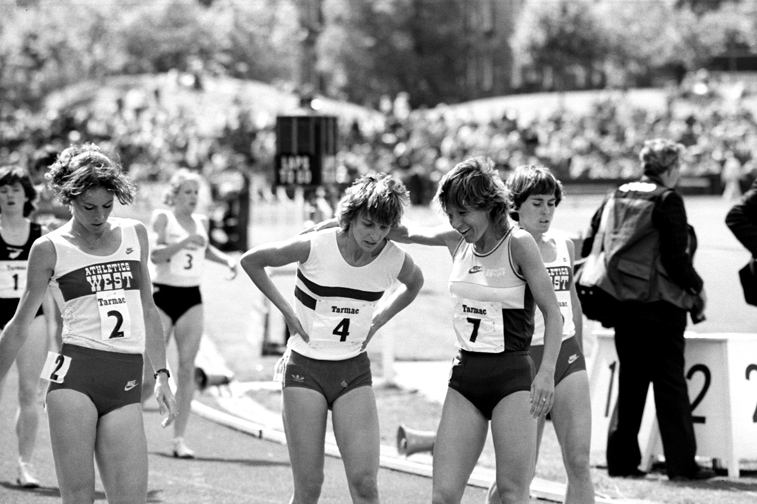 Ann (4) with Christine Boxer (7) at Meadowbank, 1986
Anne Purvis was one of Scotland's very best ever middle distance runners specialising in the 400 and 800m events but with quite outstanding times at 1000m and 1500m too.   She is however almost unknown in Scotland today but to get an idea of her ability, have a look at these figures.
*   Commonwealth Games silver medallist in a finish where the first four were timed between 2:01.3 and 2:01.9
*   Two firsts, three seconds and a third in eight years at the AAA's of England 800m championships
*   Topped Scottish rankings six times in seven years
*   13 of the top 18 times by a Scotswoman in 1982 of which
*   Three were sub-2:01 and a further three were sub- 2:02
*   First Scottish Senior vest at 15 years of age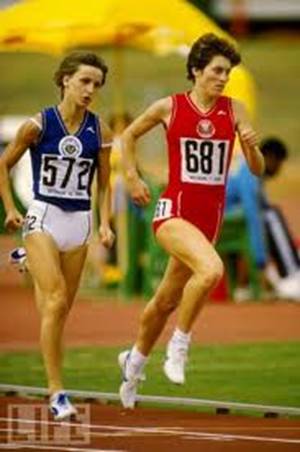 Anne Purvis (Scotland) tracking Kirsty McDermott (Wales)
There's more but even these few statistics indicate how good she was.   At the 1986 Commonwealth Games at Meadowbank in Edinburgh, she took the oath on behalf of all the athletes taking part in the Games.   A wonderful honour.  There were no real rivals in Scotland when she was at her best, the McMeekin twins were mainly running before she came along and Lynne McDougall hadn't really started he good run of form as a Senior.   Her main British rivals (Shireen Bailey, Kirsty McDermott, Lorraine Baker, et al will be mentioned in the course of the profile.  She stopped competing in 1987 and moved south of the border where her daughter Diane is a member of Shaftesbury Barnet AAC (look her up on the Power of 10 website) and it is amazing to me that she has never been invited back to Scotland for any of the coaching get-togethers that are so much on the agenda just now.    It is appropriate to look at her athletics in detail, but first we should maybe see her answers to the questionnaire.
Name:   Anne Purvis
Club:   Edinburgh Southern Harriers/Edinburgh Woollen Mill
Date of Birth: 5th March 1959
Occupation:  Laboratory Research Assistant
How did you get involved in the sport?   Primary School teacher (Mrs Elder).   He5r daughter had started training for the long jump with Edinburgh Southern and she thought I might enjoy it as I had competed for my Primary School.   I wanted to be a long jumper and initially trained with the long jump coach.
Has any individual or group had a marked influence on either your attitude to the sport or individual performances?   My coach, George Sinclair who devised all my sessions and was prepared to constantly learn and try diferent approaches to enable me to progress.   He also instilled in me the importance of being part of a team.   The willingness of so many people in the sport to give their time to help athletes fulfil their ambitions.
What exactly did you get out of the sport?    The honour of competing for Scotland and Great Britain and some great memories.
Can you describe your general attitude to the sport?    Superstitious, underlying lack of confidence particularly with the endurance side of 800m running.   Generally competitive in a non-competitive manner.   Often I seemed to enoy training over competition.
What do you consider to be your best performance?   When I ran 2:00.2 at Bislett Games in Oslo.
What ambitions did you have that remain unfulfilled?   To break 2 minutes for the 800 metres and to compete at the Olympic Games
What did you do apart from running to relax?   Enjoyed reading and spending time with friends.
What has running brought you that you would not have wanted to miss?   I always loved being a member of the 4 x 400m relay teams whether it was a club or an international competition.   Enjoyed travelling and the warm-weather training trips, especially my friends were there too.
Can you give some details of your training?   
Winter:   Weight training, Hopping and Bounding, Steps
Summer:   Speed Drills; Split runs 3 x 400m – 30 sec – 200m, 4 x 300m, 3 x 600m, 1 x 600/1 x 500/1 x 400/1 x 200 [15 min recovery]
Anne is regarded as a speed based 400m/800m runner as opposed to those who race the event from a strength base and specialising in 800m/1500m.    Nevertheless in her early years she did run cross-country.   In the 1974 Scottish Junior cross-country championships she was fifteenth and the ESH team was third.   In 1975, as an Intermediate, she finished fifth with her club in second position.   In February 1976, as a second year Intermediate, she was sixth and again picked up a team medal – another bronze.   As a senior in 1977 she finished eleventh but that was the last year for which there is any record of her competing in the event.
Anne Clarkson was born on 3rd March 1959 and joined Edinburgh Southern Harriers at the age of 13.   She made good progress and in 1974 she was ranked in the Intermediate (Under 17) 100m, 200m, 400m and 800m.  Her 100m best of 12.5 at Pitreavie in the East Championships placed her eighth in the rankings and she was third in the SWAAA Championships 100m with 12.8 seconds.   In the 200m, she was second in the East Championships (25.6) and second in the SWAAA in 26.1.   Her best for the season was 25.3 which saw her ranked fifth.   Anne however topped the 400m rankings with a time of 55.4 run in August at Grangemouth and she also topped the 800m rankings with her second ever 800m time of 2:08.8.   Not bad for a 15 year old.   The annual rankings yearbook had this to say of her 400m season: "The close, keen rivalry between Anne Clarkson and Ann Robertson over the one-lap event was one of the highlights of the 1974 track season.   While the young Southern Harrier (Clarkson), she has  still another season as an Intermediate, produced the finest effort of the year (UK best for a 15-year-old:55.4 at the Scotland v NI match), as well as winning the Schools International at Meadowbank with Ann second, the Grangemouth girl narrowly turned the tables to take second place from Anne in the WAAA Championship (55.6 to 55.7)"    Anne also gained her first Scottish senior vest in 1974 running in the 4 x 400m relay against Canada and Wales and ran for the the GB Junior team .
They were no less effusive about her 800m time:  "Throughout the '74 season Ann Clarkson had demonstrated her talent in recording some outstanding times over 400 metres but, until the Pye Gold Cup Final in September, she had only dabbled at 800 metres, with a respectable but unremarkable 2:26.5.   Anne's performance then, not only brought her up to second place on the UK Intermediate time lists, but equalled the British best by a 15 year old girl."
Fiona McAuley, writing in 'Scotland's Runner' of May 1987 said that the following year she won a bronze medal at the European Junior Championships in Athens in the 4 x 400m relay and was selected as a reserve for the GB senior team at the end of the season…She goes on to comment that the next few years were a bit lean although she did compete off and on for Scotland.   They were not too lean however and in 1977 she was ranked number six in Scotland for the 400m with a season's best of 56.2 and third in the 800m with a best of 2:09.1 (12th September) with a second best of 2:09.5 a week later.   The only championship medal that year was in the East District 400m where she was second in 59.0.   In 1978, her best 400m was slightly slower (56.5 in August) which only ranked her eleventh and in the 800m with a best of 2:07.8 she had slipped to fifth and had a run of 4:39.5 that saw her ranked tenth in the country.   As far as championships went, she won the East District 800m in 2:13.6 and was third in the SWAAA Championships with 2:11.1 and in the East v West fixture, she ran 56.7 for third place.      It was in 1979 that she set her first pb since 1974 when she was fourth in the UK Closed Championships 800m with 2:04.00.
1980 was the start of a wonderful period of seven years when she was placed in the first three at the AAA's 800m six times.   In the AAA's in 1980 she won in 2:01.89 from Jane Finch who was well back in 2:04.15 and was selected to compete for Britain against Sweden in the 800m as a result.   1981 was her first really outstanding year when she turned in no fewer than eleven of the top nineteen times by any Scot over 800m.   The times were set all over the world:
| | | | |
| --- | --- | --- | --- |
| Time | Ranking in Scotland | Date | Venue |
| 2:01.6 | 1st | 28 August | Ardal, Norway |
| 2:01.8 | 2nd | 11 August | Gothenburgh, Sweden |
| 2:02.3 | 3rd | 22 August | Meadowbank |
| 2:02.6 | 4th | 22 September | Palermo, Italy |
| 2:04.0 | 5th | 25 July | Crystal Palace |
| 2:06.5 | 9th | 16 August | Meadowbank |
| 2:07.2 | 11th | 24 July | Crystal Palace |
| 2:07.4 | 12th= | 28 June | Grangemouth |
| 2:07.4 | 12th= | 19 September | Charlety, France |
| 2:08.0 | 17th | 1 August | Meadowbank |
| 2:08.3 | 19th | 31 May | Nottingham. |
 Such a level of dominance is rarely seen in any endurance event but dominance it clearly is!    Incidentally, the 2:01.6 placed her seventh on the all-time rankings and third in GB for the year.   She also set what was to be her lifetime best for 400m of 53.77 on 18th September at Charlety in France which placed her fourth in the rankings with her second best of 53.9 (ninth best in the country) on 29th August at Ardal in Norway.    The 53.7 put her at number seven on the GB All-Time list and the 2:01.6 put her at number three.   The 2:02.3 was a Scottish women's best 'authentic' performance in that it was the fastest ever run inside Scotland by a Scot.
Her competitive record was no less impressive.   In the women's international between Scotland v Denmark v Eire at Meadowbank on 1st/2nd May she ran in the 800m which she won with 2:02.8 and in the 4 x 400m team which also won.   In the women's international match at Ardal in Norway on 28th/29th August between Norway, Scotland and Wales, Anne was third in the 400 in 53.9 on the first day, then won the 800m on the second day in 2:01.6 with the second placed Norwegian timed at 2:01.7.   She was also of course in the winning 4 x 400m team.
Anne's domination of the 800m event was even greater in 1982 than in 1981: the first seven times were hers, she had three inside 2:01.0 and had thirteen of the top 18.   Her best ten 800m times for 1982 are noted.
| | | | |
| --- | --- | --- | --- |
| Time | Ranking in Scotland | Date | Venue |
| 2:00.20 | 1st | 7 July | Oslo, Norway |
| 2:00.34 | 2nd | 7 September | Athens, Greece |
| 2:00.96 | 3rd | 7 August | Crystal Palace |
| 2:01.52 | 4th | 7 October | Brisbane, Australia |
| 2:01.59 | 5th | 6 September | Athens, Greece |
| 2:01.83 | 6th | 24 July | Maribor, Yugoslavia |
| 2:02.9 | 7th | 18 July | Grangemouth |
| 2:03.2 | 10th | 18 June | Crystal Palace |
| 2:03.6 | 11th | 31 May | Cwmbran, Wales |
| 2:04.06 | 12th | 6 October | Brisbane, Australia |
Anne was also ranked sixth in the 400m with 54.2 and thirteenth in the 1500 with a time of 4:25.3.    Her competitive record was really superb in Commonwealth Games year.    (Kind of spooky that the top four were all on the seventh of the month – seven has always been regarded as a lucky number with the seventh son of a seventh son being the epitome of good luck and specially blessed!)   Fiona McAuley outlines the season: "After winning the UK Closed Championships in 1982, Anne went on to run a fast series of races at meetings abroad culminating in her best 800m time to date of 2:00.20 in Oslo.   She was subsequently picked for the European Championships, getting to the semi-finals and running 2:00.34, the ninth fastest time overall.   Four weeks before the Commonwealth Games in Brisbane, and favourite on paper, she broke two ribs when someone opened a door on her, but she still finished second to Kirsty Wade in the 800m final and also picked up a bronze medal in the 4 x 400m relay."     Doug Gillon in 'The Glasgow Herald' elaborated on both meetings.   On 8th September 1982, he said "Anne Clarkson was edged out of the final of the 800m at Athens.   The Edinburgh Southern Harrier had a gallant race: fifth at the bell in 58.5 and finishing in the same position, one place away from a final berth, in 2:00.34.   "I'm bitterly disappointed, I wanted to be the first Scot below two minutes", she said."   When it came to the Commonwealths, his article in the paper of 17th September 1982 read: "One of Scotland's Commonwealth Games medal hopes has broken two ribs – but she will report to Prestwick to fly out with the team tomorrow.   Anne Clarkson, just edged out of a place in the European 800m final in Athens last week, had been back at work for only 40 minutes when a colleague opened a heavy door while the Edinburgh girl was walking past.   "It was a freak accident", says Anne, a BSc honours graduate who works as a a technical assistant in animal genetics at Edinburgh University.   "I've had the fracture confirmed by X-ray but the doctor says that I should be able to compete in Brisbane all right.   The big problem is training in the interim and I'm on strong pain-killers to allow me to do that.   But I've got to take the X-ray plates with me when we leave on Saturday."    It is worth noting how close the final at Brisbane was.    After winning her semi-final in 2:04.06 (with the second finisher on 2:04.11) she was second in 2:01.52 behind (Scottish born) Kirsty McDermott of Wales who was timed at 2:01.31, with the third and fourth placers in 2:01.70 and 2:01.91!   Four runners in 0.6 of a single second.    Anne was of course renowned for her fast finishes.   I have been informed by several of her contemporaries that they cannot remember her ever taking the pace out from the gun or leading for much of any race.   In the 4 x 400m of the relay, the team of Sandra Whittaker, Anne Clarkson, Angela Bridgman and Linsey McDonald were one place ahead of England with Wales fourth.   The Maribor time was recorded in an international match between England, Scotland, Yugoslovia where she was second to England's Christina Boxer with the times being 2:01.73 for Boxer and 2:01.83 for Clarkson.    Domestically, she was second to Bridgman in the SWAAA 400m in 54.38 to Bridgman's winning time of 53.18, and she won the East v West 800m in 2:05.2.    It had been a very successful season for her despite the broken ribs before the Games and being beaten by McDermott who had been slower that she was going in to the Games.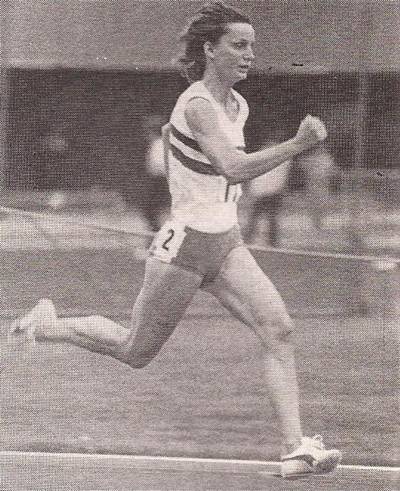 "Surprisingly", writes McAuley, 1983, the year she got married, was the first time that Anne lifted the Scottish 800m title which was unfortunately followed by a year of bad injury.   In 1985Anne and her husband moved from Edinburgh to Bishopbriggs and that same year she won the Scottish once again and was second at the WAAA Championships."    Although there was a year out in 1984, Anne was in fact third in the WAAA 800m to Christine Boxer in 2:02.98.   The WAAA record to which I referred above is a good one:    1980:   First in 2:01.89;    1981: First in 2:01.92 from Lorraine Baker in 2:04.21 and Kirsty McDermott in 2:05.63;   1983:   second in 2:00.74 to Shireen Bailey in 2:00.58;    1984:   Third in 2:02.98;   1985:     Second in 2:02.41;   1987:   Second in 2:04.60 to Diane Edwards in 2:03.59.
With 1986 being Commonwealth Games year, there would have been three targets for Anne Purvis: first she had to convince herself and the selectors that the year out through injury had served its purpose and she was ready for the 1986 season; second the aim in any Games is to come back with the gold medal, particularly in her case because she had been so close last time round; and third there was the desire for the first sub-two minute 800m by a Scot.   And she did indeed set a top level platform for Games year.   Competitively she won the SWAAA Championships in July with a time of 2:05.75 and was second  in the WAAA (2:02.41) to Christina Boxer (2:00.41).   As far as time and rankings were concerned, in the 800 she was number one in Scotland and number fisix in Britain with 2:02.11 run at Meadowbank.  As an indicator of the standard at the time the five ahead of her were Kirsty McDermott, Shireen Bailey, Christina Boxer, Lorraine Baker and  Diane Edwards although it should be noted the Anne had beaten them all at one time or another.   In the 1000m she was top Scot and fifth UK with 2:41.44 run in the Kodak Meeting in Stretford and she was ranked fifth Scot and nineteenth UK in the 1500 with 4:17.5.   Clearly in good form she was ready for the Edinburgh Games year.
Reported to be at her fittest in 1986, Anne ran in the UK Championship at Cwmbran in Wales in May where she ran an excellent Heat which prompted this from Doug Gillon: "A dramatic showdown is scheduled in the Women's 800m in which Anne Purvis was the fastest qualifier with 2:03.5.   She will be joined in the final by Liz McArthur, the defending champion from Pitreavie who had to run as fast as her winning time from last year to qualify as the fastest loser, and Carol Sharp (McLaren Glasgow) who clocked 2:06.24."    In the final the following day she was second in 2:02.4.   Her fastest of the year was 2:01.63 which topped the Scottish rankings, her sixth year out of seven in that position.   But the year was all about the Commonwealth Games and the statistics say that she finished fourth – by no means a disgrace – in 2:02.17 behind Kirsty Wade (2:00.94), Diane Modahl (2:01.92) and Lorraine Baker (2:01.97).   But the figures do not tell the full story.   In her article in "Scotland's Runner" quoted above, Fiona McAulay said:  "Probably no individual Scottish athlete came in for more criticism at last year's Commonwealth Games than Anne Purvis (nee Clarkson) for the way she handled the 800m final, finishing fourth behind girls she could and should have beaten.   George Sinclair, her coach for thirteen years, likened her race to that of Steve Cram's in the European Championship 800 metres final in Stuttgart where he found himself in trouble at the start of the back of the field, had to do all his running down the back straight to get in contention again, so that it was not so much that  he was outrun by Seb Coe and Tom McKean in the home straight, but rather that he just did not have the finishing kick when it was needed.   Sinclair, who has coached more athletes to Great Britain international standard than any other coach in Scotland summed up by saying "Anne had a tactical disaster."   Purvis recalls that there was so much barging and pushing that she was almost brought to a complete standstill at 450 metres by a stray Canadian arm, and found it impossible to regain momentum.   She has never been known as a front runner – and a Commonwealth Games final is not the ideal place to suddenly change tactics – so Anne says now she supposes she should have run wide all the way to keep out of trouble.  As well as letting herself down, Anne felt she had disappointed her family, the crowd and not least of all her coach as they both know she went into that race fitter than she has ever been.   The next day, however, Anne went down with the virus that had circulated the Games village and was ill for weeks. "   An indication of her standing in the sporting community was that she was selected to take the athletes' oath at the opening ceremony.
She did not stop there but went on to train hard for the 1987 season and have a final go at a sub-two minutes 800m that she wanted so much before leaving the country at the end of 1987 when her husband's research came to a close.  According to Fiona MacAulay's article, training was following the following pattern.   Working as a research assistant at Glasgow University, she runs home twice a week from work and on the advice of physiotherapist Tom Craig has cut her runs drastically, concentrating only on good running.   Two sessions a week are spent on weights and circuits, and the other three are on the track at Crownpoint doing repetition 1000m, 600m, 300m, and 200m.   She usually sees Sinclair once a fortnight at Meadowbank."   Anne was definitely going to retire at the end of the season and with this in mind, George Sinclair is quoted as saying "we're concentrating on speed endurance and elastic strength and to hell with the big mileage."   Anne tended to train rather a lot on her own as she improved.   The male athletes at Meadowbank such as Peter Hoffman were just too quick and strong for any woman athlete and there were no women fast enough to train with.   The speed and speed endurance work was done with Bill Walker and Donny Cain.
For whatever reason – one supposes injury – Anne missed the SWAAA Championships that year and by the end of the summer was ranked in three events: ninth in the 400m with a best of 56.9, second in the 800m with 2:02.73 and sixth in the 1500m with 4:20.0.   The aim of a sub-two had not been realised so she would have been disappointed but she had had a wonderful career in the sport.    Having been competing internationally for thirteen years, with seven GB vests and several appearances at major Games and having had the inestimable honour of taking the oath on behalf of all the athletes in the 1986 Games she has a multitude of memories.
So why did she fail to break the two minute barrier?   The ability was there, the competitive spirit was there but according to Sinclair the fast, paced races on the European circuit were not there.   He is quoted by MacAulay as follows: "It has been unfortunate for Anne that invitations have not been forthcoming for those meetings abroad that inevitably produce fast times. "   Do Scottish athletes then get a raw deal when it comes to selection for international meetings?   Without a doubt Anne Purvis has been continually snubbed and ignored by the selectors down   south since 1983.   She has seen rivals she has beaten, and with slower times, being dispatched abroad to the various Grand Prix-type events and with 'small teams abroad' while she for the most part has remained at home.   At the 1984 Olympic Trials, Purvis finished second to Lorraine Baker, neither achieving the qualifying time of two minutes.   Baker was given several races abroad and eventually produced the necessary performance while Purvis stayed put and was given no such assistance."    There are many instances of Scottish athletes being ignored in this fashion and Sinclair is quoted as saying that "being Scottish in British athletics means that you need a knockout to get a draw."   To my own knowledge other athletes have failed to get invitations to Grand Prix races in London when others of a near identical standard living in the locality were invited regularly 'to make up the field' because there were no big travel expenses involved.
However, there is no point in dwelling on this point at length – missing these opportunities did not help her but there may have been other reasons.   Would it have been different had she been able to run from the front at some point in the season?   I remember reading of Seb Coe as a young man on his knees at the end of a BMC race at Crystal Palace; the plan had been for him to really go for it from the gun just to see (a) if he could do it; and (b) see whether it could be a valid tactic in future.   I spoke to several of Anne's contemporaries and none could remember her taking a race on early.
What we do know, is that the country could do with Anne Clarkson now in November, 2011