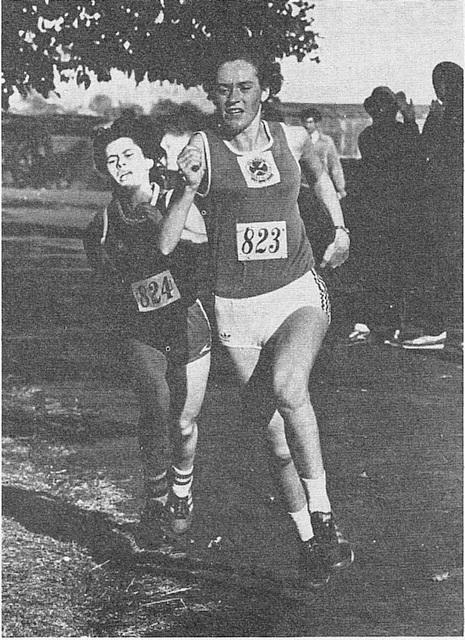 Judith Shepherd (823) leading club mate Fiona McQueen in the 1979 Round the Walls race in Berwick where they finished first and second.
Judith Shepherd was an excellent runner who won three SWAAA titles over 3000m, two SWCCU championships and set one Scottish record but is a runner who is almost completely forgotten. An internationalist, a runner who is still in the top ten athletes for the 3000m and the 5000m at Clemson University in the United States and an All America championship runner as well as a three time competitor in the NCAA championships, she is a runner whose name is never mentioned at present.
Judith Shepherd was born on 19th March 1959 and was educated at Bearsden Academy. When I was secretary of the British Milers Club back in the late 1970's and early 1980's I tried to get her into some of our races but by then she had gone on to Clemson University in the United States. She was a very good athlete indeed and while she was at Clemson, Kerry Robinson was also a student, so there was a corner that was forever Scotland. More recently, Andrew Lemoncello was a student at Clemson.
Judith's career began in 1974 when she won the Scottish Schools 1500m championship in 5.04.6, defeating Ann Cherry of Pitreavie by 15 seconds. Cherry had won the East District championship and went on to win the SWAAA title in the Intermediate age group. Judith had by that time joined up with Western AAC – the short-lived but very good Glasgow club run by Tom Williamson. Still an intermediate she was ranked in the senior 1500m with this time recorded when placing fifth at Meadowbank in the final league match of the season on 18th August but it was really only the 14th fastest among the inters. Her best time over 800m was also at that meeting in Edinburgh where she won the event with 2:22.7 although it was only 17th fastest. The times weren't the fastest but Judith had won two important races. By 1975 she was still an Intermediate and running for Western in their last year before merging in to the new Glasgow AC club. The only time that I can find for 1975 was a 1500m in 5:08.8 run at Grangemouth on 17th August.
Into 1976, running for the new club and her first serious championship victory when she won the Scottish Schools 1500m in 4:51.1. By the end of the summer her best time for 1500m was 4.48.6 which ranked her 14th and for 3000m 10.14.8 – always her stronger event – which ranked her 4th Scot behind the formidable trio of Mary Stewart, Christine Haskett and Penny Gunstone. She was only 17 years old at the time.
Despite her ability at the longer distances, she had not yet appeared in the SWCCU championships and would not do so for another two years. Meanwhile in summer 1977, on 24th April Judith ran a 3000m in the British League match at Coatbridge in 9:51.0. Two weeks later on 7th May at Grangemouth Judith won the 3000m and the 'Glasgow Herald' reported on it. "The longest distance at the meeting , the 3000 metres, was steadfastly gobbled up by Judith Shepherd (Glasgow AC) in a meeting record time of 9 min 51.6 sec. The Bearsden girl had no help from either her opponents or the conditions, and a season of some hard work must surely bring that time tumbling down." That same weekend she ran a 4:29.9 for the 1500m – a weekend that demonstrated pace and strength that would stand her in good stead for the rest of the summer. In the East v West match on 22nd May at Meadowbank, she stepped down a distance and won the 1500m in 4:31.8. At the end of May there was another 3000m on the 28th of the month where she recorded 9:40.4.
June was always national track championship month and Judith's first 3000m was held on 4th June when she ran 9:36.2 – her fastest of the season so far. A week's break followed before a 1500m in 4:31.6 and an 800m in 2:15.6 both on the 19th. The Scottish championships were held at Meadowbank on 25th June and Judith was second in the 1500m in 4:31.2 behind Margaret Coomber, and first in the 3000m in 9:39.2 which was more than 12 seconds ahead of Christine Price.
There was no slacking of competition after the SWAAA championships, however, and Judith ran a very good On 17th July it was a 1500m in 4:32.7, on 20th July the time was 4:28.8, on 30th July she ran 9:30.0 for the 3000m; in August it was 1500m on 14th in 4:28.9, 3000m in 9:20.0 on 13th and 9:41.1 on 20th. Into September and she ran 9:43.7 on 3rd of the month in the international between Scotland and Norway at Coatbridge to win the 3000m.
After what had been a very good year her best times were 800 2.15.6 (ranked 14), 1500m 4.26.5 (2), 1M 4.49.9 and 3000m 9.20.0 (1). To elaborate, Judith had the top seven times by a Scot and nine of the top ten at 3000m. She also had 8 of the top 19 times at 1500m with only Margaret Coomber being faster. In the all-time to 10, Judith was 5th in the 1500m and 3rd in the 3000m.
Although she hadn't run the national cross-country championship as an inter or as a senior, she ran in 1978 and won the SWCCU championships and was selected for the team for world championships. The world championships sounds like a glamorous affair but that year they were held in a wet and rainy Bellahouston Park. The Glasgow AC runner was first Scot to finish when she crossed the line in twenty second place with Margaret Coomber back in 69th as second team runner.
1978 was a Commonwealth Games year and Judith, on the form shown in 1977 was a genuine candidate for selection and opened her season with 9:37.5 on 23rd April. Into May and in the West District championships, held at Grangemouth on the 8th, she won the 1500m in 4:34. A week later, 14th May, she ran the 3000m for Scotland against Greece in the international in Athens and finished first in 9:40.5.
There was a midweek 3000m in 9:54.1 before the East v West confrontation at Meadowbank on 21st May where Judith won the 1500m in 4:30.1 for the West team that was well beaten by 260 to 195 points. On 3rd June in the SWAAA Championships, she won the 3000m again in a time of 9:34.8 – 5 seconds faster than last year but not fast enough to count for selection. There was however another international selection – this time against Norway in Larvik on 5th/6th July. Clearly not her usual running, Judith was fourth of four in 10:02.9, well behind clubmate Fiona McQueen in third place with 9:47.2. She returned exactly that time on 29th July too and then 9:49.7 on 20th August and 9: 51.4 on 26th August.
Her best times in '77 were 4:26.5 and 9:20.0: in '78 they were 4:30.1 and 9:34.8. The top Scottish time for 3000m in '78 was 9:32.3 by Fiona McQueen. It seems fair to assume that she suffered injury or illness in 1978. This impression gains strength when we look at her running in 1979.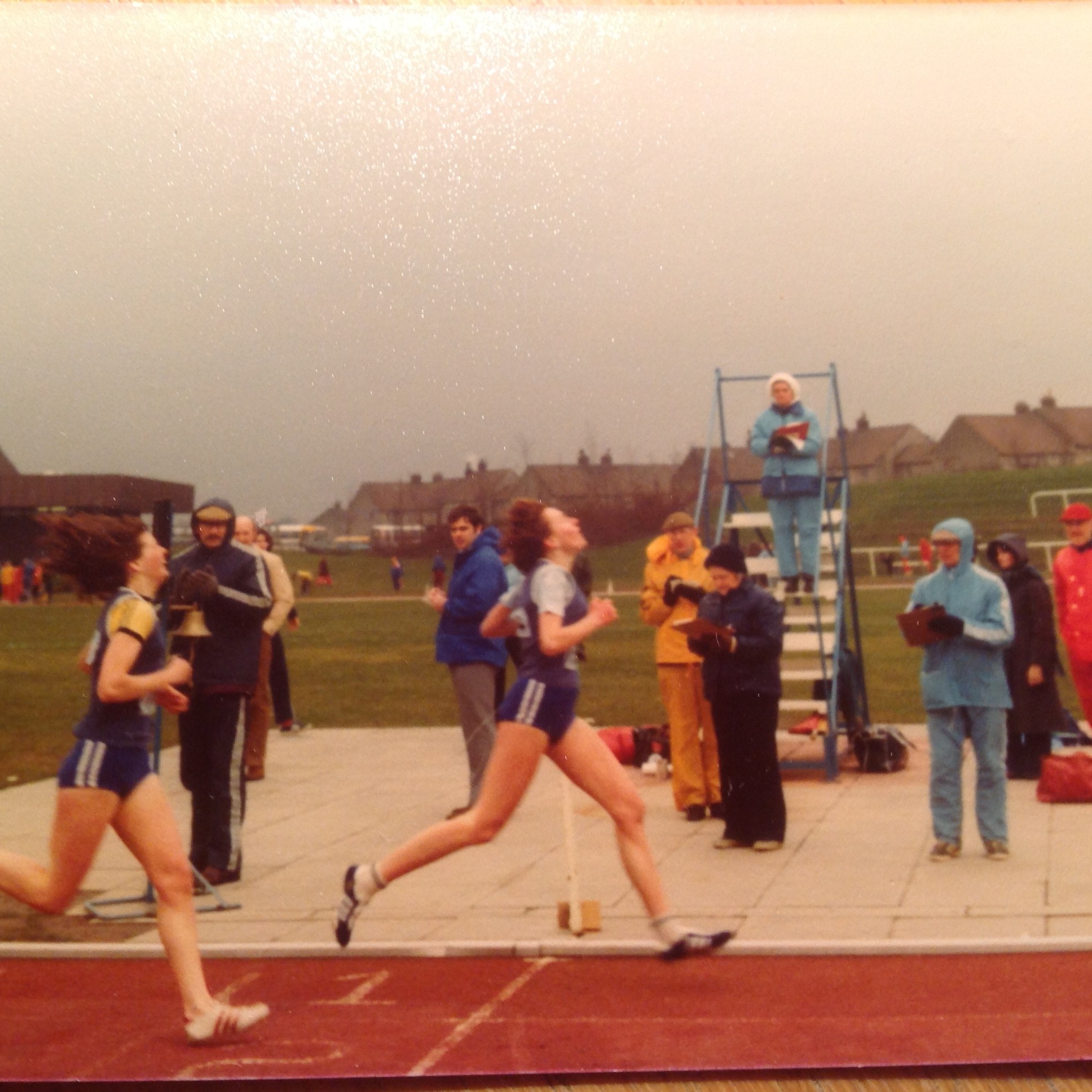 Judith beating Leslie Roy to the tape at Coatbridge in 1978
In February 1979 Judith won the SWCCU championship 'in devastating fashion' according to the 'Glasgow Herald' and 'outclassed her rivals' according to the Athletics Weekly but in any case she won by 150 yards. The International was held on 24th March in Limerick and she was again the first Scot to finish but this time she was down in 44th of 96 runners.
On 12th May, Judith took part in the Scottish Cup competition at Coatbridge and was second to Carol Lightfoot in the 1500m who won in 4:27. On 26th May in the British League match at Birmingham Judith was timed at 9:27.2 – the fastest time of the season by a Scot and 7 seconds better than 1978. Thus early in the season it was a good omen. Just how good was seen in the |British Meat Scottish Championships at Grangemouth on 16th June when she set a Scottish Native Record for the 3000m of 9:20.3 with Kerry Robinson of Pitreavie second. They had come up through the ranks together and Judith had usually been on top. Then two weeks later on 30th June, running for GB 'B' team against France 'B' Judith not only won the match 3000m but took six seconds off the record with a time of 9:14.1. The international honours continued to come and on 23rd July she turned out for Scotland against Wales and Israel at Cwmbran. This time Judith ran in the 1500m and won in 4:23.9 seconds as part of the winning Scottish team. On July 30th the 'Glasgow Herald' reported that very few Scottish competitors took part in the Sunsilk WAAA Championships at Crystal Palace and Marea Hartman was quoted as saying that "some of the Scots girls admit that they cannot afford the travelling expenses" although several girls did travel with Lynne McDougall (winner of the 1500m) and Linsey McDonald (intermediate 100m and 400m) being gold medallists. The summer competition ended in a proliferation of league matches but Judith's season was basically over. Best times for the year of 4.21.9 for 150mm ranking her 4, 4.46.7 for 1 Mile and 9.14.07 for 3000 being comfortably the best time by a Scot for the year showed that after 1978, she was back to her best. It is only a pity that '78 was the Commonwealth Games year.
1980 was another difficult year for Judith but not nearly as good as '79 had been. At the end of the year her best time for 1500m was 4.33.9 ranking her 13th which was her lowest position for many years and her 3000m was 9.35.65 which saw her 3rd it was her slowest end-of-year time since 1976 at age 17. In 1981 Judith was third in the SWAAA 3000m behind Fiona McQueen and Yvonne Murray in 9:38.04 and by the end of the season, she was ranked in the 1000m with 2.54.5 which saw her 5th, the 1500m with 4.34.0 (18th) and 3000m 9.38.04 (7th). The 1500m and 3000m were her slowest times and lowest ranked positions ever as a senior athlete. There was clearly something not right with Judith's running. Summer 1982 was a bit better but by the end of the summer she was twenty second in the 1500m (4:40.2) and fifth in the 3000m (9:25.020
That winter Judith went to Clemson University in South Carolina on a sports scholarship. Her old friend and rival Kerry Robinson from Pitreavie had gone a year earlier and that may have influenced her but whatever happened, it turned out to be a good move for her. Her first good run was in February, 1983 when she ran 9:28.4 indoors in Boston University Commonwealth Armory to set a meet record. From a running point of view, the move to America seems to have been a very good one. The ARRS website lists what they consider to be her best runs over there and they are reproduced here:
9th Apr '83: 9:21.2 3000m Knoxville, Tennessee
21 May '83: 9:13.8 3000m Knoxville, Tennessee
1st Jun '83: 9:21.44 3000m Houston, Texas
3rd Jun '83: 9:14.50 3000m Houston, Texas
21 Nov '83: 17:33 5K CC Bethlehem, Pennsylvania
13 Apr '84: 9:29.71 3000m Knoxville, Tenn.
31 May '84: 9:31.66 3000m Eugene, Oregon
9th Feb '85: 9:31.32 3000m (indoors) Gainesville, Florida
April '85: 16:22.67 5000m Des Moines, Iowa
30 May '85: 17:14.79 5000m Austin, Texas
She 'lettered' in all three years and in 2012 she was still in the Clemson top ten for 3000m and 5000m. Although she had seemed to have the beating of Kerry Robinson early in her career, by now, although the two Scots girls were in the top three or four at the college, Kerry was slightly ahead. In the top ten for 3000m Kerry was first ranked with 9:05.65 with Judith fourth on 9:13.38 (run in '83); for the 5000m, Kerry was top with 16:02.76 while Judith was sixth with 16:22.87 (run in '85).
She also ran in the NCAA Track & Field championships every year she was at Clemson and ran well every time. For instance, the 9:14.5 from 30th May, 1985, above was set in the final of the NCAA championships and the quality of athlete running is indicated by the fact that Patti Sue Plummer was second, Lynn Jennings was fourth and Judith was a good fifth. That was the day after she had run a qualifying heat in 9:21.44.
Her results were carefully monitored back home in Scotland and she ran when home on holiday so the ranking appearances were continued. At the end of summer 1983 she was ranked in 1500 with 4.25.72 (12th), 3000 9.13.38 (2nd) and 2 Miles with 10.14.08i. In 1984 her recorded times were 1500 in 4.26.25 (8th), 1 Mile 4.59.42 (8th) and 3000m 9.29.71 (3rd). 1985 had times and places of 1500 4.37.40 (21th), 3000m 9.31.32i (7th) and 5000m 16.22.67 (3rd)
Although her times have been beaten and she no longer appears on the all-time lists in Scotland, there is no doubt that Judith Shepherd was a very good athlete – had she been running today, she would still be a very good athlete holding a position near the top of the sport. Three national track titles (plus a second and third), two cross-country championship victories to her name, international appearances on the track for Scotland and Britain, records set in Scotland and the USA plus of course the schools, District and Inter-District championships, races in the NCAA Championships – all these and more indicate a career in the sport that she can be justifiably proud of.