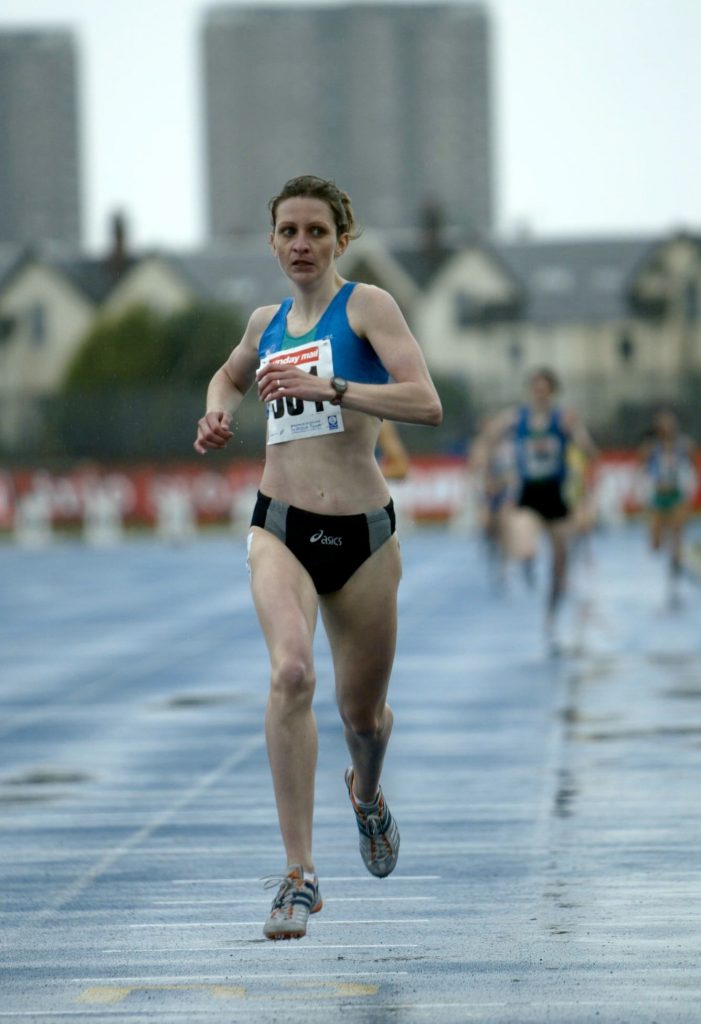 Scottish Athletics statistician Arnold Black wrote the following:
"ATHLETE OF THE DAY – SUSAN SCOTT
The first Scottish female athlete to better 2 minutes for 800 metres, she twice finished 4th at the Commonwealth Games. She featured in the Scottish rankings between 1992 and 2009 topping the 800 rankings on 8 occasions and 1500 on 5. 7 Scottish titles, 3 British titles and appearances at Olympic, World and European Championships. She held the Scottish 800 record from 2002 until bettered by Lynsey Sharp in 2014."
The clubs that Susan Scott ran for were: Glasgow, City of Glasgow, Victoria Park City of Glasgow.
Her GB medals were: AAA 800m gold in 2002 and 2005 (plus silver in 2003 and bronze in 2004);1500m gold in 2009 (plus silver in 2008); silver in the 2008 UK 1500m; and bronze in the 1999 3000m. Scottish Championship medals were: 800m gold in 1998, 2001, 2002, 2004 and 2005; 1500m gold in 2004 (plus silver in 2000 and bronze in 1997); Indoor 1500m gold in 2006.
Apart from her two Commonwealth Games 800m appearances (in 2002 and 2006), Susan Scott ran on the track for Scotland on five other occasions, also racing 1500m, 4x400m and 4x1500m. She competed for Great Britain at least 10 times, including: 1500m at the 1999 European under-23 Championships; 800m at the 2005 World Championships; 1500m at the 2008 World Indoor Championships; 1500m at the 2008 Olympic Games; and 1500m at the 2009 European Indoor Championships.
Cross Country: As a Scottish Junior International, she earned 3 XC vests between 1996 and 1999 – including an under 23 victory in the 1999 Celtic Nations at Cumbernauld.
As a Senior XC International (1997-2000) Susan represented Scotland on 3 occasions.
Below are excerpts from a detailed profile of 'Tommy Boyle, Master Coach', which is on the website Anent Scottish Running.
"Fate intervened once more in 2000, when Tommy was asked to take on a young athlete – Susan Scott.
Susan Scott (born 26th September, 1977) was a considerably good runner who was originally trained by John Montgomery before she came under Tommy's wing. For the bare facts, her Wikipedia entry reads as follows:
"Susan Scott (born 26 September 1977) is a Scottish track and field athlete who competed for Great Britain at the 2008 Olympic Games in the 1500 metres. She also finished fourth in the 800 metres final at the Commonwealth Games in 2002 and 2006. Scott was born in Irvine, North Ayrshire, Scotland. Representing Scotland, she finished fourth in the 800 metres final at the Commonwealth Games in Manchester 2002, and Melbourne 2006. In both finals, she broke the Scottish record. By running 1:59.30 in the 2002 final, she improved her best by over a second and broke the longest standing Scottish track record to become the first Scots woman to run under two minutes. The previous record of 2:00.15, by Rosemary Stirling, had stood for 30 years. Scott improved on this in the 2006 final with 1:59.02, which stood as the Scottish record until 2014, when Lynsey Sharp ran 1:58.80. As of 2015, Scott ranks 11th on the UK all-time list. Her 1500 metres best of 4:07.00, was set in June 2008. At the 2008 Beijing Olympics, she was eliminated in the heats of the 1500 metres."
Tommy Boyle (who described Susan Scott as 'a challenging athlete as deep as the ocean') agreed to coach Susan on the clear understanding that it would be within the constraints of his time. However, Tommy now had perfected a tried and tested methodology. Myra Nimmo agreed to help in her spare time again and no stone was left unturned in the pursuit of excellence. However, by this time we had an Institute of Sport and that solved a few issues for Tommy. He says perhaps it is best to read his 2005 lecture on Susan but once again proved just how good a coach he was in taking a 2.08 athlete to such heady performances.
Tommy added: "I was very fortunate to have the support of my old pal, Frank McMahon, who was Susan's Minder whilst she did weights in Local Authority Gyms. Frank, pictured below with Susan, called a spade a shovel – just what she needed to bring her out of her very deep shell. Frank was also great support when he came out to Melbourne with us for the Commonwealth Games in 2006.
A measure of the preparation Tommy did for Melbourne was contacting the head coach at Bendigo athletics Club, Peter Barratt. Peter could hardly believe Tommy would trust him with his top athlete. However, he arranged everything for Susan including the critical training partners and supported her in a very successful series of three races which she won before the Games. She is pictured below with the Bendigo training team and some club members.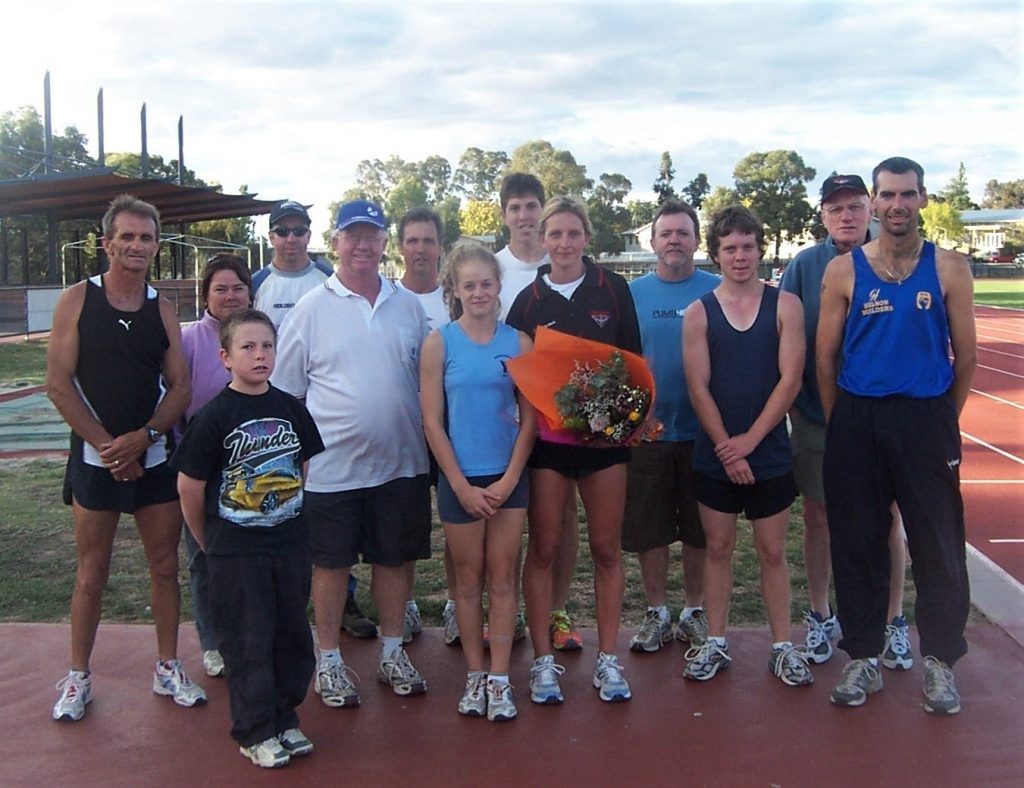 SUSAN SCOTT: CAREER PROGRESSION
Aged 11 1988 Scottish CC Champ (Gold) 1st
Aged 13 1990 Scottish CC Champ (Gold) 1st – coached by Glen Harrow
Aged 14 1991 British Schools CC West District Champ
Phase 1 Aged 15 1992 Scottish 800m Champ U15 (Gold) 1st – coached by Graham Greenham
Aged 19 1996 Scottish Champs (1500m) 3rd – coached by John Montgomery
Scottish Schools CC 2nd
Scottish CC Champs (Gold) 1st
British Schools Indoors (Gold) 1st
Aged 20 1998 Scottish Champs 800m (Gold) 1stAged 19 1996 Scottish Champs (1500m) 3rd – coached by John Montgomery
Scottish Schools CC 2nd
Scottish CC Champs (Gold) 1st
British Schools Indoors (Gold) 1st
Phase 2 Aged 22 1999 AAAs U23 (1500m) (Gold) 1st – then coached by Tommy Boyle from 2000 onwards
Aged 24 2002 1:59.30 Commonwealth Games Scottish National Record 4th 1:59.30
AAAs (Gold) 1st 2:03.84
23 2001 Scottish (Gold) 1st 2:06
European U23 Champs (1500m) (heat)
Aged 25 2003
1/8/03 North Down Games (Silver) 2nd 2:03.9
26/7/03 AAAs (Silver) 2nd 2:04.13
29/6/03 GB v. USA v. Russia 6th 2:03.16
21/6/03 Euro. Cup 6th 2:04.28
12/6/03 Ostrava GP 5th 2:01.85
1/6/03 2:01.08 Hengelo GP 2nd 2:01.08
GB Int. 5th 2:03
Scottish (Gold) 1st 2:02
Phase III Aged 26 200415/8/04 Scottish Champs (Gold) 1st 2:02.85
14/8/04 Scottish Champs (Gold) 1st 4:17.0
30/7/04 2:00.71 Crystal Palace GP 4th 2:00.71
24/7/04 GB Match 6th 2:03.00
17/7/04 BMC 1st 2:01.70
14/7/04 Lahiti Games 1st 2:01.46
11/7/04 AAAs (Bronze) 3rd 2:02.13
27/6/04 Gateshead GP 6th 2:01.40
19/6/04 Euro. Cup (Bronze) 3rd 2:01.35
12/6/04 BMC 1st 2:00.77
2/6/04 Open Graded 2:01.87 mx
22/5/04 BMC 2nd 4:10.56
Aged 27 2005
21/8/05 Norwich Union Super GP 2nd 2:03.77
14/8/05 Scottish Champs (Gold) 1st 2:02.85
7/8/05 2:01.17 IAAF World Champs (Season Best) 8th 2:01.17
22/7/05 Norwich Union Super GP 3rd 2:02.06
10/7/05 AAA Champs & Trials (World & Comm)
(Gold) 1st 2:02.97
27/6/05 Josef Odlozil Memorial GPII (1500m) 2nd 4:14.84
12/6/05 Lille GP (1500m) 6th 4:09.10
Phase IV
Aged 28 2006 Comm. Games/European Champs
Aged 29 2007 World Champs
Aged 30 2008 Olympic Games
Aged 31 2009 World Champs
In a 'Scotsman' interview, Tommy Boyle mentioned as one of his proudest moments "Susan Scott breaking the Scottish record at two successive Commonwealth Games – first in 2002 in Manchester and then in 2006 in Melbourne." His pride is entirely justified in that, the first time she broke the national 800m record, it was one that had been in existence for all of 30 years and had withstood attacks by such big talents as Ann Purvis, Margaret Coomber, Christine and Evelyn McMeekin, Lynne McDougall and others. The fact that she then retained the record until 2014 is another testament to the value of the time."
In late 2006, Susan Scott wrote this about herself:
"I am a quiet unassuming person with a burning determination to succeed. I have dedicated my life from the age of 9 years, to athletics, having been inspired by Liz McColgan at the 1986 Commonwealth Games in Edinburgh. My determination, dedication and passion for my sport have allowed me to compete at the highest level for both Scotland and Great Britain.
I currently live in Motherwell and train, on average, 10 times per week in order to sustain optimum fitness and performance.
I am a fully qualified cardiac technician currently working 3 full days in Glasgow's busy Victoria Infirmary. My role is both physically and mentally demanding.
I am a Scottish Institute of Sport Athlete and currently receive invaluable assistance with physio, nutrition, sports medicine and facilitation from the Performance and Excellence Manager. This support infrastructure has been a vital factor in my progress to date.
In order to achieve my dream, it is clear that I need to change my lifestyle. The personal sacrifice I made by taking 2 months leave to train full-time for the Commonwealth Games experience, Melbourne, resulted in 4th position but a new Scottish Record. Most importantly, this proved to me conclusively the direction I must take in the future and level of commitment required if I am to make that vital push for the summit of World Class Performance."
This excellent, dedicated, determined Scottish runner went on to race: 1500m at the 2008 World Indoor Championships; 1500m at the 2008 Olympic Games; and 1500m at the 2009 European Indoor Championships. Perhaps, Susan Scott did not quite fulfil her dreams but she certainly achieved many successes and proved that she was a truly world-class athlete.