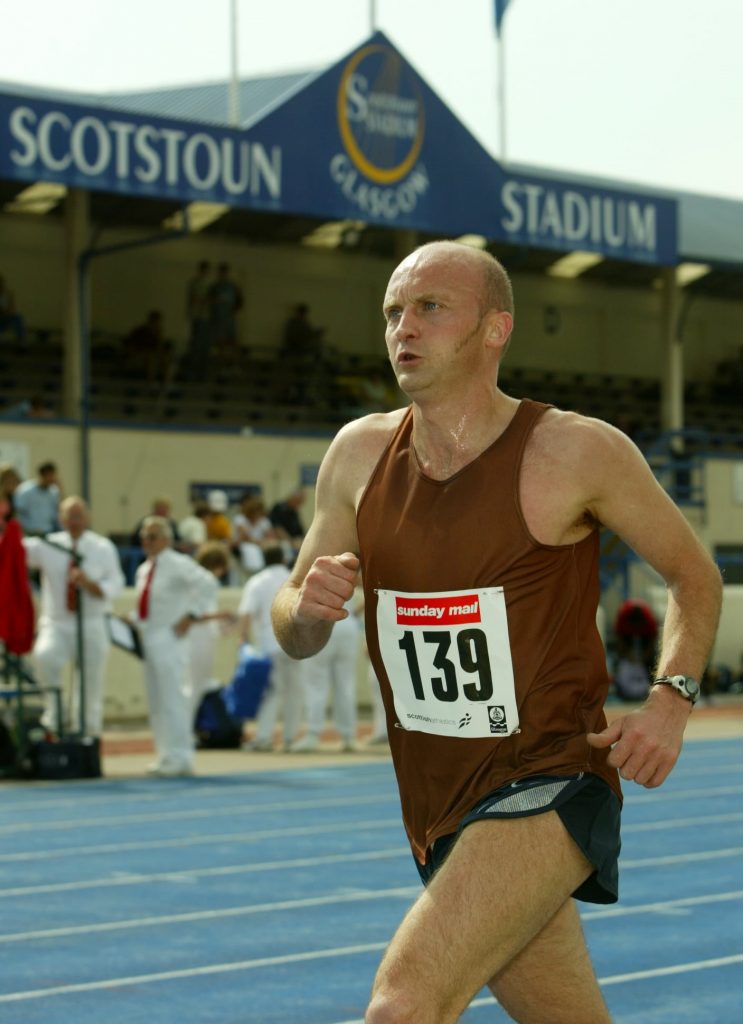 Scottish Athletics statistician Arnold Black wrote the following:
"ATHLETE OF THE DAY – STEVEN CAIRNS
Northern Irish policeman Steven Cairns has been around the Scottish scene for 20 years with significant success. He was Scottish steeplechase champion twice, a medallist on 3 other occasions and won the 10,000 title in 2004. He twice won the Scottish short-course cross country title and was a silver medallist over 10k on the road. Career bests of 3:52.9 (1500), 8:36.7 (3000), 14:30.81 (5000), 31:25.85 (10,000), 2:29:29 (Mar) and 8:51.06 steeplechase." Steve ran 30.04 for 10k road in the 2001 Inter-Counties Championships at Cheltenham.
Steven M. Cairns, often referred to as Steve or Stevie, was born on the third of November 1967. He first appears in Scottish Athletics records in 1995 and was still going strong in 2020. His first Scottish athletic club was Scottish Borders Athletic Club, based at Tweedbank and he then joined Carlisle-based Border Harriers for track competitions and Mizuno Racing Club for road and country. However, by 2001, this charismatic Northern Irishman – a superb team contributor – was racing for the most sociable club in Scotland – Hunters Bog Trotters.
Northern Ireland Championships: Steven Cairns won Northern Irish Steeplechase gold in 1995 and 2002. In 2001 he raced for Northern Ireland v Scotland, Wales and two other teams. In the Steeplechase he finished second to his HBT team-mate Donald Naylor of Wales.
At Coleraine, running for Annadale Striders, he became the 2005 Northern Irish Cross-Country Champion. Consequently, he must have run International XC several times for NI as a Senior.
In the British and Irish International Masters XC Championships, Steven Cairns often ran for NI Masters. Probably his best performance in this event was in 2007, when he finished third M40 behind the winner Robert Quinn of Scotland.
Scottish Championship record: Stevie Cairns won the 3000m Steeplechase title in 2001 and 2006, as well as gaining silver in 1997 and 1998 and bronze in 1995. In 2004, he won the Scottish 10,000m Championship.
For Leslie Deans RC, Steve contributed to: 1996 National XC Relay gold; and 1996 National 6-Stage Road Relay silver in 1996 plus 1997 gold with the renamed Mizuno ; and 1997 National XC bronze with Mizuno.
In the Scottish 10k Road Championship, he secured silver in 2002; and Masters silver in 2011.
Scottish 10 miles Road – Masters silver in 2012.
Scottish 6-Stage Road Relay: HBT won silver medals in 2004. Steve still holds the Short Stage course record at Livingston.
The late, lamented Edinburgh to Glasgow Road Relay seemed ideal for Steven Cairns. His first outing was for Carnegie Harriers; and then, years later, he ran the final two editions. In 2001, HBT won silver medals, with Stevie maintaining the lead and recording the fastest time on prestigious Stage 2. In 2002 HBT finished 5th, but Stevie won the first stage by a clear minute.
In the Scottish National XC Championships: HBT won team gold medals in 2001, with Stevie Cairns running very well in 5th place. In 2002, it was team bronze, with consistent Cairns 5th again. The Trotters won the team race in 2005 (SC 4th) and 2007 (SC 6th). Finally, in 2009, the team secured bronze (SC 22nd).
In the Scottish Cross-Country Relays, Steven Cairns featured in the HBT team which won gold medals in 2005 (the runners were SC, Alistair Hart, Donald Naylor and Phil Mowbray). HBT added a bronze medal in 2007.
Stevie became Scottish Short Course XC Champion in 2001 and 2003.
In the Scottish Masters XC Championships, Steven Cairns, so far, has won two age-group titles and several other medals. In 2007 he won overall as first M35; in 2009 he added M40 bronze, followed by silver in 2010 and 2011. In 2013 it was M45 silver – not far behind Robert Quinn – but in 2020 the indomitable Stevie Cairns won M50 gold.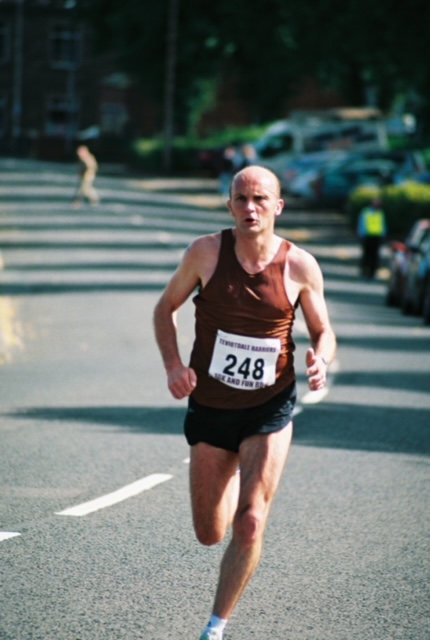 QUESTIONNAIRE
NAME:
Steve Cairns
CLUBs
HBT and Tyne Bridge Harriers (Newcastle)
DATE OF BIRTH:
03/11/1967
OCCUPATION
Semi-retired and Part-time Plumbing and Gas Engineer
HOW DID YOU GET INVOLVED IN THE SPORT?
When I was a teenager, I wanted to emulate my big brother so that's why I started by joining my local running club – I continued with it at a very low level into my army career but gave it up when I asked a local running club coach how I could get faster and he told me to go away and lose two stone and then come back. On reflection, it was an honest comment but probably could have been put across more diplomatically: so I left the sport for a few years and came back to it when I was 24 and I have been competing ever since.
HAS ANY INDIVIDUAL OR GROUP HAD A MARKED INFLUENCE ON YOUR ATTITUDE OR INDIVIDUAL PERFORMANCE?
When I was in the Army, I was training with a guy called Nick Bateson who had a total love for running, and he had just watched me come 130th in the Army cross country championships. He told me if I actually trained I could probably win it. He was the first person to believe in me, so I trained with him and the following year I came 2nd so I guess he was right.
WHAT EXACTLY DO YOU GET OUT OF THE SPORT?
It took a long time for me to love running – it always felt hard and I never learned to enjoy it. For me I loved winning and that became my driving force. I can accept defeat but only when I have done my best, so I always felt I was a good racer because I always gave it my all. It was only after I married Isobel Knox – Scottish Ultra Runner – that I realised my own love for the sport and what it gives me – since her complete love of running rubbed off on me.
WHAT DO YOU CONSIDER TO BE YOUR BEST EVER PERFORMANCE OR PERFORMANCES?
Three stand out for me: Winning my first National cross-country title as it exceeded what I ever thought I would achieve. Running 30:04 for a road 10K, as I felt I had paced it perfectly. I was always running on the edge, and I was not disappointed I did not break 30 minutes, as every time in the race I felt comfortable, I pushed harder so I felt I gave it my all. To win a bronze in the European Police Steeplechase, as I went into the final as the slowest runner on paper but was sitting 4th at the bell and I fought hammer and nail to cross the line in 3rd to beat the Italian. I then went straight to the side of the track and was violently ill.
YOUR WORST?
I always felt I under- performed at the Scottish National Cross country, the highest I got was 4th and I always felt I might have done better.
WHAT UNFULFILLED AMBITIONS DO YOU HAVE?
I never got a GB vest, so that is a regret, but I am still ambitious. I still want to win every race I enter. I always felt that was one of my strengths: that I only ever worried about myself, and no matter who was in the field, if I ran my race I could win. I've never won the British and Irish Masters International – so that's on the to-do list.
OTHER LEISURE ACTIVITIES?
I have tried a few Ultras, some Triathlons and an Ironman but for me now it's all about running.
WHAT DOES RUNNING BRING YOU THAT YOU WOULD NOT HAVE WANTED TO MISS?
Without realising it, running has defined so much of my life both professionally and socially. It's been the constant source of my biggest highs and lows. I would say that it now defines me.
CAN YOU GIVE SOME DETAILS OF YOUR TRAINING?
I constantly average about 50-60 miles a week and include 2 speedwork sessions when my body allows. I do all my training now on my own or with Izzy; and we both do a lot of running on heart rate so that we keep our training honest.