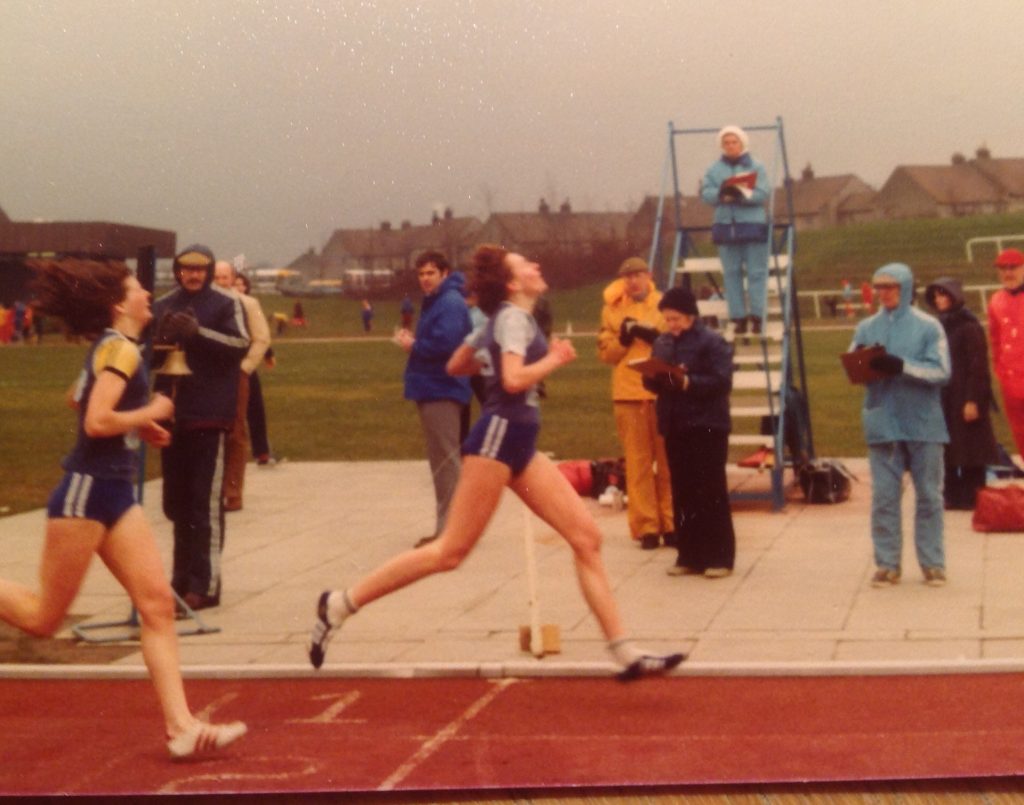 Judith Shepherd leads Leslie Roy at Coatbridge
Eileen Radka (St Mary's, Bathgate 1956-) Eileen Radka was a very fast runner at an early age. Born in 1956, she won the Scottish Junior Cross Country in 1969/70 and then won the Inter Cross-Country championship in 1970/71. .So far so good but her track times were outstanding for her age. In 1969 she ran 2:28.8 for 800m and and 5:28.4 for the Mile at the age of 14. In 1971 it was 2:25.9 and 4:51.1 for 1599m. She was ranked among the seniors for all of those times but after only one year, she left the sport.
Jennifer Rae (Westerlands) was a good runner who was part of an excellent group of women athletes from Westerlands running the hills of Scotland. For example she was 4th in the Scottish hill running championships of 1995, 7th in 1996 and 5th in 1997.
Sharyn Ramage (6/8/1962, Edinburgh AC and Ayr Seaforth). She began running with Colchester Joggers and then Berlin Harriers. Returning to Scotland, she ran briefly for Pitreavie and also played netball for Edinburgh. Bill Walker coached her at Meadowbank to race 800m. In 1999, Sharyn finished second in the East District 1500m. Shortly afterwards, she won the British Masters 1500m title in Newport, Wales. In spite of being a track specialist, Sharyn ran well for Scotland in the British and Irish Masters International Cross-Country; and won the Scottish Masters W50 cross-country title in 2013.
Margaret Reddan [AUS] (Livingston & District 9.07.52) was a very good distance runner from Australia who ran a marathon in 2:50:57 in 1989.
Beverley Redfern (Carnethy Hill Runners). She was born in 1956 in Malta; but later became a teacher in Fife. In the 1990 World Mountain Running Trophy, Bev won a superb individual gold medal, when the Scottish team secured bronze medals. Bev won the Ben Nevis race (1989), broke the Ben Lomond Hill Race record (1990), and won Coniston Fell (1993) and the famous Sierre Zinal (1993). Many years later, Beverley returned to hill-running.
Annie Reid (Cathkin HS, Shettleston 24 October 63) was one of several very good distance runners from Cathkin HS and Shettleston Harriers who ran several very fast races when comparatively young. She had a best time of 57.9 for 400m, 2:15.7 for 800m and 4:52.62 in 1977 and 1978. In a career that went on until 1983 she had personal bests of 57.6 and 2:12.8.
She was also a good cross-country runner (4th Inter in the National in 1979, 11th in 1980 she was a member of the third placed Shettleston team.
Anne Marie Reid (Edinburgh, 21 June 76) was a 1500m track specialist with a best time for 1500m of 4.51.8 in 1993.
Carol Reid (Giffnock North 4 June 63) had a bets time for the marathon of 3:03:00 to be seventh fastest in Scotland in 1993.
Eileen Reid (East Kilbride 7 November 57) was a very good middle distance runner with East Kilbride AAC in the mid-90's with best times of 4:45.0 for 1500m (run in 1994) and 10:24.7 for 3000m (1995)
Anne Reilly ran for Ardeer Recreation Club. In 1960, she was 9th in the Scottish Cross-Country Championships (with Ardeer finishing third team). However, Middle-distance track racing was Anne's speciality. In both 1959 and 1960, she won the Scottish Athletics 880 yards Championship; although she ran 440 yards (finishing second) for Scotland v Northern Ireland in 1960. At the 1960 WAAA Championship at London in 1960, Anne Reilly set a new Scottish National Record of 2.17.4 for 880 yards.
Eileen Reilly (Glasgow) ran well for Glasgow in the late 80's with a best time for the 1500m of 4:42.3. She was also third in the SWAAA 800mi in 1988.
Yvonne Reilly (Dundee Hawkhill, 1 August 75) Yvonne was ranked in the Scottish lists from 1991 (at the age of 16) to 1996 (21 years old) in distances between 800m and 3000m… Best times were 59.9 (400m), 2:13.95 (800m), 4:36.14 (1500m) and 10:08.4 (3000m). She also ran well over the country, especially as a young athlete being placed in the national championships as follows: 1989 5th Junior; 1990 2nd Junior Women; 1992 4th Intermediate.
Toni Restanginger, (Dundee RR) ran a good marathon of 3:18:56 in 1989 to be 20th fastest Scot.
Louise M. Reynolds (Essex Ladies, 3.01.60) won the SWAAA 10,000m in 1988 after several years of running in Scottish events. Her best times were 9:30.66 (3000m), 16:49.6 (5000m), 34:52.5 (10,000m) and 2:43.1 (marathon). She became Louise Vandyck in 1988.
Sue Ridley
Anne Ridley (Ayrshire, Glasgow University, Glasgow, Shaftesbury Barnet AAC, 7 May 65) was a fine example of the all round club endurance runner. She represented her club on the track, on the road and over the country. On the track she has been ranked in Scotland from 1980 through to 2003 at distances from 1500m via 3000m to 5000m with best times of 4:36.1, 9:48.4 and 17:11.4. On the country she has run well enough to have finished in the top ten in the national championships., winning the event in season 1989/90.
Susan P. Ridley (Edinburgh Southern, Edinburgh 25.10.65) is a very good runner who started her career in the early 1990's, has been ranked in the top ten in her events no fewer than 24 times with over 40 appearances in the lists in total, and has won 5 gold, 3 silver and 5 bronze medals in the Scottish championships. In addition she has had a wonderful career as a veteran athlete. Read her full profile at this link.
On the country Susan has won the national; championship in 1993/94, finished second in 1992/93, 1996/96, was third in 1991/92, and 1994/95.
Elizabeth Riley [USA] (Aberdeen University, Metro Aberdeen RC, 31 May 74) Elizabeth's stay in Scotland was comparatively short but she made a mark in Cross-Country (second in the 1995 Senior National) Road (second in the national 10K championships) and on the Track (35:12.14 for 10,000m).
Allison Ritchie ran for Clydesdale Harriers. In the 1933 Scottish Women's AAA two miles cross-country championships at Hamilton Racecourse, Clydesdale (with Allison a team counter in 11th place, finished third team. In 1935, she contributed to team silver. When the club won in 1937, Allison Ritchie had improved to fifth; and was sixth in 1938, when they won again. In the Scottish Athletics Championships, Allison finished third in the 1933 880 yards; but became Scottish Champion at that distance in 1937.
Kim Roberts (Edinburgh, 4.06.57) was a good runner over 800m, 1500m and 3000m in the 1970's who came back in the 1990s as Kim Fisher to record times that were even better.
In the 1970's (1973 – 1975) her best times were 2:16.2 (800), 4:51.0 (1500) and 11:18.0 (3000). After a spell away she was back between 1995 and 1996 when her best were 1:37.1 (600m), 4:41.7 (1500m) and 10:22.47 (3000m). Competitively, Kim was third in the SWAAA 800m in 1974.
Anne Robertson, (Peebles HS, Edinburgh Southern Harriers) ran well on the track in the mid 1970s with best times of 4.58.2 for 1500m and 2.24.82 for 800m.
Catherine Robertson (N London (18.10.63) ran well in the mid 1980's with marathon times of 2:52.03 in 1985 and 2:48:22 in 1987.
Christine Robertson, (Edinburgh Southern) ran for the club in the mid 1970's with best times of 5:01.4 for 1500m and 11:22.6 for 3000m.
Jane Robertson (Westerlands) was a good cross-country and hill runner for Westerlands. In the Scottish hill running championships, she was 5th in 1990, 12= in 1991, 13th in 1992, 6th in 1994, 15th in 1995 and 10th in 1996.
Janine Robertson,(Aberdeen) was a good marathon runner not only in terms of times run but also as a competitor with two medals in the SWAAA Marathon Championship where she was second in 1986 and third in 1985. Her best marathon time was 3:01:57 in 1985 and on the track, her fastest 3000m was 10:23.8 in 1982. In the 1986 Scottish Road Relay Championships, Aberdeen AAC (Lynda Bain, Sonia McLaren (Armitage) and Janine Robertson) won the title.
Margaret Robertson, Ayrshire ran in the 1970s with a best time of 11.43.0 for 3000m in 1979 which ranked her 29th in Scotland
Margaret Robertson, Dundee RR (born April 1947) ran several very good marathons in the late 1980's and was ranked every year from 1986 to 1990 inclusive. When she won the Black Isle Marathon in 1987, she ran 3:08:48 – a new course record. and her highest ranking was seventh in 1990. She finished second in the 1987 Dundee Marathon (3.09.04). In 1986 and 1990, she was first in the gruelling Moray Marathon. In 1992, Margaret won the Black Isle Half Marathon (1.26.25). Her fastest time however was in 1994 in Dublin when she was timed at 3:04:39. In 1988, Margaret raced for Scottish Veterans in the very first British and Irish Masters XC International match – and in 2017 and 2018 her W70 team won bronze medals in this prestigious event. In 1995, Margaret won the W45 Scottish Masters XC title. She added W55 silver in 2003.
Marsela A. Robertson (Edinburgh Southern, 22.07.64) She had, unfortunately, a very short career as an athlete in Scotland – unfortunate because she was very talented. She won the 1985 SWAAA 1500m and finished ninth in the 3000m at the 1986 Commonwealth Games in Edinburgh. Her best times were 2:10.93 (800m), 4:15.48 (1500m), 4:38.70 (Mile), 9:31.48 (3000m). Over the country she ran for Scotland in the 1986 IAAF Cross-Country championships after finishing fourth in the SWCCU Championships at Irvine in February.
Patricia Robertson, (Brighton & Hove) was ranked in Scottish lists in 1972 (1500m in 5.02.4) and 1973 (1500 again in 5.08.4)
Kerry E. Robinson (Woodmill HS, Dunfermline CPE, Clemson Univ (USA), Pitreavie 19.11.59) was a talented all-round distance runner who was also very popular with the other athletes. Competing between 1973 and 1987 she was a good and successful competitor: in the SWAAA Championships, Kerry was second in the 3000m in 1979 and '82; third in the 1500 in '77; and second in the 600i in '75. Pictured below in 1982, her best times were 60.3 (400), 2:11.7 (800), 4:21.9 (1500), 4:50.63i (Mile), 9:05.65 (3000m), 9:58.9i (2 Miles), 16:02.76. She was ranked in the top ten in Scotland 9 times and in the top three 5 times.
After her third run in the IAAF championships she went on a scholarship to Clemson U in America from 1980 to 1983 where she represented the University and competed in many of the best competitions in the country and won numerous honours at the actual University itself.
Over the country, she ran for Scotland in the IAAF Championships three times – in 1978, '79 and '80. Her record in the domestic national championship was impressive – 1977 3rd Inter; 1978 3rd Senior, 1979 3rd; 1980 4th.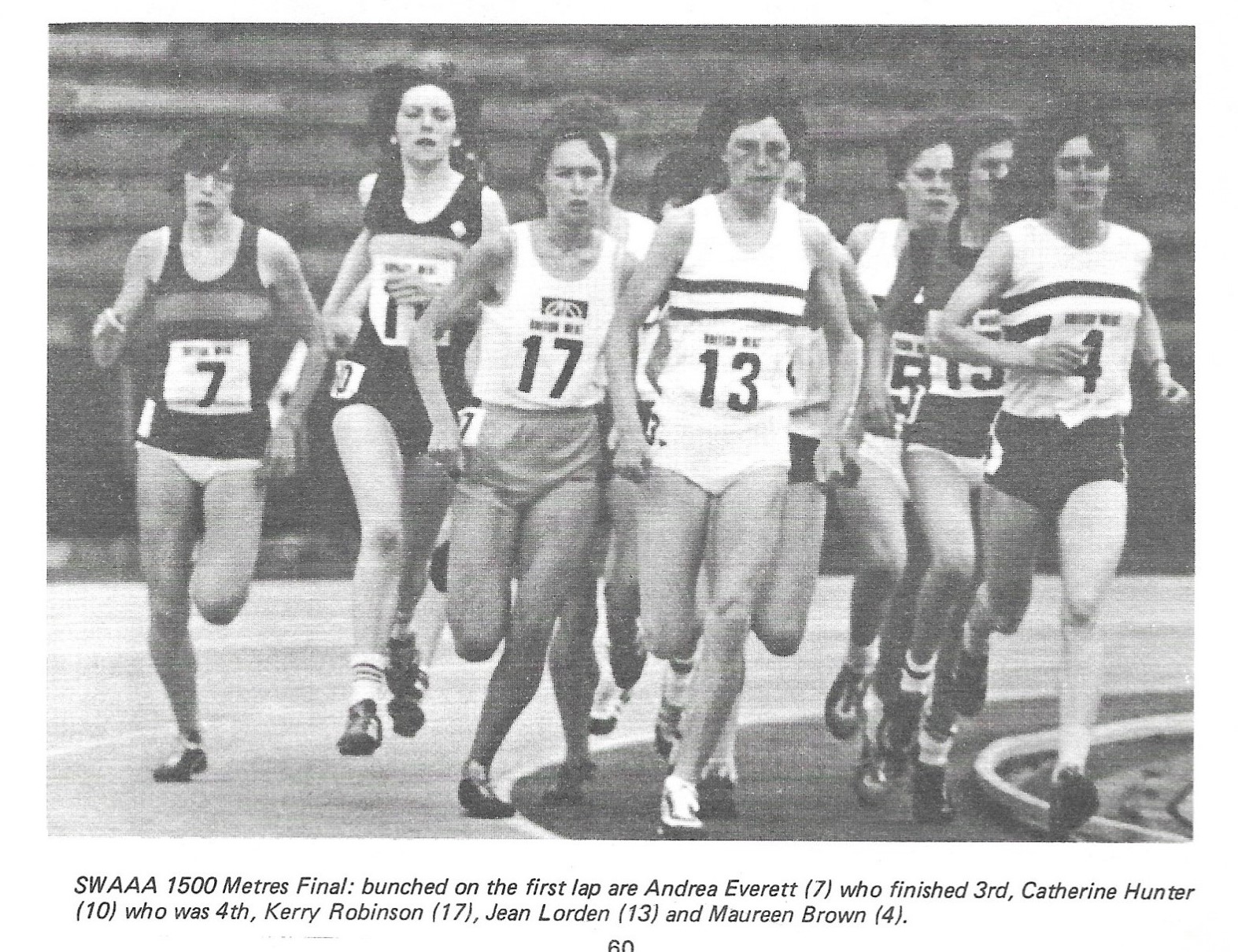 Nan Robson was a pioneer cross-country runner who competed for Dundee Hawkhill Harriers. The SWAAA first organised a Women's XC Relay at Bothwell Castle (outside Glasgow) in 1930. DHH (including their fastest runner, Nan Robson) finished second to Shettleston Harriers. In 1931, that order remained the same. However, in 1932, when a normal race was organised at Hamilton Racecourse, the National Cross-Country Champion was Nan Robson who "ran a magnificent race", in front of the Scottish half-mile record holder Connie Johnston and Barbara Anderson, both from Maryhill H (which was first team, in front of Dundee). Yet Dundee Hawkhill won in 1934 and 1935.
Betty Rodger ran for Shotts AC. In the 1957 Scottish National Cross-Country Championships at Craigie Estate, Ayr, Betty ran well to finish second behind Morag O'Hare and just in front of Helen Cherry. At the International match v England at Musselburgh, Betty Rodger was ninth (third Scot behind Doreen Fulton and Morag).
Alison Rose (Dundee University, Edinburgh University, Edinburgh Southern, 27.09.67) was a very good runner indeed, coached by Malcolm Brown at Edinburgh University, ran all distances between 1500m and marathon and her competitive record includes selection for World Championships in 1995, and a third place in the GB 10000m in 1993. Best times: 1500m – 4:40.6; 3000m – 9:43.37; 5000m – 16:41.51; 10000m – 33:57.86; marathon – 2:42:42.
A good cross-country runner her cv here includes 1992 – 2nd; 1993 – 3rd and 1996 – 5th; .
Joanna M. Ross, (Victoria Park, Edinburgh 18 February 81) Joanna, with her twin sister, was a member of Victoria Park AAC from childhood through to international level although she later moved to Edinburgh Southern Harriers. Best marks: 400 – 56.69i; 2:01.84; 1500m – 4:20.09. She had a very good competitive record too: this list is taken from the www.scotstats.net website: GB Championships: 3rd 800i 2006. Scottish Championships: 1st 800 '06, 2nd 800 2000, '01, '02, '07; 3rd 800 1999, '05; 1 i800 '99, '00, '01, '02, '03, '06, '07, '09; 1st i1500 '08.
Over the country, she ran well as a young athlete – note the following: 1994 – 2nd Under 13; 1995 – 2nd U15; 1996 – 3rd U15. Although she did still run cross-country the upper echelons of the sport became more specialised and Joanna had a wonderful career as an 800m runner on the track with many superb races against the very best at International level.
Penny Rother see Penny Gunstone
Celia Rothero (Lochaber, 1952 -)
In 1983 Celia ran a pb for the marathon of 3.19.06
Jan Roxburgh (Irvine, 31 October 73) was a very good distance runner who started running 1500m (4:55.2) and 3000m on the track (best time of 10:21.5) in the 1990's before making an excellent career on the road with a series of marathons between 2003 and 2013. Her best time was 2:57:16 and she was ranked in the top 10 in Scotland three times – in 2004 she was seventh, in 2005 tenth, in 2011 fourth and 2013, fourth again. Jan was also a good cross-country runner for her club and was a member of several medal winning teams.
Leslie A. Roy (Knightswood Sec Sch, Victoria Park, Glasgow 21 April 60) Leslie Roy is known to most athletes of the present day as a more than competent official and a really on-the-ball manager of Scottish teams but she was a good runner before that all started. Competing between 1974 and 1983, she had best times of 2:12.6 for 800m, 444.3 for 1500m and 10:58.for 3000m. There were also some good marks for 400m hurdles with a best of 68.07. Read her full profile at this link.
Donna M. Rutherford (Kilmarnock, Loughborough Students, 19 February 73)
Donna was a good athlete with many good times between 1991 1993. Best times: 1500m – 4:49.2; 3000m – 9:41.27; 5000m – 17:10.52. As a competitor she was second in the Scottish women's 3000m in 1992.
Linda Rutter (Currie HS, Edinburgh) was ranked in the low 20s in 1974 when she ran a creditable 2:22.3 for 800m.
Stirling Castle, 2020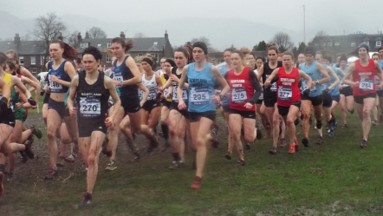 ..