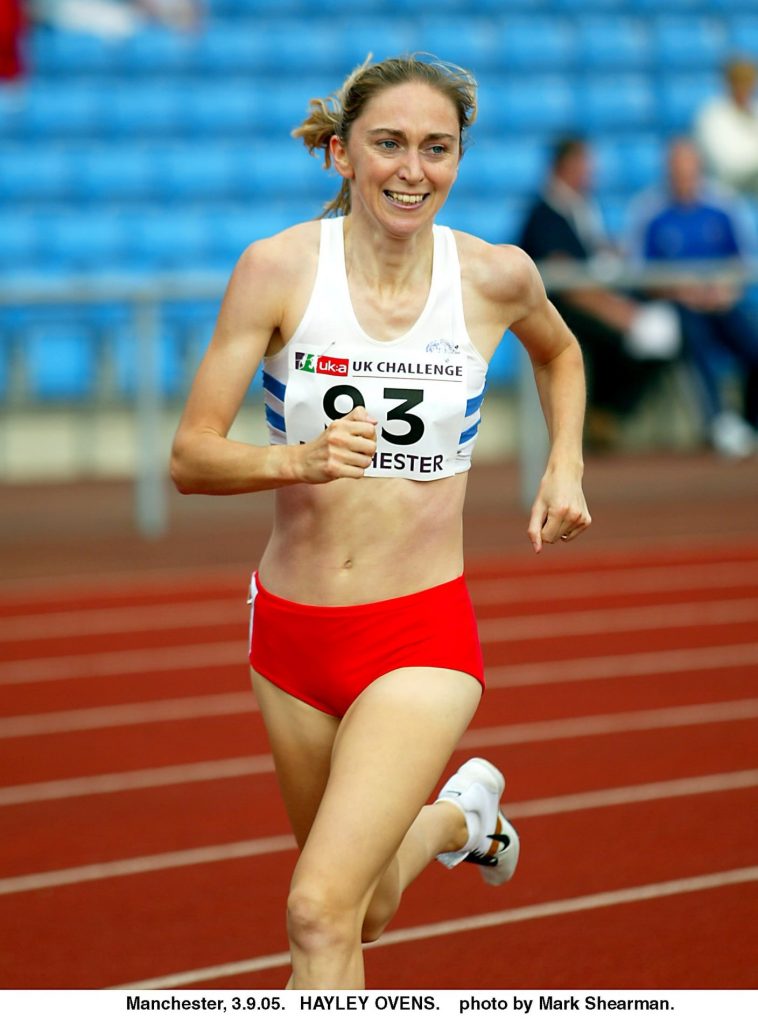 Margaret PAHNKE (14.09.59, Lanark GS, Clyde Valley) at a time when the men of Clyde Valley AC were winning medals at all levels, the women were quietly producing talented athletes too. Margaret Pahnke was one of them when she first appeared at age 16 in 1975 with best times of 60.2 for 400m, 2:22.0 for 800m, 4:52.5 for 1500m and 11:33.0 for 3000m On the country she was fifth Junior in 1974, fourth Junior in 1975 and fourth Inter in 1976.
Gillian PALMER (30.12.80, Edinburgh Southern, Edinburgh University Hare & Hounds ) Gillian was a very good runner from Helensburgh with an excellent competitive record – look at these as recorded on the www.scotstats.net website: Commonwealth Games 2002, 5000m (14th), 10000 (8th).British Championships, 2nd 10000 2002. Scottish Championships: 1st 5000 2002. Given that she had a remarkably short career this was very good running. Best times: 4:22.93 for 1500m, 9:12.47 for 3000m, 15:53.96 for 5000, 33:09.7 for 10,000m. She was ranked in the first three in the country 8 times in 4 years and was only outside the top ten once. A good cross-country runner, she won the national cross-country in 2001/2002 and was second in 2003. Gillian raced for Scotland on the track: two 3000m matches in 2000 and 2002 (won the first, third in the second); then the 2002 Commonwealth Games 5000m (14th) and 10,000m (8th).
Susan F. PARKER (15.12.59, Army, Warrington, Essex Ladies) Sue Parker, later Bevan, was a frequent member of Scottish teams in the 1980's and early 90's as an 800m runner. Ranked 37 times over 400, 600m, 800, 1000m and 1500 metres she showed a remarkable record of consistency. Best times: 400 55.7. 600 1:30.4, 800 2:01.93, 1000m 2:41.14 and 4:18.75 for 1500m. Her competitive record shows a third place in the British 800m championship in 1991, second in the Scottish championship in 1993 and third in the Scottish in 1986 and in 1987.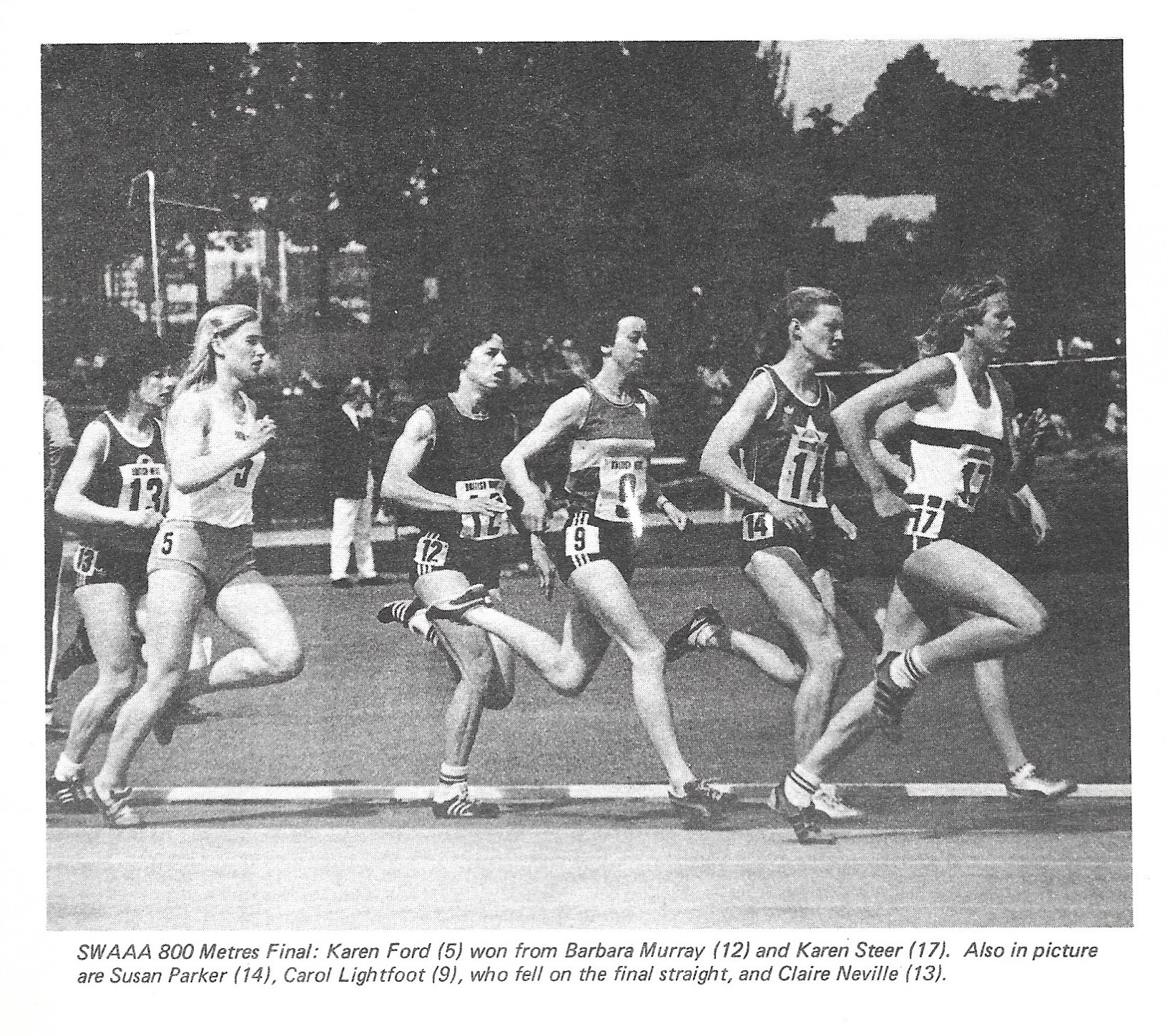 Hayley F. PARKINSON (5.12.75, Balwearie HS, Edinburgh University, Edinburgh Southern, Edinburgh) Hayley Parkinson (Ovens from 2000) was a prolific racer over the period from 1991 to 2008 covering all events between 400m and 2000m steeplechase. Ranked officially among the best in the country no fewer than 62 times, 39 in the first 10. Her competitive record as recorded in www.scotstats.net read as follows.
World indoors: 2003 1500 (ht). Commonwealth Games 2002 1500 (12th), Commonwealth Games 2006 1500 (10th). British Championships: 2nd 1500 '03; 1st i1500 '03, '05, '06; 2 i1500 '04, 3 i1500 '01. Scottish Championships: 1st 1500 '98, '99,'01, '05, 2nd 1500 '02, '06; 1st i1500 '97, '98, '01, 2nd i1500 '99, '00, '06.
Quite incredible.
Susan PARTRIDGE (Oban HS, City of Glasgow, Victoria Park City of Glasgow, Leeds City, 4.01.80)
Susan Partridge was a first class endurance runner on the road and over the country with an enviable record on the track. Read her full profile on this website at this link. Her competitive record reads as follows:
European Championships 2010 Marathon (14th); World Championships 2011 Marathon (24th); World 2013 Marathon (10th).Commonwealth Games 2006 Marathon (10th), Commonwealth Games 2014 Marathon (6th) Scottish Championships: 1st 5000m 2003, 1st Marathon 2010, '17, 2nd 5000 2002, '05, '12.
A very good cross-country runner she won the national title in 2002/3 and 2007/8 and was second in the U20 in 1997/8, and won the U17 in 1995/96 and 1996/97. You should read her profile.
Agnes PATERSON, (ABERDEEN AAC): She became Scottish Women's Cross Country Union Senior Champion in 1959. A newspaper report emphasises what a surprise this was, since Agnes was only 17 years old at the time. Nevertheless, her bold front –running tactics led to a 60-yard victory over Scottish internationals Barbara Tait and Dale Greig, who won the title in 1960 (and in 1964 set the first officially recognised World Best time for Women in the Marathon).
Eleanor PETRIE (1949- , Teviotdale Harriers ) was a half miler and miler in the 1960's whose best competitive performance was when she finished third in the SWAAA 880 yards in 1967. That was probably her best year with victories in the East District Championships at both half-mile and Mile. She had best times of 11.6 (100), 62.5 (440), 2:22.2 (880) and 5:40.4 (Mile) She also ran cross-country and in 1966 won the SWCCU Inter Championship by 48 seconds having been second the year before. As a Junior she had been second in 1964 and third in 1963.
Virginia A. POLLARD (8.04.6, Fleet Feet Triathlon Club, Aberdeen AAC)
1992 Marathon 3.05.24 ranked 8th; 1993 Marathon 3.05.08 ranked 8th. Ginny Pollard was a British International Triathlete and Duathlete, who raced in several World and European Championships. She won the Black Isle Marathon in 1993; and that year finished third in the Scottish Half Marathon Championship.
Roslyn POLLOCK (10.07.73, Loudon Runners) In the Scottish Rankings, Roslyn's times and placings were as follows: 1990 1500m 4.47.3 28th ; 1991 800m 2.20.4 32nd; 1991 1500m 4.43.31 30th.
Gail POPE (1957-)Dundee Hawkhill
1973 3000m 12.09.0 26th; 1974 3000m 11.04.0 13th; 1976 3000m 11.53.8 28th; 1983 Marathon 3.22.07 21st; 1985 Marathon 3.06.1 21st
Debbie PORTER (Kilner from 1993) was born on 2/11/1961 and ran for Aberdeen AAC. In 1995, Debbie was ranked third in Scotland for 10,000m; and 6th for 5000m. In that year's Scottish Athletics Championships, she won bronze in the 5000m. In the 1996 Scottish Senior National Cross-Country, Debbie Kilner became Scottish Champion. Aberdeen AAC won team silver in 1994, 1995 and 1996; and added another silver medal in the 1995 Scottish Cross-Country Relay; and bronze in the 1992 Scottish Road Relay. Debbie Kilner won the 1994 Scottish 10k road race; plus bronze in 1991 and 1996. She ran for Scotland on cross-country and road. Cross-Country:1993 Cumbernauld 8th (3rd Scottish counter), team won, beating Northern Ireland and three other sides; 1996 at Mallusk (4th Scot); 1996 at Ashington (fourth Scottish counter) and Scotland beat Wales. Road: 1994 Glasgow 10k (11th and first Scot).
Alison POTTS, (15.10.74, Victoria Park, Glasgow, City of Glasgow, Strathclyde University) was a really good runner with Scottish Schools and Scottish age group internationals to her credit and ranked every year from 1989 to 1999. Best times: 400m – 58.9, 800m – 2:10.0 and 1500m – 4:34.56. A good cross-country runner she was third in the Junior age group in 1990, third in the Intermediate age group in 1991 and 1992, third again the U20's in 1993 before being second in the 1994 national championships.
Christine Price – see Christine Haskett
Polly PRYDE (1957-2014, Strathclyde Ladies) We only have times for 1971 for Polly: 1971 800m 2.26.02; 1500 5.52.4
Georgina PULLAR (26.07.62, Ballingry JHS, Pitreavie AAC) Georgina ran in the late 1970's with best times of 2:17.01 for 800m and 11:18.02 for 3000m
Linda PURDIE (12.11.67 Edinburgh) , later Smith, was ranked in 400m, 800m, and 3000m with best times of 56.87 (400m), 2:09.54 (800m) and 10:38.1 (3000m). Competitively she was second in the 800m indoors championship in 1988.
Margaret PURDON, Bellahouston Harriers was a good middle distance runner in the 1960's with best times of 26.51 (220 yards), 60.0 (440 yards), 2:29.31 (880 yards), 5:15.64 (Mile) . Competitively Margaret was second in the Mile at the SWAAA Championships in 1967 and 1968. She also ran over the country and was 6th in 1966, 4th in 1967 and this latter performance earned her a run in the international championship where she finished 16th.
Arlene PURSGLOVE (14.12.5, Westbury) was an Anglo-Scot at a time when there were many Anglos contending for places in the Scottish team. Arlene had a best time of 2:13.o for 800 in 1973.
Jacqueline QUINN Edinburgh Southern ran well in the mid-1970s with best times of 5:06.23 for 1500m and 11:22.4 for 3000m.
Pauline B. QUINN [NI] , later Thom, (2.08.70) Edinburgh Southern was a medalist in the British championships as well as the Scottish between 1988 and 1998. Her competitive record in terms of championships was as listed in the www.scotstats.net website: In the GB Championships: 3rd in the indoor 1500 in 1997, '98, and'99. In the Scottish championships, 2nd in the 1500 in '95, '98; 3rd in the 3000 in '92; 1st in the indoor 1500 in '99, 2nd in the indoor 1500 in '97, '98, and '01; 3rd in the indoor 1500 '96. Her best times were 2:08.4 (800m), 4:22.3 (1500m) and 9:50.4 indoors for 3000m.
Below: Susan Partridge