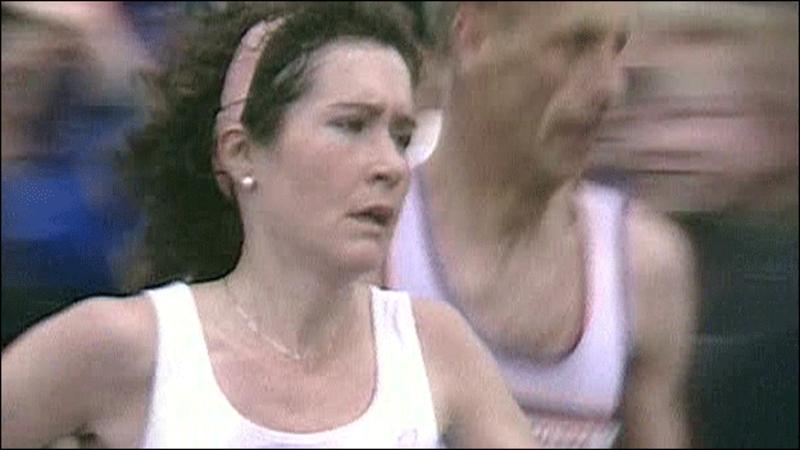 Moira O'Boyle
Susanne NIEDRUM (Clydesdale Harriers) was a very good runner, especially on the hills. Originally from London she had run track and cross country before tackling the hills. Fifth in the Hill Runners Championship with in 1988, she was tenth in 1989. Only in Scotland for a short time (her career took her all over the world, eg Rwanda, Denmark) she was nevertheless well liked and enjoyed the hills. Susanne also ran in the Himalaya Super Marathon in 1994. Now called the World Cup Super Marathon, held over 7 days with 20000ft of ascent, she finished first woman in sixth place.
Claire NEVILLE (19.06.64, Turnbull HS, Glasgow) Between 1978 and 1981 Claire ran distances between 400m and 3000m with best times of 400 – 59.3, 800m – 2:10.5, 1500m – 4:39.4 and 3000 – 10:28.9
Fiona NICHOLSON (Forfar AC) A marathon runner who was second in the Scottish marathon championship in 1992. The Moray Marathon course near Elgin was notorious for being hilly, tough and slow.
Gail NOBLE, (Ayr Seaforth AAC) was ranked twice at the 3000m distance with a best time of 10:52.4 in 1982.
Hannah NORMAN (1.06.81, Pitreavie AAC) was a very talented middle distance in the 1990's with good times over 800 (2:17.4) and 1500m (4:40.76). She was also a top class cross-country runner – as an under 15 she was third (1995) and second (1996) in the National championship, as an under 17 she was twice second, and she won the under 20 in 1999.
Ainsley M. NORMAND, (19.03.72 Victoria Park, Cambridge University, Central) Ainsley ran from 1991 to 2007 over distances from 800m to 3000m Her best performances were 2:14.13 (800), 4:42.23 (1500m) and 10:36.41 (3000).
Moira G. O'BOYLE (20.08.1956-29.08.2012 Notre Dame HS (Dumbarton), Clydesdale Harriers, Victoria Park AAC) Moira's parents came from Ireland but she was born in Britain. A very good athlete she won titles and championships on road, track and country and represented Scotland in the world cross-country championships no fewer than three times – 1973, '74 and '76. When the family returned to Ireland, she changed her allegiance and ran for that country. Read her full profile. Her father, who coached her as a runner, was also a notable athlete and his profile can be read at this link.
Noreen O'BOYLE, Victoria Park AAC Mother of Moira O'Boyle, Noreen also ran for Victoria Park and won championship team medals in events right up to and including Scottish championships as a senior and as a veteran.
Eleanor O'BRIEN, Greenock Glenpark Harriers Eleanor, a member of the Glenpark club in Greenock, ran a series of good marathons in the 1980's and early 1990's. Her best time was 3:11:29 in 1991.
Morag O'HARE ( Maryhill Harriers). The 1957 Scottish National XC Championships was held at Craigie Estate, Ayr. In 'The Scots Athlete', Dale Greig wrote that Morag "dictated the pace from the start and then moved away strongly to win her first national title and bring her team home in first position". Subsequently, Morag O'Hare raced for Scotland v England at Musselburgh Racecourse and, although the English dominated (as usual in that era) Morag ran well to finish 8th and second Scot. In the 1958 Scottish National, she was 6th and Maryhill third team. Alas, the 1958 International had to be cancelled for financial reasons.
Margaret OLIVER (Aberdeen AAC) was another following in the footsteps of so many good marathon runners from the North-East with a best time of 3:10:53 in 1987. That year, she was second in the Scottish Marathon Championships at Aberdeen.
Bernadette O'NEIL (10.07.67) Giffnock North AC Giffnock North had many good women endurance runners – Julie Armstrong and Renee Murray for instance – and Bernadette was one of those whose best times were on the track over 3000m. Her best time was 10:26.42 in 1994.
Ann-Marie ORPISZEWSKA (Maryhill LAC) as a member of the Maryhill club in the late 60's it was natural that Ann-Marie should be a track runner but she was also a good runner over the country. In 1970 she was 14th in the National and a counting member of the team placed second. Her career on the track extended from 1968 to 1971. On the track she ran in distances from 880 to 3000 with personal best times of 2:20 (880y), 2:17.6 (800m), 4:57.4 (1500m) and 11:32.63 (3000m)
Gillian OSBORNE (1.08.60 Wolverhampton & Bilston) was one of several Anglo-Scots running and being ranked at this time and she had personal bests of 2:14.6 for 800m and 4:47.6 for 1500m.
Jennifer OVENS (17.05.64 Edinburgh Southern Harriers) had best times on the track of 800m – 2:17.8 for 800m and 4:40.83 for 1500m, both times recorded in 1989.
Suzanne OWEN (5.05.1979-26.10.2006 Chester, City of Stoke, City of Glasgow, Staffordshire University) Suzanne ran in Scotland and Scottish championships from 1995 at the age of 16until her untimely death in 2006. She ran at distances between 800m and 10000m. Competitively she won the Scottish 5000m championship in 2006, third in the same event in 2005 and won the indoor 3000m in 2003. Best times: 800m – 2:12.2; 1500m – 4:26.78; 3000m – 9:26.93; 5000m – 16:50.01; 10,000m – 36:09.14. Suzanne did run cross-country and helped her clubs but track running was her forte.