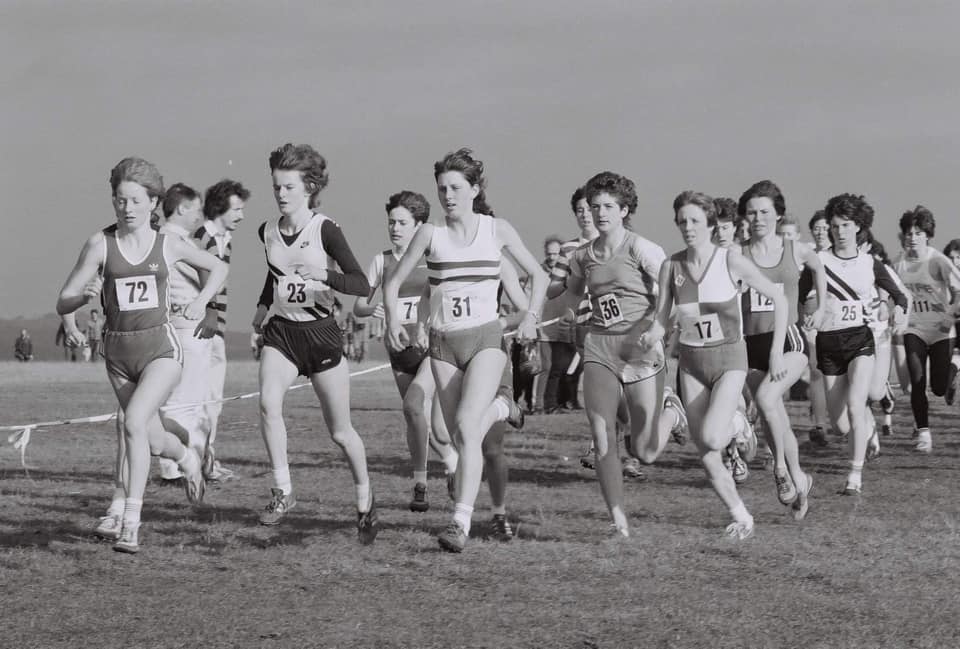 Start of Women's National, 1985
Picture courtesy John Scott
Laura Mahady was born on 20/2.1958 and ran for Aberdeen AAC. She always enjoyed running but did not start to compete until 1996. Her W50 personal bests were: 200m 28.7; 400m 61.05; 800m 2:19.5; 1500m 4:50.73; 1mile 5:26.00. At school in Dundee she did netball, hockey, gymnastics and athletics and later on tried duathlon and cycling. With AAAC, coached by Joyce and Ken Hogg, she started doing cross-country, road relays, 1500m and 3000m but startling basic speed made her concentrate on 400m and (especially) 800m. As a veteran, Laura went on to win Scottish, British, European and World championships; be ranked World Number One at 800m; and to set new W50 and W55 records (British, European and World) for 800m (Indoors and Outdoors). Laura raced for Scotland in the British and Irish Masters International XC Championships. She won the W50 Scottish Masters XC title in 2010; and also featured in AAAC teams which won three Scottish Masters XC Relay golds. Laura Mahady lectured in Sports Psychology at Aberdeen University.
Lynne Marr was born on 23/6/1961 and ran for Tynedale, Teviotdale Harriers and Pitreavie AAC. On the track, she competed at distances from 1500m to 10,000m. In 1999, she won a silver medal in the Scottish Indoor 3000m. Lynne raced many times in Scottish Masters Track championships and won several titles. She won W35 individual silver medals in the Scottish Masters XC Championships in 1997 and 1998; and featured in Pitreavie teams which won the title in 1998 and 2000. In addition, she competed frequently for Scotland in the annual British and Irish Masters International XC.
May Martin ran for Clydesdale Harriers. In the 1936 Scottish Women's Cross-Country Championship at Auchinairn, Glasgow, she finished third: and Clydesdale (Jean Tait, May Martin, Georgina Ballantine and Barbara Anderson) won the team title.
Sandra Marwick ran for Shettleston Harriers and featured in the annual Scottish marathon lists in 1999 and 2000, with a personal best time of 3.21.55.
Avril Mason was born on 27/4/1974 and ran for Shettleston Harriers. On the track, she won Scottish Championship bronze medals at 5000m and 10,000m. In 2012, she became Scottish Marathon Champion (at Inverness) with a time of 2.54.54; and also won the Masters title. Her personal best was 2.44.06. Avril secured W40 silver in the 2014 Scottish 10k road race. In 2014, she won Masters gold in the Scottish 10 miles road; Shettleston won the team title in 2014, 2015 and 2016. Avril Mason won Masters gold in the 2014 Scottish Half Marathon. She retained her Half Marathon title in 2016, 2018 and 2019. Shettleston won the Half Marathon team award in 2012, 2015 and 2016.
Eileen Masson was born on 9/3/1958 and ran for Kilbarchan AAC. Eileen was Scottish Marathon Champion in 1988 (at Aberdeen) and 1991 (at Inverclyde). She ranked fourth in Scotland for both those performances. Eileen Masson ranked fifth for 10,000m in 1987 and fourth 1988, when she won silver medals in the Scottish Athletics Championships.
Fiona Matheson was born on 25/4/1961 and ran for Falkirk Victoria Harriers. She started running with Jog Scotland; but developed into a world-class Masters distance runner. Despite being over 40 years of age, Fiona won outright Scottish titles for Half Marathon (in 2005 and 2010) and Ten Miles (2013). In 2010, Fiona ran for Scotland (as a Senior) v England in the Dunfermline Half Marathon – and won the race. She also secured Senior medals in Scottish 10 miles and 10k road championships. On the track, Fiona won the 2014 Scottish Athletics 10,000m title; plus silver or bronze medals at that distance, 5000m and 3000m Indoors. Naturally, many Scottish Masters titles have been won on track, road and country, over distances from 1500m to marathon; as well as several British and European titles. In the British and Irish Masters International XC, racing for Scottish Masters, Fiona Matheson won several age-group races. At Budapest in March 2014, she became W50 World Cross-Country Champion; and, only days later, won silver medals in the World Masters Indoors 1500m and 3000m. Read the full profile here.
Fiona MELDRUM (6.09.64, Glasgow, Edinburgh Southern), daughter of Pearl, see below, was a good runner over distances between 400m and 800m with best times of 56.5 (400m), 1:36.5 (600m i) and 2:13.7 (800m) and ranked nationally from 1988 to 1993. She was third in the SWAAA indoor 800 in 1991.
Pearl Meldrum was born on 4/4/1941 and ran for Central Region and Glasgow AC. On the track, she raced 3000m between 1975 and 1979. However, her real strength was as a cross-country runner. In 1977, Glasgow AC (including Pearl) won the Senior National XC team title. 'Veteran Women' reached that status aged 35. In 1977, Pearl Meldrum (running for Grangemouth AC) won the second Scottish Women Veteran Runners Association XC Championship, beating the 1975 champion, Norma Campbell from Berwick AC. In 1978, Pearl was first Veteran in the Scots-only 4000m XC Championship. In 1979, she was first 'Senior' in the East v West XC. In 1984, when the SWCCU finally allowed a W35 category, Pearl finished second to Palm Gunstone of Dundee HH. Even in 1986, aged 44, Pearl secured a bronze medal. Logically, between 1977 and 1983, Pearl Meldrum was the best Woman Veteran runner in Scotland.
Christine Menhennet was a very good distance runner who ran for Bellahouston, Clydesdale and Westerlands. She was good on the country and very good over the hills, no matter the distance. She was Scottish Hill Running champion in 1995. An international hill runner she won many hill races and travelled as far as Australia to run in their version of the Island Peaks race. A lover of everything to do with the hills, she has held several ladies' records, has been Scottish Ladies' Champion, has won paired adventure races and has competed at International level. She have also trekked in the Pyrenees, the Alps, the Dolomites, Corsica, the Andes and the Himalayas. A founder member of Scottish Hill Runners, she has been Ladies Captain of Westerlands Hill Running Club.
B Miller ran for Greenock Wellpark Harriers and finished 3rd (only ten yards behind Violet Murray of Dundee Hawkhill Harriers) in the 1935 SWAAA Cross-Country Championships at Auchinairn (over a two and a half miles course). Greenock Wellpark finished third team. B (alas, not even SATS can discover her first name) subsequently raced in the very first Scotland v England Women's International Cross-Country match (and the only one pre-WW2) which took place at Morecambe in 1935. In the 1936 Scottish National, B finished fifth and her team third again.
Ina Miller ran for Maryhill Harriers and won the Scottish Athletics Championship 880 yards in both 1938 and 1939.
Betty Moffat (Steedman) ran for Edinburgh Harriers and Athenian AC. In the Scottish Athletics Championships, she won the 880 yards in 1951 and 1952; finished third in 1953 and second in 1954. In 1954 Betty raced for Scotland in a floodlit event at Ibrox: along with Aileen Drummond and Jean Webster, she ran a unique 3×880 yards relay against England. In the Scottish Women's Cross-Country Championships at Bishopbriggs, Betty became Scottish Champion in 1952 (leading Edinburgh Harriers to the team title); and later secured silver (1953 – when Athenian were first team); and bronze (1954) medals. She was fifth in 1936. Betty Moffat ran cross-country for Scotland v England at Birmingham in 1954; and Betty Steedman did the same at Upminster in 1956.
Ina Mae Mooney ran for Jordanhill T.C. and caused a real surprise when, at Auchinairn (Springburn) in 1958, she won the Scottish Women's Cross-Country Championships from Dale Greig and Helen Cherry. Sadly, for financial reasons, the International match v England was cancelled, so the Scottish XC Champion never had the chance to race for her country. However, it seems that Ina Mae Mooney was an extremely versatile athlete, who in 1959 won Scottish Athletics Championship bronze medals for 440 yards and 80 yards Hurdles. She was also ranked that year for 880 yards, High Jump and Discus Throw!
Charlotte Morgan was born in 1976 and ran for Carnethy HRC. She is best known for being the 2018 World Long Distance Mountain Running Champion. The event took place in Poland and Charlotte led the GB team to silver medals. From 2013, she started winning many Scottish and English hill races. In 2015, Charlotte finished 5th in the Scottish Senior National XC; and also ran for Scotland in the Home Countries International XC at Antrim. In 2018, she won the Scottish Masters W40 XC title; and then the World Mountain one. In 2019, Charlotte Morgan took part in the World Trail event and the World Mountain Running Championships.
Sharon Morris was born on 29/7/1965 and ran for Shettleston Ladies. Personal bests: 800m 2.12.4; 1500m 4.32.0. In 1981, she ran for Scotland in a Junior XC International in Northern Ireland. In the 1983 Senior Scottish National XC, Shettleston Ladies, led by Sharon in 12th place, secured team bronze; as they did again in 1984.
Angela Morrison (Howe from 2003) was born on 13/12/1970 and ran for Fife AC. Her Marathon personal best was 2.49.36 which, in 2006, ranked fourth in Scotland. In the 2010 Scottish 10k Road Race, Fife AC (led by Angela Howe) won bronze medals. She added 2008 Masters gold in the Scottish Half Marathon (and Fife finished third team).
Catriona Morrison was born on 11/1/1977 and ran for Edinburgh AC. Although she ran one Junior Celtic Nations XC International for Scotland in 1998, finishing third (and third Scot) when her team beat Wales, Catriona was to become a top professional Duathlete (World Champion in 2006 and 2010; plus Long Distance golds in 2007 and 2008) and Triathlete (bronze in the 2007 Long Distance World Championships). Catriona was third in the 1998 Scottish 5000m Championship. In the Scottish Senior National XC, she finished second in 2004; 2007; and 2008, when EAC won the team title. In the 2018 Scottish Masters XC, she finished second W40 (representing Stirling Tri Club).
Helen Morton was born on 27/3/1958 and ran for Irvine AC. In the 1994 Scottish 10 miles road championship, she won Masters gold. In the Scottish Masters XC Championships, Helen Morton won W40 silver in 2001 and 2003 (when Irvine AC finished third team); W45 gold in 2004 (plus bronze in 2005 and silver in 2006); and W50 silver in 2009.
Angela Mudge was born on 8/7/1970 and ran for Carnethy HRC. She was best known as a world-class mountain runner. In the 2000 World Mountain Running Championships, Angela won the world title; while in 2003 she won silver and led the Scottish team to gold medals. She won the Scottish Hill Championship three times and the British one five times. Many other triumphs are mentioned in her full profile and even more on wikipedia. Suffice it to say that Angela Mudge has been inducted into the Scottish Athletics Hall of Fame. (In the Scottish Senior National XC, Angela won the title in 1999, when Carnethy were third team; and finished second in 2000. She won the Scottish Masters XC title in 2014. As a Senior, Angela ran three cross-country international matches for Scotland: 1999 at Belfast (second Scot; the team lost to England but beat Ireland and Northern Ireland); 1999 at Cumbernauld (first Scot; lost to England, beat Northern Ireland and Wales); 2000 at Belfast (first Scot).) Read her full profile here.
Sophie Mullins was born on 9/10/1981 and ran for Fife AC. She was a valuable club member, and featured in a winning Fife AC team in the Senior National XC Championships; and team gold in the Scottish Marathon. Although her marathon best time was 2.58.16, she showed top-class ability in ultra-distance racing. Representing Scotland in the Anglo-Celtic Plate 100km, Sophie finished third (and Scottish Champion) in 2016 (with Scotland second team). In 2019, Sophie Mullins became the very first Scottish woman to win the Anglo-Celtic Plate (along with UK and Scottish 100km titles). Scotland beat England and Northern Ireland to the team award. Sophie was presented with the first Don Ritchie Trophy.
Gail Murdoch ran for Carnegie Harriers. She ran five ultra-marathon races for Scotland. In the Anglo-Celtic Plate 100km: in 2009, she was third Scot (with the team second too); in 2010 she was second Scot (but the team won); 2011 first Scot, third team; and 2012 second Scot, second team. In addition, Gail Murdoch ran for Scotland in the 2009 Commonwealth 100km Championship at Keswick, and finished 7th. Scotland lost to England but beat Canada to silver medals.
Rose Murphy was born on 26/4/1954 and ran for Bathgate AC. On the track, she ran 880 yards, One Mile, 800m and 1500m. Rose ran one track International 1500m for Scotland in 1971 and was second against Northern Ireland. After finishing 6th in the 1971 Senior National XC, Rose Murphy, at San Sebastian, ran for Scotland in the ICCU International Championships.
Freya Murray (Ross from 2013) was born on 20/9/1983 and ran for Lasswade AAC, ESH, EAC and Chester-le-Street. In the Scottish Athletics annual rankings, she was first for One Mile (2004), 500m (2006), 10,000m (2009, 2010, 2012) and marathon (2012 and 2016). Freya Murray's fastest marathon was 2.28.10 in 2012, the year that she finished a good 44th, running for GB in the London Olympics. In the 2010 Commonwealth Games, Freya was 7th in the 5000m and 5th in the 10,000m. She won British titles for 5000m in 2009 and 2010. Scottish Athletics wins included 5000m in 2010 and 2016; 10,000m in 2009; and Marathon in 2016. Freya Murray raced four track Internationals for Scotland. In cross-country, she won the National under-15 title in 1999; under-20 in 2003 and 2004; and, between 2006 and 2012, six Senior Championships. EAC finished first team in 2008, 2011 and 2012. Freya ran five Junior XC Internationals for Scotland; and two at Senior level.
Renee Murray was born on 19/6/1952 and ran for Giffnock North AAC. Her best year was 1990. She won the W35 Scottish Masters XC title; finished second in the Scottish Athletics 10,000m Championship; won the Scottish Half Marathon title; and ran a marathon in 2.55.23.
Violet Murray ran for Dundee Hawkhill Harriers. In 1935, she finished second (to her team-mate, Mildred Storrar) in the Scottish WAAA two and a half miles Cross-Country Championship at Auchinairn (Springburn) – and DHH won the team title. Consequently, Violet ran for Scotland in the 1935 International v England. In the 1936 Scottish XC Championships, Violet was sixth and DHH secured silver medals.
Yvonne Murray was born on 4/10/1964 and ran for Musselburgh Grammar School, Edinburgh AC and Motherwell. Yvonne was a versatile, world-class athlete, successful from her early teens. Her major successes include: Olympic Games 3000m bronze 1988; European Indoor 3000m gold in 1987; 1990 European 3000m champion; 1993 World Indoor 3000m gold; Commonwealth Games 10,000m 1994 champion. Yvonne Murray won GB titles for 1500m, 3000m and 5000m. Scottish victories were at 800m, 1500m and 3000m. She ran 15 track Internationals for Scotland. In cross-country, Yvonne won the National under-17 title in 1981; and a Senior silver medal in 1985. She raced for Scotland in one XC Junior International and ten at Senior level. Read her complete profile at this link.
Below: Fiona Matheson