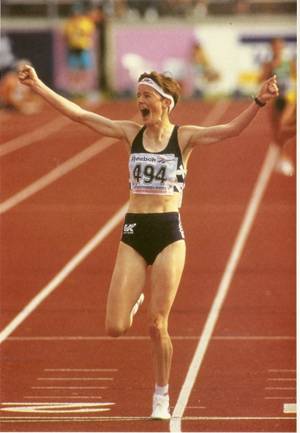 Yvonne winning the Commonwealth Games 10000m in 1994
Yvonne Murray was born in Musselburgh on 4th October 1964 and was to go on to represent Scotland in the Commonwealth Games and Great Britain in the Olympic Game, European and World Championships. During her time in the sport Scottish women's endurance running had many very good athletes indeed but there were only two giants – Yvonne and Liz McColgan. Unlike Coe and Ovett in England they did not avoid each other – it was not unknown for Coe or Ovett to turn up at a Grand Prix, find that the other was slated for the same race and ask for a separate race to be organised so that they did not cross swords: there were many meeting where there were separate races at 1500 metres and the mile. The situation did not prevail as far as Murray and McColgan were concerned. The races were hotly contested – I remember one in particular on the roads inside Duthie Park in Aberdeen where they ran so close together that, with no one else within a hundred yards, shoulders were jostled and heels were clipped. But strong as their rivalry was, they both had their eyes on bigger prizes than domestic ones – both went for the Commonwealth Games, the European Games and the big one, the Olympic Games.
Where Liz was advised over the years by a range of coaches – notably Harry Bennett, John Mitchell and John Anderson – Yvonne only had two. In the beginning it was Bill Gentleman in Edinburgh and she ran some very good times and won some big medals while with him, and then Tommy Boyle. What difference did the change make? Well to many Yvonne seemed a bit more self assured while with Boyle, she was certainly a harder athlete than before – although she was a delightful personality, when she was running she was a real competitor – and had a broader range of tactics. I have seen her sit in and go over the last couple of hundred metres, I have seen her go from 1000 metres in a 1500 metres race, I've seen her go from the front. She was also known to track other runners – Liz and Elana Mayer among them – so closely as to cause them some discomfort mentally as well as physically. This may have come with maturity anyway but that a 'might-have-been' and 'might-have-beens' do not count. The fact is that she was a talented and redoubtable character who drove herself hard in her quest for success. The following account of Yvonne's career was written by Colin Youngson.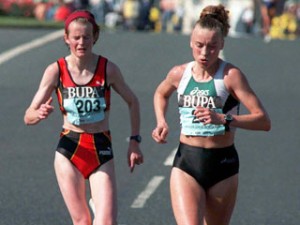 Yvonne and Liz
Colin writes: "It must have been 1977 or 1978. I was teaching at Craigmount High School, Edinburgh, and my friend Dave Taylor convinced me to set up a cross country team to take part in the Edinburgh Schools Cross Country League. So one Tuesday afternoon we boarded a minibus and headed off for the distant wind-swept playing fields. Since I was running at least 70 miles per week at the time, no opportunity could be lost to add to the total. My method of 'coaching' was to make sure that my boys and girls were warming up, and then to cheer on the leaders in every race by running parallel with them. So it was that I first met Yvonne Murray, who may have been 13 years old. She was the small but extremely determined figure who was inevitably so far ahead of the other girls that they may as well not have bothered. What impressed me was that she was bashing on flat-out right to the finish, when she could have jogged on and still won easily. I praised and encouraged her without having any idea about just how good she would be in the future.
Her coach at the time was Bill Gentleman who had met her at Musselburgh Grammar. Bill was, and still is, a chunky enthusiast who can out-talk anyone. Even in 2010 he remains an outstanding veteran hammer thrower who wins medals at World Masters Championships. How on earth could he coach a middle-distance runner? Nevertheless the partnership worked well until 1987 when she switched to Tommy Boyle (Tom McKean's coach) and Stuart Hogg. Before then Yvonne had made very good progress. Stan Greenberg wrote the following for the 1995 Scottish Athletics Yearbook: 'She first came top notice on the big stage with a sixth placing in the 1981 European Junior 3000 metres, and the following year set a British Junior record for the distance and won the Scottish title. Celebrating her eighteenth birthday at the Commonwealth Games she placed an unnoticed tenth in both the 1500 and 3000 metres. In 1983 she began to make a mark showing her range by winning the Scottish 800 and the UK 5000 metres titles. She also gained her first Senior International. The following year witnessed a series of personal bests, although no particular victories of note, but she began 1985 with a bronze medal at the European Indoor Championships. Later in the year she took the UK 3000 metres title. 1986 was a come-through year and Yvonne improved to a silver medal at the European indoor meet. At the Commonwealth Games she won bronze in the 3000 metres as well as placing fifth in the 1500 and repeated her bronze at the European Championships in Stuttgart with an 18 second improvement.'
***
Naturally I had followed her progress with interest. Although she was an extremely brave front-runner, and had improved immensely, she seemed to lack a finishing sprint. Stan Greenberg again: 'In 1987 she finally got her first gold medal, for the 3000 at the European indoor championships, and followed that with fifth in the World Indoor Meet. Despite a dislike for cross country, which still endures, she placed sixteenth for Scotland at the World Championships in Poland. Later in the year she took took second place in the European Cup 3000 metres and was seventh in the World Championships in Rome. Yvonne won her first WAAA title (at 3000 metres) in 1988 and went on to win an Olympic bronze medal in Seoul in the excellent time of 8:29.02.'
Bob Mackenzie has written, 'This Olympic bronze only convinced her coaches that the Musselburgh secretary would have to experiment to find out her real capabilities to cope with the campaign of the 1990's. She proved a quick learner and the notorious one pace and desperate finish, already on the way out in Seoul, was eliminated in 1989.'
In early 1990 Yvonne said, 'We tried different things, going for the big finish from a variety of lengths, and although it would vary according to the race and the competition, I know I am a better racer for the experience. I had a fixation about fast times for a while. It seemed that I should always be going for a record, but I have learned to race and it worked well in the 1989 World Cup final in Barcelona. The time was nothing special, about 8:44, but I won and that is what matters.' Tommy Boyle added, 'I told her before the World Cup final at Gateshead (where she won silver) to go from 200 metres. At first she though I meant 200 metres from home – I meant 200 metres from the start. You have to be one ahead of the opposition all of the time. Most of the girls are very fit now, and it is the mentally tougher one who wins. Yvonne will be a much better runner hopefully for what we have learned in the past season.'
His hopes were fulfilled in 1990. Although in the Auckland Commonwealth Games, Yvonne was pipped by one second to the gold by Canada's Angela Chalmers, she won the WAAA's title and as Stan Greenberg wrote, 'At the European Championships in Split she really came into her own with a 600 metre finishing kick to win the gold medal.' Yvonne Murray was awarded an MBE that year.
Greenberg continued, 'Although she retained her WAAA title in 1991, the year was not happy as she had poor runs in the European Cup (fifth after a remarkable first lap of 61 seconds) and in the Tokyo World Championships (tenth after leading at the bell). The following year at the Barcelona Olympics, also after leading at the bell, she finished in eighth place – disappointing after her excellent WAAA 1500 metres victory.'
In March 1993, 'Athletics Today' wrote about the World Indoor Championships in Toronto – one of Scottish Athletics's finest moments since gold medals for Yvonne Murray (3000m) and Tom McKean (800m), who were both coached by Tommy Boyle, and David Strang (1500m) would have put Scotland in third place in the medal table if they had not been running for GB! 'No major championships would be complete without some tears from Yvonne Murray. But this time the tears that spilled were over victory, not defeat. After two miserable years, the Scottish lion was rampant again as Murray lifted the 3000 metres title with the biggest winning margin in the race's history – 12 seconds – and the fastest time – 8:50.55 – in the world this year. Murray who had tried to break away on each occasion in Tokyo and Barcelona with 600 metres left, reverted to an old favourite from her bag of tricks – running from the front. As soon as the big clock flashed up'1000, 3:02.98′ Murray went, stepping past three time World Cross Country Champion Lynn Jennings (USA) and putting her head down.' (Also left behind was Elly van Hulst (Holland) who had won gold in the same event back in 1989 narrowly outkicking Scotland's Liz McColgan and breaking the world record in Budapest.)
'The pace was brutal (that 200 was covered in 32.30, the 400 in 65.6 and the 800 in 2:13.9) and deadly. Within 200 metres she had put six seconds between herself and the rest of the 12 woman field. At its widest Murray's lead stretched to 18 seconds with three laps left. The giant video screen, Murray admitted, had been a useful tool in her break.' 'I always used to run from the front but when I joined Tommy Boyle I tried to become unpredictable rather than predictable. I knew what kind of shape I was in today and if anyone was going to beat me they would have to run bloody hard to do it. A lot of people will say that the World Indoor Championships are not important. But to any youngsters or anyone trying to re-establish themselves, I think they are important. I feel like they're a hurdle I've overcome. It doesn't matter if they're the World Indoor Championships or the European Championships – it's great to hear the national anthem.' Murray is only Britain's fourth senior woman runner to become a world champion, following Wendy Sly (World road race 10K 1988), Zola Budd (World CC 1985 and 1986) and Liz McColgan (World 10000 1999 and World Half Marathon Champion in 1992). Yvonne finished her lap of honour clutching the Union Jack in one hand and the flag of St Andrew in the other.'
Ultimately, despite this superb performance (and another victory in the WAAA 3000 metres), Yvonne faded to ninth in the World Championships in Stuttgart. However in typical fashion, she bounced back in 1994 with (in the words of Stan Greenberg) 'a gallant second place in the European 3000 metres at Helsinki, and then, in only her second run at the distance, ran an outstanding 1000 metres to win the gold at the Commonwealth Games in Victoria. Then to end a wonderful season, she won her second World Cup 3000.' She was BBC Scotland's Sports Personality of the Year for 1994.
On the few occasions I have met Yvonne since her earliest racing days, I have been impressed, not only by the fact that her international experiences had matured her into a tall confident young lady, but also by her modest, friendly greetings to old acquaintances. Yet I remember watching a needle match between her and Liz McColgan – a 5K international road race in Aberdeen organised by Brendan Foster. Liz tried to run away while Yvonne maintained iron physical control by following so closely that she frequently unsettled Liz by tapping her heels. Naturally Yvonne won the final sprint. She is a lovely person but a ruthless competitor.
Although she continued to race until almost 2000, injuries eventually hastened her retirement after an extremely successful career. Her Scottish records endure. 1500: 4:01.2, One Mile: 4:22.64; 2000 metres: 5:25.93; and 3000 metres: 8:29.02. Yvonne Murray-Mooney (her married name) was inducted into the Scottish Sports Hall of Fame in 2007. She is now an inspirational athletics development coach with North Lanarkshire Leisure and is involved in promoting the International Children's Games. Participants will be extremely fortunate if they go on to emulate Yvonne's own triumphs."
The account above is fairly comprehensive but a couple of things need to be added. One is an overview of what she won and when and the other is some description of some key races in her career. We'll go with the overview first in the table below.
| | | | | |
| --- | --- | --- | --- | --- |
| Year | Meeting | Venue | Event | Medal |
| 1986 | Commonwealth Games | Edinburgh | 3000 m | Bronze |
| 1986 | European Championships | Stuttgart | 3000 m | Bronze |
| 1988 | Olympic Games | Seoul | 3000 m | Bronze |
| 1990 | European Championships | Split | 3000 m | Gold |
| 1990 | Commonwealth Games | Auckland | 3000 m | Silver |
| 1993 | World Indoor Championships | Toronto | 3000 m | Gold |
| 1994 | European Championships | Helsinki | 3000 m | Silver |
| 1994 | Commonwealth Games | Victoria | 10000 m | Gold |
In addition she had seven Scottish Championships, three AAA's championships (two at 3000 m and one at 5000m) as well as AAA's indoor champion. When she was second to Angela Chalmers in the Commonwealth Games in Auckland in 3000 metres one of those behind her was Liz McColgan.
'The "Independent"s Ken Jones described her first major gold (in Split) with the words "With three and a half laps left she dropped back a stride or two and the others, particularly Yelena Romanova waited for her strategy to unfold. Around again, pad, pad, pad, the pace metronomic and seldom disturbed. When would Murray make her move? Her closest rivals had said they could not tell. A feint to the front as though to get them on edge and then back again into third place. Suddenly she went. Kicking off a bend and towards the bell; a long punishing run for home….. the field was in disarray, stretched out, watching her extend her lead to 15 metres with some 600 left. Had she gone too early? Did Romanova have the energy to catch her? No danger. The girl from Musselburgh went further and further away, uncatchable in the final stretch." The debt Murray owes to Boyle, said the 'Athletics Today' magazine, is enormous. "I was cautious, never prepared to gamble," she confesses. Murray's tactics in Split were certainly a gamble. If they had failed or she had misjudged them, Murray may have left the Yugoslavian resort without even a medal.' If this was a clear triumph for tactics, the 1994 victory in Toronto was another tactical victory – but not one that met with universal approval – at least not Elana Meyer's!
In the Commonwealth Games 10000 metres in 1994 she defeated Elana Meyer of South Africa, who had been second in the 10000 metres at the Barcelona Olympics, for the title. Meyer, said by her countrymen even today to be the best woman endurance runner ever from the country, was another not known for her sprint and she was better known for leading or for winding the pace up from a long way out. An article on the SI.com website anticipating her duel with Liz McColgan in 1992 said that in the past Meyer had not had to race so much as simply run and added that in Barcelona, "the wispy Meyer may not fare well if the 10000 turns physical." We all know how well she ran in the Olympics to finish second and the symbolic value of her lap of honour with Tulu who had won the race. But one thing that can be said about Boyle's team – they did their homework and Murray was well capable of carrying out the instructions. If physicality was a problem for Meyer then an element of it could be introduced into the race. (Word has it that for the race in Duthie Park mentioned above Tommy Boyle had instructed Yvonne to get right up on Liz and the phrase 'even get inside her vest' was quoted in one paper.) This time too Elana did the leading with Yvonne following very closely indeed which let the South African know she was there, know she was just holding herself back with difficulty and then when she decided to go Yvonne went on to win by just over nine seconds – 31:56.97 to 32:06.74. The tone of the contest was indicated by Doug Gillon's headline in the Herald the following day: "Murray Wins the War and a Gold Medal to go with it." The report reads as follows – ""It was war out there" said Murray, whose time was a modest 31:56.74 which nevertheless had dropped all but three of the field with nine laps to go. Second was South African, Elana Meyer with Kenyan Jane Omoro third. The Scottish team captain, Vikki McPherson was fifth in 33:02.74. Murray finished bleeding from spike marks, testimony to her concentrated close pursuit which had Meyer looking daggers at her. "Now I understand why Liz McColgan gets so upset when she races Yvonne", said the angry Meyer. It was sweet revenge for Murray who had been shadowed in similar fashion only to lose her own European 3000 metres title in Helsinki last month. "I am delighted," said Murray, "but it really was a battle. Elana kept slowing and I would clip her heels but it was not intentional." The pace was modest to 5000 metres (16:27.37) with eleven runners still in contention, but when Meyer broke with Omoro and Murray in pursuit, they were soon shed and the medals were already decided. Murray contained her impatience and struck in utterly ruthless fashion with 500 metres to go covering the final lap in 65 seconds." A day later and he wrote, "Criticised by Meyer for having run too close to her, Murray countered, "She's got pretty good elbows herself. Elana said something similar about the Kenyan, Sally Barsosio, at the World Championships when she dropped out. But I have poor eyesight and sometimes miss a gap appearing, that's why I stay close." Meyer insisted it had been excessive: "I could feel her breathing – pretty heavily too. It gave me hope."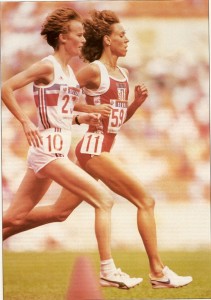 In an interview published in July 1991 Yvonne spoke openly about competition tactics.
Competition tactics
Athlete's Input: It is essential that the athlete communicates with the coach and discusses competition tactics, and I felt that this was beneficial for myself and the coach; for the coach checking to see that his athlete was switched on, and for the athlete making me concentrate on what was important – WINNING!
Know your opposition: Most athletes keep a check on how other athletes are getting on through televised meetings and running magazines. I find it useful checking up on the new faces also.
Evaluate their strengths and weaknesses: I find it useful looking through videos of races, checking on pace, tactics, etc. It is much easier and I can learn quicker about the opposition by watching rather than reading reports on races or by other peoples views, eg Puica is a kicker; I will have to go easy to compensate and try and burn her out early.
Plan tactics on strengths to exploit their weaknesses: After finding our opposition's weaknesses, plan one or two ways of approaching a race and practice in training until feel comfortable about it.
Olympics 1988 – thought processes: My own thoughts before the Olympics were ones of confidence. I was the outsider, not expected to get a medal, and I used this as best I could. After planning one or two ways of running the race, I read through the start lists, checking the opposition in a positive manner, knowing the biggest and best field ever, including Samolyenko/Ivan/Decker, etc had been assembled and it was going to be hard but it didn't frighten me. I then concentrated hard on what I was going to do during the race, no negative thoughts, thinking this was just another race that I wanted to win. I cut down the opposition to two people, Paula Ivan and Tatyana Samolyenko, as the main threats and made sure I knew where they were during the race. I knew that Decker would take it up and hoped she would keep it going knowing that she was not the athlete of old, and at the right point, used my race plan, finishing third, winning a bronze medal, and improving my best for 3000m by nine seconds, but of equal importance the result fully justified my decision to take a much more professional approach and leave no stone unturned in my quest to become the perfect elite 3000m runner. I shall share with you my thoughts on the best tactics to employ to consistently win high level 3000m races. This shall of course be after retiring from international athletics!
*
Very interesting indeed. It is not often realised by the general public that middle and long distance racing is a physical contact sport – whether it was the Victorian peds flicking the heel of the leader with the hand every ten or fifteen strides or deliberately boxing in a runner in a 1500 metres Championship race or learning to use your elbows to your own advantage in a Highland Games handicap 800. However the results of the 3000 m races described with their tactics above are as follows:
25/9/88 Seoul Olympics 1. Tatyana Samolenko (USSR) 8:25.15; 2. Paula Ivan (Rumania) 8:27.15; 3. Yvonne Murray (GB) 8:29:02; 4. Yelenka Romanova (USSR) 8:30.45.
29/8/90 European Championships, Split. 1. Yvonne Murray (GB) 8:43.06; 2. Yelena Romanova (USSR) 8:43.68; 3. Roberta Brunet (Italy) 8:46.19.
There are several videos of her races at the Youtube website – just type in 'Yvonne Murray' and take your pick.
Yvonne Murray has been inducted into the Scottish Athletics Hall of Fame.