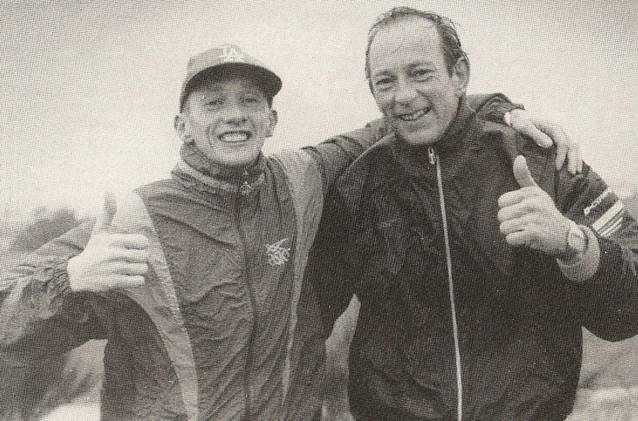 Tommy with Dave Cannon
Tommy Murray (born 18/5/1961) was a real individual – an outspoken man who overcame considerable difficulties to enjoy an outstanding running career, mainly in the 1990's, when Scottish GB Internationalists were very rare indeed. This profile will be based on his own email autobiography and has been put together by Colin Youngson.
Tommy calls himself 'a bit of a rogue' during his schooldays at Cowdenknowes High School in Greenock. He certainly did not enjoy the muddy, hilly cross-country course. Between the ages of 14 and 20, he suffered terribly from anorexia and bulimia, before taking up employment with Inverclyde Council and taking up an exercise regime. He got around the Inverclyde Marathon in 3 hours 57 minutes. After that he was invited to train with that distinguished old club Greenock Glenpark Harriers and his improvement was rapid. After doing repetition sessions with stars like Lachie Stewart, Hammy Cox and Cammy and Lawrie Spence, he won the Glenpark club cross-country championship in early 1985, defeating ex-international Dick Hodelet who had won the event ten times. In October 1985, Tommy Murray wore the Scottish vest for the first time in a Celtic Nations contest at the Isle of Man. Bobby Quinn was a team-mate.
In 1987 Tommy won his first Scottish title, the 10000m at Meadowbank Stadium in Edinburgh. (He was to win this championship four times for four different clubs: Greenock Glenpark Harriers, Cambuslang Harriers, Spango Valley AAC and Inverclyde AAC.) On this first occasion Tommy's committed front-running dropped everyone apart from the Cambuslang pair Calum Murray and Andy Beattie. Remembering Lachie Stewart mentioning that most runners 'went for home' at the 20 lap mark, Tommy surged hard at 19 laps! He went clear and won in 29:38.
In 1989, Tommy was not considered by the pundits to have a chance of winning the Scottish National Cross-Country Championship – Neil Tennant, Paul Evans and Steve Ovett were the favourites. However once he got a look at the Hawick course which was a mixture of churned-up snow and mud, Tommy was confident that he could handle the heavy going. He wrote: "As the starter fired his pistol and the race got underway, I got myself up to the front and into the lead, with several main contenders bunched up behind me. After about two miles of the seven miles race, I suddenly felt as if I was floating along, oblivious to my surroundings – or as some say 'in the zone.' For the next few miles I continued to push on, cutting the chasing pack down one by one, until I was on my own and clear. Every now and then I would hear some one cheer my name as I sped along. The race seemed to be over so quickly from the gun firing to me crossing the line with my arms aloft in victory. Paul Evans was second and Peter Fox was third. The great Steve Ovett trailed in fourth, and as soon as he crossed the line he was surrounded by the BBC TV crew, but being a true sportsman, he turned and pointed to me and said, 'That's the winner over there. Once you've spoken to Tommy, come back and see me.' That meant as much to me as winning the race. On the coach back to Greenock, one of my clubmates produced a bottle of champagne and filled the cup so that everyone could drink from it. I had just won "The National" and it felt brilliant."
After this Tommy was sponsored by Asics and formed a lasting friendship with their representative Dave Cannon, who had been an excellent GB international marathon runner. Dave proved invaluable in providing advice and encouragement as well as free kit! For example in 1991 he followed Dave's suggestions about when to do hard sessions and when to rest, and was soon running well again. Tommy won an international cross-country race in Holland, defeating England's Bashir Hussein and Dutchman John Vermeulen. His hosts treated him like a superstar and he returned to this race three more times recording another win, a second and a third.
1992 was one of Tommy's best years. He fought hard to hold off Robert Fitzsimmons of Kilbarchan in the Scottish Indoor 3000m at the Kelvin Hall. Then he was selected to run for Scotland at an International Indoor Meeting in Norway, against the host country and Denmark. Unfortunately, 'special needle spikes' were supplied by the hosts, which ensured that the Scots found it very slippery on the bends! Shortly afterwards Tommy reduced his pb to 8:11. This was just part of his preparation for the British CC Championships in Basingstoke where he hoped to qualify for the British team and take part in the World Championships in Boston, USA. Rob Denmark, a 5000m track specialist, was meant to be the favourite at Basingstoke, but Tommy writes: "The first eight places were filled by very good cross-country runners who weren't bad on the track, rather than very good track runners who weren't bad on the country.' After a last-ditch sprint, Tommy finished fifth, with Chris Robison sixth, and both were selected for the British team. Then in the Scottish National on the Beach Park at Irvine, Tommy 'destroyed the opposition and won the race so easily'. Chris Robison was second and Bobby Quinn third. Unfortunately Tommy missed the medal presentation and the applause of the crowd, since a jobsworth drug-testing official insisted that, even with an escort, he could not receive his cup and gold medal, while he was waiting to provide a urine sample.
In Boston, as usual on international trips, he shared a room with Chris Robison. Tommy writes: 'We had a right good laugh. The senior men's team were a great bunch of guys and we got on brilliantly, apart from Richard Nerurkar, who liked to keep himself to himself. As international athletes the rest of us understood that everyone has different ways of preparing for big races and that was his.'
'On race days, all athletes were transported to the course by small vehicles called trolley buses. These were normally used for tourist sight-seeing trips and were equipped with intercoms. The atmosphere on our bus was very tense, so to lighten up I asked the driver if I could use the microphone. I proceeded to give everyone on board my best rendition of Tom Jones' 'Delilah', followed by 'Sweet Sixteen'. The look on the foreign athletes' faces was an absolute picture and the British team was howling with laughter. The bus driver offered me a job during the tourist season, saying I could earn a fortune.'
'After a warm-up, I felt very nervous when I took my place in the starting stalls alongside World and Olympic medallists. Once the gun went, everything was just a blur. We seemed to have started at one hundred miles an hour and then got even faster. At no point in the race could you take a breather – if you did, a dozen athletes would overtake you. John Ngugi of Kenya won the race and led his country to team victory, which was no surprise. What did come as a shock was France taking silver and Great Britain bronze, so now I'm the proud owner of a world championship medal. The presentation was brilliant, going up on to the stage to receive my medal with the rest of the team is something I'll never forget. That was a fantastic week for British Athletics and the highlight was not us winning bronze medals, although to us as seniors it was unforgettable. The best thing was a certain Miss Paula Radcliffe winning the Junior Women's race. I remember thinking that she would probably go far! Compared to major Games, the World Cross is a lot smaller but as far as quality races go, they don't come any bigger.'
That summer recording a new pb of 29:16.42 Tommy scored a decisive victory in the SAAA 1000m over his North of England rival Kevin McCluskey. Tommy considers the 1992 season to have been his most successful. He attributes this to a number of things: my ability ti train hard, Dave Cannon's influence, 'I'd switched clubs to Cambuslang and finally my training partner, Tommy McCallion.' These two ran or cycled together almost every day for three years. Tommy also pays tribute to Jim Scarborough of Cambuslang, 'the best manager I ever had the privilege of running for.'
In his autobiography, Tommy Murray selects a number of race highlights, including a 1993 track international in Israel – the host country versus Scotland, Turkey and Wales. By this time his wife Lesley had given birth to their second daughter and family life was good. In 1994, despite winning the Scottish 10000m once again, in a new pb of 29:12, Tommy Murray was very disappointed not to be selected for the Commonwealth Games. He was rightfully annoyed that Chris Robison and John Sherban, both ex-English internationals, were selected for the Scottish team despite missing the Scottish championship, when part of the selection policy had been that anyone wishing to be considered had to run that race.
The 1995 World Cross-Country championships was to be held in England and at the age of 35, Tommy Murray hoped to be involved. The trial race was in Northumberland, and, despite being tripped, Tommy finished fourth and easily made the British team. The World Cross was in Durham and Tommy was happy with eighty first position. To give some idea of the quality of this event, if he had been 12 seconds faster he would have been fifty third! After this he was signed up for a new televised event – the All-Terrain Marathon, to be held in the North East of England at the beginning of May. There were to be races on six consecutive days, over a variety of distances and surfaces. A considerable amount of money was on offer and 24 international runners were involved. A four miler on Bamburgh Sands came first and then a 5000m track contest. Tommy moved up the field with fifth in a six mile trail race in Kielder Forest, then improved to second in a five mile cross-country. In a gruelling four mile hill race, Tommy won by over a minute, defeating former World Mountain Racing Champion Martin Jones. Over all Tommy was now second and only twenty seconds down on Jones who managed to hang on to this lead in the final four mile road race and round Bamburgh Castle. Tommy writes: 'The event proved to be a huge success and it was held for the following four years. I'm happy to say that I completed them all, never managing to win but never out of the top six places, which was not a bad record, considering that I was 38 when the last one was held.'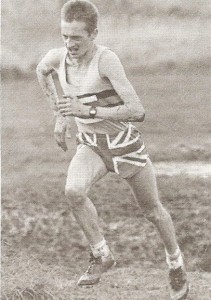 Since he did not consider his long loping stride with a high kick to be suitable for success in marathons, Tommy waited until 1995 to consider training for one. He was invited to an established race in Eindhoven, Holland, and 'set about changing my training regime dramatically, with the weekly mileage rising from 60 mpw to 100.' However the invitation fell through since the organisers obtained a cheap deal on some Kenyan runners. 'With no marathon to run and feeling as fit as a butcher's dog, I started to look for another race to do.' Doug Gillon, of the Glasgow Herald asked if Tommy would be interested in taking part in the World Mountain Running Championship which for the first time ever was to be held in Edinburgh round Arthur's Seat. Tommy easily won the Scottish trial race at Dreghorn, beating amongst others 'my pal Bobby Quinn, an established athlete on the mountain racing circuit.' When the World Championship started, England's Martin Jones went right to the front, at too fast a pace to maintain for 7.5 miles. By two miles, Tommy was in the lead and working hard forcing himself up and down Arthur's Seat several times. Unfortunately Fregonzi of Italy caught up and raced down the final descent 'like a kamikaze pilot on a mission.' Tommy started to gain on him once they reached level ground but the finish came too soon. However Tommy was more than happy to win two silver medals at a world championship – both individual and team. Italy won, with Scotland second and the auld enemy England third. After this fine result, Tommy obtained lottery funding for the next four years 'which I saw as just reward for the years I had given athletics.' He ran three more World Mountain Running Championships in Austria, the Czech Republic and Borneo in Malaysia, but never ran quite as well as he had in Edinburgh.
Despite winning a final Scottish 10000m title in 2000, Tommy was thinking about retirement but was convinced to give Veteran Athletics a go. Having turned 40 on 18th May 1991, Tommy made an immediate impact by winning the East Kilbride Half Marathon which incorporated the British Veterans Championship. In running 66:46, he easily defeated not only the several top English vets but also second placed Simon Pride, the Welshman who had been selected for the Scottish team in the forthcoming Commonwealth Games marathon! In November the Scottish Veteran Harriers were hosting the annual Home Countries Cross-Country International at Callendar Park, Falkirk. According to the usual biased reporting in Athletics Weekly, four Englishmen were the favourites for the M40 title. However Tommy had other ideas and after fending off a challenge from Julian Critchlow, he went on to win by 30 seconds. Then Tommy went on to win the Open Race too 'because I was good enough.'
Tommy maintained a series of eleven straight victories, until he overtrained during a 2002 holiday in Ibiza and became exhausted. This feeling continued for months, until he consulted a doctor and his blood count was found to be low. After two weeks complete rest and only ten days of training, Tommy lined up for the 1993 British Veterans Cross-Country Championships at Beach Park, Irvine. Tommy found himself engaged in a fierce battle with Julian Critchlow and Brian Rushworth. 'By the time we'd started on the second and final circuit, I decided to use a trick Allister Hutton had used on me in the 1987 National Cross-Country. About a mile from the finish you run like hell for about 600 metres and try not to go into oxygen debt. By doing this you hopefully fool the opposition into thinking you're feeling good and are full of running, so that they hesitate while they decide whether to go with you. Then you pray that you have enough left to make it to the finish. Initially it looked as if my plan was working – I had opened up a seven second lead but I knew we still had the steep hill to come. As soon as I hit it my legs started to buckle and I could feel Julian edging closer to me. By the top he had narrowed the gap to two seconds, but with 800 metres left to run I wasn't going to let a Sassenach beat me on my own soil, so I dug in really deep and mustered another effort from somewhere and the victory was mine.'
'After the race at the medal presentation, Julian was interviewed and he paid me a massive complement by saying I was one of the greatest runners ever to come out of Britain. Winning this race meant a lot to me. I had to draw on all my strength and experience and it was also great to be involved in a real race.' Nevertheless, Tommy felt that this was too good to last and just a few months later, he stopped after one mile of running on a training run and walked home, having quit running at the age of 42.
*
Tommy Murray reckons that nowadays all sports, including running, are in terminal decline due to the lazy lifestyle that is promoted by the media. It seems like they would 'like everyone to be sitting in their Lazyboy armchair, with their DVD, VIDEO, PLAYSTATION, COMPUTER, IPAD and a microwave meal, watching virtual sport on their WIDESCREEN TV before going out to visit some MULTIPLEX CINEMA or BOWLING ALLEY, with FAST FOOD and FREE PARKING!!!' When he was starting running he might turn up to a race and find opposition of the calibre of Nat Muir, Allister Hutton, John Robson, Neil Tennant and Lawrie Spence. This no longer happens in Scotland and veterans make up 65% of the field. He hopes that the situation improves but he does not know how this might happen.
However Tommy Murray looks back on his career with justifiable pride. he won thirteen Scottish titles: 3000m indoor, 10K Road, Half Marathon, 10000m and National Cross-Country; two team golds in the National plus three team golds in the CC Relay and countless Wst District ones. 'My weight moved around the nine stone mark and for years I survived on Weetabix and bananas, because I like them. I always wear gloves when I race, I don't feel complete until I put them on, just like Clark Kent becomes Superman when he changes into his blue suit and red cape.'
Tommy's autobiography gives a real flavour of the man. It is honest and forthright and very entertaining about races and personalities. Ask him for a copy! He mentions as his favourite memories his Dutch victories and the Kielder Dam 6 Miles race. around the biggest man-made reservoir in Europe, which he won three times plus two second places. On training he says that you will do well if you can find the right balance between 'No Pain, No Gain' and 'Train. Don't Strain.' People he admires include John Ngugi (World Cross and Olympic 5000m gold medallist), Liz McColgan, Tommy McCallion, Dave Cannon, Lachie Stewart, Cammy Spence and Doug Gillon. His greatest tribute is to his family, 'who have shared all my successes and helped me through all my defeats.'
A final word on one of his finest races – the World Mountain Racing Championship at Meadowbank in 1986 as reported in the excellent 'Fell Runner' magazine with a good photograph by Peter Hartley.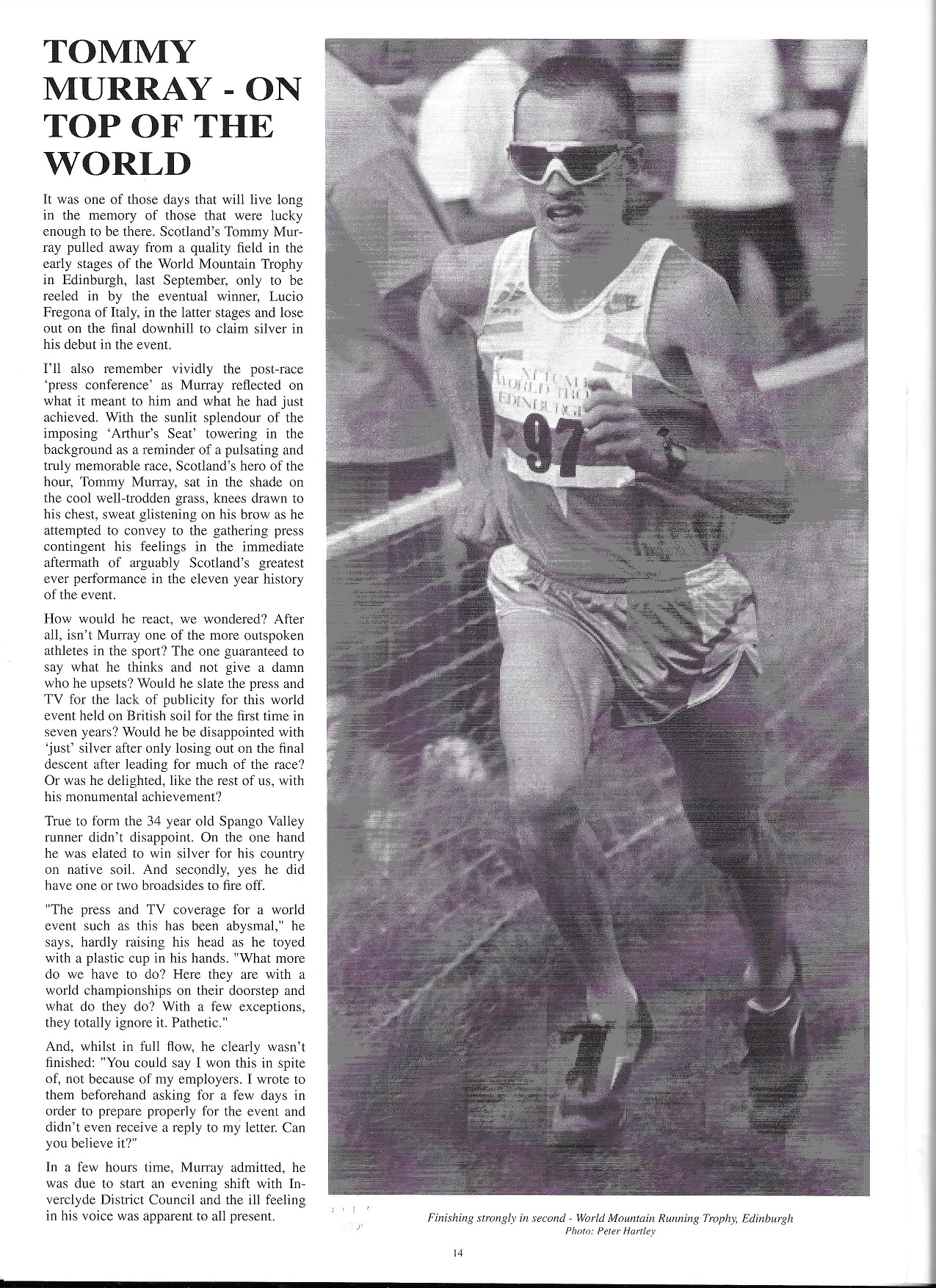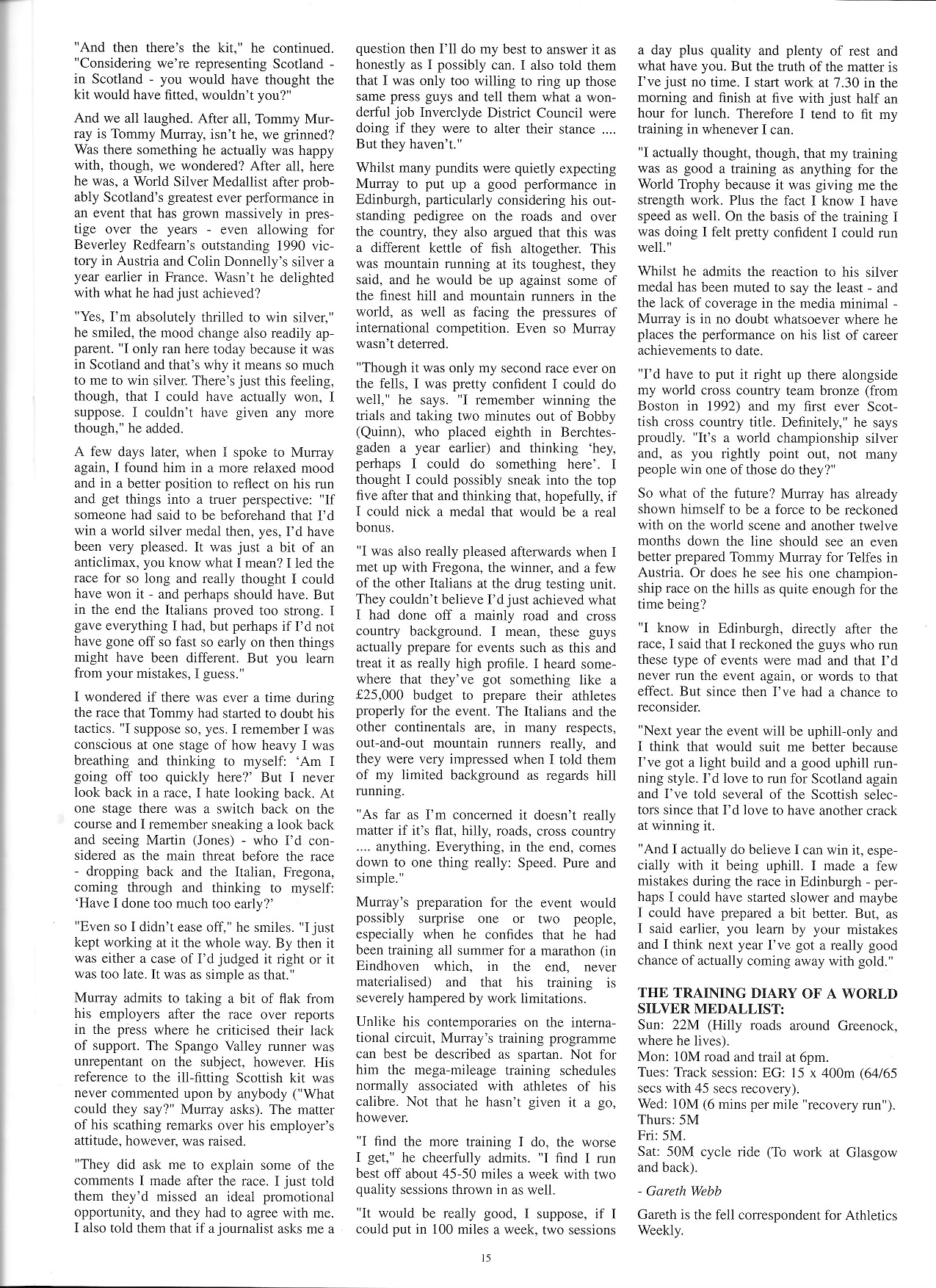 This is where Colin leaves the Tommy Murray profile, but I'd like to add a personal tribute to Tommy – but not to Tommy the runner. Tommy was never ever big-headed about his achievements or arrogant in any way; always approachable he would give help to anyone who needed it. Mention has been made above of his anorexia. When one of the athletes I was coaching had serious bulimia, Tommy came forward and offered to help and do what he could for the young man. He phoned him at home more than once and provided me with some advice. He did not have to do it, he wasn't asked – he came forward and made the offer. Tommy Murray will always be rated highly as a person regardless of his running. Mind you, having said that, what a career!