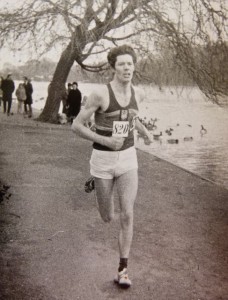 John Myatt running in Strathclyde University colours in the Hyde Park Relays, 1968
Colin Youngson has written the profile of John's career below and it gives an excellent overview of just how good he was.   What follows is a more detailed look at his running on a year by year basis with the final years after 1972 being condensed a bit.   
John Myatt ran for Strathclyde University, Law and District AAC, Wirral AC from 1970 – 73 and Gateshead from 1974 – 86.   Between 1967 ad 1971 he produced the following track times:   one mile – 4:12.1;   5000m – 14:39.4;   10000m – 30:54;   ten miles – 50:23.    In addition he ran the Maxol Marathon in 2:21:57.
However John Myatt's main strength was undoubtedly in cross-country running.   In 1967 he finished third in the Scottish National Junior Cross-Country Championship behind Eddie Knox and Alistair Blamire.   Myatt ran for Scotland in the ICCU Junior Championships at Barry in Wales finishing nineteenth.   Then in 1968, having won the Midland Junior Cross-Country,  John showed even greater speed when he won a gold medal in the Scottish Junior on Hamilton Racecourse, defeating the reigning ICCU and Scottish Junior Champion, Eddie Knox of Springburn Harriers.
In 1969, having won the Midland Senior title, John made an outstanding debut in the Scottish Senior National at Duddingston finishing in fourth place.   In 1970 he was third in the Midland event but led Strathclyde University to the team title. His team -mate Innis Mitchell says "John was quite a private person and a very conscientious student and athlete.   He did most of his training on his own but worked hard as Strathclyde captain (and fastest runner) to encourage improvement in others.   As well as winning the Midland, Strathclyde won the most improved team medal in the 1967 E-G, and finished a very creditable third at the prestigious Hyde Park Relays (6-man team).   John's family lived in Calais while he was at University and after he graduated he married Christiane from France, whom he had been courting for some time, unknown to his Scottish mates.   He also had a talent for eating curries – the only person I ever knew who could consume two of Glasgow's hottest vindaloos at the same sitting!"
 John was only twenty second in the National that year but in 1971 improved to fifth.   In the 1972 National John Myatt was seventh, a place he repeated in 1973.   He also ran well in this event in 1974 (sixteenth), 1978 (eighth) and 1980 (fifteenth).   Overall, John Myatt was marvellously consistent and thoroughly explored his talent over the country.   John was selected to run for the Scottish Senior team in the International Championships four times, but unfortunately illness prevented his participation in 1969 (Clydebank) and 1971 (San Sebastian). However in 1972 (Cambridge) he finished in 76th place; and in 1973 (Waregem, Belgium) he was 83rd. In addition he was chosen as a reserve in 1968 and 1978.
Law and District were not very strong at this time, although eventually Douglas Frame developed into a fast man, but John Myatt showed his ability as a road runner in the Edinburgh to Glasgow Relay.   He ran five in succession for Strathclyde University, mainly on the hardest stages – Two or Six.   In 1968 he was allowed the luxury of the first stage and promptly finished first setting a course record time of 26:50.   Strathclyde's best team position was sixth in 1970.   After that John Myatt was loyal to Law and District running the E-G for them six times until 1980.   Once again he was landed with Two or Six and his team's best finishing place was tenth in 1974.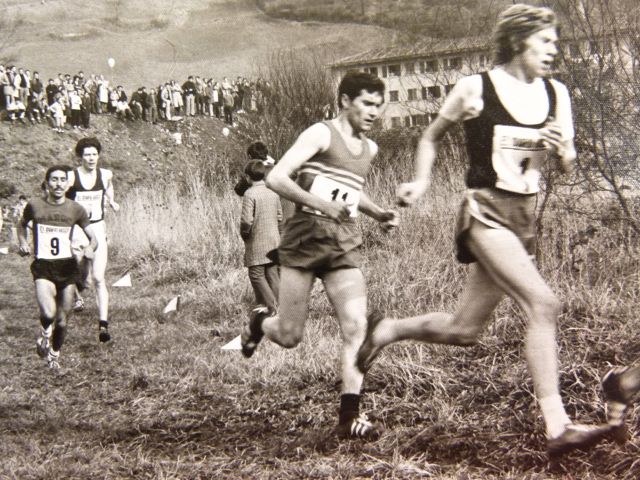 John running in Elgoibar, 1973
We can take a more detailed look at John's cross-country running career in Scotland from the pages of the 'Glasgow Herald'.   He started his career with Strathclyde University in 1966, came to public attention after his performance in the Midlands championship of 1967 and ran at a very high level for several years thereafter when he was one of the top runners in the country.  The review of the 1966-67 cross-country season comes first.
We can start with his first appearance in the sports pages on 12th November, 1966, when he was second to Adrian Weatherhead in the Inter-University four and a half mile race at Heriot Watt playing fields 29 seconds down.   He followed this with fourth place two weeks later in the Inter-University six and a half miles at Westerlands – Weatherhead won again – but the race gained him selection for the Scottish Universities team to meet the SCCU two weeks later at King's Buildings in Edinburgh.   He was unplaced in this race but the standard was very high and in the absence of McCafferty and Stewart it was won by John Linaker from Alec Brown and Gareth Bryan-Jones.   His first race in  1967 was on 14th January when he ran in the Glasgow University v Strathclyde University v Heriot Watt v Cambuslang Harriers at Moriston Park, Cambuslang.  John won this race in 32:38 from Charlie Jarvie of Cambuslang and John Hickey of Glasgow.
John's first very good run – his 'breakthrough' as it has been described – came in the Midland District Championhip on 21st January 1967 where he finished sixth, Ron Marshall commented in the 'Glasgow Herald':  "The biggest surprise of the leading finishers was the sixth place of J Myatt (Strathclyde University) who has known only modest success in student circles."   His friend and rival Alastair Johnston and says that he well remembers the race where John showed he himself and many others a "muddy if not a clean pair of heels".   He adds that brilliant McCafferty won, beating Lachie Stewart by a minute and although John was sixth (just behind the outstanding Jim Brennan) he was ahead of Eddie Knox who was running really well at that point and a fixture in Scottish teams.   John's own comment to Alastair in reply to the above was that "The big breakthrough was the 1967 Midland District Cross-Country where I was sixth being third Junior behind Knox and Brennan.   You will remember the course and the rain throughout the race which suited me particularly.   I remember seeing you and Pat Maclagan in pursuit along with many other big names and hoped that I could hold on until the end."   He went on to prove that this very good run was not a 'one-off' but the start of several years when he was among the best in the country.   The result was:
I McCafferty (Motherwell);   2.  JL Stewart (Vale of Leven);   3.   AP Brown (Motherwell);   4.   AH Brown (Motherwell);   5.   J Brennan (Maryhill);   6.   J Myatt (Strathclyde);   7.   E Knox (Springburn).
Tenth in the Scottish University Championships the following week, where Edinburgh University whitewashed the field,  he ran in the BUSF Championships at Parliament Hill Fields in London  on 4th February -the day that Edinburgh University won the title.   Myatt was fifteenth in 31:38 to be fifth Scottish representative.    Ian Young was eighth (31:13), Jim Wight eleventh (31:25), Gareth Bryan-Jones thirteenth (31:36) and Alistair Blamire fourteenth (31:37).   One week later he won the six mile race at Moriston Park in 31:16 which beat the record of 31:39 set by Lachie Stewart of the Vale of Leven in 1965.   The result:  1.   J Myatt (Strathclyde U);  2.  A Faulds (Stirling)   32:23;   3.   J Hickey (GU)   32:40.
In the Junior National on 25th February, 1967, John was third behind a ferocious race to the line in which Eddie Knox beat Alistair Blamire by one second (28:03 to 28:04).   The quality of this race can be seen by those who finished outside the first three – Myatt's time was 28:33, fourth was Jim Brennan in 28:59, fifth was Dave Logue in 29:06, sixth was Harry Gorman in 29:16 and seventh was Norman Morrison in 29:30.   After the race, four Juniors were selected for the International at Barry in Wales on March 18th – Eddie Knox, John Myatt, Norman Morrison, Willie Day and Jim Cook of Garscube who had won the Youths race.   Blamire and Brennan were Juniors at home but internationally their dates of birth made then seniors and ineligible for the team but Myatt as third finisher would have been selected anyway.   In the English Championships the following week, Myatt was fifteenth – four places ahead of Knox.   Nearer home on 11th March, he won the University championship after the annual handicap race at Cambuslang.   In the international at Barry on 18th March, Myatt finished 19th and third Scot behind Knox and Morrison.
The cross-country season for 1966-67 drew to a close and it had been very interesting one for the student who started so quietly and gradually wound up the performances until he was one of the chosen four to run for Scotland at the international in March.  There were a number of hugely talented individuals at this point – Knox, Blamire, Morrison, Brennan were all among the best the country has produced – and John Myatt was more than holding his own.   The following summer he was ranked at 16th in Scotland for the Mile where his best run was 4:12.1 before heading back to the roads and country in October.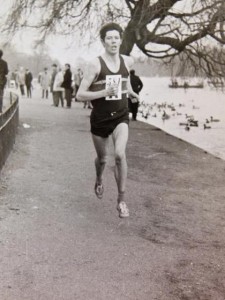 Hyde Park 1970
As before he seemed to start the 1967 – 68 season gently and the first report was on 21st October in a University race at Glasgow involving Queen's, Belfast, Glasgow University and Strathclyde University in which John was second to John Hickey by 24 seconds.   Then on the weekend of 6th November the University squad went to Belfast where there was a three-way contest involving Queen's and Aberdeen.   In the first race over six miles in Belfast, John beat team mate Alistair Johnston by 10 seconds and then in the second race at Dublin Alastair won by 14 seconds.   Alastair says that there was a healthy rivalry between them.   Alastair says:
"We always finished quite close – he ahead in the mud, me ahead on the road generally.    A good example was the Irish Tour you mention – muddy Belfast on day one, fast Parkland/ Road in Phoenix Park, Dublin the next day.    It was more a healthy respect we had for one another as compared with a good friendship – we were both quite quiet guys and "business-like" and loved meeting on a Wednesday afternoon and burning up a ten miler along Alexandra Park to the countryside around Hogganfield Loch.   Of course on the way back , the pace would accelerate and a close "race" would develop with us dodging buses, people and dogs until reaching the sanctuary of the Cathedral Street gym, thoroughly pleased with ourselves.   Ah – happy days!"
John confirms that they liked different racing conditions and his comments on the '67 Midland District above say as much.
The team returned from Ireland and the headline the next week read "Easy Victory for Myatt" after an inter-university race at Aberdeen where he won by 32 seconds from John Hickey.   It should be noted however that Edinburgh University was absent – possibly because the Edinburgh to Glasgow Relay was the following week.    Strathclyde also had a team forward and it finished 12th and won the most meritorious unplaced team award.   John ran on the second stage and pulled the team up two places when he ran the ninth fastest time of the day.   Edinburgh University won from Shettleston.   On 25th November and the annual SCCU v Northern Counties and SCCU v The Army joint fixtures were held at King's Buildings in Edinburgh where Myatt was running for the team against the Army.   He finished eighth in the hardest race of the afternoon.   Into December and in the high-quality Lanarkshire Cross-Country Championship, the first six were :   1.   I McCafferty,  2.   E Knox,   3.  AP Brown,   4.   AH Brown,   5.   R Wedlock,   6.   J Myatt.   His last race of the year, at least as recorded by the Glasgow Herald, was the well-supported East Kilbride five and a half mile road race which was won by Jim Brennan of Maryhill in 25:57 from Alec Brown of Law in 26:04 with John Myatt third in 26:08 – only eleven seconds down on the winner.
On 13th January, 1968, Adrian Weatherhead of Heriot Watt University guested in a three cornered match between Edinburgh, Strathclyde and Glasgow Universities and won in 26:12 from John Myatt who ran 26:13.   It was another good run – third was Alex Wight in 26:16, fourth Gareth Bryan-Jones in 26:54 and fifth Andy McKean in 26:59.   Myatt was racing the best of the outstanding University runners and often beating the best.   In the Midlands District Championship at Bellahouston the next week, he was fourth behind Pat Maclagan (VPAAC), Jim Brennan (Maryhill) and Alex Brown.    The Glasgow Herald report commented that "for a long time it appeared as if J Myatt (Strathclyde University) – who is still a Junior – would take a splendid third place but inexorably he was overhauled by Alex Brown (Law).   Myatt flogged himself up the finishing straight in an effort to displace Brown but he missed only by a second."    On 27th January in the Scottish Universities Championships he was fourth in another very close race.   1.   D Logue   33:02;   2.   J Wight   33:09;   3.   A Johnston   33:12;   4.   J Myatt   33:14;   5.   A Wight   33:18.    Five runners within 16 seconds!    Seven days later it was the British Universities championships in London and the report said that J Myatt (Strathclyde University) was the best placed Scot – Edinburgh University was runner-up to Cambridge in the team contest.   The 'Glasgow Herald' report read :Edinburgh, winners over the same course last year, totalled 97 points and took their second place ahead of Oxford.   Their counting runners were A Blamire (7), D Logue (10), A Wight (14), A McKean (18),  G Bryan-Jones (23) and I Young (25).   The best placed Scot was J Myatt (Strathclyde) in twelfth position."   
In the 1968 National Championship at Hamilton where Eddie Knox was seen as the man to beat.   He had all the talent but was going through a rough patch.   In the actual race, the first five turned out to be:   1.  J Myatt   26:27;   2.   E Knox   26:39;   3.   B Mullett   26:59;   4.   M MacMahon   27:04;   5.   N Morrison   27:28.   Myatt won by 60 yards from Knox in a field of approximately 160.   Fourth in 1967 to champion in 1968.   When the team was announced the following Monday Myatt, too old by international rules to be run as a Junior, was only selected as a reserve for the senior team with Gareth Bryan Jones who had a bad run in the National because of a stone inside one of his shoes ripping his feet.   Wedlock, Don Macgregor and Myatt all had their supporters for the last place but Bryan-Jones was the man selected on his form during the lead-in to the championships.   In the International itself on 16th March, the team had a chance of third place but the last counting runner was Bryan-Jones running in his first international.   He finished 47th and the team was fourth.
In summer 1968 his best best mile time was 4:16.2 which ranked him 12th in Scotland and his best 10 miles time was 50:23.0 which ranked him third in Scotland.
Lanarkshire Relays, l969:   Albert Smith to John Myatt and John Myatt to Innis Mitchell
Winter 1968-69 started in October and Strathclyde was seventh but no individual times were recorded in the Herald.   The first headline garnered by Myatt was not until 26th October when it read "Myatt helps club to narrow win."    It referred to an inter-university road race at Westerlands in Glasgow where he won by 200 yards from David Ritchie of Aberdeen – any kin to Donald, I wonder – with a time of 36:42 to Ritchie's 37:12 with J Youngson  – any kin to Colin? – third in 37:43.   Strathclyde won from Aberdeen by four points.      The Midland District Relays were held on 2nd November and the headline and article read as follows:
"STRATHCLYDE THE SURPRISE PACKETS OF THE MIDLAND RELAY
No one talked very much about Shettleston Harriers victory in the Midland District relay championship.   They were all too busy talking about how Strathclyde University had managed to come home second in front of a good number of more fancied teams.   The course at Bellshill, a two and three quarter mile slog through fields heavy with mud knocked the steam out of   some of our better runners and, conversely, brought out previously unrevealed tenacity in others.   Tom Patterson (Shettleston) and Mike McLean (Bellahouston) are only two who spring to mind as having reached beyond their normal heights.  
The Strathclyde team – in order of running John Myatt, Albert Smith, Kenny Laing and Colin Maciver – looked no more than ordinary on paper.  But Myatt's great lead-off leg in which he sprinted home first, must have provided the rest with a welcome stimulus.   Smith, of course, had little hope of outpacing Dick Wedlock, Shettleston's second man, but how well he protected second position for Strathclyde during the next 10 minutes or so.   Even then, with Laing and McIvor to come, the students were by no means sure of staying there.   Nevertheless the unexpected continued to happen.   Where were Law, Springburn and Victoria Park?   Was there no late challenge coming from any of them?   It began to look that way as Laing handed over to the fair-haired McIvor giving him a lead of about 40 yards over Bellahouston.   Indeed Maciver kept that lead, perhaps slightly adding to it, and gave his club their most significant relay result for several years. " 
The race result was
Shettleston.   T Patterson 11:53;   R Wedlock  11:47;   W Scally   12:03;   JL Stewart   11:44
Strathclyde U   J Myatt   11:52;   A Smith   12:11;   K Laing   12:19;   C McIvor 12:28
Bellahouston H:   B Goodwin   12:15;   M McLean   12:04;   J Adair   12:10;   A Yates   12:29.
One week later and the headline was "Myatt's Time Shows His Class" after he had won the Glasgow University road race at Westerlands.   He had won the race from Eddie Knox and former Strathclyde team mate Alistair Johnston in a time of 25:21 which was only five seconds outside Lachie Stewart's record time.   Knox was 13 seconds down.   There were quite a few missing from the race because the following week was the Edinburgh to Glasgow relay.   Myatt ran the first stage for Strathclyde and set a new record for the first stage which was 4 seconds inside Jim Alder's time of the previous year but his team were unfortunately outside the medals.    His third race in three weeks was an inter-university match in Aberdeen to help select the team to compete against the SCCU in mid-December.   Myatt won by 20 yards from Adrian Weatherhead who was 15 yards up on Dave Logue, who was followed by Colin Youngson, Andy McKean and Donald Ritchie.   His time beat Bill Ewing's course record by one second.   On the same day he was also selected to compete for the SCCU along with Lachie and Dick Wedlock at Edinburgh the following week.   This time he was seventh finisher in the race and a member of the winning team.   Straight into December and he was third in the Lanarkshire championship behind Lachie and Dick Wedlock again before the match between Scottish Universities and the SCCU.    The first four were – Lachie Stewart (1), Dick Wedlock (2), Alistair Blamire (who was having a really superb season, 3) and John Myatt (4).    It had been an excellent series of races to end the year on.
Missing the Nigel Barge and Springburn Cup road races at the start of the year, on the 20th January he won the Midland cross-country championship beating Andy Brown by over 100 yards.   After racing in January in Scotland, Myatt travelled to Spain with a small Scottish squad to race in San Sebastian against approximately 100 top class runners along with Ian McCafferty and Adrian Weatherhead.   The race was won in a temperature of 65 degrees Fahrenheit by Mike Tagg (England) with McCafferty twelfth, Myatt twenty eighth and Weatherhead thirty first.   "Myatt and Weatherhead ran courageously.   They went with the big leading group early on and fought hard even as they slipped place by place in the latter stages of the race," said Ron Marshall.   Myatt then missed several weeks races including the inter-district race won by John Linaker and an inter-university race at Aberdeen the week before the National.   He did turn out in the National – and he ran well, so well that he finished fourth ahead of such as Don Macgregor, Jim Alder, John Linaker and Gareth Bryan-Jones, and was selected for the International to be held in Clydebank on March 22nd.      When it came to the actual international though, John Myatt was absent through illness.   He himself feels that he was at his best in the late 60's and it is a pity that he had to wait until 1972 for his first full cap in the big international.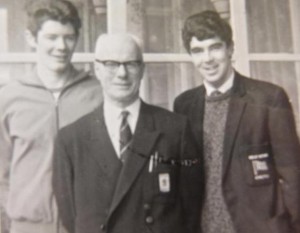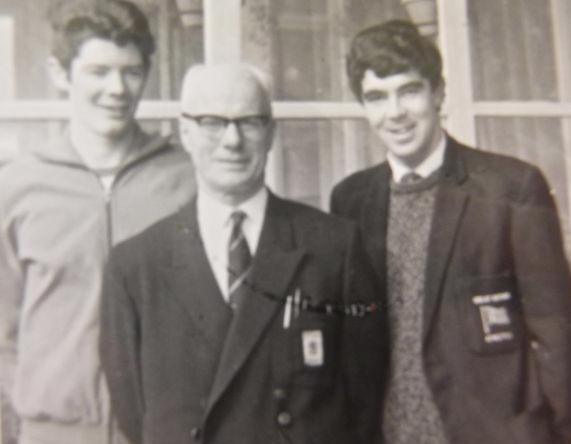 John Myatt, Willie Diverty and Gareth Bryan-Jones at the Cross des Capitals, Tunis, in 1969
1969-70 started with a win in a triangular cross-country race against Queen's and Glasgow at Westerlands in which Myatt and Albert Smith had a Strathclyde 1-2 in 37:35 and 37:51.       The Midland Relay was on 1st November and Strathclyde could not match the previous year's performance but finished fifth with Myatt running first (11:11:32, Mitchell second (11:48), Smith third (12:04) and Hall fourth (12:06).   Myatt was not included in the results of the Glasgow University Road race which was won in 1969 by Pat Maclagan from Eddie Knox, Alex Brown and Alistair Johnstone.     In the Edinburgh to Glasgow the following week, he was on the long sixth stage and dropped one place – from 7th to 8th – when he was passed by Alex Brown and turned in seventh fastest time.   On 24th November the trial for the Universities team to meet the SCCU was held at Cambuslang and Myatt was fourth behind J McHardy, A McKean and A Blamire.   At the end of January, in the Midland District championship at Lenzie,  Myatt was third behind Ian McCafferty and Eddie Knox and just in front of Alastair Johnston and Pat Maclagan.  Strathclyde won the team race with runners placed 3, 10, 19, 21, 34 and 38.   He had a relatively quiet season in 69-70 thanks to the finals at University but was selected for the Scottish Universities team for the BUSF Championships in Sheffield the following week.  John finished 15th with Dave Logue also in the field but the Press attention was focused on Norman Morrison.  On 21st February at Ayr on a misty, wet afternoon, Myatt was again the Strathclyde University leading runner – but he was down in 22nd place on a day when all the odds were upset.   eg Eddie Knox was 20th, Andy Brown 25th Alex Brown 30th.    No international appearance was on the cards that year.   His summer of 1970 was a good one with rankings at 5000m (14:39.4 and ranked 19th),  10000m (30:54.0 18th) and 10 miles (51:57.0 8th).
On graduating he went to Port Sunlight and joined Wirral AC.   He continued to run in Scotland for Strathclyde as an associate member of the athletic club.   Eventually the SCCU queried this status which, while consistent with the Strathclyde AC constitution did not apparently fit that of the SCCU although they had by default accepted it in accepting the University as a member club.   They decided that associate status was not a good thing and allowed John  to join another club.   He opted for Law & District, another Lanarkshire club, which he thought would benefit from his services in the Edinburgh to Glasgow and the National championship.
Then it was into winter 1970-71.   On 21st November, 1970, he ran in the Edinburgh to Glasgow on the sixth leg for the University.   He dropped one place and was outside the top ten times.   His next appearance in fact was on 20th February in the National Championships at Bellahouston Park where he finished fifth and was selected with Lachie Stewart, Ian McCafferty, Fergus Murray, Alistair Blamire, Dick Wedlock and Ian Stewart for the international in Spain.   Unfortunately he had to withdraw from the team through injury – made more unfortunate because the actual course was a real mudbath and would probably have suited him down to the ground.   He was to make good on his omission from the team over the next two years.
In winter 1971-72 he made his first appearance in the Scottish papers on 13th November 1971 when he was tenth in the Waterloo eight mile road race at L:iverpool where the top Scot was Jim Alder in sixth.      Nevertheless he turned out for Strathclyde in the Edinburgh to Glasgow the following week – the University team had Frank Clement on the first stage who was fourth and John on the second who moved them up to third with the third fastest time of the day.   Unfortunately that was about it as far as the team was concerned and it fell away to sixteenth by the end of the race.   In the National held in February Myatt finished fifth and was an automatic selection for the International to be held that year in Cambridge.   The team looked a good one – Ian McCafferty, Jim Alder, Lachie Stewart, John Myatt, Ian Stewart, Dick Wedlock, Alistair Blamire and Jim Wight – but did not perform on the day.   McCafferty was not even in the counting six and there was not a single Scot in the first 19.   Jim Alder was 20th and Lachie Stewart 27th and the team manager, the normally genial Jim Morton from Springburn was reported as saying it was not bloody good enough.    John was last counting runner in 74th place, three places behind Dick Wedlock.
Into winter 1972-73 and this year Myatt missed all the classic domestic races but, running for Liverpool, finished seventh in the National Championships in February to be selected for the Scottish team to compete in Waregem, Belgium.   These championships had previously been organised by the International Cross-Country Union but the responsibility was taken over by the International Amateur Athletics Federation in 1973 and so, after several years of disappointment, Myatt was one of the few to run under both sets of conditions in successive years.   Although he was listed as Liverpool in the National, the SCCU history notes that he was a member of Law and District for the international.    In the international he finished 83rd to be out of the scoring six.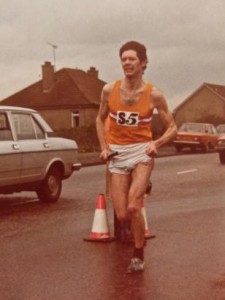 John running in the Law colours in the Edinburgh to Glasgow in 1978
Myatt turned out for his new club in the Edinburgh to Glasgow in November 1973 on the second stage where he gained two places, from 16th to 14th, in seventh fastest time of the day on this very difficult stage of the race and saw the club finish fourteenth.   Came the National at the end of the season and he was the first Law man to finish when he was sixteenth.   It should be noted that the papers at the time did not always publish the details of three- and four-man teams in international races on the Continent, often contenting themselves with a head line that said 'Victory for Stewart', McCafferty Wins In Belgium' or whatever with no reference to the rest of the team.  Myatt ran in races such as Hannut in Belgium (twice), San Sebastian, Elgoibar and Tunis over the years.   There is a picture of him running in Elgoibar above and the one below with Ewan Murray and Fergus Murray is another from the same race.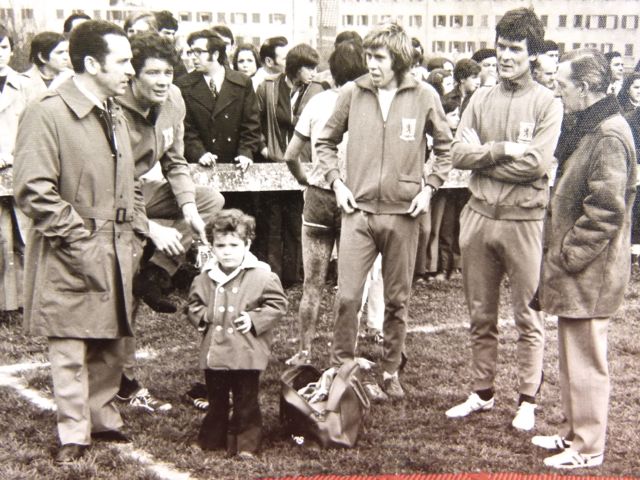 Elgoibar, 1973, John (second left) with Ian Gilmour who finished ahead of John,  Fergus Murray and Ewan Murray
On 16th November 1974 he ran his second Edinburgh to Glasgow for Law & District, this time on the sixth stage where he gained one place (16th to 15th) for the team which finished tenth.   He also turned out for them in this race in 1975 (second stage), 1976 (second stage – picked up from 10th to 9th), 1977 (second stage, picked up from 11th to 9th), 1979 (second stage, picked up from 17th to 14th), 1980 (second stage, maintained 12th) and in 1981 Law & District dropped out of the race for a year and the thread was broken.    1980 was his last E-G.
As for the National, he missed the National in 1975, 1976 and 1977 but in 1978 there was a surprise for just about everybody when J Myatt (Law & District) finished eighth.  Not selected for the team he was a non-travelling reserve for the international but no one dropped out and his last chance was gone.   It was ten years since he had last been a reserve for the event and even then, no one was kind enough to drop out.    He ran again in the National for the club in 1979 when he finished 49th, 1980 when he was fifteenth, in 1981 when he was 46th, 1982 when he was 21st and 1983 in 67th.    It was a remarkable record of loyalty to a club which was falling down the finishing order almost every year, particularly when it is realised that he was travelling up from the north of England to do so.
John ran for Gateshead for many years but had to stop running in 2000 due to lower back trouble and he currently keeps fit by walking and swimming.    He moved from Durham to Darmstadt in 1993 before retiring to Biarritz in 2008.