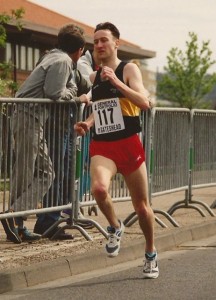 Gateshead 5000m, 1991
For all that the Scottish distance running fraternity is a relatively small group with everyone known to everyone else, there is from time to time a good quality athlete who is not as well known as he might be.   Robert Cameron is one such.    He first came to my own attention back in the early to mid eighties when I was Scottish Secretary of the British Milers Club and he was a young member of the club.   He was in the Junior Man age group – which at that time included such as Stuart Paton, Tom McKean and Brian Whittle with Alistair Currie not far behind as an Under 17 Youth.   The standard was high but nevertheless Robert held his own with victories in the Scottish championships, international selections and fast times.   He was good enough to reply to the questionnaire and we can start with that.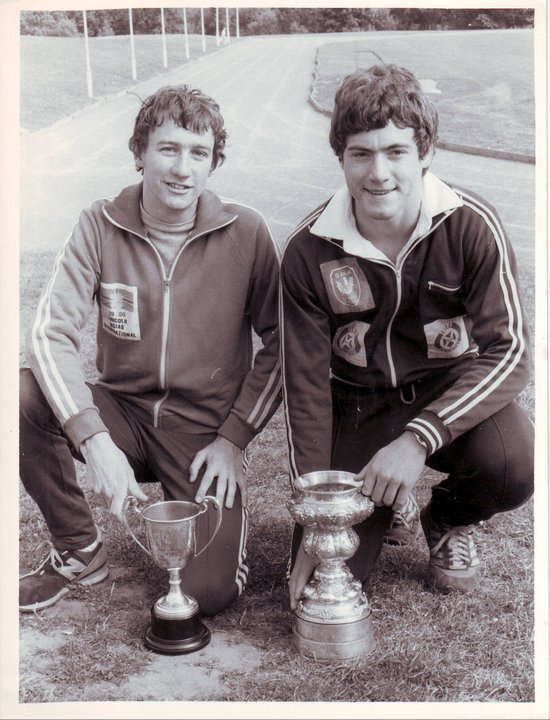 Robert (left) at the Scottish Schools
Name:   Robert Cameron
Date of Birth:   1st February 1964
Occupation:   Deputy Head Teacher in a primary school in Bradford, Yorkshire
Clubs:  Central Region AC 1979 – 1985; Newham & Essex Beagles  1985 – 1991; Falkirk Victoria Harriers  1987 – 1994; Bridgend AC  1992 – 1994
.   My dad, William Cameron ( a miler and British Army champion between 1943 and 1945 who turned pro after the war) took me along to Central Region AC and to William Murray the local coach in Alloa.
Has any individual or group had a marked effect on your attitude to the sport or to your performances?   My very first coach very quickly got me competing at international school level (1980 in Lincoln) and we were regulars at National Event Squad  sessions with Alex Naylor and Bob Steele.   It was from here in 1981 that I joined Alex's squad until going to Loughborough in 1985 and eventually joined Brian Scobie in 1987, then the min influence on my athletics career was, and still is, Andy Currie (and wife Pat) who took me al over to race and became a big part of my life.   The friendship with Alistair and Alan Currie is lifelong and very supportive.
Can you describe your general attitude to the sport?   Without a doubt athletics made me what I am, gave me confidence and maturity to develop my career in education.
What did (or do you) get out of the sport?   A strong sense of achievement, personal satisfaction, friendships which are lifelong (Alistair and Alan and my bridesmaid Lynne McDougall).   I have team-managed for England, I continue to team-manage for North of England on road and cross-country.   I'm secretary of the West Yorkshire Schools Athletic Association, and I'm heavily involved with race organisation, with the Leeds Abbey Dash pulling together the elite and the international race.   This I have done for over six years.
What were your best ever performances?  
800m:   1980  Euro Youth   1:54.6          1500m   1989   3:45.1
3000m:   1986:   7:59.1     5000m:   1986   14:04
10K (Road):   1984:   29:58
1981 Nations Cup   (World Schools)   Birmingham   5th in 800m
Can you give some information about your training?   Well, this is one of the first problems.   As a young man my mileage was high, 80+ miles per week, which caused endless knee problems.   My best period without a doubt was with Brian Scobie where my mileage was on average about 45 mpw, training twice a day which included a gym session of stretching for 45 minutes each lunchtime and a 4 miles tempo run  after this session three times a week.   The same general conditioning work in the gym in winter + hills and fartlek grass sessions whichhelped my knee.   In summer 12 x 400m session with short recovery, 5 x 1000m etc.
When did you stop racing and why did you stop racing?   In around 1991, due to work (in Wales) and knee problems I struggled to find a group to work with until joining Bridgend AC with Steve Brace, I had another three years.   I eventually succumbed to work and I jury in 1994.
That's where the questionnaire ends and it raises several interesting questions and comments.   eg the big miles in the 80's were not only the prescribed dosage in Alloa and Stirling: the marathon boom was in full swing and it was not a question of whether you did big miles or not, it was whether you did them hard or easy.   Bad enough for grown men, but worse still for youngsters with developing joints and muscles.   Interesting too that his best running was when he was doing quality plus stretching and mobility work with Brian Scobie.   After that we should look at Robert's actual career in the sport.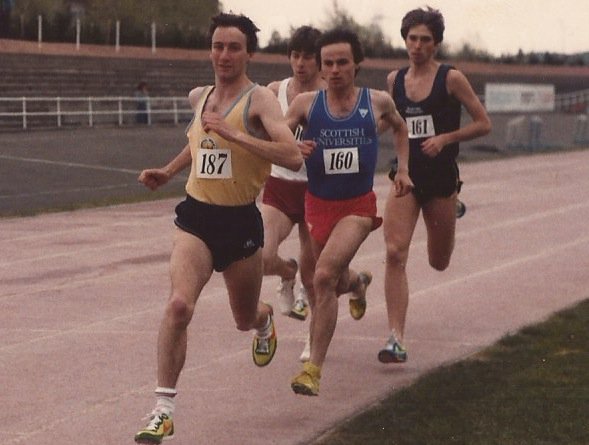 Robert leading for the Scottish League against the Scottish Universities
Robert started the 1979-80 season on 20th October 1979 running the last leg of the East District Young Athletes Relay championship.   The Central Region AC B team was  thirteenth with Robert's time being 10:28.      He missed the national relays at Aberdeen on 27th October but he was out in the next championship – the East District Youths event on 19th January 1980 in Falkirk where he finished seventh and led the club to victory with counting runners being  7th, 9th and 10th.   In the national on 9th February at the Magnum Sports Centre in Irvine, he was seventeenth in the Youths race which was won by Ross Copestake from Adrian Callan.   The club was out of the medals being fifth team to finish.
The first notable track victory of Robert's track career was winning the Scottish schools 3000m in June 1980.    Running in Group B, the second oldest group for schools athletics, he won in 9:01.0 which gained him selection for the schools international, held in Lincoln that year where he finished fourth.   That was his first real season in athletics and a Scottish Schools title and international representation was a very good omen for future involvement in the sport.
In season 1980-81   he ran in the East District cross-country where he was fourth in the  Youths (U17) race with team also fourth.  He missed the national and headed into the summer which came early for Robert and he finished second in a 5000m on 18th April in a creditable 15:31.   A month later and down two distances he ran 1:54.6 for 800m at Grangemouth to be second placed in what would be his best time of the season.
Robert had a good start to the summer when he won the East District junior 1500m at the end of May in 3:58.04, 5 seconds clear of J Blair in second.  Schools age groups are slightly different from those of the national governing body being arranged in 'even years'.  It is usual for runners to be second year in schools age groups when they are first year for all other athletic purposes.  Robert, now in the oldest grouping for schools, won the 1981 Scottish Schools 1500m in 4:00.8 at the start of June by one second from Antony O'Hara and was picked for the European schools event in Birmingham where he ran in the 800m, finishing fifth.   The summer progressed to the SAAA championships at Meadowbank on 21st June where Robert was first in the SAAA junior (Under 20) 1500m in 3:56.86 – almost three seconds clear of J Harold in second.   This was his first national track championship, other than the schools of course.
At the end of 1981 Robert was ranked twenty ninth among Scottish seniors in the 800m with his best time of 1:54.6 (which also placed him sixth in the juniors rankings) and thirty fourth among the seniors, fifth junior, in the 1500m with a time of 3:56.3.   He was also ranked in the 5000m with his best time of 15:31.0, quoted above, in seventh junior position.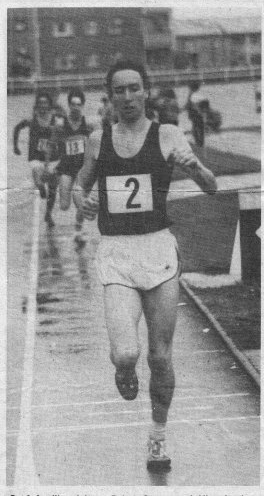 Grangemouth 1982
As usual Robert followed a good winter's work running in all the main races with a successful culmination in the international Rome in March. A look at the main championships shows his good running.
In January 1982 in the East District Championships as a first year junior but still racing against senior men, Robert finished twenty third and then on 27th February in the big race,  he was sixteenth in the National at Irvine in very good company – 13th was Neil Tennant, 14th was Nigel Gemmell and 15th was Peter Faulds.   He then won the Scottish schools cross-country.   In the world junior cross-country championships in Rome on 21st March, Robert actually led the Scottish team home when he finished twenty ninth of ninety three finishers and was awarded the Jock D Semple Cup as first Scottish finisher.   The interesting thing about this is that in the SCCU championships the finishing order for the Rome team had been Gordon Mitchell second, Anglo Stuart Paton fourth and Ian Steel fourth and all in front of Robert but came the international, the order was Cameron 29th, Mitchell 44th, Paton 50th and Steel 61st.
Robert always ran well in the schools championships and summer '82 was no exception.   In June he won the 1500m in Group A for the second year  in succession in the excellent time of 3:55.5.  Bob McKirdy was second in 3:59.3.   Later in the month he was second in the Scottish junior 1500m championship behind Stuart Paton of Belgrave ,  AAA junior 1500m champion that year, who was a very good runner indeed but one not known too well in Scotland since he so seldom competed north of the border.  Paton ran 3:52.3 and Cameron 3:55.2.   Robert them stepped up to the 5000m at Grangemouth on 11th July and won in 15:12.1.    Back down to 1500m on 7th August at  Meadowbank for a Junior International he was fourth in 3:53.70.   A month later, right at the tail end of the season, he ran an 800m in 1:56.67 to finish sixth.
By the end of summer 1982 he was ninth ranked junior over 800m with his 1:56.67 and third ranked 1500m runner with 3:53.70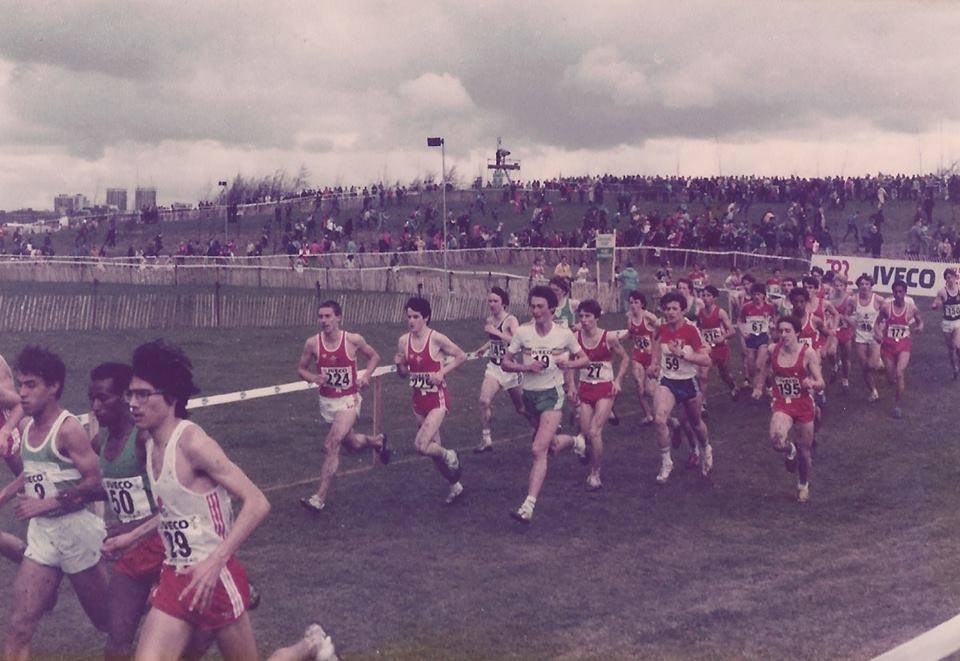 World Cross 1983
At the start of the winter in 1982, Central Region AC did not enter teams in most of the road or cross-country relays so the first championship in which Robert competed was on 22nd January, 1983, and was the East District Championships. Here he was twenty sixth, immediately in front of local rivals from Falkirk Victoria, John Penetcost and Jim Evans.
The junior National was at the Jack Kane Sports Centre, Edinburgh, on 26th February and Robert was eighth across the line.  In the world cross-country championships at Gateshead, however, he was the winner of Jock D Semple cup for first Scottish finisher when he finished forty eighth.   Again, as in 1982, he performed better in the international than those ahead of him in the Scottish championships.   Order of counting runners (SCCU position in brackets) was Cameron 48th (8th), P Connaghan 64th (3rd), J McNeill 77th (1st), Alan Puckrin 98th (5th).
Summer 1983 was not a good one for Robert and by the end of the season in September he was not ranked at all in any event.   But when the new competition year of 1983-84 began,  Robert was running in a good Central Region four man relay team on 19th October in the East District Relay Championships.   He was fastest club runner by by 35 seconds when he ran the third stage and the team finished nineteenth.   There was unfortunately no club team entered in the National Relays and Robert's next winter championship was in the East District championship on 28th January 1984 at Kirkcaldy.   Twelfth in a very good field  close behind Graham Laing, John  Pentecost, Archie Jenkins and Colin Youngson and immediately in front of Donald Bain, Nigel Jones, Doug Hunter, Evan Cameron and Jim Evans.   These names are listed to give an indication of the quality of Scottish endurance running at that time and to show that Robert was well up to that standard.
He felt the full force of that quality when he ran into 30th place in the Senior National at Irvine on 28th February in a race won by Nat Muir from Allister Hutton and Fraser Clyne.    With no international to compete in in 1984, Robert could concentrate on preparing for the track season.   And a successful season it was too – when the summer drew to a close at the end of September 1984 Robert was ranked in two events – the 1500m where he was twentieth with 3:50.4 and the 2000m where he has 5:18.5.
Robert didn't run in either the East District or Natioal Relay Championships in October but on 10th November, 1984, Robert had one of his best ever races:  in the Glasgow University Road Race with a field of over 600 runners he finished a very good third being out-dipped  on the line by George Braidwood – the race was won by Nat Muir in 24:01 and all three were inside the existing record of 24:27.    He followed this with a second place behind Peter Fleming in the Rank Xerox Corporate Challenge 10K where he ran his personal best time of 29:58.
Robert ran in the East District championship that year but was unplaced, and on 23rd February, 1985, he was eighty fourth in the National in Edinburgh at the Jack Kane Sports Centre.    The summer of 1985 he was not ranked in any event at all which was probably down to injuries – his knee injuries were to be an unfortunate feature for the remainder of his career.
In 1985 Robert moved down south to study and started running for Newham & Essex Beagles whom he represented until 1991.   His coach at this time was still Alex Naylor and the distance was an added complication.   Add in  continuing knee injuries and this was not his best spell as an athlete.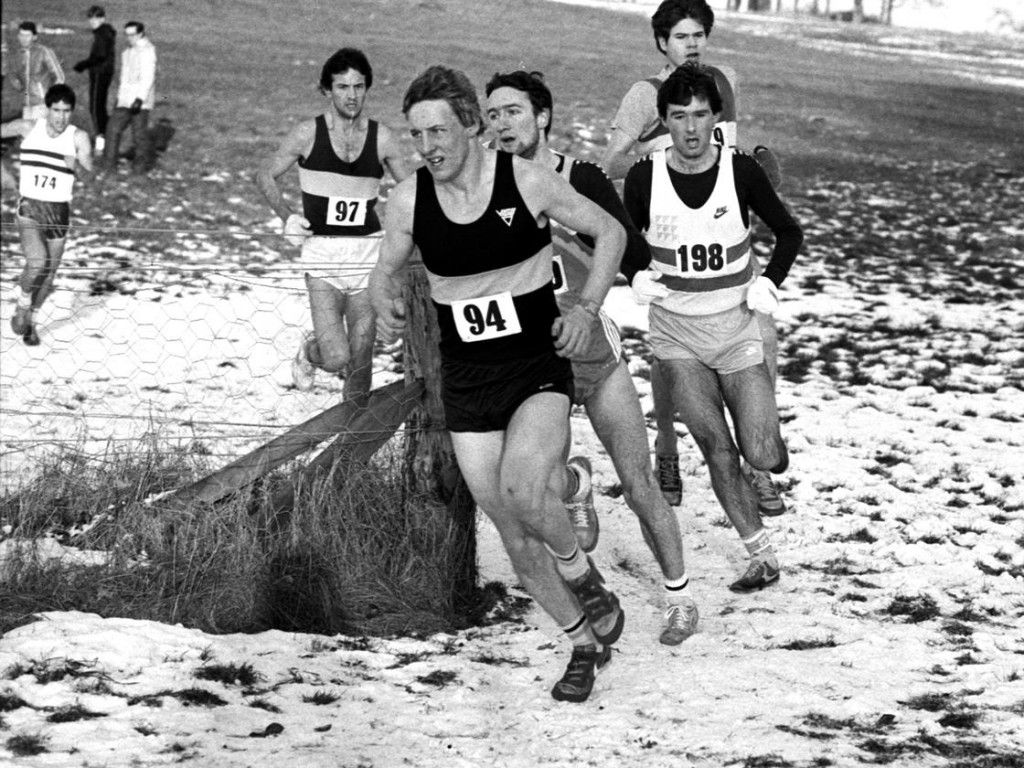 Robert in second running in the East District Championships, 1985 
Robert also missed every championship in winter 1985-86  but finished third the in Loughborough v AAA match that summer just behind Tim Hutchins, (7.59.39) who was in very good form that (Olympic) year after a good run in the world cross-country championships.   By the end of the year the annual rankings had him seventeenth in the 1500m with 3:50.8 and third in the 3000m with a best of 7:59.39 and his best of 14:04 for 5000m was also at least worthy of note.   Robert did not turn out in the District or National Relays, nor did he run in the District or National Championships in winter 1986-87 but in summer 1987, now training with Brian Scobie, he was beginning to run well again.   He ran well enough to be selected for the Small Nations International (called after the sponsors Dale Farm) on 29th/30th June but was unplaced in the 1500m.
Robert joined Falkirk Victoria Harriers in 1987 and, according to the rules, he could not run for them in any of the championships or team races that winter.  The injuries continued to plague him and college work took up more of his time and he missed two consecutive winters before coming back with a vengeance in summer 1989.   Training with Brian Scobie paid off that summer however and by the end of 1989 he was back in the annual rankings for the first time since 1986 with performances of 3:45.1 for 1500m, 8:25.42 for 3000m and 14:14.16 for 5000m which placed him sixth, twenty first and eighth respectively.   The 1500m time was to be a personal best.
 That winter (1989-90), although he missed both District and National Relay Championships, he had his first taste of the classic eight stage Edinburgh to Glasgow relay when he was asked to run on the second stage.  This was one of the more difficult legs with most clubs putting their top man out but Robert ran well and moved the club  up a place from twelfth to eleventh.   Living and studying in England, this was his last major race in Scotland that winter and the following season (summer 1990) he was not running well enough to be ranked in Scotland.
As in 1989-90, so Robert ran in only one big winter race in 1990-91 – the Edinburgh to Glasgow – where Falkirk won with Robert setting  them off when he ran the first stage finishing eighth and handing over to John Sherban.   His running in 1991 was again restricted but he did have a good 1500m time of 3:56.15 to show for it.   In summer 1991 he was ranked in only one event – the 3000m where he had a time of 8:29.24.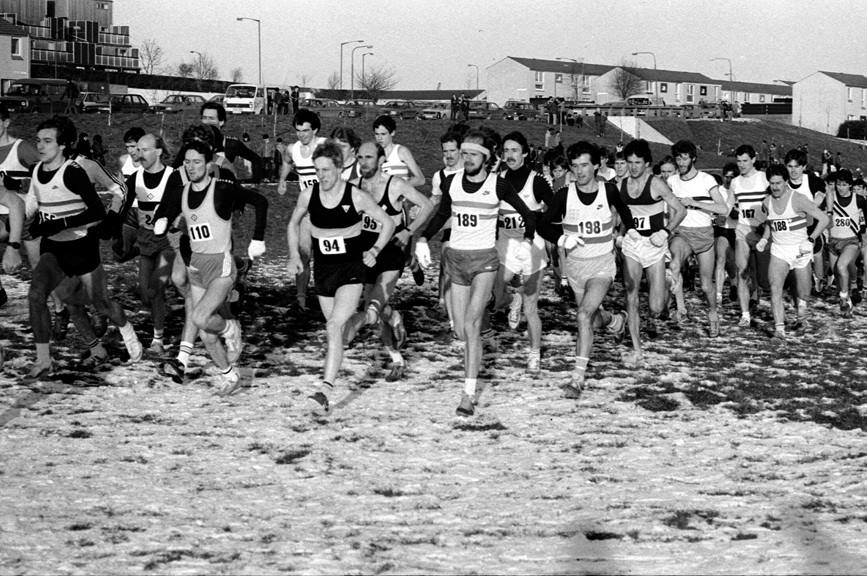 Robert, number 110, in the East of Scotland Championship 1985
Robert's career was one of remarkably good running interspersed by periods of almost complete inaction due to injury and studying.    These knee problems are still troubling him and at the time of writing (2016) he is awaiting an operation.    It has deprived him of a lot of rewards and Scotland of the services of a talented athlete.
Currently he is still involved in the sport having been a team manager for England on the road, for the North of England on the road and over the country, and secretary of West Yorkshire Schools Athletic Association.    His experiences have clearly stood him in good stead and the dangers of over training are probably being passed on to a new generation of schools athletes.