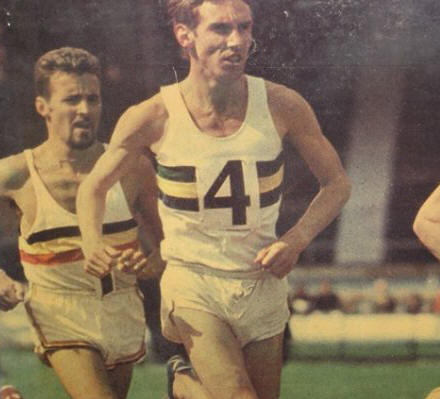 A YEAR IN THE LIFE: SCOTTISH ATHLETICS IN SUMMER 1965
Scottish athletics in 1965 was nearer the 1955 scene than the 1975 one: in the 50's there were still major sports meetings with huge crowds taking place, by the 1970's almost all these fixtures had gone and other than in big sponsored one-off meetings, the only chance the supporters of the sport had to see the top athletes was at a major Games.   The '60's summer seasons still featured the classic works sports days like Babcock & Wilcox and Dirrans Sports, the major Highland Gatherings at Strathallan and Cowal were still pulling in the crowds, there was still the excitement every time the top milers toed the line in an attempt on the four minute mile.   The Scottish Marathon Club was firing on all cylinders and top class races at distances from 10 miles to ultramarathons were being organised throughout the year.   We can start the 1965 coverage in the last week of April.
There were no fewer than seven meetings or events covered in the 'Glasgow Herald' of 26th April 1965.   Pride of place went to the University match between Glasgow and Aberdeen at Aberdeen which Glasgow won quite comfortably.   The quality of athletics on display was high – "The most aggressive performance of the day came in the javelin where A Fowlie (Aberdeen) entered the thin ranks- in this country at least – of the 190 ft throwers with a best effort of 193′ 3", a ground record.   By doing so he now threatens CF Riach (Jordanhill College) whose splendid isolation in the event over the years has become something of an institution  in Scottish athletics.   If Fowlie can reach 120 ft this season then spectators at the national championships will perhaps see a real contest instead of the hollow victories of recent years.   Aberdeen's only win on the track was by W Ewing  who was little troubled by his opponents in the mile.   He was in turn well contained in the 880 yards by BWM Scobie (Glasgow University) who gives every indication of being an even better runner than he was last year.   Scobie had the race in control from the start and led Ewing over the finishing line by about five yards.  
GL Brown (Glasgow) took full advantage of the adequate interval between the hurdles races on the programme, and on both comfortably.   His problem later in the year will be in deciding whether he is fast enough over the high hurdles, or if his chances of success lie in the 440 yard event, which demands every ounce of stamina as well as an economical hurdle clearance.   Brown, well equipped with the latter quality, may not be so happy about the other necessity.   WM Campbell (Glasgow) equalled the ground records on 10.2 and 22.4 seconds for the 100 and 220 yards on a track not renowned for its fast running surface, and at the end of the day he anchored the relay team in an easy win 44.5 seconds."  
For the record, Scobie's time was 1:59.5 and Ewing's 4:18.3.   Ray Baillie won the Three Miles in 15:03.7 from D Clarke (A) and, as a matter of interest, Jim Bogan was third in both mile and three miles.
On the same day, the not wholly accurate headline "Macgregor foils Wood in Road Race", rather was it a case of the officials foiling a plot by the runners to dead-heat!   In the report of the Clydebank to Helensburgh 16 mile road race, it was made clear that Don Macgregor and Alistair Wood had decided to cross the finishing line side by side in a dead heat.   The judges took the view that a staged dead heat was against the spirit of man-to-man racing and split them, giving the verdict to the Edinburgh runner, but the same time of 1:21:51 being given to them both.   It's the kind of thing that runners argue about in a pub after the race but the verdict always stands.     Davie Simpson pof Motherwell was third in 1:30:29, 12 seconds in front of Hugh Mitchell of Shettleston.
Meanwhile at Hampden Park, Bill Allison of ESH, home on holiday from New Zealand after seven years away, won the mile at half-time in 4:12.5 from Iain Macpherson of Victoria Park (4:17.7) and Lachie Stewart (4:4:19.3), Ian McCafferty (4:20.6), A Smith (VPAAC), G Grant (DAAC), J Reilly (VP), E Knox (Springburn) and J Reilly (VP) trailing behind in that order.   At Westerlands, Garscube Harriers defeated Glasgow University's second team 70 to 64.   Gerry Taylor of Garscube won the three throws (shot, discus, javelin), Les Piggot won the 100 and 220 yards.   At Craiglockhart, Edinburgh University won a triangular match against Queen's University (Belfast) and Strathclyde University.   They won every track event and finished with 102 points to Strathclyde's 41 and Queen' 40.   Doug Edmunds putt the shot over 50′ – 51'8″ to be exact and threw the discus 138′ 3.5″ while Laurie Bryce heaved the hammer out to 178′, having managed 188′ in a midweek universities triangular match.   There was also a match between Forth Valley AAC against a combined Dumbarton and Maryhill at Larbert with some very good performances.   A Robb (Forth Valley) won both sprints in 11.1 and 23.2; Colin Martin (Dumbarton) won the mile, Jim Brennan (Maryhill) won the three miles,  and there was a fairly full field events programme.
Full lists of winners and performances were given for all but the EU v Queen's  v  Strathclyde match.   The season was under way!
There were five events reported on from Saturday, 1st May: the big headline went to Georgena Buchanan (later Craig) with second billing to another Wood/Macgregor endurance head-to-head.    "Three West Titles For Miss Buchanan" tells its own story: in the West District Championships at Scotstoun she won the 440 yards, the 880 yards and Mile in times that she had beaten many times in the past but three victories in any championships represent a good day's work.   Winning times were 61.5, 2:20.5 and 5:29.2.   Avril Beattie of Maryhill took the 100 and 220 yards races in 12.2 and 26.3 seconds.  Moira Kerr won the shot and was second in the discus.   Lindy Carruthers and Jinty Jamieson were notable in the Intermediate age group winning the 880 yards and long jump respectively and Heather Stuart won three events – javelin, shot and discus.     In the distance running rematch there was no question of a staged tie at the end.
In the SAAA 10 miles track championship at Seedhill Track, Paisley, the headline gave the game away when it read Macgregor too good for Wood."    The report read as follows:
"The revived Scottish 10 mile track championship at Paisley on Saturday was not long in progress when it became clear that DF Macgregor (Edinburgh Southern) and AJ Wood (Aberdeen AC) were to be the pair to battle out the issue in the absence of AF Murray (Edinburgh University) who was considered to be the favourite.   It was Macgregor who shaped the course of the event with with Wood hanging on tenaciously with 5:06 for the first mile, 10:05 for the second, and thereafter 3 miles, 15:19, four miles 20:16, five 25:17, six 30:19, seven 35:23, eight 40:29 and nine 45:37.   Entering the last lap Macgregor raised the pace which Wood was unable to compete with and ran out winner by fully 30 yards in the fine time of 50:23 in the gusty conditions.   Result:  1.   DF Macgregor  50:23;  2.   AJ Wood  50:29;  3.   WJ Murray (GReenock Glenpark)  53:54;  4.   NJ Weir (Edinburgh Southern)  55:14;   5.   PJ Duffy (Aberdeen AAC)  55:14;   6.   BA Goodwin (Bellahouston)  56:00."
The East District women's championships were also taking place at Meadowbank where the top performance was S Clarke's 135′ javelin throw which set a Scottish record, eclipsing the previous best of 120′.   Barbara Lyall (Tayside) won the 440 yards by inches in 59.4 and finished second in the 220 yards.   Other than that, E Watt of Edinburgh AC won the 100 and 220 yards in 11.4 and 26.4 seconds.   Ann Wilson won the longjump with 16′ 6/5″ after being second in the 100.
In Belfast. Glasgow University defeated Queen's University and St Andrews in the men's match, and in the women's competition Queen's defeated Glasgow and St Andrews.   It was a windy day, witness this on the 880 yards, "After allowing lesser mortals in the 880 yards to act as hares, BWM Scobie (Glasgow) broke away with half a lap to go and won in 2:01.2, a time that on any other day but Saturday he would readily have scorned."   For Glasgow Ming Campbell won the 100 and 220 (9.9 and 22.3), Kennedy the 440 (53.0), Scobie the 880, Rough of St Andrews won the Mile (4:20.2) preventing a Glasgow clean sweep of the track events, Ray Baillie the Three Miles (14:55), Brown the120 yards hurdles and 440 yards hurdles (15.7 and 57.2), Norrie Foster won the pole vault with 12'and Sandy Sutherland the shot putt (47′ 2″).   Glasgow  seconds took on St Andrews and St Modans at Westerlands and finished third.   Top performances were Dougie Edmonds who won the shot by 10′ from second and the discus, C Stewart Strathclyde in the 440 (51.4) and R Marshall who won both sprints for St Modans.   Allan Faulds won both Mile and Three miles for Glasgow.
Five lines were given at the foot of the page to Ron Hill's win over Jim Alder in the AAA's 10 mile championship at Kirkby, Liverpool.
An aside:   Why is there so much detail being presented?   The point is to display the sheer amount of competition taking place, the amount of coverage in the press and the standard of that competition.   For instance, in the first week of May, there were four track and field matches and one SAAA championships.  Each meeting had several very high performances to show. The winners of all bar one of the T&F matches were shown in both major papers that day, indeed in one the first two in every event was available to the reader.   It seems clear to me at least that the volume of competition  +  coverage in the Press  =  a fairly high standard of performance.   The volume will continue to be at least indicated!
The big event on 8th May was the Glasgow University Athletic Club Championship – or was it the SWAAA Pentathlon championship?   The students had the bigger headline so we'll start  with Min Campbell's sprinting.   "For the second successive year Glasgow University's championships were afflicted with the most atrocious weather.   A gale an heavy rain made the afternoon more a battle against the conditions than against any opponent.   A spark of enterprise by the officials, however, did make the day bearable for the 100 yards runners when it was decided to run their races with the wind.   With their vests billowing and their backs uncommonly upright they were whisked down the straight to performances that were understandably flattering, none more so than that of WM Campbell whose 9.4 seconds beat the championship record by 0.6 seconds.   One is at a loss as to why the time will not be considered to be a record when one sees that the win-assisted times by Campbell (9.6 sec and 21.2 sec) are printed on the programme as ground records.   Had the wind assistance been less obvious but still over the limit on Saturday would the officials have still looked more kindly time? They would have been forced to because there was no wind gauge in sight."   The number of competitors was less than might have been desired – Norrie Foster was the only competitor in the pole vault and only did a token jump to take the title.   The results were interesting with many well-known names among them
100:  1.  WM Campbell;  2.  R Mayberry.  Winning Time: 9.4 sec;   220:  1.  WM Campbell;   2.  McGeough.  23.6 sec.   440:  WM Campbell;  2.  A Kennedy.   50.6 sec.  880:  1.  BWM Scobie;   2.  K Nimmo.  1:58.9
Mile:  1.   BWM Scobie;  2.  R Baillie.  4:38.1.   Three Miles:  1. R Baillie;  2.  WC Rutherford.   14:37.7.   Steeplechase: 1.  J Bogan;  2.  J McCall.   10:20.2.   440y hurdles:  1.  GL Brown;  2.  A Kennedy.   56 seconds.
High Jump:  1.  N Foster;  2.  IH Bilsland.   5′ 7″.   Pole Vault:  1.   N Foster.  12′ 3″.   Long Jump:   1.  N Foster;  2.   B McInroy.  22′ 3″.   Triple Jump:  1.   N Foster.   31′ 2″
Shot Putt:  2.  AL Sutherland;  2.  N Foster.  48'10.75″.   Discus:  1.  AL Sutherland;  2.  N Foster.  126′ 7″.   Javelin:  1.  BA Seton;  2.   F Kennedy.   142′ 10″.   Hammer:  1.  N Foster;  2.  G Taylor.  110′ 8.5″
Women:
100m:  1.   P Murray;  2.  P Kerr.  12.1 sec.   220:  1.  P Kerr;  2.  M Torbet.  31.4 sec.   80m hurdles:  1.  P Murray;  2.  AH Wapshaw.   14.8 sec.
High Jump:  1.  AKA Seaman  4′ 3″.   Long Jump:  1.  P Murray;  2.  AKA Seaman.  13′ 10″
Shot Putt:  1.  EA Gunn;  2.  M Torbet.   27′ 1.25″   Discus:  1.  MC Semple;  2.  EA Gunn.  60′ 4″.   Javelin:  1.  MC Semple;  2.  EA Gunn.  72′ 8.25″
And there were invitation schools events in the programme as well.
As far as the SWAAA Pentathlon championship was concerned, the event was always well supported and many surprising names appeared on the results sheets over the years.   For instance, several senior middle distance specialists picked up medals – it is difficult to imagine any of the senior men milers taking part in such a contest.   In 1965 it was won by E Kilpatrick from L Haldane of Bellahouston with Georgena Buchanan third.J Jamieson beat L Carruthers in the Intermediate championship.   Also on that day, Edinburgh Southern and Octavians won their respective Scottish League fixtures at Meadowbank and Bellahouston Harriers beat St Andrews University at Nethercraigs in Glasgow.
The weekend of 15th May had the SWAAA East v West meeting at Nethercraigs, the British Universities Championships at Liverpool, Fergus Murray won the Shettleston Marathon, Scotstoun hosted Victoria Park v Ayr Seaforth, Edinburgh AC defeated St Modans in a League Match at Redford Barracks and there was a four-way inter-University match at Toryglen.
Maybe a word of explanation for all those League Matches being reported.   The set-up was that each Division had eight clubs competing and it was up to the clubs to arrange their own fixtures in which every club was scored against every other club.   It was maybe a fairer method of competition that the current one of three meetings with every club facing every club every time.  It worked as follows:   Club A would invite Club B and club C to a contest at their home ground and at the end of the meeting, Club A would be scored against club B and separately against club C; similarly club B would be scored against club C so that there were three results from the meeting.   Points for win/loss/draw would be allocated and totals aggregated to find the league winner.   The clubs would arrange their own fixtures so that they met every other club in the division.   This is why there are so many League matches being reported in the columns of the press – athletic and otherwise.
In the British Universities Championships, Scots students won four events, had three seconds and three thirds to add to the two victories on the Friday night.   WM Campbell won the 220 yards in 21.8, EK Patrick won the women's long jump title and wqn the 80 metres hurdles by a metre in 12.5 seconds.   Laurie Bryce won the hammer with 174 feet, AB Kennedy was second in the 440 yards in 49.3, M Campbell was second in the women's 880 yards, GM Brown won the 440 yards hurdles on the Friday and finished second in the 120 yards hurdles. Bill Ewing was third in the Mile.
In the women's inter-district championship, Georgena Buchanan won the 440 and the 880 yards in 58.4 and 2:18.7, both inside the meeting best performances.   All the best performers were there – Ann Wilson (100 and long jump), Lesley Watson (Mile), Sheila McBeth (80m hurdles), Moira Kerr (shot and discus), Carruthers, Jamieson, Stuart among the Inters.   At Scotstoun in the triangular match between Victoria Park, St Andrews and Ayr Seaforth, St Andrews failed to show up and Victoria Park won comfortably.   Ross Billson of Ayr surprisingly defeated WH Barrow in the 880 yards in 1:56.6 to Barrow's 1:57.1.   One of the features of this match was the versatility shown by the host club's high jumpers: Crawford Fairbrother won the high jump (6′ 6″, Cosmos Julien the the discus (70′ 10.5″)  and Alan Houston the shot (32′ 6″).   The match was studded with top class athletes: the 100 and 220 yards were won by A Wood (VP) in 10 sec and 22.4 sec, D Griffiths (A) won the 440 in 51 seconds, I McPherson (VP) won the Mile in 4:14.5, A Smith (VP) won the 3 miles in 14:09.6,  P Maclagan (VP) won the 6 miles in 31:07.2, D Hay (VP) won the 120 hurdles in 18.9 seconds, and D McLaren won the 440 yards hurdles in 64.6 seconds.   PV Milligan won the pole vault for VP with 10′ 9″, T Hay won the long jump and J Lundle (VP) won the triple jump with 42′ 3″.    Quite a comprehensive win.
Also in Glasgow, Fergus Murray won the Shettleston Marathon in 2:18:30 from Alastair Wood (2:19:03) with R Donkin (Sunderland) third in 2:30:11 and HK Mitchell fourth in 2:31:50, C McAlinden fifth in 2:34:33 and RC Calderwood sixth in 2:42:04.
Another very good weekend with six events on the card.
On Saturday 22nd May, the Glasgow Championships for men and women with many invitation schools events were held at Scotstoun, Edinburgh University beat Glasgow University at Craiglockhart, David Simpson won the Drymen to Scotstoun road race, and Glasgow University B Team beat Edinburgh University B at Westerlands.    The Glasgow Championships stole the thunder from all the other events by a distance.   It had events for men, for women and for young athletes as well as being the finishing point of the road race.   Covered by the 'Glasgow Herald' as follows:
"On a day when most organisers of sports meetings would have been ruefully counting the losses the Glasgow Athletic Championships with their generous supply of competition for schools at Scotstoun Showground on Saturday had more spectators than one sees at district senior championships.   The spectators enthusiasm, it was pleasing to note, was well directed, particularly in the senior handicap mile, in which A Faulds (St Modans), with the helpful allowance of 100 yards,  found himself 30 yards clear of JL Stewart (Vale of Leven) with one lap remaining.   The latter, whose handicap was 55 yards, made little impression until the last 100 yards, when he summoned from nowhere a sprint which closed the gap with astonishing speed and gave him a most unexpected win over some one who himself is no laggard at finishing races.
To dwell on handicap competition when there were so many championship events may seem disproportionate, yet it was another non-championship performance that was among the day's best.   The high jumpers, easily seen only with binoculars, were set away in a cranny of the ground, competing when the rain was at its heaviest.   Despite these drawbacks, CW Fairbrother (Victoria Park) appeared to revel in the conditions and eventually cleared 6′ 7″, his best height of the year.    The senior championship mile was successfully acted out with WH Barrow and IG McPherson, both of Victoria Park, the main protagonists.   Barrow was at no time in trouble and on the back straight of the last lap, he moved into an unchallenged lead, strode ahead and won by 10 yards in 4:13.0.  
D Simpson (Motherwell in the road race from Drymen to Scotstoun entered the Showground only 15 yards ahead of HK Mitchell (Shettleston) but the latter seemed happy to finish in second place.   The winner's time was 1:23:31.  
Miss G Buchanan (Western) and L Piggot (Garscube) were successful in retaining the 880 yards and 100 yards respectively.   Miss Buchanan, after having passed the bell in a fast 64.5, won in 2:15.6, and Piggot, timed at 10 seconds, had more than a yard to spare over his nearest challenger."
The other senior and junior winners were Men's Championships – Junior 220 yards:  H Baillie (Bellahouston) 22.6 seconds; Junior Mile: G Grant (Dumbarton)  4:23.8.     Women's Championships:  Junior 100 yards:  J Smith (Hillhead High) 12.6 seconds; Senior 100 yards:  E Thomson (Hyndland Secondary)  12.2 seconds;  Senior shot putt:  M Kerr (Maryhill)  40′ 5.5″.
Handicap winners:  Men:  100 yards   L Piggot (scr) 10.4 sec;  220 yards:  E Hayes (Hillhead High – 12)  22.6;  880 yards:  MJ McLean (Bellahouston  28) 1:51.8; Pole Vault:  1.  PJ Bragg (Bellahouston 3′ 3″) 13′ 3″;   Shot Putt:  B McHugh (Bellahouston  5′ 6″)   50′ 10″.      Women:   100 yards:  P Johnstone (Westbourne 4 yards)  11.4 seconds;  220 yards  E Thomson (Western 12)  26.6;  Long Jump:  J Jamieson (Western 2′ 9″)  18′ 6″.
Other event:   Two Miles Team Race.   1.   I McCafferty (Motherwell)   8:57.2.    Team Race:  1 Motherwell
Schoolboys 4 x 110 yards relay:   Hillhead HS   47.1 seconds.     Schoolgirls Relay:   Hutchesons Girls Grammar School   52.9 seconds.
Undoubtedly a very good meeting although maybe a bit light on the championship events.   Good competition nevertheless.
The last Saturday in May was always the men's district championships, and on 29th May, 1965, the West Championships were at Ayr where there was a bit of an upset in the 100 yards, and the East were at New Meadowbank.   The major account was of the Ayr meeting and read :
"It was unfortunate that the competitors in the Western District Athletic Championships at Dam Park Ayr were overwhelmed in popularity by their equestrian rivals at the Race Course half a mile away, for several outstanding  performances deserved greater applause.   The triple jumping of HC Robertson (Bellahouston) was the finest seen since the days of T McNab seven years ago, yet had the jumping pit been in front of the stand instead of  at the other side of the field two improvements would have emerged.   First the spectators could have better appreciated a far from popular event, and second, that indefatigable wind-gauge expert, Mr J Brown, could have calculated the wind speed of the 220 yards and the triple jump at the same time.   As it was he missed the 48′ 3″ jump by Robertson and then had to reject a further effort of 48′ 11" because the wind was fractionally over the limit.
On the track, the 100 yards and the mile produced the closest of finishes.   The sprint was remarkable in that R Marshall (Jordanhill College) and L Piggot (Garscube) who were involved in an eyelash finish at these championships a year ago, when the former won, contested the issue on Saturday in a similar vein.   After an excellent start Marshall was clear of the rest at 60 yards, but then Piggot, in a frantic finish, pulled himself practically level at the tape.   Although judges gave Marshall the verdict, they were unable to separate then in time, both being given 10.1 seconds.
 WH Barrow (Victoria Park) ran  less skilfully in the Mile than one had expected yet still won in 4:08.8.   I McCafferty (Motherwell) led for  three laps, after which Barrow became a hesitant leader round the penultimate bend and his lead of about five yards into the home straight seemed insufficient, for the |Motherwell runner's finish had not been blunted.   Only determination by Barrow in the last 20 yards managed to fend off a gallant challenge by McCafferty whose time was 0.1 sec slower."
Marshall also won the 220 yards (22.4) and other victories were: 440 R Billson (Ayr) in 49.1, 880 yards G Grant (Dumbarton)  1:54.3; Three Miles J Reilly (VPAAC)  14:19.2, Six Miles HJ Summerhill (Shettleston) 30:51.6,  Steeplechase  A Faulds (St Modan's) 9:35.4, 120y hurdles A Heron (VP) w/o, 440 hurdles  GL Brown (GUAC) 54.5 seconds.   CW Fairbrother led a VPAAC 1-2-3 in the high jump with 6'5.75″, N Foster the pole vault with 12'9″, Long Jump  HC Robertson  22′ 3″, Shot by D Edmunds with 48′ 5.75″, Discus by D Edmunds 141′, javelin by CF Riach (Jordanhill) 126′ 2″ and hammer by JA Scott (GUAC) 158′ 4″.
The Junior events were won by N Symeonides (Bellahouston (220 in 23.8 sec, and C Martin (the Mile in 4:19.1)
The standard of competition was high – Grant won the 880 from Mike McLean and Brian Scobie, Reilly won the Three Miles from Keith Lawrie of Ailsa AC and Pat Maclagan of VPAAC, Henry Summerhill won a needle match with Ian Donald of Clydesdale in the Six Miles, Colin Martin won the Junior Mile from Eddie Knox.   The only absentee of note was WM Campbell who was winning a 440 at Sudbury in Middlessex in 49.1 .   For all that, the East District some better performances.   That report read:
"One Scottish all-comers record, two Scottish national records, all subject to ratification, six championship best performances with one equalled, provided one of the most outstanding East District championships to date at New Meadowbank on Saturday.    AF Murray (Edinburgh University) improved upon GD Ibbotson's 1956 Scottish all-comer's record by 8 seconds and AJ Wood's 1960 Scottish national record by 14,4 seconds in winning the Three Miles in a time of 13:25.4, which is the best recorded over the distance in Britain this season.   He passed the mile at 4:24 and two miles at 8:52, which left the rest of the field far behind.  
AL: Heath who already has a throw of 205′ 9″to his credit this season, once again broke DWR Mackenzie's Scottish national javelin record of 204′ 11″ with a throw of 211′.   Only the second person to throw the javelin over 200′ at Meadowbank, he is still a junior which makes his performance noteworthy.   E Osborne's running in the 220 yards in which he beat JC Togher the holder decisively in the best championship time of 21.7 seconds was also most impressive, as was the 1:53.5 by JC Douglas in the 880 yards."
Selected results not quoted above include 440 yards – A Stewart (EAC) 50.2,   Mile K Ballantyne (ESH) 4:12.6, 120y hurdles WA Hogarth (Octavians) 14.8,  440y hurdles  WA Hogarth 56.2, Steeplechase J Linaker 9:16.4, Shot Putt I McPherson 46′ 3″, Discus AM Black (ESH) 133′ 6.75″, hammer  L Bryce (EUAC) 182′ 10″.
Again competition was good all the way through the programme, maybe particularly so in the steeplechase where John Linaker defeated Graham Stark and Bill Ewing.
The meetings have been done in some detail simply to indicate to those who have no knowledge of the old district championships, what the level of competition was.   Many  British and Scottish competitors – including several Olympians and at least two British team captains mentioned already – indicate what we as a sport lost when the district championships were first down graded in importance and then dispensed with altogether.
Also on that very day was the Scottish Marathon Club's 12 Mile championship race at Springburn was won by David Simpson (Motherwell) from Hugh Mitchell (Shettleston) in 68:25.
"BARROW RUNS FAST MILE
Although finishing in fifth place in an international mile, during the British Games on Saturday at the White City, WH Barrow (Victoria Park) ran 4:03.1, his fastest time to date.   The Scottish National Record, 4:03.9, is credited to G Everett and because Barrow's race was outside Scotland his performance is accepted only as a record furth of Scotland.   The winner was J Whetton (Sutton-in-Ashfield) whose time of 4:00.3 is the fastest in Britain this year.   Second to Whetton, in the same time, was DA Graham (Belfast).
MBS Tulloh (Portsmouth), having re-established himself as one of Britain's top three milers with his victory on Saturday, is now prepared to give all he has to take on R Clarke, Australia, who lowered his world record to 13:00.4 three days ago.  ……"
So started the coverage of the first weekend in June.   Ian Stewart said to other Scots distance runners that they were prepared to go 200 miles to get out of a good race, whereas he'd go 200 miles t get into one.  Hugh Barrow was a regular visitor to races in the south and when Frank Horwill and others founded the British Milers Club to get fast, paced races, Hugh was member number one – and he still gets his member's ticket every year with the membership number on it.   Also on that weekend, the Scottish Universities Championships took place at King's College, Aberdeen.   Norrie Foster had a very busy day indeed – surprisingly beaten in the long jump, he did win the triple jump, hammer both hurdles races (heats for both in the morning, finals in the afternoon) and pole vault.   He was looking ahead to the SAAA Decathlon the next weekend at Westerlands and there was a big element of preparation involved in the Aberdeen endeavours.   Fergus Murray won the mile from Bill Ewing and Alistair Blamire and the Three Miles from A Wight and Bill Ewing.   In the throws, Sandy Sutherland beat Doug Edmunds with 47′ 7.25″ and both were beaten in the discus by A Milne of Aberdeen.   The hammer was won by Laurie Bryce with 175′.
On the women's side of things, Elspeth Patrick was as busy as Foster had been on the men's.   She won the 100m, 80m hurdles, high jump, and long jump.
Away from the track, Don Macgregor won the 13 miles road race at Dundee ASA meeting in 63:05 with John Linaker taking first in the 3000m steeplechase in 9:28.2 and Crawford Fairbrother won the high jump with a best of 6′ 1″.    Ian McCafferty won the Mile at Singer's Sports in Clydebank and Graham Grant won the 880 yards.   The two and three quarter mile road race round the factory was won by Cyril O'Boyle and Ian Logie won the pole vault.   ESH beat Ayr Seaforth at Dam Park in Ayr on the Sunday and good performances were turned in by Justin Togher (100 and 220 yards in 9.8 and 22.5, Ross Billson won the 880 yards in 1:54,2. Don Macgregor the Mile in 4:21.4.   Across in Edinburgh, Octavians won their match with Edinburgh AC at Redford Barracks.   Retrospectively notable might have been F Dick who won the mile in 4:26.6.
Another weekend with big numbers competing all over Scotland – Aberdeen, Dundee, Ayr, Edinburgh, Clydebank and some others in London.   The range of events was wide too – three pole vault competitions, three steeplechase events – so everybody was catered for and competitors wanting to do the more unusual events were encouraged to do so, even requested to do so by their clubs.   The tempo was building towards the SAAA and SWAAA championships.
on June 12th the SWAAA Championships were held at Pitreavie and there were a number of athletes from the Anglo-Scottish Athletic Club present to add a new challenge to the locals.   "Mrs H Payne, Britain's top discus thrower, was in a class of her own in that event and earlier in the day had relegated Miss Moira Kerr (Maryhill), the holder, to second place in that event.   The mile was no race at all.   Miss V Tomlinson (Aldershot) having run 4:55.8 earlier this month, went out from the start as if it were a training run, and in so doing built up such a lead as to focus attention on the race for second place.   That query was soon answered when Miss L Watson (Maryhill) left Miss G Buchanan (Western) in pursuit of the leader, but at the tape Miss Tomlinson was 70 yards ahead in a time of 5:06.7 , an all-comers record.   An hour earlier Miss Buchanan had been an equally convincing winner of the 880 yards, finishing 60 yards ahead in 2:15.2, 2.1 seconds slower than her national record.   One wonders why these days she is persisting with faster first laps and much slower second laps.  Her time at  the bell was 64.5 seconds which gave her a second lap time of 70.7 seconds; how much easier she would find two laps of 66 seconds is arbitrary but one feels that until she looks into her pace judgment she will continue only as a 2:15 runner.  
The javelin throwing of Miss S Clarke (Edinburgh AC) was hesitant and her run-up so lacking in confidence that she was releasing the javelin at least 12 yards farther behind the line than was needed.   Her winning distance as a result was only three feet ahead of her nearest opponent.   Other seniors with good performances were Miss P Johnstone (Maryhill) who in her first year as a senior won the 100 yards narrowly from Miss A Wilson (DCPE), and Miss E Patrick (St Andrews University) with wins in the 80 metres hurdles and the long jump.   The best hurdling however came from the intermediates in which Miss Watson (Maryhill) showed forceful determination and no small amount of hurdling skill in winning in 12 seconds, a tenth of a second faster than the seniors.   The most significant junior performance came from Miss M Frame (Motherwell) who ran with admirable style i9n winning the 100 yards and 150 yards in 11.9 and 18.3 seconds respectively."
It is interesting that the reporter feels that he should give advice to championship winners in events as diverse as 880 yards and javelin while seeming to condemn the domestic milers.   In 2015 scribes tend not to be as judgmental as far as athletes are concerned but at times it is maybe salutary for the plain truth to be told.   At times.
Also on that day, we read, WH Barrow (Victoria Park) running his fourth race in six days at Rockingham, Barnsley, on Saturday won the invitation mile in 4:06.3, the same time as R Roseman (South London Harriers) in second place."   Ian Stewart's line about going 200 miles to get into a good race seemed to be applying with some force.    In the Decathlon Championship at Westerland, Norrie Foster won with 6736 points which was 37 points better than the United Kingdom record.   It was also better than the all-comer's record set two years earlier by S Zumich of 5744 points.   Second was AL Sutherland (Glasgow University) with  5077 and third was DAP Bruce of Maryhill (4395).   Foster's best events were the pole vault (835), 400 metres (784), long jump (780) and 100 metres (756).
The Lanarkshire Police Sports were held at Shawfield Stadium where the Greyhound Racing Track went outside the cinder running track giving the arena a strange atmosphere with spectators far away from the action.   The athletics was good however with Lachie Stewart and Ian McCafferty going head-to-head in the three miles, neck and neck up the finishing straight Stewart just got the verdict in 14:06.6.  Albert Smith (VP) was third.   Graeme Grant won a special three quarters mile race from Bill Ewing and Craig Douglas in 3:04.2 and Les Piggot off scratch in the 100 was just beaten by G Johnstone (Bellahouston) off 16 yards. Edinburgh Southern and Octavians both beat Shettleston in the triangular league match at Redford leading to the headline "Shettleston Beaten Twice."
Alastair Wood won the SAAA Marathon title over a course from Westerlands round Vale of Leven in 2:20:46 with Don Macgregor second in 2:22:24.   Charlie McAlinden was third 2:26:25  followed by Hugh Mitchell (2:28:06), WJ Murray 2:30:20 and Davie Simpson 2:40:01.
The SWAAA selected their team to travel to the WAAA's championships at White City at the start of July.   The chosen ones were A Beattie100 and 220 yards, P Johnstone (both Maryhill) 100 yards, G Buchanan (Western) 880 yards, MT Campbell (Birmingham) 880 yards, Mrs R Payne (Lozells Harriers) shot and discus, Moira Kerr (Maryhill) shot and discus, S Clarke (EAC) javelin.
The volume of competition and the quality of competition was still high and relentless.   It was heavier on the athlete than would maybe acceptable in the twenty first century but the performances did not seem to suffer.
With the SAAA Championships being on the last Saturday of the month, there were fewer senior events than usual taking place.   There was the Scottish Schools Championships – boys at Goldenacre, girls at Westerlands – which included the SAAA 4 x 440 yards championship, Babcock's Sports in Renfrew, and Edinburgh Southern defeated Bellahouston in a league match in Edinburgh.    In case anyone thinks that the league match would be an easy stretch of the legs before the national, note the following winning performances – 100  and 200m were won by Justin Togher in 9.7 and 22.2 seconds, Graham Stark won both three and six miles races (14:49 and 31:13), and Doug Edmunds won the shot with 48′ 2″.   At Babcock's sports, Andy Brown won the 14 mile road race from Gordon Eadie and Les Piggot ran 9.9 in his heat of the 100 but could only finish third in the final behind W Talbot of Glasgow Police off 4 yards.   Graeme Grant won the 880y in 1:52 and Lachie Stewart won a very competitive 2 Miles in 9:11.6.   Field events specialists got their competition in a programme which included a high jump and pole vault.
In the Boys championship the main talking point was, unfortunately it seems, the men's relay where Ming Campbell took over well clear of Ross Billson who chased and caught him with the two falling over the line together.   It was felt to be an injustice when the verdict was given to the University team, most spectators feeling that a dead-heat would be a better result.   The athlete of the meeting, however, was HC Robertson (Hutchesons) who won the long jump, triple jump and the 200 yards hurdles.   In the first he cleared 21′ 9.25″, in the TJ he he leapt out to 47′ 4.25″ and in the hurdles he was timed at 23.6, all into the wind.      He was awarded the Eric Liddell Memorial Trophy as the athlete of the meeting.   There were six meeting best performances at the girls event in Glasgow and the top athlete was Miss M Fleming of George Watson's who won the 880 yards and received the Frances Barker Trophy for the performance.   Among the others who excelled at the meting, P Johnstone (Westbourne who took the 100 yards, E Thomson who won the 220 yards, R Haldane of Shawlands who won both shot and discus (all in the 17-19 age group), while the 15-17 competitions had many fine performances from such stars of the future as J Jamieson, L Carruthers, D Ireland, H Stuart and M McGahey.
The SAAA Championships took place on 26th June and the standard was high.   For instance in the 880 yards, Graeme Grant won from Dick Hodelet and Craig Douglas, all three being within seven-tenths of a second of each other, Ian McCafferty beat Hugh Barrow in the Mile by one tenth of a second with Ken Ballantyne a mere half second adrift of Barrow.   In the Three Miles, Lachie Stewart beat Steve Taylor of Aberdeen and Jim Johnston of Monkland in 14:9.4 which had only two seconds between first and second.   In the field events there was only three inches between first (DJ Whyte) and third (N Foster) in the long jump where second placed PN Reed was only an inch behind Whyte.   The competition in the sprints was fierce with Ming Campbell being  victorious in both 100 and 220 yards.   In the Junior ranks Mike McLean won the 880 yards from Greenock's Tom Dobbin, Blamire beat Brennan in the mile, and Hugh Baillie of Bellahouston won both sprints.   Senior results:
| | | | | | |
| --- | --- | --- | --- | --- | --- |
| Event | First | Performance | Second | Performance | Comments |
| 100 yards | WM Campbell | 9.5 sec | L Piggot | 9.6 sec | |
| 220 yards | WM Campbell | 22.7 sec | E Osborn | 23.2 sec | |
| 440 yards | R Billson | 49 sec | RT Laurie | 49.9 sec | |
| 880 yards | G Grant | 1:54.9 | R Hodelet | 1:55.4 | |
| Mile | I McCafferty | 4:12.0 | WH Barrow | 4:12.1 | |
| Three Miles | JL Stewart | 14:009.4 | S Taylor | 14:12.4 | |
| 120 yards hurdles | WF Provan | 14.6 sec | W Hogarth | 14.8 sec | |
| Steeplechase | JH Linaker | 9:17 | A Black | 9:30.8 | |
| High Jump | CW Fairbrither | 6′ 8″ | AS Kilpatrick | 6′ 5″ | |
| Long Jump | D Whyte | 23′ 2.5″ | PN Reed | 23′ 1.5″ | |
| Pole Vault | N Foster | 13′ | I Logie | 12′ 8″ | |
| Shot Putt | DM Edmunds | 48′ 11″ | AL Sutherland | 47′ 4.5″ | |
| Javelin | CF Riach | 180′ 4″ | AL Heath | 180′ 3″ | |
| Hammer | L Bryce | 167'7″ | J Scott | 155′ 2″ | |
After the championships, the squad for the AAA's championships was chosen:   100 and 220 yards:  WM Campbell; Mile:  WH Barrow;  Three Miles:  AF Murray and I McCafferty; Six Miles:  AF Murray;   High Jump:  CW Fairbrother; Hammer   LM Bryce,    For the Marathon on August 21st:  AJ Wood and DF Macgregor.   For the Decathlon on 6th/7th August:  N Foster.
There was a women's match ESH, DCPE and Western in which DCPE was victorious  but there were several fine performances with the winners being:   100 yards: A Wilson 11.3;   220 yards:  E Thomson  26.4;   880 yards:  G Buchanan 2:21.8;   80m Hurdles:  S Brown 12.1.   Long Jump:  A Wilson  17′ 0.75″.   High Jump:  A Jamieson  4′ 9″.   Shot:  E Robertson 31′ 9″;  Discus:  C Sutherland  108′ 5″/   Javelin:  A Grant  117′ 9″
In the first week of July there was not much going on on the Saturday – the Braw Lads Gathering at Gala produced some good results, many by students from Brigham Young University who were on a European tour with the principal Scottish fixture  being on the Monday evening at Westerlands against a Scottish Select in which the Glasgow Herald correspondent forecast a 30 point victory for the American students.   The thirty second British Police Championships took place at Westerlands where the top performances were both by Englishmen – Ernie Pomfret won the steeplechase in 9:11 which took 26.8 seconds from the ground record, and he also won the three miles in 14:11.  JB Sanderson also set a ground record in the javelin of 208′ 10″.   Andy Carter ran an excellent 880 yards in 1:52.1, a ground record, and the 440 yards in 49.9 seconds.  Glasgow Police had two wins – J Scott in the Hammer (162′ 7″) and W Talbot in the long jump (22′ 2.5″).
The headline for the report on the Westerlands match on Tuesday morning read:  "SAAA Beat Brigham Young University" and the report went on –
"The Scottish Amateur Athletic Association beat Brigham Young University last night at Westerlands by 74 points to 66 in a contest of high standards and great team spirit.   The Americans, with only 17 men, not unnaturally stretched their resources to the maximum.   R Tobler for example ran in four races, and in several other events the students had only one competitor.  The points system was changed with mutual agreement to 5-3-1, another disadvantage to the visitors.   Nothing, however, can detract from the home team's achievement.  The tone of their enthusiasm was set in the first event, the 4 x 110 yards relay in which L Piggot, M Bathgate, H Baillie and WM Campbell won in 41.7, a Scottish all-comers record.  
The sprints, too, upset predictions, although F Russell (Brigham Young) was plainly nursing an ankle injury in the 100 yards, a race won in fine style by Campbell, whose time of 9.8 seconds into a wind  equalled the Scottish national record.   What most impressed the largest crowd Westerlands has had for a long time was the javelin event, in which T Thatcher reached 220′ 5″, a ground record by almost 12′.   Just as intriguing, however, were the near misses the javelin had at two officials.   Both hurdles races were won by Brigham Young.   The 120 yards being particularly fast, 14.4 into a considerable wind.   The winner, A Rockwell (Brigham Young), was somewhat slow off the blocks but after two flights he opened a gap which at the tape was all of 6 yards.  
It was fitting that the match should finish with a close contest in the high jump between CW Fairbrother and T Winfield.   Winfield cleared 6′ 8″ on his first try, Fairbrother on his second, and then both had three failures at 6′ 10″.   The American won having had fewer failures.   The 60′ 3″ shot putt by M Bianco (Brigham Young) was by far the best seen in Glasgow.   He then won the discus without any trouble with a throw of 157′ 7″."
The first two in each event were as follows.    100 yards:   1.   WM Campbell 9.8; 2.  L Piggot.   220 yards:  1.  H Baillie  22.0;  2.  M Bathgate.   440 yards:  1.  R Tobler  48.3;  2.  R Billson.   880 yards:  1.  G Grant  1:52.7;  R Delaney;   Mile:  1.  K Ballantyne  4:10.3;  2.   I McPherson;   Two Miles:  1.    I McCafferty 8:47.4;  2.  JL Stewart.   120 yards hurdles:  1.  A Rockwell  14.4 seconds;  2.  WA Hogarth;  440 yards hurdles:  1.  M Douglas (BYU) 54.1   2.  RR Mills.  3000m steeplechase:  1.  J Linaker  9:09.2;  2.  R Krenzer.
Shot Putt:  1.  M Bianco 60′ 3″;  2.  R Anderson (BYU).   Discus:  1.  M Bianco  157'7″;  2.  AM Black.   Javelin:  1.  T Thatcher  220′ 5″;  2.  D Logan (BYU).   High Jump:  T Winfield  6'8″;  2.  CW Fairbrother.   .
A good night for Scottish athletics even although the reporter seems to be apologising for the Scots team winning.
Saturday, July 10th, was the date of the AAA's championships with many Scots taking part and back at home in Scotland, the SWAAA Relay championships were being held, Alastair Wood won the marathon which finished at Forres Highland Games, Octavians held a meeting at Redford and the Dirrans Sports were held at Kilwinning.   Relay meetings are always great fun and enjoyed by spectators and athletes alike.   One of the big meetings in the United Kingdom in the 60's was the Bracknell Relays meeting with 4 x 110, 4 x 440, 4 x 880 and even 4 x 1 mile for men and women and covering several age groups.   The farming out of one or two relays at a time to meetings around the country seems to be an opportunity missed.   However, the SWAAA Relays Championships in July 1965 was the scene of two Scottish records and two meeting best performances as well as an opportunity for lesser known clubs to make their mark.   Three of the four records were set by Maryhill Ladies AC.   "Maryhill Ladies enhanced their reputation by taking three of the four records and perhaps one might name the medley relay win of 4:05.8 as the most meritorious performance, credited to Miss P Johnstone, Miss P Petrie, Miss I Inwood and Miss M Campbell.   This was as much as a 6.9 second improvement on the previous figures.   Edinburgh Southern Harriers (Miss A Burke, Miss M Robb, Miss P Brown and Miss M Fleming) were also inside the previous time with 4:11.2.  A notable performer for them was Miss Fleming who showed sterling form against Miss Campbell in the half-mile.  
Maryhill revelled in the senior 4 x 110 yards relay, the other Scottish record, won in 48.8 seconds and the successful four were Miss C Campbell, Miss Petrie, Miss Johnstone and Miss M Campbell.   Western were second.   Maryhill's strength was also shown in the intermediate 4 x 110 yards when Miss R Rintoul, Miss A Christie, Miss S Robb and Miss L Carruthers put up a best performance with a time of 50.5.   Second to them were Western who were unfortunately not represented in the senior medley relay.   Townhill Youth Club (Dunfermline) returned the best time of 52.5 seconds in their heat of the junior 4 x 100 yards, but failed to show this form in the final which fell to Motherwell in 52.8.   The winning team was Miss M Frame, Miss L Barr,  Miss M Sloan and Miss A Hetherington."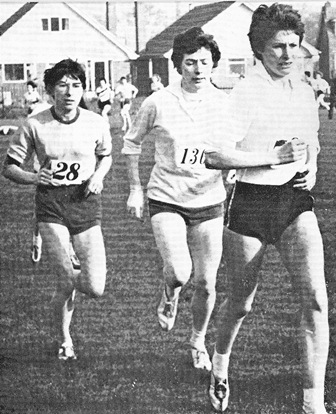 At the White City, the main talking point was the running of Ron Clarke who set a world record of 12:52.4, breaking the old figures by 8 seconds.   There were a whole host of personal best and very good times behind him including Fergus Murray in sixth in 13:21.2 which was really a Scottish record but under the rules of the time could not be counted as such, merely being recognised as a 'furth of Scotland' best.   Ian McCafferty was tenth in 13:36 and described as being 'thrilled to have taken part'.   Ming Campbell could do no better than third in the 100 yards where the winner – Figuerola of Cuba – was lucky to have taken part.   He had missed his Heat on the Friday but sponsors Coca-Cola (who had paid his fare from Cuba) insisted on him running in the semi-final.   Les Piggot was fifth in the final and could have been fourth had the Cuban been eliminated.   Campbell was second in the 220 in 21.9, Fairbrother was fourth but first Briton in the high jump, Hogarth was fourth in the 120 yards hurdles, and Ken Ballantyne was seventh in 4:07 in a slow mile which was won by Alan Simpson in 4:01.7.   The injury that had kept Hugh Barrow out of the match against Brigham Young, also made him an absentee at these championships.
Back at home Alastair Wood won the Forres Marathon in 2:29:54 with Ron Coleman of Dundee Hawkhill Harriers second in 2:33:50, and  D Davidson of Forres third with 2:47:06.   In the actual meeting, Peter Gabbett won the 100 yards in 10 seconds, Clark Wallace of Shettleston won the Mile in 4:24.2 off 140 yards, and Steve Taylor won the North of Scotland Two Miles Championship in 9:29.4.   The Octavians open meeting in Edinburgh was a tour de force for Mike Bathgate who won 100, 220 and 440 yards, and Dave Walker who won long jump, triple and high jumps events.   In the women's events Ann Wilson won the long jump and shot putt.   Georgena Buchanan won the 440 and Lesley Watson the 880.   Dirrans Sports, held annually at Kilwinning in Ayrshire had a 13 mile road race strongly supported by the Scottish Marathon Club, this was won in 1965 by Gordon Eadie of Cambuslang (1:17:120 from Charlie McAlinden (1:17:30) and David Simpson (1:19:08).   Jim Johnstone, a very much under rated runner over a wide range of endurance events won the 880 yards off 10 yards  in 1:56 on a track not of the best, Pat Maclagan won the Mile (4:21.2 off 105 yards) and Joe Reilly won the Two Miles team race ((9:12.6).
It had been another very busy weekend with two road races and five track meetings for the athletes to chose from and almost all events available somewhere in Scotland.
The big event as far as the press was concerned was, on 17th July, rightly, the international fixture between Scotland, Wales and the Midland Counties at Salford, but for the domestic scene attention focused on Kirkintilloch Highland Games, a second Octavians open meeting in Edinburgh, The Honest Toun Sports at Musselburgh and an open meeting at Portwilliam in Galloway.  The Honest Toun Meeting, organised by the local authority, was  a very good meeting indeed with events for both men and women.  The thirteen mile road race in Scotland was won by Andrew Brown of Motherwell by team mate and former winner David Simpson in 1:10:02, and Joe Reilly won the Two Miles team race in 9:17.8.   In Edinburgh at the Octavians meeting Neil Donnachie won the 660 yards and the three-quarter miles races in 1:28.3 and 3:16.8, WA Hogarth won the 150 yards and the 330 yards in 12.8 and 36.1 seconds.   In the international at Salford, Ming Campbell won the 100 yards from Lynn Davies and been congratulated by Lynn and his coach Ron Pickering – and the judges gave the verdict to Davies.   He immediately conceded and said that the Scot had won but the result stood for the results.   Campbell also won the 220 yards.   Other Scottish winners were Ian McCafferty in the Two Miles in 8:42, and Georgena Buchanan in the 880 yards in 2:11.8.
In the twenty first century when is seeking top-level competition in the hope that it means fast times, local events of many years standing are mostly ignored.   That was not the case in the 1960's when the top men took every chance to test themselves against each other.   They became battle hardened in a way that those who do mainly paced races never will.   On 24th July the Gourock Highland Games gave evidence of this.   The report of the Games follows.
"Despite the sodden ground conditions six ground records were established at the Gourock Highland Games on Saturday, the most notable example of that being G Grant (Dumbarton) who won the open half mile handicap from scratch in 1:54.9.   Grant ran so well that even at half distance he looked all-over the winner, no mean achievement against opponents of the calibre of I McPherson (Victoria Park) who, after having received eight yards start was beaten by 20.    JL Stewart (Vale of Leven), the Scottish Three Miles champion, took no fewer than 7.8 seconds off the existing two miles best time in recording 9:03 and beating AH Brown (Motherwell) by 8.3 seconds.   Motherwell won the team race with 10 points.  
G Eadie (Cambuslang), the former Scottish marathon champion and holder of the Edinburgh to Glasgow road race record,   had a fine victory in the 14 miles road race via Inverkip and the Cloch Road, registering a new record time of 1:14:04, aan improvement of 4.4 seconds on the previous best.   C McAlinden (Babcock and Wilcox) was second, and D Simpson (Motherwell), the holder, third nearly 20 second behind the winner.   Bellahouston Harriers (M McLean, W Robertson, P Ritchie and D Young) retained the Auchmountain Trophy by winning the medley race in 3:34.5, 3.4 seconds faster than the previous record, held by Ayr Seaforth AC.   Western AC (Miss P Brodie, Miss G Buchanan, Miss M McGahey and Miss S McBeth) , the holders, again won the 4 x 1 lap relay in the new best time of 1:24.5, 1.6 better than their previous best.   Greenock High's 1:34.4 in the junior inter-school 4 x half lap relay was the other Games best performance. " 
The other notable running performance not mentioned in the report include Jim Brennan (Maryhill – 85 yards) winning the mile from Jim Johnstone (Monkland – 20) in 4:20.   In the field events Cosmos Julien (VP) with an allowance of 4″ won the handicap high jump from Crawford Fairbrother (scr) by one inch, his aggregate 6'6″ being better than Fairbrother's 6′ 5″; Peter Milligan (VP – 2′ 8″) won the pole vault from Ian Logie (Clydesdale – 1′ 6″)and in the throws Doug Edmunds (Strathclyde University – scr) was second to GB McHugh (Unatt – 4′ 9″) and Laurie Bryce won the caber.
Ian McCafferty might well have run against Lachie and Andy in the two miles had he not been running at Cardiff in the Welsh Games.   He finished first in the three miles in 13:30, beating Ron Hill by two yards.   Ming Campbell ran in the 100 yards defeating R Jones and L Davies in 9.8 seconds.   The Edinburgh Highland Games were also taking place on that weekend with many English athletes taking part.   The Scots winners were – 100 yards handicap: M Bathgate (scr) 10 sec;  100 yards scratch:  J Togher 10.1 sec; 220 handicap:  D Walker 22.1;  880 yards handicap:  A Roden (36) 1:52.3.   Mile:  JK Wight (130)  4:19.1.   High Jump Handicap:  HT Stevenson (9″)  6′ 7″.   Shot Putt Handicap: J Scott (10′) 51′ 10″
Ladies:   100 yards handicap:   R Elliott (8 yards)  11 seconds; 880 yards scratch: I Inwood 2:19.1.
Finally, at Chiswick, London, during the Sward Trophy meeting, Ken Ballantyne won the invitation mile by a second in 4:08.