Carol Sharp (61) leading in the SWAAA Championships 1984
There are times when a good runner, even a very good runner, gets less recognition than is their due.   When we think of women middle distance athletes of the late 70's, 80's and early 90's we automatically reach for Liz McColgan, Yvonne Murray, Karen Hutcheson, Lynne McDougall and Ann Purvis.   But there is one surprising omission from that select group and that is Carol Sharp whose record includes three SWAAA titles, three second places and two thirds, she has run for Scotland (ten times) and for Britain (three times) and has competed at Grand Prix meetings on the continent.    She also ran over the country and on the roads with many Scottish team medals on both surfaces to her credit: medals of all colours and even in 1993 she was a member of the City of Glasgow team in the last ever SWCCU Relays before they merged with the men.   It is however as a track runner that she is best known and that is what we will concentrate on.   It is a record that should be looked at quite closely.
Carol told me for an article that appeared in the BMC News of Spring, 1995, that she had come into the sport and joined Shettleston Harriers wanting only to be a jogger.   Well-named for a runner, she was Carol Lightfoot and as for being a jogger – the club had other ideas and took her to an inter-club at Stirling where she ran 3:03 for the distance and that was the start of her racing career!   At that time Graham Everett, seven times SAAA Mile champion/AAA Mile champion/SCCU champion and multi medallist  was coaching a very good group of girls including his daughter Andrea and Carol linked up with that group.  She was in very good hands to start her career as an athlete.   By the end of 1976 Carol's best marks were – 400m 60.0  (ranked 26th) and  800m 2:14.1   (10th).
In the first championship of 1977 Carol finished first – she won the West District 800m in 2:21.8 – not nearly as fast as she would become but a gold medal is a gold medal and a wonderful motivating factor.   Came the National Championships in June at Meadowbank and there was another medal for her third in the National Championships where she ran 2:10.8 behind Christine McMeekin (2:05.7) and Alice Linton (2:06.9).   There was even an international selection for her and on 3rd September in the Scotland v Norway match she was 4th in the 800m in 2:17.0 Scotland beat Norway with 81 points to  74.   Other notable performances were a 400m in 58.5  and a 1500m in 4:34.7, both on 20th July.
Her best performances at the end of the season were:    400m in  58.5 sec (to be ranked 20th) ;   800m in  2:10.8   (7th)  ;  and  1500m  in (4:34.7)
Carol started summer 1978 on 9th April when she ran in an inter-club match where her only noteworthy time was in a 400m Hurdles race in 67.5 – not bad for a middle distance runner.   Before the end of the month the venue was Meadowbank for participation in a classy graded meeting where she competed in the 800m running a time of 2:10.3 and the 1500m in 4:26.2.   These were to be her fastest time for the distances that season.    The events were won by Ann Clarkson and Margaret Coomber.    The standard in Scotland was very high with Ann Clarkson, the McMeekin twins and Margaret Coomber all running really well over 800m and 1500m.   Carol kept racing in club matches and in the West District championships at the start of May she was third in 2:14.6 and was rewarded with selection for the match in Athens on 14th May against Greece.   She partnered Margaret Coomber in the 1500m which was won by Coomber (4:23.47) with Carol second in 4:32.16.   This helped Scotland to a 102 – 54 victory.   Unplaced in the SWAAA Championships, Carol's next very good performance was on 6th August when she ran in the 3000m and recorded a time of 9:58.2 which was the sixth best by a Scottish woman in 1978.
She finished the summer of 1978 with best marks of   800m in 2:10.3 which ranked her 6th  ;   1500m  4:26.2 which placed her  3rd;  3000m  9:58.2 for 7th; and of course that 400m H    in 67.5 seconds and 11th best by a Scot.
Her first notable run in 1979 came on 26th May in the Fife British Airways Games when the 'Glasgow Herald' reported that Carol Lightfoot was inside 5 minutes for the Mile when she won in 4:58.2.   The highlight of the year however had to be the first SWAAA 800m title in the championships held at Grangemouth on 16th June.   Carol won in 2:10.7 – not her fastest but it was on a very windy afternoon – with V Porter second and Anne Clarkson third.   Her story about that goes like this: after winning her heat, she overheard one of a famous pair of twins talking about her to the other – "How did X get on?"   "She was beaten by some scrubber!"   And that she says, fired her up to win the title!
There was also an international at Grangemouth on 7th July 1979 against Norway and Greece in which Carol was fourth in the 1500m ahead of the two Greeks in 4:46.6.   In the match, Scotland won with 121 points with Norway on 115 and Greece on 76 points.
The 1979 summer season finished with the following best marks.
400m best of 57.5 which places her 15th, an 800m in 2:05.9  (3rd), a 1500m in  4:26.2 (7th) and a Mile  in 4:58.2
The West District Women's Championships were held at Grangemouth on 3rd May and in the 800m the result was first, Christine McMeekin in 2:09.7 and second, Carol Lightfoot in 2:15.1.   The Inter-District match was held on 24th May at Meadowbank Carol was second in the 800m (2:11.5) behind Ann Clarkson (2:08.3) but in front of Barbara Harvie (2:12.7) and Lynne McDougall (2:12.6).   Then just one day later, 25th May, In the British Airways Games at Grangemouth Barbara Harvie won the 800m in 2:08.7 from Liz McArthur in 2:08.8, Lynne McDougall in 2:09.2 and Carol in fourth in 2:11.6.
The biggest championship however is always the SWAAA, held that year on 21st June at Meadowbank.   Carol was again second – this time to 'newcomer; Elizabeth McArthur' in a close run race – McArthur ran 2:11.15 and Lightfoot 2:11..97.
1980 was otherwise a quiet year with no personal bests and by the end of the season there were four ranked times.    
400m  57.7  17th;   800m  2:08.7  5th;   1500m  4:28.9  5th.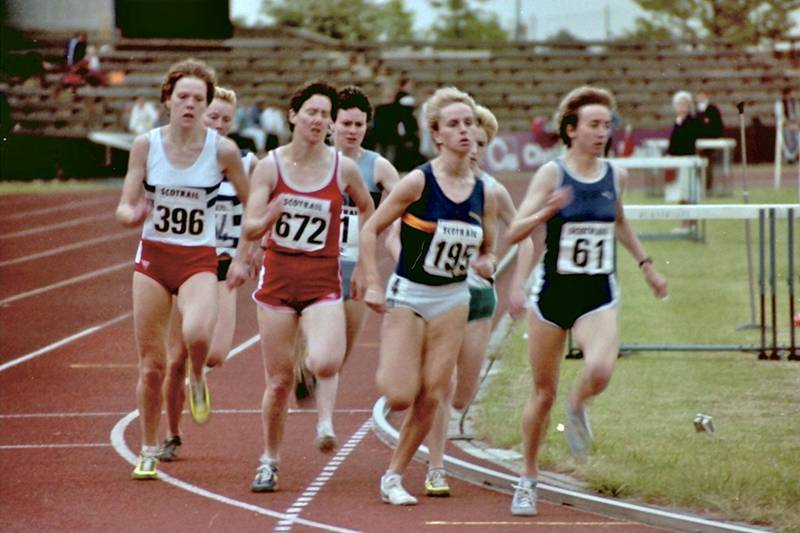 By the end of 1981 Carol would be ranked seventh on the Scottish all-time list for 800m and have set two more personal bests.   Starting out with a 'one place better' run in the West District championships she won in 2:11.7.   Missing the AAA' Carol had an excellent late seasn packed full of good quality runs.   At Crystal Palace on 24th July it was 2:07.9, 25th July still at Crystal Palace, she ran 2:06.5, on 1st August in Antrim it was 2:05.9,  on 16th August she dropped down to 400m at Coatbridge where she recorded 56.6 seconds, on 22nd August at Meadowbank the time was 2:05.6 and finally on 28th August at Ardal in Norway she was fourth in the international against Norway and Wales in 2:05.3.   And on 6th September at Balgownie in Aberdeen she recorded 4:29.2 for 1500m.   By the end of the season she had 5 times in the top 16 in Scotland with only Clarkson being better.
 Top times at the end of '81 were  400m  56.6 12th; 800m  2:05.3  2nd;  1500m  4:29.2  8th
On 18th April 1982 Carol started out with an over distance race where she had in the past opened the summer with a 400.   It was a 3000m at Coatbridge and she was timed at 9:58.6.  Carol then won the West District 800m for the third time in 2:12.3
In June she won the SWAAA 800m for the second time in the splendid time of 2:05.15 and earned selection for the international in Yugoslavia on 24th July.   Before that however she ran for Britain  for the first time –  against Sweden in Karlstad on 3rd July and finished fourth in a three runners per side match.   In the 800m she ran 2:07.06 in the race won by Anne Clarkson in 2:05.05.   On the following day she guested in the 1500m in 4:23.51 for fifth place.   Here best time was reserved for the Grand Prix in Bislett in Oslo on 7th July where her 800m time was 2:02.91.   This 800m time was one second faster than Shireen Bailey,  coached by Cliff Temple and recognised as one of the country's very best middle distance runners.   The British Milers Club had set up a race the following week to help Shireen break two minutes for the race but unfortunately before that came up, Carol had raced at Grangemouth and blistered her feet making it impossible to turn out against the English woman.
This was followed up by a 1500m at Grangemouth on 18th July where she was clocked in at 4:18.9.
Then at last came the 24th July international at Maribor, Yugoslavia between Yugoslavia, Spain, England and Scotland.   This time as Scottish 800m champion  she was out in the 800m where she was fourth behind Boxer, Clarkson and Hassan in 2:06.49.
It was off to sunny Australia after that and on 28th September in Brisbane a 400m in  56.43 set her up nicely for the Games.  October was Commonwealth Games time – they went from 3rd to 10th of the month.    In the event in Brisbane Carol was eliminated in the second heat after running 2:09.68  to finish fifth.  The heat, a very good one, was won by Shireen (Bailey) Hassan from Kirsty McDermott.   The final was won by Kirsty McDermott (born in Scotland but running for Wales) from Ann Clarkson .
Despite the Games disappointment it had been a good year for Carol  with a new pb for the 800m of 2:02.91, four races sub 2:06 and a second SWAAA 800m title.    By the end of the summer her top ranked times were 400m  56.43  14th;   800  2:02.91  2nd 6th in all-time list);   1500m  4:18.9  6th (8th in all-time list);   3000m  9:58.6   13th
 In 1983 Carol had not one but two international appearances for GB, both indoors, against France and Russia.   The first of these was on 12th February at Cosford against France when she was timed at 2:07.79 finishing second to Teena Colebrook and the second was on 23rd February, also at Cosford, when she finished fourth in 2:11.35.
Outdoors the season proper started with the West District Championships at Grangemouth – there was no outdoor track in Glasgow in 1983 so the athletes had to trek out to Grangemouth which was a good, fast track.   Carol was in two events the 800m and the 1500m and the 'Glasgow Herald' report on the 1500m tells both stories:   "Fiona McQueen smashed the 1500 metres record by nearly seven seconds.   Leading from the start she recorded 4 min 27.2 sec with Carol Lightfoot, her Glasgow team-mate, a distant second.   But Miss Lightfoot had earlier just lost out in a desperate finish to the 800m, Lynne McDougall got the verdict in 2:09.9.'    Both winners were coached by Victoria Park man Ronnie Kane whose group included many top class runners including both those mentioned and Judith Shepherd.
She ran some cross-country that winter including first leg for the team that won the SWCCU relays, but the summer of 1983 was a step back after the Commonwealth Games year of 1982 with the trip to Australia and races all over the continent although by the end of the year her best times were both good ones:   800m   2:05.67  (5th);   1500m   4:22.47  (9th).
Talking about racing indoors, Carol has said that she 'absolutely loves/adores indoor racing.   There is a real sensation of speed coming off the bends, you have to concentrate harder on the shorter laps, there is more aggression and the whole thing is so much more intense."   She also loves track generally but hates cross-country: she only ran it because she had to as part of a general strategy for the year.     She ran well on the roads too but nothing, for her, compared to track racing.
Training?   She reckons that on one occasion she ran 52 x 300m in one week.   Sessions included were 10 x 300 with three minutes recovery, and two sets of 3 x 300m with 300m jog recovery.   When she was training with Graham Everett she often did not know what the session was until she turned up at the track.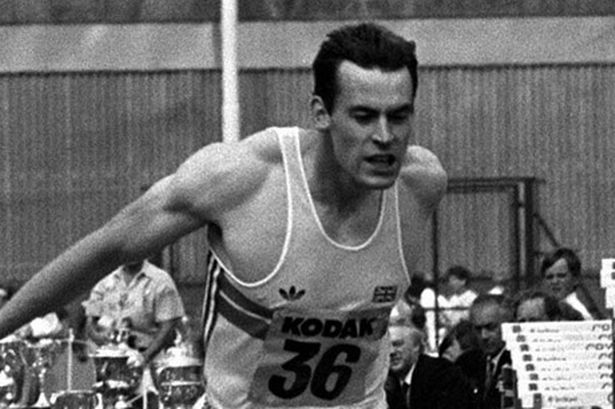 Cameron Sharp
She married successful international sprinter Cameron Sharp in August, 1983 and kept right on running.   There would be a well earned hiatus when their two daughters were born (Carly in 1987 and Lynsey in 1990) but meanwhile Carol was racing again in 1984.   Racing so well that she won the SWAAA 800m title.    The summer of 1984   started badly with Carol when she had to have a cartilage operation right at the start but nevertheless, just five weeks later she was winning the West District 800m for the fifth time  in 2:13.7.     It was Olympic year and all the top meetings were crowded with the best runners around going for the selection times.   Not in the first three at any of the major meetings in the south, where Ann Purvis was the top Scot, Carol went out in the SWAAA Championships at Meadowbank on 30th June.   In the 800m however the main opposition was lacking – Carol won from A McGeown of Shettleston who ran 2:10.74.   The Olympians themselves were absent – Lynne McDougall was not out in the 1500m and Allan Wells passed up the sprints.   Only Sandra Whittaker of those going to Los Angeles was out and she won the 100m and 200m.   Possibly because of the cartilage operation, Carol was not at her best with her 800m time four seconds shy of her 2:02 pb.
At the end of 1984  her best performances were  400m  57.6 ( 20th) ;   800m  2:06.5  (7th)  ;   1000m 2:49.41 (no rankings for the event) ;1500m  4:24:36  (7th)
In 1985, Carol won her sixth West District 800m title at Grangemouth on 6th May in 2:10.4 – more than three seconds faster than 1984.   On 12th May – again at Grangemouth but this time in a League Match – Carol ran 800 metres in 2:10.8 to take first place in the A race.   On May 26th however Carol ran what was to be her fastest time of the season when in the HFC UK Championships in Antrim amidst security precautions that included armed troops, sniffer dogs and close surveillance, she ran 2:06.76.  This was also only the third quickest Scottish time of the day with Liz McArthur recording 2:05.5 and Karen Steer of Exeter clocking 2:06.60.   The new all weather track in Glasgow, at Crown Point Road in the East End, was opened with a high-powered meeting in which Carol lined up against Yvonne Murray and Liz Lynch.   Yvonne was on a real high that year and won in 2:06.5 with Carol second in 2:08.7 and Liz third in 2:09.1.   Sports writers at the time were very taken with the Cameron and Carol double act as top Scottish athletes.   For instance at the Glasgow meeting they remarked on the fact that both were in second place in their respective events.  A week later (17th June) the reports read as this one in 'The Glasgow Herald':   "Cameron and Carol Sharp both recorded victories in an exciting GRE Cup second round meeting where the semi-finals in both the men's and women's contests were decided by the final event, the 4 x 400 metres relay, at Grangemouth Stadium yesterday.   Sprinter Cameron won the 100m in 10.5 sec with a slight following wind, and later added the 200m with the wind now slightly in his face in 21.0, the fastest legal hand timing in Britain this season.   ….   Mrs Sharp won the 1500 metres in 4 min 30.1 sec to help McLaren Glasgow wi   n the women's contest."
The Scottish championships were held at Meadowbank on 22nd June and Carol was the defending champion in her event but Cameron could not run on the day.   Ann Purvis was the form athlete that Saturday and won (2:05.75) from Carol (2:07.9) and Karen Hutcheson (2:08) .     This was followed with a victory at Cosford in the British League in a time of 2:07.4.  The season ended with a victory in the British League Match on 25th August in which Glasgow AC gained promotion to Division One of the League.   She won her race in 2:08.6  and the Press linked this with Cameron's victory in the Zurich spectacular meeting where he was timed at 10.31 sec for 100m which was the fastest time by a British sprinter that year.   At the end of another very good year, Carol was again ranked in four events with the 800m being the highest position.   They were  400m in 57.3 (18th);   800m in  2:06.76 (5th);   1000m in  2:48.86;   1500m in  4:30.1 (15th)
1986 was Commonwealth Games year again and it was in Edinburgh too.   All Scots eyes were on selection – as were the eyes of Anglo-Scots who saw Scottish vests as targets, some for the first time.   There was no District title for Carol with the medals going to Christine Whittinghame (formerly McMeekin) in a fast 2:02.59 from Yvonne Murray (who would probably only run longer distances than 800 in the Games) in 2:03.6   and Sue Parker (An Anglo-Scot who, as a doctor in the Army, ran in the Army colours) in 2:04.44.   The 1500m that day was also a fast one with Lynne McDougall winning in 4:10.23 – a meeting record and 13 seconds faster than the previous year.  On 24th May in the UK Championships at Cwmbran in Wales, several Scots took part in the women's 800m with Ann Purvis being the best fastest qualifier for the final in 2:03.25 while Carol also qualified for the final with 2:06.24.   Anne won the title in 2:01.63 with Liz McArthur of Pitreavie fifth in 2:05.03 and Carol was eight in 2:09.63.   Her heat time was to be her fastest of the season and the 800m the only event in which she would be ranked.     The following week – 31st May – was the East v West championships and there Carol was well beaten by Yvonne who won the 800m in 2:05.5.    Scottish athletics then took second place to preparations for the Commonwealth Games and the Games themselves.     That left Carol with her one best performance being the race at Cwmbran back in May.
Carol did not compete in 1987 for the best of all possible reasons – Carly Sharp was born in September.     Sister Lynsey was born in July 1990 and both girls would go on to become Scottish champions in their own right with Lynsey winning medals in European and Commonwealth Games.   In 1991 Cameron was involved in his terrible road accident and with all that going on in her personal life Carol was pretty well out of athletics from 1987 to 1992.   She did some running (800m in 2:15.09i in 1988, in 2:14.99 in 1989 and 1500m in 4:41.0, also in 1989).   She started racing properly again in 1992 and her international career started up almost immediately with representative honours and trips to Athens in 1992, Israel in '93 and Istanbul in '93.   The injuries kept coming back though.    Having worked with Graham Everett to start with, she says that she also owes a debt to Jimmy Campbell and she was also coached by Norman Brooke as well as having a lot of contact with Frank Dick, who was coaching Cameron.
The following is a summary of her first season back.   There was no 800m in the West Districts in 1992 so Carol entered the 1500m and won in 4:46.07 for a good start to the season.   Staying with the 1500m she improved that time in Coatbridge on 31st May by 13 seconds to run 4:33.7.    In June she was back to 800m and ran 2:10.6 at Grangenouth.   In the SWAAA Championships in June a 2:12.6 was good enough for second in the Scottish Championships and she ran her best 400m of the season in London on 29th August when she ran 59.2.
By the end of 1992 her best marks were 400m  59.2  (28th) ;800m 2:10.6  (5th)  ; 1500m  4:33.7  (16th)
1993 was even better  It started with a second place in the Scottish championships, then a third place in the International v Wales on 19th February in 2:12.69 and by the end of the indoor season she had a best time of 2:09.74 run in Birmingham one week later. The summer started with a win over 1500 in 4:32.8 on Apr 25th at Crown Point in Glasgow and the second international of the year was on 26th May in  Tel Aviv on what was originally called the Small Nations International.  viz.  Scotland v Israel, Turkey and Wales where Carol ran and won in the 800m  in  2:12.03.   The Scottish championships were held on 3rd July at Meadobank and she was third in 2:11.01 for another national championship medal.   Her next race saw her finish sixth in 2:10.4 at Newham on August 6th, and two days later on 8th August at Wrexham in the  Scotland v Wales, N Ireland, North of England and the, Midlands she was third behind C White (Wales – 2:07.86). Sue Bevan, formerly Parker, (2:09.22), in 2:12.66.
The list of her representative honours is impressive if we just recap the events.   Twelve internationals over an eleven year period.
1976: England, Wales 800m
1977: Norway 800m
1978: Greece 1500m.
1979: Greece, Norway 1500m
1979: Wales, Israel 800m
1981:  Norway, Wales
1982:  Commonwealth Games
1982: Yugoslavia, England and Spain
1983:   Belgium, Netherlands  800m, 4 x 400m
1984: Iceland 800m
1985:  Catalonia, Wales, England  800m
1985:   Norway, Ireland  800m
After a wee gap, there were another four selections:
1992: Greece, Cyprus 800m
1993: Israel, Turkey, Wales 800m
1993: Wales, Northern Ireland 800
1994: Turkey, Israel, Wales 1500m*
This was her last international.   Carol was fourth in 4:36.86.   It was a month short of her 39th birthday and made her the oldest female to compete for Scotland in a track event.
It had been a good season for Carol and although she was eligible to run in vets races, she was not interested in that competition, preferring to test herself against the best in the land.   Her marks for the year were:    800m  2:09.74i/2:10.4  (6th);   1500m  4:32.8 (11th)
By then she had had a good career.   The girls were now 5 and 7 years old and she had had some injury trouble so the athletics took a back seat and although she had some good runs her best performances for 1994 and 1995 were 1500m  4:32.8  (11th) for 1994 and 800m  2:16.0 (14th) and 1500: 4:40.9 (17th) for 1995.   At that point Carol hung up her spikes her own career was over.
However Carly and Lynsey were both very good athletes in their own right and, with the help and support of their parents, won Scottish titles as they worked their way through the age groups.   Lynsey of course went on to win medals at Scottish, British, European and Commonwealth levels and run in the Olympic Games over her mother's favourite distance of 800 metres.   But let no one say that Carol was not a very good runner in her own right and a real credit to herself, her club and her country.