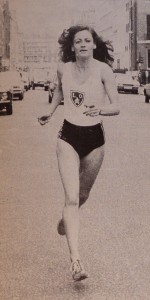 The picture above is of Leslie Watson, in her London Olympiads kit, winning the London – Brighton race in 1979. It is typical of how she always appeared in races – elegant, long striding, hair flowing and she always seemed to enjoy every step of her running. Leslie Watson was one of Scotland's top specialist marathon runners of all time – of either gender. Starting as a young 800 metre runner with Maryhill Harriers Ladies, she became also one of the most prolific and successful of Scottish marathon and ultra distance runners with 68 career marathon wins in Scotland, England and abroad. In 1981 she had an astonishing seventeen races in the top twenty of the Scottish rankings, all inside three hours, with Rosemary Wright (2) and Priscilla Welch filling the other three places. The following year she only had thirteen times in the top twenty! Remember that these were early days for women's marathon running and she was a regular in the world rankings too with the best year being 1979 when she had no fewer than five times in the world lists. If we go back to 1981 and list the races in chronological order rather than in ranking order we get the following table. Two a month were not uncommon and there was not a month without a marathon between March and the very end of November!
| | | |
| --- | --- | --- |
| Date | Venue | Time |
| 15 March | Essonne, France | 2:51:23 |
| 29 March | London | 2:49:08 |
| 12 April | Swinderby | 2:59:03 |
| 19 April | Huddersfield | 2:45:46* |
| 26 April | Cambridge | 2:47:30 |
| 10 May | Rugby | 2:49:08 |
| 16 May | Isle of Wight | 2:52:56 |
| 21 June | Sandbach | 2:59:21 |
| 11 July | Enschede, Holland | 2:56:47 |
| 18 July | Preston | 2:50:32 |
| 23 August | Bolton | 2:56:25 |
| 29 August | Athens, Greece | 2:54:32 |
| 20 September | Canvey Island | 2:47:38* |
| 27 September | West Berlin | 2:55:34 |
| 18 October | Glasgow | 2:58:16 |
| 25 October | New York, USA | 2:50:00 |
| 29 November | Barnsley | 2:54:30 |
The marks with aa asterisk indicate that the time found a place in the World Rankings for the year. It should be noted that in the year in question she also ran a world's best time for 50 miles on the road and at the other end of the scale had a 10:15.2 time for the 3000 metres. She had had a good career on the track prior to taking up the marathon – the earliest mention I can find for her in any ranking list is in 1963 when she was eleventh in Scotland in the 880 Yards and two years later she won the SWAAA One Mile Championship. She also had World Bests at 50K on both road and track as well as a British 100K record. Over the country she was twice Scottish Champion. These are just the headline facts from a remarkable career which needs and deserves to be looked at more closely.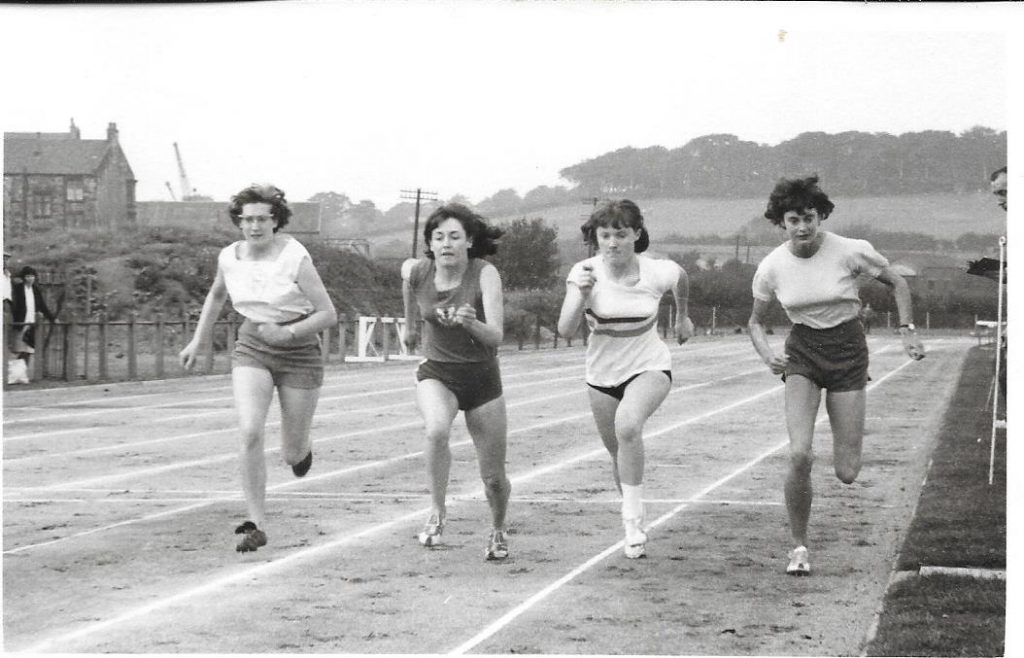 Leslie second from left at Westerlands in Glasgow, early 1960's
How did she get into the sport of athletics in the first place? An article by Chris Brasher in 'The Observer' in early 1981 explains it as follows: "She comes from Glasgow the only daughter of a doctor and a dancer. Her father was a University boxing blue and her mother a professional dancer. Leslie does not know why she started to run "When I was only five I would arrange races with my friends after school or after dancing classes. They always beat me so I went on and on, race after race, until eventually I outlasted someone. " When she was ten, one of her school friends who was a member of Maryhill Harriers told her that there was a girl as slow as Leslie in the club, so she joined and so began her athletic career. There is no doubt that she was an athletic scrubber – a scrubber being a person of little or no talent. Bruce Tulloh was a scrubber and so was I. (Tulloh won the European 5000 metres championship and Brasher was Olympic steeplechase gold medallist.) Scrubbers need a certain amount of luck and Leslie was lucky in to find that the scrubbers of Maryhill Harriers Ladies were looked after by a PE Teacher named John Anderson. While others trained potential champions in the club, John made his girls work hard – so hard that complaints were made to the SWAAA that this man was damaging the girls permanently. The damage he caused was to get three of them – Margaret Crawford, Cathie Kelly and Leslie – into the Scottish Cross Country team. Leslie at the age of eighteen became the Scottish Mile Champion."
How did she progress under John's regime? In 1961 as an Intermediate (Under 17) she recorded 2:33.8 for 880 yards to be second Intermediate in Scotland and twelfth in the Senior Rankings. This time came down to 2:31.6 in 1962, 2:30.5 in 1963, 2:23.3 in 1964 and 2:21.5 in 1966. The 1966 time placed her seventh in Scotland but her Mile time was second in the country with 5:14.4 and she won the SWAAA Mile title as well as being second in the West District. In 1965 she had topped the Scottish rankings for the Mile with 5:12.5 run in Wimbledon and she finished second in the SWAAA Mile Championship behind the English girl Tomlinson (5:15.6 behind 5:06.7). She kept running well on the track but moving up when the opportunity arose – the 3000 metres for women was only introduced in 1969 but there was no mark recorded by her in the rankings at that point although she was to go on to run inside 10 minutes for the distance.
Like all endurance runners she competed in the cross country races that were held throughout the winter with considerable success. One of the interesting features of this racing was the number of times she finished close to the original Scottish Marathon Pioneer, Dale Greig. In 1964 Dale won the SWCCU title with Leslie down in fourth, in 1966 Leslie won leading the Maryhill team to victory with Dale second a mere eight seconds behind. The result was repeated in 1967 with the difference ten seconds. In 1968 Dale won with Leslie sixth. In 1969 Lesley was seventh with Dale eighth (14 seconds difference), in 1970 Dale was eighth with Leslie ninth (12 seconds difference), in 1971 Leslie was ninth and Dale tenth – three seconds separated them. Leslie's next appearance in the National was 1974 and her placings were '74: eighth; 75: sixth; '76: seventh; '77: sixth; '78: sixth; '79: ninth; '80: tenth. Sixteen years and never lower than tenth, and then only once. The 1974 race was the first one that had her listed as 'London Olympiads' rather than Maryhill.
Had she stopped there, then she would have had a successful career – very few win national titles on the track or over the country but she had both. Back to Brasher: "After she qualified as a Physiotherapist, she came down to London to take up a job at St George's Hospital, Hyde Park Corner. Six months later she resigned because she found it impossible to live ,and impossible to go training, on her Health Service salary. Now she has her own practice hard by Harley Street and Wimpole Street, a successful woman. (The picture below is from her Clinic website). "One day when I saw an advertisement for the Masters and Maidens Marathon it crossed my mind that it might be slimming." At the time she was doing some running, but no more than 20 miles per week, although she did go for one very long run of about 20 miles very slowly before the Masters and Maidens "just to find what it was like." She started out far too fast setting a personal best for five miles (29 minutes) but she finished in 3 hours 31 minutes "knowing that I had run a stupid race and knowing that I was unfit."
XXX
She started running marathons in 1975 at the age of 28 and her first win was at Barnsley and she was timed at 3:18:46. And a brilliant career took off. If we look only at her marathon victories then she won 52 races in the period from 1975 to 1985. In tabular form we have the following.
| | | |
| --- | --- | --- |
| Year | Number of Wins | Races Involved |
| 1975 | 1 | Barnsley |
| 1976 | 2 | Masters & Maidens in Guildford, Barnsley |
| 1977 | 1 | Barnsley |
| 1978 | 4 | The Duchy Marathon, Rotherham, Harlow, Barnsley |
| 1979 | 8 | Morecambe, Witney, Milton Keynes, Harlow, Rugby, Aberdeen, Glasgow, Newport |
| 1980 | 9 | Niagara; Ryde, Isle of Wight;Huddersfield; Cambridge; Morecambe; Canvey Island; Rugby; Glasgow; Newport |
| 1981 | 7 | Huddersfield, Cambridge, Rugby, Ryde, Bolton, Barnsley, Greenock |
| 1982 | 8 | Ryde, Edinburgh, Geneva, Manchester, Whitley Bay, Newcastle, Loch Rannoch, Inverclyde |
| 1983 | 4 | Ryde, Piccadilly, Richmond, Gloucester |
| 1984 | 5 | Maidstone, Antrim, Paignton, Reykjavik, Penang |
| 1985 | 3 | Bedford, St Alban's, Antrim |
These are by no means all the marathons that she ran in this period – remember that in 1981 she had seventeen of the Scottish top twenty! In 1978 she was third in the English WAAA Marathon which was won by Joyce Smith and then she won the event in her own right in 1981 in a time of 2:49:08. I think, looking at the results that 1979 – 1980 might be regarded as her peak for endurance running magic. She won 24 marathons (and ran and was placed in many more) in three years;
In 1979 three women ran unofficially in the London to Brighton race and Leslie won that in 6:55:11 (the picture above in the London Olympiads vest is from that race – no number because it was unofficial!) and in the following year when the first women's race was held over the course, she won it again in a slightly slower time of 6:56:02.
* She set a world 100K Record of 8:15:50 in Grantham
* She set a new World Record 50 miles record on the road at Lake Waramaug in the USA of 6:02:37
* She set a new World 50 Mile Record of 6:20:42 at Barnet in 1983.
The American 'Frontrunner' magazine reported the Lake Waramaug 50 Miles as follows: "Leslie Watson (33) came over from London, England, with the intention of breaking the women's world record for 50 miles. She did with a sensational 6:02:37 to break the record by two minutes. She was tenth over all in the race, starting fairly fast, slowed a bit, but ran steadily. She finished strong and looked good."
But she was not yet finished with the marathon and won in Maidstone again in 1988 at the age of 40 and in 1989 won in Adelaide, Australia; Rennes in France and New Milton on Humberside. In 1989 she also won the Davos Mountain Marathon in 6:52:51. In 1985 she had a marathon best time of 2:46:53 and, to demonstrate that she had lost none of her track speed, recorded 9:59.9 for 3000 metres. In 1986 her top performance time-wise was 2:45:50. When asked by Brasher about her training, she had this to say: "Training is always better when you have some company. I'm now doing some speedwork with another runner, Caroline Rodgers, but a typical week in August this year (1981) would have been 12 miles on Saturday, 20 miles on Sunday, 6 miles on Monday, nothing on Tuesday, an easy nine miles on Wednesday, 12 miles on Thursday and six miles on Friday. Mind you that's about the best week I've ever done – 65 miles. The basis of my training is to concentrate on two long runs – one on Sunday of 20 miles or over and one on Thursday of up to 15 miles. But I wouldn't recommend that to anybody who is only doing about 20 miles a week at present. Gently does it and never get put off by the thought of the distance."
Her annual progression in terms of times was, starting in 1975 was 3:18:46, 1976 3:02:24, 1977 3:05:07, 1978 2:58:23, 1979: 2:50:58, 1980 2:47:07, 1981 2:45:46, 1982 2:46:18, 1983 2:45:47, 1985 2:46:53, 1986 2:45:60 and there was the wonderful year in 1989 when at the age of 44 she won Adelaide, Australia in 2:49:49, Rennes, France in 2:47:58 and New Milton, Humberside in 2:51:33! Lifetime personal bests – so far! – are in the table below
| | | | | | |
| --- | --- | --- | --- | --- | --- |
| Event | Personal Best | 1980 | 1983 | 1986 | 1987 |
| 40 Miles | 4:55:52 | 4:55:52 | | | |
| 50 Miles | 6:02:37 | 6:02:37 | | | |
| 50K | 3:48:51 | 3:48:51 | | | |
| Six Hours | 76, 400m | 76, 400m | | | |
| 10 Miles | 59:45 | | | 59:45 | |
| Marathon | 2:45:03 | | | | 2:45:03 |
| 100K | 8:15:50 | 8:15:50 | | | |
Six years later, her best marathon was 3:05:52. In 1993 she ran 3:00:25 at Windsor as a LV 45 and also ran 10 miles in 61:54. In 1994 her best was 3:00:59 as well as racing to 2:11:31 in a 20 miler where she finished third. I could find no trace of her running a marathon in 1995 or 1996. She continues to run and it does not take too much scanning of the web to find results for Leslie in the 21st Century. From the early 1960's to 2010 she has had a running career of almost 50 years. The table below shows her current (2010) UK rankings.
| | | | |
| --- | --- | --- | --- |
| Event | Age Group | Year | Rank |
| 40 Miles | All | All-Time | 6th |
| 50K | All | All-Time | 5th |
| Marathon | V40 | All-Time | 12th |
| 100K | All | All-Time | 16th |
She is still however a very competitive sports person. She takes part in powerlifting as well as swimming and other physical fitness competitions. A quick look at power lifting websites reveals that she is still winning. eg in the Greater London Powerlifting Championships in 2007 she won the 48Kg Class. With a Body Weight of 46.65 kilos she lifted 85 Kg in the squat, 65 Kg in the Bench Press and 105Kg in the deadlift making a total of 255 Kg. If you want to see her in action, she appears in many clips on youtube: just go to www.youtube.com and type in Leslie Watson and there among the clips are several of her in action looking just as she did in all those marathons. The picture below shows Leslie in her GB Tracksuit at a powerlifting competition in USA in 2007. She has also appeared in all the various forms of the media from the covers of such as Athletics Weekly, Runner's World and the now defunct Jogging Magazine to commentating on the London Marathon as part of the team, taking part in a programme with Ian Thompson advising newcomers on preparing for the marathon and in many news and sport features in the Press (such as the article by Chris Brasher quoted here).
If Dale Greig broke through the glass ceiling keeping women out of marathon racing – remember that it was only in 1969 that women were allowed to race as far as 3000m on the track – then Leslie shattered it so that it could never be put back together again. As an athlete she was of the very highest calibre on track and country but on the roads she achieved feats that no other Scottish marathon runner of either sex did.
Here is another 1981 Interview, this time from 'Athletics Weekly'.