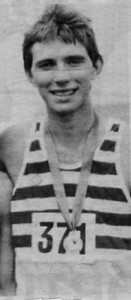 Alan Wilson in 1986
Alan was a tall, slim runner who, although of a naturally quiet disposition, was pleasant to talk to and a man who clearly thought a lot about his sport.   A member of Victoria Park AAC he seemed to be at his best in the 1980's when the standard of road running was at its highest in Scotland – indeed arguably that was the case throughout the UK.   His best times as recorded by the statisticians were as in the table below.
| | | | |
| --- | --- | --- | --- |
| Year | Event | Time | Ranking |
| 1982 | Marathon | 2:33:06 | 72nd |
| 1983 | Marathon | 2:23:54 | 34th |
| 1984 | 10000m | 31:24.5 | 16th |
| 1984 | Marathon | 2:17:40 | 11th |
| 1985 | 5000m | 14:07.3 | 7th |
I knew Alan slightly and it surprises me now looking back to see how seldom he appeared in the lists – but at that point the road races on the fixture lists were at all sorts of distances from 7 miles to ultra marathons and not the mass of 10K's or proliferation of half-marathons that we see nowadays.
In May 1983 he set his own personal best for the half-marathon when he finished ninth in the Luddon Half Marathon at Kirkintilloch in a time of 66:48.   Later that year he was thirteenth in the Glasgow Marathon in 2:23:54.   The marathon for which he is most remembered, however, is the Glasgow Marathon at the end of September 1984 and his run was quite excellent – never mentioned by the 'Glasgow Herald as one of the leaders, he was placed ninth of 9449 finishers.   The quality of runners in his wake was high: first vet was Donald Macgregor one place behind in 2:19:01, followed by Jim Brown (2:19:08) and many others of the country's top men.
So – a very good runner who, in the days of the 10K would have been one of the highest rated in the country.   As it is, his times, especially the 2:17:40, would have earned him Scottish vests for at least the Commonwealth Games.  We also have a half marathon tine of 66:48 when he finished ninth in the Luddon Half Marathon in May 1983.  His former team mate and friend Alastair Douglas has this to say about him
"Alan did not initially appear to have a lot of natural talent but by sheer hard word, single-mindedness and using a scientific approach, he achieved some very impressive results.   He finished second in the Junior National in a very good year.   He managed to get himself very good personal bests for 10000m and the marathon and was a member of Glasgow University's famous BUSF winning team in 1984.  
I remember hearing about one incident when he was running a cross-country race when it was very icy.   It was debatable whether spikes or road racers would be better.   He opted for the spikes.   Unfortunately for him he was winning the race going into the last 200m   However a road ran parallel to the finishing straight and he got outsprinted by somebody in road racers.   However he produced the rule book which apparently stated that he should have won under the rules of cross-country and he eventually got a share of first prize.  
Alan's career seemed to span his University years.   It was probably wrong in retrospect to label him as somebody with a lack of natural talent.   He had the ability to absorb and benefit from a lot of hard training – something which a lot of seemingly more gifted runners could not do."
Alastair is right in his remark that Alan's career spanned his University years because we seem to have lost track of him since then.    The next contribution is from an article in the Glasgow Academy's magazine by Hugh Barrow who also ran with him for Victoria Park.
"Alan Wilson of Victoria Park recorded 2:17:40 in 1984 and this earned him a British vest.   Alan also recorded good times of 3:34.0 for 1500m and 14:07 for 5000m running in the colours of Westbury Harriers, Bristol.   Alan also represented Scotland in the World Junior Cross Country Championships in 1983.   When you consider that the first Briton home in this year's London Marathon, Andrew Lemoncello, recorded 2:13 it puts Alan's performance of 30 years ago in perspective."
The Junior National referred to twice above was in 1983 when Alan was second to John McNeil, an outstanding Junior from Law & District who had a very short athletics career and ahead of such as Alan Puckrin of Greenock Glenpark.  He didn't do too much cross-country running, however,  In the previous year he had been twenty second in the National, as a Youth in 1981 he had been twenty fifth.   The best I can see as a Senior is for the 1984 race when he was twelfth – one place behind George Braidwood, and one place in front of Graham Laing and Neil Tennant.
Alan was a runner who developed as a University age athlete, who seems to have organised his own athletics career and who, had the career been a bit longer, might well have been even better.  After all, his 2:17 was run when he was just 20 years old (DoB: 3/03/64).  One of the tasks is now to track down some of his road and track races in the mid 80's and record as many performances as possible.