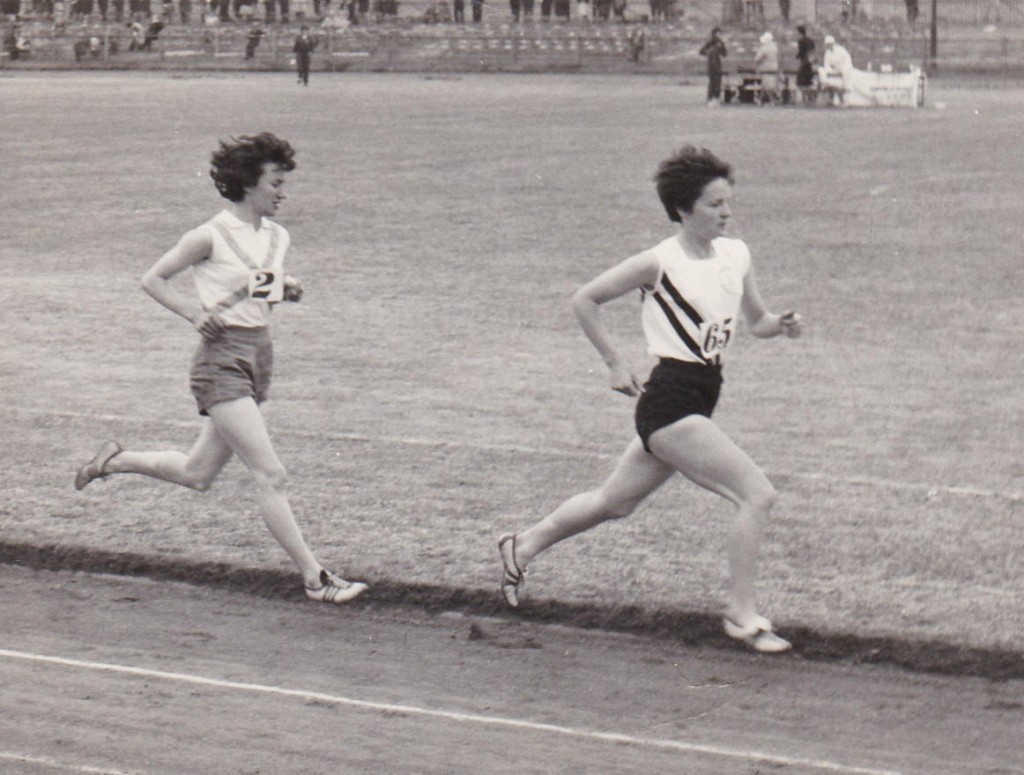 Barbara Tait leads Helen Cherry (Donald)
Morag A. Taggart (Aberdeen, Penicuik, Central Region, Pitreavie AAC, Dundee Road Runners, (14.06.59) Morag was a marathon runner who started her career with 3:03:49 in 1982 to have the sixth fastest time in Scotland and her most recent was a 3:14:52 in 2008 as a veteran and a career best, so far, of 3:01:54 in 1988. Competitively she was second in the Scottish marathon championships in 2003, and third in 1983, '84 and '86. She won the 1985 Moray Marathon and the 1986 Dundee Marathon.
Jean Tait was a good cross-country and track runner between the wars who won the cross country championship in 1937 and was third in 1933, third in 1934 and second in 1936. She was a counting member of the Scottish team in the international against England. On the track she wan many handicap prizes and was second in the SWAAA 880 in 1936 with several SWAAA medley relay championship medals. Read her full profile .
Barbara Tait (Edinburgh 16.02.1939) Starting at the age of 17 Barbara won the SWAAA Mile title five times in succession. She dominated the sport for that spell winning East v West matches and invitation events at Sports and Highland Games over the Mile and 880 yards events setting several Scottish records. A good cross-country runner too although she never won the National title, Barbara emigrated to Australia in 1962. Read Barbara's full profile.
Shona Tait (Queensferry HS, Edinburgh Southern) ran distances between 800m and 5000m between 1977 and 1981 with best times of 2:16.8 (800), 4:46.5 (1500), and 10:31.2 (3000m).
Marjorie Thoms (Edinburgh, London Olympiades, 17.05.53) was a good marathon runner between 1981 and 1988 starting with 3:06:32 in 1981 which placed her seventh in Scotland and a best time of 3:02:08.
Celia Thompson (Shettleston, Glasgow, 6.12.57) was a good and highly respected middle distance runner between 1977 and 1989. With best times of 2:12.5 (800m), 4:35.08 (1500m) and 10:20.9 (3000m) she was ranked at Scottish national level 12 times. Celia also ran cross-country but track was her forte.
Carol-Ann Thomson – see Carol-Ann Bartley
Fiona Thompson (Central AC, Thames Valley Harriers, 15.7.1986). Personal Bests: 1500m 4.28.74; 3000m 10.09.1; 5000m 17.27.91. Fiona was a valuable team member who contributed to many Central AC successes: three Senior National XC titles (her best placing was 6th); five wins in the Scottish XC Relay; and three victories in the Scottish Road Relay. Fiona was third in the 2014 East District cross-country. Fiona Thompson raced for Scotland twice in the Leeds 10k including 2013, when she finished 5th (second Scot). In the 2015 Home Countries International XC, she was second Scot.
Jan Thomson (Carnegie, Pitreavie) was a road and marathon runner who was twice ranked for the marathon with times of 3:10:53 in 1993, and 3:07:32 in 1994.
Jan Thomson (Lochgelly and District, Dunfermline and West Fife, 9 July, 1979) ran principally 1500m and 3000m on the track where she was ranked nationally between 1996 and 1999. 4:44.05 (1500) and 10:36.2 (3000m) were her best times.
Trudi Thomson (Pitreavie, 18.01.59) Trudi was a marathon runner first and foremost although she ran in other events at times – eg she has times for 3000m and 5,000. She had a best time of 2:38:23 which she ran in 1995. Competitive she ran in the World marathon Championship in 1995 when she finished 22nd, and in the. Scottish championships she was first in 1992 and again in 2001. Not content with that she took to ultra marathon running and enjoyed great success there too, winning the Two Bridges race three times, and competing in 50,000m, 100,000m and 24 hour races. She was selected to run for GB over the 100K distance. She has also run shorter distances such as the 10K and half marathon and is the only woman ever to have run in the Edinburgh to Glasgow relay. You really must read her full profile
Katherine Todd (Loudon Runners, Kilmarnock, 21.07.50) first appeared on the national scene at the age of 36 when she ran a marathon in 3:07:44 ranking her 17th in Scotland. Kate just went higher and higher in the rankings every year when she was ranked 13th, 12th, 10th and 10th in successive years with a personal best time of 3:10:05 in 1998 . Competitively she was second in the Scottish marathon championship in 1993. In the International ultra-distance classic Anglo-Celtic Plate 100km, Kate was second woman to finish in 1996 and 1997 – and first Scot both times.
Lynn Todd (Grangemouth Olympiads, Pitreavie, 13.11.58) was a 1500m specialist with a personal best of 4:50.9 in 1972 which placed her eleventh fastest in Scotland for the year. She also had a 3000m best of 11:00.01.
Elizabeth Trotter (Smithycroft School, Victoria Park, Glasgow AC, 20.01.60) was a well known and popular runner who specialised on the track in the 3000m with 1500 as a subsidiary event. Bests for these events were 10:08.57 and 4:57.22 respectively. It was surprising that she never won any medal at SWAAA championships. A very good cross-country runner she was a top 5 finisher in the senior age group and second in the Intermediate Championships in 1976/77 after a good career in the younger age groups. In the 1979 Scottish Championships, when she was 5th, Glasgow AC won the team title. Elizabeth Trotter ran in three International cross-country matches for Scotland, including the 1979 World Cross; and the 1980 Home Countries fixture at Runcorn, when she finished third Scot and her team lost to England and Ireland but beat Wales and Northern Ireland.
Elspeth Turner ( (Strathclyde U, Glasgow, Alabama University (USA), Horsham Blue Star, 18.03.65) was an excellent athlete, a good club member and a popular member of the athletics community. As a member of Glasgow AC she ran well on the track, on the road and over the country before travelling on a scholarship to Alabama University. Returning to the UK she married Tony Linford and continued her running south of the border. Best times of 2:13.6 (800m), 4:28.32 (1500m), 9:10.6 (3000m), 16:11.09 (5000m), 33:05.43 (10,000m), and 2:58:06 (Marathon) indicate the quality she brought to the sport.
Vicki E. Vaughan (Dundee HS, Dundee Hawkhill Harriers, Pitreavie, Oxford University, 25.01.68) was a stylish and talented runner, a member of the British Milers Club and a good track and country athlete. On the track she had best times of 2:16.93 (800m), 2:57.1 (1000m) , 4:26.28 (1500m) and 10:07.12 (3000m). Also a good cross-country runner since she was in the Under 13 age group and won the Scottish championships she had come up through the age groups all the way to senior athlete where she ran for the Scotland team. For the record, Vicki won the national U13 cross-country title in 1980 and 1981 running for Dundee Hawkhill, was third in the U15's in 1983 in a Pitreavie AC team, and in 1984 was 11th Intermediate, and 16th senior in 1986 (missing years results not available.) She continued as a cross-country runner (in 1987 she was 5th senior) and latterly turned to road running where she was third in the Scottish half marathon championship at Dunfermline in 1992. Vicki Vaughan ran two cross-country Internationals: first Scot v England, Wales and Belgium in 1981; 3rd Scot in 1991 when Scotland lost to Kenya but beat Australia. On the track she ran for Scotland in an Indoor 3000m v Norway and Denmark in 1992 and finished third.
Carol Vettraino (Dundee Hawkhill, Harriers, 16.10.77) was a good middle distance runner from the Dundee club who specialised in the 1500m on the track. With a best of 4;44.3 for the distance she was ranked sixth, fourth and sixth again in consecutive years (1991, '92 and '94) for the event. and 20th in the 3000m in 1994 in 10:20.38. Carol also ran over the country where she was a valuable team member.
Elspeth Turner