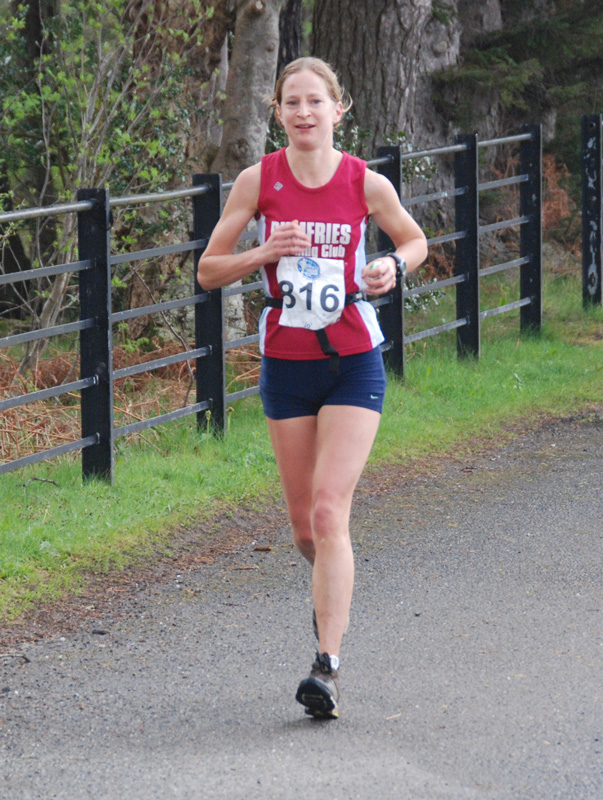 Joasia Zakrzewski was born on 19/1/1976 and ran for Dumfries RC. Jo ran well at cross-country and on the road from 10k to (her speciality) ultra-marathons. Her fascinating 'Power of 10' profile shows that she has raced all over the world. In the Scottish Marathon ranking lists, she showed great consistency, with a personal best of 2.39.15 (Frankfurt 2013) but many times in the low 2.40s. Other personal bests are: 50km 3.26.37 (2011); 100km 7.31.33 (2015 in Holland – European bronze).
She was twice second in the marathon rankings (2011 and 2020) and fourth in 2013, 2014, 2015 and 2017. A proud day was in 2014, when she ran for Scotland in the Commonwealth Games Marathon at Glasgow, finishing a very respectable 14th.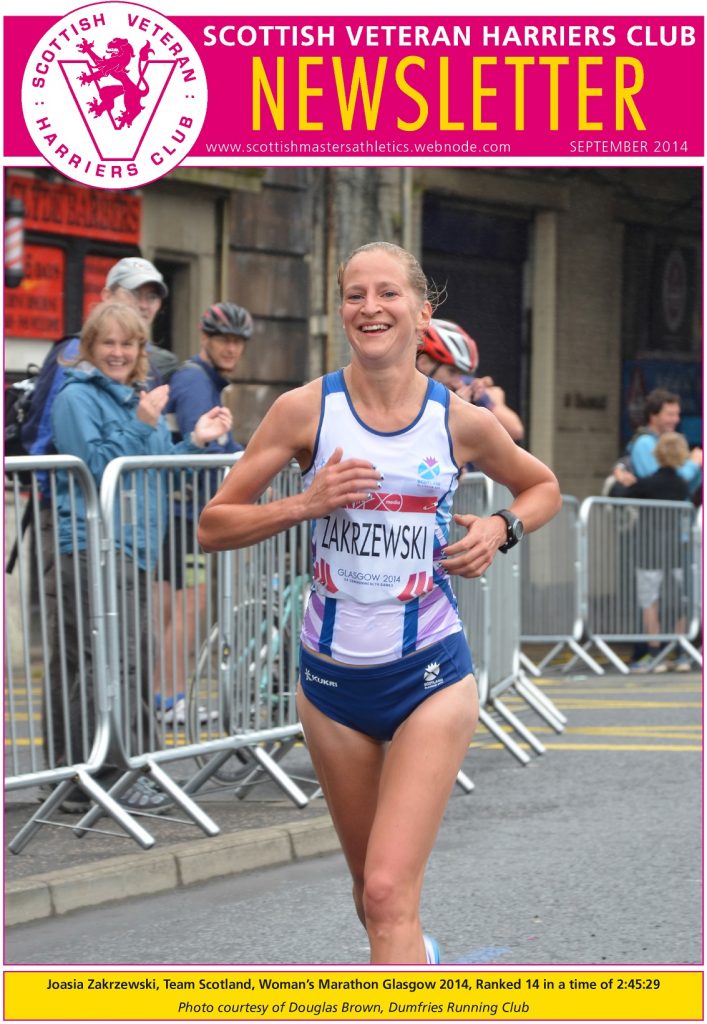 For Scottish Masters, Jo ran well several times in the British and Irish Masters International XC, securing W35 bronze in 2015; and contributing to W40 team silver in 2016. Jo's other Scottish medals include: Masters gold in the 2012 Scottish 10k; Masters silver in the 2013 Scottish 10 miles; Senior bronze in the 2012 Scottish Half Marathon; and Senior gold in the April 2014 Scottish Ultra Trail Running Championship (Milngavie to Tyndrum).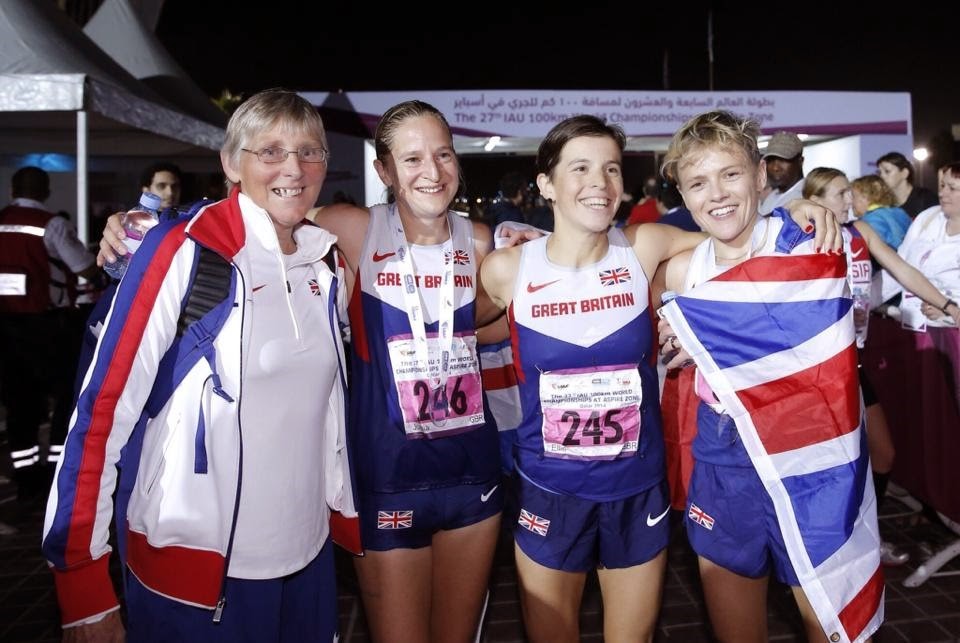 Eleanor Robinson, Joasia Zakrzewski (3rd), Ellie Greenwood (1st) and Jo Meek at the 2014 World Championships in Doha
Jo has run the legendary Comrades Marathon (89 km) four times, securing three gold medals and one silver. Racing for Great Britain in the IAU World 100km Championships, Joasia Zakrzewski won individual silver in 2011 and bronze in 2014 and 2015.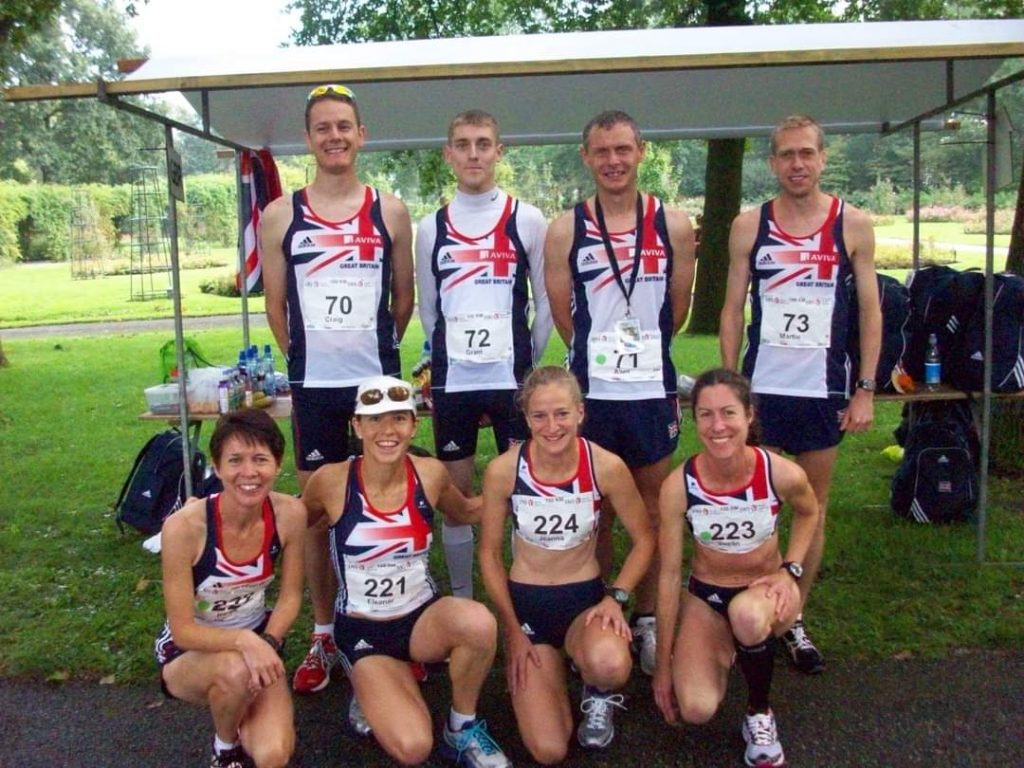 GB team photo at the 2011 World 100km Championships at Winschoten (Joasi, number 224, finished second)
In 2014, the GB team of Ellie Greenwood, Joasia and Jo Meek won team gold medals. In 2020, aged 44, she won a 24 hours event in Australia with a distance of 236.561 km – unsurprisingly, top of the Scottish rankings for that gruelling event. Jo set four records: the Scottish 24-Hour record; the British 200k (18.53.22) record; the Scottish 100 miles record (14.47.45); and the Scottish 12-Hour record (133.4 km). Joasia Zakrzewski was a team manager at the 2018 World 100k Championships. She has also started coaching.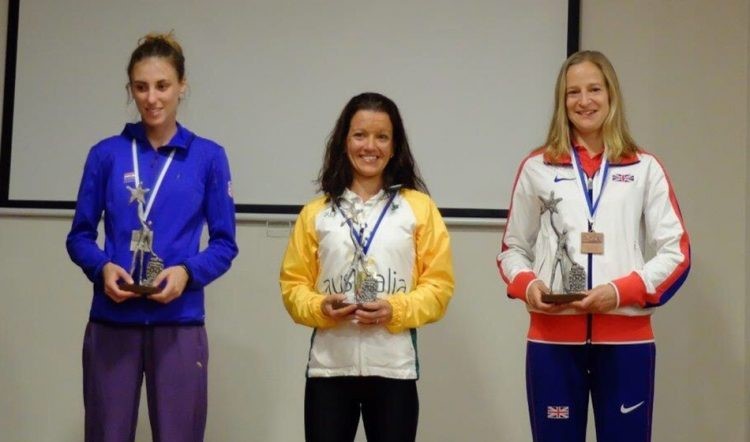 Jo (on the right) with her bronze medal in the 2016 World 100km Championships
EXCERPTS FROM ARTICLES:
"Joasia Zakrzewski started out as a GP, a race doctor and an expedition medic, but was soon tempted to 'try it from the other side." Since taking part in a multi-stage race across the Atacama Desert in Chile, she has gone on to compete for GB numerous times in ultra-distance events."
"In March 2020, Dumfries GP Joasia Zakrzewski headed to Australia for a short holiday. But life had other plans for the runner, originally from the north of England. Her flight home was grounded because of coronavirus.
With no other way back, she returned to Sydney and became what she calls a 'Corona kid': 'sofa surfing and living off her credit card'. For six months, Zakrzewski said, her life was 'quite hard'. Not sure what to do, after not being able to go home, she put the time in limbo to good use, doing 'a bit of running' on the track in July.
By 'a bit of running', what the habitually modest Zakrzewski meant was setting four new records: the Scottish 24-hour; British 200k; Scottish 100 miles; and Scottish 12-hour – at her first-ever 24-hour track race: the Australian 24 Hour Track Invitational in Canberra.
By the end of 2020, the Scottish Athletics Masters Athlete of the Year has settled semi-permanently into working – and running life – in Australia. Zakrzewski, who was a GP in Dumfries when she left in the Spring said "I think it's really important that we (as medics) set a good example for everybody else, stay healthy and keep active. But it's also important that we have interests outside of work. We've got to have a way to switch off, de-stress and think about other things."
As a doctor, she also advises everyone to keep active outside. "Another thing in this time of coronavirus is vitamin D. It's been found to be quite important in preventing the virus, reducing risk of infection and reducing severity of the illness. So, getting out in the sun and getting your vitamin D levels up has a double benefit."
Jo Zakrzewski's next challenge will be a race to the highest point on mainland Australia, Mount Kosciuszko, which was named after a Polish-Lithuanian general who served in the US War of Independence.
Given her father's Polish background, the iconic event means much more than just 240km to Zakrzewski. Her goal is 'to get to the top', but she'd 'actually like to finish the race too." She added "I'd like to get there for my heritage, but I also want to tell people who this amazing guy was. It's not just a mountain with a weird name, because I know all about weird names."
In August 2021, Joasia Zakrzewski was back in Scotland! She raced 'Ultra Great Britain' along the 215 miles of the Southern Upland Way and finished second overall and first lady in a time of 62 hours 20 minutes 12 seconds, taking an amazing 17 hours 26 minutes off the previous race record by a woman. In addition, she set the fastest known time (supported) for the Southern Upland Way by 13 minutes 48 seconds. (The Way crosses Scotland, from Portpatrick on the west coast to Cockburnspath on the east, via the hills of the Southern Uplands.)
Nearing the finish in Cockburnspath