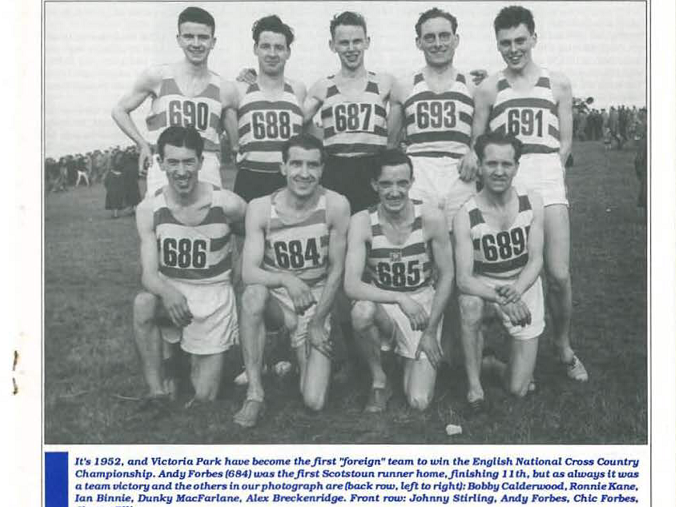 The world was quite a different place 96 years ago when Duncan Macfarlane was born. His parents lived in a small tied cottage on the side of Loch Lomond. They had both served in the First World War, his father as a Lovat Scout at Gallipoli and his mother as a nurse, and this was in 1921, only 3 years later.
They almost lost him to pneumonia when he was small, before the days of antibiotics, but, after a long illness, he somehow survived.
His father moved to a post as driver and gardener for Lord Primrose in Garail House, Dunoon. He and his 2 younger brothers grew up running around the farms and hills, helping with the horses, hay cutting and harvests, working with their father in the gardens.
Then, when he was 15, the school science teacher brought in a cine projector and showed the boys a film of Jack Lovelock racing clear of the pack to win the 1500m in the 1936 Olympics. Young Duncan was transfixed, he'd never seen anything like it.
A passion was born. He loved racing, joining Athletics clubs at school and university and fitting in as much cross country and track racing as he could. Later he joined the Victoria Park Harriers, training with them twice a week and racing most weekends. Athletics was a huge sport in those days, with clubs in every wee town putting on race meets and young athletes travelling all over the country to compete, mostly by public transport. The prizes were often put up by local businesses, which sometimes led to interesting challenges like trying to get the first prize chest of drawers or armchair home on the bus!
He was a good enough runner to win several trophies and prizes, individually in Open Mile and Two Mile races, and also as part of teams which included the great Scottish athlete Andy Forbes, who was like the Calum Hawkins of the day, an inspiring local athlete who could take on the best in the world. Duncan loved to run as part of a team, whether it was the 4×1 mile relays on the track, the longer road relays (Edinburgh to Glasgow, Dundee Kingsway and London to Brighton for example) or cross country races where every single place you gained might make the difference that got your team onto on the podium. There was nothing like the present day tradition of 10k and half marathon road races every weekend and outside of the Cross Country season most racing opportunities were on tracks. He was generally considered a 'miler' but actually preferred running further and felt the longer distances of cross country (often 9 miles) and the legs in road relay races suited his strengths better.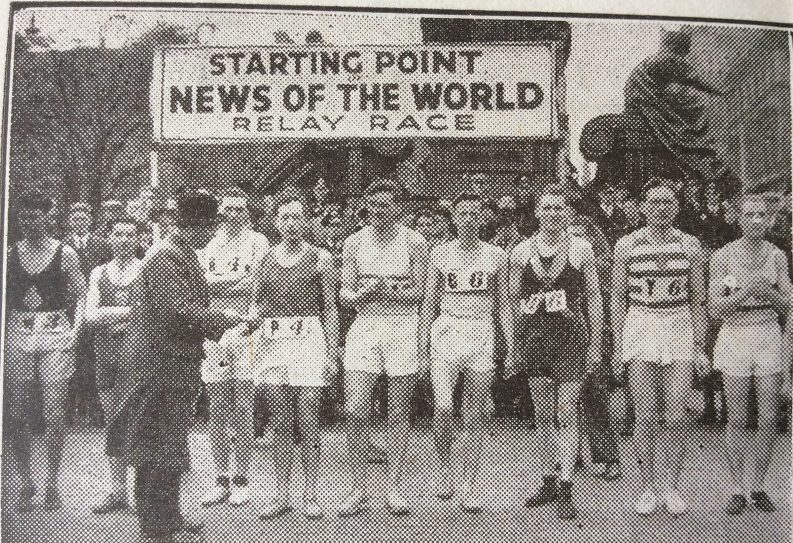 So many athletes would gather for competitions that there was little space to change or warm up – the milers used to enter half mile races, not to compete but to get a warm up before their own races which were run later. It made for an exhausting day if they got caught up in the moment and ran well enough in the heats to get a place in the half mile final by accident!
Duncan was exempted from call-up in WW2, being in an 'essential occupation' in the Blood Transfusion Authority, but always thought he should have been allowed to go. He already had his train ticket to travel but it was cancelled at the last minute and he instead joined the home guard. In later years he told stories of their Dad's Army style exploits, running around shooting at paper targets of German invaders in the woods, manning the Home Guard Hut in teams 24hrs a day, and being issued with a strict 4 bullets each for their rifles. He said there was also a Sten Gun in the Hut, but they had no bullets for that!
One of his favourite races was the Edinburgh to Glasgow Relay Race, and he ran 3 times for Victoria Park A.A.C. on different legs of this in successive years. A very proud memory was running 3rd leg in the VP team who won the race, with a new course record time, in 1950. But the feat actually that got his name (as 'Dunkie McFarlane'), into Scottish distance running history was being a 'counter' in the Victoria Park A.A.C. team who famously won the ENGLISH Club Cross Country championships in 1952.
He perhaps missed his best years of Cross Country when national competitions were suspended during the war, but, starting in the 1946/47 season, went on to compete in no less than 18 successive years in the Scottish Cross Country Championships at Hamilton Race Course. One memorable cross country race he recalled, there was a really hard winter (1951?) and the frost hadn't lifted for 10 weeks. The day of the race the snow was lying 18 inches deep, with the frozen ground like iron underneath it. Fortunately for the senior runners, their race was last and a narrow path through the snow had been beaten by the feet of the earlier racers. Even so, the going was so brutal that Duncan lost a toenail…his feet were so cold that he didn't realise until after the race when he took off his running shoes and saw the blood! They were made of sterner stuff in those days, nowadays races are cancelled for a couple of inches of snow!
He was proud to have been working in a public hospital, Ayrshire Central, the day the NHS began, and was a staunch supporter of the NHS and public medicine all his days. It was also there that he met his wife, Shirley, who came to work in the Pharmacy where he was Deputy Chief.
His running travels took him to Ireland where there was no rationing – this was just after the war when there were few luxuries here and he was able to bring back sumptuous gifts like boxes of chocolates to woo his sweetheart. She must have been impressed, because when it became clear he was expecting her to be his wife she didn't complain, despite telling people many times over the years that there never was an actual formal proposal! They went on to celebrate 64 years of marriage and 6 children together.
Before they could marry, Duncan thought he ought to have a 'Chief Pharmacist' post, and the post that came up first was in Dumfries. In 1951 he came down to start work, and discovered the pharmacy and surgical stores stacked to the ceiling with giant rolls of gauze and lint. Each hospital in the country had had a wartime ration of surgical supplies and they'd never been cancelled but just kept on arriving and being piled up. His brother came down and the pair of them rolled up their sleeves and spent a week hefting the huge rolls out before he started.
He was involved in setting up and running the Dumfries Amateur Athletics Club and made new running friends in the area, but still retained membership of Victoria Park as his first claim club. He ran in the first ever Brampton to Carlisle road race, and as secretary of the DAAC took a key role in organising the club and local races, as well as continuing to run with a new generation of younger athletes. One former clubmate, now in his 80s, remembers him as being a true gent, and surprisingly fast for an old guy!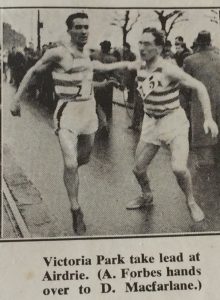 Duncan reluctantly gave up competitive running when he was in his 40s, which was considered old for a runner at the time. He stayed involved with sports; curling, bowling and golfing as well as playing amateur football into his 50s. He was always willing to take responsibility and be one of the organisers in all his sports. He also had a sharp mind for detail and, as well as encyclopaedic knowledge of sport history, usually had up to date facts and commentary, getting into passionate debate about most sports with the slightest invitation, especially football, running and golf. A good man to have in your pub quiz team!
Although he played a bit of golf as a child, he only took it up seriously in his 40s when he felt he was too old for the running. Even so, he managed to play a mean game of golf to a handicap of 12 for many years. There was great excitement in the family when Duncan got a mention in the Sunday Post and special putter for getting a hole-in-one. He was still managing to regularly play a few holes well into his 80s and last played on his 90th birthday.
In his professional life he was promoted to Chief Administrative Pharmaceutical Officer for Dumfries and Galloway and was responsible for services across the region – including managing his own wife! – until he retired from the NHS at the age of 64.
He and his wife stayed active as they got older, climbing hills, finding flowers, especially orchids, all over Scotland. Their idea of a fun day out was hiking 10 miles through bogs to find a particular orchid that only flowered for a week every year! For Duncan's 70th birthday, they had a picnic. On top of Criffel, the highest local hill. In the snow!
He was quite envious of the greater opportunities that became available for veteran runners, and wished he had been able to run longer.
He loved the fact that his adult daughters and grand-daughter got into running, relished every muddy detail of each race report, and beamed with pride at every single medal, trophy, or personal best time. In recent years, when walking became increasingly painful and difficult for him, he often said (with a smile) that when he was dreaming he could still run fast enough to feel the wind in his face!
Well into his 90s, even when he was in constant pain, he battled for his mobility, and refused to just lie down. He fought and won several times with serious illness, regaining his sparky curiosity and humour, but losing a little bit more energy each time. He stayed closer to home, not liking old friends to see him diminished.
And he took hard the loss of his wee brother, sister in law and most of his lifelong friends. It's a hard thing to outlive so many people you love.
Duncan was an immense life force who gave his energy, time and commitment without hesitation, to family, work, sport and community life over his whole, impressively long lifetime. He was true gentleman, a proud father and a loyal friend, loved and respected by everyone who knew him, and never had a bad word to say about anyone.
A good life, well lived. We will miss him.