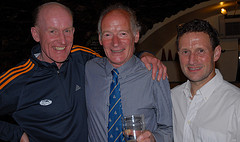 Three of the finest: Adrian Stott, Donald Ritchie and Willie Sichel
Anglo-Celtic Plate 100km, 24th March 2019.
The Scottish Athletics website reported as follows.
"On a chilly, but mainly sunny, early spring day, with a strong breeze at times, the runners ran 42 laps of 2.38 km on the North Inch Park by the banks of the River Tay.
In the accompanying 50K event Paulo Natali ran an excellent 3.02.14 in the challenging breezy conditions, with Kerry-Liam Wilson of Cambuslang taking second place in 3.13.45.
The popular Scot thus claimed the Scottish 50K title to add to his many other Scottish championship medals.
Andrew White of Greenock Glenpark took third and second place in the Scottish championship in 3.14 .51. David Tamburini of Inverclyde in fifth took third in the Scottish championships."
K-L wrote that he couldn't have asked for more from his debut at the Ultra distance (or venture to the 'darkside'). He was delighted to be a double Scottish Athletics Champion, winning both Senior and Masters 50K titles.
This excellent result by a current Masters athlete, who is closer to 50 years of age than 45, started me wondering about Scots who were successful in long-gone road events like: the Two Bridges 36; the Edinburgh to Glasgow 44 (or 50); the Speyside Way 50km trail race; and the current Scottish 100km and 50km championships. I decided to add the annual Anglo-Celtic Plate International 100km race, which has often been held in Scotland.
Many names must be mentioned; several (especially those active before 1990, have profiles in the Who's Who section of scottishdistancerunninghistory.scot). On that website, at the foot of the home page, click on 'The Ultra Marathons' for more on the Two Bridges, the Edinburgh to Glasgow individual race, and the Speyside Way race.
THE EDINBURGH TO GLASGOW ULTRA-MARATHON (44 MILES)
Gordon Eadie (Cambuslang), who in 1960 had become Scottish Marathon champion, won the E to G three times: in 1963 (37 minutes clear of second place, in a new record 4:51:17, against heavy rain and strong winds); 1964; and 1966 (new record 4:41:27). Gordon was an excellent third in the 1965 London to Brighton; and next year gained revenge on Bernard Gomersall, (who had won the 1965 L to B). Gordon finished more than nine minutes ahead on July 23rd 1966 when victorious in the Liverpool to Blackpool 48 and a half miles race, recording 5.00.22. The award for Scottish Road Runner of the year was the Donald McNab Robertson Memorial Trophy. Gordon had received it in 1960. In 1966 he regained the Scottish Marathon Club championship, for a number of road race successes, culminating in the E to G and Liverpool to Blackpool victories. Jim Alder had won the Commonwealth Games Marathon in Jamaica, and Alder and Eadie were both considered for the Robertson Trophy. Gordon Eadie was selected as the recipient for this honour by five votes to four. Jim Alder was made a Life Member of the SMC, an organisation which achieved a great amount for post-World War Two Scottish distance running.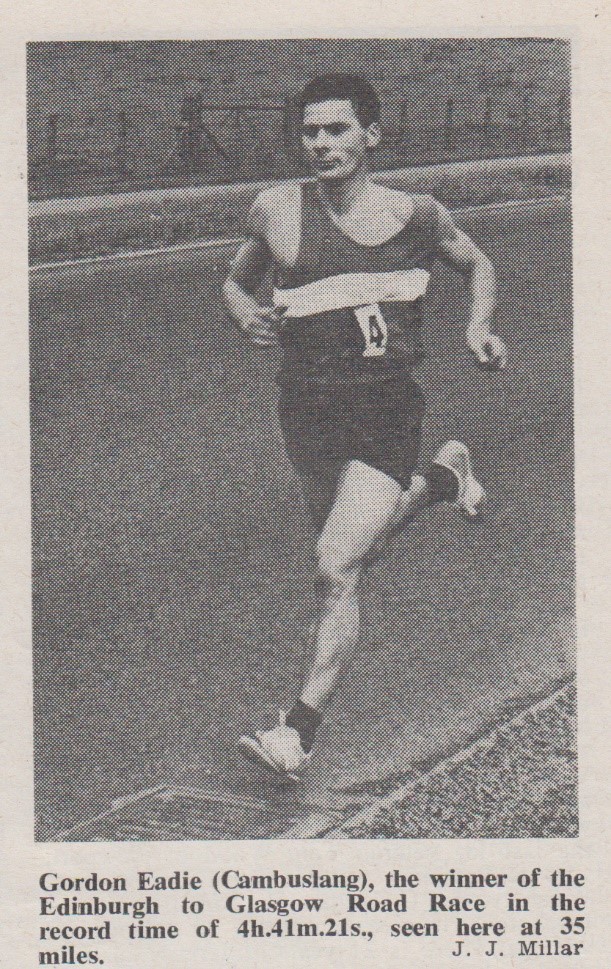 Andy Fleming (Cambuslang) was second in the very first E to G in 1961; and won the event in 1965 (team-mate Willie Kelly was fourth, so Cambuslang also secured the team trophy). Andy was fourth in the 1965 London to Brighton.
Hugh Mitchell (Shettleston H), twice (1964 and 1969) silver-medallist in the Scottish Marathon, won the E to G in 1967 and 1968 (when he set a new record of 4:39:52); and finished second in 1969. In the Two Bridges 36, Hugh was second in 1968 and third in 1969. Shettleston Harriers (Mitchell and J Macdonald 4th) won the team prize in 1968. (Scottish Veteran Harriers Club readers should note that Hugh finished second in the very first SVHC cross country championships in 1971, and was second in 1972.)
Bill Stoddart (Greenock Wellpark H) was second in the 1968 E to G. In 1969, as reigning Scottish marathon champion, he won the E to G, breaking the course record with 4:36:13. Bill and D Anderson (7th), won the team prize. Bill Stoddart finished first again in 1970, but Shettleston (Willie Russell 3rd and J McNeill 5th won the team award on countback from Wellpark (Stoddart and George King 7th). In 1972, Bill Stoddart won the second SVHC cross-country championships and went on to be an outstanding World Champion veteran athlete.
Alex Wight (Edinburgh AC), intending to attempt only a long training run, managed to win the 1971 E to G event. Team-mate John Gray was sixth so EAC won the team award. Alex went on to win the Two Bridges 36 in 1971, and won again in 1972, breaking the record with 3:24:07. He and his brother Jim (second), plus Jimmy Milne (9th) won the team prize.
Jimmy Milne (EAC) won the 1972 E to G. This was, apparently, the 12th and last of the event series. He also contributed to EAC winning the 1972 Two Bridges team award.
Donald Ritchie (Aberdeen AAC) was an easy winner in the one-off 1984 E to G, which now started at Meadowbank Stadium, with the overall distance increased to 50 miles. Don's finishing time was 5 hours three minutes 44 seconds, which was relatively faster than the record for 44 miles. Donald's team mate Colin Youngson was third, behind EAC's Dave Taylor, so Aberdeen won the team award. Back in 1977, quite early in his wonderful ultra-distance career, Donald (Forres Harriers) finished second in the Two Bridges 36, a race which he won in 1983, 1986 and 1990.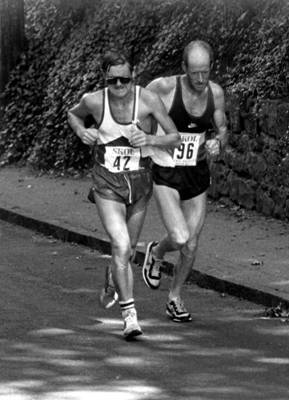 Don Ritchie and Cavin Woodward in the Two Bridges Road Race
THE TWO BRIDGES 36 MILES RACE.
The first Two Bridges took place in August 1968, and the victor was Don Turner, an Englishman who ran for Epsom and Ewell, but for Pitreavie AAC when he lived in Scotland between 1959 and 1964. Don had been a close second in the 1962 London to Brighton 52 miles race. He finished third in the 1968 Scottish Marathon championship; and later became President of the prestigious Road Runners Club.
In 1969, Alastair Wood (Aberdeen AAC) became the first Native Scot to win the Two Bridges 36, in the record time of 3:27:28. Then he broke the World 40 Miles Track Record. Three years later, in the 2B, Alastair was a minute ahead of the field when a marshal went missing, sending the leader off course, so he finished third behind the Wight brothers – Alex won, with Jim second. However, two months later, Alastair Wood won, and smashed the record, in the famous London to Brighton 52 miles road race. A year later he was second in the South African Two Oceans (Indian to Atlantic) 35 miles event near Cape Town.
Jim Wight (Edinburgh AC) was second in the 1969 Two Bridges; second again in 1972; and won the race in 1974. He ran for Scotland in cross-country and the 1974 Commonwealth Games marathon.
Donald/Don Ritchie (Forres Harriers) won the Two Bridges in 1983, 1986 and 1990.
In 1991, Andy Stirling (Bo'ness Road Runners) finished first in the Two Bridges. Later that year, he represented Scotland in the Home International 100km race near Edinburgh. Andy won the 2B again in 1993.
Peter Baxter (Pitreavie AAC) won the Two Bridges in 1992 and, along with clubmate Kenny (or Archie) Duncan, who was second, and Paul Swan (7th), the team title.
Colin Hutt (Bo'ness Road Runners) achieved Two Bridges victory in 1997; and finished first again in 2000.
Simon Pride (Keith and District AAC) won the Two Bridges with ease in 1998. In May 1999, running for GB, he triumphed in the World 100km road championship, with a superb UK best road time of 6:24:05. He was Scottish Marathon champion four times.
Alan Reid (Peterhead AC) won the Two Bridges in 1999. His finest ultra-running achievements include: Gold (2001), silver and bronze medals in the British 100km Road Championships, the Scottish 50km title in 1999 and 2000 and winning the Barry 40 miles track race in 2001.
A number of Scots finished a meritorious second in the Two Bridges, which for more than 30 years was Scotland's premier ultra and frequently attracted international opposition. They were: Hugh Mitchell (1968); Jim Wight (1969 and 1972); Willie Russell (1970 – a year later, he won the very first SVHC cross-country championships); Rab Heron (Aberdeen AAC) in 1974, plus the team award (with Alastair Wood 3rd and Don Ritchie 5th), then (for Brighton and Hove AC) in 1978, 1979 and 1980. Rab was also second in the 1977 London to Brighton; Colin Youngson in 1975; Don Ritchie in 1977, 1984 and 1991; Kenny (or Archie) Duncan in 1992; Allan Stewart (Moray Road Runners) in 1997; Peter Morrison (Fife AC) in 2000; and Stevie Ogg (Carnegie Harriers) in 2002.
The only Two Bridges Scottish team win, which has not been mentioned above, was by Fife AC (Ian (or Sam) Graves, Dave Francis and Ian Mitchell) in 1983.
Trudi Thomson (Pitreavie AAC), such a versatile runner, won the 2B Women's race three times and held the course record. Her finest ultra-distance performance, running for GB, was a silver medal in the World 100km road championships in 1994, by Lake Saroma in Japan. Her time of 7 hours 42 minutes and 17 seconds still stands as the Scottish record and third on the UK all-time list. In 1999, running for Scottish Masters, she won the W40 British and Irish International Masters cross-country championship. In 1992 and 2001 she won the Scottish Marathon.
THE SPEYSIDE WAY 50KM TRAIL RACE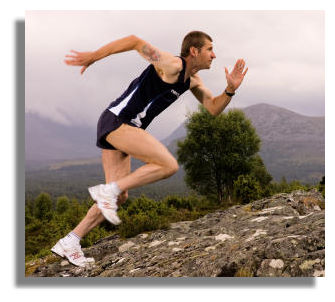 Simon Pride
This was held, in April, 11 times between 1994 and 2005. The route followed the Speyside Way from Ballindalloch to Spey Bay. To accomplish the full distance a deviation of approximately 5km commenced on the descent from the forest track off Ben Aigen, to the east of Boat O'Brig. The track from Bridgeton Farm was taken to the right, onto the B9103, past the Distillery, and then next left onto a road through the Moss of Cairnty. The Speyside Way was resumed on the Ordiequish road. After skirting round Fochabers, the final stretch was a track by the river Spey to the Moray coast at Spey Bay. Altogether a safe and very scenic route. The event was devised and organised by Donald Ritchie, with considerable assistance from volunteers.
Simon Pride (Keith and District) AAC won the race an incredible seven times, usually as preparation for British, European or World ultra-distance performances for GB. His course record time, in 1997, was 2 hours 59 minutes 54 seconds.
The M45 record (3.26.54) was set in 2000 by British 100km champion and World Masters ultra-marathon age-group record-breaker William Sichel from Orkney, representing Moray Road Runners. However, this was a little slower than Don Ritchie's M50 mark of 3.26.25. Another M50, Charlie Noble of Peterhead AC, the Scottish 100km champion, recorded 3.26.44 in 2002. Don Ritchie set the M55 mark (3.43.32) in 2000. The Women's record was 3.31.59, set in 1999 by regular GB International ultra-runner Carolyn Hunter-Rowe, a World and European 100km champion.
Other Scottish winners were: Fraser Clyne (Metro Aberdeen RC) in 1994, setting an inaugural course record of 3.02.03. (Fraser was Scottish Marathon champion five times and a frequent GB International); Peter Baxter (Pitreavie AAC) in 1995; Alan Reid (Peterhead AAC) in 2000; and Carl Pryce (Cosmic Hillbashers) in 2005. Scots who won the Women's race were: Helen Diamantides (Westerlands AC) in 1997; and Kate Jenkins (Carnethy HRC), usually accompanied by her spaniel, in 2000, 2002 and 2004. Kate won the Scottish Marathon four times.
Scottish second-placers included: Alan Reid (1994); Andy Farquharson (Inverness H – a GB ultra-marathon international) 1995; Robert Brown (HBT) 1996; Allan Stewart (MRR) in 1997 and 1998 – he ran for Scotland in the 100km Anglo-Celtic Plate; Steve Reeve (MRR) 1999; William Sichel (2000); Ian Lewis (Shettleston H) 2002; Nigel Holl (Stirling) in 2003 and second-equal in 2004; and Ritchie McCrae (Penicuik H) in 2005.
SCOTTISH 50KM CHAMPIONSHIPS
(Results online are incomplete)
The most prolific winner was Terry Mitchell (Fife AC) who won the first event from Simon Pride in 1996, setting a record (3.02.27) which lasted 20 years. Terry also won in 1998, 2001 and 2002. Terry was second in 2007. He won the Scottish Marathon twice (1987 and 1991).
Peter Morrison (FMC Carnegie H) finished second in 1997.
Alan Reid was champion in 1999 (in front of Clyde Marwick of Shettleston H); and 2000.
In 2004, Jamie Reid (Ronhill Cambuslang H) won from Andreas Merdes (Lothian). Jamie was Scottish Marathon champion in 2002, 2003 and 2007.
Andy Farquharson was second in 2005.
In 2009, David Gardiner of Kirkintilloch Olympians was second.
Marcus Scotney, an Englishman from Dumfries RC, won in 2010, from Roger Van Gompel of Dundee Hawkhill H.
In 2010, Cambuslang's John Brown won from Gavin Harvie of Kirkintilloch Olympians.
Dr Andrew Murray, the Edinburgh doctor who has run very long-distance routes filmed for TV) finished second in 2013.
Ross Houston (EAC) created a new record (2.56.37) in 2016, from Mark Pollard of Inverclyde. Ross was Scottish Marathon champion in 2011 and 2012; and represented Scotland in the 2014 Commonwealth Games marathon.
Women's Champions include the following.
1996 – Isobel Clark (Arbroath Footers). She also ran 100k for Scotland in 1996..
1997, 1998, 1999 and 2002 – Carol Cadger (Perth Strathtay Harriers). Carol won Scottish Marathon silver medals twice (2000 and 2001).
2001 – Avril Dudek (Perth Strathtay H)
2003 – Lynne Kuz (Carnegie H)
2004 – Debbie Cox (City of Glasgow)
2005, 2006 and 2010 – Elaine Calder (Strathaven Striders). Elaine won Scottish Marathon silver medals in 2002 and 2004.
2007 and 2011 – Kate Jenkins (Gala Harriers/Carnethy HRC). Kate won four Scottish Marathon titles: 1997, 2000, 2003 and 2007.
2009 – Isobel Knox (HBT) in a record time of 3.55.21
2019 – Angela Howe (Fife AC)
SCOTTISH 100KM CHAMPIONSHIPS
For some reason, results online are even more incomplete
1992 was the first Scottish title that the legendary Donald Ritchie ever won! Aged 48, he recorded a fine time of 7.01.27, with Ian Mitchell (FMC Carnegie) second. N.B. Donald Ritchie has been inducted into the Scottish Athletics Hall of Fame.
In 2010 Grant Jeans (unatt) won from Dave Gardiner of Kirkintilloch Olympians. Grant was a confident 26 year old from Elgin – a boxing enthusiast who worked as a journalist and part-time postman in Glasgow. He was first Scot to finish in the 2010 Anglo-Celtic Plate 100k; contributed towards Scottish team victory in the 2011 Plate; and won the Welsh classic ultra (Barry 40 Mile Track Race) in 2012 and also 2015.
2011 brought victory to Craig Stewart (Forfar RR), who also won the Anglo-Celtic Plate International race in 7.01.36.
In 2016, Rob Turner (EAC) won the Scottish title.
2019 was when Rob Turner finished second in the Anglo-Celtic Plate (which he had won in 2018) but secured the Scottish title in both years. In 2019 Kyle Greig (Metro Aberdeen and Forres Harriers), the Scottish Ultra-Trail Champion, was second in the Scottish 100km.
ANGLO-CELTIC PLATE 100KM INTERNATIONAL CHAMPIONSHIPS
This annual 5 Nations event has almost complete online results
Many Scottish ultra-marathoners, male and female, ran very well in this annual Four Home Countries (plus Ireland) International contest.
FIRST SCOTS HOME (and Scottish 100km Champions)
1995 – William Sichel third.
1996 – Don Ritchie second; Kate Todd (Kilmarnock) second. Kate had been second in the 1993 Scottish Marathon.
1997 – Simon Pride second; Kate Todd second again.
1998 – William Sichel second.
1999 – William Sichel fourth; Carol Cadger fourth. (She ran ultras for Scotland three times)
2000 – Alan Reid second; Carol Cadger third.
2001 – Alan Reid won, and became UK champion.
2002 – John McLaughlin (Springburn H) third; Lynne Kuz fourth.
2003 – Clyde Marwick (Shettleston H) 5th; Lynne Kuz third.
2004 – Andreas Merdes (Lothian AC) 4th; Debbie Cox (City of Glasgow) third. She ran ultras for Scotland five times.
2005 – Les Hill (Dumfries RC) eighth; Debbie Cox sixth.
2006 – Les Hill eighth; Debbie Cox third.
2007 – Paul Hart (Dumfries RC) fifth; Anglo-Scot Sandra Bowers (Winchester) second. She ran ultras for Scotland five times.
2008 – Paul Hart seventh; Sandra Bowers second.
2009 – Andy Rankin eighth; Sandra Bowers fourth.
2010 – Grant Jeans sixth; Nathalie Christie (EAC) second; Gail Murdoch (Carnegie) third. The Scottish Women's team won.
2011 – Craig Stewart (Forfar RR) first; Gail Murdoch seventh. She ran ultras for Scotland five times.
Scotland won the Men's Team Title: Stewart first, Grant Jeans fifth, David Gardiner (Kirkintilloch Olympians) eighth.
2012 – Thomas Loehndorf (Greenock Glenpark H) fourth (and Scottish Champion); Isobel Knox (HBT) fourth (and Scottish Champion). She ran ultras for Scotland six times.
2013 – Donnie Campbell (Glasgow) third (and Scottish Champion); Charlotte Black (Shetland AAC) fourth (and Scottish Champion).
Scotland won the Men's Team Title: Campbell third, Marco Consani (Garscube H) fifth, Paul Giblin (Paisley) seventh.
2014 – Paul Giblin third; Rosie Bell (Strathaven Striders) sixth. She ran ultras for Scotland three times.
2015 – Ross Houston (Central AC) first (and UK Champion) in a record event time of 6.43.35; Rosie Bell second – and won the Women's Team Title with Charlotte Black fourth.
2016 – Rob Turner (EAC) third (and Scottish Champion); Sophie Mullins (Fife AC) third (and Scottish Champion).
2017 – David McLure (Johnny Walker Kilmarnock Harriers) third (and Scottish Champion); Rosie Bell fifth (and Scottish Champion).
2018 – Rob Turner first (Scottish and UK Champion); Scotland won the Men's Team Title: Turner first, David McLure fourth, Dave Ward (HBT) fifth.
2019 – Rob Turner second in the UK championship (and won the Scottish). His team-mate Kyle Greig (Metro Aberdeen and Forres Harriers – the Scottish Ultra-Trail Champion), was third in the UK championship and second in the Scottish.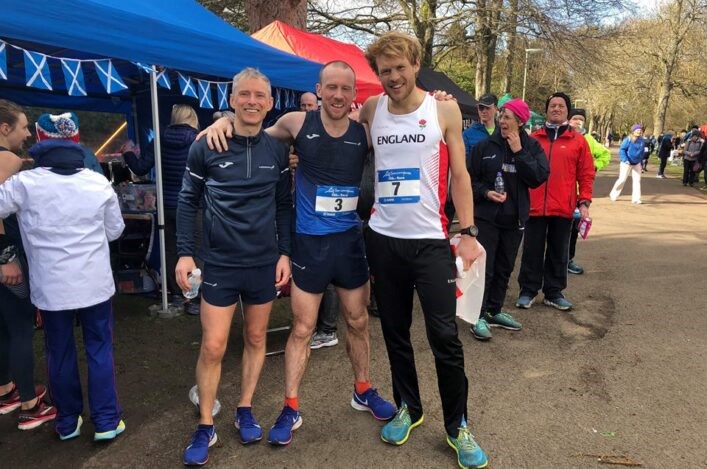 Left to right: Rob Turner, Kyle Greig, Charlie Harpur (England), who won the British title.
Sophie Mullins (Fife AC) became the very first Scottish woman to win the Anglo-Celtic Plate (along with UK and Scottish titles).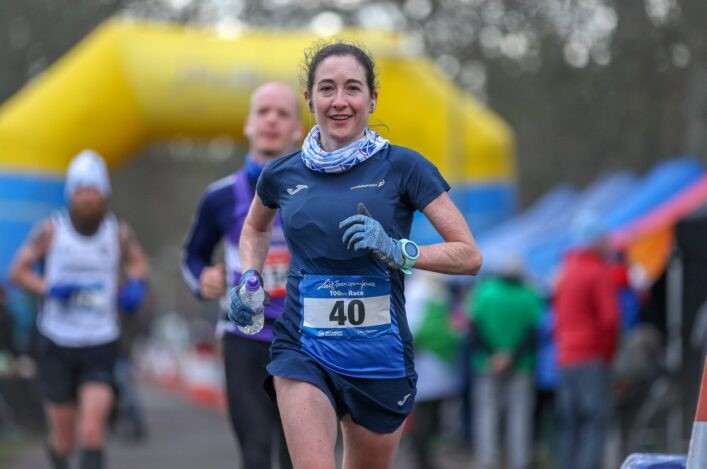 Sophie Mullins
The Scottish women were clear winners of the team competition ahead of England and Northern Ireland & Ulster. (Sophie Mullins, Morgan Windram [Fife AC] 2nd, Jo Murphy [Carnegie H) 3rd and Lynne Allen [Kirkintilloch Olympians] 4th.)
Turner and Mullins in claiming the Scottish titles also became the first winners of the Don Ritchie Trophies. The two cups were awarded to celebrate the pioneering ultra distance exploits of the legendary Scot who passed away last year and on Sunday were presented by Isobel Ritchie, Don's wife.
(N.B. Pauline Walker (Carnegie Harriers) ran ultras for Scotland six times.)
ANGLO-CELTIC PLATE 2021 REPORT
The Mondello motor race track, in Co Kildare just west of Dublin, was the venue for the Anglo-Celtic Plate, the annual Home Countries 100k International on Saturday 22 August 2021.
And it was to become a field of dreams for our Scottish ultra-runners – and a very special venue in the history of Metro Aberdeen Running Club in particular.
The event was preceded with a short tribute and a moment's silence and spontaneous applause in memory of Norman Wilson, a key figure in the Anglo-Celtic Plate organisation and in ultra-running in Great Britain over many years.
Chris Richardson, Jason Kelly and Kyle Greig all members of Metro Aberdeen took a clean sweep of the medals and with it the men's Anglo-Celtic Plate for Scotland.
The three North East based runners along with Rob Turner (Musselburgh) held back off the early pace sticking to their own schedules.
When the early leaders eventually faded it was Kelly who took the lead at 70km with Richardson moving into second. Greig was well placed in seventh at that stage.
From 80-90 km the two Aberdeen runners traded the lead until 95 km when Kelly, suffering from cramps, fell behind. Richardson went on to take the win in 7:00:49, with Kelly hanging on for 2nd in 7:05:15.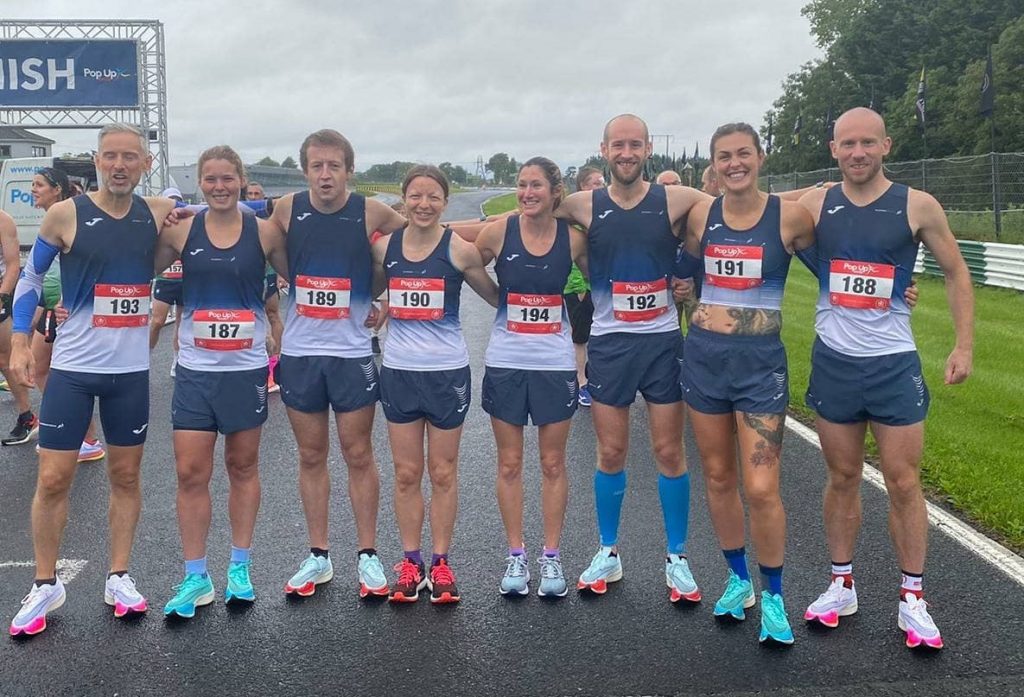 Both were running their first 100 km races and their times take them to 7th and 9th respectively in the Men's Scottish all-time lists.
The more experienced Kyle Greig had a really strong last 20k to move up the field and clinch third in 7:07:07.
Even with the absence of teams from England, who earlier in the summer, made the decision not to send any teams outside the UK for the summer, it was a memorable and worthy Scotland 1-2-3 securing them the Men's Plate comfortably from Ireland.
Chris said: 'All four of us had plans to aim for sub seven hours. It was very humid though, and the thunderstorm around five hours in made things interesting for a while.
'Jason and I really helped push each other the last couple of hours. Although I really faded those last few laps just missing the seven hours, I was really happy to take the win and also help us land the Plate for Scotland.'
In the women's race Irish Marathon International Catriona Jennings, led from the start with England's experienced Sam Amend in pursuit. Amend had made the trip as an individual, to compete in the open race.
Jo Murphy, currently without a club, and who always seems to have a smile on her face, ran her own race some way back.
When Amend faded slightly around 40-45 miles, the Fife-based athlete moved up to second and with a sub eight-hour performance now looking likely, powered on, even making inroads into Jennings lead.
Jennings held her own form well though to record an excellent 7:43:01. Her time bettering Helen Crossan's 7:52:45 from 2007.
Murphy, improving her time from Perth in 2019 by over 30 minutes, recorded an excellent 7:50:58.
This moves her to fourth in the women's Scottish all-time list with only World 100k championship medallists Ellie Greenwood, Jo Zakrzewski and Trudi Thompson ahead of her.
She was backed up by debutantes Nikki Gibson (EAC) 8:44:46, now 13th female on the Scottish all-time list and Alison McGill (Fife AC) who despite having a challenging race, hung in well to help finish a team in 9:33:35.
The Ireland ladies team won the women's Anglo Celtic Plate for the first time in a close contest, with Scotland second.
Murphy said: 'I can't believe how well that went. It was certainly tough at times but everything fell into place for this one and wearing that Scotland vest just keeps you smiling.
'The support and camaraderie from the whole team was awesome.'
The race also doubled as the Scottish 100k championships and the Don Ritchie trophies, which honour Scotland's greatest ultra-runner. These are now awarded annually to the Scottish Champions and were won by Murphy and Richardson.
With thanks to Adrian Stott and Debbie Martin-Consani
Note that Adrian Stott's 'History and all-time results for Anglo-Celtic Plate 100km Event', is available to download online. Many Scottish ultra-marathoners, male and female, ran very well in this annual Home Countries International contest.
(N.B, Adrian Tarit Stott (Sri Chinmoy AC) is based in Edinburgh, and has competed for Great Britain in World and European 24 hour Championships, has done an incredible amount for Scottish and British Ultra-Distance Running. He has run the West Highland Way race 15 times, which equals the record. (Do go to West Highland Way Race History to discover a great website, featuring many top Scottish ultra trail racers). In 2018, Adrian was presented with the Tom Stillie Award, which is given to the person who has contributed the most to Scottish Athletics each year.)