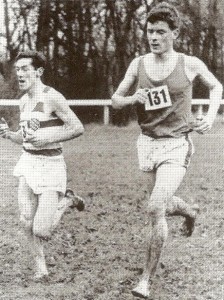 Fergus (131) with Lachie Stewart in the National at Hamilton
"Scottish Athletics", by John W. Keddie, was the official history of the SAAA in time for the centenary in 1983. Fergus Murray features prominently in the following extracts. He actually started running with Dundee Hawkhill Harriers in 1960, encouraged by the enthusiasm shown by Alistair Barrie. While at Dundee High School, he won the Scottish Schools mile in 1961, in 4 minutes 27.1 seconds.
"In 1963 a promising young distance runner emerged in Edinburgh University student Alistair Fergus Murray (born in Dundee on 11th September, 1942). Early that year he won the Scottish Junior cross-country championship. On the track he won the East of Scotland (14minutes 7.6 seconds) and SAAA (14.1.6) 3 mile titles, before giving a glimpse of his potential with a marvellous 13.32.6 clocking in placing 4th in the annual BUSF (British Universities Sports Federation) versus AAA versus Combined Services Triangular at Portsmouth on 20th July.
The following season in 1964, after winning the first of three successive Scottish Senior cross-country titles, he retained his SAAA 3 mile title (13.47.8) and really made a breakthrough at the AAA championships by placing 5th in the three miles with 13.29.2 – the best ever by a Scot. It was as a result of this performance that eleven days later – on 22nd July, at Helsinki – he was called in as a last-minute replacement for injured Mike Wiggs in the GB versus Finland contest 5000m. To his own surprise as much as anyone else's he won the race decisively from Bruce Tulloh in a superb 13.49.0, fourth fastest ever by a UK athlete at that time. These performances, together with some fine runs over 6 miles/10,000m, clinched his selection for the 10,000m at the Tokyo Olympics later that year."
"It was over 10 miles on the track that Fergus Murray first showed his real potential as a long distance runner of class. In April 1964 he placed second in the AAA championships, in which he was pulled to a marvellous 48.41 (29.33.8 at 10,000m) behind Mel Batty, whose 47.26.8 constituted a world record. That performance augured well for the young Edinburgh University student in Olympic year. His attention was mainly focused on 3 miles/5000m, but after his ten miles effort he was selected for the 10,000m at Tokyo in October, and this decision was justified by his fine run for Britain versus Poland on his 22nd birthday (11th September, when he was second in 29.10.4). Unfortunately a heavy cold prevented him running to his full potential in Tokyo and he could only finish 22nd(30.22.4)."
"In May 1965, in perfect conditions for distance running, Fergus Murray treated an enthusiastic Edinburgh crowd at the East of Scotland championships to a marvellous exhibition of solo running over three miles at New Meadowbank, when he broke the Scottish All-Comers' and Native records with a magnificent 13.25.4 (intermediate mile times of 4.24, 4.28 and 4.33). But even this was eclipsed by his run in an amazing AAA event on 10th July, in which the great Australian Ron Clarke became the first man to run the distance in under 13 minutes with a time of 12.52.4. In sixth place, Fergus Murray recorded a personal best time of 13.21.2; and exactly four weeks later, in the Triangular at Portsmouth, excelled even his AAA performance with a fine win in 13.19.0, ever to remain his best for the distance. Perhaps his best individual performance, however, was a third place in the 5000m at the Universiade in Budapest in August 1965, with 13.52.6. Murray, who trained very hard on a high mileage" had a cartilage removed in August 1966, which resulted in a temporary set-back but at Oxford University thereafter, Murray had a very successful season.
"Fergus Murray developed into a fine marathon runner. Less than a year after Jim Alder had become the first Scot to break the 2.20 mark with 2.17.46 for third in the AAA marathon, 1965 witnessed the first sub 2.20 marathon in Scotland when in the Shettleston Marathon on 15th May, Fergus Murray, who was making his debut at the classic distance, won in 2.18.30 from Alastair Wood (2.19.03)." After graduating from Edinburgh University with a BSc in science and spending a year doing post-graduate work, Fergus completed a Dip Ed at Oxford University during 1966-67. The O.U. cross-country and track 'Blues' teams would have been delighted to recruit such a talented athlete. Alistair Blamire remembers Fergus coming to watch Edinburgh University win the BUSF cross-country team prize at Parliament Hill Fields in 1967. Fergus was wearing a felt trilby hat – very Oxbridge, Alistair thought!
"In 1967, Fergus Murray had a good season over the longer distances. Early in the year he again placed second in the AAA 10 miles, this time to Dr Ron Hill (Bolton United Harriers). Murray's superb time of 47.45.2 – 6.6 seconds behind Hill – was the fastest by a Scot. Later in the year he reduced his best six mile time to 27.42.96 when placing 6th in the AAA race." "In 1967 Fergus Murray (Oxford University AC) won the famous Polytechnic Marathon from Windsor to Chiswick in 2.19.06." During the week following this long but apparently not exhausting race, he won the 2 miles for Oxford/Cambridge v Harvard/Yale at the White City in 8.44.0; came 4th in a 2 miles in Reading in 8.38.8; and won the BUSF 6 miles on the Saturday in 28.38.2!
"The 1970 Scottish Marathon Championship was a very exciting race over the course for the Edinburgh Commonwealth Games. On the 6th of June no fewer than six athletes (five Scots) clocked under 2.20 – certainly the greatest in-depth marathon in Scotland up till then. In the end Jim Alder (2.17.11) won by a mere three seconds from Donald Macgregor, with Fergus Murray third (2.18.25), England's Barry Wood fourth, Alastair Wood fifth (2.19.17) and Alastair Johnston (Victoria Park AC) sixth in 2.19.31."
"The three Scottish representatives ran wonderfully well in the Commonwealth Games marathon, in which they all set personal bests. England's Ron Hill won as he pleased, in a brilliant 2.09.28, with Jim Alder second in 2.12.04. Fergus Murray (2.15.32) finished 7th, one place in front of Donald Macgregor (2.16.53)." That is the SAAA version, summing up Fergus's running career. Track omissions include: another win (13.46) in the 1966 SAAA 3 miles; first places in the SAAA 6 miles in 1964 (29.05.2) and 1965 (28.33.4); and a gold medal in the very first SAAA 10,000m (29.34.2) in 1969.
For more detail on Fergus Murray's cross-country successes, the best source is Colin Shields' Centenary History of the SCCU, published in 1990. Selected extracts are below. (All Fergus's Scottish CC titles were won at Hamilton Park Racecourse, where in 1966 he raced in bare feet to defeat Lachie Stewart!) "On 23rd February 1963, Fergus Murray, a first year student at Edinburgh University, who had previously won the Nigel Barge road race, won the Junior title as he liked – winning by over a minute from Mike Ryan (St Modans, who won Olympic bronze for New Zealand in 1968), with Alec Brown third and Lachie Stewart (who won gold in the 1970 Commonwealth Games 10,000m) fourth. Murray led Edinburgh University to the Junior team title, the first of three consecutive Junior team wins (1963-65) and 3 Senior team wins (1966-68) in a six year period when Edinburgh University runners dominated Scottish cross country and road running with a staggering series of wins thanks to punishing training schedules that developed talent to its fullest potential."
"In 1964, Fergus Murray, after winning the British Universities championship in Nottingham (in a dead heat with Mike Turner) and finishing a close third in the Martini International 6 mile race at Brussels, behind Gaston Roelants (International CC champion) and Derek Graham (Northern Ireland), lined up with confidence for the National Senior championship race, representing Dundee Hawkhill Harriers. Racing over a heavy 7 and a half mile of racecourse turf, Murray trounced three former National champions. His great strength and speed proved decisive, giving him a 39 second margin of victory over Jim Alder, with Alastair Wood third, a further 22 seconds behind, but 4 seconds in front of Andy Brown." "Murray retained his National CC title in 1965 with a solo run. In an unrelenting mood, Murray set off at a gallop from the start, and by two miles had opened up a gap from the following group of Andy Brown, Lachie Stewart and Jim Alder. Alder set off in pursuit of the leader at 3 miles but made no impression on the flying Murray, who eventually won by 24 seconds from Alder, with Stewart a further 11 seconds behind and Brown fourth."
"In 1966, Murray and his Edinburgh University team-mates were in impressive form at the National CC championships at Hamilton Racecourse, where the trail was now, of necessity, confined to the actual race track inside the boundaries of the ground, with no entry to the rough country by the riverside. Murray, Stewart and John Linaker (Pitreavie) ran together for 4 miles, but then Murray turned on the pressure, increasing his pace to find little reaction from his rivals. He established a lead and, with an impressive display of stamina on a heavy, muddy course, proved he was at his best when running on his own. He won by 70 yards from Stewart, the Inter-Counties winner, with Jim Alder making a late run for the tape, which took him into third position, ahead of John Linaker. Edinburgh University packed their six men into the first twenty-one home, to win the National Team Championship for the very first time. Such was the enormous margin of their victory that they had their entire team home before runners-up Victoria Park had their first man, who finished in 22nd position. This outstanding performance allowed the students to record a 109 points margin of victory – the largest ever recorded in the history of the event.
Fergus Murray's third triumph in a row was only the fifth time that an athlete had achieved this success in the 81-year history of the championships."
Although Fergus ran for Scotland in the International CC Championships four times (1964, 65, 66 and 69), Colin Shields suggests that he tended not to run to his full potential in the event. His best run was in 1969 (after finishing second in the Scottish National) when Fergus did very well (23rd) in front of a home crowd over a hilly, testing course at Dalmuir Park, Clydebank. Ian McCafferty was a brilliant 3rd, Lachie Stewart was 20th, and the Scottish team ended up a good 5th from the 13 nations taking part. Alistair Blamire reckons that Fergus did very well that day since there weren't any hurdles, unlike in previous international cross-country championships.
Even after Fergus Murray's peak, he continued to produce good team performances in the National CC. He was in ESH teams that won gold in 1969 and 1970; silver in 1971 and 1976; and bronze in 1973.
On the roads, Fergus was first of all an inspiration to his University team-mates; and later on a thoroughly reliable senior athlete in championship races. This is best exemplified if one examines his record in the Edinburgh to Glasgow Relay.
In 1963 he was fastest on Stage Two, traditionally reserved for speedy track men. In 1964 he repeated this performance and EU finished second. 1965 saw EU's outstanding record-breaking 3.36.32 victory, with Fergus's 31.07 record on Stage Six the finest individual performance of the day. Edinburgh University went on to win again in 1966 and 1967, without their leader but undoubtedly benefiting from the training regime he had set in place.
Fergus started 1968 in fine form, winning the renowned Morpeth to Newcastle road race on New Year's day, by forty yards from local hero Jim Alder. Later that year, after his marriage, Fergus retired for six months from racing. However he was fit again by late 1969, when Edinburgh Southern Harriers won the E to G, with Fergus (second fastest) battling to hold off Shettleston's Lachie Stewart on Stage 6, before the last two ESH runners moved well clear. 1970's race ended up with silver for ESH, with Fergus only one second behind National CC champion Dick Wedlock's fastest time on Stage 2. Bronze team medals were won in 1971 and 1972, before ESH won again in 1973, with Fergus fastest, this time on Stage 4. In 1975 he ran Stage 7 during his team's excellent new record victory (3.33.52). 1975 also featured one of Edinburgh Southern Harriers' greatest performances: a silver medal in the AAA 12 stage relay and Fergus played his part well. Not far in front were Brendan Foster's Gateshead Harriers and not far behind another great club, Coventry Godiva Harriers. No Scottish club has ever done as well as the 1975 ESH team in this extremely prestigious event.
Even when Fergus Murray was working at Fettes College, training was still hard and extensive, but time to relax and retain mental energy as in student days, was no longer an available luxury. Yet a final team gold in the E to G was won in 1977, when he ran Stage One for ESH. Although Fettes College was very supportive, the demands of teaching at a boarding school were more testing than the relatively carefree days of university. These were the days before professional athletics. Fergus would not have wished it otherwise, since that era gave a lot of joy and created lifelong friendships.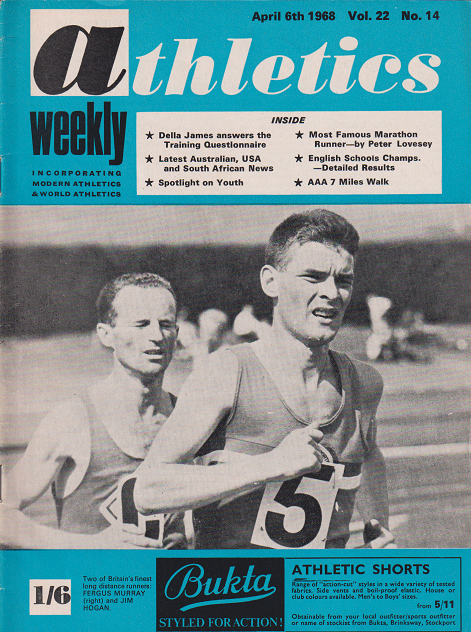 His marathon career was brief but very successful, starting with victories in the Shettleston Marathon (2.18.30 in 1965) and the Polytechnic Marathon (2.19.06 in 1967). However Fergus really concentrated on the event during the 1970 Edinburgh Commonwealth Games year. At five days notice, he travelled to Japan and on the 8th of February finished second (2.18.04) in a top-class international field in the Kyoto Marathon. On May 16th he qualified for the Scottish CG team fairly comfortably (third in the SAAA marathon in 2.18.25); and he peaked extremely well to break his personal best for seventh place (2.15.32) in the wonderful Commonwealth Games marathon on 23rd July. Fergus also ran the classic Marathon to Athens event in April 1971, finishing 4th in 2.25.04, with Don Macgregor 5th, over an extremely hard course.
Fergus retired from teaching in 1995 and put his running fitness to good use, instructing and guiding mountaineering and climbing in the UK and Europe, finally retiring in 2007, depressed about a series of multiple shoulder dislocations. He still enjoys running enough to keep fit and possesses a set of bound copies of 'Athletics Weekly' (from July 1960 to December 1974), which thoroughly document the era when he raced so successfully.
Perhaps the most fascinating aspect of Fergus Murray's outstanding athletic career was his influence on other runners, especially through his residence at 'The Zoo'.
For his first two years at Edinburgh, Fergus shared a room in a flat in Mayfield Terrace with Chris Elson, run by very kindly landladies, Molly and Ena Cameron. Chris came from Rotherham AC and brought with him inspiring ideas about training, from club-mate Alan Simpson, a brave and whole-hearted athlete who went on to finish 4th, only one-tenth of a second from a medal, in the 1964 Olympic 1500m. Simpson also set a UK mile record of 4.55.7. These training ideas made a great impression on the Edinburgh University team, leading to their years of ascendancy in the 1960s. Professor Neil Campbell, who in his youth as an EU quarter-miler had often competed against the great Eric Liddell, was a great supporter of the club for many years, both before and after the 1960s. Sunday mornings saw a group meet up outside the Geology Department. They stripped off their tracksuits and left for a 21 mile run through the Pentlands – no worry in those days of kit being stolen.
Alistair Matson, studying Law, was instrumental in arranging the large house at 27 Morningside Drive, in October 1965, where 6 runners lived for the next 3 years until the property was sold. At one time or another, runners living there included Fergus Murray, Alistair Matson, John Meldrum, Brian Covell, Dave Logue, John Bryant and Alex Wight, whose brother Jim lived nearby as well. Others, such as Donald Macgregor, Alistair Blamire and Gareth Bryan-Jones, came along in time for the long Sunday run or a series of faster sessions including repetitions and fartlek. On the kitchen wall was a chart recording the inhabitants' weekly mileage and woe betide anyone slipping, on pain of being sent out to get in a few more miles! (Alastair Blamire remembers that John Meldrum, who was a medical student and more of a recreational runner, didn't train anything like as hard as the others. The idea was for 'The Zoo' to train 600 miles each week. One Saturday night, John came back at 11.30 p.m. from a night out, and wrote only 15 miles in his slot, bringing the grand total to 597 miles. Poor John was immediately ordered out on the road by some fanatic who had stayed in, to rest for the Sunday 21! There is another story about Alex Wight, a very promising marathon runner, having been on a course one week. Unable to train as much as he wanted, he came back one Saturday night and went out for a 15 mile-run! History does not relate which week these miles counted in….)
Studies were not neglected, however, as everyone graduated, with some going on to professorships or substantial roles in business. So strong did the Edinburgh Hare and Hounds club (The Haries) become, that on at least one occasion at the Scottish Universities cross-country championship, they had all the first team athletes home before the first runner from another university; plus seven out of the first eight in the 'B' team race! A real highlight came in February 1966, when they won the Hyde Park Relay, which was a highly prestigious race for university teams in the UK. They went on to retain it for the next two years.
Alistair Blamire recalls that Fergus always did the Sunday 21 and also followed the ideas of the great coach Arthur Lydiard. On one occasion, Alastair bumped into Fergus one Wednesday, and he was already up to 75 miles that week. However, he could be secretive about some of his training, not so much with his club-mates, but with rival runners elsewhere, just in case Andy Brown or Ian McCafferty or Lachie Stewart got wind of what he was up to. Alastair got a terrible telling-off when he spilt the beans to (Shettleston runner) Henry Morrison on one occasion.
Certain EU runners had nicknames: Martin Craven was 'the Crab'; Chris Elson 'the Bear'; Alistair Matson 'the Bomb'; Roger Young 'Bodger'. However Fergus was always 'the Beast', presumably because of his ferocious appetite for hard, hundred-mile training weeks. He was the role model; and his dedication and great achievements were emulated by a succession of extremely good Scottish distance runners. If only 'The Zoo' could be cloned in every Scottish city nowadays!
His old friend, rival and training companion, Donald Macgregor, remembers that Fergus in his dominant early prime "was very determined and stood no nonsense from others. For example, once when Sandy Cameron opened up a lead on the Sunday run, Fergus called to him "See you back at the house", which had the effect of stopping Sandy in his tracks. If you were due to train with him, and wanted to call off, you had to let him know beforehand or you were in trouble! He trained very, very hard and was outstandingly consistent, especially on track or road."
Alistair Blamire was a very fine athlete himself, who certainly considers Fergus Murray as a major influence. Alistair was twice a close second in the Scottish Senior cross-country championships; and in 1971, he finished 11th and first counter in the marvellous Shettleston Harriers team that shocked the Sassenachs, when they won the English National! He represented Scotland in the ICCU Championship once as a Junior and four times as a Senior; plus once in the IAAF World Cross-Country Championships. On the track he specialised in the 3000m Steeplechase, winning the Scottish title in 1972, setting a Scottish Native record, and representing GB, with a personal best of 8.41.4.
Alistair Blamire remembers that he was a keen follower of athletics while still at school, so Fergus was "a bit (I underestimate) of a hero before I met him. Imagine my 'Fresher' excitement when he stopped to talk to me when he was out for a run one day! It wasn't a coincidence that Edinburgh University had the successes they had when he was there, and for several years after. He was truly 'The Beast' when it came to training, but everyone found their own level, based on mileage and fartlek. When he was captain of the 'Haries' he produced a wee booklet about training, diet, kit etc – all very innovative. I tried the same thing when I was captain a few years later, and was accused by some so-called runners of forcing them to train too hard! I trained with Fergus once a week later on, and they were always the hardest session I ever did, even though he was probably a little past his peak by then. These sessions were too hard really, but on has one's pride. For example, at his house, Fergus provided a lunch of tinned stew and potatoes (no veg.); and then insisted on a brutally-tough ten mile run round the Braid Hills! I always felt that Fergus had an, almost mocking, edge over me, and it was a great relief when he wasn't in the mood from time to time, and I could go at my own pace (while pretending to run as hard as usual)."
In conclusion, Fergus remembers the 1960s as giving great enjoyment, and considers that EU training sessions, while hard were not competitive, with in-built sensitivity to the likelihood that club-mates could well be tired from a session earlier that day or the day before. Fergus's three summers with Ilford AC greatly helped track performances. He stayed with the parents of Dennis Plater, who also went on to represent GB at the marathon. Work at Fettes did not impinge too much on training but the freedom offered earlier was a thing of the past. The mental effort of hard training, and the realisation that a peak had been reached by the early 1970s, concluded in his development of a wider life-style. Running continued, but a developing enthusiasm for climbing and mountaineering fitted in with absorbing work at a boarding school. This offered a great deal of enjoyment, without the rigours of a demanding training schedule.
Fergus thinks that the highlights included travel, when this was not commonplace, to: Eastern Bloc countries; Japan (3 times); Puerto Rico; Jamaica; Canada; and all Western European countries. Friends from those days were very important and there was never any animosity. They have all stayed in touch and meet up from time to time. The club system then was very strong indeed, and Fergus wonders about the modern era of professionalism. Back then, they never looked upon running as a career, and while having a professional running career nowadays may be okay for an extremely small, very successful number of athletes, he believes that others ought to develop a working career for proper fulfilment.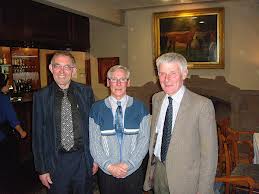 Three Olympians: Don Macgregor, Lachie Stewart and Fergus Murray at a reunion in April 2012
Fergus Murray – Marathon Career Record
| | | | | | |
| --- | --- | --- | --- | --- | --- |
| No | Date | Venue | Position | Time | Winner (Club) Time |
| 1 | 15 May 1965 | Shettleston | 1 | 2:18:30 | |
| 2 | 10 June 1967 | Windsor – Chiswick | 1 | 2:19:06 | |
| 3 | 08 February 1970 | Kyoto (JAP) | 2 | 2:18:04 | Kokichi Uchino (Japan) 2:16:55 |
| 4 | 16 May 1970 | Edinburgh (SAAA) | 3 | 2:18:25 | Jim Alder (Morpeth) 2:17:11 |
| 5 | 23 July 1970 | Edinburgh (Comm) | 7 | 2:15:32 | Ron Hill (England) 2:09:28 |
| 6 | 23 August 1970 | Toronto (CAN) | DNF | | Jack Foster (New Zealand) 2:16:23 |
| 7 | 06 April 1971 | Athens (GRE) | 4 | 2:25:05 | Akio Usami (Japan) 2:19:25 |