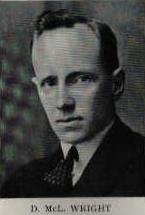 Duncan McLeod Wright was one of the most successful marathon runners that Britain, never mind just Scotland, has ever produced. He ran in three Olympic Games (1924, 1928 and 1932), two Empire and Commonwealth Games (1930 and 1934 winning one gold and one bronze medal), two British Marathon Championships (there was no Scottish Marathon Championship at the time), won the Poly Marathon twice (1924 and 1934) which was the top UK marathon at the time and the Sporting Chronicle Marathon in Manchester twice (1924 and 1925). This latter was better known to runners in the 1980's as the Maxol Marathon. As well as that he won the Scottish Cross Country Championships four times (1923, 1924, 1925 and 1927) and competed in the International Cross Country Championships eleven times. There were many minor successes and he had several seconds and thirds in major races as well but there is no doubt about the quality of this athlete. He started with Clydesdale Harriers in 1917 and won four international cross country vests and one cross country championships (1923) before moving to Shettleston where he won two more and several winning team medals and then he set up his own club called Caledonia AC (colours black and white hoops a la Queens Park FC) subsidised by Sans Unkles the Glasgow fishmonger. It didn't work too well and after a year he joined Maryhill Harriers where he spent the remainder of his running days as part of the superb team there with Donald MacNab Robertson, John Emmett Farrell, Gordon Porteous, Andy Burnside and several others. After his running days were over he worked for the sport as an official for longer than any other international athlete that I can think of – a founder member of the Scottish Marathon Club who was attending meetings up until a month before his death, coaching supremo for many years, Scottish team manager at several major Games (the mascot of the Scottish team at the most successful of all Commonwealth teams in 1970 was called Dunky Dick – Dunky for Dunky the team manager and Dick for Frank Dick, the team coach) and a member of several influential SAAA Committees. He was always a 'runners man' unlike many who go to the ranks of administrators and switch their allegiance to their new career. One of the smallest of men physically his stature in Scottish athletics is considerable and an involvement in the sport from 1917 to 1976.
AS AN ATHLETE
His first marathon was in 1923 and went from Fyvie to Aberdeen. At the Clydesdale Harriers 90th Anniversary dinner in 1975 he reported that his coach had told him to get to the front early on, let no one pass him and he would win! So he did that. He also said that at about four miles or so to the finish a farmer gave a him a wee glass of brandy as a pick-me-up and it had the reverse effect on him. I quote from "A Hardy Breed": 'The first official race over the distance was held over a course from Fyvie Castle to Aberdeen in April 1923. The decision to hold the race was inspired by the hope that it might 'reveal obscure talent capable of representing Great Britain at the following year's Olympic Games in Paris.' The talent that it did reveal was that of Clydesdale Harrier Dunky Wright who would, 23 years later take part in the inaugural Scottish Marathon Championship. Wright won by the narrowest of margins. The experienced cross country champion held a big lead at twenty miles but then hit the wall and was almost caught by local man Jim Ronaldson in the closing stages. Wright gouged out a victory in 3:13:12.4 with Ronaldson just 37 seconds adrift.'
1924 was his first season of serious marathon running and he had two very good victories in the major events in the country, the Polytechnic Harriers Marathon which he won by 26 seconds from top English runner Sam Ferris in 2:53:18 and the 'Sporting Chronicle' marathon in Manchester in 2:34:25. The story is that he is said not to have run the full distance – the race was run in heavy rain and several officials left their posts and as a result several runners cut the course. He was however selected for the Olympic Marathon which was only the second Olympic marathon to use the standard 26 miles 385 yards distance. After the 1908 Olympics in London the Polytechnic Marathon had used this distance as standard and it was largely due to the prestige of the Poly Marathon that the distance we use today was adopted in 1921 as the official marathon distance by the IAAF. In this, his first race in the big time, he was one the 28 who dropped out. The heat had been so intense that the start was delayed for two hours until 5:23 pm but the heat still took its toll – Dunky came out at 20 miles. Who were his fellow Olympians apart from the Brits? Well Paavo Nurmi took part, Willi Ritola, Edwin Wide among the endurance men and – Johnny Weissmuller who was to be the best known screen Tarzan was also there winning gold!
In 1925 he again won the Manchester race, this time in 2:44:7.8 but his next successes were in 1928 when he was again selected for the Olympics. One of the best known in the race he finished twentieth in 2:45:30. Earlier in the year he had won the AAA's championship in 2:38:29.4. In 1929 he retained his AAA's title in 2:49:54.2 but it was in 1930 that his great triumph occurred. The first Empire Games Marathon was held in Hamilton, Ontario in Canada and he won fairly comfortably. His third Olympic marathon vest was won in 1932 an resulted in the closest ever Olympic marathon with four finishers on the track at the same time. He had however lost his AAA's title before that. After the 26 miles of the race Wright and his Maryhill Harriers team mate Donald Robertson entered the track at the White City Stadium together with Robertson winning by 1.4 seconds. Robertson could not go to the Olympics because of work and family commitments and Dunky Wright and Sam Ferris were the GB representatives in Los Angeles. They had both run in the Olympics before and this time prepared especially carefully and were fairly optimistic about their chances – they were probably the two best known competitors in the race. The race had 28 runners when it was run on 7th August 1932. Zabala of the Argentine led out of the Stadium and held it for almost the first 20 miles of the race when Virtanen of Finland took over and reached 20 miles in 1:50 with fellow Finn Toivonen two minutes back and Wright another minute behind. Virtanen dropped out with a foot injury and Dunky was in the lead when the Stadium came in sight a full minute ahead of Zabala. Dunky was now being hunted down by Zabala, Ferris and Toivonen but if he could hang on the race was his. Unfortunately a wee twinge in his right thigh slowed him slightly and all four were together going into the last mile. All were on the track at the same time and they finished Zabala (2:31:36) first, Ferris second 19 seconds behind, Toivonen third in 2:32:12 and Wright fourth in 2:32:42. Dunky was to say later that "The one thing I regret is not winning at Los Angeles. I finished quite fresh and the winner went to hospital."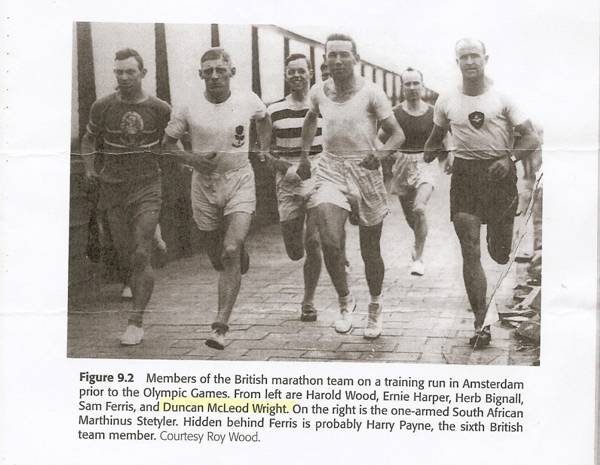 A Group of famous British Marathon Runners at the 1928 Olympics.
His only other major win after that was the Poly marathon in 1934, ten years after his first triumph there in 2:56:30. Later that year he ran in the Empire Games Marathon in London and was third with Robertson second. After that run he said that it would be his last race. He did however run in the first ever Scottish Marathon Championship in 1946 just short of his fiftieth birthday and finished second to – yes, Donald McNab Robertson! It was fitting that he should run in the event because he had been such an inspirational runner through the inter-war years and had been a founder member of the Scottish Marathon Club when it was set up in 1944 and it was through the club's efforts that the SAAA had a marathon championship in the first place.
After all that it is appropriate to have a look at what sort of training he and his contemporaries did. In an interview with Don McGregor in 1975 (published in 'Athletics Weekly' on 10th October 1976) he gave the following details: "On weekday evenings they trained as a group from the Maryhill Baths in Gairbraid Avenue. A five on Monday, a six on Tuesday, five on Wednesday, on Thursday a faster five, on Saturday a seven if we had no race. We didn't train as fast you do now but averaged six minutes to the mile. We did pack runs with six or more running and changes of leader all the time." I have to say here that I wonder if that was all there was to it or if some extra sessions were put in from time to time. After all McNab Robertson is said to have been the first Scot to do 100 miles per week with four 20 milers plus one of 25 every week. If Dunky was holding him all the way in a marathon and losing out be less than two seconds then surely he had more work going in than steady five milers as outlined above?
The answer is probably contained in one of my favourite road running reference books, 'A Hardy Race' by Colin Youngson and Fraser Clyne. They tell of the difficulties of getting kit, etc in the post war years and how Dunky got round this for members of Maryhill Harriers before going on to say "Training was usually about thirty miles a week. They ran from Maryhill Baths on Tuesdays and Thursdays – about seven miles a night. There might be a fast pack and a slow pack, each one with a Pacer and a Whip. On Saturdays if there was no race a pack of runners might cover fifteen or even eighteen miles of road and country followed by tea, buns and a sing song. An alternative was some serious hiking. John Emmett Farrell sais that the National Cross Country distance of nine miles suited him because it was a perfect balance of speed and stamina. He didn't add that it was about half the distance he covered on Saturdays." This gives us three days training out of seven possible and the total of the three days was 32 miles. I would have expected men such as Dunky, Emmett Farrell and company to have done something on at least two other days bringing the total up nearer 50 miles a week. The long hike was a staple for many athletes at the time – Harriers used to meet up early on a Sunday morning in the 1930's and go for walks such as round the Three Lochs which is currently regarded as a bus tour by such as Lochs and Glens, Wallace Arnold and company!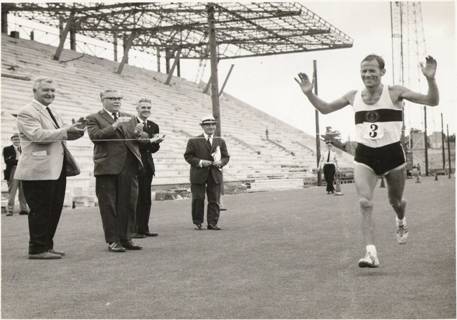 Dunky fourth from the left at the 1969 marathon finish.
AS AN OFFICIAL
So that's Dunky as a runner how about Dunky as an official? He was a fixture on the SAAA General Committee being President in 1959 and Secretary of the West District Committee from 1948 – 57. He was responsible at one time for Coaching and Coach Education and when I did my first Coaching Course in 1961, Dunky was the organiser. As already pointed out he was Team Manager for several Scottish teams and not surprisingly his main interest was the marathon. Not ever an aloof official he was into the dressing rooms congratulating winners and others as well. He really was a runners man.
However in the space for club affiliation on the lists of Past Presidents and Past Secretaries, etc, the words 'Scottish Marathon Club' appear after his name. With Jimmy Scott in particular, Dunky was the mainspring of a very good Committee of the club which had been set up to 'foster marathon running in Scotland'. Among its achievements were
The establishment of a Scottish Marathon Championship: Prior to the set up of the SMC there was no such thing as a Scottish Championship for the event with runners having to travel to the English races except for the odd one in Scotland, organised locally and often of doubtful distance.
An increase in the number of road races in the country: You only have to look at the annual fixture lists in the 40's and 50's to see the annual incremental rise in the number of events. You only have to look at the Minutes of the SMC to see how they made contact with any group organising a sports meeting or championship and asked them to put on a road race. Not only that they had a definite policy of getting a range of distances leading the runners up to the marathon.
A consequent increase in the number of participants. With races available all over the country at distances from 5 miles right up to 23 miles and also the marathon naturally there would be more participants. Committee Members came from all over the country and they all evangelised on behalf of the sport of road running. Pictures of road races with six or eight runners were originally not uncommon but the fields were soon counted in tens and then in twenties. All down to the SMC and not to the SAAA.
A rise in the standard of the event nationally. Self evident really – the more people doing something the more chance there is of a real talent coming through as did Dunky at Fyvie! And with that came the education in training methods and the sport developed further.
The Marathon Championship being part of the SAAA Track and Field Championship. The big one. Track and Field did not want to know. The marathon was the only internationally recognised event in the country not recognised at national championships. The progression was to have the championship established, then to have it start somewhere handy and finish at the Stadium while the Championships were going on and then, the Holy Grail, to start and finish at the Championships. The event had real status at last.
As an example of what he could do that most others couldn't, there was a discussion under 'Other Competent Business' at the Committee Meeting in May 1956 on the question of having a One Hour Track Race. I quote: "Mr Wright said it had been suggested that such race be organised by ourselves and VPAAC. In any case this could not be run as an attempt on record. Suitable venues would be either Ibrox or Helenvale. It would require to be on a weeknight and certainly before 6th June or it would interfere with the Marathon Championship. Mr Wright said that he would approach Scot Symon re Ibrox and 'The Daily Express' for prizes. The feeling of the meeting wa that this race, if held, should be handled by this club." Scot Symon was the Rangers FC manager at the time and not someone that just anyone could phone up – but them Duncan McLeod Wright was not just anyone.
AS A MAN
As a member of Clydesdale Harriers I was disappointed that he had left the club when he was President and club champion and when he had many friends in the club. What a difference it would have made to the club to have had Dunky running for us through the twenties and thirties. However having said that, I have nothing but admiration for him and all that he did for the sport. He was to be seen at all sorts of meetings and would turn up at a road race where he wasn't expected to be, he helped organise several meetings but maybe particularly the famous Cowal Highland Games athletics programme. For those younger brethren who never had the pleasure of running there, it was held in August at the time when football clubs were holding pre-season friendlies but there was always a crowd of 50,000 at Cowal. There was a short programme of events on the Friday night and a full programme of events on the Sunday with an invitation Two Miles Team race which often had an English club such as Saltwell or Longwood invited. To run on the track with guys like John Hillen, John McGrow and company was very good for your self esteem! He even persuaded them from time to time to have a one hour race and there was the famous one where Ian Binnie broke every Scottish record from two to ten miles en route to a top three of all time distance for the one hour run. Lachie Stewart won another and there is a tale, probably apocryphal, that among his prizes afterwards was big box of cigarettes! This was down to a lot of local people doing a grand job but Dunky provided the icing on the cake, using his name and his fame to get support from officialdom and to persuade athletes to turn out. At marathon races he was an ever present. He was so easy to speak to and get on with that it was a joy to have a chat with him. One of the things about Cowal was that you were entitled to claim expenses for your team in the invitation two miles. The claim form had to be counter signed by Dunky. So I approached him on one occasion, it is fair to say he had had a wee libation at the time, and gave him the completed form. I always get two blanks in case I make a mistake when filling it in and on this occasion there was a blank under the completed form. Dunky signed the top form and then slipped the bottom of the one below down far enough to expose the line for his signature and I checked him saying no, that was just a blank form. "Oh you made a mistake there, son," he said, "you could have claimed what you liked!"
As for Committee work, I can only say that when he died in August 1976 aged 80 he had attended every SMC Committee Meeting over the past year and at the one immediately before he had agreed to be the club's rep to the SAAA. And no one at any point ever felt that he was doing too much, he had boundless energy. We at Clydesdale Harriers were delighted when he presented the cup for a road race which is now the Dunky Wright Memorial Road Race held over 5K in March every year. There are other Dunky Wright Memorial Races but not many, if any, have a trophy donated by the man himself. I'll finish with the short obituary by Ron Marshall in the 'Glasgow Herald ' on 23rd August, 1976:
"Those of us who have frequented athletics meetings in Scotland for any length of time find it hard to imagine no Dunky Wright turning up at them. His death at the weekend at the age of 79 changed all that with stunning suddenness. Dunky's feats of marathon running I know only from the record books – Empire Games winner in 1930, three times an Olympian, winner of races the length of Britain from the half mile to the Classic marathon distance. He had I understand the instincts of the fighter who knew no meaning of the word defeat. In more recent years his was the smiling face among athletics press men. If you missed a result he had it.. If you wanted a first name Dunky knew it. Sometimes at the more dismal gatherings we endured he pawkily threatened to take on the plodders, a leg halfway over the railings. He had a justifiable pride in his fitness and dared anyone to treat him as an 80 year old."
Dunky Wright has been inducted into the Scottish Athletics Hall of Fame.