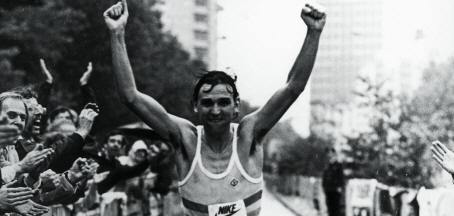 John is one of only two Scottish marathon men to be under 2:10 for the distance and his best of 2:09:28 is only 12 seconds outside Allister Hutton's national record. The picture is of him winning the Rotterdam Marathon and the article is by Colin Youngson and was written with John's co-operation and approval.
In 1974, seventeen-year-old John Graham, representing Motherwell YMCA Harriers, won the Scottish Cross-Country Union Youth Championship. Legend has it that he was already running a hundred miles per week in training. In fact he says that it might not have been quite as much, but that his coach Bert Mackay, the experienced Peter Duffy, and several young hopefuls made the local two-hour Sunday run an initiation ordeal, which he passed at the tender age of sixteen! He claims only to have 'hit the wall' once in his life! Bert Mackay encouraged him to try plenty of high quality interval training, and also to take pollen tablets for energy and resistance to infection.
John had been a footballer and also slightly asthmatic, so he took up running. Two early races he remembers were a two-second loss to Allister Hutton, his main Scottish marathon rival much later, in the British Boys Brigade cross-country at Ingliston in 1973; and an 'unofficial' 48.30 time in the Tom Scott 10 (minimum entry age 21) at seventeen. He went on to represent Scotland in the IAAF World Cross-Country Championships four times: once as a junior (1975); and thrice as a senior (1977, 1978 and 1980). Running for Clyde Valley AC, alongside such stars as Jim Brown, Ronnie MacDonald, Brian McSloy, Ian Gilmour and Peter Fox, he won Scottish team titles: the National Cross-Country Relay and the Edinburgh to Glasgow Relay. John always enjoyed running hard with a group of competitive clubmates like these.
Further proof of John's toughness was provided in 1978. He had always been good at jumping fences, but it was a considerable feat when he twice broke the Scottish Native Record for 3000 metres steeplechase, ending up with 8.39.3. He was selected for the Commonwealth Games in Edmonton, but unfortunately a virus prevented him from competing. However John is very philosophical about the downside of athletics.
John Graham moved to Birmingham in 1979. Representing Birchfield Harriers and advised by club secretary and coach Maurice Millington, he started his marathon running career in 1980. His debut was an extremely impressive 2.13.21 when he won the Laredo Marathon in Northern Spain. Even better was an excellent third place behind Alberto Salazar in the famous New York event (2.11.47), which was a Scottish best performance. He improved this record in 1981 when he won the Rotterdam Marathon in a startling 2.9.28 – a time then only beaten by six other athletes in history!
Although he hated repetitions longer than 600 metres (and the aversion might have stopped him running faster at 5k and 10k) he did a great deal of track work, as well as many hill reps in Sutton Park and, often wearing both a tracksuit and a wetsuit, based his fitness mainly on ten-mile runs. In fact on Tuesdays and Thursdays he ran 10/5/10, with the third session of the day the extremely competitive Birchfield club run. Virtually covering the full marathon distance fast twice a week gave him plenty of speed endurance and meant that his Sunday run was seldom longer than one and a half hours. Over the year he might average about 115 miles per week, but he built up to a marathon with six heavy-mileage weeks, followed by six weeks of faster work. He neither 'did the diet' nor eased down properly before the marathon, but might decrease the intensity a little. He tried to race a half-marathon, a ten-miler and a 10k, in that order, in the weeks before the long race.
Trained after 1982 by John Anderson, who introduced sessions like 'fifteen minutes flat out, followed by a return journey even faster', John Graham battled on for several years. A valiant if unlucky event was the Commonwealth Games marathon in Brisbane 1982, when despite racing boldly he suffered from a cruel stitch (an old problem due to a scarred stomach muscle) and finished fourth in 2.13.04. Unfortunately, four years later in the Edinburgh Commonwealth Games, he came home fourth once more (2.12.10).
The good performances continued: 1982 2.10.57 in New York; 1985 2.9.58 in Rotterdam and 2.12.55 in Chicago; 1986 (as well as Edinburgh) 2.13.42 in Rotterdam; 1987 2.12.32 in London. Amazingly, John Graham once held nine of the best twenty Scottish marathon times.
John's peak coincided with the boom years for the marathon. He raced all round the world and received marvellous hospitality and prize money. He met and formed friendships with great runners past and present, from Herb Elliot to Frank Shorter and Steve Jones. Domestically, it gave him great pleasure to win his local classic, the Tom Scott 10, in 1982, while his father and grandfather watched. Internationally, his 1980 New York Marathon performance produced almost too much adrenalin; and he particularly enjoyed his 1985 Rotterdam 'race win' when he outmanoeuvred a very classy pack, ignoring the great Carlos Lopez's world-record-breaking 2.7.13.
There are so many John Graham stories, few publishable. John describes himself as 'laughable and affable' but very serious and disciplined about training. Although he himself could absorb the punishment without getting injured – a rare talent – his companions were less resilient. He used to run many miles with his dogs in Sutton Park until, it is rumoured, one suffered badly from shin-splints!
Considering his 1987 2.12.32 'slow', John reduced his mileage and eventually stopped racing. Nowadays this talkative amusing extrovert states bluntly that many ambitious marathon runners simply do not train hard enough to succeed. Real speed as well as stamina must be developed and there is no easy way. He himself still runs twice a week, and before long he and Brendan Foster may make a pact to lose weight and strive to increase their fitness.
I recently asked John in an email what his training regime was and he replied as follows:
"Brian, the simple answer is hard work. A sample week might have been – Monday: 10 miles then 5 miles fast; Tuesday: 10 miles plus ten miles then 10 miles at the club; Wednesday: Long run, anything from 90 minutes to 2:20 at a fast pace; Thursday: the same as Tuesday; Friday one easy run of ten miles; Saturday: Race or ten miles of efforts on grass and paths; Sunday: Long run between 1:30 and 2:30 and then track session in the afternoon. The usual session was with Dave Moorcroft of (100+300 + 600) x 5 with 3 minutes between sets. 600 was in 86, 300 in 43. Then finish off with 4 sets of 4 x 50 metres flat out with 15 seconds between reps. It was the end of a lovely week of pain but it worked for me. I asked Deek what he did and it was exactly the same, session for session.
My coaches over the years started with Bert McKay who met me at 14. He was a great motivator and pushed me to do 100% no less. We have kept in touch to this day. When I moved to England it was Maurice Millington from '79 to '82. By the time I met Maurice I just needed someone to sound off to and get feedback from. He was excellent and we never missed a day without seeing each other. John Anderson was my coach from '83 to '87. He had the hard man attitude I thought could take me to gold at the Olympics but we clashed. Agreed on the need for speed in the marathon but there are different ways to achieve this and this is where we fell out – in a good way! Always debating different training methods. From '87 to '89 it was Alan Storey. I enjoyed working with Alan and some of his sessions were the hardest I have ever done. Example: Jog two miles to the start of the short stage of the 12 man relay then run the short stage in 15:00 – 15:15, then run one mile to the track then do 10 x (150, 300, 600) then run the short leg again and run home. Total time on my feet was about 2:56 and I just fell in the door!!!
One of my great heroes is Jim Brown. I had the great pleasure of running with Jim when he was at his very best between the ages of 18 and 21. He was the hardest man I have ever trained with and the only man to have a complete set of gold, silver and bronze in the Junior World Championships. Clyde Valley was a great club to run with – Jim Brown, Ronnie McDonald, Brian McSloy, Colin Farquharson and Peter Fox – great days!!!
I have been lucky enough to meet the best in the world – I always listened to what kind of training they were doing and try it in my own way. It seemed to work pretty well."
So now you know. When I asked Doug Gunstone why the standard of marathon running had slipped so much he said "they do too much training and not enough running." Whenever I look at what the top guys were doing I marvel at how much work the body can take. John certainly deserved his success.
John Graham: Marathon Career Record
| | | | | | |
| --- | --- | --- | --- | --- | --- |
| No | Date | Venue | Position | Time | Winner (Club) Time |
| 1 | 03 May 1980 | Milton Keynes (AAA) | DNF | | Ian Thompson (Luton) 2:14:00 |
| 2 | 08 June 1980 | Laredo (ESP) | 1 | 2:13:21 | |
| 3 | 07 September 1980 | Eugene, Oregon (USA) | 8 | 2:15:04 | Dick Quaz (New Zealand) 2:10:47 |
| 4 | 26 October 1980 | New York (USA) | 3 | 2:11:46 | Alberto Salazar (USA) 2:09:41 |
| 5 | 08 February 1981 | Auckland (NZ) | DNF | | Dave Cannon (Gateshead) 2:12:53 |
| 6 | 10 May 1981 | Rugby (AAA) | DNF | | Hugh Jones (Ranelagh) 2:14:07 |
| 7 | 23 May 1981 | Rotterdam (NED) | 1 | 2:09:28 | |
| 8 | 13 September 1981 | Agen (FRA) – Euro Cup | DNF | | Massimo Magnani (ITA) 2:13:29 |
| 9 | 25 October 1981 | New York (USA) | 44 | 2:19:13 | Alberto Salazar (USA) 2:08:13 |
| 10 | 13 June 1982 | Gateshead (AAA) | 4 | 2:15:14 | Steve Kenyon (Salford) 2:11:40 |
| 11 | 08 October 1982 | Brisbane (AUS – Comm) | 4 | 2:13:04 | Rob DeCastella (AUS) 2:09:18 |
| | 09 April 1983 | Rotterdam (NED) | Pace | | Rob DeCastella (AUS) 2:08:37 |
| 12 | 23 October 1983 | New York (USA) | 5 | 2:10:57 | Rod Dixon (New Zealand) 2:08:59 |
| 13 | 19 February 1984 | Los Angeles (USA) | DNF | | Gidamis Shahanga (TAN) 2:10:19 |
| | | | | | |
| --- | --- | --- | --- | --- | --- |
| 14 | 13 May 1984 | London (AAA) | 14 | 2:14:40 | Charlie Spedding (Gateshead) 2:09:57 |
| 15 | 19 August 1984 | San Francisco (USA) | 17 | 2:23:48 | Simon Kigen (KEN) 2:10:18 |
| 16 | 20 April 1985 | Rotterdam (NED) | 2 | 2:09:58 | Carlos Lopes (POR) 2:07:12 |
| 17 | 20 October 1985 | Chicago (USA) | 12 | 2:12:55 | Steve Jones (WAL) 2:07:13 |
| 18 | 19 April 1986 | Rotterdam (NED) | 6 | 2:13:42 | Abebe Mekonnen (ETH) 2:09:08 |
| 19 | 01 August 1986 | Edinburgh (SCO – Comm) | 4 | 2:12:10 | Rob DeCastella (AUS) 2:10:15 |
| 20 | 18 April 1987 | Rotterdam (NED) | DNF | | Belayneh Dinsamo (ETH) 2:12:58 |
| 21 | 10 May 1987 | London (AAA) | 11 | 2:12:32 | Horomi Tanaguchi (Japan) 2:09:50 |
| 22 | 15 January 1989 | Marrakech (MAR) | DNF | | Jean Weijts (BEL) 2:15:49 |
| 23 | 01 October 1989 | Berlin (GER) | DNF | | Alfredo Shahanga (TAN) 2:10:11 |