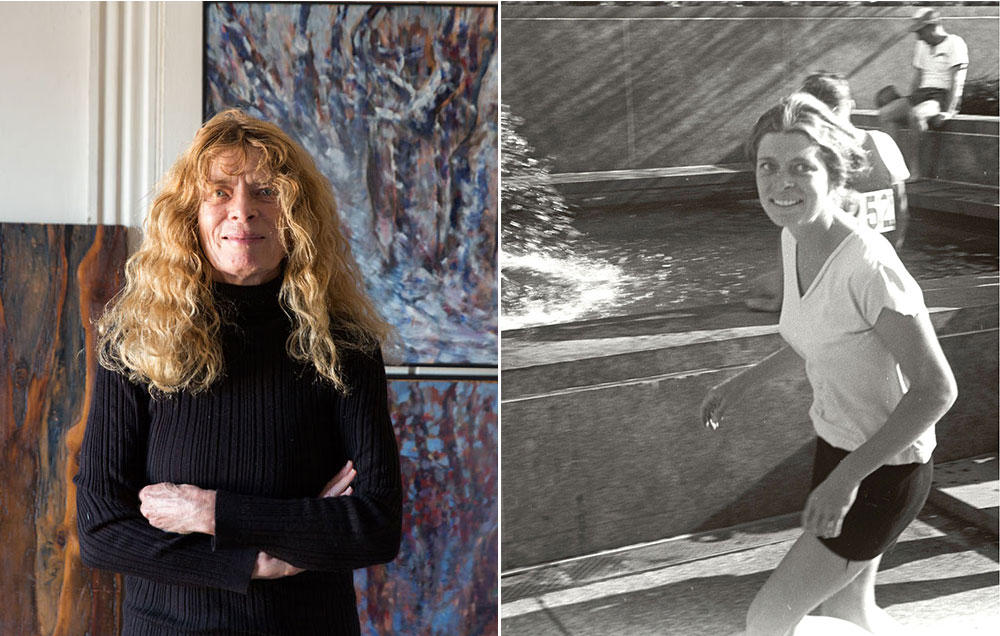 Bobbi Gibb, now and then
The Boston Marathon was held on Monday and it was the usual resounding success. This year was slightly different – it was the fiftieth anniversary of the day that Kathy Switzer appeared in the race. The details of her subterfuge to get entered in a men only race are well known and the assumption of most of the journalists who wrote about it was that it was the first time that a woman had run the distance. Not true – for instance Scotland's Dale Greig had run the Isle of Wight marathon in 1964, albeit unofficially without a race number and set a world record. In New Zealand that record was broken three months later by Mildred Samson. Even in America women had run the distance and, whisper it, the Boston had been run by a woman. Bobbi Gibb ran in 1966 and was greeted at the finish by the Governor of Massachusettes. She also ran in 1967 and finished an hour ahead of Switzer. The best short account of her career is on the Wikipedia website and most of what follows comes from that source.
Roberta Louise "Bobbi" Gibb (born November 2, 1942 in Cambridge, Massachusettes) is the first woman to have run the entire Boston Marathon (1966) She is recognized by the Boston Athletic Association as the pre-sanctioned era women's winner in 1966, 1967 and 1968 At the Boston Marathon, the pre-sanctioned era comprised the years from 1966 through 1971, when women, who were banned from entering because of their gender, ran and finished the race unofficially. In 1996 the B.A.A. retroactively recognized as champions the unofficial women's leaders of 1966–71.
Gibb's run in 1966 challenged prevalent prejudices and misconceptions about women's athletic capabilities. In 1967, the second year of the later-to-be-recognized women's division at Boston, she finished nearly an hour ahead of the other female competitor, Kathrine Switzer. . In 1968 Gibb finished first in a field of five women. It was not until late 1971, pursuant to a petition to the Amateur Athletic Union by Nina Kuscik, that the AAU changed its rules and began to sanction women's division marathons.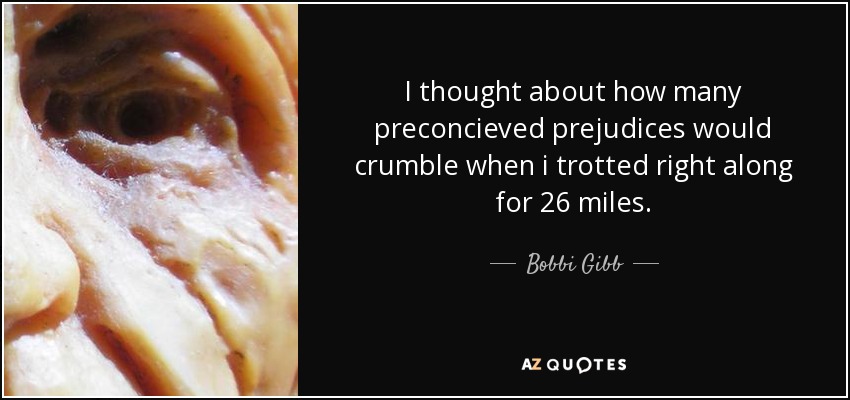 Before 1966, the longest AAU-sanctioned race for women was one and a half miles. Until 1972, when the first women's division marathon opened, the Boston Marathon was a men's division race, so all the pioneer women who ran before 1972 were, under the AAU rules, unsanctioned runners, running in an as yet to be sanctioned women's division race.
Gibb trained for two years to run the Boston Marathon, covering as much as 40 miles in one day. On writing for an application in February 1966, she received a letter from the race director, Will Cloney, informing her that women were not physiologically capable of running marathon distances and that under the rules that governed amateur sports set out by the AAU, women were not allowed to run more than a mile and a half competitively. She realized that it was more important than ever to run and that her run would have a social significance far beyond just her own personal challenge.
After three nights and four days on a bus from San Diego, Gibb arrived the day before the race at her parents' house in Winchester, Massachusettes On the morning of Patriots Day, April 19, 1966, her mother dropped her off at the start in Hopkinton. Wearing her brother's Bermuda shorts and a blue hooded sweatshirtt over a black, tanked-top swim suit, she hid in the bushes near the starting pen. After the starting gun fired, she waited until about half the pack had started and then jumped into the race.
The men soon realized that she was a woman. Encouraged by their friendliness and support, she removed her sweatshirt. To her delight and relief, the crowds cheered to see a woman running. The press began to report on her progress. Diana Chapman Walsh, later President of Wellesley College:
That was my senior year at Wellesley. As I had done every spring since I arrived on campus, I went out to cheer the runners. But there was something different about that Marathon Day—like a spark down a wire, the word spread to all of us lining the route that a woman was running the course. For a while, the "screech tunnel" fell silent. We scanned face after face in breathless anticipation until just ahead of her, through the excited crowd, a ripple of recognition shot though the lines and we cheered as we never had before. We let out a roar that day, sensing that this woman had done more than just break the gender barrier in a famous race…
By the time Gibb reached the finish line in Boston, the Governor of Massachusetts, John Volpe, was there to shake her hand. She finished in three hours, twenty-one minutes and forty seconds, ahead of two-thirds of the runners. The following morning her feat was front page news in the Record American, where the headline read: "Hub Bride First Gal to Run Marathon." In another Record American article entitled "Roberta Gets Official Support: Females May Run Marathon," Jack Kendall wrote:
Roberta the runner may revolutionize Boston's fabled BAA marathon — and for that matter every other long distance run staged in the country. Even as the bunions acquired from Tuesday's grueling 26 mile, 385 yard race were subsiding, the furor over a woman's intrusion into what had been an all-male domain was mounting.
…
But a spokesman from the New England Amateur Athletic Union has already decided it may be a woman's world after all.
WOULD CHANGE RULES
He plans personally to contact the organization's national headquarters and seek consideration for suspension of the NAAU rules so that a female who wishes to compete in the marathon can do so.
In his opinion the only way the rule could be circumvented would be through suspension of the rules.
The May 2, 1966, issue of Sports Illustrated featured an article written by Gwilym S. Brown entitled "A Game Girl In A Man's Game":
Last week a tidy-looking and pretty 23-year-old blonde named Roberta Gibb Bingay not only started but also covered the 26-mile, 385-yard course at a clip fast enough to finish ahead of no fewer than 290 of the event's 415 starters.
In 1967, Gibb, by then a full-time student at the University of San Diego, California, ran again. She finished in three hours, twenty-seven minutes and seventeen seconds, almost an hour ahead of the other female competitor, Kathrine Switzer, who was famously subjected to a failed attempt by an official to remove her from the race, because she ran with numbers issued through an "oversight". Gibb, who ran unnumbered, was not similarly bothered. In 1968, Gibb ran again, finishing in three hours and thirty minutes, first among a growing number of women, which included Carol Ann Pancko, Elaine Pederson, and Marjorie Fish. In 1969, 1970, and 1971, Sara Mae Berman was the women's winner, and in 1972, Nina Kuscik was the winner of the first officially-sanctioned women's division event.
In 1996, at the 100th running of the Boston Marathon and the 30th anniversary of Gibb's first run of it, the BAA officially recognized her three wins in 1966, 1967, and 1968 and awarded her a medal. Her name was inscribed with the names of the other winners on the Boston Marathon Memorial in Copley Square.
In 2016, Gibb was the grand marshal of that year's Boston Marathon.. That year's female winner, Atsede Baysa, gave Gibb her trophy; Gibb said that she would go to Baysa's native Ethiopia in 2017 and return it to her.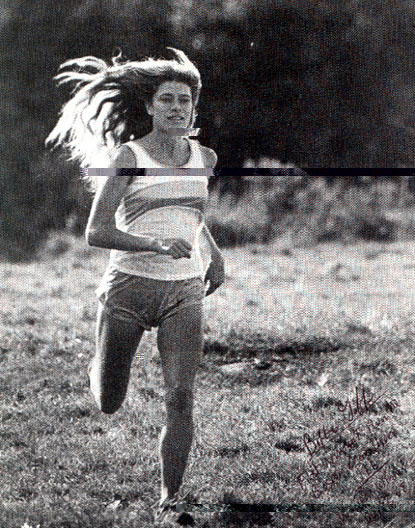 That's where the Wiki article ends and you should really go there to follow up the rest of her career and the various links to other sources of information. The follow up for athletics fans everywhere is that a group of female athletes have come together to raise money for a statue of Bobbi Gibbs to go up somewhere along the marathon trail. I quote from the US version of 'Just Giving':
FirstGiving – Bobbi Gibb Marathon Sculpture Project
Bobbi Gibb Marathon Sculpture Project Announced
Joan Benoit Samuelson and a long list of Boston Marathon champions have united to form the Bobbi Gibb Marathon Sculpture Project. The project's goal is to raise funds to erect a sculpture of Gibb on the Boston Marathon course. In 1966, Gibb popped out from behind forsythia bushes in Hopkinton to become the first woman to run Boston. "As the first woman to finish the Boston Marathon, Bobbi Gibb opened up the door for all of us who followed," notes Samuelson, a two-time Boston champ and winner of the first Olympic Marathon for women in 1984. "Without her courage and determination, we might never have gained the chance." The Gibb marathon sculpture will actually be created by Gibb herself. She is an accomplished painter and sculptor who studied at the Boston Museum of Fine Arts in the mid-1960s–at the same time that she began running longer distances. "For 50 years, it has been my dream to sculpt a life-size woman runner to represent all the powerful women who have run Boston since 1966," says Gibb. The Bobbi Gibb Marathon Sculpture Project will be coordinated by the 26.2 Foundation, a Hopkinton-based 501(c)(3) nonprofit that has helped install other marathon statues in and around Hopkinton–all statues of male officials or runners. "We believe it is long past time to recognize the Boston Marathon's great women runners," says Tim Kilduff, of the 26.2 Foundation. "The fact that Boston's first woman runner is also a great sculptor makes this project absolutely unique and appropriate."
The address of this site is https://www.firstgiving.com/5280_1/bobbi-gibb-fundraiser The signatures at the foot of the page are The Bobbi Gibb Marathon Sculpture Project plans to raise funds from corporate sources, but primarily from modest donations by women's running supporters worldwide. The following Boston Marathon champions have all volunteered to serve on the Advisory Committee.
Sara Mae Berman, 1969, 1970, 1971
Nina Kuscsik, 1972 (first official women's champ at Boston)
Jackie Hansen, 1973
Gayle Barron, 1978
Jacqueline Gareau, 1980
Lisa Weidenbach Rainsberger, 1985
Amby Burfoot, 1968
Bill Rodgers, 1975, 1978, 1979, 1980
Jack Fultz, 1976
Greg Meyer, 1983
Meb Keflezighi, 2014
Bobbi was the first woman to run Boston, first in three consecutive years, the first to run the race fifty years after she first won it and yet is barely known outside the USA running fraternity. So tell your friends and club mates that she is the real Boston heroine.
She did an interview with Runners World in 2017, with Amby Burfoot reprised below.
After I finished the Boston Marathon in 1966, some kind soul draped a wool blanket over my shoulders. Several days later, my mother and I realized we still had it at our house. We went to Jock's office in the old Boston Garden to return it and talked for a long time. We talked about my grandfather, who was Scottish like Jock. He wasn't hostile at all. Years later, he said he had seen me running without a number, so it was no problem at all.
Jock had great respect for women athletes. He said his mother was a good athlete in her day. The Boston Marathon was his life, and he was just trying to protect its integrity when he saw Kathrine's number in 1967. I started up in the front row that year. Everyone was chatting happily with me—the officials, the press. No problem. I didn't have a number and no one tried to stop me. I just stood on the side of the road and waited for half the field to go past me so I could fall in with runners going at my pace.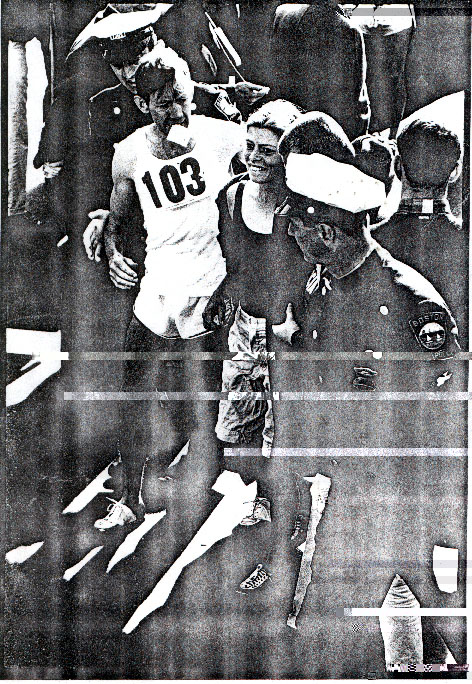 There is an excellent article on Bobbi Gibb on the BBC website just now by Olivier Guiberteau which goes into much more detail on her marathon career. Read it by clicking on the link or if you cannot get it, there is a copy here .