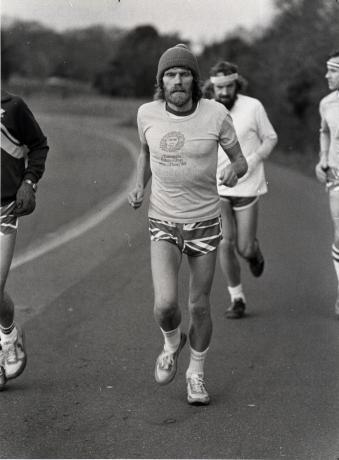 Al Howie racing in 1981
Al Howie is not a name known to many, even of the distance running fraternity in Scotland, and his name was passed to us by William Sichel. Colin Youngson decided to pursue the reference and contributes some of what he has discovered below.
"Al Howie is another Scot who got away – by emigrating and becoming a great Canadian-Scot ultra-marathon runner. William Sichel, our best current very long distance specialist, states that he is heavily motivated by trying to improve on Al's impressive performances. Arthur 'Al' Howie was born in 1945 in Ayrshire. Having emigrated to Toronto, he started running as a hobby in 1974 'to get rid of the aggravation from quitting a three-pack-a-day smoking habit'. By 1978 he had moved to Victoria, British Columbia, and started training for long runs, including many between cities. His racing career was from 1979 to 1999.
The Wikipedia summary of Al's feats is as follows. 'He has won more than fifty marathons, ultramarathons and multi-day races in over two decades, including the 1991 Trans Canada Highway run (7295 kilometres) in the record time of 72 days and 10 hours. A brass plaque on Victoria's Mile Zero Marker commemorates this athletic event for which he raised 750 thousand dollars for a fund for children with special needs. Two weeks after running across Canada, he won the Sri Chinmoy 1300 miler in New York, improving on his own world record time. Both the Trans Canada run and the 1300 mile race qualified for the Guinness Book of Records.'
Very early in his running career, Al began running from city to city, partly as long distance training, partly to save costs and often for charities. He would put his clothes on the bus, run to the city, change his clothes, put his bags back on the bus and carry on!
Al Howie mentions as his great influences: Don Ritchie, Emil Zatopek, Yiannis Kouros (the great Greek runner) and Hilary Walker (an English woman who has broken world ultra records.) His funniest running experience was learning to tie his shoe laces without stopping during a world record non-stop run! Sadly his most memorable discovery is that even very good runners can have serious health problems – he himself overcame a brain tumour but since 1995 has been suffering Diabetes 1.
The Wikipedia article on Al Howie (http://en.wikipedia.org/wiki/Al_Howie) is absolutely fascinating. It gives details of amazing feats of endurance and includes several quotations from the man himself, which show him to be eccentric, clever and incredibly tough. His initial reaction to diabetes was to continue his rigorous training regimen, saying "Running towards the horizon of human endurance on synthetic insulin is exploring an uncharted universe. Once again I'm a pioneer in the aerobic universe, this time in the diabetic galaxy."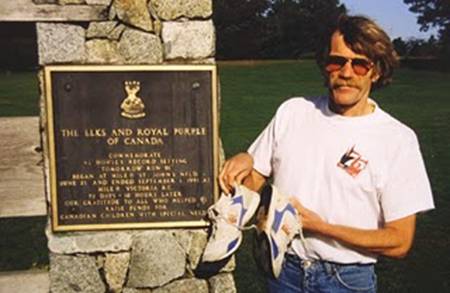 Colin is right, the entry is very good and has a lot of detail. The ironic thing is that for all the information contained therein, for all the wonderful athletic feats he has accomplished or been part of, there is wide coverage in the world at large but here in Scotland, his name is hardly known. Good as the Wiki article is, there is a more personal article about him in a Sri Chinmoy report from 1989 which you can find here and the article below is from 'Scotland's Runner' of April, 1989 and is of a visit with Adrian Stott. click on the image for a larger version.
Al died in June, 2016 and the excellent Obituary by Jack Davidson can be found here