(The following obituary was written by Jack Davidson)
AL  HOWIE: ULTRA DISTANCE RUNNER
           BORN 16TH SEPTEMBER 1945 WEST KILBRIDE
DIED 21ST JUNE 2016 DUNCAN, BRITISH COLUMBIA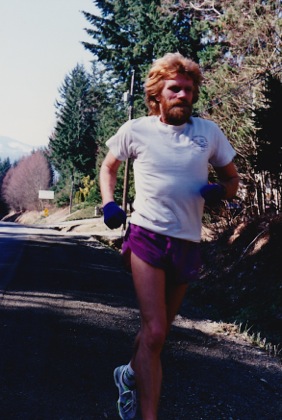 (Al Howie running in the Trans-Canada event)
Scottish-born athlete Arthur Howie, known as 'Al', was one of the world's most renowned ultra distance runners and record holders who made his name initially in North America after taking up running aged 30 in Canada in order to quit smoking. During a competitive career between 1979 and '99 he ran countless thousands of miles in races in many countries pushing the boundaries of human endurance to the limit and beyond as he chalked up success upon success with scarcely believable feats. Arguably his most outstanding achievement was running across Canada from east to west in 1991, a distance of more than 4,500 miles in just over 72 days, equivalent to more than two back to back Tours de France and two and a half marathons daily. Dubbed by him as 'The Tomorrow Run '91', he set off from Mile Zero in St.John's, Newfoundland on 21st June reaching Mile Zero in Victoria, British Columbia 72 days later. In the process he raised over half a million dollars for special needs childrens' charities in conjunction with the Elks of Canada, a fraternal organisation dedicated to community improvement projects. His run merited the installation of a brass commemorative plaque in Victoria recording the details for posterity. Fellow athletes called him 'the Trans Canada Running God.'
         Hardly having caught breath, two weeks later he went to New York to compete in the Sri Chimnoy 1300 mile race which he won setting a new record of just over 16 days breaking his own record set two years previously. This raised ultra distance running to unprecedented levels, particularly remarkable as he was aged 46 at the time, and along with his Trans Canada run, earned entries in the Guinness Book of Records.
        Brought up in Saltcoats with sister Elizabeth and brother Ian, his early years offered little hint of his future running career although he showed some promise in cross country while a pupil at Ardrossan Academy. Young Arthur was later known as Alfie and then as Al. His father Arthur, a merchant seaman, had boxed in the navy during the war while mother Mary was a competitive swimmer. Although Howie did not participate in structured sport his family underlined the benefits of exercise and outdoor life to him by going on long daily walks during annual holidays and his mother encouraged him to swim daily in the sea during summertime.
        After marrying an American girl temporarily living here, they moved to the Bournemouth area where he worked in landscape gardening. When the marriage broke up he entered a relationship with a Canadian lady and in about 1973 went with her to live in Toronto. It was while there that he took up running to help him cope with giving up a heavy smoking habit. Determined to prove friends wrong who thought him incapable of stopping, he soon found long distance running therapeutic to his efforts and that he had a lot of natural ability. In one of his first attempts he was able to run 10 miles in normal daily clothing and footwear with ease. From there he progressed to making his competitive debut in 1979 in a 17 mile race finishing third while in his first marathon in Edmonton in 1980 he finished first in his age group. He then ran from Edmonton to Victoria to compete in the Royal Victoria Marathon.
          By now he was dedicating his life to running and his distinctive appearance of long blond mane of hair and bushy beard, often sporting a Lion Rampant running vest and his long spindly legs soon became instantly recognisable. Referring to himself as the 'Tartan Spartan' he cut a somewhat eccentric figure, exacerbating that image by sometimes drinking beer before and during races while fish and chips was his food of choice. But there was no doubting the quality of his running as illustrated in the following examples.
           He won the Ottawa 24 hours day and night race[Canadian Championship] five years in a row between 1981 and '85 and for a sixth time in '87; in 1988 he completed the John o' Groats to Land's End run in the then record time of eleven days, three hours and eighteen minutes, before  going on to run through England, France and Corsica en route to competing in a 254 km race between Cagliari and Sassari in Sardinia; in 1989 he was the first runner to break 18 days in the Sri Chimnoy 1300 race in New York; his last race was the 72 hour "Across the Year" event in Phoenix  Arizona, from 29th December 1998 to 1st January 1999 which he won, then aged 53.Altogether he raised over a million dollars for charity in his career.
       To continue running and do so successfully he had to overcome considerable adversity. In 1985 he suffered brain cancer and in 1995 was diagnosed with Diabetes I which he controlled with daily insulin injections leading to his being honoured by the North American Association for Diabetic Athletes. In 2007 the city of Duncan awarded him the Perpetual Trophy for Excellence and Sportsmanship while in 2014 he was inducted into Greater Victoria Sports Hall of Fame.
        His latter years were spent in care homes in Duncan marred by diabetes and mental health issues. In 1985 he married Claudia Cole but they separated, amicably, in 2000. He is survived by his wife, son Gabe, daughter Dana, and grandchildren Jocelyn and Kiyari.