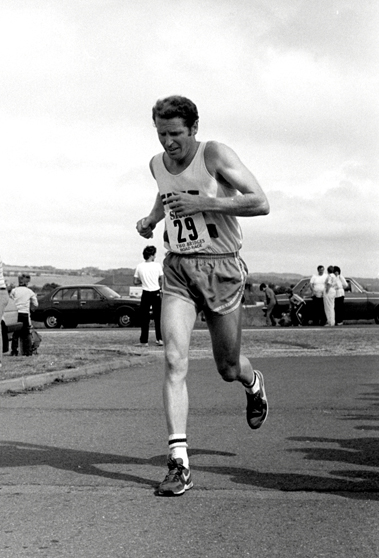 Dave Francis in the Two Bridges, 1983
Dave (born in 1947) was a typical, good club distance runner who became a top class ultra marathon man and then an outstanding coach for the younger age groups. Unusually for a coach, he loved working with the younger age groups but had no problem passing them on to other coaches working with seniors.. He ran ran cross-country in races up to and including the Scottish national championships and he ran on the road in races up to the marathon distance. A good man to have in your team. He seemed to do best in the longer distances and between 1975 and 1982 he featured in the annual Scottish marathon rankings and the times and Scottish rankings tell an interesting tale of the rise in standards in the event over the period. Have a look at these times and rankings and compare the ranking place in 1975 with that of 1978 and then 1982.
year

time
national ranking

1975

2:39:33
21st

1976

2:43:06
24th

1977

2:36:29
30th

1978

2:33:24
26th

1979

2:39:52
54th

1981

2:38:02
77th

1982

2:39:04
110th
When he stepped up from the marathon, he was much more successful as a top-class British ultra-distance runner, especially in the Two Bridges 36 and the Edinburgh to Glasgow 50. If, during his peak years, there had been opportunities to race international ultras for Scotland or GB, Dave Francis would definitely have been selected.
***
Before we start on his career in some detail, we asked Dave to answer the questionnaire and we can look at his responses.
Name: Dave Francis
Club/s: Fife AC
Date of Birth: 25th September, 1947
Occupation: Retired
Personal Best Times : 10 Miles – 52 mins. Marathon – 2hr 32 min. 40 miles – 4hr 10 min. 100k – 7hr 11 min
How did you get involved in the sport to start with? It was when I was in the Royal Navy, I was training but started competing in races when I met Danny McFadzean who was so Inspirational in my outlook to running and competed with him for 2 years and he is still my inspiration.
Did you have a favourite surface – road, track, country, hills? Disliked the track but ran on it when needed to support the Club. Enjoy roads, hills and country.
Has any individual or group had a marked effect on either your attitude to the sport or to your performance?
As in a previous question, Danny McFadzean definitely.
What exactly did you get out of the Sport?
I got great satisfaction, enjoyment, great friends and finding out a lot about myself.
Can you describe your general attitude to the sport?
Work hard, enjoy, be true to yourself and help and encourage everyone young/old to achieve their goals and don't get stressed as it's only a hobby (unless you plan to make a living out of it).
What do you consider your best ever performance? I enjoyed all of the races I was in but the funniest one was the first Isle of Man 40 miles race I did. The reason for this was because I was chasing the leader, whom I didn't know then (as I was a newcomer to the circuit) he kept on checking how far I was behind him and was I gaining (his wife was following the race in a car and updating him). His name was Cavin Woodward, I was chuffed to bits that he was worried I would catch him (it made my year).
And the worst? There wasn't really a worst performance as each race was different and as long as I crossed the line knowing I had given a 100% then it was just another learning curve and then on to the next race.
Many of our generation had heroes in the sport – was there any runner who inspired you or whom you wanted to emulate? Not really – just enjoyed seeing people achieving their goals.
What goals did you have that are still unachieved? I have no goals to achieve for myself (bad back injury curtailed that) but I hope to help the athletes who train with me achieve their goals and one of the greatest feeling is when the athlete says 'thank you' for helping them.
Can you give some idea of your training, both before you took up ultra marathon running and after? My training was done by running to my work and back (which then didn't interfere with family life too much with having a family of four) I started this when I was in the Navy and carried it on ,just increasing the distances as I went along but always consistent, Saturday off unless racing and long run on Sunday.
And, he adds, I would like to say if it hadn't been for the support of my wife Elizabeth and my four sons (following me around the races in the car supplying me with drinks and cheering me on) I wouldn't have been able to do what I did. I really appreciated their understanding and help and a big thank you to them all.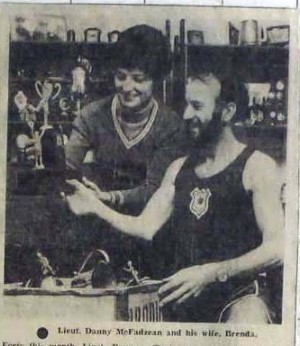 [For those who don't know about Danny McFadzean, he was a very good marathon runner, a member of Beith Harriers who also ran for many Navy teams with a best time for the marathon of 2:22:06 (Boston, 1967) and a best national ranking of fourth in 1966 with a time of 2:31:57. He was also a good Six Miler with a best track time of 30:19.6. He was a member of Beith Harriers at the same time as Ian Harris who won the SAAA marathon Championship in 1963 in 2:25:32; Ian ran for the Army. In 1964 Beith Harriers had two marathon runners with times of 2:30:28 (Ian) and 2:31:57 and they were ranked 2nd and 4th Scotsmen. With regard to the times, remember first of all that shoe technology was not as advanced as it is now, rules about refreshment on the course were not as sympathetic to the runner as they are and, maybe most important, courses were in the main much tougher. eg the trail on which Ian Harris won the SAAA title in 1963 went from Westerlands down Great Western Road to the Vale of Leven and back with three very big hills on the way out and again on the way back. Danny ran for GB in the Kosice Marathon in 1966 where he finished 6th and ran his personal best time, and also ran the Boston Marathon in 1967 (9th), '68 (9th), '69 where he was in the winning (Navy) team when he was 21st in 2:30:54. He reputedly ran 100 miles a week]. Dave adds to his comments on Danny and says:
"Regarding the time I was with Danny in the Navy 1972-74.We were stationed at Portland and Danny was a Fire Officer and Bob Pape and himself started a small group of us (7 in total) to run for the Base (HMS Osprey).They took us all over Portland which had steep hills and a variety of places to train and they introduced us into running to and from work as part of the training.
We were a small team but we managed to win the Southern Area Forces League in cross country and also won some other championships. Danny also introduced us to 10-15 mile road races(which started me off with long distance running).
I don't know if Danny took up coaching when he left the Navy but he would of been one of the best and certainly made you believe in yourself".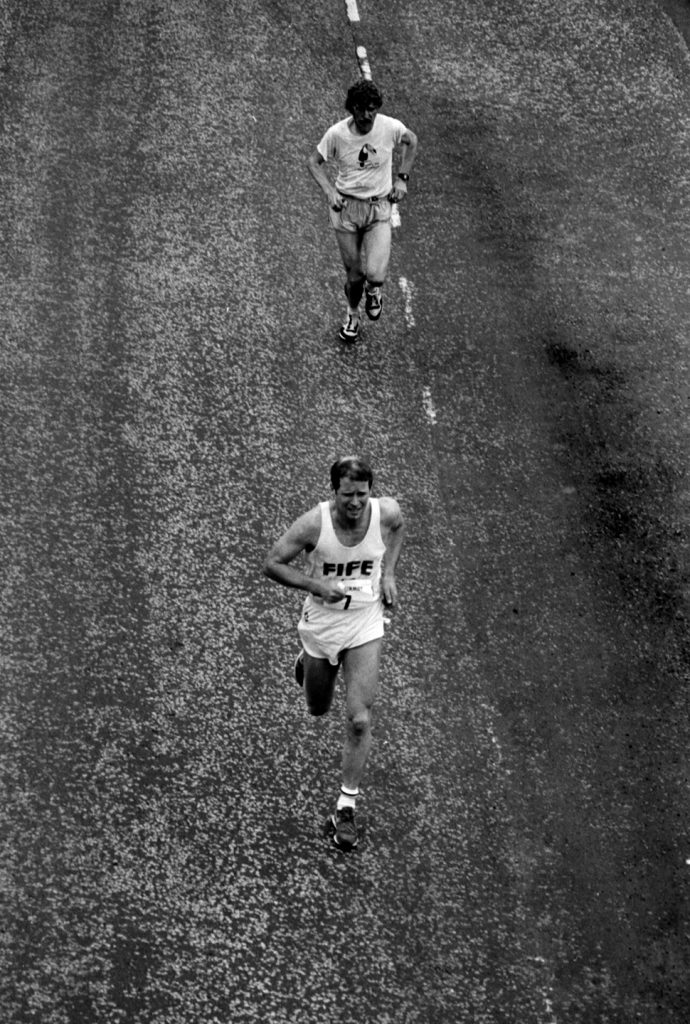 Dave Francis leading Colin Youngson in the 1984 Edinburgh to Glasgow 50 Miles Road Race
Between 1976 and 1983, Dave Francis ran eight successive Two Bridges races – his best position was 5th in 1982, when his time was 3 hours 40 minutes 6 seconds. Dave secured First Scot and First Local awards several times; and in 1983 the Fife AC team (Ian Graves, Dave Francis and Ian Mitchell) won the coveted Team Trophy.
In the prestigious London to Brighton Road Race (over 53 or 54 miles) Dave Francis finished 16th in 1978 and an excellent fourth (5 hours 50 minutes 10 seconds) in 1979.
In 1979 and 1980, Dave ran the Isle of Man 40 miles event. He was second in 1979, recording another Road Runners Club first class time (4.10.00).
His exploration of British ultramarathons continued. In 1982, Dave was an impressive third (7.11.57) in a 100km race from Grantham to Lincoln.
A notable victory for Dave Francis took place in the 1983 Bolton 40 miles event (4.23.17). A month later, in late October 1983, he finished 7th in the gruelling Sri Chinmoy 24-Hour Track Race at Coatbridge, covering more than 109 miles.
Then, in June 1984, Dave Francis was fourth in another Sri Chinmoy event: the 50 miles road race from Meadowbank Stadium in Edinburgh to George Square in Glasgow.
After a back injury stopped him competing in ultras, Dave Francis kept on running cross-country and up and down hills. For several decades, he has contributed to Fife AC as an event organiser and by coaching young athletes. For twelve years, The Mini-Tour of Fife was a great success for youngsters between the ages of nine and seventeen. This involved racing on five successive days, over: hill; beach, multi-terrain; time trial; and another multi-terrain.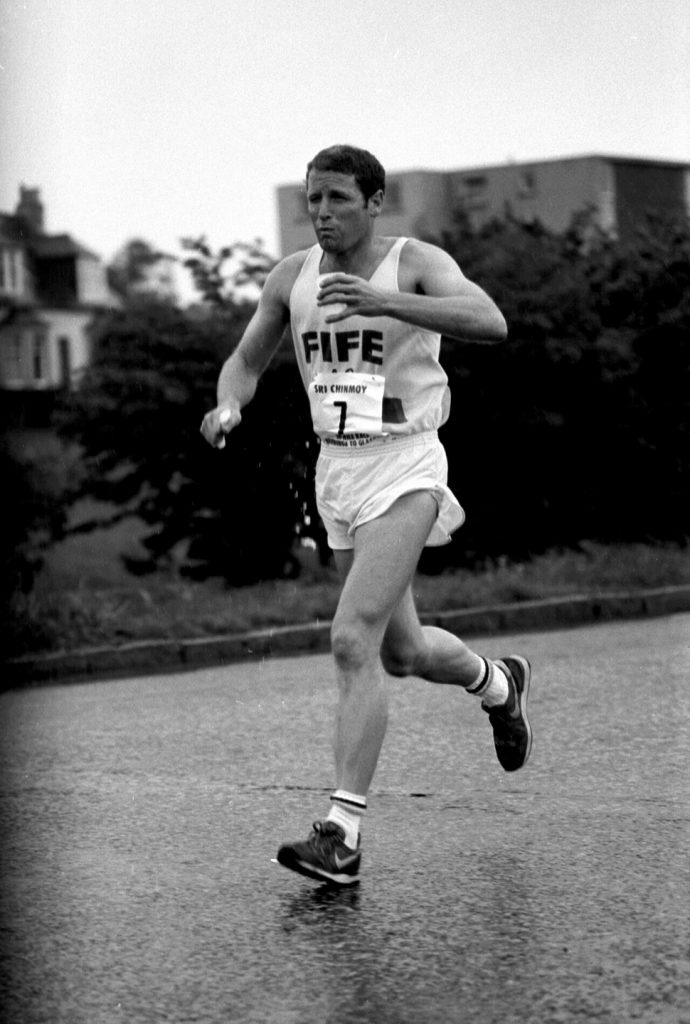 Edinburgh to Glasgow, 1984
All good things have to come to an end, they say, but how do runners develop when they feel that their competitive career is over? Many just walk away, some become administrators and/or officials, some become coaches. Dave didn't walk away, he stayed and has put a lot back into the sport in the years since. Reference was made above to event organisation. Dave was known for his tough courses. Alex Jackson tells us that –
"Dave was course designer for many East District Relays, Championship and Master Champs at Cupar. His courses were always challenging with as many hills as he could incorporate. Lovely moment when I was doing a pre event visit to a Cupar course for a champs when he had the course going way out to find proper hills. There were several fields close by and when I said to him why can't we use them, he looking at me in disgust and and said "They're Flat!" For the National at Cupar in 1999, which was held on frozen ground, he is down as Clerk of Course in the programme"
Dave has been coaching in Fife AC since the club started in 1975 and this is recognised by an Honorary Life Membership. He is known as a coach of the younger age groups, but he also works with seniors and veterans (some in their 70s and upwards) at the same time.. The Minitour of Fife was also mentioned above – many officials have good ideas which work for several years but, thanks to Dave, this one has so far lasted for eleven years and the twelfth was only missed in 2020 by the Covid pandemic. It is a junior version of Fife AC's Tour of Fife for the senior club members. In 2019 the race schedule was –
As a coach of younger athletes, he has developed and passed on to other coaches many international athletes, with the most famous name probably being that of Andrew Lemoncello. Among the National Cross-Country champions that he has worked with are –
U13 boys: 1993-4 Craig Michie, 1995-6 Andrew Lemoncello
U13g; 2016-7 Anna Hedley, 2017-8 Isla Thoms
U15 boys: 1997-8 Andrew Lemoncello
U15 girls: 2018-9 Anna Hedley
U17 men: 1999-2000 Andrew Lemoncello, 2015-6 Tristan Rees
U17 women: 2019-2020 Anna Hedley
Lemoncello is certainly the best known of these and he was making himself known as an athlete at GB level even as an U15 athlete when in the 1998 Inter Counties Under 15 Championships in Cardiff he finished right behind Mo Farah with his Scottish team mate and rival Kerr Johnstone (Scot East) third. These two had many battles through the age groups, see them in the Under 15 race at the link below.
https://www.youtube.com/channel/UC6jouCi8zhSu_tY08p087yw
David Armour of Carnegie Harriers, is the man who filmed some of the races at Jack Kane Centre Edinburgh in November 1997.
Perhaps the pinnacle was the Scottish Junior men's hill running team for the 2001 world championships where all the team members were coached by Dave. Known as a very good coach of young athletes, Dave seldom coaches outside his own area. Hardly a race goes by where Dave is not seen out laying the trail, organising the officials while simultaneously helping and encouraging athletes.
At a national level Dave was course director at the Scottish Cross Country Championships in Cupar in 1999 and filled the same post for the UK Hill Running Championships held at Falkland in 2010. He treats local and national events equally with the same calmness and attention to detail.
For many years he was an East of Scotland selector and team manager for young athletes. "Dave has a lovely manner with young athletes that seemed bring out the best in them." He was also a team manager for the East team at the Inter Counties Cross-Country race in England for a number of years.
A very good runner, an able administrator and a first class coach – Dave Francis has been and continues to be a credit to the sport.