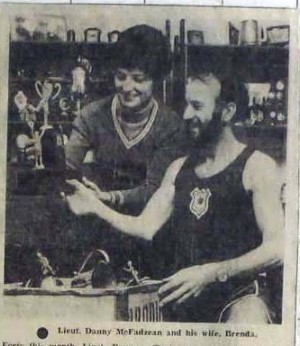 Danny McFadzean is not as well known in his native Scotland as he should be. Mainly a marathon runner he had a series of very good runs 0ver the country and, to a lesser extent, on the track to his credit. Born on 13th April, 1937, and brought up in Dumfriesshire he began running in the mid-50's and his best running was done 10 years later while serving in the Royal Navy in Devon. A look at his Scottish ranked performances in the table below indicates his quality.
Year

Event
Time
Comment

1964

Marathon 2:31.57
4th ranked Scot

1966

Marathon 2:23:52
Kosice 6th/GB team

1967

Marathon 2:22:06
Boston 9th

1968

6 Miles 30.19.6
Ranked 15

1968

Marathon 2.32.27
Ranked 9

1969

Marathon 2:30:54
Boston 21st/Team 1st

1969

Marathon 2.31.01
Ranked 14
We should go back to the beginning though and follow his career properly. The person who should probably get the credit for introducing Danny to athletics was a miner in Kirkconnel called Jock Hammond. He trained a group of youths at the Nithsdale Football Ground in Sanquhar and, even although he was in his 40s, used to race against the youths in the sprints. There was an annual professional sports meeting in Kirkconnel and the Scottish Professional Athletics Handicapper lived there. His son was one of the youths being trained by Jock and he was a good half miler but his father had instructed him to enter the 220 yards only in order to work up his handicap and make a betting fortune at some later date. It was demoralising for the boy and none of the locals ever heard of him making a fortune. There were many professional meetings in and around Dumfrieshire when Danny was starting out but Danny – fortunately for amateur athletics – never took part in any of these meetings.
He trained with Kenny Phillips of Beith in the Nithsdale Football Field in Sanquhar in 1957 on Sunday mornings when he was still finding his way in athletics and Kenny persuaded him to join Beith Harriers. He did not have much speed and concentrated on the mile and half mile. His mother was a widow with Danny and 4 younger daughters, the pits were closing down and work was hard to find, so he joined the Navy in 1958, probably as the main breadwinner. His family lived in Kelloholm, near Kirkconnell. Beith Harriers had several very good runners at that time but in the marathon Danny had a contemporary called Ian Harris who won the Scottish marathon in 1963. Ian joined the Parachute Regiment and was also stationed in the south of England and he and Danny were often competitors in the same races. For instance in the Plymouth to Exeter 10 man Relay in 1967, Ian had the fastest time on the third stage and Danny was fastest man on the ninth.
There were inevitably gaps in Danny's domestic competition because of the various postings that servicemen are subject to. He was in Singapore in 1966 for instance and Kenny Phillips tells us that "On one occasion he came home on leave and, 6 weeks after breaking his leg while doing Navy training with skis in Norway, he won the Beith Harriers 5 miles handicap. That was the first glimpse of his potential. I moved to Lancashire in 1960 and we lost touch."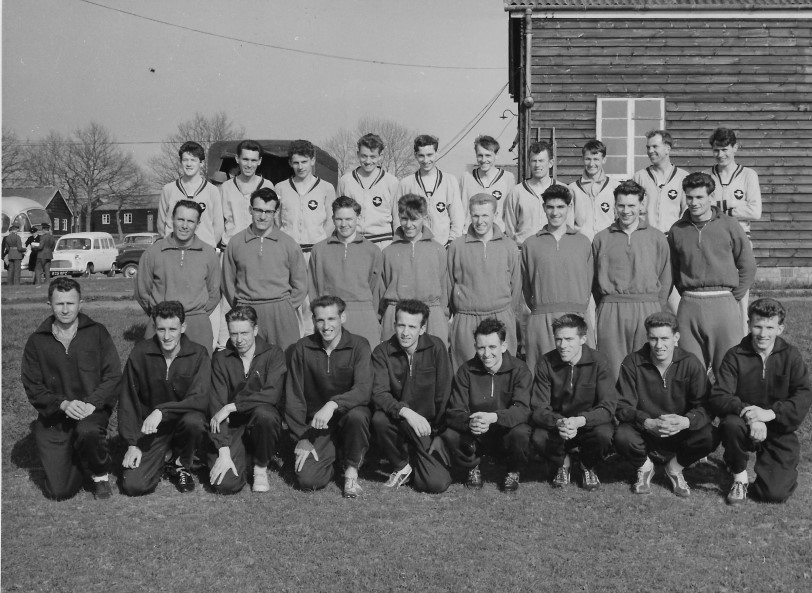 Combined Services , 1970s: Danny is in the front row, fifth from the left
Best known as a marathon runner his first marathon that we know of was on 13th June 1964 when he ran in the Windsor to Chiswick where he finished 27th in 2:31:57. The race was won by Basil Heatley in 2:13:55 which was a new world best time with Ron Hill second in 2:14:12. The first Scot was Jim Alder in fourth in 2:17:46.
The Torbay Express of 3rd January, 1966, tells us that Bruce Tulloh won the Devon County Cross-Country title over 7 miles at Paignton where Danny finished fourth in the colours of the winning Devonport AC team. The report also said that Tulloh was doing 100 miles per week with the European 10,000m and the Empire 6 miles titles his summer goals. Into February and the big race in the South West of England was the 47 mile relay from Plymouth to Exeter. A very strong team from the Parachute Regiment was the favourite to win and indeed they led almost all the way – until Danny ran the second last stage.
The very good and hard running Gordon Burt of the Parachute Regiment on the eighth leg had gained a 56 second lead over the Devonport squad. Then Danny took a hand in proceedings: "The Parachute Regiment seemed to be home and dry until Devonport's Danny McFadzean began to make his presence felt. He worked to such great effect on the long Haldon Hill stretch that he handed over to the 19 year old Lightfoot with the soldiers' last runner only 41 seconds ahead " The Paras eventually won by only won by 5 seconds. An interesting fact – Ian Harris (formerly Beith Harriers) had fastest time on the third stage for the Paras and Danny (a Beith Harrier) had fastest time on the ninth. One week later, Danny won the Devon Cross-Country League six and a half mile race at Exeter University.
His first race that summer was on 13th April at Filton where he was second in a 10 mile race in 54:34 and on 15th June he increased the distance by running 15 miles at Bath in 1:20:05 to finish third. He then tackled two marathons. First came the Oxfam Marathon at Feltham on 20th August and he won in 2:30:41. Extract below is from the Middlesex County Times of 26th August. He was also chosen to run in Europe: in Kosice as part of a British team to run in the famous Kosice Marathon on 2nd October, and he justified the selection by finishing sixth in 2:23:52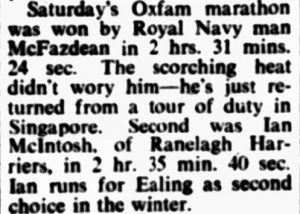 The 'Torbay Express' of Wednesday 11th January, 1967, tells us that Danny had been selected to run for Devon in the Inter-Counties Cross-Country at Leicester on 21st January in an 8 man team that included Bruce Tulloh. Running for Devon in a very high class field he was 83rd out of 331 who finished. The report on the South Western Counties Championship just one week later tells us that Danny won the title in 50:33. Another good winter behind him and Danny went into the summer and a trip across the Atlantic.
He started the summer however by racing at Plymouth on 4th March over 10 miles and won in 51:04. Next came the Bampton to Tiverton – the 'Torbay Express' of Tuesday, 28th March report includes the following in its report of the race: "The winner was the Royal Navy's six mile champion, 29 year old PO Danny McFadzean who overcame a tough battle with team-mate Steve Farley. McFadzean, who is running in the Boston Marathon next month on funds raised voluntarily by the Royal Navy, saw Farley's heels for most of the eight mile route, but took the lead on entering Tiverton and won by six seconds with a time of 38 minutes 28 seconds." His club was Devonport AC and, with their leading men first and second, they won the team race. He ran in a 15 miles road race at Wigmore on 1st April where he finished fourth in 1:19:58. That was a 10 miler, then a 15 miler and next was the 20 miles race at Belgrave where he was third in 1:50:36. He was then off to the USA – to Boston, a race previewed in the cutting below.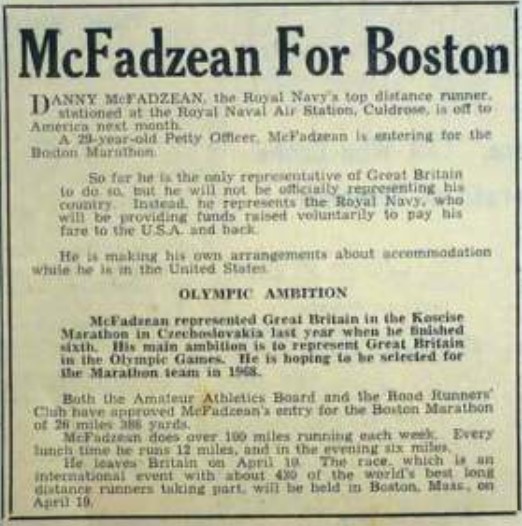 Danny went, saw and conquered the distance in what was to be his best ever marathon time when he was ninth in 2:22:06 which placed him eleventh in Britain for the year. (The 1966 time of 2:23 had placed him ninth).
Into season 1967-68 and on 4th November 1967 he ran in the Devon League six and a half miles race and won it with Devonport AC in third place. A week later he turned out in the Bracknell 10 where he was 52:27 in eighth place. Another week on and on 2nd December, he was a competitor in the Ross Shield six and a quarter mile race which was won by another Scot, Allan Faulds from Stirling who was running for Exeter, in a course record. Danny was fourth in that race.
He started 1968 on 27th January in the Devon Cross-Country Championship which he won in a new course record. This was his third victory in the race and the previous course record had been set by Danny just one year earlier. On February 3rd he won the Royal Navy Inter-Command Cross-Country Championships at HMS Dryad. As in many of the races in England, there were others with Scots connections in the field. This time it was Bob Meadows who was second and Terry Baker who was third : both ran in Aberdeen; Terry ran last leg for Aberdeen AAC in the Edinburgh to Glasgow Relay when they finished second equal. Then on March 2nd, running for RNAC South, Danny won the Plymouth 10 in 51.25. Again the Scottish connection – Stirling's Allan Faulds who was living and working in Exeter and running for Exeter Harriers, was third in 52.31. On March 8th, in the inter-services match of Army v RAF v Navy Cross-Country at RAF Cranwell, Bob Meadows was third with Danny fifth.
1968, of course, was Olympic year and all eyes were on that. Danny's first outing was on 2nd March when he again ran the 10 miles at Plymouth, winning in 51:25 before heading to Boston on 19th April finishing 9th again in 2:32:27. Back home he went to Paignton where he was second in a 15 miles race on 22nd June in 1:21:59. The Olympic trial in 1968, was held in Cwmbran on the 27th July. There were 110 entered but just 96 started the race on a very hot, sunny afternoon over a very hilly trail with the temperature in the 70's. By 20 miles the field was down to 49. By the end of the race Danny was 31st in 2.43.38. It was a poor run on the day when he wanted to do well. His club that day was RNAC and team mate Joe Clare was 14th in 2.24.50. Tim Johnston, Bill Adcocks and Jim Alder were the first three in the race and gained selection. Two other Scots ran: Alastair Wood was 6th, Mel Edwards 7th.
Danny started summer 1969 with the 10 miles at Plymouth which he was second in 52:01. That was on 22nd March and in April on Patriot's Day he was racing the Boston race for the third consecutive year. This time he was part of a Royal Navy team which won the team race with the other runners being Phil Hampton (9th, 2:23:46), Joe Clare (17th, 2:29:16) and Danny (21st, 2:30:54). On 26th May he was racing 20 miles at Battersea Park in London where he was 39th in 1:53:17. He continued to race until 1979 but the standard was not what it had been – no doubt service duties had something to do with that and results have been hard to find. However, we do have the following.
8 August 1970

15 miles
Guildford
1:24:29
22nd

18 March

1973
Plymouth
10 miles
54:34
13th

1st November 1975

Camborne
15 miles
1:24:09
2nd

30 October 1976

Camborne
15 miles
1:25:37
2nd

6th June 1977

Yeovil
10 miles
54:51
10th

1st May 1978

Trowbridge
10 miles
54:05
14th

27 October 1979

15 miles
1:26:57
8th
During the period when he was doing this wonderful running, i.e. up to 1970, he was serving in the Navy and according to the article shown above, he was running 100 miles per week. This was the practice among distance runners and had been so after Arthur Lydiard's book "Run to the Top" came out in 1964. It also said that he ran 12+ miles every weekday lunchtime. Unfortunately that is all we have about his training. Dave Francis, who ran with him when he himself was in the navy has this to say about Danny:
"Regarding the time I was with Danny in the Navy 1972-74.We were stationed at Portland and Danny was a Fire Officer. Bob Pape and himself started a small group of us (7 in total) to run for the Base (HMS Osprey).They took us all over Portland which had steep hills and a variety of places to train and they introduced us into running to and from work as part of the training. We were a small team but we managed to win the Southern Area Forces League in cross country and also won some other championships. Danny also introduced us to 10-15 mile road races(which started me off with long distance running). I don't know if Danny took up coaching when he left the Navy but he would of been one of the best and certainly made you believe in yourself."
An interesting comment about coaching from a man who is a very good coach himself, but we can finish with Danny's personal best times, as far as we have them, are as follows:
6 Miles (track) 30:19.6; 10 miles 51:04; 15 miles 79:58; 20 miles 1:48:57; Marathon 2:22:06
.