.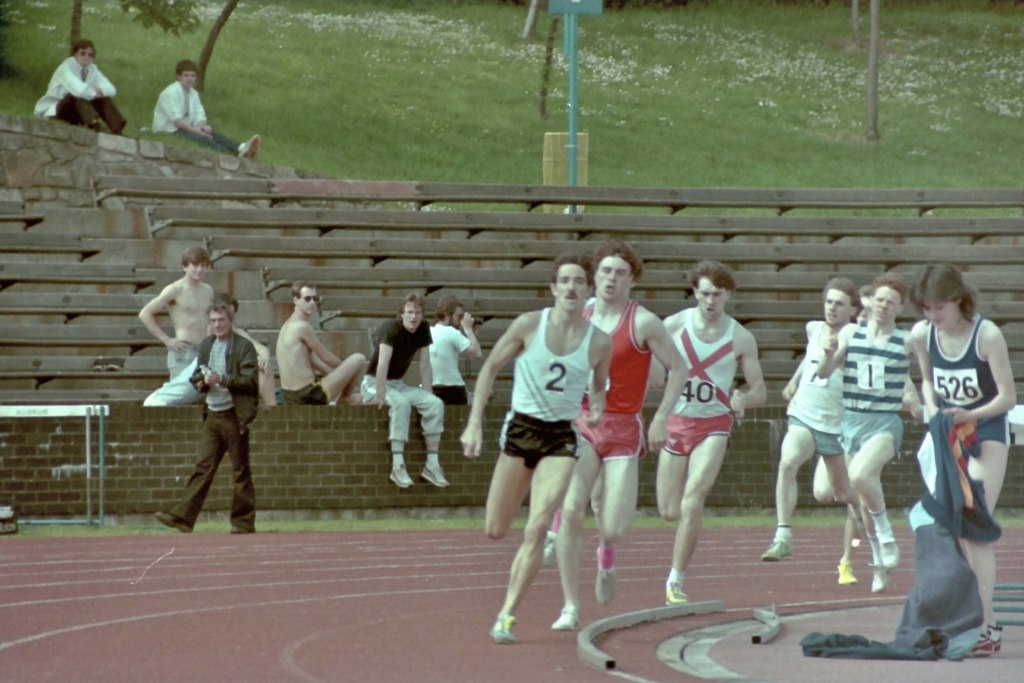 John FAIRGRIEVE Heriot Watt University, Edinburgh AC
3000m Steeplechase: 9.34.0 (1968)
John was a well-liked and respected athlete who contributed to EAC's successes on track and cross country. In the Senior National XC they won team bronze in 1969 and silver in 1970; and in the E to G they finished 5th in the 1965 event (to be awarded 'most improved' medals) and 4th in 1970. He went on to be a cheerful, supportive and well-organised SAAA official, and a popular manager, for example supervising Scottish team international trips to foreign and home countries marathon contests.
Gerard FAIRLEY (2.10.53) Kilbarchan
5000m: 14.52.8 (1982) 10,000m: 31.09.0 (1984) Marathon: 2.24.33 (1983)
Still sub-32.00 for 10,000m in 1996, aged 42, Gerry won a European Veteran 5000m title. He ran the E to G many times for Kilbarchan, including 1983, when they finished 9th.
David FAIRWEATHER (11.07.44) Law & District, Cambuslang H
Marathon: 2.24.49 (1983); 2.36.02 (1995 – aged 51).
Previously a cyclist, as a senior between 1973 and 1982, Davie ran the E to G for Law & District. Then he became a very successful Scottish international veteran athlete, not only on road but also hill and cross country. He secured British and Scottish titles. Perhaps his finest run was in 2000 at Navan, Ireland, when he won the M55 age group in the annual British and Irish 5 Nations International Masters XC.
Colin FALCONER (26.03.52) Springburn, Coventry Godiva
3000m: 8.23.0 (1973) 5000m: 14.31.6 (1973)
Colin was very talented and most successful when young. In 1970 he won Junior titles in the Midland District and National XC championships before finishing an excellent 5th (and first Scot) in the International Junior. He went on to win two Scottish vests in the International Senior. In the E to G, Colin represented Springburn in 1971, when they finished fourth; and 1973 (7th) when was fastest on the prestigious Stage 2.
Mark FALLOWS (8.02.62) Edinburgh/City of Edinburgh
800m 1.51.86 (1991) 1500m 3.43. (1993)
From 1987 onwards, Mark was a very good middle-distance runner, who became a Scottish international athlete, indoors and out. He won a bronze medal in the 1992 Scottish indoors 1500m championship. In the 1990 E to G, he contributed to Edinburgh AC finishing fourth when he ran the difficult sixth stage. He ran in three more of thje relays being second fastest on the seventh stage in 1991 and second fastest Scot in 1992.
Colin FARQUHARSON Strathclyde University, Clyde Valley AC, Aberdeen AAC, Hunter's Bog Trotters
5000 14.39.4 (1981)
A cheerful, sociable man, Colin was most successful as a younger athlete, for example playing his part in Strathclyde University winning team gold in the 1979 National Junior XC. Then he joined Clyde Valley AC, and in 1980 National Junior secured team silver. That year Colin was part of the CV outfits that won: National Senior XC Relay gold; and National Senior 6 Stage Relay silver. In the 1981 Senior National XC, his team finished third. After a spell with Aberdeen, Colin, an unconventional guy, fitted in perfectly with the cavalier Trotters. In the E to G, he ran for them eight times between 1990 and 1999, including 'most improved' in 1990 and team bronze in 1996 and 1999.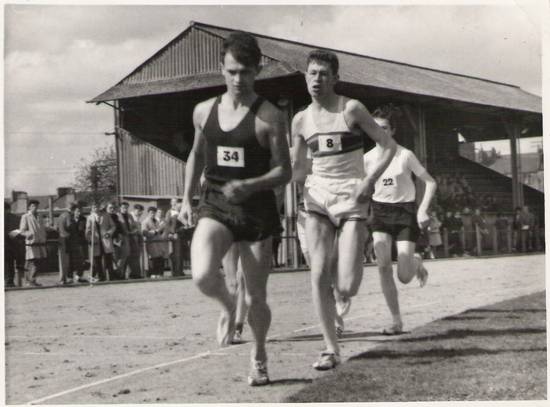 Allan Faulds (34) leading the field at Westerlands
J Emmet FARRELL (Maryhill Harriers) – see full profile
Many athletes had their careers ruined by the outbreak of war in 1939: none more so than Emmet Farrell. Scottish Cross-Country champion, track champion, cross-country internationalist, he was the complete distance runner. He won the Cross-Country title again in 1948 – ten years after his first success. Read the full profile and its attachments and make your own assessment.
Allan FAULDS (30.01.41) Glasgow University, St Modans, Stirling, Exeter, Clydesdale, Perth, Fife) – see full profile
2 Miles 9.20.0 (1968) 3 Miles 14.09.6 (1965) 3000m Steeplechase 9.29.8 (1965) 10,000m 30-54.4 (1970)
Allan led Glasgow University Hares and Hounds to National Junior team gold in 1962. In the E to G, Glasgow U finished third in 1962 (with Allan on the important 6th Stage) and sixth in 1963.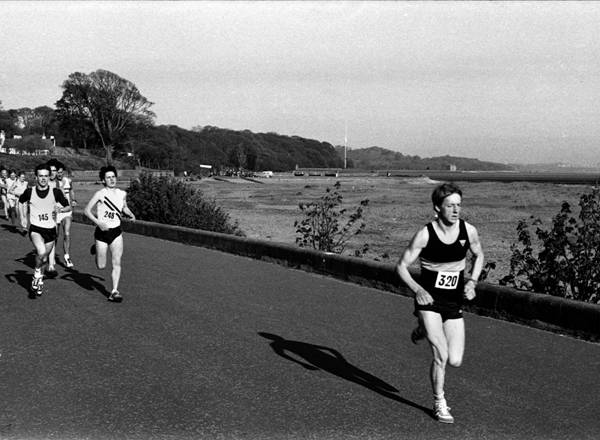 Peter Faulds (320)
Peter FAULDS (6.06.62) Falkirk Victoria Harriers
3000m Steeplechase 9.19.69 (1985)
Peter, being cheerful and enthusiastic, fitted well into the marvellous Falkirk Vics squad, masterminded by Jim Dingwall and Willie Day. From 1982 onwards, Peter ran many times in the E to G, as they improved from 7th to 3rd (1985) until, on a famous widely-applauded occasion, they won that great race in 1990. In 1991 he ran the fastest time on Stage Three. The 1982 Six Stage Relay produced silver medals; and the 1985 National Senior XC silver again.
Henry 'Harry' I. FENION (2.07.30) Lochwinnoch, Bellahouston Harriers – see full profile
6 Miles 31.04.6 (1959)
The first Scottish Athletics Yearbook was produced in 1959, too late to record the highlights of Harry's very successful career. In the E to G, Bellahouston Harriers improved from 3rd (1956) to 2nd (1957) to victory in 1958. They were second in both 1959 and 1960 (when Harry was fastest on Stage Three). In the National Senior XC, Harry won individual gold in 1957 (when Bellahouston secured team silver medals, as they did in 1958.) In 1957, Harry also won the Scottish Marathon championship – a unique double triumph. On the track, he finished third in the 1954 6 Miles championship; and third in the 1958 Marathon. Harry Fenion won three Scottish vests in the International XC; and ran for Scotland in the 1958 Commonwealth Games Marathon in Cardiff.
Harry FENION, Jnr Greenock Glenpark Harriers
Son of the above who was a good solid club runner who represented his club faithfully in road and cross-country events and championships as an individual and team member.
Andrew T. FERGUSON – see full profile
In "Scottish Athletics", his 1982 Centenary History of the SAAA, John Keddie mentions Andrew Ferguson "a young Scot from Paisley" who had been running well in England. In 1946, he had been impressed by the performances of the great Sydney Wooderson. In the 1950 AAA Championships "he was caught up in a fast Three Miles race won eventually by the Belgian L. Theys, and placed third in a time of 14 minutes 11.6 seconds, which at that time was the fastest by a Scot, and 5th fastest ever by a U.K. athlete. It was also, surprisingly, the only time that a Scot was placed in the first three in the AAA Three Miles before 1967."
John FERGUSON Ayr Seaforth
3000m Steeplechase 9-32.0 (1970)
In 1968 and 1969, John finished first Junior in the South-Western District XC championship. In 1970 he secured Junior National XC individual silver. His cross-country success continued when he won the Senior title in the 1972 South-Western event; and in January 1973 finished second in the Scottish Inter-Counties XC. When Ayrshire AC qualified for the E to G in 1976 (12th), John was given the classy 2nd Stage.
Martin M. FERGUSON (17.09.64) Edinburgh AC, City of Edinburgh
From 1986 to 2010, Martin was a consistently good, durable runner at distances including: 3000m Steeplechase (9.17.0); 5000m (14.28.07); 10,000m (30.43.6); and marathon (2.26.45). He finished second in the Scottish Marathon championship in 2000 and 2001, as well as third in the 2002 race; and third in the 2001 Scottish 10,000m. Between 1984 and 2002 (the last ever event) Martin missed only two E to G Relays, running 17 in all. He was usually given the responsibility of the toughest Stages: Two or Six. In 1987 Edinburgh won team silver medals; and in 1998 City of Edinburgh were sixth and were awarded the 'most improved' prize. In cross-country, Martin was in the team which finished second in the 1983 Junior National Cross-Country championships. In 2003, City of Edinburgh won team silver in the Senior National Cross-Country.
David FERRY, Cambuslang
David contributed to: team gold in the 1983 Junior National Cross-Country, when he finished sixth; and team silver in three 1984 championships – the Senior National Cross-Country, Six Stage Road Relay and E to G.
Brian FINLAYSON, Forth Valley Harriers, Lochaber AC
Brian was a good cross-country runner who became a superb hill runner. In 1970, while still in his early 20s, he finished climbing all the Munros to become the 97th completist. In the gruelling Ben Nevis Race, he finished second three times – 1971, 1972 and 1974. That last year, Brian won the Isle of Jura Fell Race. In 1975, he won Goatfell, Ben Lomond and the Half Nevis, and finished third in the British Fell Running Association awards. In 1977, Brian became North of Scotland cross-country champion.
T FINLAYSON, Hamilton Harriers
Finlayson, described as a 'lithesome type of runner' won a race for Under 17's held in Lanarkshire in 1950 and went on to take the National Youths' title leading his team into third place. The following year he won the same title but this time the Hamilton team won the race from Gala Harriers. In 1952 he moved up to the Junior age group and finished second in the National with the club team fourth. In '53 he was again second – behind the outstanding Alex Breckenridge of Victoria Park. He ran in the Edinburgh to Glasgow in 1951 on the first stage where he finished ninth, in '52 he ran on the second stage and moved up from 7th to 6th.
James FINN, Monklands
He won the Scottish National Youth Cross-Country titles in 1960 and 1961; and ran the 1962 International Junior XC Championships for Scotland, finishing in a fine 16th place. He was third counter for the Scottish team and, along with Lachie Stewart (10th) and Alasdair Heron (11th) won prestigious bronze medals behind England and Morocco.
Eric FISHER (31.05.46) Edinburgh AC – see full profile
Marathon 2.27.03 (1977)
Eric, a friendly reliable, popular man, was a good club runner who improved considerably at his peak. In the E to G, which Eric ran several times, his club went from 5th in 1969 to 2nd in 1977, when he was second-fastest on the 8th and final stage. In the marathon, after setting a personal best in 1977, he won a bronze medal in the 1978 Scottish Marathon championship. Eric Fisher went on to become a successful Coach to many athletes.
Robert G. FITZSIMMONS (16.08.64) Bellahouston, Kilbarchan
800m: 1.52.55 1500m: 3.44.86i 3000m: 8.06.2 5000m: 14.17.62
Between 1985 and 1998, Robert Fitzsimmons achieved a great deal. He won several Scottish championship medals: indoor 3000m gold in 1987, followed by outdoor 1500m bronze; indoor 3000m silver in 1992, and then triumphed in the outdoor 1500m; indoor 3000m gold in 1993, before AAA indoor 3000m bronze. Robert was a Scottish international athlete at 1500m He ran the E to G, first for Bellahouston and later for Kilbarchan, often contesting Stages 2 or 6. Two team medals were secured with Kilbarchan: bronze in 1997 and silver in 1998. Back in 1984 Robert had been in the Bellahouston squad that finished third in the Scottish 6-Stage Relay.
Andrew FLEMING Cambuslang
Marathon 2.32.47 8 (1966)
Andy Fleming wore the Scottish vest in the 1958 International cross-country championships. He also ran the E to G for Cambuslang every year from 1957 to 1960. Then in 1966 he achieved a bronze medal in the Scottish Marathon championship. His team-mate Gordon Eadie, who Andy advised on training and tactics, won the title, so it was an excellent day for Cambuslang.
James A FLEMING
Motherwell YMCA Harriers
James won the Scottish One Mile title in 1948 and that year became a Scottish 1500m international athlete. In 1949 he represented his country in the International Cross-Country championships.
Peter FLEMING (5.01.61) – see full profile
Bellahouston, Wolverhampton & Bilston, Reebok Racing Club, Racing Club Edinburgh, Mizuno Racing Club, Phoenix Racers
1500m: 3.48.69 3000m: 8.08.5 5000m: 13.51.20 10,000m: 29.03.36 Marathon: 2.13.33
Between 1982 and 2004, Peter Fleming enjoyed a very successful running career. As his personal bests show, he was extremely versatile. He was a Scottish International athlete, on the track (5000m) and in many marathons in Britain and the rest of Europe. Bronze medals were secured in Scottish championship events: 5000m in 1987 and 10,000m in 1990. His first individual marathon victory was in the 1983 Glasgow event, which included an international team contest. In the Scottish annual rankings, he was first in the 10,000m twice and five times in the marathon. In the Scottish Six-Stage Relay, he won team gold with Bellahouston in 1985 and with Racing Club Edinburgh in 1990. Then there was Scottish XC Relay silver with Bellahouston in 1983, and gold medals in 1992 (Reebok RC) and 1995 (Leslie Deans RC). In cross-country, Peter's Bellahouston team won Junior National bronze in 1981; Senior National silver in 1987; and LDRC won gold in 1996. The E to G brought team silver in 1983.
Willie FLEMING (St Modan's) was a very good runner indeed as a Youth and Junior but for several reasons, injury and illness mainly, had a very short career as a Senior. He won the Midland District Youth championship as well as many silver and bronze. Raced in all the major championships for the club as well as the Edinburgh to Glasgow Relay in 1961.
JC FLOCKHART (Shettleston) – see full profile
Flockhart's carer was mainly before the War with the victory in the ICCU Cross-Country championship in 1937 the undoubted high spot. A quiet unassuming man he ran for a short time after the hostilities ended with good results. In the first two E-G races, he won two gold medals with fastest time on the second leg in April 1949. In the National he ran in the first four after the War finishing sixth in '48 and again in '49, winning a total of three gold medals from four runs. He also added international vests in 1946, '47, '48, 49, finishing seventh in 1948. An amazing man altogether – read his full profile.
Charles 'Claude' W. FOLEY (1940-1997) Pitreavie
6 Miles 31.05.2 (1960) Marathon 2.44.35 (1959) 3000m Steeplechase 10.01.6 (1960)
Claude was a team-mate of the illustrious John Linaker. In 1960 Claude won a bronze medal in the Scottish 3 Miles championship. He was 6th in the 1959 Scottish Marathon championship and ran well in several Scottish Marathon Club road races. Claude also did well in the Ben Nevis Race – his best position was 8th in 1957. In 1959, Pitreavie 'A' – John Linaker 2nd, Claude Foley 10th and W. Lindsay 24th, won the Ben Nevis team trophy.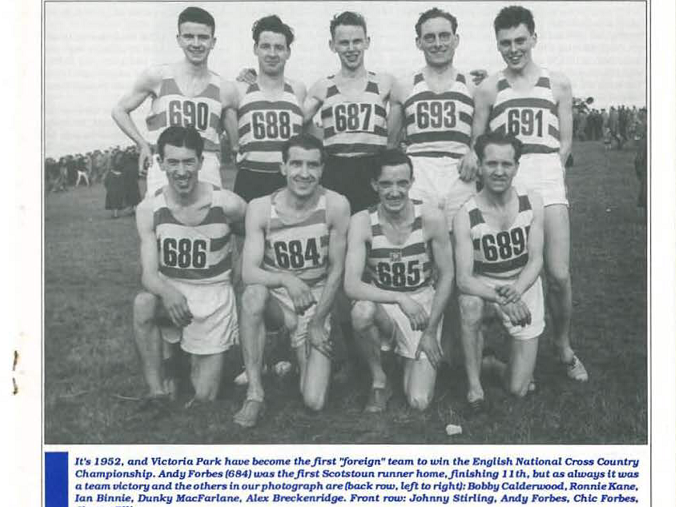 Andy and Chic Forbes middle of the front row for the team that won the English national
Andrew FORBES (9.10.15) Victoria Park – see full profile
3 Miles 14.34.4 (1959) 6 Miles 31.04.0 (1959) Marathon 2.44.21 (1968)
As his date of birth indicates, Andy Forbes was a veteran athlete when these Scottish ranking performances were recorded. This immaculate, modest, respected and popular gentleman had in fact been one of Scotland's finest ever runners. His crowning achievement was a silver medal in the 6 Miles race in the 1950 Commonwealth Games, but his Scottish Championship gold medal haul was very impressive indeed. Andy won four Scottish 3 Mile titles; and set two National records at the distance. He was a Scottish International track athlete on several occasions. In the Senior National XC, he won the title twice and Victoria Park won team gold three times. Andy ran for Scotland in the International XC championships six times – and finished first Scot twice. He was in three winning E to G teams. Then he went on to achieve success as a veteran. His full profile really must be read!
Charles 'Chic' FORBES (Victoria Park, Irvine AC)
Chick was the younger brother of Andy and was a key member of the great Victoria Park team of the 1950's winning medals of all colours in the National Cross Country Championship and the Edinburgh to Glasgow. In the Senior National between 1950 and 1961, Chick won eight team medals with Victoria Park AC: 4 gold, two silver and two bronze. In 1952 he finished 5th and was unlucky not to be selected to run for Scotland in the International XC.
In the E to G, between May 1949 and 1962, Chick was in VP teams that won four gold medals, three silver and one bronze. He was fastest on Stage Five (November 1949 and 1951; and fastest on Four in 1952.
Undoubtedly Chick Forbes was a marvellous team stalwart in this, Victoria Park's most successful distance running era.
The standard of Scottish endurance running in the 50's is not really appreciated in the 21st century, but Chick would have been a welcome addition to the current Scottish scene. Latterly he lived in Irvine and joined the local club where his experience and intelligence were well used. An easy going, mild mannered man, he really was a very good runner indeed.
Paul FORBES (20.11.56) Edinburgh AC – see full profile
400m 47.69 800m 1.45.66 1500m 3.49. 3000m Steeplechase 9.07.4
Between 1974 and 1987, Paul Forbes, an outspoken, unpredictable but very talented runner, enjoyed an excellent career. His total of 22 Scottish international appearances, at 400m, 800m, and 4x400m Relay, is just three short of the all-time record. He was also a full GB international runner. Against stern opposition, Paul won the Scottish 800m title twice (1983 and 1986), was second three times and third once. In addition, he was second in the 1975 Steeplechase championship. He was third in the 1980 AAA 800m; won the 1982 UK title and in that championship also secured silver (1980) and bronze (1978). In the annual Scottish rankings, he was first in the 800m four times and once in the 400m. Paul Forbes took part in the Commonwealth Games in 1978, 1982 and 1986, representing Scotland in 800m (semi-finalist; 8th in the final; and 7th in the final) and 4x400m (6th; 4th; and 4th). In addition, Paul ran for Scotland in the 1975 International Junior XC; and helped EAC to team silver medals in the 1983 Scottish Six-Stage Relay.
Hugh FORGIE (7.04.56) Law & District
800m 1.53.1 (1977) 1500m 3.48.0 (1980) 1 Mile 4.11.7 (1980)
Hugh was a Scottish 1500m international runner; and won silver in the 1979 Scottish 1500m championship. He also won silver in the British indoor 1500m behind Seb Coe. In 1976 his team secured silver medals in the Junior National XC; and in 1981 finished third in the Scottish Cross-Country Relay championship. They were a respectable 8th in the 1982 E to G.
Joe FORTE, Haddington and East Lothian Pacemakers
Joe was H.E.L.P.'s most consistent athlete. His best performance was winning the inaugural Dunfermline Half Marathon. In 1982 he ran a marathon in 2.36.20. Joe ran the Edinburgh to Glasgow relay five times in succession between 1987 and 1991.
John 'Jackie' FOSTER Edinburgh Southern Harriers
Marathon 2.32.38 (1959) Marathon 2.34.06 (1979, aged 45)
Jackie was a great character who, at a time when advice was limited, trained 'long slow distance' and once tried to remove 'fear of distance' by running 20 miles three days before a marathon. Some of his memories are recalled in 'A Hardy Race' on this website. Jackie's finest achievement was winning a bronze medal in the 1959 Scottish marathon championship. He also ran the E to G three times, with his team's best position being 4th in 1958. Jackie was second in the season-long Scottish Marathon Club championship (1959) and was awarded a rare First Class certificate.
William B. B. FOTHERGILL (23.06.50) Glasgow University, Victoria Park, Ilford
3000m Steeplechase 9.18.0 (1975)
Willie, a consistently useful steeplechaser (who won the 1974 West District title) and cross-country runner, was a cheerful, sociable young man with an abundance of hair. He and team-mates including the talented but unpredictable Willie Sheridan (who later founded Westerlands AC) celebrated (in style) Glasgow University H & H successes, including three E to G Relays, in which their best position was 7th in 1972.
Hugo FOX (12.01.21-1974) Shettleston – see full profile
In the Scottish Marathon championship, Hugo Fox of Shettleston Harriers won bronze in 1955, silver in 1957, was the winner (and a Cardiff Commonwealth Games representative) in 1958 and retained his title in 1959, when he was ranked first in the inaugural Scottish rankings. Hugo, a very tough and determined man, had been a keen club cyclist but retired from the sport when he married in 1952 – and took up running to keep fit a year later. By the late 1950s, Hugo was working a five-day week in the heat and dust of a foundry, plus two nights a week overtime, as well as training up to 130 miles a week. In the E to G, Shettleston finished third in 1957, when Hugo was fastest on Stage Eight; second in 1958; and won gold medals in 1959, when Hugo maintained their lead on Stage Six. In the Senior National cross-country championships, the team title was won twice in succession (1954-1955).
Peter FOX (22.03.62) Dundee University, Clyde Valley, Motherwell, Dundee Hawkhill
1500m 3.57.5 (1982) 3000m 8.19.6 (1989) 5000m 14.17.0 (1985) 10,000m 29.54.57 (1988) 3000m Steeplechase 9.32.0 (1984) Marathon 2.31.55 (1992)
For Clyde Valley AC, in the 1980 Junior National XC, Graham Williamson won with Peter Fox second. He ran for Scotland in two International Junior championships. In the 1982 Senior National, CV won team silver medals. They had already been second in the 1980 Scottish Six-Stage Road Relay. In 1986 Peter Fox, running for Motherwell YMCA, won the West District cross country title. With Dundee Hawkhill, in the Scottish Six-Stage Relay, he won bronze in 1989 and gold in 1990. In 1991 Peter's team finished second in the National Senior XC. The E to G was also a successful event for Peter Fox: team bronze with CV in 1983 (when he was fastest on Stage Four); and gold medals for DHH in 1989, when Peter ensured victory on Stage 8.
Douglas FRAME (22.09.55) Glasgow University, Law & District
1500m 3.58.3 (1977) 3000m 8.15.2 (1980) 5000m 14.06.3 (1985) 10,000m 29.19.50 (1984)
Between 1977 and 1991 Douglas carved out a successful athletic career. He was a Scottish international on track (3000m) and cross country (1983 World XC). In Scottish championships, he was second in the 1984 10,000m (and third in 1980), as well as third in the 1982 5000m. For Law & District, he was in the team which won silver medals in the 1976 Junior National XC. In the E to G, which Douglas ran several times, his club's best placing was 8th in 1982, when he was fastest on the prestigious Stage Six.
David FRANCIS Cupar & District, Fife AC
Marathon: 2.33.24 (1978) Dave was the friendliest, most enthusiastic man, and a stalwart for Fife AC. Between 1975 and 1982 he featured in the annual Scottish marathon rankings; but was even more successful as a top-class British ultra-distance runner. He won the 1983 Bolton 40 miles; was second in the 1979 Isle of Man 40; third in an English 100km in 1982; fourth in the 1979 London to Brighton 54 miles; fourth in the 1984 Edinburgh to Glasgow 50 miles; and, between 1976 and 1983, ran eight successive Two Bridges 36 miles, including fifth in 1982 (first Scot) and a team win for Fife AC in 1983.
Cliff FRANKS Greenock Glenpark Harriers
Cliff was a good runner in all of the endurance surfaces – he ran in the National, on the track where he specialised in the steeplechase and was indeed ranked at national level, and on the roads – before he moved to England.
Charles J. FRASER Edinburgh Eastern Harriers, Edinburgh Southern Harriers
3000m Steeplechase 9.49.2 (1959) 6 Miles 31.59.0 (1964) 2.30.05 (1962)
Charlie Fraser (born November 1932) ran for Edinburgh Eastern Harriers three times in the E to G: in 1956, when they finished sixth and he was given the responsibility of the Second Stage; in 1957; and in 1958, when he was fastest on Stage One. On the track, he achieved a bronze medal in the 1957 Scottish 6 Miles championship. For ESH, Charlie ran the E to G in 1960, when he was second fastest on Stage One; won team silver in 1961, when he contested Stage Six; in 1962 for another silver; and bronze in 1964. Charlie Fraser won two bronze medals in the Scottish Marathon championship, in 1960 and 1962.
David J. FRITH (27.01.51) Aberdeen
3000m Steeplechase 9.15.3
Between 1982 and 1985, David was consistently under 9.20 for this demanding event.