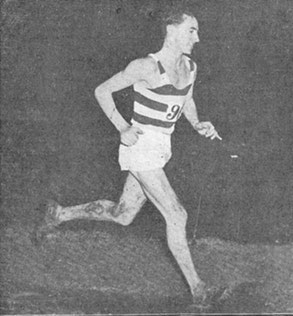 Andrew T Ferguson died on 1st March 2016, at the age of 87. A member of English club Highgate Harriers, he had a fairly long athletic career but although he was undoubtedly a very good runner, he never held a Scottish championship title or won any cross-country representational honours.   Indeed he hardly ever ran in Scotland yet won a Scottish vest on the track and finished second in the national.
Not mentioned in the Scottish athletic press in 1948 or 1949, he burst on the scene in 1950.   In his preview of the National cross-country championship of that year, Emmet Farrell in "The Scots Athlete" bracketed Ferguson alongside Andy Forbes, Tom Tracey, CD Robertson and the rests as a contender for the title.   He went on to say "My nomination of AT Ferguson may occasion some surprise, but if this Anglo-Scot feels he has entirely thrown off the effects of a recent leg injury he will make the journey north to try for his place; and one can be sure that if he elects to travel, his bid will be a serious one.   Ferguson is a most promising young runner with a brilliant turn of speed.    He can stay, too, as he recently demonstrated by finishing fourth in the Middlesex championships to Olney, ahead of such well-known runners as Hughes, Burfitt and Blowfield.   Though he may be a menace to home aspirants, he could be a distinct asset to a Scottish team and that is the main thing."
Unfortunately he was not in the line-up on the day but his ability that had earned Emmet's high opinion was there for all to see during the summer.
His running over the summer was all done south of the border but in the AAA's championships, won by Lucien Theys of Belgium, he was second to Olney in a blanket finish with the places and times being 1.   L Theys  14:07;   2.   A Olney 14:11.2;   3.   A Ferguson 14:11.6;   4.   W Lucas  14:11.6;   5.   F Green 14:14.6.      At the time his 14:11.6 was a Scottish best but because  of the rules existing at the time, it was not officially recognised as a record.   Not selected for the European Games, Ferguson  was, however, selected for Scotland in the international against England, Wales and Ireland at 5000m.   The other Scot was Tommy Tracey and they finished third and fourth with Ferguson timed at 15:34.2 for third.    First and second were Olney (14:48) and Lucas (14:56.8).
In the summer, 1950, Ferguson represented Scotland in the international against England, Wales and Ireland at 3 miles , finishing 3rd. That year, he was second to the Belgian Lucien Theys in the AAA Championship 3 miles in 14:11.6. At the time, the performance was a Scottish best although it was not officially recognised as a record because of the rules in force at the time.
The "Scots Athlete" had a ranking list for Scottish athletes of 1950 and Ferguson was included at at number 6 of the 20 ranked.  the comments read: "Recently made a life member of his club on account of his international recognition.   3rd position and 2nd British finisher in the AAA 3 miles with 14:11.6 (compare with Andy Forbes' brilliant Scottish record of 14:18.2) and also 6 mins 49 secs for one and a half miles."
The cover of "The Scots Athlete" for February, 1951 was of Ferguson winning the 7 miles Middlesex cross-country championship which he won.   Inside Emmet Farrell began his preview of the national by saying, "Over the gruelling nine miles test I cannot help feeling that quite a number of last year's team will again be well in the running for places.   If Anglo-Scot AT Ferguson of Highgate Harriers decides to run he would be favourite for the individual title.   He has great speed, as witness his 14 min 11 sec odd in last year's AAA 3 Miles championships and can stay too as he showed in winning the Middlesex cross-country championship over 7 miles.    Against that the 22-year-old could find at this stage 9 miles more testing than 7 miles.   Nevertheless the services of such a classy runner would be a great asset to a Scottish team and our selectors will no doubt follow his form with more than passing interest, even if he does not manage up for our race … "   
Unfortunately Ferguson was missing when the national was run and was not in the team for the international.
Walter Ross who founded, printed, wrote for and subsidised "The Scots Athlete" was a wonderful man.   In addition to all that, doing his day-job, having a happy family life, running almost every day of the week, he kept up a correspondence with may people all over the world.   It was natural that he should start writing to Andrew Ferguson and in December, 1951, he published this letter from him.   As he says, it was not written to be printed, but he took the correct decision I think in letting us see it.
His exploits were not recorded in Scotland until Emmet Farrell, Walter's friend and sidekick on the magazine,  who always had a hand on the pulse of British athletics, said in his preview of the national, "Down South there is Anglo Andy Ferguson of Highgate Harriers at last returning to the form which made him one of Britain's best distance prospects.   Previously Ferguson has shown brilliance on the track and over country, and if he retains his present form and comes up for our national, which he is planning, then sparks will fly."    The highlight was the national of 1952.   This was held on 1st March, 1952, at Hamilton Racecourse and the top man in Scotland was Eddie Bannon of Shettleston Harriers.  Emmet Farrell previewed  the race in "The Scots Athlete" as follows:
"A "GRAND" NATIONAL.   There are prospects of a very keen race in the National both for the individual honour and international places.   The individual race may resolve itself into a contest between Eddie Bannon of Shettleston Harriers and the grand Anglo Scot Andrew Ferguson of Highgate Harriers, with odds on the former pulling it off.   With some trepidation, I select the following as my first six home and in this order:   1.   E Bannon (Shettleston);   2.   A Ferguson (Highgate;   3.   A Forbes (Victoria Park);    4.   T Tracey (Springburn Harriers);   5.   T Stevenson (Greenock Wellpark);   6.   CD Robertson (Dundee Thistle).
A brave man was Emmet.   As for the race, Colin Shields reported in "Whatever the Weather" –
"Bannon faced the challenge of Anglo Scot Andrew Ferguson of Highgate Harriers who had recorded the Scottish record time of 14 minutes 11.6 seconds for 3 miles when finishing runner-up in the 1950 AAA's championships.   Ferguson had some outstanding cross-country runs in England to his credit but was outclassed by Bannon who ran away with the individual title defeating Ferguson by 57 seconds with Tommy Tracey taking third position ahead of Andy Forbes."   
Result:   1.   E Bannon (Shettleston ) 49:24;   2.   AT Ferguson (Highgate H)   50:21;   3.   T Tracey (Springburn H)   50:34;   4.   A Forbes (VPAAC)   51:03;   5.   T Stevenson (Greenock Wellpark)   51:16;   6.   CD Robertson (Dundee Thistle)   51:29;   7.   I Binnie (Victoria Park);   8.   AC Gibson (Hamilton H);   9.   CD Forbes (Victoria Park);   10.   A Black (Dundee Hawkhill).
Emmet had the first six exactly right with only Forbes and Tracey switching places.
Unfortunately Ferguson had to pull out of the national and this was indeed as described by Emmet Farrell "a distinct loss" but his summer season started well, although  he missed the SAAA and the AAA championships and, as far as the press was concerned, ran seldom  in Scotland.   Nevertheless at the end of the season he was ranked third Scot behind Andy Forbes and Tom Tracey by Emmet Farrell in "The Scots Athlete."
In the "Scots Athlete" of May, 1952, Farrell referred to 'Ferguson's southern success' saying Andrew Ferguson whose inability to run for Scotland at Hamilton was such a distinct loss had a grand win in the Southern 6 miles championship in 30 min 41,4 sec, defeating such well-known runners as R Robbins, F Sando and |Harry Hicks.   What a race should Forbes and Ferguson meet in either 3 or 6 miles in the Scottish championships." 
Unfortunately Ferguson did not run in the SAAA championships and was unplaced in a very good AAA title race but by the end of the season he had four very good times which placed him high in the Scottish rankings, all run in England.   For the mile he had a season's best of 4:22.7 (3rd best Scot behind K Coutts, EUAC, and J Hendry, Elgin AAC);  for two miles he ran 9:31.6 (4th behind Bannon, Calderwood and Forbes); 14:27.6 for three miles (second behind Andy Forbes);   30:41.6  for six miles (second behind Ian Binnie ).
In 1953 there was no sign of Ferguson north of the border: he did not run any cross-country up here, nor was he seen on the track.  Not at the championships nor at any of the big invitation meetings.   He may have missed the season through illness or injury or been out of the sport for some reason but he was not ranked in the mile (where the list went down to 4:25.6); the three miles (down to 14:59.8) or the six miles where there were only two times ranked.(Binnie 28:53.4) and Breckenridge (31:58.0).
That seemed to be it as far as his participation in Scottish athletics was concerned – in truth he had never competed much here.   Despite the number of Scots at invitation meetings such as Edinburgh Highland Games or the Rangers Sports, and even when a AAA's team competed here, AT Ferguson was not to be seen.   His appearances over the country were almost as rare.   He did continue to compete right on to the veteran stage – note the obituary by Alistair Aitken below – and he ran a good London marathon in 2:39:48 at the age of 53.
When he died, Alastair Aitken noted journalist and a member of Highgate Harriers had this to say about Ferguson:
Andy Ferguson, one of the older Highgate Harriers, was a real lively character. He sadly died on the 1st of March.   Andy was passionate, in his days, for Highgate Harriers not to amalgamate. He thought they stood better alone.
Andy Ferguson had a long athletic career, and he went on to run a good London marathon, as an M50. At 53 he ran 2:39.48 but, his fame was long before that. He won the Junior North of Thames in 1948 and, the strongly contested, Senior North of Thames cross country Championships in 1951.
He represented Scotland, as a cross country international, coming second in their Championships in 1952 and, back in 1950 he ran 14.11.6 for 3 miles in the AAA's Championships at the White City, coming second to the Belgian Lucien Theys who ran 14.09.0. Before that, he set a Scottish 3 miles Scottish Native record in 1949, when he was 3rd in the AAA's in 14.11.02.
Ferguson also ran in races at the White City with Pirie and Zatopek. The latter he congratulated when Emil won and, said how nice Emil Zatopek was.
Andrew Thomson Ferguson, b. 7 November 1928, d. 1 March 2016.